After the Bell | October 12, 2021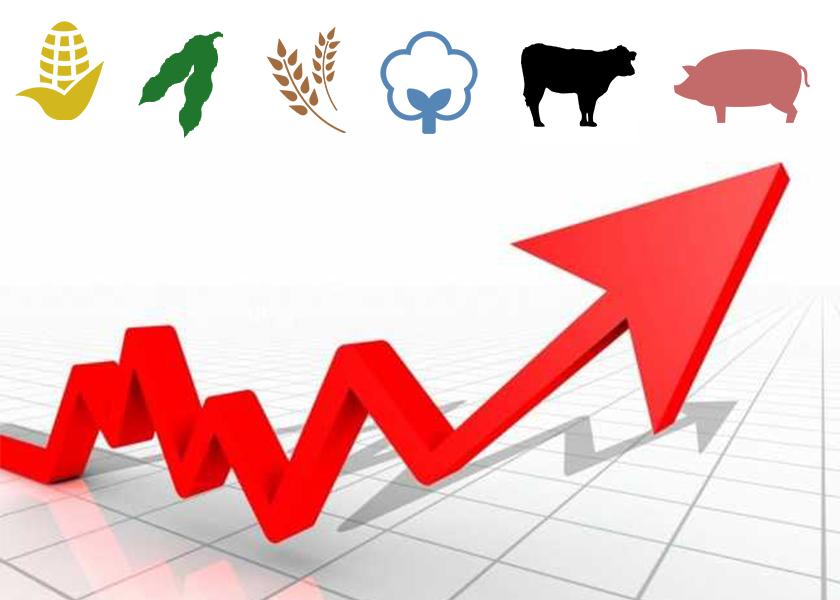 Corn: December corn futures fell 10 1/2 cents to $5.22 1/2 per bushel, the lowest closing price since $5.17 on Sept. 21. Corn futures settled at a three-week low after USDA's updated harvest and yield projections surpassed trade expectations. In its latest Crop Production report, USDA hiked expected U.S. corn production by 0.2% to 15.019 billion bu., which would be the second largest crop on record behind 15.148 billion bu. in 2016. Analysts on average expected a harvest estimate closer to 14.973 billion bu. USDA also raised its national average yield estimate by 0.2 bu. to 176.5 bu. per acre, which would be just 0.1 bu. below the record in 2017. It left harvested acres unchanged at 85.085 million acres. Also today, USDA reported 41% of the U.S. corn crop was harvested as of Oct. 10, up from 29% a week earlier and above the average for the previous five years of 31%.
Soybeans: November soybeans fell 30 cents to $11.98 1/4 a bushel today, the lowest close in over six months. December soybean meal fell $4.10 to $313.00 per ton and December soyoil fell 166 points to 58.85 cents a pound. USDA's Crop Production and Supply and Demand reports were more bearish than expected, with U.S. soybean production now projected at a record 4.448 billion bu., above trade expectations for 4.415 billion bu. and up from 4.374 billion bu. USDA estimated in September. USDA also raised its national average soybean yield estimate by 0.9 bu., to 51.5 bu. per acre, which would be the second-highest on record behind 51.9 bu. in 2016.  Bearish crop figures overshadowed stronger than expected export readings. USDA's weekly soybean export inspections totaled 1.612 MMT, easily topping trader expectations and nearly double the previous week's total. U.S. farmers harvested 49% of the soybean crop as of Oct. 10, up from 34% a week earlier and above the five-year average of 40%.
Wheat: December SRW futures rose 2 1/4 cents to $7.34 per bushel, while December HRW gained 5 1/4 cents to $7.39 3/4. December spring wheat rose 9 1/2 cents $9.55. Moderately supportive USDA data pushed wheat futures higher despite significant downward pressure spilling over from the soybean and corn markets. USDA's Supply and Demand Report confirmed the 1.646 billion-bu. production total posted on last month's Small Grain Summary. USDA also cut its projected 2021-22 U.S. ending stocks estimate by 5.7% to 585 million bushels, slightly higher than expected. Estimated 2021-22 global ending stocks were cut 2.1% to 277.18 MMT, a five-year low. Late today, USDA reported 60% of the winter wheat crop was planted as of Oct. 10, up from 47% a week earlier and matching the five-year average.
Cotton: December cotton futures fell 341 points to $1.0638 cents per pound, the lowest closing price since $1.0493 on Oct. 4. Cotton futures extended recent weakness despite supportive data in USDA's latest Supply and Demand report. As expected, USDA cut its estimate of the 2021 U.S. cotton crop from 18.509 million bales in September to 18.004 million, well short of industry expectations averaging 18.370 million bales. Moreover, USDA slashed its forecast for 2021-22 ending stocks by 500,000 bales to 3.20 million. Today's weakness implies the recent price spike fully incorporated the bullish USDA data. A key question: how much have elevated cotton prices reduced demand, especially from export customers? Late today, USDA said 20% of the cotton crop was harvested as of Oct. 10, up from 13% the previous week but under the five-year average of 26%.
Cattle: December live cattle futures fell 92.5 cents to $129.25 per hundredweight, its second straight daily decline. November feeder cattle rose 7.5 cents to $161.80. Live cattle futures were burdened by an ongoing slump in wholesale beef, even as cash cattle have firmed slightly over the past week. Feeder cattle gained support from declines in corn and soybean meal. Earlier today, Choice cutout values fell 27 cents to an average of $280.85, the lowest daily price since $278.46 on July 30. Cutout values have been in a nearly uninterrupted slide since late August, suggesting weak retail demand as consumers balk at high-price beef. Boxed beef probably must bottom before futures can generate sustained buying. In the cash markets, live slaughter-ready steers last week averaged $122.96, up 40 cents from the previous week and the first weekly increase in six.
Hogs: December lean hogs fell $2.00 to $78.175 per hundredweight, the lowest closing price since $76.80 on Sept. 24. Hog futures fell to the lowest levels in over two weeks as the near-term technical posture for the December contract deteriorated significantly. Cash market fundamentals are also softer early this week. Carcass values on national direct markets rose 49 cents to $69.11. The next projected CME lean hog index is $90.94, the lowest since mid-March. Pork carcass cutout values fell $5.63 to $102.38, the lowest daily price since $101.12 on Sept. 13 and led by a plunge of over $10 in hams. Movement totaled about 434 loads. Weakness in lean hog futures may be limited by smaller pork supplies in the coming months, as projected in USDA's quarterly Hogs and Pigs report in September. April 2022 lean hogs are trading with a premium of over $6.00 to December futures.