After the Bell | May 27, 2021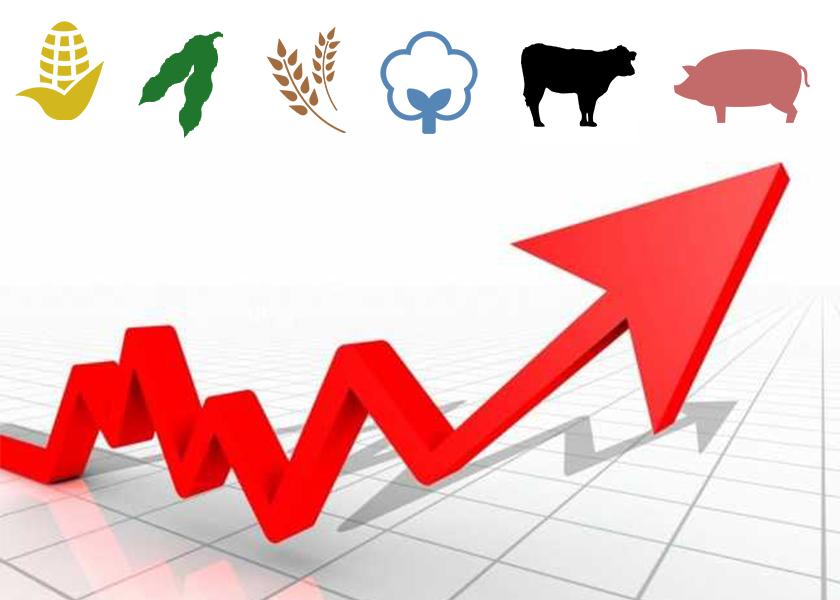 Corn: July futures rose 26 cents to $6.82 3/4 a bushel, while December rallied 47 1/2 cents to $5.91 1/2. Few apparently wanted to go home short over the weekend in the throes of a weather market. Conditions will remain hot and dry across the central U.S. during the weekend. There are some rain chances for the middle of next week, though it appears unlikely rains will be enough to avoid net drying, especially in the driest northern and western areas of the Corn Belt. USDA's Supply & Demand Report next Thursday should show an increase to old-crop corn-for-ethanol use and potentially an uptick in exports, which will pull ending stocks lower. Few changes aside from beginning stocks (old-crop carryover) are expected on the new-crop balance sheet. Globally, attention will be on USDA's Brazilian corn crop forecast, though it's likely to remain (well) above most private estimates.
Soybeans: July futures closed up 34 1/2 cents at $15.83 3/4, a technically bullish weekly high close, and gained 53 1/4 cents for the week. July meal futures gained $4.60 at $396.20, up 70 cents this week. July bean oil rose 249 points to 71.34 cents, setting new contract high. Strong closes in the soy complex sets the stage for follow-through buying early next week. However, meal futures continue to languish, an unsettling element for market bulls. Weather in the U.S. Midwest is in the spotlight as the meteorological summer is just under way. The north-central U.S. weather forecast is crop-threatening and conditions may get stressful in the coming weeks. The European model has correctly been drier than U.S. forecasts, curbing selling interest and increasing speculative long positioning Friday. Limited rainfall is forecast across the Plains and the northern half of the Midwest over the next two weeks.
Wheat: July SRW futures closed up 11 1/2 cents at $6.87 3/4 today, up 24 1/4 cents from the end of last week. July HRW wheat rose 12 1/4 cents to $6.36 1/2, up 23 1/4 cents this week. September spring wheat futures surged 33 cents to $8.15 3/4, up 82 1/4 cents on the week. Concern over hot and dry weather in the U.S. Northern Plains and southern Canadian Prairies continues to support wheat prices. There was "too much heat and dryness" this week across the Northern Plains, upper Midwest and southern Canada Prairies, resulting in notable crop stress, World Weather Inc. said in a report today. Traders will closely follow a high-pressure ridge currently extending from the Rocky Mountains into the Northern Plains.
Cotton: July futures closed up 159 points at 85.80 cents, after hitting a three-week high and posting weekly high close. The outside markets boosted cotton market bulls Friday, as grains rallied, crude oil prices hit a 2.5-year high and the U.S. dollar index backed down a bit from this week's gains. The strong finish to the week in cotton futures should support follow-through buying interest on Monday. USDA today reported net cotton sales of 180,800 running bales (RB) for 2020/2021--up 6 percent from the previous week and 82 percent from the prior 4-week average. Increases were primarily for Pakistan (74,900 RB), China (43,200 RB), and Vietnam (22,900 RB). For 2021/2022, net sales of 98,800 RB were primarily for South Korea (36,100 RB), Pakistan (24,200 RB), and Turkey (13,600 RB). Exports of 366,500 RB were up 13 percent from the previous week and 5 percent from the prior four-week average.
Hogs: Futures finished 12 1/2 cents to $1.60 higher today, scoring new highs in most contracts. For the week, July futures rose $1.25 to $120.60 per hundredweight and August firmed $1.35 to $117.575. Bulls continue to have the strong upper hand. Given premiums in summer-month contracts, however, some profit-taking and corrective selling is possible if not likely at points next week. As long as the cash index and pork cutout value continue to strengthen, downside will be limited to corrective selling, and there should be willing buyers under the market. Chinese demand is the wildcard. If Chinese data signaling its hog herd is nearly back to pre-African swine fever levels is accurate, its pork imports should slow the second half of the year. For now, China continues to show up as a prominent buyer and destination for U.S. pork in the weekly export sales data.
Cattle: August live cattle fell $0.45 to $118.075, down from $118.60 at the end of last week, but well-off Tuesday's lows. August feeder cattle fell $3.025 to $149.925 and down from $151.35 last week. Today's weakness raises questions over how much upside cattle prices may have over the near-term and whether summer grilling demand has been filled. Price action this week took some wind out of bulls' sails, though the long-term uptrend is still intact. Cash cattle traded around steady prices this week. Cattle slaughter numbers are down from last week, reflecting the Memorial Day holiday and the cyberattack that forced a temporary shuttered JBS plants. Key next week will be whether slaughter rates return to normal and what impact that has on the cash market. Wholesale beef prices remain strong.