Tyson Takes on USDA, NEC Over Charges of Meat Industry Concentration Impacts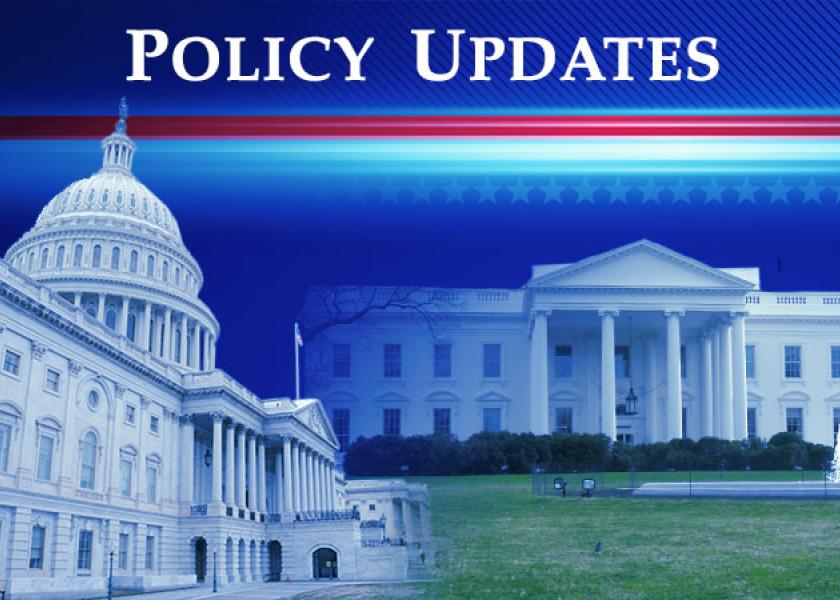 Vilsack writes WSJ op-ed on stepped-up basis | Klobuchar discloses breast cancer diagnosis
---
In Today's Digital Newspaper
---
Market Focus:
• U.S. jobless claims fall sharply to pandemic low
• USDA daily export sale: 132,000 MT soybeans to China during 2021-2022 marketing year
• ECB left rates unchanged but reduces level of bonds it will purchase over next 3 months
• Atlanta Fed's Bostic sees taper potential yet this year, but no decision this month
• Number of people who voluntarily left a job in July was second highest on record
• Yellen: Treasury could run out of cash, borrowing room in October
• Price pressures, slowing rate of growth in U.S. economy keys in Beige Book
• Tester endorses Federal Reserve Chair Jerome Powell for another term
• Natural gas futures touched seven-year high on Wednesday  
• U.S. oil and gas production still staggering nearly 10 days after Hurricane Ida
• Whoops… FSA releases September certified acreage two days early
• Cost of moving cars across the ocean surging
• Ag demand update
• Grain and soy futures remain under pressure
• Weekly export sales pushed back to Friday
• Hurricane Ida disrupting flow of grains, oilseeds to Asian buyers
• Trucker strike in Brazil having limited impact on grain exports so far
• Russian wheat exports lagging year-ago
• Adverse weather has compromised France's soft wheat crop
• Small increase in floor price for Indian wheat
• Beef movement picks up
• Cash hogs firm, index still falling
Policy Focus:
• Schumer to Manchin: 'Full speed ahead'
• Axne undecided about supporting $3.5 trillion reconciliation package
• Reconciliation update
• Key meeting Friday to begin to discuss fate of controversial reconciliation topic
• Vilsack opens another hornet's nest on stepped-up basis proposal via WSJ op-ed
Afghanistan:
• Taliban to allow 100-200 Americans, other foreigners to fly out of Kabul
• China's Afghan aid
China Update:
• Walmart rethinking its China strategy as homegrown rivals take market share
• China's factory-gate prices in August rose at their fastest pace in 13 years  
• Chinese tech stocks getting hammered
Energy & Climate Change:
• Biden on climate change
• Biofuel, farm groups hit EPA for not asking court to toss 2018 SREs

Livestock, Food & Beverage Industry Update:
• Tyson Foods 'categorically rejects' conclusions in White House press briefing
• Vast expansion in aid kept food insecurity from growing last year
• Dems release reconciliation plan for school meals
• GAO tells USDA to improve data gathering on food distribution programs

Coronavirus Update:
• Biden to comment today on Covid-19 strategy
• WHO calls for a moratorium on boosters through end of year
• U.S. will offer booster shots for those who got their first doses eight months ago
• Covid cases rebound in South Korea
• Japan to extend Covid state of emergency through month-end in most areas
• Covax cut its 2021 forecast for available doses by a quarter
• Macy's planning to hold Thanksgiving Day Parade this year… with stipulations
Politics & Elections:
• Wasserman on five factors that will decide House control in 2022
• Pelosi on 2022 midterm elections
• College graduates now solidly Democratic bloc; those without degrees, GOP
• Biden's summer has Democrats very anxious
• Trump expected to endorse Wyoming lawyer to unseat Liz Cheney
Congress:
• Klobuchar shares cancer diagnosis
• Former Senate Majority Leader Harry Reid urges Democrats abolish filibuster
• House returns Sept. 20 for floor votes;  in for just eight days in September

Other Items of Note:
• Australia's top court rules news outlets liable for readers' comments on Facebook posts
• Longtime aide to Vladimir Putin died when he dove off a cliff trying to save film director
• Supreme Court plans return to in-person arguments next month
• 7.1-magnitutde earthquake struck Acapulco, Mexico
• Black farmworkers sue
---
MARKET FOCUS
---
Equities today: Global stock markets were mostly down in overnight trading. The Dow opened up slightly lower. Asian equities ended lower in part on the Fed signaling growth in the US economy had slowed. Japan's Nikkei was down 173.02 points, 0.57%, at 30,008.19. Hong Kong's Hang Seng fell 604.93 points, 2.30%, at 25,716.00. European equities are under pressure in early action. The Stoxx 600 is down 0.4% with regional markets seeing losses of 0.3% to 1.2%.
     U.S. equities yesterday: The Dow retreated 68.93 points, 0.2%, to 35,031.07. The S&P 500 declined 5.96 points, 0.1%, to 4514.07. The Nasdaq fell 87.69 points, 0.6%, to 15,286.64.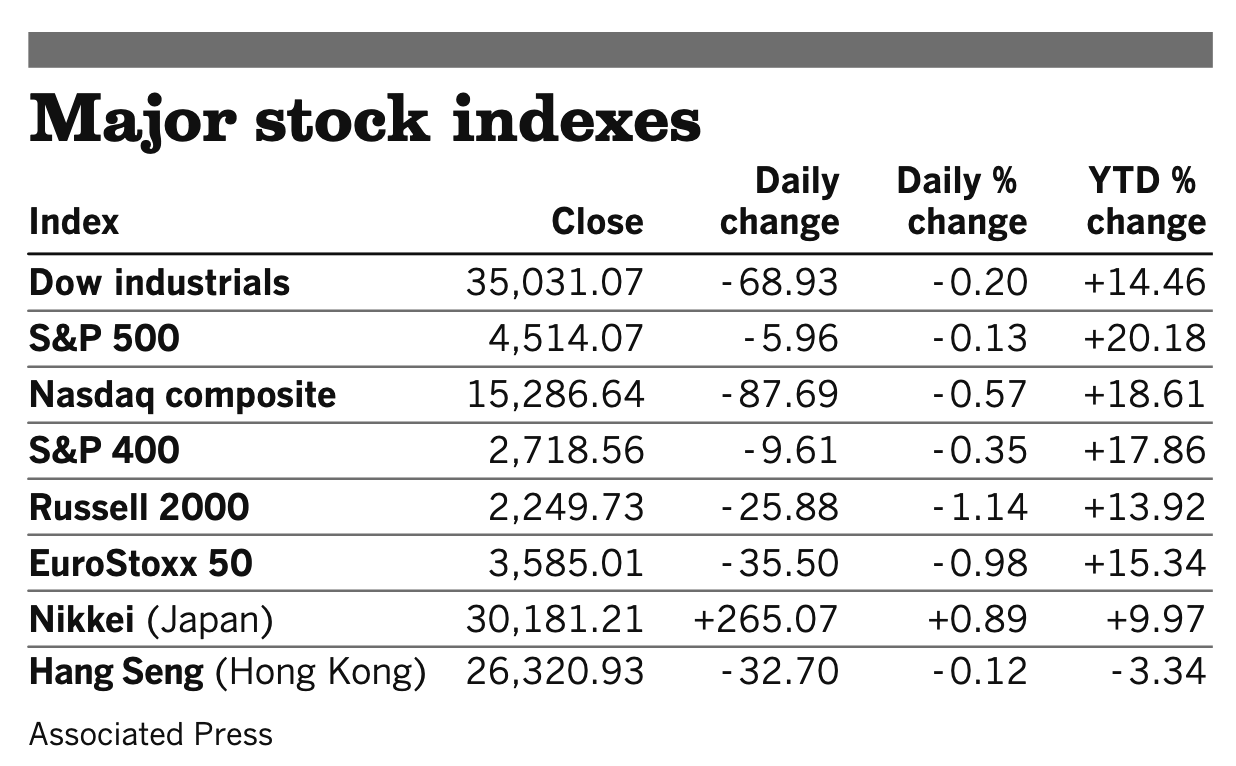 On tap today:
     • European Central Bank (ECB) releases a policy statement at 7:45 a.m. ET. Update: The ECB left rates unchanged at the conclusion of its policy meeting but did reduce the level of bonds it will purchase over the next three months under its Pandemic Emergency Purchase Program (PEPP). The purchases have been taking place at 80 billion euros ($94.7 billion) per month the past six months, with the pace to be "moderately" lower to around 60 billion to 70 billion euros. However, the ECB said it would buy bonds flexibly based on market conditions and would seek to prevent a tightening of financing conditions. The ECB indicated it would wind down the purchase effort by March at the earliest.
     • U.S. jobless claims are expected to fall to 335,000 in the week ended Sept. 4 from 340,000 a week earlier. (8:30 a.m. ET) Update: Filings for jobless benefits last week fell and reached a fresh pandemic low, extending a downward trend as employers hold onto workers despite the Delta variant of Covid-19. Initial unemployment claims, a proxy for layoffs, moved lower in the week ended Sept. 4 to 310,000 from a slightly upwardly revised 345,000 the prior week, the Labor Department reported. The four-week moving average, which smooths out weekly volatility in the data, fell to 339,500, also a pandemic low. Claims have trended lower since mid-July,
     • Federal Reserve speakers: San Francisco's Mary Daly at the Brookings Institution at 11:05 a.m. ET, Chicago's Charles Evans on career pathways in economics at 11:05 a.m. ET, governor Michelle Bowman to the American Bankers Association at 1 p.m. ET, and New York's John Williams, Dallas's Robert Kaplan, Minneapolis's Neel Kashkari and Boston's Eric Rosengren at a conference on racism and the economy that runs from 2 p.m. to 4:30 p.m. ET.
     • President Biden will outline a new six-point strategy to fight the Covid virus this afternoon.
Number of people who voluntarily left a job in July was the second highest on record. That's typically considered a sign of labor-market strength — people don't quit unless they're confident they can land another job fairly quickly. The pandemic and related concerns about health, availability of childcare and other factors, however, could also drive some people to leave an employer.
Atlanta Fed's Bostic sees taper potential yet this year, but no decision this month. The rise of the Delta variant Covid virus and recent economic data indicate the Fed needs to take more time before deciding on tapering their bond purchases that have been going off at $120 billion per month, Atlanta Fed President Raphael Bostic told the Wall Street Journal (WSJ) in an interview (link). He has advocated tapering those bond purchases much of this year, but the current Fed voter told the WSJ, "The weaker data that we've seen more recently suggests to me that maybe there's a chance for some play on this, but I still think that sometime this year is going to be appropriate" to slow the asset buying.
     He also suggested the Sept. 21-22 Federal Open Market Committee (FOMC) meeting will not likely see a decision reached on tapering the bond buys. "I wouldn't lean in too heavily in expecting anything on taper at the next meeting," he commented. Once the Fed starts trimming the bond buys, Bostic still favors an aggressive pace and still expects a rate increase to be in the cards in late-2022.
     The Delta variant is a concern, but Bostic indicated that while it has "slowed the pace of progress," the U.S. economy has not come to a halt as a result. "I haven't seen evidence to suggest that it stopped, or even reversed it," he noted.
     He counts himself among those who think the rise in prices will be temporary but admitted it could last longer than expected. But he still sees a solid base under the U.S. economy and has not seen a big increase in risks.
     His comments indicate those expecting a taper decision to be finalized this month will be disappointed and he shares the view expressed by Fed Chairman Jerome Powell on the Delta variant — it is a concern but is not likely to hammer the U.S. economy like the Covid-19 virus did in 2020. It paints a picture of a Fed that is still feeling its way amid price increases, labor shortages and supply chain disruptions.
Yellen: Treasury could run out of cash, borrowing room in October. Lawmakers may need to raise or suspend the statutory debt limit sometime before the end of October to avoid missed payments on U.S. financial commitments, which could have sweeping effects throughout the economy. Treasury Secretary Janet L. Yellen wrote to congressional leaders on Wednesday (PDF link) that the "most likely outcome" is the agency's cash balance and so-called extraordinary measures to remain under the statutory debt ceiling will be "exhausted during the month of October."
     While she did not detail a more specific time frame, Yellen wrote that lawmakers shouldn't wait until the last minute, given the potential impact on consumer confidence, borrowing costs and potentially the U.S. credit rating. That gives congressional leaders and the Biden administration little time to negotiate an agreement that can clear both chambers during the coming weeks, especially since Republicans remain mostly opposed to approving another extension of the debt limit.
     Senate Minority Leader Mitch McConnell (R-Ky.) has said Democrats should raise the debt limit through the reconciliation process they are using to advance a $3.5 trillion spending package. The Biden administration and Democratic leaders have remained committed to addressing the borrowing limit through the traditional legislative process, however, which would require at least 10 Senate GOP votes if Democrats in that chamber remain united.
     House Speaker Nancy Pelosi (D-Calif.) and Senate Majority Leader Chuck Schumer (D-N.Y.) said separately Wednesday morning that they have several options for addressing the debt limit but wouldn't provide specifics. Each seemed to rule out amending the budget resolution (SConRes 14) to add reconciliation instructions for a debt limit increase, though Pelosi was more emphatic.
    "I'm not here to talk about where we would put the debt limit, but it won't be on reconciliation, as I mentioned," Pelosi said. "During the Trump administration, which amassed over $7 trillion in debt -- and that's what this [debt] ceiling lift is paying for," Pelosi said during a weekly press conference. "People say, 'Oh, you just want to spend more'. No, we're paying the credit card, the Trump credit card, with what we do to lift the debt ceiling."
     Schumer called GOP opposition to raising or suspending the debt ceiling "despicable" while implying Democrats would need their votes. "It would be just the height of irresponsibility for Republicans to play games, to take the debt limit hostage," he said. But Schumer later hinted at keeping his options open. "We have a number of different ways we're going to look at getting the debt ceiling done. We must get it done and stay tuned," he said.
     One option could be to attach a temporary suspension of the debt limit to the stopgap government funding bill that Congress must approve to avoid a shutdown before the new fiscal year begins on Oct. 1. The White House on Tuesday called for lawmakers to add at least $24 billion to address natural disasters and $6.4 billion to help relocate Afghan refugees to that short-term measure, which could make it difficult for Republicans to oppose.
     Yellen urged lawmakers to avoid waiting much longer to reach a bipartisan agreement on the debt ceiling. She wrote that a delay could call "into question the federal government's ability to meet all its obligations" and would "likely cause irreparable damage to the U.S. economy and global financial markets… At a time when American families, communities, and businesses are still suffering from the effects of the ongoing global pandemic, it would be particularly irresponsible to put the full faith and credit of the United States at risk," Yellen wrote.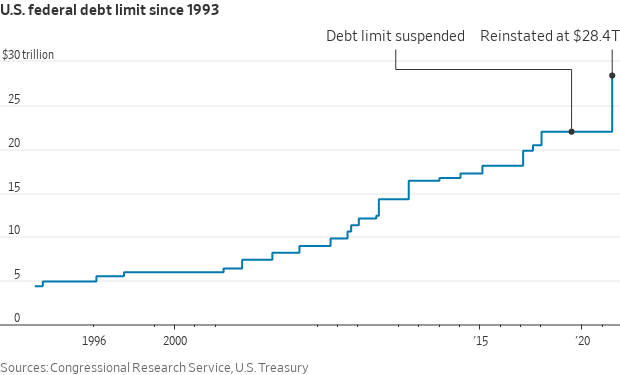 Price pressures, slowing rate of growth in U.S. economy keys in Beige Book. U.S. economic growth "gradually downshifted" to a moderate pace, according to the Federal Reserve's Beige Book report issued Wednesday, with price pressures evident across the economy. Link to report.
     Much of the economic slowdown came in sectors linked to dining out, travel and tourism "reflecting safety concerns due to the rise of the Delta variant."
     Areas of the economy with supply chain disruptions and labor shortages also experienced slowing with the update on the U.S. economy prepared by the New York Fed noting that it was not due to slowing demand.
      Labor shortages were noted in nearly every district recap of their economic conditions and concerns over the Delta variant were also noted.
     On prices, the report indicated businesses reported inflation was "steady at an elevated pace" with half of the Fed districts calling price pressures "strong" while half labeled them "moderate." Businesses also reported it was easier to pass along higher costs to consumers, but also noted "several" districts signaled businesses expected "significant hikes in their selling prices in the months ahead."
     What it means: This anecdotal update on the U.S. economy and combination of recent economic data indicate the Fed's next rate-setting meeting Sept. 21-22 will be interesting with the rising expectation by some that the Fed will finalize their plans on tapering their bond purchases from the current pace of $120 billion per month. The inflation situation will also be closely watched as it will continue to potentially test the Fed view that elevated prices are a temporary situation. The report still shows an expanding U.S. economy, but one that faces challenges via the Delta variant, labor shortages, rising prices and supply chain constraints that continue to impact several economic sectors.
Senior Democrat on the Senate Banking Committee endorsed Federal Reserve Chair Jerome Powell for another term. "As our economy continues to recover from one of the greatest economic crises in our history, we need a steady hand at the wheel – and Chairman Powell has been just that," Sen. Jon Tester (D-Mont.) said yesterday. Tester said that he was concerned by recent calls from progressive House Democrats to replace Powell with someone who would focus the Fed on advancing liberal political priorities, including climate change. Tester said he worried doing that would harm the economy by politicizing the central bank. "They should not be involved in the political footballs thrown around on Capitol Hill. That's the reason I want Jerome Powell. He's proven he can maintain the independence of the Fed," Tester said. "I watched President Trump threaten [Powell] because he wouldn't do things President Trump wanted him to do, and he held to the independence that the Fed needed to have," said Tester. "I think it is incredibly dangerous if you move to the other side. That is incredibly shortsighted. It was shortsighted by the previous president, and it is shortsighted by the progressives." Link to WSJ interview with Tester.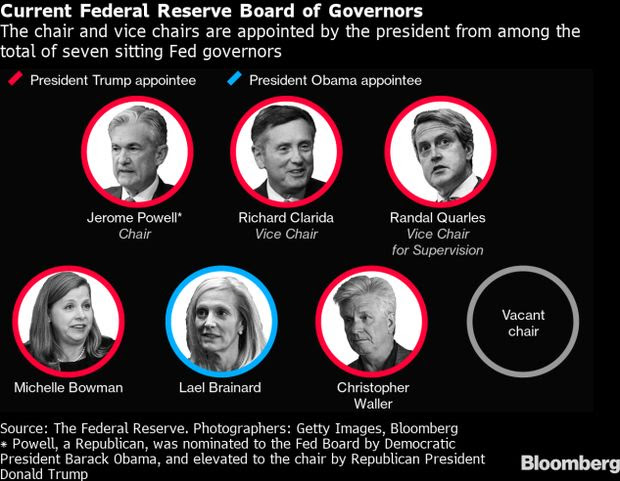 Market perspectives:
     • Outside markets: The U.S. dollar index is weaker as both the euro and British pound are slightly higher against the greenback. The yield on the 10-year U.S. Treasury note has weakened to trade under 1.34% ahead of U.S. economic updates with a mostly lower tone in global government bond markets. Gold and silver futures are higher, with gold just under $1,800 per troy ounce and silver just under $24.28 per troy ounce.

     • Crude prices are higher ahead of U.S. gov't inventory data due this morning, delayed a day by Monday's U.S. holiday. U.S. crude is trading around $69.75 per barrel and Brent around $73.05 per barrel. Futures were firmer overnight in Asian action, with U.S. crude up five cents at $68.35 per barrel and Brent up nine cents at $72.69 per barrel.
     • Natural gas futures touched a seven-year high on Wednesday, reaching prices not seen since the 2014 polar vortex. With cold weather on the horizon, soon to drive up demand for heating, and production disrupted by Hurricane Ida in the Gulf of Mexico, prices are going up in industrialized economies, with gas for October delivery at $4.914 per million BTUs in New York on Wednesday. Link for details via Bloomberg.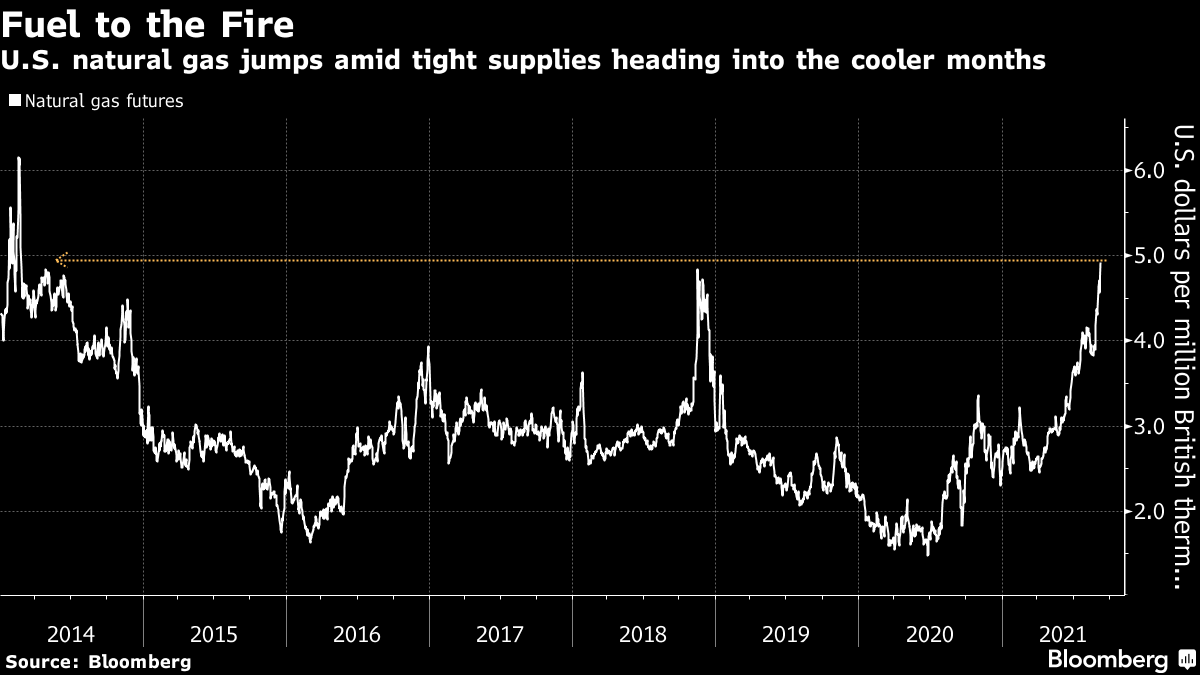 • U.S. oil and gas production is still staggering nearly 10 days after Hurricane Ida tore through Louisiana. Nearly 80% of U.S. production in the Gulf of Mexico remains offline, the Wall Street Journal reports (link), while oil and gas processing plants and other key onshore facilities try to recover from damage and the loss of power that has limited output. Operators have restored about 300,000 barrels of daily oil production, but most remains shut off. The impact on broader energy markets has been muted so far, but some of the country's largest refineries remain offline and extended delivery delays could eat into inventories. The Port of New Orleans resumed full operations that include container and bulk handling only this week even as energy facilities were still struggling to recover. In total, Ida has kept about 20 million barrels of oil off the market, according to S&P Global Platts Analytics.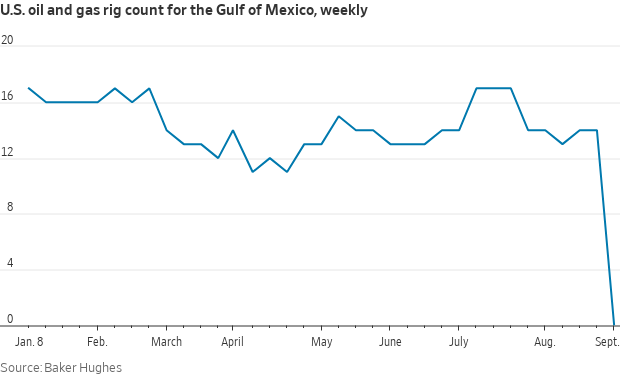 • Whoops… FSA releases September certified acreage two days early. USDA's Farm Service Agency (FSA) was scheduled to release its second batch of certified acreage data on Friday — after USDA's September crop report. But the data appeared on the FSA site Wednesday — two days early. FSA initially pulled the info back but then reposted the acreage data on its website "to ensure equitable access," it said.
     As of Sept. 1, FSA reported corn planted/failed acres at 91.2 million acres, up from 90.3 million acres reported in August.
     For soybeans, FSA reported planted/failed acres at 86.2 million acres, up from 85.3 million acres last month.
     FSA reported planted/failed acres of 10.9 million acres of upland cotton and 119,733 acres of extra-long staple (pima) cotton. The upland cotton acres rose marginally and ELS acres also just slightly increased from the August figures.
     FSA will update certified acreage through January. NASS announced earlier it will start incorporating the FSA acreage data into its corn and soybean crop estimates this month due to the "completeness" of the data – one month earlier than normal.
     • Cost of moving cars across the ocean is surging. Vessels that carry autos and industrial machinery fetched their highest rates since 2008 in August, according to Clarksons Research Services. Stretched global supply chains and a worldwide recovery in car sales during 2021 have contributed to a surge in rates, while the crunch has echoes of the container shipping market — where soaring rates are raising the cost of hauling everything from bicycles to coffee.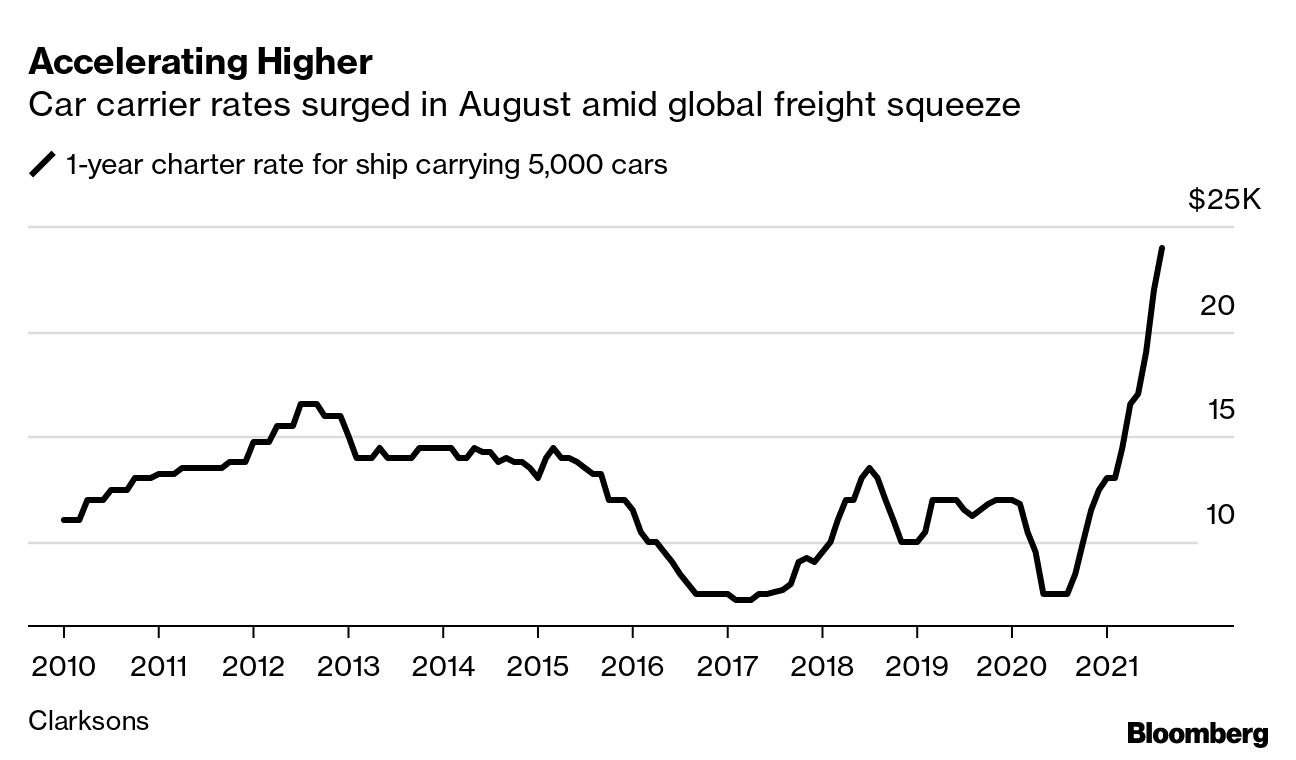 • USDA daily export sale: 132,000 MT soybeans to China, 2021-2022 marketing year.
     • Ag demand: Saudi Arabia's main state wheat buying agency issued an international tender to buy around 360,000 MT of milling wheat. Jordan's state grain buyer issued a new tender to buy 120,000 MT of milling wheat from optional origins. It made no purchase in a previous tender for that amount of wheat. Tunisia tendered to buy 100,000 MT of soft milling wheat and 100,000 MT of animal feed barley from optional origins. Egypt purchased 240,000 MT of wheat from Ukraine and 60,000 MT of wheat from Russia.
     • NWS weather: Tropical Depression Mindy is moving across Georgia this morning with gusty winds and a period heavy rain; forecast to move out to sea this afternoon and tonight... ...Scattered thunderstorms slowly move across the Eastern Seaboard today... ...The current heat wave in the western U.S. will shift into the High Plains by Friday as scattered thunderstorms move across the interior northwestern U.S.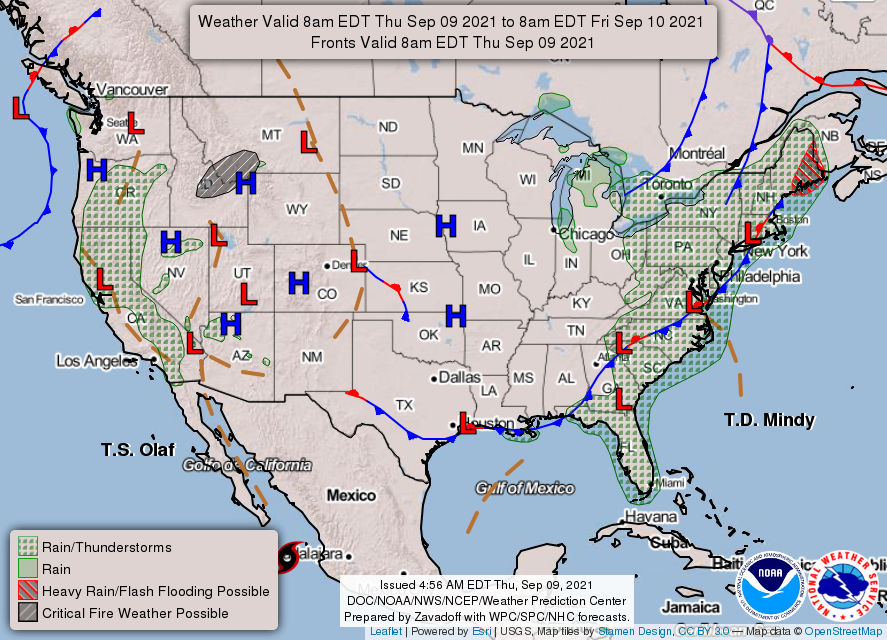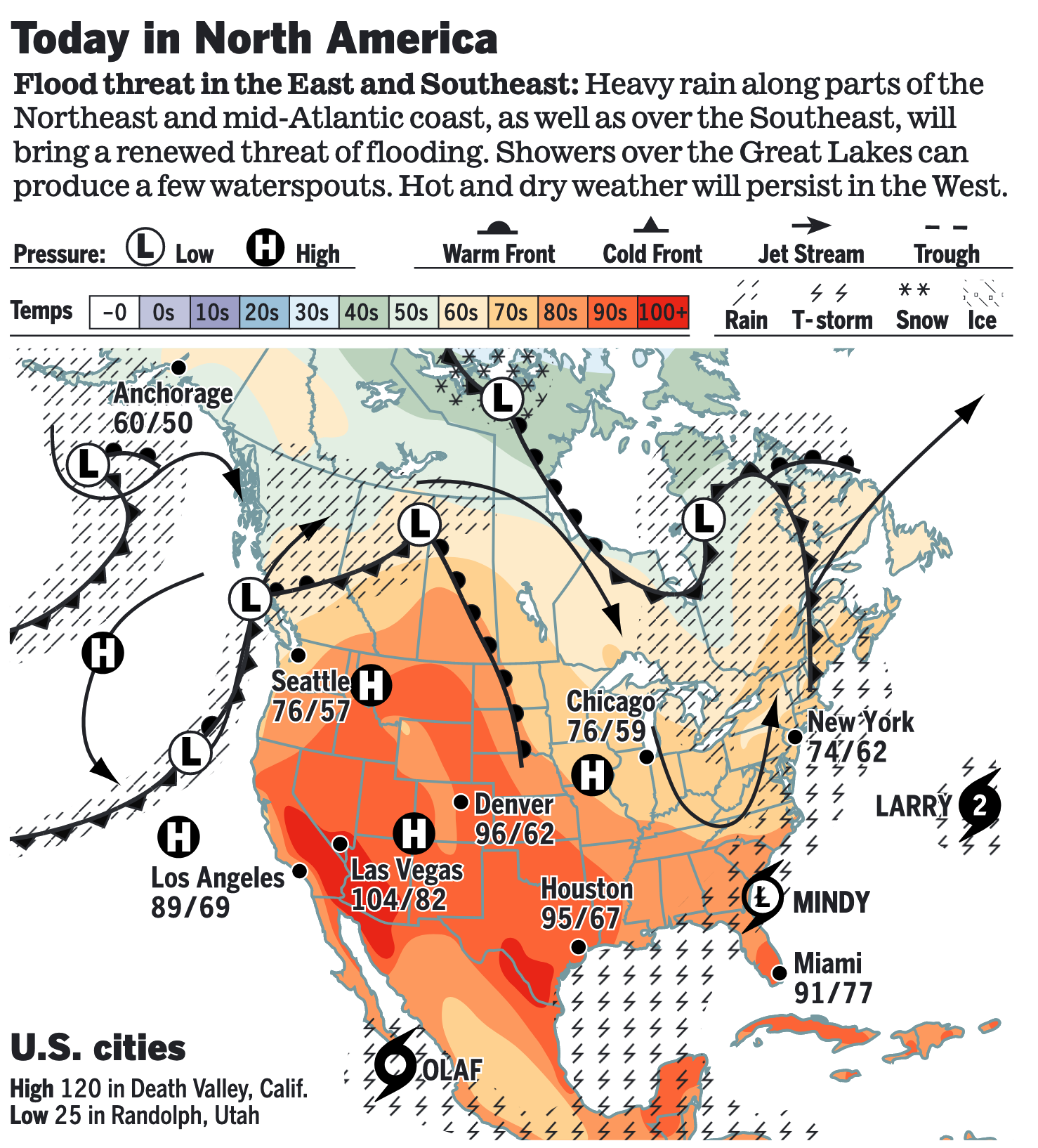 Items in Pro Farmer's First Thing Today include:
     • Grain and soy futures remain under pressure
     • Weekly export sales pushed back to Friday
     • Hurricane Ida disrupting flow of grains, oilseeds to Asian buyers
     • Trucker strike in Brazil having limited impact on grain exports so far
     • Russian wheat exports lagging year-ago
     • Adverse weather has compromised France's soft wheat crop
     • Small increase in floor price for Indian wheat
     • Beef movement picks up
     • Cash hogs firm, index still falling
---
POLICY FOCUS
---
— Schumer to Manchin: 'Full speed ahead.' Senate Majority Leader Chuck Schumer (D-N.Y.) shot down Sen. Joe Manchin's (D-W.Va.) proposal for a "strategic pause" on the $3.5 trillion reconciliation package, telling reporters that his caucus is "moving full speed ahead… In reconciliation, we're gonna all come together to get something big done," Schumer said on a press call today. "And second, it's our intention to have every part of the Biden plan in a big and robust way."
     Senate Budget Committee Chair Bernie Sanders (I-Vt.) said the $3.5 trillion reconciliation package is already a compromise. Sanders said the "overwhelming majority" of Senate Democrats —including Schumer — were ready to back a $6 trillion bill. "So, to my mind, this bill, that $3.5 trillion, is already the result of a major, major compromise. And at the very least, this bill should contain $3.5 trillion," Sanders said.
     As for Sen. Manchin, Axios on Tuesday reported that Manchin told White House and Democratic leaders that he can't support more than $1.5 trillion. Manchin also wants to means-test key programs and has doubts about a new $400 billion entitlement for home care. He says record spending is already contributing to inflation as the Federal Reserve accommodates it, and Washington needs fiscal space in case of an unforeseen crisis.
      House Majority Whip Jim Clyburn (D-S.C.) said on CNN Wednesday evening (link) that "You may not need $3.5 trillion to do what the president wants done and what the current country needs done." Clyburn said there is "a lot of room" for negotiate between the $1 trillion Manchin wants and $3.5 trillion in the reconciliation instructions. Clyburn urged Democrats to keep their conversations out of the media.
     "What does it take?" House Speaker Nancy Pelosi said on Wednesday about the debate over the size of the reconciliation package. "Where would you cut? Childcare? Family medical leave paid for? Universal pre-K? Home health care, so important?"
     A Democratic Plan B would be to start the entitlements small and means-test them to reduce their 10-year cost. But the programs would invariably expand in the future and would not answer Manchin's fiscal principles.
— Rep. Cindy Axne (D-Iowa) says she remains undecided about supporting the $3.5 trillion reconciliation package, but touted securing $1 billion over eight years to increase use of fuels with higher levels of ethanol and biodiesel as part of the House Agriculture draft package scheduled for markup Friday.
— Reconciliation update: Five key House committees, including Ways and Means, Education and Labor and Agriculture will begin markup up their respective portions of the reconciliation bill today. All the House panels are scheduled to be finished by Sept. 15. Members of the Senate Finance Committee will meet today to review over two dozen tax proposals as the panel works to figure out how to cover the ambitious social spending bill.. Look for the ag-related text to be released today. A bill set to be approved by the House Natural Resources Committee today would also slap new fees on oil and mining companies and ban drilling in the Arctic National Wildlife Refuge. The $31.7 billion measure, which calls for spending on drought relief, conservation and other programs, is designated to be part of a broader multi-trillion-dollar social reform and climate change measure in the House.
— Key meeting Friday to begin to discuss fate of controversial reconciliation topic. Senate Democratic and GOP aides will hold their first "Byrd bath" on Friday with Parliamentarian Elizabeth MacDonough over the issue of whether immigration-related provisions can be included in the Democrats' $3.5 trillion reconciliation package, Punchbowl News reported. The issue is whether Democrats can include a path to citizenship for many Dreamers, TPS holders, migrant farm workers and other undocumented immigrants in the reconciliation package. Democratic aides argue they can, while GOP staffers counter that it must fail the Byrd test for inclusion in reconciliation.
     If MacDonough rules against Democrats, then they would face a 60-vote threshold for including immigration provisions in the package on the Senate floor, something which would not likely occur. No final decision is expected Friday.
     Background. The Byrd Rule is a multi-provision test that prevents "extraneous matter" from being included in reconciliation bills. It defines "extraneous matter" as anything that doesn't have a direct impact on spending or revenue, or the impact is "merely incidental" to a provision's purpose.
     Senate Majority Whip Dick Durbin (D-Ill.), who also chairs the Judiciary Committee, said in an Aug. 9 Senate floor speech, "There is ample precedent for passing this important legislation through budget reconciliation. Republicans have used this process to open up the Arctic National Wildlife Refuge in Alaska for drilling and enact a $1.9 trillion tax cut for the wealthiest Americans and corporations." Durbin added: "In addition, in 2005, Senate Republicans used reconciliation to dramatically increase the number of lawful permanent residents by an estimated 3.2 million over ten years. Now they are saying it doesn't belong in reconciliation. In 2005, they put it in. This is the exact same immigration status we are proposing to give Dreamers, TPS holders, farm workers, and essential workers."
— Vilsack opens another hornet's nest on stepped-up basis proposal via WSJ op-ed. The Vilsack commentary (link) is titled, Biden's Tax Changes Won't Hurt Family Farmers; Changes to the step-up in basis are needed to ensure that wealthy investors pay their fair share.
     Vilsack writes: "Folks ask me, what about farmers? Won't this mean they have to sell the farm to pay the tax? No, because President Biden's proposal includes special protections for family-owned business, including family farms. Under the proposal there are two key protections for farmers. First, if a farmer is passing along the farm to his or her children so that they can keep the farm going, no tax is due until they decide to stop farming or sell the farm. That is true for all other family businesses too. Second, the proposal exempts up to the first $2.5 million in gain from taxation. So even if a farmer's heirs decide to sell the farm, they only pay tax on any gain above that exemption. The $2.5 million exemption means that more than 95% of families won't face any new tax."
     Vilsack's bottom line: "Keeping step-up in basis doesn't protect farmers, it protects investors. The people who are going to pay tax under the proposal have never plowed an acre. Don't let lobbyists use American farmers as a smoke screen to keep a system that allows the rich to pass on their wealth tax-free."
     Comments: USDA nor the White House has ever released its analysis that showed very few farmers would be negatively impacted by the tax proposals. Transparency is needed on this topic. No one is even sure who at USDA or in the Biden administration did the analysis. Meanwhile, the American Farm Bureau Federation, National Cattlemen's Beef Association and others sent a letter (PDF Link) to the leaders of the Senate Finance and House Ways and Means Committees on Wednesday, asking them to maintain existing federal estate tax code provisions as they draft their portions of the spending bill.
     One ag economist emailed: "With the proposed $2.5 million exemption, Vilsack's heirs STILL would not have to pay capital gains on the change in land value. Clueless."
     Former West Virginia Congressman Nick Rahall (D) penned an op-ed in the Charleston Gazette (link) arguing against the capital gains step-up in basis at death: "Some in Congress believe this will only affect wealthy people and fix a loophole to ensure the rich pay their fair share," he wrote. "In actuality, it would force small businesses and family farms to pay a 43.4% tax on inherited assets and a 40% estate tax. That amounts to a 83.4% tax, a punitive measure that small businesses simply can't afford, especially now."
     Heidi Heitkamp, the former Democratic senator from North Dakota turned lobbyist, told the New York Times this week (link) that "taxation upon death, regardless of wealth, is deadly politics." The report noted that "Heitkamp said she was finding a receptive audience among potential swing voters in rural areas, especially owners of family farms, even though Democrats say such voters would never be affected by the changes under consideration. Lobbyists already expect this piece of the estate tax changes to wash out in the lobbying deluge."
---
AFGHANISTAN
---
— Taliban to allow up to 200 Americans, other foreigners to fly out of Kabul. The flight is scheduled for today, the first such departure by air since U.S. forces withdrew last month, Qatari and American officials said, according to the Wall Street Journal (link). The expected flight by a Qatar Airways Boeing 777 would mark the resumption of international passenger operations at Kabul's Hamid Karzai International Airport and is expected to be followed by daily air links to foreign countries, a senior Qatari official said. The Qatari official said it wasn't an evacuation flight as all the passengers hold foreign passports and, if required, visas to their destinations, and have been ticketed by the airline. Qatar is facilitating the movement to the airport in a convoy of minibuses that were parked this morning in a Kabul hotel. Most of the foreign citizens still in Afghanistan are dual nationals.
     A lower number of Americans was also cited. The Taliban will allow between 100 and 150 Americans to fly out from Kabul on a commercial flight today, other Qatari officials said.
— China's Afghan aid. China committed $31 million in aid to Afghanistan on Wednesday as it makes its first moves in a relationship with the new Taliban government. The commitment of food supplies and aid come before an international donor conference next week where the United Nations hopes to raise $600 million for immediate relief efforts. Beijing's move highlights the challenge Washington faces in trying to coordinate an international response to the Taliban takeover.
---
CHINA UPDATE
---
— Walmart rethinking its China strategy as homegrown rivals take market share. The giant food chain has fallen from No. 2 in 2011 to fourth in China's supermarket sector, with no gains in market share amid stiff competition from local players like e-commerce giant Alibaba, which has already forced out Germany's Metro AG and France's Carrefour SA. While China accounts for only 2.1% of Walmart's global revenue, the country represents a major strategic and growth opportunity for the retailer. China has been crucial in teaching executives about digital evolution. Prior to the pandemic, managers in other locations were invited to travel to China each year, in part to witness the latest in consumer tech trends, according to Bloomberg.
— China's factory-gate prices in August rose at their fastest pace in 13 years, boosted by soaring costs for coal, chemicals and steel. The producer-price index rose 9.5% from a year earlier in August, accelerating from a 9.0% increase in July, the National Bureau of Statistics said. China's consumer-price index rose 0.8% from a year earlier, down from a 1% increase in July, as food prices moderated.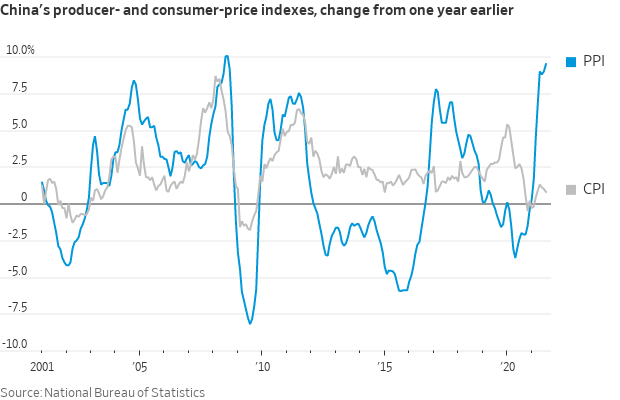 — Chinese tech stocks are getting hammered after Beijing summoned several gaming companies, including Tencent and NetEase, over new rules on the sector. The companies were told to put an end to the "solitary focus of pursuing profit" and understand the importance of preventing online gaming addiction among children, the state-run Xinhua News Agency reported. Last month regulators moved to limit videogame playing time to just three hours a week for under 18s. Meanwhile, China has temporarily suspended approval of all new online games, the South China Morning Post reported (link). Separately, the Transport Ministry reiterated its crackdown on the ride-hailing industry
---
ENERGY & CLIMATE CHANGE
---
— Biden on climate change: "The evidence is clear: Climate change poses an existential threat to our lives, to our economy, and the threat is here. It's not going to get any better," President Biden said in New York after touring a street in Queens torn up by Ida. "The question — can it get worse? We can stop it from getting worse."
— Biofuel, farm groups hit EPA for not asking court to toss 2018 SREs. A coalition of farm and biofuel groups is hitting EPA for asking the DC Circuit Court of Appeals to remand 31 small refinery exemptions (SREs) granted in 2018 without vacating the waivers.
     At issue are a set of SREs granted in August 2019 for the 2018 compliance year. Biofuel proponents contend the waivers are invalid considering the 10th Circuit Court of Appeals' previous ruling limiting the granting of the exemptions—even after parts of that decisions were struck down by the Supreme Court.
     Biofuel groups issue statement. The Renewable Fuels Association (RFA), Growth Energy, National Corn Growers Association (NCGA), National Biodiesel Board (NBB), American Coalition for Ethanol (ACE) and National Farmers Union (NFU) issued a statement (link) Sept 8 on EPA's motion to remand the 31 2018 SREs. They said that while they are encouraged the Biden administration is keen to review the waivers, they disagree with "EPA's motion to remand without a deadline and without addressing the SREs' ongoing damage to the biofuel industry." Link to statement.
     Instead, the groups said EPA should also ask the court to vacate the SREs "or at the very least, EPA should ask the court to set a deadline by which the reconsideration of these petitions must be completed." Vacating the waivers or a firm timeline to reconsider them would allow the agency "to hit the reset button and conduct a new evaluation of each 2018 SRE request," considering aspects of the Tenth Circuit ruling that remain in force, the groups wrote.
---
LIVESTOCK, FOOD & BEVERAGE INDUSTRY
---
— Tyson Foods 'categorically rejects' conclusions drawn by USDA and NEC in a White House press briefing. The Biden administration on Wednesday released a report via a blog (link) detailing the drivers of consumer inflation in the food sector, "none of which are related to industry consolidation or scale," said Tyson Foods.
     The increase in beef prices is due to "unprecedented market conditions," Tyson said, repeating what the firm told the Senate Judiciary Committee in August. "Multiple, unprecedented market shocks, including a global pandemic and severe weather conditions, led to an unexpected and drastic drop in meat processors' abilities to operate at full capacity" Tyson explained. "This led to an oversupply of live cattle and an undersupply of beef, while demand for beef products was at an all-time high. So, as a result, the price for cattle fell, while the price for beef rose. Today, prices paid to cattle producers are rising."
     Labor shortages also played a role, Tyson said. "The inability of the industry to adequately staff its plants has exacerbated the situation. Labor shortages are also affecting the nation's pork and poultry supply."
     Tyson Foods said it now pays its frontline workers an average of $22 per hour, including full medical benefits. It added: "We recently announced additional paid sick leave and vacation benefits starting in 2022. The company is also piloting childcare programs and providing access to vaccinations for all of its U.S. workers."
     Regarding claims of consolidation impacts, Tyson wrote, "It is inaccurate to suggest that consolidation in the meat processing industry is leading to higher prices for consumers. In fact, evidence of healthy competition can also be found by looking at historical outcomes. For example, we have seen a rise in availability and quality of beef, while the price has become more affordable over the past quarter-century: data shows that while the concentration of the industry has remained relatively constant for close to 30 years, quality has significantly improved. Furthermore, as the USDA table below clearly illustrates, the historical ratios of margins of cow and calf producers and feeders versus processors, including Tyson, show that cow and calf and feeder margins outpace processor margins in almost every year except the most recent."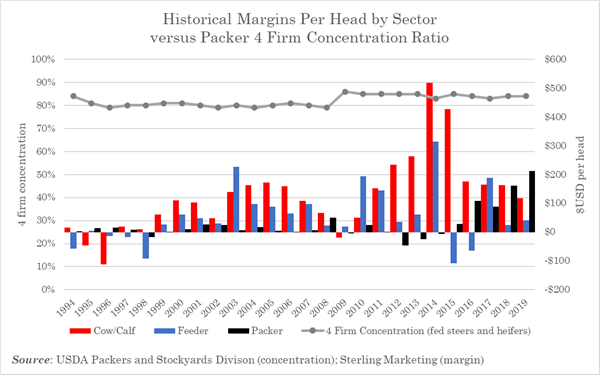 Tyson said its scale allows it to operate efficiently, "which keeps costs down for consumers," adding that the firm relies on "independent farmers and want them to succeed, because without a steady pipeline of livestock, we can't run our business. In rural communities across America, every year, we invest more than $15 billion with 11,000 independent farms supplying us with cattle, hogs and chickens. Tyson Foods is committed to working with the Administration, the U.S. Congress and others to find ways to better feed this growing country — and keep consumer prices affordable. We welcome a deeper discussion on all of the issues raised."
     Meanwhile, the North American Meat Institute, which represents meat processors, argued that rising prices are primarily due to a persistent labor shortage that's affecting many parts of the economy. "Issuing inflammatory statements that ignore the fundamentals of how supply and demand affects markets accomplishes nothing," Mark Dopp, NAMI's chief operating officer, said in a statement. "Meat and poultry markets are competitive and dynamic with no one sector of the industry consistently dominating the market at the expense of another."
— Vast expansion of federal aid kept food insecurity from growing last year, despite drastic job losses and long lines at food banks, USDA reported. Bipartisan legislation signed by President Donald Trump offered billions in emergency funding, forestalling the expected rise in hunger that has accompanied past recessions. But some groups still suffered, including Black Americans and households in the South and those with children. The food-insecurity gap between Black and white households widened by 14.6 percentage points. Link to USDA report.

— Dems release reconciliation plan for school meals. The House Education and Labor Committee on Wednesday unveiled the spending text for its portion of reconciliation. The provisions include a $35 billion investment in child nutrition programs, including increasing the number of children receiving free school meals by nearly 9 million. Funds would also be dedicated to expanding the "Summer EBT" program.
— GAO tells USDA to improve data gathering on food distribution programs. The Government Accountability Office (GAO) released a review (link) of the Farmers to Family Food Box program, recommending that USDA improve its data gathering on all food distribution program goals. GAO found that although USDA delivered food boxes to nearly 78% of U.S. counties, the department did not gather data on helping to retain jobs or assisting producers to find new outlets. USDA told the GAO that it did not have the time to collect all the needed data.
---
CORONAVIRUS UPDATE
---
— Summary: Global cases of Covid-19 are at 222,625,290 with 4,597,682 deaths, according to data compiled by the Center for Systems Science and Engineering at Johns Hopkins University. The U.S. case count is at 40,456,816 with 652,675 deaths. The Johns Hopkins University Coronavirus Resource Center said that there have been 376,955,132 doses administered, 177,104,652 have been fully vaccinated, or 54.0% of the U.S. population.
— Biden to comment today on Covid-19 strategy. President Biden will deliver a major public address today, providing an update on the White House's pandemic response strategy. The speech comes amid stagnant vaccination rates and a national death rate now averaging roughly 1,400 per day — twice as high as the same point last year, a time when vaccines were not yet available. Biden faces a tough challenge persuading the remaining 30% of U.S. adults to get vaccinated.
— WHO calls for a moratorium on boosters through end of the year. The World Health Organization (WHO) asked wealthy nations to hold off on distributing coronavirus booster shots to healthy people until at least the end of the year to reserve vaccine supplies for low-income nations struggling to access first-doses for their populations.
— Later this month, the U.S. will offer booster shots for those who got their first doses eight months ago. Pfizer's top scientist, Philip Dormitzer, dismissed criticism that the company is pushing its Covid-19 boosters too aggressively, telling the Financial Times (link/paywall) every country will likely need booster shots.
— Federal Reserve's latest Beige Book said a "deceleration" in economic activity in August, especially in dining out, travel and tourism, was linked to concerns over the spread of Delta, with events canceled throughout the United States.
— Covid cases rebound in South Korea. South Korea reported more than 2,000 new Covid-19 cases on Wednesday, approaching last month's record and concerning health officials who were aiming to reopen the country in the next few months. The increase in cases came just days after the country eased some of its social distancing regulations as coronavirus cases appeared to be declining.
— Japan to extend Covid state of emergency through month-end in most areas. Japan is expected to announce an extension of their state of emergency in 19 of 21 prefectures will remain in place through the end of September, with two prefectures to be downgraded to semi-emergency status. The prior declaration was to have ended Sunday, but the country's health care system remains strained by Covid infections. Economy and Fiscal Minister Yasutoshi Nishimura, also head of Covid-19 measures, proposed the extension early today. Hopes are the country will be able to map a strategy for easing restrictions around November when a large majority of the Japanese population is expected to be vaccinated — 49% currently are fully vaccinated.
— Covax, an international program to distribute Covid-19 vaccines, cut its 2021 forecast for available doses by a quarter.
— Macy's is planning to hold its Thanksgiving Day Parade this year, with mask and vaccination requirements for participants.
---
POLITICS & ELECTIONS
---
— Wasserman on the five factors that will decide House control in 2022. Dave Wasserman is House editor for the Cook Political Report with Amy Walter. He recently took a look at the five factors that will decide House control and finds Republicans with an early advantage. Link/paywall. The five factors:
Redistricting

Political environment

Retirements

Recruitment

Turnout dynamics
     Wasserman's bottom line: "To hold the House in 2022, Democrats would likely need a combination of factors to break their way: aggressive gerrymanders in New York and Illinois, favorable commission outcomes or court rulings striking GOP gerrymanders, a rebound in Biden's approval and weak turnout among casual Trump voters. It's not an impossible scenario, but the GOP's path to 218 seats is much easier to envision today."
— Pelosi on 2022 midterm elections. Asked about her party's prospects in the 2022 midterms, House Speaker Nancy Pelosi (D-Calif.) said: "In terms of the elections ... I know we will win in the Congress. People say, 'Well, in the off-year, it's not the good year.'  But, I think any assumptions about politics are obsolete. We live in a whole new world of communication and the rest. And I think that all of our members who survived Trump being on the ballot with them will survive next year, because Trump's not on the ballot."
— College graduates are now a solidly Democratic bloc. Those without degrees, by contrast, have flocked to Republicans. In a New York Times analysis (link), Nate Cohn looks at how American politics has realigned along cultural and educational lines, and away from the class and income divisions that defined the two parties for much of the 20th century. Overall, 41% of people who cast ballots last year were four-year college graduates, according to census estimates, up from 5% in 1952.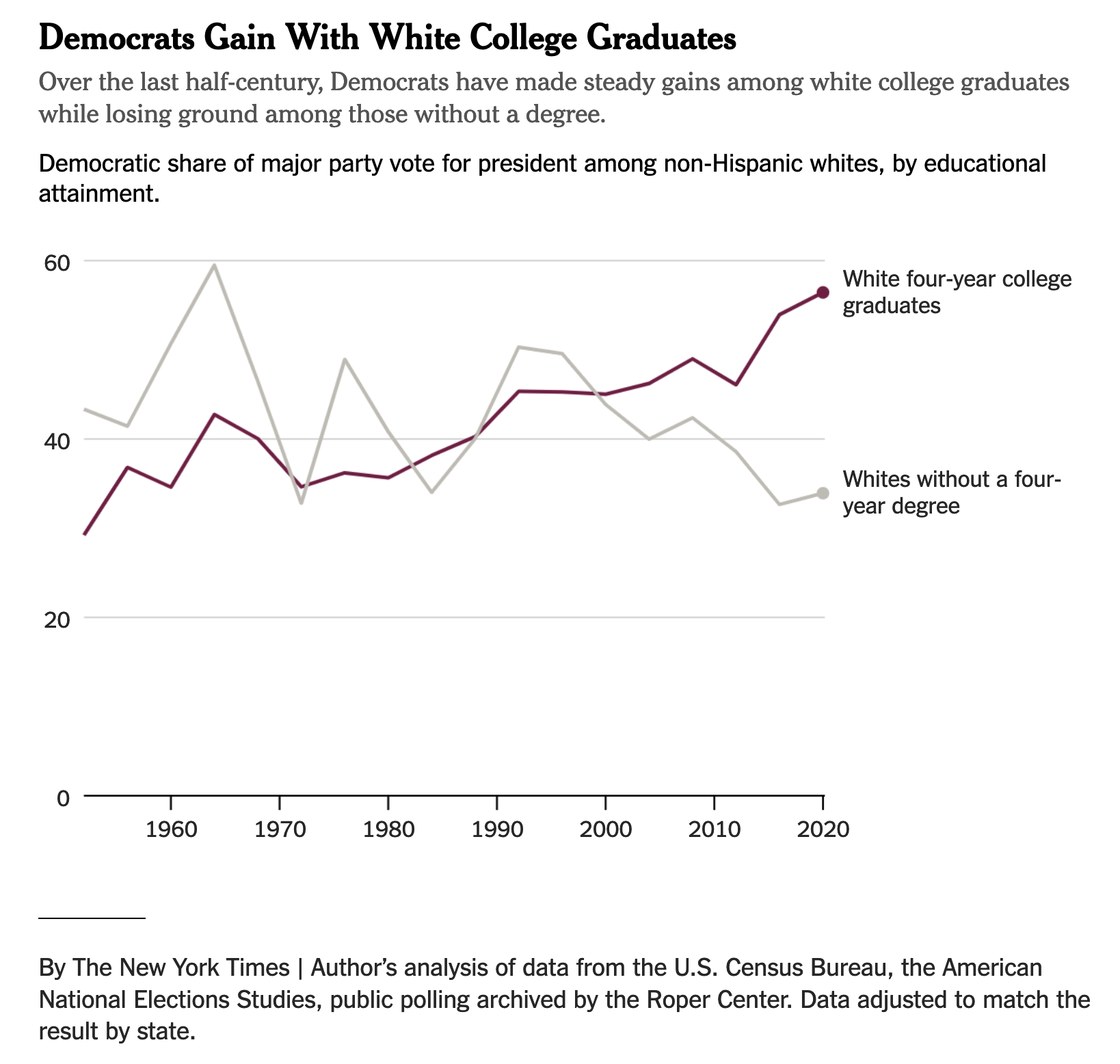 — Biden's summer has Democrats very anxious. "After being buffeted this summer by one crisis after another — Covid, Afghanistan, wildfires in the West and Hurricane Ida in the East — his young presidency is confronting a make-or-break fall," Politico notes. "Democrats are well aware of what happened to the last two Democratic presidents after a choppy first two years… If Biden doesn't regain his footing within the next few months, many party veterans fear, his party's chances of holding on to its narrow majorities in Congress are almost non-existent… 'There's no good news here. This is all on his watch,' said Paul Maslin, a top Democratic pollster ... 'You can argue what he's doing or not doing, but it's almost irrelevant. If things are chaotic and wrong, it ain't going to help him.'" Link for details.
— Trump expected to endorse Wyoming lawyer to unseat Liz Cheney. Former president Donald Trump is expected to announce Thursday that he is endorsing Harriet Hageman to take on Republican Rep. Liz Cheney in a Wyoming primary contest. Cheney has been the most outspoken Republican critic of Trump's claims about the election and of his role in the Jan. 6 attack on the Capitol. Link to WaPo item.
---
CONGRESS  
---
— Sen. Klobuchar (D-Minn.) shares cancer diagnosis: "In February of this year, doctors at Mayo Clinic found small white spots called calcifications during a routine mammogram. After this was discovered, I had a biopsy at Piper Breast Center in Minneapolis, and then learned that I had Stage 1A breast cancer… After a number of other tests, I returned to Mayo and had a lumpectomy on the right breast which involved the removal of the cancer. In May, I completed a course of radiation treatment, and after additional follow-up visits, it was determined in August that the treatment went well." This morning, Sen. Klobuchar is scheduled to be on Good Morning America to discuss her health. Link to statement.
— Former Senate Majority Leader Harry Reid (D-Nev.) says it's time Senate Democrats abolish the filibuster. In an op-ed for the Las Vegas Sun (link), Reid writes that "The sanctity of the Senate is not the filibuster. The sanctity of the Senate — in government as a whole — is the power it holds to better the lives of and protect the rights of the American people. We need to get the Senate working again."
— House will return on Sept. 20 for floor votes and is scheduled to be in for just eight days in September, despite a packed to-do list. The House is likely to take up a short-term funding bill (Continuing Resolution/CRs) their first week back. It will keep federal agencies open past Sept. 30, the end of the fiscal year. Sources signal the CR will likely extend funding until sometime in early December, but no official date has been revealed. As noted Wednesday, the White House is seeking to add more than $20 billion in emergency funding to the CR for disaster relief and to cover resettlement costs for tens of thousands of Afghan refugees. House Speaker Nancy Pelosi (D-Calif.) has agreed to hold a floor vote on the bipartisan $1 trillion infrastructure bill by Sept. 27.
---
OTHER ITEMS OF NOTE     
---
— Australia's top court ruled that news outlets are liable for readers' comments on their Facebook posts and are therefore responsible for any defamatory comments that appear in them, the Wall Street Journal reported. Link.
— A longtime aide to Vladimir Putin died when he dove off a cliff trying to save a film director who had fallen into the water during an emergency drill in Russia's Far North.
— Supreme Court plans return to in-person arguments next month. The Supreme Court announced Wednesday that justices will return to in-person oral arguments in October for the first time since the pandemic started but will keep a live audio feed for members of the public who still won't be able to sit in the courtroom. That will include arguments in a major gun rights case in November that will be a test of how far the justices might extend constitutional gun rights outside the home. The justices made history in May 2020 when they participated in oral arguments with lawyers via telephone, as C-SPAN and others aired the first live internet audio broadcast of the high court's proceedings. Usually watchers are limited to the few hundred who can fit inside the courtroom, but the threat of the highly contagious COVID-19 has shut down the building to the public for more than 18 months.
— A 7.1-magnitutde earthquake struck Acapulco, Mexico. The quake late Tuesday killed at least one person near the resort city on the country's southern Pacific coast, hitting on the same date — Sept. 7 — as a 8.2-magnitude Chiapas earthquake that killed 99 people in 2017.
— Black farmworkers sue. Six Black farmworkers from Mississippi sued Pitts Farms Partnership — one of the largest farms in the state — for discriminating against them in favor of white foreign workers, costing them thousands of dollars in unpaid wages and lost job opportunities. Link for details.
---