Slightly Lower Than Expected Inflation Data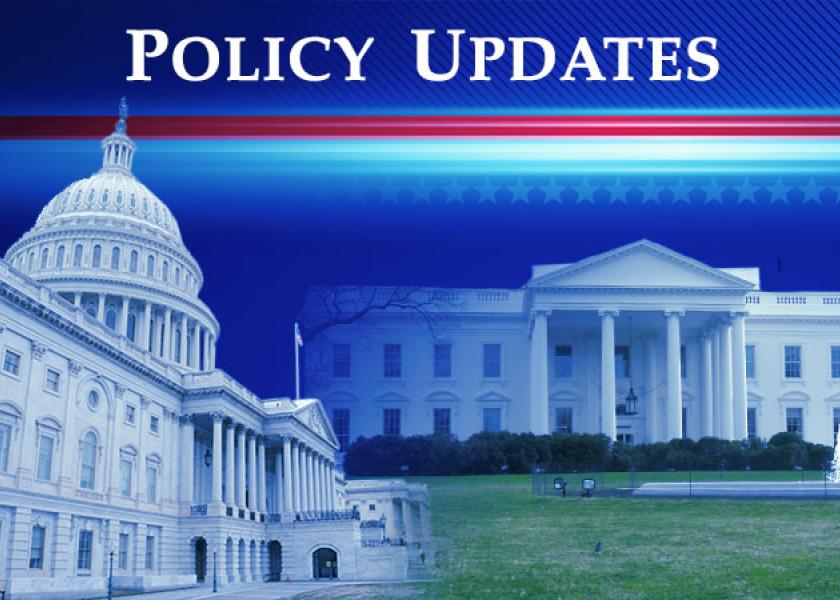 Finally, a nominee for ag spot at USTR, but problems with ag trade position at USDA  
---
In Today's Digital Newspaper
---
Market Focus:
• Consumer prices cooled in August but still rose 5.3% from a year ago
• Corporate tax collections help pare FY 2021 deficit compared with FY 2020
• Some workers aren't ready to return to commutes on public transportation
• Nearly 50% of U.S. offshore oil production remains out of service two weeks after Ida
• IEA trims its supply-rebound forecast for 2021
• Rate index for transport on largest capesize bulk vessels rose 14.8%, highest in decade
• Spot uranium oxide prices are up more than 60% since mid-July
• JBS plans to reopen Grand Island plant today •
• Ag demand update
• Turnaround Tuesday for commodities
• Crop Progress & Condition Report highlights
• Corn CCI rating slips, soybean rating rises modestly
• Cordonnier's U.S. corn and bean crop forecasts edge higher; not as optimistic as USDA
• Brazil's soybean-free period ends this week
• French soft wheat crop estimates continue to slide
• ABARES expects record-setting ag exports for Australia
• Slack demand at Chinese corn auctions continues
• Kinder Morgan partners with Neste on major renewable fuels logistics project
• Saudi Arabia cuts off beef imports from five Brazilian meatpackers
• Canada's cattle and swine herds likely to contract in 2022
• Live cattle futures continue to lag cash market
• Pressure on pork cutout value and cash hog prices to start the week
Policy Focus:
• House Dems detail proposed tax increases
• Pay-fors… getting to $3.5 trillion
• Neiffer weighs in on proposed tax changes
• House Ag panel approves $66 billion reconciliation instructions
• Pelosi praises committees for finishing work by Sept. 15 deadline, but urges patience
• Next steps for reconciliation
• Bipartisan infrastructure timeline
• Sen. Tester wants "100%" of reconciliation bill paid for
• Sen. Sanders comments on reconciliation measure
Afghanistan:
• Taliban clamoring for international recognition
• U.N.: $1 billion in pledges of fresh funds
Biden Administration Personnel:
• Biden nominates Elaine Trevino to USTR agriculture negotiator post
• Vilsack: Still working on Undersecretary for Trade and Foreign Agriculture role  
• Biden nominates several to key regulatory posts
• Export-Import Bank nominee
• Long appointed FNS administrator
• Nominations on hold
• Support for Fed's Jay Powell
Energy & Climate Change:
• Chevron Corp. tripling spending in new low-carbon unit
• Reducing ag's greenhouse gas emissions by potty-training a herd of cows
Coronavirus Update:
• Russian president Vladimir Putin self-isolating
• China locked down coastal city of 4.5 million people due to outbreak
• Booster shot decision
Politics & Elections:
• Californians will decide Governor Newsom's future later today
Congress:
• Blinken faces Senate panel

Other Items of Note:
• Ag, shipping groups pressure administration over ocean shipping
• Nuclear talks
---
MARKET FOCUS
---
Equities today: Global stock markets were mixed in quieter overnight trading. The Dow opened up around 100 points higher. Asian equities were mixed as traders awaited US inflation data. Japan's Nikkei was up 222.73 points, 0.73%, at 30,670.10. Hong Kong's Hang Seng fell 311.58 points, 1.21%, at 25,502.23. European equities are mostly lower in early trade activity. The Stoxx 600 is down 0.2% with regional markets seeing gains of 0.3% to losses of 0.6%.
     U.S. equities yesterday: The Dow rose 261.91 points, 0.76%, at 34,869.63. The Nasdaq slipped 9.91 points, 0.07%, at 15,105.58. The S&P 500 gained 10.15 points, 0.23%, at 4,468.73.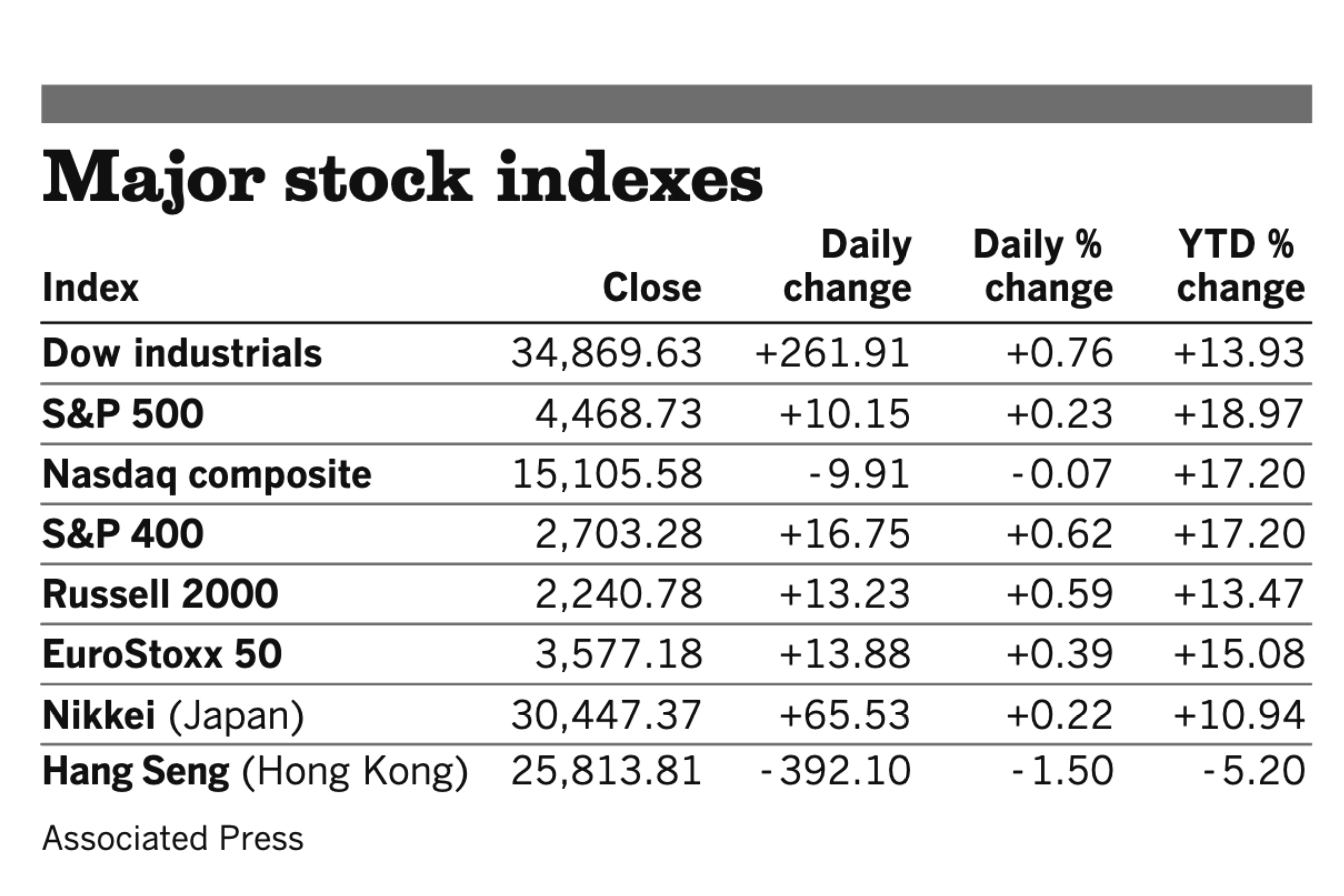 On tap today (see detailed list of events and reports below):
     • U.S. consumer price index for August is expected to increase 0.4% from one month earlier and 5.4% from one year earlier. Excluding food and energy, the CPI is forecast to rise 0.3% and 4.2%. (8:30 a.m. ET) Update: Consumer prices cooled in August but still rose 5.3% from a year before as supplies and labor continued to drive up prices. The Labor Department said last month's CPI rose a seasonally adjusted 0.3% in August from July, slower than the 0.5% one-month increase in July, and down markedly from June's 0.9% pace. Prices eased for autos, with used vehicle prices dropping sharply, and hotel rates and airline fares declined in August from July. On an annual basis, price pressures eased slightly. The department's CPI rose 5.3% in August from a year earlier, down from the 5.4% pace in June and July, on an unadjusted basis. The so-called core price index, which excludes the often volatile categories of food and energy, climbed 4% from a year before, they estimate, compared with 4.3% in July.
     • China's industrial output for August is expected to increase 5.6% from one year earlier, retail sales for August are forecast to rise 6.3% from one year earlier, and year-to-date fixed-asset investment is seen up 8.8% compared with the same eight-month stretch one year earlier. (10 p.m. ET)
     • President Biden will visit the National Renewable Energy Laboratory and later will speak about his legislative agenda.
Corporate tax collections help pare FY 2021 deficit compared with FY 2020. The U.S. registered a monthly deficit in August of $170.6 billion, down from $200 billion the same month in 2020, putting the cumulative budget deficit for fiscal year (FY) 2021 at $2.71 trillion, down $297 billion, or 3%, from the year-ago level.
     U.S. gov't receipts are at a record $3.59 trillion so far in FY 2021, up 18% from year ago with a 57% surge in corporate taxes over that period. Federal outlays and receipts both hit record levels during the 11-month period.
     Government outlays rose to $6.3 trillion, an increase of 4% from the same point in FY 2020. For August, receipts totaled $268 billion against outlays of $439 billion.
     Increased interest payments were one factor as yields on Treasury-Inflation-Protected Securities have risen.
     The FY 2021 deficit is now expected to fall under the record $3 trillion registered in FY 2020.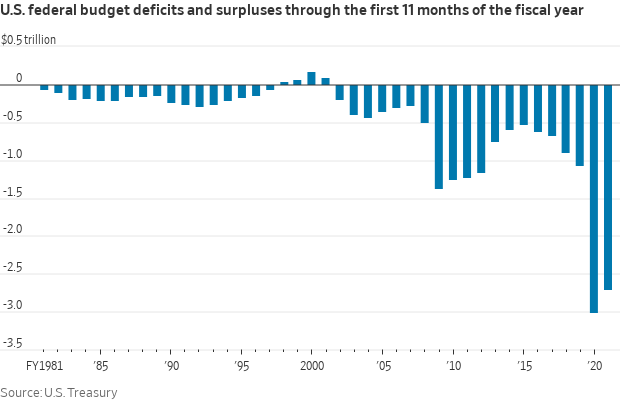 Some workers aren't ready to return to commutes on public transportation, posing a challenge for companies looking to reopen big-city offices. Many workers say they are reluctant to ride subways, trains and buses into city centers, particularly when they could be in close quarters with unmasked or unvaccinated people. It's a reason why some are asking to continue working from home. Some people are opting to bike where they need to go, helping to fuel a boom in bicycle sales; others are planning to drive or carpool. But some workers have no alternatives to public transportation, which can be the fastest or only affordable option.
Market perspectives:
     • Outside markets: The U.S. dollar index was slightly weaker ahead of U.S. CPI data due this morning (see above for results) with the euro, yen and British pound all slightly firmer against the greenback. The yield on the 10-year US Treasury note was slightly firmer, trading above 1.34% with a mixed tone to global government bond yields. Gold and silver futures were under pressure ahead of U.S. inflation data, with gold around $1,785 per troy ounce and silver around $23.53 per troy ounce.         

     • Crude oil futures remain higher ahead of U.S. trade action, with U.S. crude around $70.70 per barrel and Brent around $73.85 per barrel. Futures were higher in Asian trading with U.S. crude up 42 cents at $70.87 per barrel and Brent up 40 cents at $73.91 per barrel.
     • Nearly 50% of U.S. offshore oil production remains out of service two weeks after Ida barreled through the Gulf of Mexico as a Category 4 hurricane, making it the most damaging storm for the region's output in more than 15 years. Offshore producers evacuated 288 platforms before Ida, more than half the total platforms in the Gulf. Meanwhile, OPEC raised its forecast for oil demand next year to beyond the pre-pandemic level. The International Energy Agency (IEA) this morning said the drop in U.S. output wiped out the increases agreed by OPEC+ meaning the world will likely have to wait until next month to see an overall rise in production. The IEA trimmed its supply-rebound forecast for 2021 by 150,000 barrels a day and cut its demand forecast by 100,000 barrels a day, citing the impact of the Delta variant of Covid-19.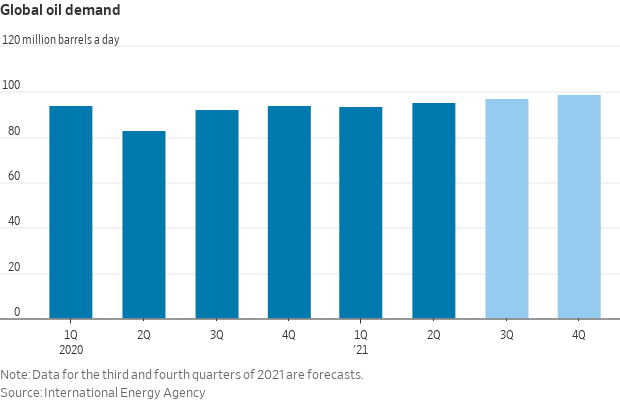 • Rate index for transport on the largest capesize bulk vessels rose 14.8% to the highest point in more than a decade.
     • Spot uranium oxide prices are up more than 60% since mid-July and reached $42.50 per pound on Friday, the highest since 2014.
     • Ag demand: Turkey tendered to buy around 260,000 MT of animal feed barley.
     • JBS plans to reopen Grand Island plant today. JBS USA said it intends to reopen today its Grand Island, Nebraska, beef plant that was shuttered Monday due to a fire. The plant has a capacity of 6,000 cattle per day, or about 5% of the total U.S. cattle slaughter capacity. The fire was contained to a rendering area in the plant and did not affect any primary production areas.
     • NWS weather: Nicholas to produce torrential rainfall, strong winds, and high surf from the Upper Texas coast to southern Louisiana, with life-threatening flash and urban flooding possible; High Risk of Excessive Rainfall in southwest Louisiana today... ...Severe weather and heavy rainfall possible from the central High Plains to the Great Lakes and Northeast... ...A hotter than normal mid-September in store across most of the contiguous U.S. (Hurricane Nicholas was downgraded to a tropical storm after making landfall on the Texas coast today.)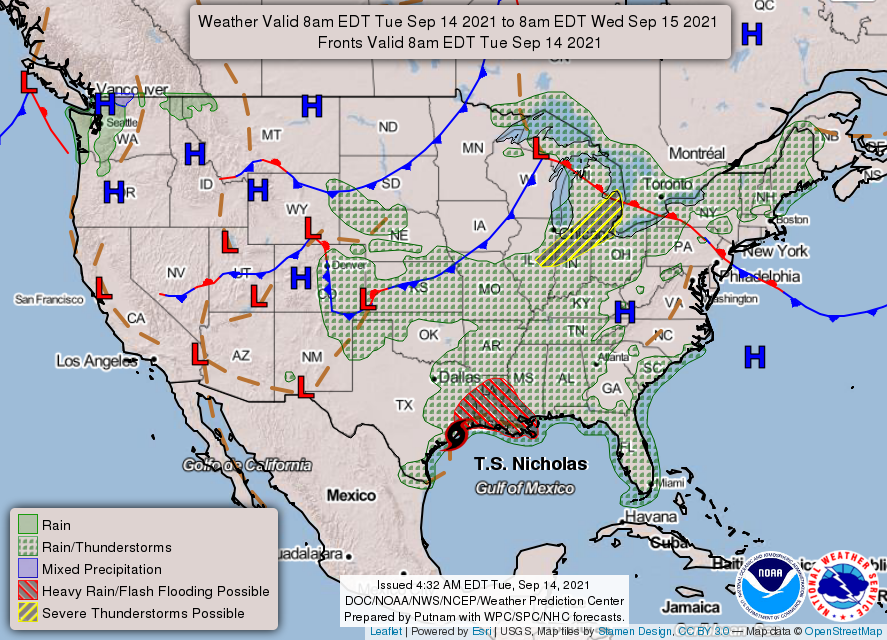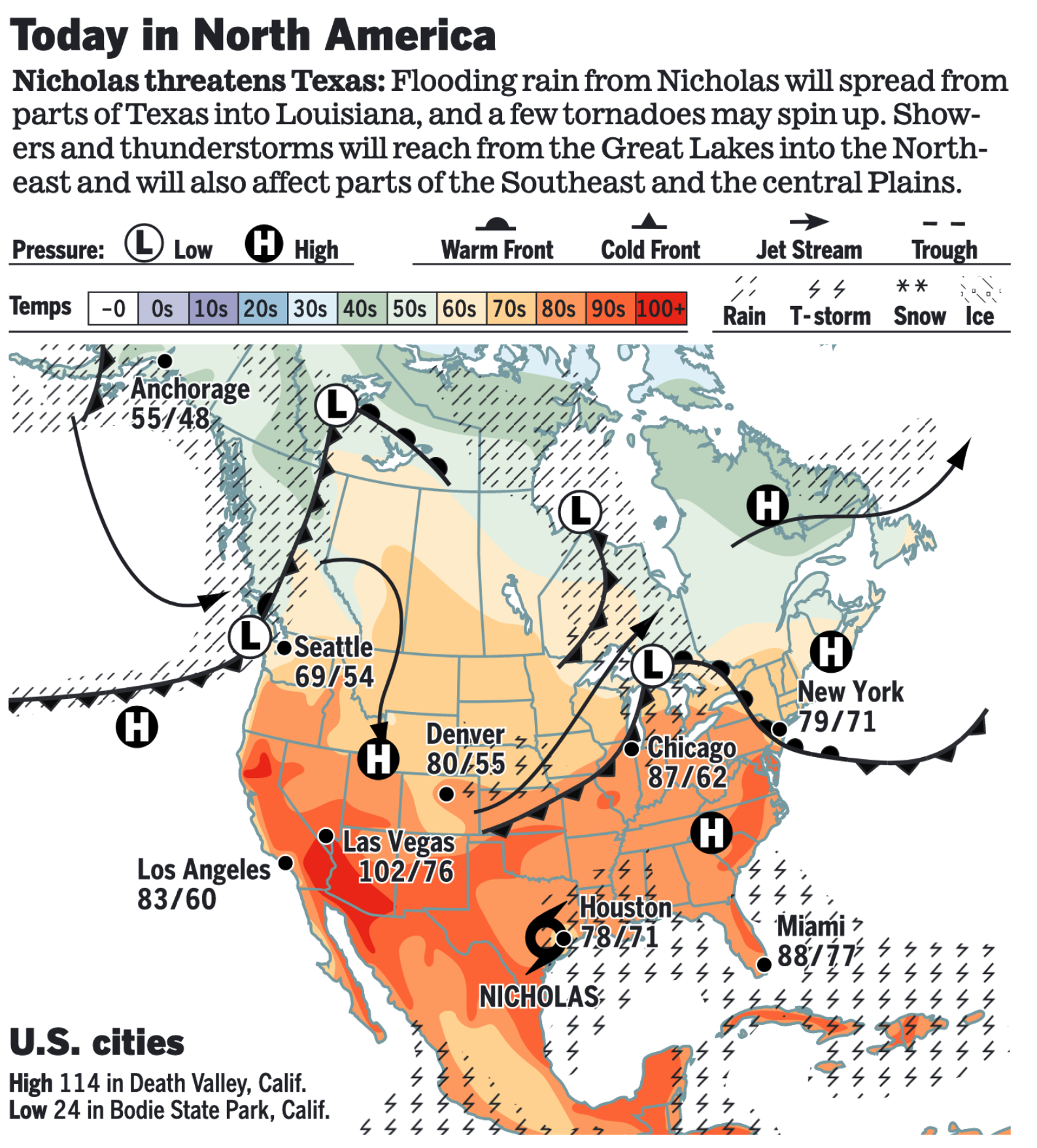 Items in Pro Farmer's First Thing Today include:
• Turnaround Tuesday for commodities
• Crop Progress & Condition Report highlights
• Corn CCI rating slips, soybean rating rises modestly
• Cordonnier's U.S. corn and bean crop forecasts edge higher; not as optimistic as USDA
• Brazil's soybean-free period ends this week
• French soft wheat crop estimates continue to slide
• ABARES expects record-setting ag exports for Australia
• Slack demand at Chinese corn auctions continues
• Kinder Morgan partners with Neste on major renewable fuels logistics project
• Saudi Arabia cuts off beef imports from five Brazilian meatpackers
• Canada's cattle and swine herds likely to contract in 2022
• Live cattle futures continue to lag cash market
• Pressure on pork cutout value and cash hog prices to start the week
---
POLICY FOCUS
---
— House Democrats detailed their proposed tax increases, pushing higher rates on corporations, investors and high-income business owners as they try to piece together enough votes for legislation to expand the social safety net and combat climate change. As previously noted, the plan would increase the top corporate tax rate to 26.5% from 21%, impose a 3-percentage-point surtax on people making over $5 million and raise capital-gains taxes — but without the changes to taxation at death sought by the Biden administration.  
     The tax increase details will accelerate lawmakers' negotiations over which new spending to give priority to and which tax increases they find acceptable.
     The House plan is less aggressive than those of the White House and the Senate when it comes to taxing inheritances. Some top Senate Democrats want to tax inherited assets based on the gain in value from when those assets were initially acquired, rather than what they are worth at the time of death. Moderate Democrats have complained that would unfairly affect smaller family farms and businesses, and the House bill does not include such a plan.
     Pay-fors… getting to $3.5 trillion. According to the Joint Committee on Taxation, the plan includes about $1 trillion of tax increases on high-income households and about $1 trillion on corporations. Democrats intend to generate another $120 billion from tougher tax enforcement and $700 billion from drug-pricing policy changes. The legislation also assumes another $600 billion in revenue from faster economic growth.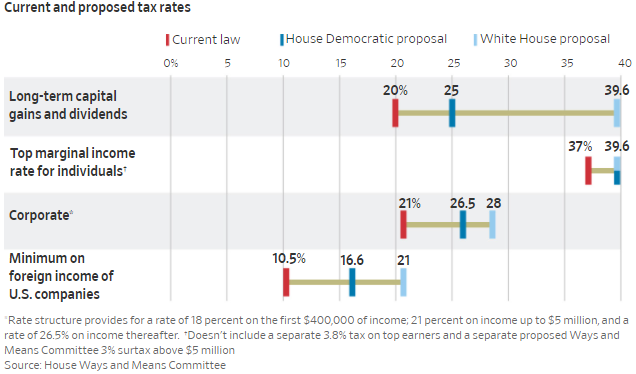 — Neiffer weighs in on proposed tax changes. "What used to be probably an 'F' type plan is now up to about a 'B-' or 'C+', at least based on the House Ways and Means Committee proposals that came out," Farm CPA's Paul Neiffer told Tyne Morgan at AgDay. He says the proposed language eliminates the potential changes to the "transfer tax," which is what has been recently referred to as eliminating the "step up in basis."
     He says the new House's proposal means farmers won't be hit with increased taxes due at death. "There potentially could be an estate tax due, but with the estate tax, if you have a farmer that has a large estate and it's all related to farming assets the IRS allows them to pay that tax over a 15-year period. So, it's not like they have to come up with a lot of tax up front. If there's liquid assets, yes, they have to pay cash for that. But liquid assets are going to cover that. So, they didn't really make any changes there other than instead of having a $11.7 million estate exemption lifetime, it's now $5.85 million, indexed to inflation," he explains.
     But Neiffer warns that if the transfer tax outlined in Biden's "America's Family Plan" gets put back on the table, his outlook on the updated tax proposal would shift to a "D."
— House Ag panel approved its $66 billion reconciliation instructions which now go to the Budget Committee. The vote was 27 to 24, along party lines. The measure does not include an expected $28 billion in conservation provisions and climate mitigation by farmers. The final vote came after votes in which Republican amendments were rejected along party lines. Rep. Austin Scott (R-Ga.) said, "I cannot find where production agriculture gets one penny of this $96 billion." Other Republicans said Democrats had ignored the farm sector.
     The package includes $14 billion for the treatment of hazardous fuels in national forests and adjoining land; $9 billion for forest restoration; $2.25 billion for the Civilian Climate Corps; $10 billion to help rural communities and rural electric cooperatives transition to renewable energy; $1 billion for the Biofuels Infrastructure Program; and $2.6 billion for grants and loans through the Rural Energy for America Program to improve the energy efficiency of their operations.
— House Speaker Pelosi, in a "Dear Colleague" released Monday night, praised her committees for finishing their work by the Sept. 15 deadline, but then said: "We are now prepared to continue negotiations with the White House and Senate to reach reconciliation on legislation that meets the everyday needs of the American people and that addresses the climate crisis. As you are aware, we have certain limitations in terms of Senate rules. But we have no limit to our vision to pass transformative legislation For the People."
     There is still panel work to be completed. The House Energy and Commerce and Ways and Means panels hold reconciliation markups today. Ways and Means begins the first of two days of markups on its portion of reconciliation, which will include tax increases. Meanwhile, Energy and Commerce returns this morning to complete its work. The panel didn't get to its health title yesterday, with the key focus on prescription drug pricing under Medicare.
— Next steps for reconciliation. The House Budget Committee will assemble the pieces from the committees into one package. That will occur next week. Budget can't alter the committee provisions, abut it can make recommendations on amendments. The panel will hold an up-or-down vote. Next step: Rules Committee. Veteran observers note to watch an expected manager's amendment to the reconciliation package to alter proposals in the package. Many expect Pelosi to hold onto the House package until there's a deal with the Senate. She would then offer that agreement as a manager's amendment in Rules and then take it to the House floor where she can only lose three Democratic votes.
— Bipartisan infrastructure timeline. The House is slated to take up the $1 trillion bipartisan infrastructure bill by Sept. 27, which was part of a deal Pelosi reached with Rep. Josh Gottheimer (D-N.J.) and other moderates. Most expect voting may slide until the next day, Sept. 28.
— Sen. Jon Tester (D-Mont.) said he wants "100%" of the reconciliation bill paid for by budgetary offsets. It is not so far.
— Sen. Bernie Sanders (I-Vt.) won't stand for lowering the $3.5 trillion price tag of the social infrastructure measure. Said Sanders: "We have a bill that is supported by an overwhelming majority of Democrats in the House and the Senate, and by the president of the United States. We struggled hard to pass the American Rescue Plan, which was enormously successful in helping us getting out of the economic decline caused by Covid. and I'm quite confident that at the end of the day, we're going to be passing a $3.5 trillion reconciliation bill."
---
AFGHANISTAN
---
— Taliban are clamoring for international recognition of their reinstated Islamic Emirate of Afghanistan, which no nation has granted nearly a month after the fall of the Afghan republic. Yet, governments world-wide, as well as the United Nations, are eager to open high-level contacts with the Taliban, especially as the country faces a humanitarian crisis. 
— U.N. said it obtained $1 billion in pledges of fresh funds after receiving a written assurance from the Taliban authorities that they would allow aid workers to operate freely across the country.
---
BIDEN ADMINISTRATION PERSONNEL
---
— Biden nominates Elaine Trevino to USTR agriculture negotiator post. President Joe Biden Monday said that he was nominating Elaine Trevino to be chief agricultural negotiator at the Office of the U.S. Trade Representative (USTR). Trevino is currently president of the Almond Alliance of California (AAC), a member-based trade association that advocates on regulatory and legislative issues in areas of international trade, food safety, water quality and availability, crop protection, air quality, worker safety, supply chain and feed quality. Trevino served as a Deputy Secretary at the California Department of Food and Agriculture for Governor Arnold Schwarzenegger and Governor Gray Davis. She was responsible for the oversight of the international export and trade programs, specialty crop block grant funding, division of marketing services, plant health and pest prevention and the statewide county fair network. She also serves on USDA's Agricultural Policy Advisory Committee (APAC).
     Trevino has to be confirmed by the Senate to serve in the role. The nomination was welcomed by several in the agriculture industry as they view it as a key role that has been vacant so far in the Biden administration. USTR Katherine Tai issued a statement welcoming the nomination, saying that Trevino would play a key role in helping to develop a "durable trade policy that creates broad-based prosperity."
— Vilsack says still working on Undersecretary for Trade and Foreign Agriculture role. While the Biden administration has now put up a nominee for the chief agricultural trade negotiator role at the Office of the U.S. Trade Representative, there has not yet been a nominee for the role of USDA Undersecretary for Trade and Foreign Agricultural Affairs.
     Asked about the prospects for filling that vacancy, USDA Secretary Tom Vilsack told AgriTalk that "we're working on it." He paused and sounded somewhat exasperated about the situation, noting, "Sometimes it's hard to find the right person who also doesn't run into what the ethics lawyers believe creates a conflict." He noted that at times there are great candidates for a role, but ethics rules require actions on the part of the candidate for a role that are "just not feasible… it's not fair, frankly." However, Vilsack countered that the work normally handled by someone in that role "is getting done," noting he was headed to Italy this week for the G20 agriculture ministerial meeting.
— Biden nominates several to key regulatory posts. President Joe Biden Monday announced a spate of nominations to key regulatory roles at the Commodity Futures Trading Commission (CFTC) and Federal Trade Commission (FTC).
     As expected, Biden nominated current acting CFTC Commissioner Rostin Behnam to take the role as CFTC chairman. Joining the CFTC in 2017, Behnam helped set up the CFTC Market Risk Advisory Committee's Climate Related Market Risk Subcommittee.
     Other CFTC commissioner nominees announced Monday included Kristin Johnson, currently a professor at the Emory University School of Law, specializing in financial market risk management law and policy. Also nominated to the CFTC was Christy Goldsmith Romero, currently Special Inspector General for the Office of the Special Inspector General for the Troubled Asset Relief Program (SIGTARP). She has been in that role since March 29, 2012.
     Alvaro Bedoya, a privacy expert and Big Tech critic, was nominated as a commissioner of the FTC, currently serving as the founding director of the Center on Privacy & Technology at Georgetown Law, where he is a visiting professor of law.
— Export-Import Bank nominee. President Biden intends to nominate former State Department official Reta Jo Lewis to lead the Export-Import Bank.
— Long appointed FNS administrator. The Biden administration appointed Cindy Long as administrator of the Food and Nutrition Service on Monday, a position she has held on an acting basis since early January.
— Nominations on hold. Two senior Senate Republicans threatened to indefinitely hold up the nominations of five top Treasury officials if the Biden administration doesn't blacklist the firm managing Russia's Nord Stream 2 pipeline project.
— Support for Jay Powell. The two men behind the Dodd-Frank act, which tightened financial regulation after the 2008 crisis, urged the renomination of Fed chairman Jay Powell, whose term expires in February.
---
ENERGY & CLIMATE CHANGE
---
— Chevron Corp. is tripling spending in its new low-carbon unit, which Chief Executive Mike Wirth said he increasingly sees as a viable business, the Wall Street Journal reports (link). The San Ramon, Calif., oil giant is pledging to spend $10 billion through 2028 on biofuels, hydrogen production, carbon capture and other technologies, up from a prior commitment of around $3 billion. Wirth said in an interview that the spending boost reflects optimism in Chevron's new energies unit, announced in July to oversee the company's low-carbon investments. Chevron now expects the unit to generate more than $1 billion in operating cash flow by 2030, he said. "We've reached a point where we've got enough knowledge of the technologies," Wirth said. The increased green investment still represents a fraction of what Chevron is spending on oil and gas projects. Chevron plans to flesh out its plans in a presentation to investors today.
— Researchers have taken a small step toward reducing agriculture's greenhouse gas emissions by potty-training a herd of cows. Scientists at an animal research lab in the German town of Dummerstorf trained the group of young cows to use a "MooLoo," a designated pen for the animals to urinate in —a process that took only 15 days. "The cows are at least as good as children, age 2 to 4 years, at least as quick," Lindsay Matthews, the study's senior author told the Associated Press (link). The eight gallons of urine a cow passes per day can wreak havoc for the environment, creating ammonia when mixed with cow dung and polluting the air with nitrous oxide. Matthews is confident the same training method could be applied to deal with cow dung, but conceded that stopping cows' flatulence — a significant source of methane emissions — was beyond the realm of behavioral training. "They would blow up," Matthews said
---
CORONAVIRUS UPDATE
---
— Summary: Global cases of Covid-19 are at 225,319,452 with 4,640,827 deaths, according to data compiled by the Center for Systems Science and Engineering at Johns Hopkins University. The U.S. case count is at 41,221,315 with 662,131 deaths. The Johns Hopkins University Coronavirus Resource Center said that there have been 380,831,725 doses administered, 44,048,093 have been fully vaccinated, or 54.5% of the U.S. population.
— Russian president Vladimir Putin is self-isolating after people in his inner circle tested positive for Covid-19. Meanwhile, China locked down a coastal city of 4.5 million people due to an outbreak there.
— Booster shot decision. The FDA's Vaccines and Related Biological Products Advisory Committee is scheduled to meet on Friday to consider if the FDA should authorize booster doses of Pfizer-BioNTech's Covid-19 vaccine.
---
POLITICS & ELECTIONS
---
— Californians will decide Governor Newsom's future later today, with the incumbent governor the favorite to beat back a recall attempt spurred on by his handling of the Covid-19 pandemic. The ballot features two questions: whether Newsom should be recalled as the state's chief executive and, if so, who should replace him. Larry Elder, a longtime conservative radio host, has emerged as the top prospect to succeed Newsom if the recall effort is successful.
---
CONGRESS  
---
— Blinken faces Senate panel. U.S. Secretary of State Antony Blinken testifies before the Senate Foreign Relations Committee today on the U.S. withdrawal from Afghanistan, a day after facing a grilling from the House Foreign Affairs Committee. Blinken's Monday testimony gave a preview of the strategy the Biden administration may use to mollify lawmakers: Blame the previous Trump administration: "We inherited a deadline. We did not inherit a plan." Rep. Michael McCaul of Texas, the ranking Republican on the committee, said the withdrawal was "an unmitigated disaster of epic proportions." The administration "abandoned Americans behind enemy lines. I can summarize that in one word: betrayal," McCaul said. "The Trump administration failed in the setup, and the Biden administration failed in the execution," said Rep. Adam Kinzinger (R-Ill.), an Air Force veteran who served in Afghanistan and Iraq and who often diverges from the conventional GOP line.
---
OTHER ITEMS OF NOTE     
---
— Agriculture, shipping groups keeping up pressure on administration over ocean shipping. Steps taken so far by the Biden administration to address the backlogs in container shipments are not yet enough and more action is needed ahead of what is expected to be an historic peak shipping season ahead, according to groups that are part of the Agricultural Transportation Coalition. "Carriers are increasingly declining or canceling export cargo bookings, while frequent ship delays and cancellations with little or no notice to our exporters is delaying shipments by weeks or even months," some 76 agriculture and transportation groups said in a letter (link) to President Joe Biden Monday (Sept.13). "The resulting inability of shippers to deliver their products on schedule affects the reliability of American exports and subsequently decreases export values and market share." Noting that container shipping costs have risen between 300% and 500% the past two years, the groups said that urgent action is needed.
     "Regulatory action and enforcement steps take time to be implemented, and while those important processes need to move ahead, we call on you and your administration to take effective steps to gain immediate relief," the letter said. "Recognizing that relief may be incremental, it must begin very soon."
     The groups want Biden to have the Department of Justice review the Shipping Act to see if enforcement tools can be activated to bring shippers into compliance, set up an interagency working group on agricultural exports, increase operational tempos like gate operations to include port authorities, terminal operators, labor, ocean carriers, shippers and truckers.
     They also called for the administration to provide incentives to ocean carriers to increase export flow and they want the Federal Maritime Commission and Surface Transportation Board to coordinate oversight of multimodal container shipments. The groups also called on the administration to support the Ocean Shipping Reform Act (HR 4996) which aims to address unfair shipping practices. 
— Nuclear talks. Iran plans to resume nuclear talks in the near future, the clearest indication yet that negotiations on reviving the 2015 nuclear deal could soon resume.
---
EVENTS AND REPORTS
---
Tuesday, September 14
· Budget reconciliation: Transportation and Infrastructure. House Transportation and Infrastructure Committee markup of legislative recommendations to comply with SConRes 14, the reconciliation directive included in section 2002 of the Concurrent Resolution on the Budget for FY 2022.
· Budget reconciliation: Homeland Security. House Homeland Security Committee markup of SConRes 14 the Concurrent Resolution on the Budget for FY 2022.
· U.S. withdrawal from Afghanistan. Senate Foreign Relations Committee hearing on "Examining the U.S. Withdrawal from Afghanistan," with Secretary of State Antony Blinken.
· Farm Credit Board. Farm Credit System Insurance Corporation teleconference of the board.
· SEC oversight. Senate Banking, Housing and Urban Affairs Committee hearing on "Oversight of the U.S. Securities Exchange Commission," with SEC Chairman Gary Gensler.
· Climate change and market regulation. The Economist holds its virtual third annual Climate Risk Europe conference with SEC Commissioner Allison Herren Lee; Bob Litterman, chairman of the Commodity Futures Trading Commission's Climate-related Market Risk Subcommittee; and Chris Faint, head of climate change at the Bank of England, participating in a discussion on "Regulatory and Policy Perspective."
· Cybersecurity. The Homeland Security Experts Group (HSEG) holds the Homeland Security Enterprise Forum, with the theme "Remember. Reflect. Renew," with Jen Easterly, director of the Cybersecurity and Infrastructure Security Agency; and former Homeland Security Secretary Kirstjen Nielsen participating in a discussion on "Cybersecurity and Infrastructure Protection."
· U.S./China relations. Fortune holds its 2021 CEO Initiative meeting with Former U.S. Trade Representative Susan Schwab, strategic adviser at Mayer Brown LLP, participating in a discussion on "Spotlight on Foreign Policy: Navigating U.S./China Relations."
· U.S. trade and labor policies. Washington International Trade Association and the George Washington University Institute for International Economic Policy hold the virtual 2021 Intensive Trade Seminar with Deputy Labor Undersecretary for International Affairs Thea Lee participating in a session on "Worker-Centered Trade and Labor."
· Hong Kong national security law and businesses. Heritage Foundation virtual discussion on "Hong Kong: Debating the National Security Law's Impact on Business."
· Sustainable development. Center for Strategic and International Studies (virtual discussion on "Building Security Through Sustainable Development."
· Export Administration regulations. Commerce Department's Bureau of Industry and Security teleconference of the Regulations and Procedures Technical Advisory Committee on implementation of the Export Administration Regulations.
· Trade and climate mitigation. International Trade Administration teleconference of the Environmental Technologies Trade Advisory Committee. Agenda includes: Briefings from U.S. gov't officials on relevant programs and conduct subcommittee breakouts under the themes of Trade Policy and Export Competitiveness, Climate Change Mitigation and Resilience Technologies, and Waste Management and Circular Economy.
· Middle East issues. Arab Center virtual sixth annual conference on "U.S. Policy and Global Competition in the Middle East," including a focus on "Energy Diplomacy and Geopolitical Influence in the Middle East."
· Energy issues. Progressive Policy Institute virtual discussion on "Improving Electricity Transmission Siting Opportunities to Meet America's Consumer, Economic, and Clean Energy Climate Goals."
· Drones. Association for Unmanned Vehicle Systems International and the Federal Aviation Administration hold the FAA UAS (Unmanned Aircraft Systems) Symposium — Remotely Piloted Edition.
· Covid and climate. Henry L Stimson Center virtual discussion on "Covid, Conflict, and Climate: Food Insecurity Today and the Way Forward."
· South China Sea. House Foreign Affairs Asia, the Pacific, Central Asia and Nonproliferation Subcommittee closed briefing on "Changing Dynamics in the South China Sea."
· Covid and antimicrobial resistance. Business Council for International Understanding virtual discussion on "Covid-19's impact on the emerging crisis in antimicrobial resistance (AMR) and how national action plans should address AMR in the Covid-19 recovery."
· Land use and renewable energy in New York. Atlantic Council virtual discussion on "Powering Ambition: Renewable Energy and Land use in New York State."
· Climate change and national security. Government Executive Media Group virtual discussion on "The Intersection of Climate Change and National Security," as part of the Great Debates series.
· Carbon management priorities. Great Plains Institute virtual CO2NNECT event on "Critical Bipartisan Carbon Management Priorities in Congress."
· Economic reports. NFIB Small Business Optimism Index | CPI  
· USDA reports. ERS: Cotton & Wool Outlook | Oil Crops Outlook | Feed Outlook | Wheat Outlook | Rice Outlook | Meat Price Spreads | Dairy Data
---