Senators on Sunday Evening Released and Introduced Infrastructure Legislative Text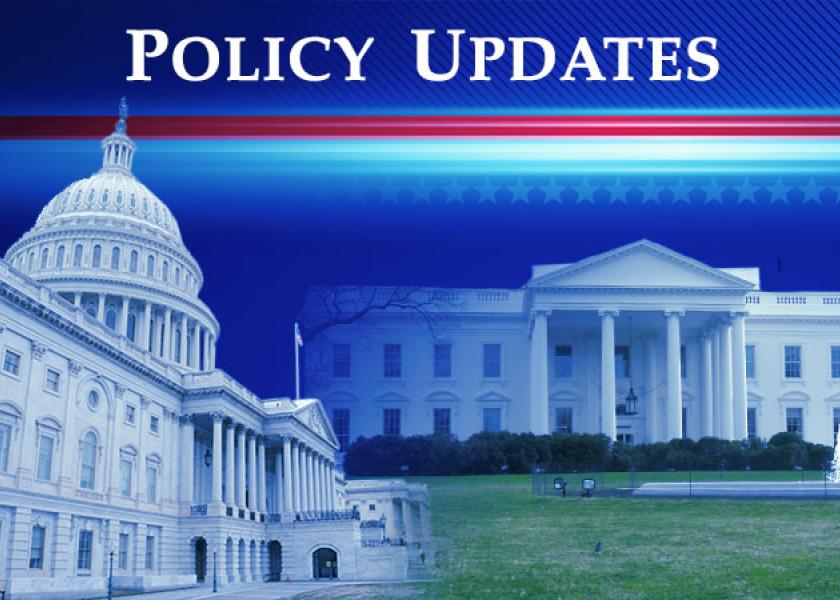 China's securities regulator calls for talks with American counterpart
 
---
In Today's Digital Newspaper
---
Market Focus:
• Flows into U.S. equity funds hit a six-week high during the week ended July 28
• Markets signal investors may be growing less fearful of rising price pressures
• If Powell's Fed chairmanship isn't extended, here's why
• Ag demand update
• Dry start to August, but temperatures not expected to be threatening
• Big slowdown in soybean crush expected; corn use for ethanol expected to surge
• EU's stock of rapeseed expected to tighten further, despite slight rise in production
• Russian wheat export prices on the rise
• Average rains expected the latter half of India's monsoon
• Boxed beef prices still tearing higher
• Last week's hog kill well under year-ago
Policy Focus:
• Physical infrastructure bill vote target date is Thursday; text released late Sunday
Biden Administration Personnel:
• Senate confirms Hipp as USDA general counsel  
China Update:
• Expansion in China's factory sector hit lowest level in nearly a year and a half in July
• China's securities regulator calls for talks with American counterpart
Energy & Climate Change:
• China and India miss deadline for climate updates
• Republican senators seek meeting with Biden on biofuels
• Two small U.S. solar companies push to extend tariffs on solar cell and panel imports
Coronavirus Update:
• Fauci warns on Covid-19 that 'things are going to get worse'
• FDA under pressure to grant full approval to Covid-19 vaccines
• Growing numbers of people are getting vaccinated in areas hit hard by Delta variant
• NIH director: Mask guidance is 'mostly about protecting the unvaccinated'
• China confronting broadest Covid-19 outbreak since late 2019 outbreak
Politics & Elections:
• DOJ tells Treasury to turn over Trump tax records to House
Other Items of Note:
• U.S. formally blamed Iran for deadly attack on Israel-linked oil tanker off Oman
• North Korea comments on planned joint military exercises between S. Korea and U.S.  
 
---
MARKET FOCUS
---

Equities today: Equity futures suggest higher U.S. openings. Another huge week of earnings is on tap with more than a quarter of S&P 500 companies due to report, including compelling reports from Alibaba, General Motors and Kraft Heinz. Overnight the MSCI Asia Pacific Index rose 1.45% while Japan's Topix index closed 2% higher. In Europe the Stoxx 600 Index had gained 0.6% in early trading.
     Flows into U.S. equity funds hit a six-week high during the week ended July 28, marking their 24th inflow in the 30 weeks year-to-date, according to EPFR.
     U.S. equities Friday: The Dow fell 149.06 points, 0.42%, at 24,935.47. The Nasdaq was down 105.59 points, 0.71%, at 14,672.68. The S&P 500 declined 23.89 points, 0.54%, at 4,395.26.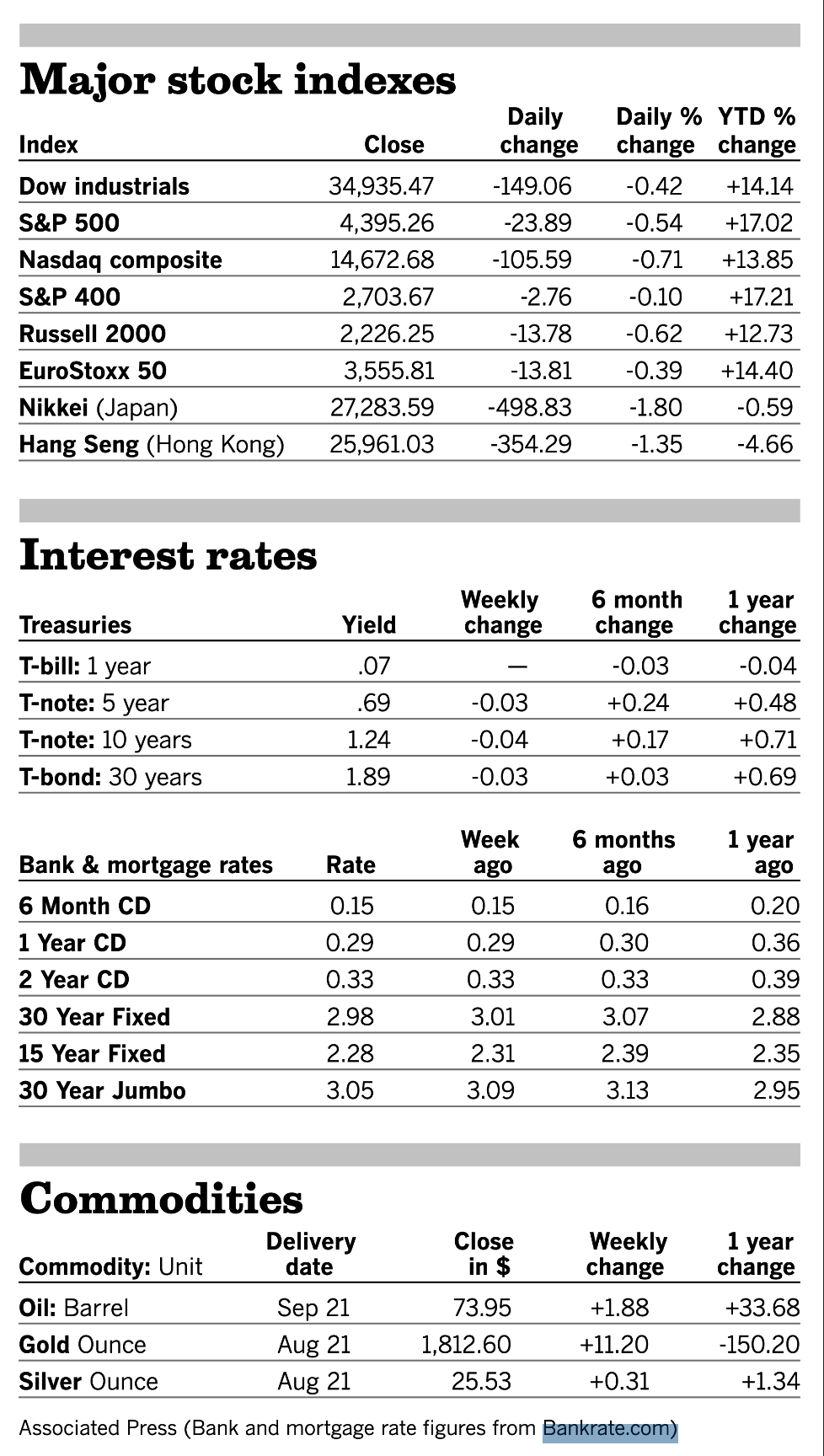 On tap today:
     • IHS Markit's U.S. manufacturing index for July is expected to hold at 63.1, unchanged from a preliminary reading. (9:45 a.m. ET)
     • Institute for Supply Management's manufacturing index for July is expected to tick up to 60.8 from 60.6 a month earlier. (10 a.m. ET)
     • U.S. construction spending for June is expected to increase 0.5% from a month earlier. (10 a.m. ET)
     • USDA Grain Export Inspections report, 11 a.m. ET.
     • USDA Crop Progress report, 4 p.m. ET.
A key measure of inflation climbed to the highest level since 1992 in June. Yet markets are starting to signal that investors may be growing less fearful of rising price pressures. Take the break-even rate. Calculated by measuring the difference in yields between Treasurys and their inflation-protected counterparts, or TIPS, the break-even rate shows how much inflation traders anticipate over a period of time. Since peaking for the year in May, the break-even rates for five-, seven-, and 10-year Treasurys have all fallen — suggesting traders are pricing in a moderation in inflation in coming years, the Wall Street Journal reports (link).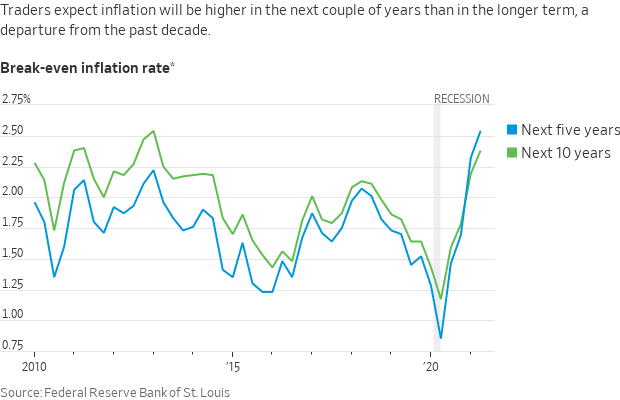 If Powell's Fed chairmanship isn't extended, here's why. President Biden's looming decision about who should be the next Federal Reserve chairman is prompting reviews of the current chief's record on bank regulation. Some progressive Democrats say Chairman Jerome Powell's Fed has not been tough enough on large financial firms. Fed governor Lael Brainard has emerged as the most likely candidate to succeed him should Biden decide he would prefer his own pick rather than the leader chosen by former President Trump. The WSJ notes (link) that Brainard has regularly dissented against Powell's decisions to ease bank regulations.
     Brainard in remarks late Friday to the Aspen Economic Strategy Group exhibited a greater willingness to adopt a central bank digital currency, and more inclination to make a decision than Powell. Nonetheless, she was aligned with Powell on monetary policy, saying a further notable improvement in the jobs market is needed for the Fed to start scaling back massive bond purchases.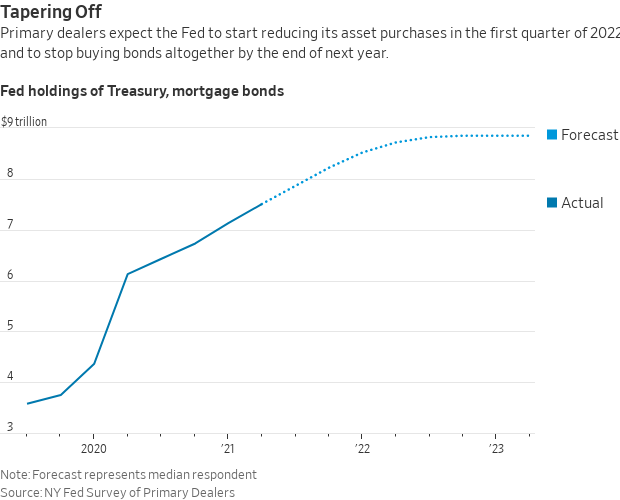 Market perspectives:
     • Outside markets: The U.S. dollar index is slightly weaker in early action as the euro and British pound are firmer against the greenback. The yield on the 10-year U.S. Treasury note is firmer, trading around 1.23%, with global government bond yields narrowly mixed. Gold and silver futures are under pressure ahead of U.S. economic updates. Gold is trading around $1,810 per troy ounce and silver around $25.49 per troy ounce.

     • Pressure has continued on crude oil ahead of U.S. trading, with U.S. crude under $72.90 per barrel and Brent under $74.50 per barrel. Futures were lower in Asian action, with U.S. crude down 98 cents at $72.97 per barrel and Brent fell $1.11 at $74.30 per barrel.
     • Ag demand: Egypt tendered Friday to buy an unspecified amount of wheat from global suppliers; Russia is thought to have the lowest offer. Jordan's state grains buyer issued an international tender to buy 120,000 MT of milling wheat sourced from optional origins. Algeria's state grains agency tendered to buy a nominal 50,000 MT of milling wheat.
     • CFTC Commitments of Traders report (source: Barron's):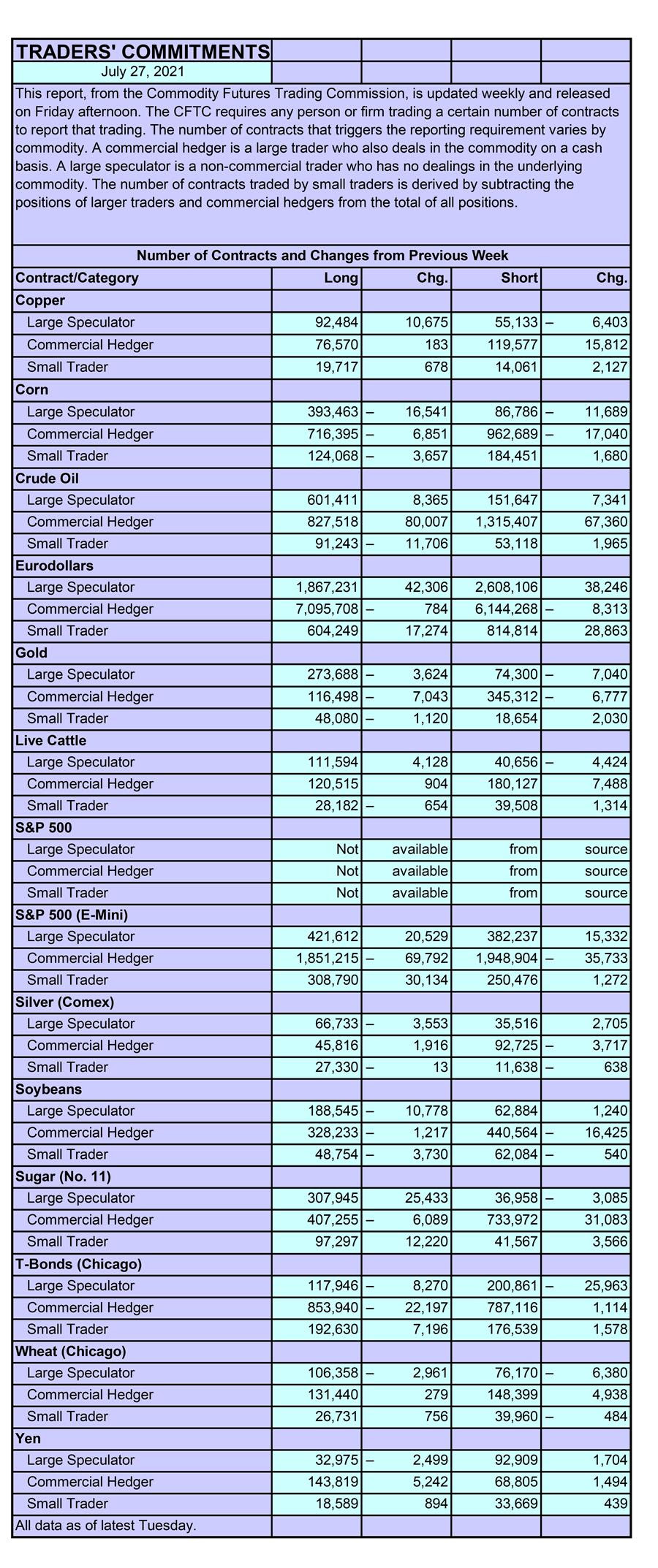 • NWS weather: Showers and thunderstorms linger along the Atlantic Coast and Southeast as threat of heavy rain increases near the Carolina coasts... ...Monsoonal rainfall gradually shifts eastward from the Intermountain West to the spine of the Rockies... ...A cool regime is expected to dominate much of the central and eastern U.S. as heat returns for the interior Northwest and northern Plains.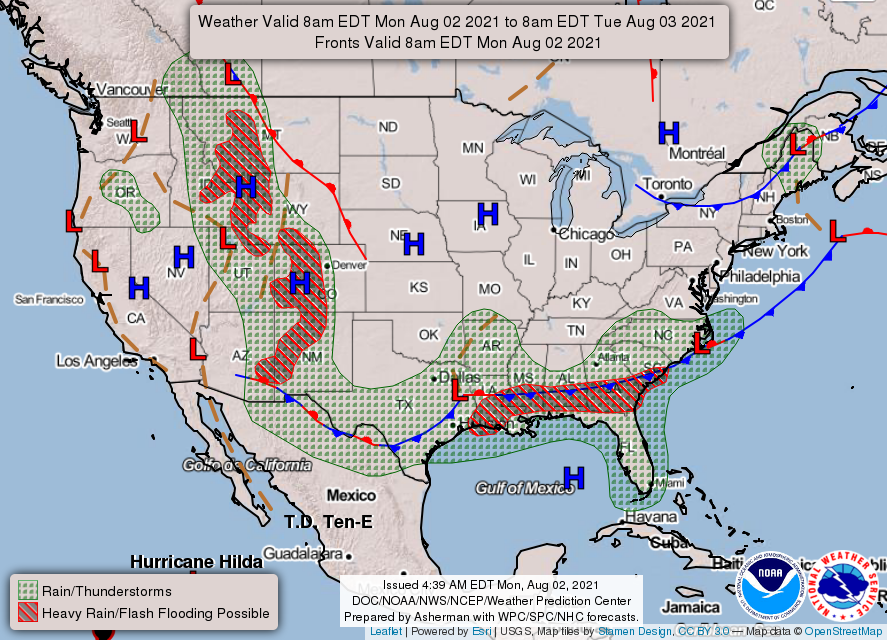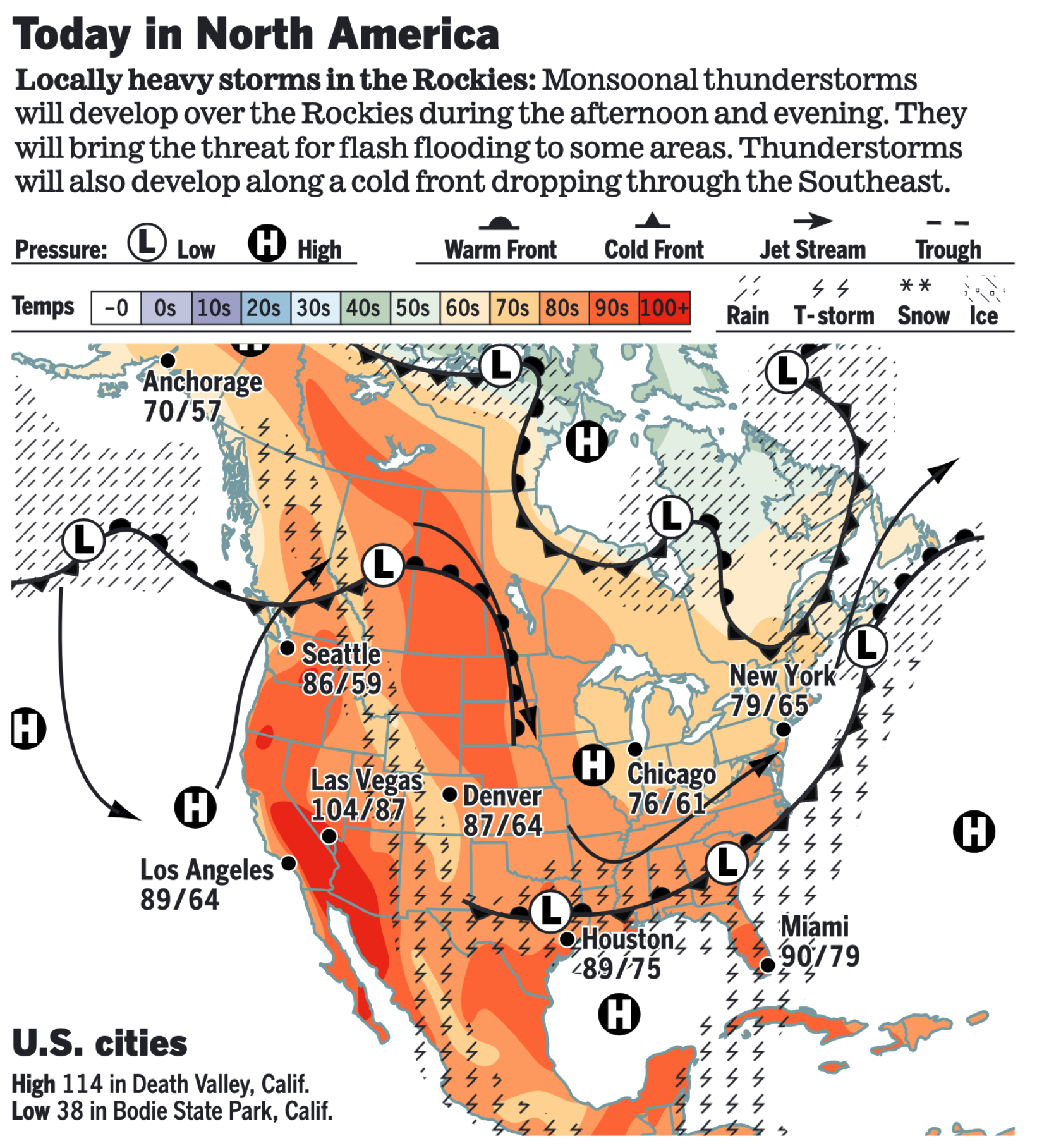 Items in Pro Farmer's First Thing Today include:
• Dry start to August, but temperatures not expected to be threatening
• Big slowdown in soybean crush expected; corn use for ethanol expected to surge
• EU's stock of rapeseed expected to tighten further, despite slight rise in production
• Russian wheat export prices on the rise
• Average rains expected the latter half of India's monsoon
• Boxed beef prices still tearing higher
• Last week's hog kill well under year-ago
---
POLICY FOCUS
---
— Physical infrastructure bill vote target date is Thursday; text released late Sunday. "Given the thoroughly bipartisan nature of the bill, I expect we will be able to consider all the relevant amendments and finish the bill in a matter of days," Senate Majority Leader Chuck Schumer (D-N.Y.) said. Senators on late Sunday finally released legislative text for the $550 billion physical infrastructure measure (while the total is around $1 trillion over five years and $1.2 trillion over eight years, it includes $550 billion in new spending over five years above projected federal levels). It is called the Infrastructure Investment and Jobs Act (link to text), and totals 2,702 pages. The Senate voted 66-28 on Friday to proceed to the legislative vehicle (HR 3684) for the bill.
     Amendments. Sen. John Cornyn (R-Texas) said he expects Schumer to allow all senators to have a chance to shape the bipartisan bill and allow for amendments from members of both parties. "I hope we can now pump the brakes a little bit and take the time and care to evaluate the benefits and the cost of this legislation," Cornyn said.
     Hurdles ahead. We have noted several times that even if the measure clears the Senate, as is now likely, several obstacles remain, including:
House Speaker Nancy Pelosi repeatedly said she will not have the House take up the physical infrastructure bill until the Senate also clears the $3.5 trillion "human infrastructure" package via budget reconciliation. A budget resolution vote setting up the reconciliation measure is expected to pass the Senate next week. The eventual Senate budget reconciliation vote faces several hurdles from a few moderate Democrats as all party members are needed because no Republican is expected to vote for the go-it-alone Democratic spending package.

Some House Democrats want to change/add some provisions to the Senate physical infrastructure measure and what they do could impact how many Republicans vote on any altered version if it must return to the Senate.
---
BIDEN ADMINISTRATION PERSONNEL
---

— Senate confirms Hipp as USDA general counsel. The Senate late Friday confirmed by voice vote Janie Simms Hipp, President Biden's nominee as USDA general counsel. Hipp, who grew up in Oklahoma, has been a professor at the University of Arkansas Law School and launched the Indigenous Food and Agriculture Initiative focusing on Tribal governance in food and in agriculture economic development. In 2018, Hipp received a court appointment to serve as founding CEO of the Native American Agriculture Fund, a private charitable spend-down trust funded through settlement of the Keepseagle Native American discrimination case against USDA.
 
---
CHINA UPDATE
---

— Expansion in China's factory sector in July hit the lowest level in nearly a year and a half, the latest sign of slackness of the world's second-largest economy. China's official manufacturing purchasing-managers' index, a gauge of manufacturing activity, dropped to 50.4 in July from 50.9 in June, according to data released by the National Bureau of Statistics on Saturday. Readings above 50 indicate activity was expanding, below 50 contracting.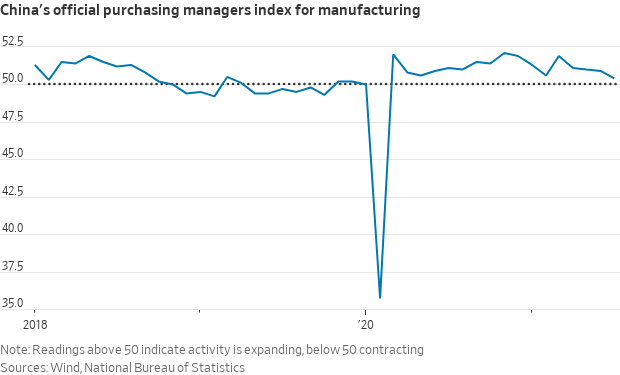 — China's securities regulator called for talks with its American counterpart after the U.S. Securities and Exchange Commission halted the initial public offerings of Chinese companies. The U.S. regulator had said it would suspend any Chinese IPOs until companies improved their risk disclosures.  
 
---
ENERGY & CLIMATE CHANGE
---
— China and India miss deadline for climate updates. China and India have missed a United Nations deadline to submit fresh plans for cutting their greenhouse gas emissions in time for the international body to include their pledges in a report at this year's global climate summit, officials said Saturday. The world's two most populous countries are among dozens that failed to provide an update on their targets for curbing the release of planet-warming gases to the U.N. climate change agency by Saturday. China is the country with the world's highest emissions, while India is third. The United States, which submitted its new target in April, is the second-biggest global emitter.
     U.N. climate chief Patricia Espinosa welcomed that 110 signatories of the United Nations Framework Convention on Climate Change had met the cutoff date, which was extended from the end of 2020 because of the pandemic. But she said it was "far from satisfactory" that only 58% had submitted their new targets in time. Saudi Arabia, South Africa, Syria and 82 other nations also failed to update their nationally determined contributions in time to include them in a report Espinosa's office is preparing for the U.N. climate change conference in November.
— Republican senators seek meeting with Biden on biofuels. A group of Republican Senators wants to meet with President Joe Biden to press him to include biofuels in climate effort undertaken by the administration versus the major push on electric vehicles (EVs). "While we recognize that EVs will eventually play an increased role in America's transportation and energy future, and that American innovation and ingenuity will overcome some of the hurdles faced by this nascent industry, we urge you to not look beyond the current generation of biofuels technology and forgo the meaningful reduction in carbon emissions they can provide," the lawmakers said. Link to letter.
     They cited new studies that have updated the level of reduction in lifecycle emissions for ethanol and that combined with investment in carbon capture, ethanol is approaching net-zero or even net-negative emissions."
     They also called for more spending on renewable fuels in the infrastructure package and urged expansion of E15 fuels.
     Bottom line: It's not clear how much success the lawmakers led by Sens. John Thune (R-S.D.), Chuck Grassley (R-Iowa) and others will have. Prior letters have failed to generate action.
— Two small U.S. solar companies plan to petition the government to extend tariffs on solar cell and panel imports. Auxin Solar, a San Jose, Calif., solar panel manufacturer, and Suniva, which owns an idled solar cell factory in Norcross, Ga., plan to ask the U.S. International Trade Commission today to extend the solar tariffs for four years.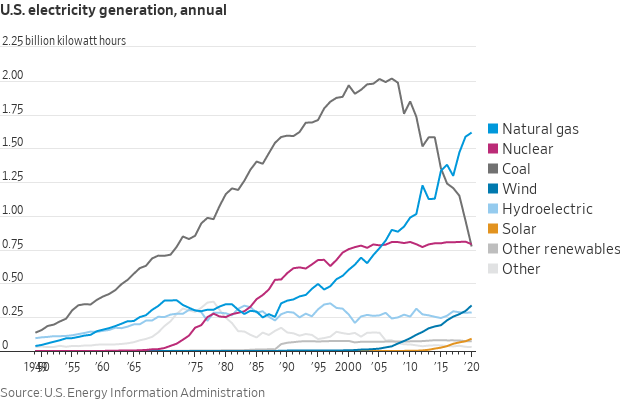 ---
CORONAVIRUS UPDATE
---
— Summary: Global cases of Covid-19 are at 198,385,991 with 4,225,489 deaths, according to data compiled by the Center for Systems Science and Engineering at Johns Hopkins University. The U.S. case count is at 35,003,606 with 613,228 deaths. The Johns Hopkins University Coronavirus Resource Center said that there have been 346,456,669 doses administered, 164,757,423 have been fully vaccinated, meaning that now more than half of the total U.S. population, or 50.2%, has been fully vaccinated.
— FDA under pressure to grant full approval to Covid-19 vaccines. The U.S. Food and Drug Administration is under pressure to swiftly grant full approval to Covid-19 shots, as vaccine mandates take on new urgency for schools, hospitals and employers amid surging cases from the rapidly spreading Delta variant.
— Growing numbers of people are getting vaccinated in areas hit hard by the Delta variant, offering a glimmer of hope but still falling short of what is needed to fight the virus, public-health officials say. Meanwhile, Dr. Anthony Fauci told Jonathan Karl on ABC's This Week that the U.S. is unlikely to return to lockdowns, but that the Delta outbreak is likely to worsen. But Fauci said he still doesn't expect the nation to shut down again. "I don't think we're gonna see lockdowns. I think we have enough of the percentage of people in the country — not enough to crush the outbreak — but I believe enough to not allow us to get into the situation we were in last winter," Fauci said — referring to when municipalities across the country instituted strict rules involving mask-wearing and business and school shutdowns.
— NIH director: Mask guidance is 'mostly about protecting the unvaccinated'. Francis Collins, the director of the National Institutes of Health (NIH), said on Sunday that the new mask guidance released last week urging fully vaccinated people to wear a face covering indoors in coronavirus hotspots is "mostly about protecting the unvaccinated." Requiring students under the age of 12 to wear masks is a "sacrifice worth making," Collins added.
— China is confronting its broadest Covid-19 outbreak since the late 2019 outbreak, with the delta variant spreading to places declared virus-free for months, including original epicenter Wuhan. While the overall number of infections — more than 300 so far — is still far lower than Covid resurgences elsewhere, it's a challenge to China's pandemic strategy as the highly infectious strain becomes pervasive.
 
---
POLITICS & ELECTIONS
---

— DOJ tells Treasury to turn over Trump tax records to House. The Justice Department told the Treasury Department on Friday that it must turn over former President Donald Trump's tax returns and information to the House Ways and Means Committee — although a legal fight is anticipated. The opinion from the Office of Legal Counsel reverses course from the DOJ's 2019 opinion, during the Trump administration, to an initial request from House Ways & Means Chairman Richard Neal (D-Mass.) who sued the Treasury Department for the information in a case still pending in the federal courts. The Justice Department on Friday wrote that it reevaluated after Neal made a new request for the information last month for tax years 2015 through 2020. Neal wrote that the panel sought to evaluate, among other issues such as national security, "the extent to which the IRS audits and enforces the Federal tax laws against a president." That is "a plainly legitimate area for congressional inquiry and possible legislation," the Justice Department wrote, "even if some individual legislators might have other reasons for wanting access to the information." The department's previous position acknowledged that the law does not require Neal to state a purpose when requesting tax returns. But the Justice Department back then concluded that Congress can't give itself the right to compel information that does not serve a legitimate legislative purpose, and that Neal's request was "pretextual."
 
---
OTHER ITEMS OF NOTE     
---
— U.S. formally blamed Iran for a deadly attack on an Israel-linked oil tanker off Oman, warning of an "appropriate response." "We are working with our partners to consider our next steps and consulting with governments inside the region and beyond on an appropriate response, which will be forthcoming" Secretary of State Antony Blinken said in a statement Sunday. Blinken's condemnation came after Israeli Prime Minister Naftali Bennett and the U.K. foreign secretary said Iran were responsible for the attack.
— North Korea. The sister of North Korean leader Kim Jong Un said planned joint military exercises between South Korea and the U.S. will "cloud" inter-Korean relations, Yonhap News Agency reported. North Korea will "closely watch" if South Korea goes ahead with the drills, reports said, citing a statement from Kim Yo Jong via the Korean Central News Agency. Kim Jong Un and South Korean President Moon Jae-in had agreed in letters to restore relations, improving the prospects for a breakthrough in an extended stalemate in nuclear talks.
---