Senate This Week Likely to Pass $550 Billion Bipartisan Infrastructure Bill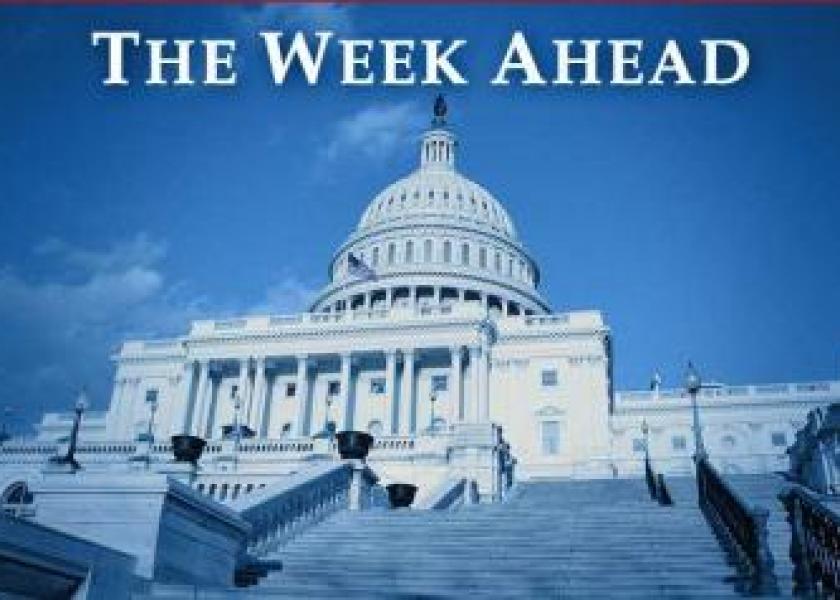 WHIP+ plus… FY 2022 appropriations… Dems push 'voting rights' bill… Reconciliation
---
Washington Focus
---
The Senate is in session while the House is on a six-week recess through Labor Day after failing Friday to clear a five-month extension of the eviction moratorium, which Rep.  Alexandria Ocasio-Cortez (D-N.Y.) blamed on "conservative Democrats."
     The federal eviction moratorium expired at midnight on Saturday despite efforts by top Democrats to expand the legislation that had been extended several times throughout the pandemic. During a Sunday interview on CNN, Ocasio-Cortez contended that the "House and House leadership had the opportunity to vote to extend the moratorium… And there were many, and there was, frankly, a handful of conservative Democrats in the House that threatened to get on planes rather than hold this vote." AOC said Democrats cannot "in good faith blame the Republican Party" for the federal eviction moratorium expiring because Democrats hold the majority in the lower chamber.
The Senate on Friday voted 66-28 to proceed to the legislative vehicle (HR 3684) for a bipartisan infrastructure package. Sixteen Republicans joined Democrats to advance debate on the measure, which includes $550 billion in new spending on everything from broadband to airports to highways. The Senate is expected to clear the measure assuming no last-minute glitches. The bill cannot see a vote until both its legislative text and the Congressional Budget Office score are released.
     Summary: Of the $550 billion above expected federal infrastructure spending, $110 billion will go toward bridges and roads, $39 billion is provided for public transit, and $65 billion is aimed at expanding access to broadband, among other provisions. Repurposed federal funds, money recouped from delaying a Trump-era Medicare rebate rule, and a mix of accounting maneuvers will cover the cost of legislation.
     Where's the text? Senators and staff have been working for days to write the massive piece of legislation. Senate Majority Leader Chuck Schumer (D-N.Y.) kept senators in a weekend session to encourage the authors of the bipartisan infrastructure plan to finish drafting the bill so senators can begin offering amendments. A draft bill indicated it could have more than 2,500 pages by the time it's introduced. Schumer wants senators to wrap up the voting before breaking for their August recess (House has already recessed). He said that once the bill's text is finalized, he'll review it and offer it in place of the shell bill now before the chamber. Then senators can begin voting on amendments.
     Timeline for part one of infrastructure: "We want to be done (with the bill) by Thursday. We want to move on," Sen. Joe Manchin (D-W.Va.) said Sunday on CBS' Face the Nation. Sen. Susan Collins (R-Maine) told CNN she expected the infrastructure bill text to be released later Sunday and passed this week.
     Next up: "human" infrastructure via reconciliation package. Senate passage of the infrastructure bill would set the stage for later consideration of a budget resolution that could facilitate the rest of President Biden's economic agenda, a $3.5 trillion overhaul of policies on climate change, taxes, health care, immigration and other Democratic Party priorities. Democrats need to find 50 votes for that measure because no Republican is expected to support it. Republicans have criticized the $3.5 trillion proposal, arguing that its spending could fuel inflation and its tax increases could slow growth. As previously noted, the price tag for the measure will likely have to be reduced to get some moderate Democrats like Krysten Sinema (D-Ariz.) to go along, plus some funding specifically targeted to some states.
     When the eventual Senate-passed infrastructure package reaches the House, Speaker Nancy Pelosi (D-Calif.) has made clear she will not bring it up for passage until the Senate also passes the human infrastructure bill via a budget reconciliation measure. Pelosi has also indicated House Democrats have their own ideas on the physical infrastructure bill and if it is changed, the matter must return to the Senate. If it changes significantly, then the number of Republicans voting for the initial attempt may come into play. Meanwhile, Ocasio-Cortez and some other Democrats have indicated that they would block the bill entirely without support from holdout Democrats on the $3.5 trillion package. Also, Transportation and Infrastructure Committee Chairman Peter DeFazio (D-Ore.) has expressed dissatisfaction with what the bipartisan group in the Senate has developed. 
     Timeline: Neither the budget resolution nor reconciliation measure is expected to see final votes until later this fall. Once the resolution passes, lawmakers will still need weeks to craft the specifics of the legislation, likely delaying House passage of the physical infrastructure bill.
FY 2022 appropriations on tap. The Senate Appropriations Committee will consider draft fiscal year (FY) 2022 Agriculture, Energy-Water and Military Construction-VA bills this week. Agriculture and Military Construction-VA subcommittees will vote Monday night, and all three measures will go before the full committee on Wednesday morning.
     WHIP+ plus… Sen. John Hoeven (R-N.D.), the Ranking Republican on the Subcommittee, intends to include an extension of WHIP+ and drought relief for livestock.
     The House last week moved nine of 12 annual appropriations bills, including Agriculture appropriations.  No harmful amendments to agriculture were made in order during the floor process. Despite this movement in the House prior to the August recess, most say Congress will have to return in the fall and pass a Continuing Resolution in order to avoid a government shutdown on Oct. 1, the start of FY 2022.
CBO cost estimate will impact reconciliation scorecard. The Congressional Budget Office (CBO) estimated that President Biden's proposed permanent extension of expanded premium tax credits for purchasing health insurance on the 2010 health law's exchanges would cost about $210 billion over a decade, nearly $47 billion more than the administration estimated. The premium tax credit extension is a key plank of Democrats' $3.5 trillion budget reconciliation package.
Senate Democrats are 'very close' to deal on revised voting rights bill, says Sen. Amy Klobuchar (D-Minn.). The Senate Rules and Administration Committee chairwoman has been meeting with other Senate Democrats about revisions to the "For the People Act," or S 1. Sen. Joe Manchin (D-W.Va.) last month wrote a memorandum including his policy demands for the legislation. 
     As introduced, HR 1 and S 1 would federalize election laws and congressional redistricting.  Democrats contend the legislation protects voting rights while Republicans counter the bill is aimed at cementing Democrats' control of Congress amidst fears that Republicans are poised to regain the House in the 2022 midterm elections. 
     In the Senate, the filibuster would need to be killed or watered down to pass the legislation. Link to details for more on this topic.
Nomination. The Senate Ag Committee will have a hearing Thursday for Homer Wilkes, President Biden's pick to be undersecretary for natural resources and environment, which would provide oversight for the Forest Service. Wilkes is currently director of the Gulf of Mexico Ecosystem Restoration Division of the Natural Resources Conservation Service.
---
Hearings and Events This Week
---
Monday, Aug. 2
FY 2022 Ag appropriations.

Senate Ag Appropriations Subcommittee markup of "Agriculture, Rural Development, Food and Drug Administration, and Related Agencies Appropriations Act, 2022."

Agricultural and Applied Economics Association annual meeting,

through Tuesday.

FY 2022 budget: MilCon.

Senate Appropriations Military Construction, Veterans Affairs, and Related Agencies Subcommittee markup of FY 2022 appropriations for the agencies under its jurisdiction.

Trade issues.

International Trade Administration teleconference of the Environmental Technologies Trade Advisory Committee, including a discussion of major issues affecting the competitiveness of the US environmental technologies industry.

Cyber statistics.

Atlantic Council virtual discussion on "Building the Picture Bit-by-Bit: Why the U.S. Needs a Bureau of Cyber Statistics."

Covid vaccines.

Center for Strategic and International Studies virtual discussion with National Institute of Allergy and Infectious Diseases Director Anthony Fauci on "the administration's signature initiative dedicating $3.2 billion to speed development of antivirals for COVID-19 and other viruses with the potential to become pandemics."
Tuesday, Aug. 3
Financial system oversight.

Senate Banking Committee will hold its financial regulatory oversight hearing.  Chairman of the Federal Deposit Insurance Corp. Jelena McWilliams and acting Comptroller of the Currency Michael Hsu will testify at the hearing, and the theme from Democrats is expected to center on inclusion and equity in the financial system.

Aspen Security Forum

will be held Tuesday and Wednesday. Speakers include Securities and Exchange Commission Chairman Gary Gensler, speaking on the first day, and executives from Mastercard Inc. and Ripple Labs Inc. on the second day. The SEC recently mandated new disclosures from Chinese companies before they can sell shares in the United States.

Federal Reserve.

Fed Governor Michelle Bowman delivers opening remarks at Fed research seminar.

Deceptive marketing practices.

Senate Commerce, Science and Transportation Consumer Protection, Product Safety, and Data Security Subcommittee hearing on "Toxic Marketing Claims and Their Dangers."

Protecting consumers from fraud in the pandemic.

Senate Banking, Housing and Urban Affairs Financial Institutions and Consumer Protection Subcommittee hearing on "Protecting Consumers from Financial Fraud and Scams in the Pandemic Recovery Economy."

Use of force authorization.

Senate Foreign Relations Committee hearing on "Authorizations of Use of Force: Administration Perspectives," with Deputy Secretary of State Wendy Sherman.

Domestic terrorism.

Senate Homeland Security and Governmental Affairs Committee hearing on "Domestic Terrorism and Violent Extremism: Examining the Threat of Racially, Ethnically, Religiously, and Politically Motivated Attacks, Part I."

Energy, Interior nominations.

Senate Energy and Natural Resources Committee hearing on the nominations of Geraldine Richmond to be Energy undersecretary for science; Asmeret Berhe to be director of the Energy Department's Office of Science; and Cynthia Stachelberg to be assistant Interior secretary for policy, management and budget.

Climate and energy issues.

Atlantic Council virtual discussion on "opportunities for bipartisan climate cooperation as well as the role of the private sector in the energy transition," as part of the Transition Trailblazers series.

U.S. forces versus China.

Hudson Institute virtual discussion on "Gaining Advantage Through Mission Integration," focusing on "challenges facing U.S. forces against a peer competitor like China."

Environment issues.

Second day of International Trade Administration Environmental Technologies Trade Advisory Committee.

Glickman book.

Chicago Council on Global Affairs virtual discussion with former USDA Secretary Dan Glickman on his new book, Laughing at Myself: My Education in Congress, on the Farm, and at the Movies, the principles that shaped his career and "how they could be an antidote to America's divisive politics."

Financial services modernization.

Government Executive Media Group virtual discussion on "Modernizing the Mission: The Future of Federal Financial Service Modernization."

Congressional oversight and executive privilege.

Senate Judiciary Federal Courts, Oversight, Agency Action and Federal Rights Subcommittee on "Breaking the Logjam: Principles and Practice of Congressional Oversight and Executive Privilege."
Wednesday, Aug. 4
FY 2022 appropriations.

Senate Appropriations Committee markup of "Energy and Water Development and Related Agencies Appropriations Act, 2022" and  "Agriculture, Rural Development, Food and Drug Administration, and Related Agencies Appropriations Act, 2022."

Fed Vice Chair Richard Clarida

will speak on the economic outlook and monetary policy at the Peterson Institute for International Economics.

St. Louis Fed President James Bullard

delivers remarks at a Washington Post Live event on economic solutions, inflation and concerns for the Covid-19 delta variant.

FY 2022 budget: Energy, Agriculture, MilCon.

Senate Appropriations Committee markup of the FY 2022 Energy and Water Development and Related Agencies appropriation bill; the FY 2022 Agriculture, Rural Development, Food and Drug Administration, and Related Agencies appropriations bill; and FY 2022 Military Construction, Veterans Affairs, and Related Agencies appropriations bill.

China threats to U.S national security.

Senate Select Intelligence Committee hearing on "Beijing's Long Arm: Threats to U.S. National Security."

Cuba issues.

Washington Post Live virtual discussion on "The Future of Cuba."

Security forum.

Aspen Institute 2021 virtual Security Forum, including remarks from Jin Liqun, president of the Asian Infrastructure Investment Bank and Undersecretary of State for Political Affairs Victoria Nuland.

China and waste management.

Woodrow Wilson Center's China Environment Forum virtual discussion on "Waste Management in the Shadows in China."

Votes on Iraq use of force, nominations.

Senate Foreign Relations Committee markup of SJRes 10, to repeal the authorizations for use of military force against Iraq and several pending nominations.

Security in the Black Sea.

Atlantic Council virtual discussion on "Enhancing Security in the Black Sea: The Future of Security Cooperation."

EPA nominations.

Senate Environment and Public Works Committee hearing on the nominations of Amanda Howe to be assistant EPA administrator for mission support; David Uhlmann to be assistant EPA administrator for enforcement and compliance assurance; and Carlton Waterhouse to be assistant EPA administrator of land and emergency management.

Covid issues.

Business Council for International Understanding virtual discussion on the U.S. International Development Finance Corporation's response to Covid-19 and ways for potential partnerships, part of the "Healthcare Financing" series.

Supply chain issues.

Informa Tech holds the Black Hat USA conference, including remarks from Matt Tait, Corellium COO, on "Supply Chain Infections and the Future of Contactless Deliveries."

U.S. technology leadership.

Washington Post Live virtual discussion on "The Path Forward: Digital Innovation," focusing on the future of the semiconductor industry, the digital acceleration during the pandemic and how America can maintain its technological leadership.

SEC and ESG.

U.S. Chamber of Commerce virtual discussion on "The Future of ESG (environmental, social and governance): Standard Setting and Materiality," focusing on Securities and Exchange Commission rulemaking.
Thursday, Aug. 5
Climate change.

World Resources Institute webinar called "Just 3 Months Until COP26: How Are National Climate Plans Stacking Up?" The event involves the 26th Conference of Parties in Glasgow This webinar will look at the newest submissions in the context of the overall goal of keeping global warming within 1.5 degrees Celsius.

Fed Governor Christopher Waller

will speak on central bank digital currency at the American Enterprise Institute. This is only Waller's second public speech as a Fed governor after his nomination hearing.

Wilkes nomination.

Senate Ag Committee hearing on nomination of Homer Wilkes to be USDA's undersecretary for natural resources and environment.

China report to Congress.

U.S./China Economic and Security Review Commission meeting to review and edit drafts of the 2021 Annual Report to Congress.

DOE programs.

Senate Energy and Natural Resources Committee hearing on the role of programs within the Energy Department's Office of Science.

Domestic terrorism.

Senate Homeland Security and Governmental Affairs Committee hearing on "Domestic Terrorism and Violent Extremism: Examining the Threat of Racially, Ethnically, Religiously, and Politically Motivated Attacks, Part II."

Cybersecurity.

Informa Tech Black Hat USA conference with keynote remarks from Homeland Security Secretary Alejandro Mayorkas.

China actions on Taiwan

. Hudson Institute virtual discussion on "Cancel Culture with Chinese Characteristics," focusing on China's attempts to isolate Taiwan from membership in international organizations.

Fiscal policy and the economy.

Urban-Brookings Tax Policy Center virtual discussion on "The Prescription: Fiscal Policy for Today's Economy," focusing on "the cap on the state and local tax deduction and proposals for reform, as well as other tax policy changes currently being debated in Congress."

Future of money.

Washington Post Live virtual "Path Forward" discussion on "The Future of Money" with Al Kelly, CEO of Visa.
Friday, Aug. 6
Political outlook.

National Journal virtual discussion with Charlie Cook, founder of the Cook Political Report, on his "outlook on the current political landscape and the latest trends."

U.S. Postal Service.

Meeting of the Board of Governors.

Nuclear energy.

National Association of Regulatory Utility Commissioners virtual discussion on "Prospects for Nuclear in Puerto Rico and the Pacific Northwest."
---
Economic Reports for the Week
---
Friday is jobs day. Economists still expect a robust report, and although the Delta variant remains a big economic risk, it likely won't show up in this report because of the timing. Other economic reports of note include updates on construction spending, factory orders and durable goods orders.
Monday, Aug. 2
Institute for Supply

 Management releases its Manufacturing Purchasing Managers' Index for July. Consensus estimate is for a 60.8 reading, up from 60.6 in June.

PMI Manufacturing

Census Bureau

 reports construction spending for June. Expectations are for a 0.4% month-over-month rise, after a 0.3% decline in May.  
Tuesday, Aug. 3
Census Bureau reports factory orders for June. Economists predict that orders increased 1.0% during the month, compared with a 1.7% rise in May.

Motor vehicles
Wednesday, Aug. 4
MBA Mortgage Applications

Bureau of Economic 

Analysis reports light-vehicle sales for July. Expectations call for a seasonally adjusted annual rate of 15.3 million vehicles, versus 15.4 million in June.

ISM releases

 its Services PMI for July. Consensus estimate is for a 60.8 reading, compared with June's 60.1.

PMI Services

ADP releases

 its National Employment report for July. Consensus estimate is for a 635,000 gain in nonfarm private-sector employment, following an increase of 692,000 in June.
Thursday, Aug. 5
Jobless Claims

International trade. The U.S. trade deficit likely widened in June. Preliminary figures already show record goods imports during the month as Americans buy more from overseas while the economy expands and domestic producers struggle to keep up.

Fed Balance Sheet

Money Supply

Bank of England is expected to stand pat on monetary policy. Economists are looking for BOE officials to revise their inflation forecast higher but hold off on any major moves while the outlook remains clouded by the recent spike in Covid-19 cases.
Friday, Aug. 6
BLS releases the jobs report for July. Economists forecast a 800,000 rise in nonfarm payrolls, after an 850,000 gain in June. The unemployment rate is expected to edge down to 5.8% from 5.9%.

Wholesale inventories

Consumer Credit
---
Key USDA & international Ag & Energy Reports and Events 
---
Monday, Aug. 2
     Ag reports and events:
Export Inspections

Crop Progress

Cotton System

Fats & Oils

Flour Milling

Grain Crushings

Honey Bee Colonies
Tuesday, Aug. 3
     Ag reports and events:
EU weekly grain, oilseed import and export data
     Energy reports and events:
API weekly U.S. oil inventory report
Wednesday, Aug. 4
     Ag reports and events:
Broiler Hatchery

Dairy Products

France agriculture ministry updates 2021 crop estimates
     Energy reports and events:
EIA weekly U.S. oil inventory report

U.S. weekly ethanol inventories

Genscape weekly crude inventory report for Europe's ARA region
Thursday, Aug. 5
     Ag reports and events:
Weekly Export Sales

China's CNGOIC to publish monthly soybean and corn reports

FAO World Food Price Index

Port of Rouen data on French grain exports

Malaysia Aug. 1-5 palm oil export data
     Energy reports and events:
EIA natural gas storage change

Russian weekly refinery outage data from ministry

Insights Global weekly oil product inventories in Europe's ARA region

U.S. Census crude export data
Friday, Aug. 6
     Ag reports and events:
CFTC Commitments of Traders report

Peanut Prices

Livestock and Meat International Trade Data

U.S. Agricultural Trade Data Update

Cash Rents: State

Land Values

FranceAgriMer weekly update on crop conditions
     Energy reports and events:
Baker Hughes weekly U.S. oil/gas rig counts
---