Senate Physical Infrastructure Timeline Slips as Sen. Hagerty Insists on Normal Order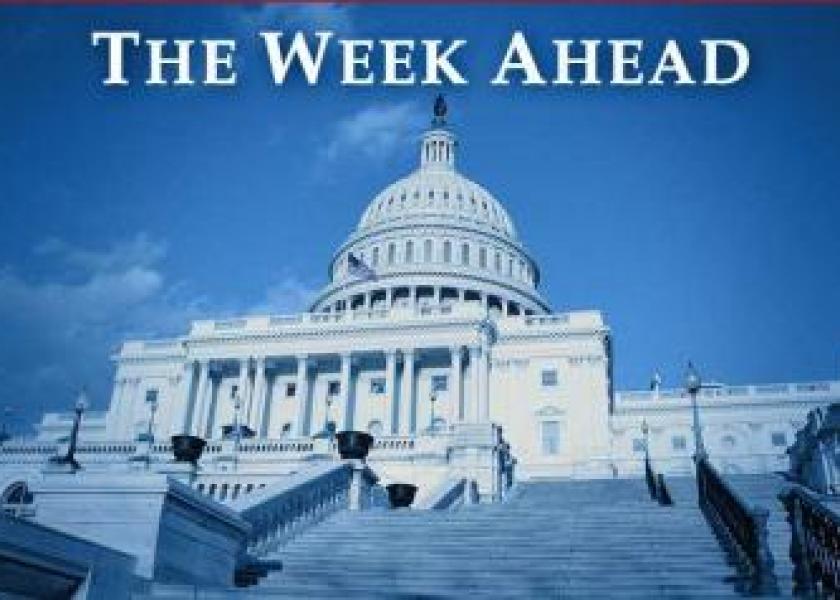 USDA WASDE, Crop Production reports on Thursday
---
Washington Focus
---
The House is in recess but may return to pass a bipartisan infrastructure package and a partisan fiscal year (FY) 2022 budget resolution after passage by the Senate, which continues in session as explained below.
A few bumps in the road to clear the physical infrastructure measure occurred over the weekend. "I'm not inclined to expedite this process whatsoever," Sen. Bill Hagerty (R-Tenn.) told reporters after he spoke on the Senate floor Saturday in opposition to the bill. The Senate voted earlier Saturday (67-27) to get the bill over a key procedural hurdle. At least 10 Republicans had to join all Democrats to advance the measure past a filibuster — and in the end 18 Republican senators voted to advance the package. Senate Minority Leader Mitch McConnell (R-Ky.) voted in favor of the procedural vote and called for the Senate to consider additional amendments.
     18 Republicans who voted yes: Sens. Blunt, Capito, Cassidy, Collins, Cornyn, Cramer, Crapo, Fischer, Grassley, Hoeven, McConnell, Murkowski, Portman, Risch, Romney, Rounds, Tillis & Young.
     Not voting: Sens. Barrasso, Burr, Graham, Rubio, Scott (SC) & Warnock.
     Senators are anxious pessimistic about the chances of a quick agreement. Without a deal, the next vote on the bill will be on Sunday evening and it would not pass the Senate until early Tuesday morning.
     Power politics by both parties. Sen. John Thune (R-S.D.) said that Democratic lawmakers would not allow Republicans to offer amendments to the infrastructure bill unless they first could reach an agreement on expediting a final vote. But Hagerty's favoring of normal procedure left the two sides at a temporary deadlock, leading Thune and others to acknowledge a swift resolution remains unlikely. Hagerty said he has no problem with considering any of the outstanding 16 to 25 amendments that Senate leadership was seeking to make a deal on, but "what they're asking for is an expedited process that has nothing to do with the amendments… I'm not the one holding any of the amendments up," he said. "They're free to start under normal order."
     With still no agreement on amendments, Senate Majority Leader Chuck Schumer (D-N.Y.) issued the chamber a political ultimatum: "We can get this done the easy way or the hard way… In either case, the Senate will stay in session until we finish our work. It's up to my Republican colleagues how long it takes," he said.
     Called the Infrastructure Investment and Jobs Act, the 2,702-page bill is the first part of Biden's infrastructure agenda and would inject billions of new spending on roads, bridges, waterworks, broadband and other projects in virtually every corner of the nation. It also includes billions of dollars for what Democrats say is only a "down payment" for the contentious Green New Deal urged by the party's most liberal lawmakers. If approved by the Senate, it would next go to the House.
     It's a big deal to President Joe Biden. As Biden spoke from the White House, he compared the "historic investment" of nearly $1 trillion in new and existing spending to building the transcontinental railroad or the interstate highway system. The public works projects the measure will fund will be powered by good-paying, blue-collar jobs, he said.
     What's in it? The Infrastructure Investment and Jobs Act includes $550 billion in new spending over five years, on top of $450 billion in previously approved funds. $110 billion would be allocated for roads and bridges, $66 billion for rail, $55 billion for water and wastewater infrastructure and $39 billion for public transit. There's also money for ports, high-speed broadband internet, replacing lead water pipes and building a network of electric vehicle charging stations.
     Some green energy proposals are in the bipartisan spending plan, which Democrats call a "down payment" as the bulk of their Green New Deal funding will come via a "human" infrastructure measure.
$21.5 billion for creation of Office of Clean Energy Demonstrations

$2.4 billion for advanced nuclear reactor projects

$3.5 billion for carbon capture

$8 billion for clean hydrogen

$5 billion for investment into energy-related projects
     An analysis of the bill from the Congressional Budget Office drew concerns, particularly from Republicans. It concluded that the legislation would increase deficits by about $256 billion over the next decade, though the bill's backers argued that the analysis did not consider certain revenue streams — including from future economic growth.
     Schumer plans to pivot quickly after the infrastructure vote to a budget resolution that will set the stage for a much broader $3.5 trillion package of social spending and taxes that Democrats can muscle through without any Republican votes.
    The physical infrastructure bill still needs to get through the House of Representatives, where some Democratic far-left liberals have suggested the $1 trillion total price tag is inadequate. Democrats also aim to pass the bill alongside a second $3.5 trillion dollar package on "human infrastructure." While President Joe Biden has confirmed that the "physical infrastructure" proposal would not be dependent on that initiative, House Speaker Nancy Pelosi (D-Calif.) has linked the two measures.
---
Hearings and Events This Week
---
The House is out, and the Senate is focusing on trying to get to the end zone on a physical infrastructure measure.
---
Economic Reports for the Week
---
Inflation watchers will get some key updates this week with the Consumer Price Index and Producer Price Index reports both due.
Monday, Aug. 9
Bureau of Labor Statistics (BLS) reports the Job Openings and Labor Turnover Survey for June. Economists forecast 9.1 million openings on the last business day of June, slightly less than the May figure. Job openings stand at record levels as employers struggle to fill vacant positions.   
Tuesday, Aug. 10
National Federation of Independent Business reports its Small Business Optimism Index for July. Consensus estimate is for a 102.8 reading, roughly even with the June data, which was the highest since October.

BLS reports unit labor costs and nonfarm productivity for the second quarter. Expectations are for a rise of 0.9% in labor costs and 3.4% for productivity. This compares with increases of 1.7% and 5.4%, respectively, in the first quarter.
Wednesday, Aug. 11
MBA Mortgage Applications

BLS reports the consumer price index for July. Economists forecast a 5.3% increase year over year, after a gain of 5.4% in June. The core CPI, which excludes volatile food and energy prices, is expected to rise 4.3%, compared with 4.5% previously. Inflation, and whether it is transitory, has generated much discussion on Wall Street this year, with the June CPI showing the fastest pace of growth since July 2008 and core CPI rising at the swiftest clip in nearly 30 years.

Treasury Department releases the monthly budget statement for July. The estimated deficit is $267 billion for the month, and $3 trillion for fiscal 2021, which ends in September. The $3 trillion would be just shy of fiscal 2020's $3.1 trillion deficit, a record.
Thursday, Aug. 12
Department of Labor reports initial jobless claims for the weekend ending on Aug. 7. In July, claims averaged 392,000 a week, slightly less than the June data. Jobless claims have trended down since peaking in the spring of 2020 but remain elevated compared with prepandemic levels.

BLS reports the producer price index for July. Consensus estimate is for a 0.4% month-over-month rise. The core PPI, which excludes volatile food and energy prices, is projected to increase 0.5%. The PPI and core PPI, both jumped 1% in June.

Fed Balance Sheet

Money Supply  
Friday, Aug. 13
University of Michigan releases its Consumer Sentiment index for August. Expectations are for an 81.1 reading, roughly even with the July figure.  


 
---
Key USDA & international Ag & Energy Reports and Events 
---
USDA issues its monthly report on supply and demand on Thursday, the same day that China's farm ministry publishes its own supply and demand assessment. On the energy front, the International Energy Agency on Thursday publishes its latest monthly oil market report, with supply and demand forecasts, followed by OPEC's monthly report on the same day. The EIA will release its short-term energy outlook, or STEO, on Tuesday.
Monday, Aug. 9
     Ag reports and events:
Export Inspections

Crop Progress

Holiday: Japan and Singapore
Tuesday, Aug. 10
     Ag reports and events:
EU weekly grain, oilseed import and export data

Brazil's Conab releases data on yield, area and output of corn and soybeans

Holiday: Malaysia
     Energy reports and events:
API weekly U.S. oil inventory report

EIA releases Short-Term Energy Outlook
Wednesday, Aug. 11
     Ag reports and events:
Broiler Hatchery

Meat Price Spreads

Malaysian Palm Oil Board's stockpiles, output and production data

Brazil's Unica publishes data on cane crush and sugar output (tentative)

Vietnam's customs department releases July trade data

Earnings: JBS, Wilmar

Holiday: Indonesia
     Energy reports and events:
EIA weekly U.S. oil inventory report

U.S. weekly ethanol inventories

Genscape weekly crude inventory report for Europe's ARA region
Thursday, Aug. 12
     Ag reports and events:
Weekly Export Sales

WASDE

Cotton Ginnings

Crop Production

Cotton: World Markets and Trade

Grains: World Markets and Trade

Oilseeds: World Markets and Trade

World Agricultural Production

China farm ministry's monthly supply-demand report (CASDE)

Port of Rouen data on French grain exports

Holiday: Thailand
     Energy reports and events:
EIA natural gas storage change

Russian weekly refinery outage data from ministry

Insights Global weekly oil product inventories in Europe's ARA region

IEA monthly Oil Market Report

OPEC Monthly Oil Market Report
Friday, Aug. 13
     Ag reports and events:
CFTC Commitments of Traders report

Peanut Prices

Feed Grains Database

Season Average Price Forecasts

Wheat Data

Turkey Hatchery

FranceAgriMer weekly update on crop conditions

Earnings: Olam, Golden Agri
     Energy reports and events:
Baker Hughes weekly U.S. oil/gas rig counts
---