Senate Dems Release Language for Generating Up to $16 Billion Annual in Carbon 'Fee'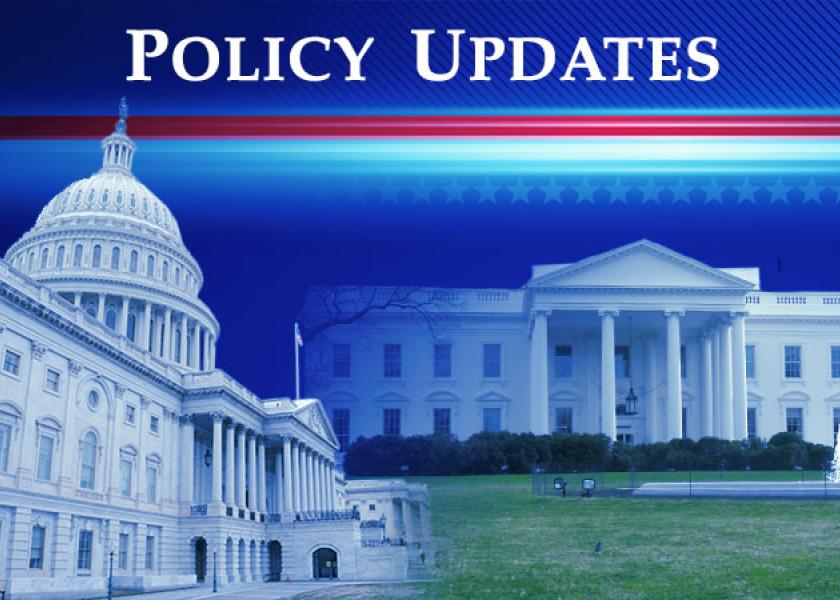 USDA nearing $7.4 billion in Biden admin.-issued pandemic aid
 
---
In Today's Digital Newspaper
---
Market Focus:
• U.S. equities trying to claw back some major losses from Monday
• Dow transportation index in correction mode
• Treasury yields tumbled yesterday
• U.S. officially climbed out of a recession in April 2020; shortest ever recession
• Biden adds voice to those saying inflation is temporary
• Bad time to buy a house, but not because of interest rates
• States overpaid billions in unemployment assistance
• Smaller and more-rural housing markets hottest new places to live and own
• Oil prices hit a seven-month low on Monday, higher in early trading today
• More geopolitical turmoil may be coming to global oil markets re Iranian oil sales
• Reduction in biodiesel percentage in Argentine fuel seen boosting soyoil exports
• Georgia port official expects heavy imports to continue into 2022.
• Ag demand update
• Corn, soybeans & wheat in rally mode
• Another week, another plunge in spring wheat crop ratings
• Cordonnier holds U.S. crop forecasts steady, but eye on dry northwest Corn Belt
• Consultant leaning down on his Brazilian corn crop estimate
• Safrinha corn harvest 30% complete; AgRural warns more rain could hurt crop quality
• Argentine halves amount of biodiesel blended into diesel; could increase soyoil exports
• Beef prices continue their march lower
• Pork prices on the rise
Policy Focus:
• Biden applauds uptick in economy, wants passage of two infrastructure measures
• CFAP 2 payments rise to $13.76 billion
• USDA nearing $7.4 billion in Biden admin.-issued pandemic aid
Biden Administration Personnel:
• Biden's nominee for assistant Treasury secretary for financial institutions: Graham Steele
China Update:
• China rejects Western accusations of state-led hacking
• Chinese customs data reminds country fully focused on Brazilian soybeans
•  Ag ministry officials emphasize China has ASF under control, despite outbreaks
Trade Policy:
• Vietnam pledges to refrain from weakening currency to give exporters unfair advantage
Energy & Climate Change:
• U.S., Germany seen announcing deal on Nord Stream 2 pipeline: Reuters
• Global pandemic recovery to push GHG emissions to record highs: IEA
• Border carbon 'adjustment' fee package introduced

Livestock, Food & Beverage Industry Update:
• Israel warned makers of Cherry Garcia and Chunky Monkey
• Workers returning to the office, but golden age of food trucks may be over
• Did Butter butter butter?

Coronavirus Update:
• Canada to let in fully vaccinated travelers
• Biden walks back statement that Facebook was "killing people"
• Federal judge rules Indiana Univ. can require students to submit proof vaccination
Politics & Elections:
• NY Times' Kristof considering a bid for Oregon governor
Congress:
• Five House Republicans named to serve on the special Jan. 6 committee

Other Items of Note:
• Restaurants and bars in North Carolina are running out of liquor
• Ashlee Johnson to join The Russell Group
 
---
MARKET FOCUS
---
Equities today: Global stock markets were mixed overnight. The U.S. down is over 100 points higher in early trading. Trader and investor risk appetite is fading at mid-summer, as the newer Delta Covid-19 strain that is surging in some regions of the world, including parts of the U.S., raises concerns about a slowing global economy. The Delta variant has spread rapidly, reigniting the debate about whether countries should resume lockdowns and curb activity. In Asia, the Nikkei was down 264.58 points, 0.96%, at 27,388.16. The Hang Seng Index fell 230.53 points, 0.84%, at 27,259.25. European equities are seeing gains in most markets, with the Stoxx 600 up 0.4% and other markets seeing advances of 0.2% to 0.8%.
     U.S. equities yesterday: The Dow dropped 725.81 points, 2.09%, at 33,962.04. The Nasdaq lost 152.25 points, 1.06%, at 14,274.98. The S&P 500 fell 68.67 points, 1.59%, at 4,258.49 (its steepest one-day drop since May).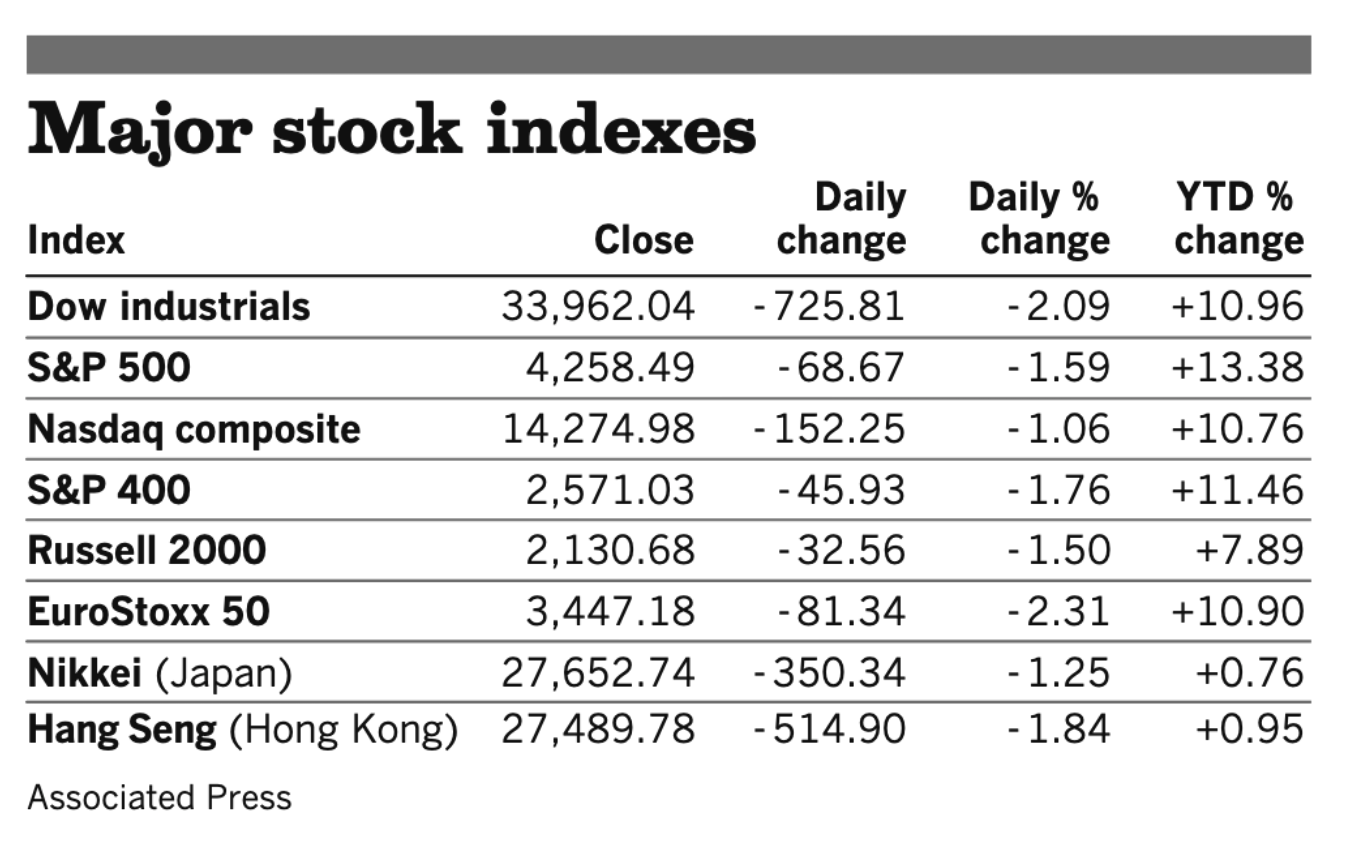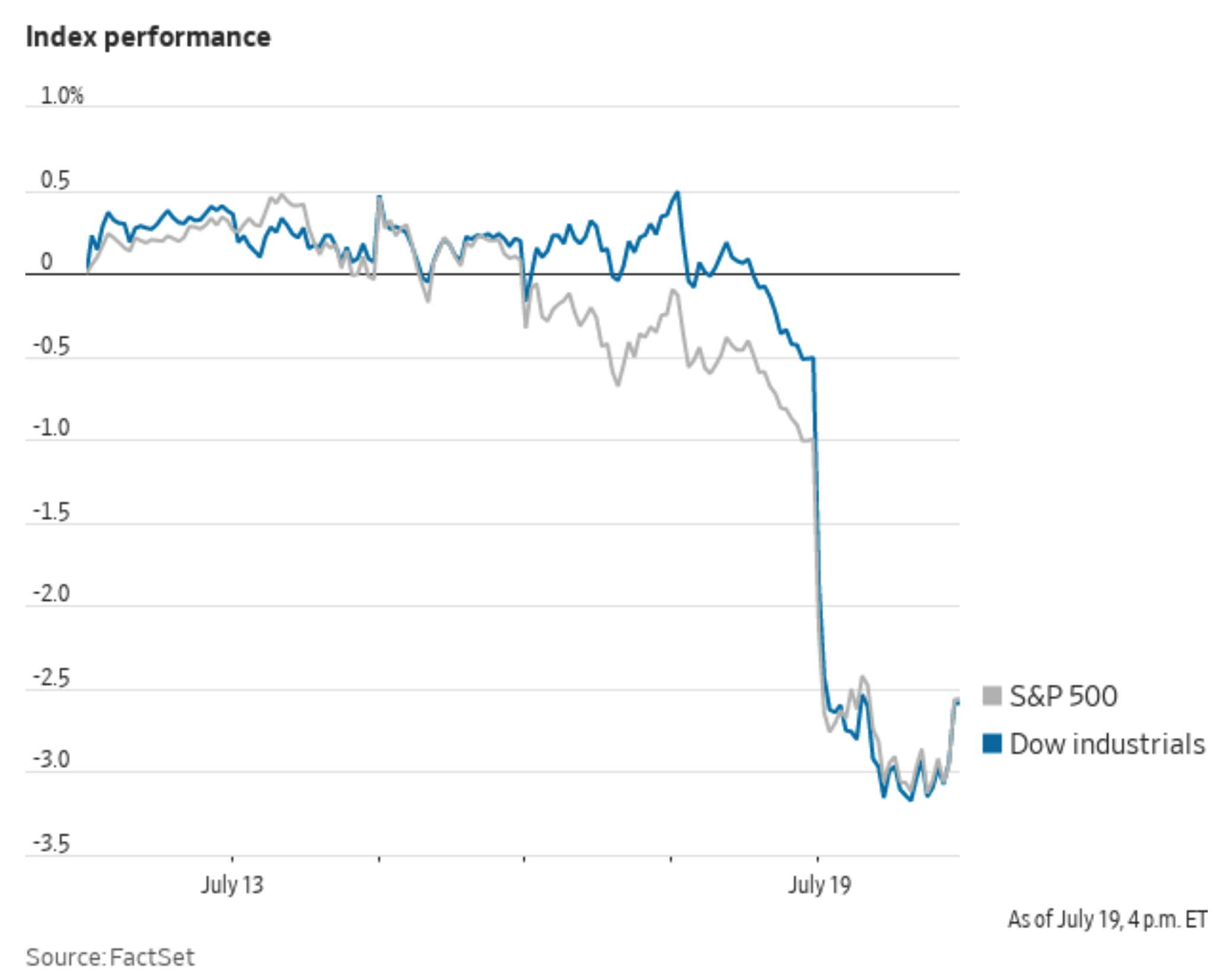 Treasury yields tumbled yesterday, pushing the benchmark 10-year below 1.2% for the first time since February. But Wall Street strategists still look convinced that the path for rates is higher this year. Halfway into 2021, the median 10-year yield forecast among 30 analysts was 1.75%. The predictions ranged between 1.5% and 2%.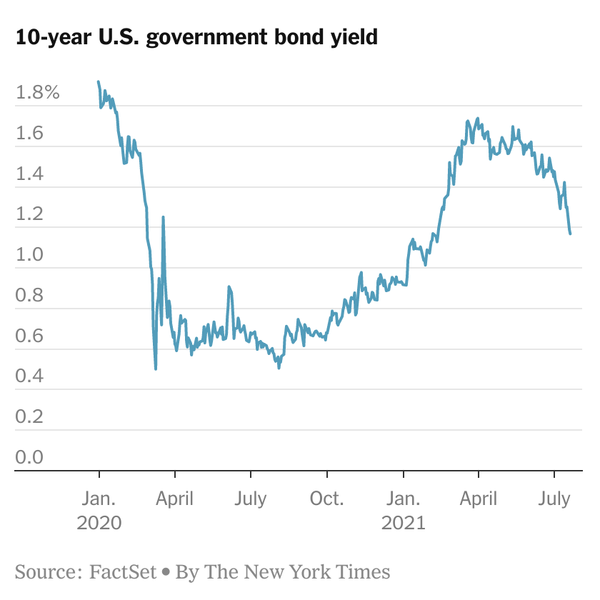 On tap today:
     • U.S. housing starts are forecast to rise to an annual pace of 1.59 million in June from 1.572 million a month earlier. (8:30 a.m. ET)
     • Bank of Japan releases minutes from its June 17-18 meeting at 7:50 p.m. ET.
U.S. officially climbed out of a recession in April 2020, concluding a pandemic-driven economic contraction that lasted only two months, the shortest on record. The announcement Monday from the National Bureau of Economic Research also marks April as the official start of the economic recovery from the initial shock of the coronavirus pandemic last spring, which triggered widespread business and school closures, a steep drop in demand for services and record job losses. The recession ended the country's longest recorded economic expansion, which began in June 2009 and lasted 128 months, according to the bureau's Business Cycle Dating Committee, the accepted arbiter of recession dates in the United States. But, the U.S. still has almost seven million fewer jobs than before the pandemic.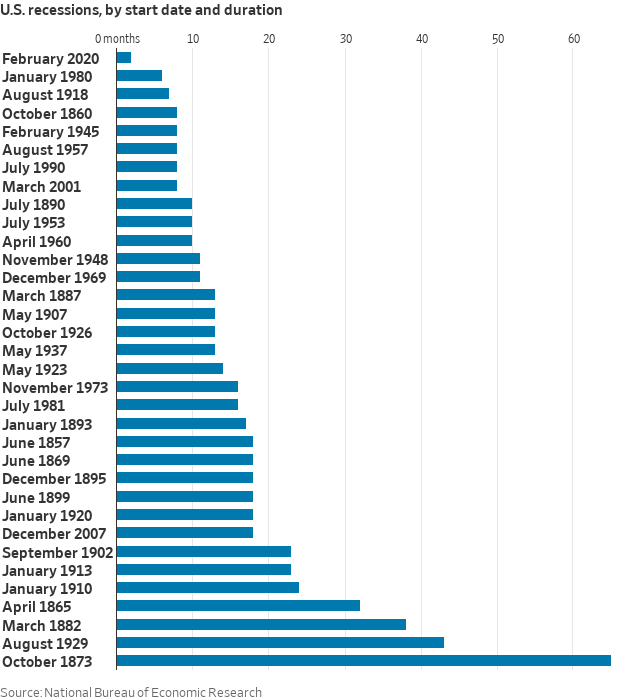 — Biden adds voice to those saying inflation is temporary. The rise in inflation being seen in the U.S. economy is "temporary," President Joe Biden said Monday, adding that he will not inject himself into monetary policy actions by the U.S. Federal Reserve. "As I made clear to Chairman [Jerome] Powell of the Federal Reserve when we met recently, the Fed is independent. It should take whatever steps it deems necessary to support a strong and durable economic recovery." The comments on inflation are seen as an effort to deflect criticism that the massive expansion in federal spending that has been enacted or being proposed by the Biden administration will spur inflation even higher. The attention on inflation will be heightened when the next Federal Open Market Committee (FOMC) meeting concludes July 28, but the Fed is not seen shifting their view that the rise in prices is still "transitory" and not expected to be sustained enough to necessitate a monetary policy response from the U.S. central bank.
Bad time to buy a house, but not because of interest rates. The University of Michigan's consumer sentiment survey found that the share of Americans saying now is a bad time to buy a house is at the highest level since 1982. Rates on a 30-year fixed-rate mortgage averaged around 14% back then, versus less than 3% now.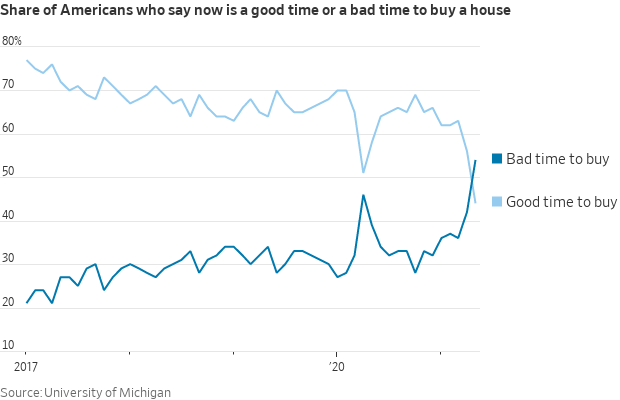 We all knew this would happen: States overpaid billions in unemployment assistance after enhanced and extended benefits were approved last year, according to a federal watchdog. A Government Accountability Office report said the Labor Department found $12.9 billion in overpayments made in several unemployment programs from April 2020 through March 2021, including some benefit payments that were a result of fraud. The amount of overpayments represents about 2% of the roughly $660 billion in unemployment benefits paid out by the Treasury Department during the year ended March 31, 2021.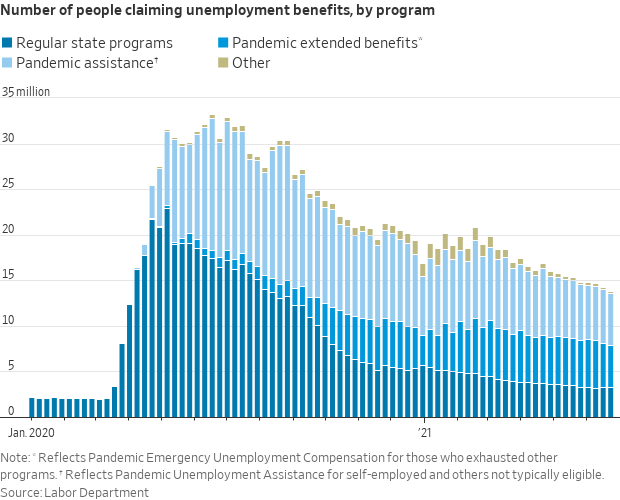 Smaller and more-rural housing markets are emerging as the hottest new places to live and own. Billings, Mont., is the new No. 1 on the Wall Street Journal/Realtor.com Emerging Housing Markets Index, boosted by its affordability and appeal to remote workers (Billings is the biggest city in Montana, with a metro-area population of about 184,000). This quarter's version, which published today, added the new criterion of real-estate taxes, which caused some areas in the Northeast, Midwest and Texas with higher property taxes to fall in the rankings. The strengthening U.S. economy also played a role, rewarding cities where employment and wages grew the most. Link or details.
Market perspectives:
     • Outside markets: The U.S. dollar index is slightly higher amid a mixed tone in global currencies against the greenback. The yield on the 10-year U.S. Treasury note has eased to trade under 1.19%, reflecting buying interest amid a weaker tone overall in global government bond yields. Gold and silver are higher, with gold firming to trade around $1,815 per troy ounce while silver is trading above $25.18 per troy ounce.

     • Oil prices hit a seven-month low on Monday. Prices suffered as OPEC+ agreed to increase oil supply in August while the surge in new Covid variant cases renews worries about oil demand. Natural-gas prices are at a three-year high on tight inventories.
     •  Crude oil has shifted higher ahead of U.S. trading, with U.S. crude trading above $66.90 per barrel and Brent now trading higher above $68.80 per barrel. Futures edged higher in Asian trading after big declines Monday, with U.S. crude up 25 cents at $66.60 per barrel and Brent up 17 cents at $68.79 per barrel.
 
     • More geopolitical turmoil may be coming to global oil markets. The U.S. is considering further tighter sanctions on Iranian oil sales, the Wall Street Journal reports (link), to encourage Tehran to conclude a nuclear deal and raise the costs of abandoning stalled negotiations. One plan being drafted would choke off Iran's swelling crude-oil sales to China, the country's main client and a key lifeline for the country's oil sector amid sanctions that were launched in 2018. The fresh measures would target the shipping networks that help export an estimated one million barrels a day and bring critical revenue to Iran. Since President Biden's election, Iran's crude-oil exports have climbed, with most of the crude heading to China. TankerTrackers.com says volumes at times have reached 1.5 million barrels a day, three times more than its low point after President Donald Trump reimposed sanctions.    
     • Reduction in biodiesel percentage in Argentine fuel seen boosting soyoil exports. A new law in Argentina expected to be signed by the country's president yet this month would set a minimum use of biodiesel of 5% and that could drop to 3% relative to diesel fuel sold to the public. Currently, Argentine diesel fuel is 10% biodiesel. The law is aimed at sustainable use of biofuels in diesel and gasoline. The current biodiesel level of 10% uses about 1 million tonnes of biodiesel annually, and industry officials indicate the reduction would mean more supplies would be available for export. "Lowering the blend in Argentina means higher bean-oil exports," said Luis Zubizarreta, head of Argentina's Carbio biofuel industry chamber, according to Reuters.
     • Georgia port official expects heavy imports to continue into 2022. Demand for imported goods is expected to remain strong into 2022 as companies seek to rebuild stockpiles that were depleted during the pandemic, Griff Lynch, executive director of the Georgia Ports Authority, told Bloomberg in an interview. "We easily see this going through up to Chinese New Year, and there's a lot of indications now that it could go beyond that," Lynch said. "We talk to our customers every day — they're telling us they still have low inventory." There is typically a rise in ocean shipping ahead of the Chinese New Year. Ports on both U.S. coasts have seen record-high volumes this year and those shipments have overwhelmed facilities and created backlogs that are creating costly delays. Georgia's Port of Savannah handled 478,620 20-foot equivalent container units (TUEs) in May, its second-busiest month on record. West Coast ports are seeing even bigger bottlenecks with the influx of goods from Asian countries which has filled up warehouse space and is constricting transportation chains. Lynch indicated companies affected by backlogs on the U.S. West Coast have contacted the port to see if they can send goods through Savannah instead. "We have the space to do that so we're going to," he noted. The demand surge as the pandemic recovery continues remains a key factor affecting supply chains around the globe and creating challenges for the US transportation industry.
     • Ag demand: Iran's state grain buyer reportedly made no purchase in its international tender for up to 60,000 MT of milling wheat.
     • NWS weather: Midsummer heat found throughout the northern and central Plains... ...Elevated fire weather concerns continue across the northern Rockies and northern Great Basin... ...Isolated chances for severe thunderstorms and flash flooding possible for the Lower Great Lakes and Northeast today.
        NWS
        Wx
Items in Pro Farmer's First Thing Today include:
     • Corn, soybeans & wheat in rally mode
     • Another week, another plunge in spring wheat crop ratings
     • Cordonnier holds U.S. crop forecasts steady, but eye on dry northwest Corn Belt
     • Consultant leaning down on his Brazilian corn crop estimate
     • Safrinha corn harvest 30% complete; AgRural warns more rain could hurt crop quality
     • Argentine halves amount of biodiesel blended into diesel; could increase soyoil exports
     • Beef prices continue their march lower
     • Pork prices on the rise
---
POLICY FOCUS
---
— Biden applauds uptick in U.S. economy and continues to push passage of two infrastructure measures. President Joe Biden argued that upgraded infrastructure would boost the economy broadly and reduce inflation over time. Expanding the temporary child tax credit that was part of his Covid-19 relief package and subsidizing preschool and community college educations, he continued, also would make the economy stronger, more equitable and more competitive globally. "Simply put, we can't afford not to make these investments," the president said.
     Biden separately expressed support for Democrats who want to include a provision establishing a pathway to citizenship for some immigrants, including "Dreamers" brought to the U.S. as children. But he said the Senate parliamentarian would have to decide whether the proposal could be incorporated into the spending bill.
     Republicans have balked at scheduling of an initial procedural vote Wednesday, given that the particulars — namely, how to pay for $1.2 trillion (roughly $600 billion in new spending) on roads, bridges, rail lines, electric vehicle charging stations and more — are still being worked out. They pressed to scrap a provision restoring money to the Internal Revenue Service for audits and enforcement; that forced negotiators to look for alternative sources of money. Senate Minority Leader Mitch McConnell (R-Ky.) said Monday that Republicans, even those who support the framework, were unlikely to go along with Schumer's move to a preliminary vote Wednesday. "We need to see the bill before voting to go to it," McConnell told reporters.
     Biden will make his case Wednesday during a prime-time CNN town hall in Cincinnati. He reminded his Republican negotiating partners that they'd already agreed to the broad, nearly bipartisan physical infrastructure framework — "We shook hands," he repeated twice — implying that it would be their fault if the agreement fell apart.
     Regarding the $3.5 trillion "human" infrastructure measure, Biden and Senate Majority Leader Chuck Schumer (D-N.Y.) continue to work on getting all 50 Democratic senators to the attempt at subsidies, tax breaks and other benefits aimed at working families.
     Speaking on the Senate floor, Schumer held firm on his timeline to move ahead on both the $1.2 trillion bipartisan bill and the $3.5 trillion Democratic-only reconciliation bill before the upper chamber breaks for the August recess. "They have been working on this bipartisan framework for more than a month already. It's time to begin the debate," Schumer said of negotiators. "We must make significant progress on both bipartisan infrastructure bill and the budget resolution before the end of the work period."
     "There's no bill. You can't expect that many Republicans to move forward on a pretty vague concept," said Sen. Roy Blunt (R-Mo.), a member of GOP leadership. "It's pretty much up to the majority leader. If he wants to kill the bipartisan bill, insisting on a vote before there's a bill is a certain way to kill the bipartisan discussion."
     If the bipartisan group is unable to finalize the text of the agreement, Schumer said that he will bring up an amendment "consisting only of the elements of the bill that have already been put through committee on a bipartisan process."
     Last train or plane out of Washington? Sen. Lindsey Graham (R-S.C.), one of the 10 Republicans who has tentatively supported the bipartisan effort, suggested Sunday that Republicans could flee the Capitol to block a Senate vote on the larger Democratic bill — 51 lawmakers are required in the Senate to conduct business. In so doing, they'd be borrowing a tactic from Texas Democrats — members of the state Legislature — who fled Austin last week to block a vote on the Republican majority's restrictive voting bill. Graham said on Fox News, "To my Republican colleagues, we may learn something from our Democratic friends in Texas when it comes to avoiding a $3.5-trillion tax-and-spend package: Leave town."
— CFAP 2 payments rise to $13.76 billion. Payments authorized under the Coronavirus Food Assistance Program 2 (CFAP 2) have moved up to $13.76 billion as of July 18, up slightly from $13.75 billion the prior week. Acreage-based payments total $6.28 billion, livestock payments are at $3.45 billion, sales commodities are at $2.75 billion, dairy payments are at $1.22 billion and egg/broilers are at $63.81 million.
    CFAP 1 payments total $10.59 billion, largely unchanged from the prior week.
— USDA is nearing $7.4 billion in Biden admin.-issued pandemic aid. USDA Secretary Tom Vilsack today will provide details $200 million in aid for small, family-owned timber harvesting and hauling businesses that suffered losses due to Covid-19 (link). USDA said in March it would issue at least $6 billion to the new programs. It was more than $1 billion above the target, at least as of Monday. The largest items were $4.8 billion in payments of $20 an acre for row crops and $1.2 billion in additional payments to cattle producers. Those payments began in April. The aid also includes $500 million for specialty crops, local agriculture marketing, and beginning farmer and rancher programs, as well as a $5 an acre discount in crop insurance premiums for farmers who planted cover crops. The new round began with the announcement a week ago of an estimated $300 million for pig and poultry producers who were forced to destroy animals because of Covid-19 outbreaks at packing plants. (Link for background information.)
     Other details are lacking, including $700 million for biofuel producers, aid to contract growers of poultry, organic cost-share assistance and $700 million in grants to producers, processors, distributors and farmers markets for personal protective equipment and other worker protection measures. The June 15 list also had a $400 million dairy donation program and $580 million to provide Supplemental Dairy Margin Coverage for small and medium-size milking herds.
---
BIDEN ADMINISTRATION PERSONNEL
---
— President Biden's nominee for assistant Treasury secretary for financial institutions is expected to be Graham Steele, a longtime congressional staffer, and a proponent of treating climate change as a systemic risk to the financial system.
 
---
CHINA UPDATE
---
— China's Foreign Ministry fired back at accusations linking it to the hack of Microsoft Exchange, calling it a smear campaign by the U.S. that lacked evidence. China accused the U.S. of "indiscriminate eavesdropping across the world." A statement issued by China's mission to the EU on Tuesday did not name the U.S. but said "a certain country in the West" had abused its technological advantages for years to carry out "massive" eavesdropping, even on its close allies. "At the same time, it has boasted of itself as the guardian of cybersecurity, attempted to manipulate and push around its allies to form small circles and repeatedly smeared and attacked other countries on cybersecurity issues," it continued.
     The Biden administration and a group of allies on Monday attributed the Microsoft Exchange server attack that impacted tens of thousands of customers with "high confidence" to hackers affiliated with the Chinese government. NATO, the European Union, Australia, Britain, Canada, Japan and New Zealand also joined the US in blaming China for what they called a global cyberespionage campaign.  According to a senior administration official, the use of contract hackers as well as the scope and scale of the Microsoft incident was "eye-opening" to the administration. The FBI, the National Security Agency, and the Cybersecurity and Infrastructure Security Agency in an advisory detailed techniques used by the hackers in the Microsoft attack and in others.
     A different approach. Unlike the SolarWinds case, when the White House sanctioned a swath of Russian entities in response to the hack that affected several government agencies, the Biden administration did not announce retaliatory actions against China apart from the vocal criticism. The senior administration official emphasized that the main thrust of the criticism is to make clear to China that if malicious cyber activities continue, countries around the world will unite in opposition to them. But the official said the administration is not ruling out further actions to hold China accountable.
— Chinese customs data reminds country fully focused on Brazilian soybeans. China imported 10.48 MMT of soybeans from Brazil during June, which was around 30,000 MT under last June's record high but still up 14% from May's 9.23 MMT, data from China's Administration of Customs showed. The country's recovering hog herd has kept demand for soybeans high, though that's been countered to some degree by a drop in crush margins. China imported just 54,806 MT of soybeans from the U.S. in June, which was just a fraction of the 267,8553 MT of soybeans the U.S. shipped China in June 2020. 
— Ag ministry officials emphasize China has ASF under control, despite reports of ongoing outbreaks. Controlling and preventing African swine fever in China remains a "complicated" and "severe" task, according to Xin Guochang, an official at the husbandry bureau of the Ministry of Agriculture and Rural Affairs. But Xin says that the country's overall disease situation is stable. Industry sources reported new outbreaks in northern and northeastern China earlier this year, with outbreaks also occurring in China's southwest Sichuan province. But despite the outbreaks, Zeng Yande, head of development and planning under the ministry, said China's hog herd totaled 439 million pigs at the end of June, representing 99.4% of late 2017 levels (before ASF struck). Zeng detailed that China's sow herd stood at 45.64 million head, up 2% from late 2017 levels. China's use of wheat in feed is expected to remain relatively high given its price advantage over corn, another ag ministry official said at the press briefing.
 
---
TRADE POLICY
---
— Vietnam has pledged to refrain from weakening its currency to give its exporters an unfair advantage as it seeks to ease tensions over a widening trade surplus with the U.S. The Trump administration last year labeled Vietnam a currency manipulator and threatened to impose sweeping tariffs on imports from Vietnam. The Biden administration reversed the "manipulator" designation in April but hasn't yet completed the process that could lead to the imposition of tariffs. Vietnam has risen, in just the past decade, from a minor trading partner to the No. 6 source of U.S. imports.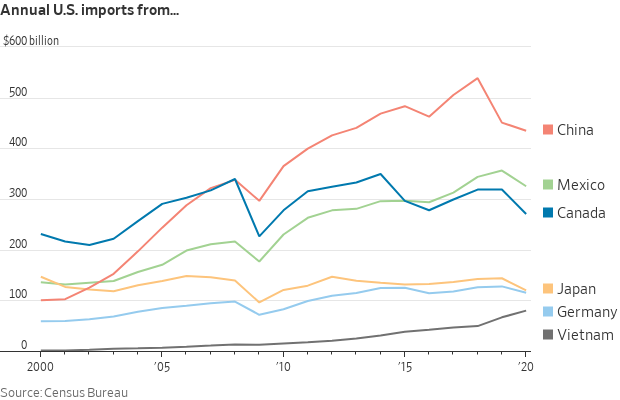 ---
ENERGY & CLIMATE CHANGE
---
— U.S., Germany seen announcing deal on Nord Stream 2 pipeline in coming days: Reuters. The U.S. and Germany are expected to announce a deal to resolve the dispute over the Nord Stream 2 pipeline in coming days, according to sources quoted by Reuters. Commitments by both countries to ensure increased investment in Ukraine energy to offset any negative impacts from the new pipeline.
     The Nord Stream 2 pipeline would connect Russia and Germany and deliver natural gas to Germany, bypassing Ukraine which could cost Ukraine transit fees it gets via natural gas pumped through an existing pipeline. The Biden administration earlier this year opted not to impose sanctions in the matter, saying the pipeline was nearly complete and sanctions would not halt the project from being finished. Reuters said Derek Chollet, senior adviser to Secretary of State Antony Blinken, would meet with senior Ukrainian government officials today in Kyiv. It is not clear when the agreement will be announced or what specific investments in Ukraine would be made.
— Global pandemic recovery to push GHG emissions to record highs: IEA. The economic recovery from the pandemic is seen increasing greenhouse gas (GHG) emissions globally to record levels, according to the International Energy Agency (IEA). "We estimate that full and timely implementation of the economic recovery measures announced to date would result in CO2 emissions climbing to record levels in 2023, continuing to rise thereafter," it said.
     IEA said funds spent on clean energy globally would total $380 billion in the second quarter of 2021, accounting for just 2% of $16 trillion expended for the pandemic, or about 35% of what the IEA predicted would be needed to reach net-zero emissions by 2050. "Not only is clean energy investment still far from what's needed to put the world on a path to reaching net-zero emissions by mid-century, but it's also not even enough to prevent global emissions from surging to a new record," said IEA Executive Director Fatih Birol. The IEA said the biggest shortfalls in spending on clean energy as a part of the pandemic recovery is in emerging and developing countries. The figures were gleaned from the IEA Sustainable Recovery Tracker launched by the agency.
Border carbon 'adjustment' fee package introduced. Sen. Chris Coons (D-Del.) and Rep. Scott Peters (D-Calif.) have introduced the FAIR Transition and Competition Act, a measure that would impose a "border carbon adjustment" on imports of carbon-intensive products like aluminum, cement, iron, steel, natural gas, petroleum, and coal. The legislation does not specify how much the adjustment would be, rather it calls on the government to calculate the fee based on "the domestic environmental cost incurred by businesses" in reducing their greenhouse gas (GHG) emissions. The effort would start in 2023 with half of the funds generated to go be in the form of grants to states and the other half to be used for "high-impact research" to reduce or eliminate GHG, with the grants to start in 2025.
     The legislation specifies there would be a "priority" given to workers and former workers in fossil fuel-related industries. Funds could also be used for climate-smart infrastructure and agricultural climate solutions.
     While authors of the legislation have stressed it is not a tax, it is not clear how the fee would be viewed on the trade front, a situation which could subject U.S. industries and businesses to trade retaliation. The trade aspect is important as U.S. Trade Representative Katherine Tai has indicated the U.S. could respond with sanctions if other countries were to impose a border carbon tax. The bill's authors are hopeful the legislation could be melded into efforts like the social infrastructure package.
     Up to $16 billion in fees annually. While the Joint Committee on Taxation has not assessed the measure for how much it could generate, legislative aides indicated it could be $5 billion to $16 billion per year.
 
---
LIVESTOCK, FOOD & BEVERAGE INDUSTRY
---
—  Israel warned the makers of Cherry Garcia and Chunky Monkey would face "serious repercussions" for a decision to stop selling the ice cream in Jewish West Bank settlements and Jewish areas of east Jerusalem. Prime Minister Naftali Bennett told Unilever, the owner of Ben & Jerry's, that his government would act aggressively after the company said it was "inconsistent with our values for Ben & Jerry's ice cream to be sold in the Occupied Palestinian Territory."
— Workers are returning to the office, but the golden age of food trucks may be over, says a NYT article (link).
— Did Butter butter butter? U.S. sales of butter jumped by 30% in the week following the May 21 release of the hit song Butter by K-pop band BTS. Link to Rolling Stone.
 
---
CORONAVIRUS UPDATE
---
— Summary: Global cases of Covid-19 are at 190,966,751 with 4,097,219 deaths, according to data compiled by the Center for Systems Science and Engineering at Johns Hopkins University. The U.S. case count is at 34,132,079 with 609,231 deaths. The Johns Hopkins University Coronavirus Resource Center said that there have been 338,247,434 doses administered, 161,473,715 have been fully vaccinated, or 49.2% of the U.S. population.
— Canada to let in fully vaccinated travelers. Canada announced Monday that it would begin letting fully vaccinated U.S. citizens across the border on Aug. 9, and those from the rest of the world on Sept. 7. Officials said the 14-day quarantine requirement would be waived as of Aug. 9 for eligible travelers who were currently residing in the U.S. and had received a full course of a Covid-19 vaccine approved for use in Canada. Canadian Public Safety Minister Bill Blair, who said he spoke with U.S. Homeland Security Secretary Alejandro N. Mayorkas on Friday, said the U.S. had not yet indicated any plan to change current restrictions at the land border. Canadians can fly into the U.S. with a negative Covid-19 test.
     Asked in Washington whether the U.S. would reciprocate, White House Press Secretary Jen Psaki said, "We are continuing to review our travel restrictions. Any decisions about resuming travel will be guided by our public health and medical experts.... I wouldn't look at it through a reciprocal intention." Canadian officials also announced that children who weren't vaccinated but were traveling with vaccinated parents wouldn't have to quarantine but would have to avoid group activities. Canadian Transport Minister Omar Alghabra also said a ban on direct flights from India would be extended to Aug. 21 because of the Delta variant. "The situation in India is still very serious," he said.
— President Biden walked back his statement last week that Facebook was "killing people" by facilitating the spread of false information about Covid-19 and vaccines. Biden said on Monday that while he remains critical of incorrect and unsubstantiated information about Covid-19 that circulates on social media, "Facebook isn't killing people." Meanwhile, Twitter temporarily suspended Rep. Marjorie Taylor Greene (R-Ga.) for posting coronavirus misinformation.
— Federal judge ruled that Indiana University can require its students to submit proof of Covid-19 vaccination before returning to campus this fall, dealing a setback to a brewing legal effort against vaccination requirements in higher education. The judge said the university system acted reasonably to protect public health, denying an injunction sought by eight students who claimed the university's vaccine policy unconstitutionally infringes on their bodily autonomy and medical privacy. The University of Connecticut and California State University systems are facing similar lawsuits, with rulings pending from federal judges.
 
---
POLITICS & ELECTIONS
---


— NY Times' Kristof considering a bid for Oregon governor. The New York Times reports (link) their columnist Nicholas Kristof "is considering running in the Democratic primary race for governor of Oregon." Kristof, who grew up in the state, said in a statement that friends were trying to recruit him into the race to replace Gov. Kate Brown, a Democrat who is prevented from running for re-election by term limits. Kristof took a leave from the NYT last year to consider the matter. Kristof said in his statement that he was interested in hearing what Oregonians thought about his possible bid. The Oregonian reports (link) "a spokeswoman for NYT said Kristof had alerted the newspaper of the possibility last month." The Washington Post (link) says if he decides to run, Kristof "would become one of the most well-known media figures in recent memory to make a run for political office."


 
---
CONGRESS  
---

— Jan. 6: House Minority Leader Kevin McCarthy (R-Calif.) on Monday named five House Republicans to serve on the special committee to investigate the deadly Jan. 6 attack on the U.S. Capitol. Rep. Jim Banks (R-Ind.), the chairman of the Republican Study Committee, will serve as the top party member on the panel. Others tapped to join are Reps. Jim Jordan (R-Ohio), the top Republican on the House Judiciary Committee; Rodney Davis (R-Ill.), the top GOP member on the House Administration Committee; Kelly Armstrong (R-N.D.); and Troy Nehls (R-Texas). Banks, Jordan and Nehls all voted against certifying the results of the 2020 election in Arizona and Pennsylvania on Jan. 6, while Davis and Armstrong voted to do so.
 
---
OTHER ITEMS OF NOTE     
---
— Restaurants and bars in North Carolina are running out of liquor. During a recent meeting of the N.C. Alcoholic Beverage Control Commission, chairman Zander Guy Jr. began by addressing the liquor shortage, which is being felt statewide, the Charlotte Observer reported (link). "We all are experiencing the supply and demand shortage, and hopefully that will resolve itself in time," Guy said. The ABC commission is in contact with suppliers to ensure products are in stock and help local ABC boards find solutions to product issues, said commission spokesman Jeff Strickland.
— Ashlee Johnson to join The Russell Group. The Russell Group announced that Ashlee Johnson will be joining the firm on Sept. 1. Ashlee moved to DC from Arkansas and began her career on Capitol Hill in 2007, as a staffer to former Congressman Mike Ross (Ark.). She later served on the Senate Agriculture Committee under Senator Blanche Lincoln (D-Ark.) and joined the Obama administration in 2011. She held multiple leadership positions at USDA, including White House liaison, chief of staff to the deputy secretary and as a policy assistant covering rural affairs and immigration issues for the White House Domestic Policy Council. In the private sector, Ashlee managed both state and local government relations for Tyson Foods. In 2018, she joined FMC Corporation as a member of the government affairs team before being promoted to serve as director of global sustainability. In this role Ashlee led FMC's global sustainability strategy, including policy and program development, and the enterprise-wide integration of ESG priorities. Ashlee also served as a member of FMC's Social Justice and Racial Equity Executive Taskforce, where she helped develop global policies and practices to improve workforce diversity. Ashlee is a graduate of the University of Arkansas at Fayetteville, a professional member of Minorities in Agriculture, Natural Resources, and Related Sciences, and a co-founder of the Black Professionals in Food and Agriculture Association.
---