Republicans Balk at Physical Infrastructure Measure with No Text and Sans Pay-fors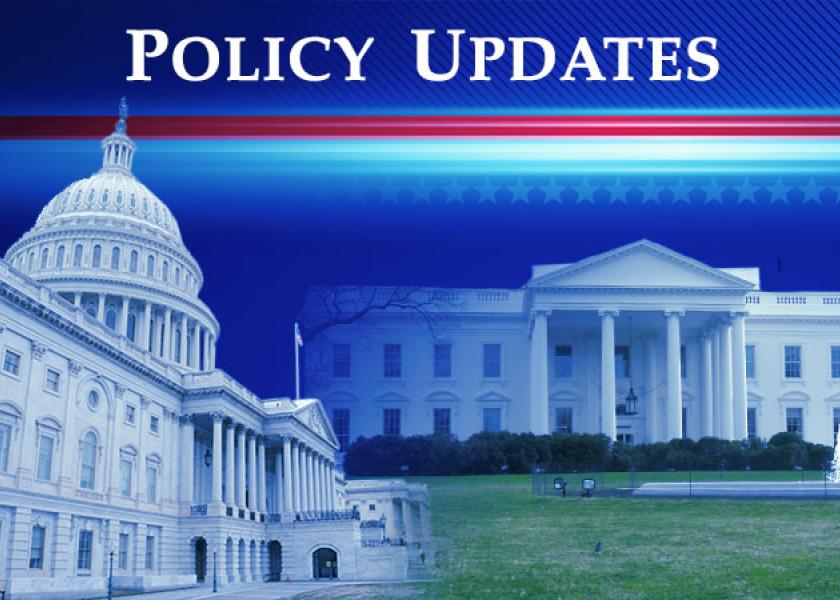 Vilsack says more aid coming | Slim odds for axing corn-ethanol mandate
---
In Today's Digital Newspaper
---
Market Focus:
• Decline in bond yields shows inflation not biggest problem facing U.S.
• Odds favor Powell's run as Fed chair being extended, but it's not a certainty
• Japan reports big jump in exports
• Prices for softwood lumber added nearly $30,000 to price of avg. new home
• Ag demand update
• Mix of follow-through buying and profit-taking overnight
• High pressure ridge could lead to more drying in western Corn Belt, N. Plains
• USDA isn't the only one missing the mark on Canada's wheat crop
• ANEC boosts July export forecasts for Brazilian corn and soybeans
• Argentine soybean sales still running a bit ahead of year-ago on a percentage basis
• Russia exported 49 MMT of grain in 2020-21, hopes shipments 4% higher in 2021-22
• Putin says Russian gov't considering other ways to tame food inflation
• Limited cash cattle action so far
• Futures remain at discount to CME lean hog index
Policy Focus:
• Republicans poised to thwart Schumer on infrastructure vote
• Schumer forging ahead on procedural vote on bipartisan infrastructure package
• Is the Dems' go-it-alone $3.5 trillion human infrastructure package really $5 trillion
• Vilsack: More aid coming
• FTC to vote today on policy statement on 'right to repair'
• FMC orders world's nine largest ocean carriers to undergo an audit
Biden Administration Personnel:
• Biden to nominate Big Tech adversary Kanter to lead Justice Dept.'s antitrust division
China Update:
• China to auction more of its corn reserves on Friday
• Chinese suppliers to Apple and Nike are shunning workers from the Xinjiang
• USTR seeking permission to raise tariffs on certain imports from China
• Hackers working for Chinese gov't U.S pipeline operators nearly a decade ago
Trade Policy:
• Green trade
• Tai, Raimondo to meet with Mexican official
• Labor Dept. provides $10 to help resolve Mexican labor disputes
Energy & Climate Change:
• Reuters: White House delays RFS levels for 'political concerns'
• Very low odds for proposed legislation to end corn-ethanol mandate
• Japan boosts renewable level in electricity mix

Coronavirus Update:
• Share of new Covid-19 cases that Delta-variant accounts for: 83%
• U.S. life expectancy drops sharply
• No changes safety measures for Biden after vaccinated staffer tested positive
• PM Suga defends decision to hold Tokyo Olympics during pandemic
Politics & Elections:
• Tom Barrack, financier and Trump ally, is arrested
• RNC sets fundraising records as it aims to regain congressional majorities
Other Items of Note:
• Nikkei: North Korea's food shortage reaches crisis-level
 
---
MARKET FOCUS
---
Equities today: Global stock markets were mixed to higher overnight. The U.S. Dow rose around 200 points in early trading, erasing all of Monday's losses. In Asia, Japan's Nikkei 225 rose 0.6% and the Shanghai Composite Index added 0.7%. In Europe, the Stoxx 600 Index had gained 1.3% in early trading.
     U.S. equities yesterday: The Dow gained 549.95 points, 1.62%, at 34,511.99. The Nasdaq moved up 223.89 points, 1.57%, at 14,498.88. The S&P 500 was up 64.57 points, 1.52%, at 4,323.06.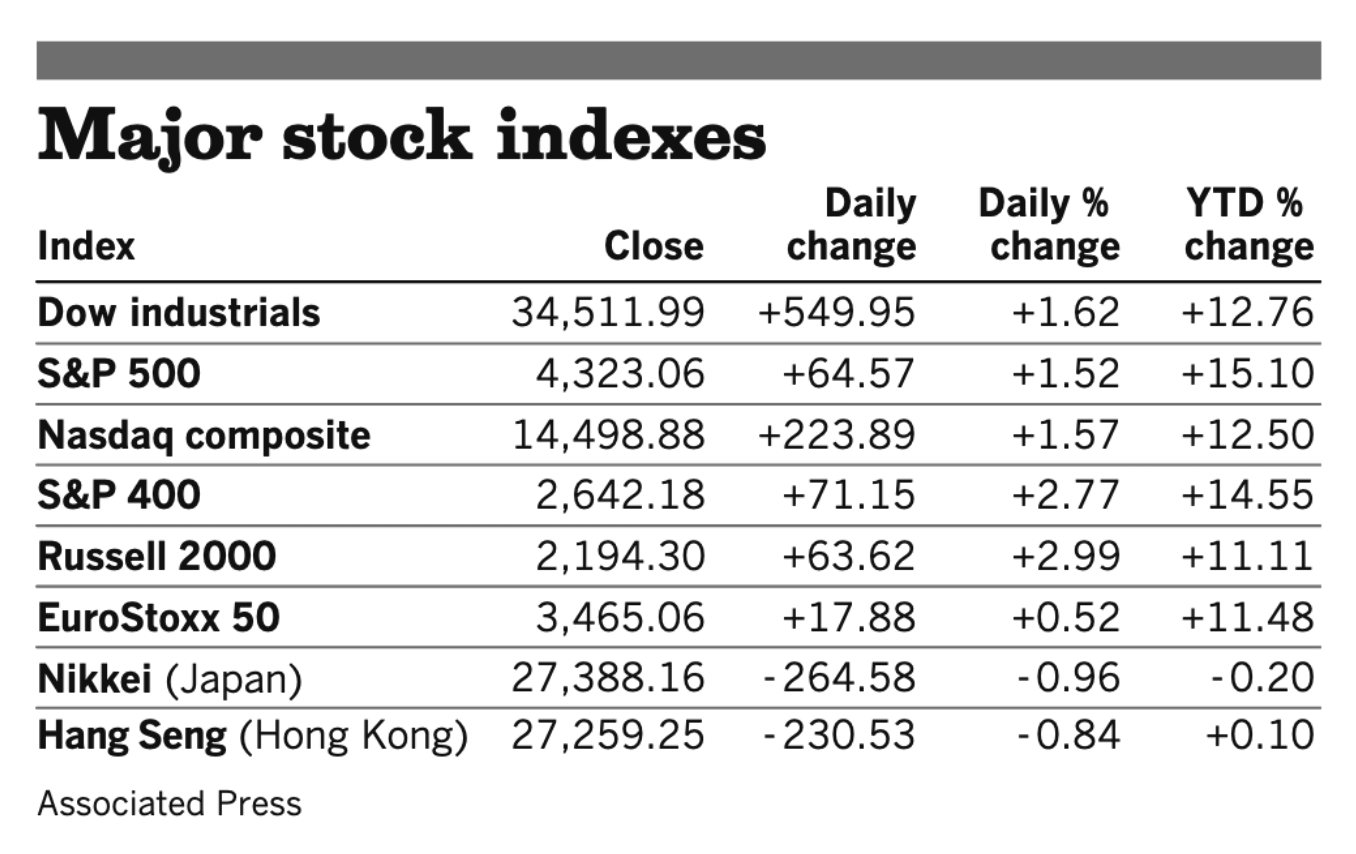 The monthslong decline in bond yields shows that investors don't think inflation is the biggest problem facing the U.S. and the global economy. The yield on the benchmark 10-year U.S. Treasury note settled Tuesday at 1.208%, according to Tradeweb, up slightly from Monday but still down from 1.3% Friday and its 2021 high of 1.749% set in March.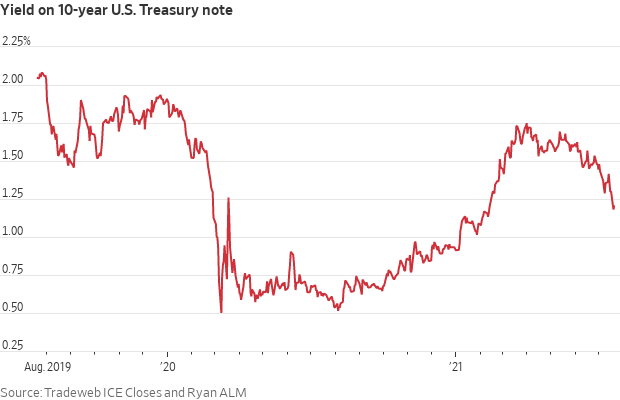 On tap today:
     • EIA Weekly Petroleum Status Report is due at 10:30 a.m. ET.
     • Infrastructure vote: Senators plan to cast their first votes on whether to consider the bipartisan infrastructure package. If the vote to move forward on the Senate floor fails to get the 60 votes needed, as expected, talks among a bipartisan group of 22 senators could continue. Republicans have said they would oppose the move absent more details on the measure's contents and how it would be paid for.
     • President Biden plans to visit Cincinnati, Ohio this afternoon to discuss his infrastructure proposals before participating in a CNN town hall this evening.
     • USDA Secretary Tom Vilsack testifies at Judiciary hearing on farmworker immigration, at 10 a.m. ET.
Odds favor Powell's run as Fed chair being extended, but it's not a certainty. President Biden's selection of the next Federal Reserve chair is likely to be a choice between keeping the current chief, who enjoys broad support in markets and among lawmakers from both parties, or replacing him with one of his well-regarded colleagues, the Wall Street Journal reports (link), echoing others on the matter. Chairman Jerome Powell, whose term expires in February, is viewed by some inside and many outside the administration as the front-runner for the job. But if Biden decides he would prefer his own pick, rather than the Republican chosen by President Trump, Fed governor Lael Brainard is the most likely candidate to succeed him. More than three in four economists surveyed this month by the Wall Street Journal expect that Powell will be offered a second term, and 86% of respondents believe Mr. Powell has earned it.
Japan reports big jump in exports. Demand from the U.S. helped push Japanese exports up for a fourth month in a row, rising 48.6% in June from year ago, down slightly from May's 49.6% rise but above expectations. However, the data, as is the case with scores of economic updates arriving now, is colored by the pandemic impacts that were seen in 2020. Still, exports to the U.S. were up 85.5% from year-ago on sharp increases in auto and auto parts shipments. The rise in trade continues to signal the recovery from the pandemic is still building which is why concerns over the Delta variant are getting noticed by markets.
Market perspectives:
     • Outside markets: The U.S. dollar index has firmed amid weakness in the euro and British pound against the greenback. The yield on the 10-year U.S. Treasury note has risen to trade just above 1.24% and global government bond yields are also higher. Gold futures are under pressure while silver is trading higher. Gold was trading around $1,800 per troy ounce while silver was around $25.08 per troy ounce.

     • Crude oil prices have lifted higher ahead of U.S. gov't inventory data due later this morning. US crude was trading around $68 per barrel and Brent around $70.25 per barrel. Futures were lower in Asian action with U.S. crude down 51 cents at $66.69 per barrel and Brent down 54 cents at $68.81 per barrel.
     • Changes in prices for softwood lumber added nearly $30,000 to the price of an average new single-family home between April 17, 2020, and July 8, 2021, according to the National Association of Home Builders.
     • Ag demand: Thailand is believed to have rejected all offers and made no purchase in its international tender to up to 138,000 MT of animal feed wheat, citing high prices.
     • NWS weather: Severe weather threat found across the Northeast today, with additional rounds of heavy rain possible over the Southwest through the end of the week... ...Midsummer heat continues across the northern and central Plains... ...Elevated to critical fire weather concerns remain throughout the northern Rockies and northern Great Basin.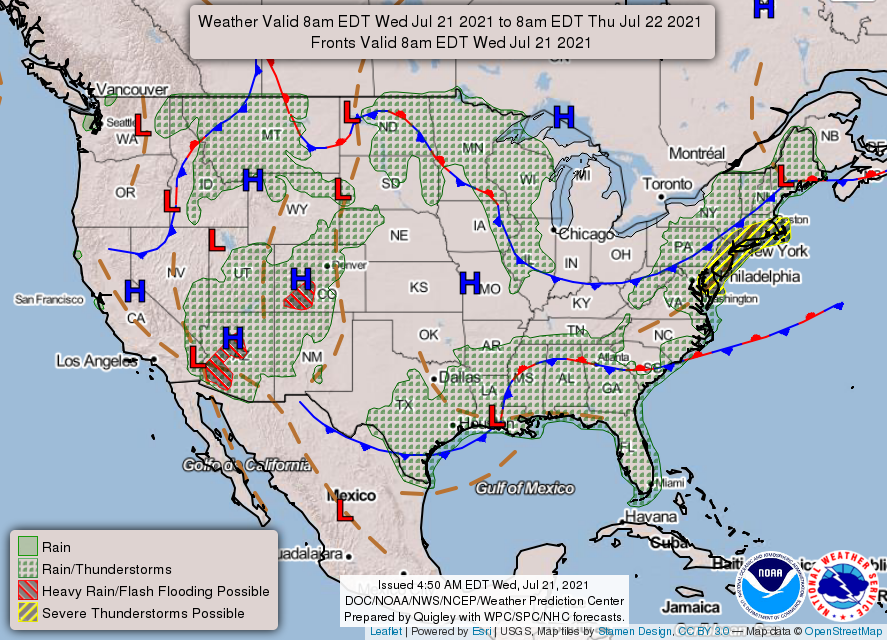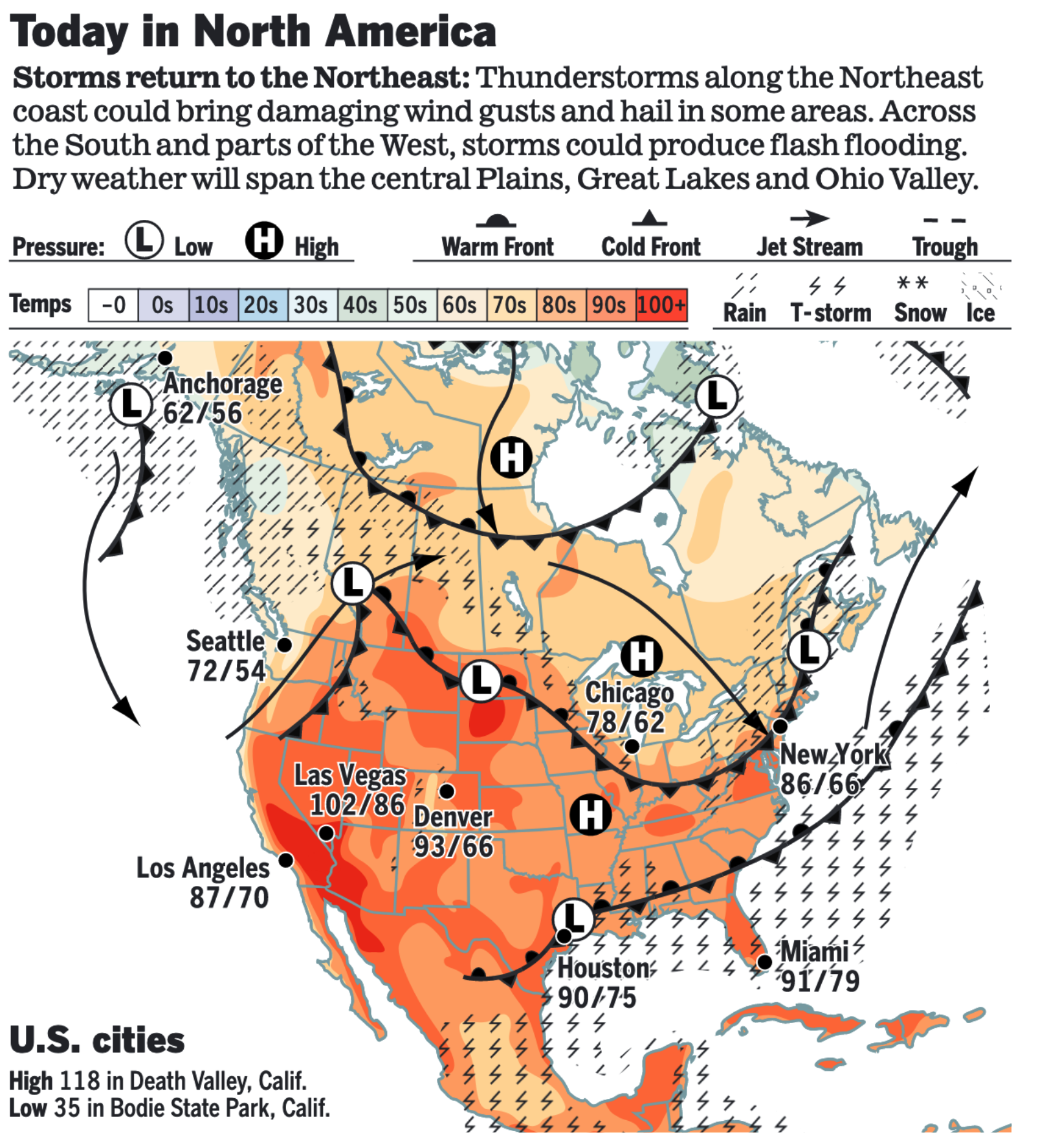 Items in Pro Farmer's First Thing Today include:
     • Mix of follow-through buying and profit-taking overnight
     • High pressure ridge could lead to more drying in western Corn Belt, N. Plains
     • USDA isn't the only one missing the mark on Canada's wheat crop
     • ANEC boosts July export forecasts for Brazilian corn and soybeans
     • Argentine soybean sales still running a bit ahead of year-ago on a percentage basis
     • Russia exported 49 MMT of grain in 2020-21, hopes shipments 4% higher in 2021-22
     • Putin says Russian gov't considering other ways to tame food inflation
     • Limited cash cattle action so far
     • Futures remain at discount to CME lean hog index
---
POLICY FOCUS
---
— Schumer forging ahead on procedural vote on bipartisan infrastructure package. Senate Majority Leader Chuck Schumer (D-N.Y.) is still planning a procedural vote that would allow the chamber to move to debating the bipartisan infrastructure plan despite GOP resistance and their calls for the action to await the legislative text and any final agreement on pay-fors. Even some moderate Democrats are said to be uneasy about the coming vote. Schumer has indicated that if the vote succeeds, the group of lawmakers will have additional time — perhaps until Monday — to finalize the legislative language for the plan. Meanwhile, a group of centrist Republicans in the bipartisan negotiating group called on Schumer Tuesday to postpone the vote to begin consideration of their legislation until Monday, at which point they say there would be enough Republican support to take up the bill.
     "No one's voting on anything except to move forward," Schumer told reporters Tuesday. "This isn't a deadline… this is not to jam anyone."
     Schumer is also pushing for all 50 members of the Democratic caucus to agree today to a $3.5 trillion outline for a broad antipoverty and climate package they are pursuing in parallel with the bipartisan infrastructure talks.
— Is the Dems' go-it-alone $3.5 trillion human infrastructure package really a $5 trillion plan? The real cost is $5 trillion or more, according to an independent analysis by the Committee for a Responsible Federal Budget (link). Assuming the major provisions will be made permanent and continue through the 10-year budget window, the group says, the "policies under consideration could cost between $5 trillion and $5.5 trillion over a decade."
     The budget-resolution fact sheet Democrats circulated last week, a Wall Street Journal commentary notes, "includes only a bare-bones description of the bill's major programs for tax credits, new entitlements, healthcare, climate and housing. Some categories include this revealing caveat: 'The duration of each program's enactment will be determined based on scoring and Committee input.' That's Washington-speak for admitting the budget will be built on phony assumptions and gimmicks. Democrats know their proposed tax hikes and dubious 'pay-fors' won't come close to fully funding "every major program that President Biden has asked us for"— as Senate Majority Leader Chuck Schumer (D-N.Y.) claimed.
     The Dems' plan "is to include every program but start small and pretend they're temporary. This will let them skirt the budget-reconciliation rule that spending can't add to the deficit outside a 10-year budget window without triggering a 60-vote threshold to pass," the WSJ adds.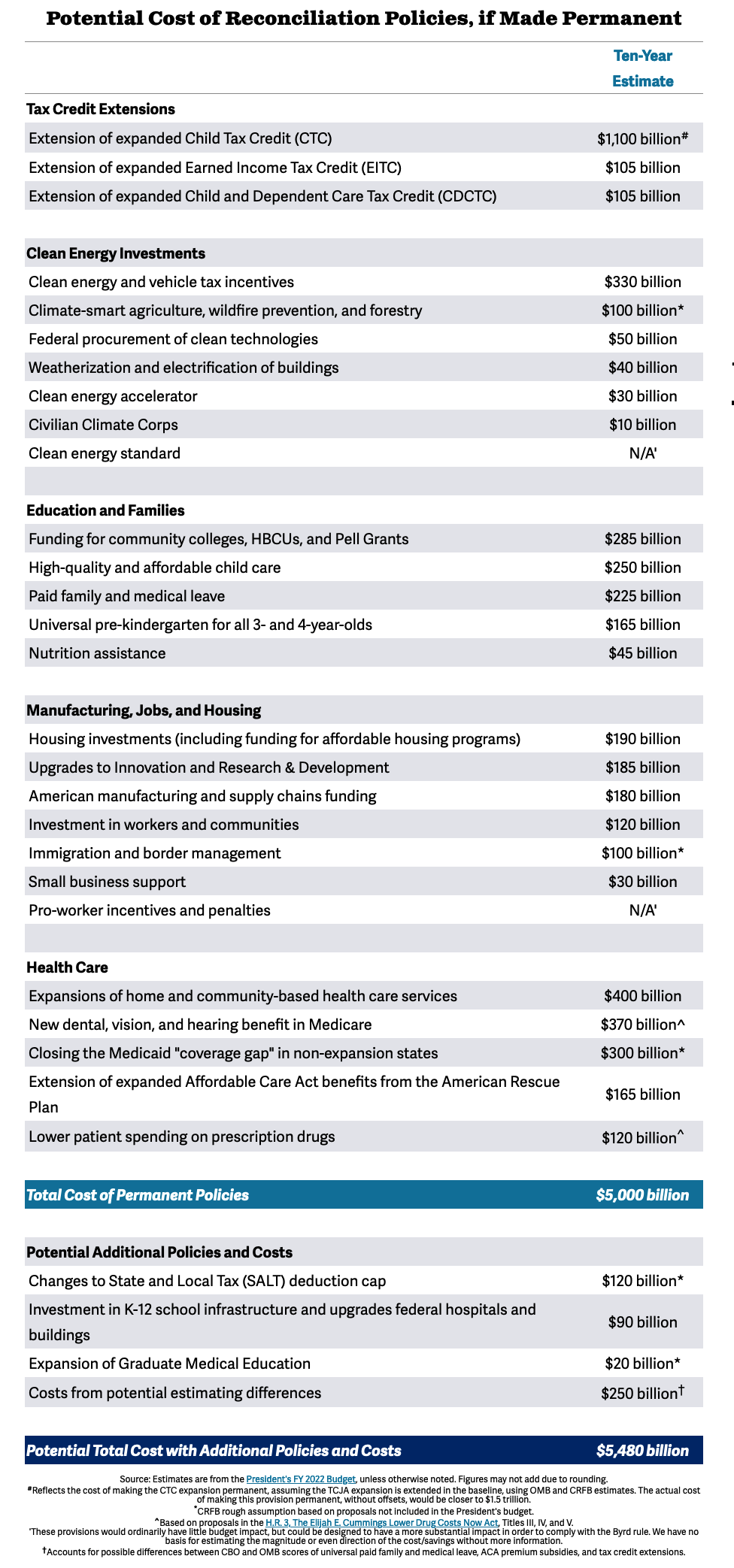 — Vilsack: More aid coming. When USDA Secretary Tom Vilsack as expected on Tuesday announced up to $200 million in pandemic relief for loggers and timber haulers (link), he said "there is more to come" for agriculture in the weeks ahead. An additional $2.4 billion is on the USDA's list for action this summer, including $700 million for biofuel producers and $980 million in dairy supports (a $400 million dairy donation program; approximately $580 million in Supplemental Dairy Margin Coverage for small and medium-sized dairies). "The whole goal of this is to get as much of this done in 2021 as possible," said Vilsack when asked about the pace of payments to farmers and ranchers. The Biden administration has committed $7.3 billion to coronavirus aid to farmers since March.
     $13 billion and rising. Besides the Pandemic Assistance for Producers initiative, USDA operates a Build Back Better program to strengthen the food system. Vilsack said $6 billion is earmarked for that effort, including the $500 million offered early this month for grants, loans, and technical assistance to expand meat processing capacity. "Between these two programs, we have essentially made commitments of $13 billion," said Vilsack during a teleconference.
     But something is missing: USDA said they would make funds available for contract growers, but so far has only announced funds will be coming for poultry but not yet for hogs.
— FTC to vote today on policy statement on 'right to repair.' The Federal Trade Commission (FTC) is moving ahead on the issue of "right to repair," a matter the FTC was ordered to assess in the executive order issued by the White House on competition. The FTC agenda for the meeting said the FTC will vote on whether to issue a new policy statement on the right to repair issue, following on the FTC "Nixing the Fix" report which they unanimously agreed to and announced May 6. That report indicated there was "scant evidence to support manufacturers' justifications for repair restrictions." The report emerged in part from a July 2019 FTC workshop where it gathered input from the public  — "Nixing the Fix: A Workshop on Repair Restrictions." The report was approved 4-0 and issued at the direction of Congress and they called on FTC to make recommendations on how to best address the issue. Given the work already done by the FTC on this topic, expectations are they will vote to issue a new policy statement on the issue. 
— Federal Maritime Commission (FMC) has ordered the world's nine largest ocean carriers to undergo an audit aimed at looking into detention and demurrage practices. President Biden wants to clamp down on the rise in shipping costs, which have shot up during the pandemic. The new audit program and dedicated audit team has been established to "assess carrier compliance with the Agency's rule on detention and demurrage as well as to provide additional information beneficial to the regular monitoring of the marketplace for ocean cargo services."  The FMC established the "Vessel-Operating Common Carrier Audit Program" July 19 to analyze the top nine carriers by market share relative to compliance on detention and demurrage practices in the U.S., and the FMC may use the information to establish industry best practices. The audit may also focus on "practices of companies related to billing, appeals procedures, penalties assessed by the lines, and any other restrictive practices." FMC Chairman Daniel Maffei said in announcing the audit effort that "if the audit team uncovers prohibited activities, the Commission will take appropriate action. Furthermore, the information gathered by the audit process might lead to changes in FMC regulations and industry guidance if warranted."
 
---
BIDEN ADMINISTRATION PERSONNEL
---
— Biden to nominate Big Tech adversary Jonathan Kanter to lead Justice Dept.'s antitrust division. President Biden said he plans to nominate Jonathan Kanter, who has long opposed Big Tech companies as a lawyer, to lead the Justice Department's antitrust division. Kanter is known as an adversary of giant tech corporations including Google and Apple. He is currently a partner at The Kanter Law Group, which describes itself as "an antitrust advocacy boutique." Throughout his career, Kanter has also been "a leading advocate and expert in the effort to promote strong and meaningful antitrust enforcement and competition policy," the White House said in a news release. Kanter's nomination received immediate praise from liberal Democrats. Sen. Elizabeth Warren (D-Mass.), who led the calls to break up Big Tech as a candidate in the 2020 presidential primary election, said his nomination is "tremendous news for workers and consumers." "He's been a leader in the fight to check consolidated corporate power and strengthen competition in our markets," Warren tweeted.

 
---
CHINA UPDATE
---
— China to auction more of its corn reserves on Friday. China will auction another 23,488 MT of corn imported from Ukraine on July 23, the country's grain stockpiler Sinograin said today. These auctions that started June 11 were initially met with strong demand, but the sales tallies have dived this month, with next to no grain selling at its latest July 16 auction.
— Chinese suppliers to Apple and Nike are shunning workers from the Xinjiang region to avoid U.S. bans on products made with forced labor. Link to WSJ for details.
— U.S. Office of the Trade Representatives is seeking permission to raise tariffs on certain imports from China, alleging that the country did not follow deadlines set in a 2019 World Trade Organization agreement, according to a report by the Congressional Research Service (CRS/link). The CRS report was updated this week to reflect what was already reported — that the U.S. wants to get permission to hit China with tariffs on goods for failing to come into compliance with the WTO ruling.
— Hackers working for the Chinese government compromised more than a dozen U.S pipeline operators nearly a decade ago, the Biden administration revealed Tuesday while also issuing first-of-its-kind cybersecurity requirements on the pipeline industry, Dustin Volz reports. The disclosure of previously classified information about the aggressive Chinese hacking campaign, though dated, underscored the severity of foreign cyber threats. In some cases, the hackers possessed the ability to physically damage or disrupt compromised pipelines, a new cybersecurity alert said, though it does not appear they did so. The administration's new cybersecurity requirements for U.S. pipeline operators are intended to help guard against ransomware and other forms of disruptive hacking.
 
---
TRADE POLICY
---
— Green trade. The U.K.'s Department for International Trade has published a comprehensive report (link) on the importance of green trade.
— Tai, Raimondo to meet with Mexican official. Mexican Economy Minister Tatiana Clouthier will meet Thursday with U.S. Trade Representative Katherine Tai and Commerce Secretary Gina Raimondo in Washington on issues such as the promotion of the regional automotive industry under the USMCA trade agreement, a joint statement from Mexico's economy ministry and Mexican embassy in the U.S. said.
— Labor Dept. provides $10 to help resolve Mexican labor disputes. The Labor Department said it is stepping up efforts to help Mexico implement its 2019 labor reform by providing $10 million to help Mexican companies and workers set conciliation and arbitration processes to resolve labor disputes. The two countries recently resolved a dispute brought under that agreement by agreeing to closely monitor a new union vote for workers at a General Motors facility in central Mexico.
---
ENERGY & CLIMATE CHANGE
---
— Reuters: White House delays RFS levels for 'political concerns.' Reuters reported (link) that the White House is holding up the proposed levels for the Renewable Fuel Standard (RFS) on "political concerns."
     The report noted that the White House is said to be looking for a solution on a contentious issue that "pits blue-collar refinery workers against the nation's corn farmers." The White House and EPA have seen stepped-up pressure from lawmakers on both sides of the issue and the report indicated the White House is now "hoping to take control of the matter."
     This underscores what has been present in U.S. biofuel policy in recent years. There is a clear battle between biofuel backers and refiners which the Trump administration failed to find a solution to and now appears the Biden administration is trying to do just that. Typically, when a plan in Washington is not liked by all interests on a given issue, likely is good policy, but not good politics. And it underscores that politics is alive and well in renewable fuels. But perhaps the biggest factor may well be the series of recent court decisions that have gone mostly against the U.S. biofuel industry.
     This means several months delay for RFS proposed rule. If Sept. 1 or later for the proposed rule, it means it will be quite difficult to meet the Nov. 30 deadline. And they still have the post-2022 situation to deal with. One doesn't expect EPA Administrator Michael Regan will be hauled off to jail for missing Nov. 30 "deadline." Given this apparent delay and the processes needed to finalize the levels — a proposed rule in the Federal Register with a comment period and then a final proposal developed and published — it suggests the 2021 biofuels and 2022 biofuel levels will not be finalized by November 30, the statutory deadline. In fact, the proposed levels had not even been sent over to the Office of Management and Budget for their review. 
— Very low odds for proposed legislation to end corn-ethanol mandate. Sens. Pat Toomey (R-Pa.), Dianne Feinstein (D-Calif.), Susan Collins (R-Maine) and Bob Menendez (D-N.J.) have introduced the Corn Ethanol Mandate Elimination Act which would end the 15-billion-gallon conventional (primarily corn-based) ethanol requirement under the RFS. The measure frames the effort in a bid to reduce carbon emissions from transportation fuels by only removing the corn-based ethanol component and leaving the volume obligations in place for advanced and cellulosic biofuels and biodiesel. The lawmakers pointed to issues that have been debunked by the ethanol industry, including that corn-based ethanol raises food costs. They also are framing the bill under lowering carbon emissions even as new studies have updated the carbon impact of ethanol production.
     Bottom line: Finally, there is an issue in Washington where one can easily predict its fate: This measure has single-digit odds, if that, of passing. As for as Reuters saying it as bipartisan support, just ask whether any of the sponsors is from a farm state.
— Japan boosts renewable level in electricity mix. Japan will increase its target for renewable energy in their electricity production for 2030, increasing the level of renewables in the electricity mix. The policy draft released today called for renewables to account for 36% to 38% of power supplies in 2030, up from a prior target of 22% to 24% in 2030. In the financial year to March 2020, renewables accounted for 18% of Japanese power. Coal-provided power would be reduced to 19% from 26% while gas (imported via liquefied natural gas — LNG) would provide 41% of power, down from 56%. Nuclear power was left at 20% to 22% while new fuels like hydrogen and ammonia would account for 1% of the mix. The draft did indicate building any new nuclear power plants or updating existing facilities despite a push by some for that to be included.
---
CORONAVIRUS UPDATE
---
— Summary: Global cases of Covid-19 are at 191,495,269 with 4,119,426 deaths, according to data compiled by the Center for Systems Science and Engineering at Johns Hopkins University. The U.S. case count is at 34,174,774 with 609,529 deaths. The Johns Hopkins University Coronavirus Resource Center said that there have been 338,491,374 doses administered, 161,631,676 have been fully vaccinated, or 49.2% of the U.S. population.
— White House signaled no changes to its Covid-19 safety measures for President Biden after a vaccinated staffer tested positive for the virus. The White House said the individual had no close contact with senior officials and staff.
— Share of new Covid-19 cases that the Delta-variant accounts for is 83%, according to the Centers for Disease Control and Prevention. The highly infectious variant's prevalence has risen from 50% of cases for the week of July 3, an increase that CDC director Rochelle Walensky called "dramatic." The surge in Delta-variant cases comes as nearly two-thirds of counties in the U.S. have under 40% vaccination coverage. Roughly 68% of the adult population has received at least one vaccine dose as of Monday. Beneath that figure are deep disparities, including high rates in New England and low levels in the Deep South.
— U.S. life expectancy fell sharply in 2020. Life expectancy in the U.S. fell by 1.5 years in 2020, as the Covid-19 pandemic killed hundreds of thousands and exacerbated crises in drug overdoses, homicides and some chronic diseases. Provisional data from the Centers for Disease Control and Prevention showed that American life expectancy dropped to 77.3 years in 2020, roughly the same level as in 2003, erasing years of hard-won gains in the nation's public health. It was the largest single-year decline recorded since 1943. Population-health experts don't expect life expectancy to recover to pre-pandemic levels in 2021 — and it could decline again if a new Covid-19 variant emerges that vaccines don't protect against.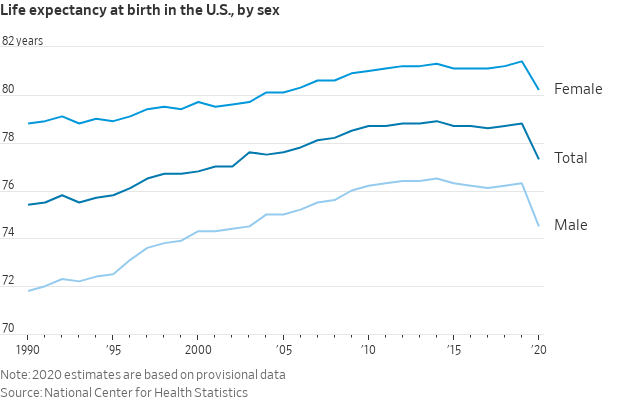 — Prime Minister Yoshihide Suga defended his decision to hold the Tokyo Olympics during a pandemic, saying Japan has a fraction of the Covid-19 cases of Western countries and is more disciplined in preventing infections. "We're in the right place and we're ready to go," Mr. Suga said in an interview with the Wall Street Journal (link).
 
---
POLITICS & ELECTIONS
---

— Tom Barrack, the financier and Trump ally, is arrested. Prosecutors charged the founder of Colony Capital, who led Donald Trump's inaugural committee, with publicly promoting the United Arab Emirates' (UAE) agenda without registering as a lobbyist. Over three years, Barrack raised $1.5 billion in funds from the UAE and Saudi Arabia for Colony.
— RNC sets fundraising records as it aims to regain congressional majorities. The Republican National Committee says it hauled in $16.3 million in fundraising in June and $40.5 million during the April-June second quarter, records for a post-presidential election year.  The RNC, sharing its fundraising figures first with Fox News on Tuesday ahead of their filing with the Federal Election Commission, also spotlighted that the national party committee has raked in $85 million during the first half of this year, has $81.7 million cash on hand, and no debt. June's haul is an increase from the $11.1 million the RNC raised in May, with the second quarter total slightly behind the $44.4 million the committee brought in during the January-March first quarter of fundraising.
 
---
OTHER ITEMS OF NOTE     
---

— Nikkei reports (link) that North Korea's food shortage has reached a crisis-level deficit of 860,000 tonnes, shaping up to be the worst humanitarian crisis in Asia as the reclusive country keeps its borders closed to imports.
---