Let the Complaining Begin: Propane Prices Already Higher, Supplies Lower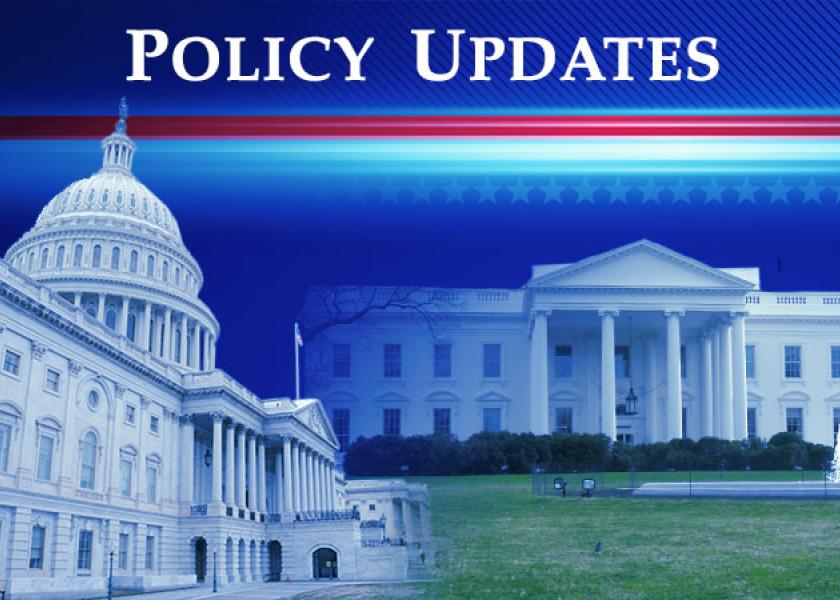 USDA again surprises industry analysts with lower-than-expected plantings
---
In Today's Digital Newspaper
---
Market Focus:
• Jobless claims reach another pandemic low
• U.S. equities had a shining first-half 2021
• Poll: Economists predict at least two U.S. interest rate rises by end of 2023
• Still waiting for your IRS refund? So are a lot of others
• USDA again surprises ag industry analysts who missed another one
• Drought's toll on U.S. agriculture points to even-higher food prices
• Farmer concern that has surfaced before: rising propane prices, availability
• Shortage of computer chips continues to impact the auto industry
• Ag demand update
• Corn and beans rallying on bullish acreage data
• Monthly soy and corn processing reports out today
• Record-setting grain crop in the works for Ukraine
• India eases restrictions and tariffs on imports of refined palm oil
• Smithfield pays $83 million to settle price-fixing claims
• Smaller corn acres rattle feeder cattle
• Hog weights continue to slide  
China Update:
• Big soybean sales to China in weekly data
• Chinese Communist party turns 100
Trade Policy:
• U.S. and Taiwan revive trade talks, pledge to keep supply chains free from forced labor
• TPA expiration arrives
Energy & Climate Change:
• Where is EPA's RVO announcement for 2021 and 2022?
• House Dems urge Biden address climate, environment issues in infrastructure package
• Biden signs CRA resolution reinstating Obama-era methane rule
Livestock, Food & Beverage Industry Update:
• General Mills will raise prices on its grocery products around the world
• European Union announces it will aim to phase out caged farming by 2027
Coronavirus Update:
• Covid-19's origins investigators focus on Chinese farms
• EU member states today unveiled a new digital certificate
Politics & Elections:
• Trump Organization and CFO indicted on tax-related charges
• Western drought and politics
• New vote tallies in New York City's Democratic mayoral race
• Walker vs. Warnock in Georgia Senate race?
Congress:
• House bill includes meatpacking line speeds, Chinese ownership of U.S. farmland
• House set for vote on highway bill
Other Items of Note:
• Stabenow wants review of Washington Post revelations about Perdue finances
 
---
MARKET FOCUS
---
Equities today: U.S. stock futures are higher, signaling gains for major indexes. The weekly jobless claims report fell sharply last week, indicating continued improvement in the U.S. jobs market, the Labor Department reported. First-time jobless claims totaled 364,000 for the week ended June 26, compared to the 390,000 estimate. That marked a new pandemic-era low and a decline of 51,000 from the previous week. In Asia, Japan's Nikkei 225 fell 0.3% by the close and China's Shanghai Composite Index lost about 0.1%. Hong Kong markets were closed for a holiday. European equities are higher in early action but are off their opening marks. The Stoxx 600 was up 0.2% with other markets from 0.2% to 0.6% higher.
     U.S. equities yesterday: The Dow rose 210.22 points, 0.61%, at 34,502.51. The Nasdaq, however, was down 24.38 points, 0.17%, at 14,503.95. The S&P 500 gained 5.70 points, 0.13%, at 4,297.50.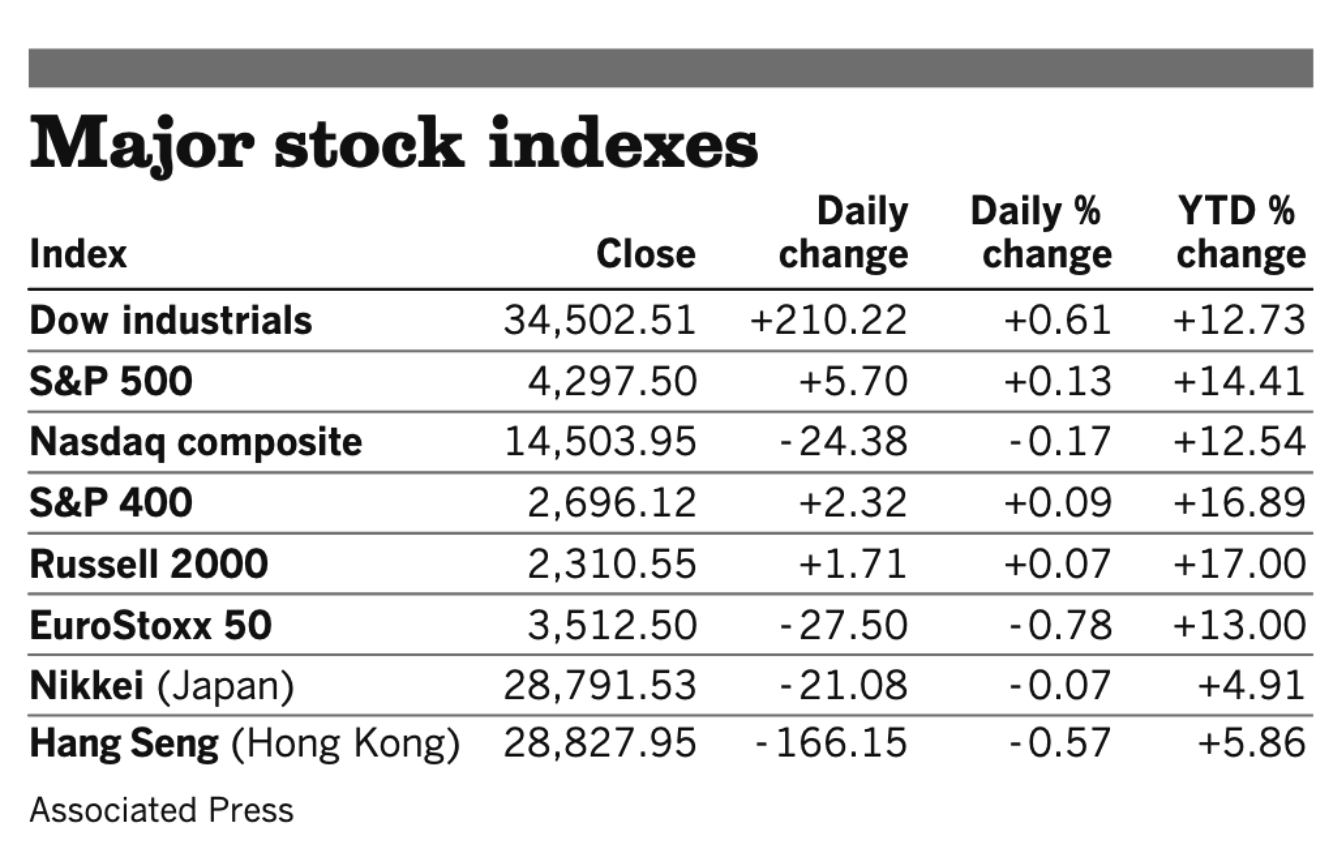 First-half 2021 gains: The first six months of 2021 saw a 14.4% gain in the S&P 500, the strongest since 2019's 17.4% advance, which was the most since 1998. The Dow is up 12.7% for the first six months of the year, while the Nasdaq Composite is up 12.5%.
On tap today:
     •  U.S. jobless claims came in at 411,000 in the week ended June 19. Economists expect they'll tick down to 390,000 for the week ended June 26. (8:30 a.m. ET) Update: U.S weekly jobless claims totaled 364,000, vs 390,000 estimate.
     • USDA Weekly Export Sales report, 8:30 a.m. ET.
     • Manufacturing activity in the U.S. expanded slightly in May and economists expect it at 62.6 in June. (10 a.m. ET)
Economists predict at least two U.S. interest rate rises by end of 2023. Elevated inflation will compel the Federal Reserve to raise U.S. interest rates at least twice by the end of 2023, according to a new poll of leading academic economists for the Financial Times and the University of Chicago's Booth School of Business. Link for details (paywall).
Still waiting for your IRS refund? So are a lot of others. The Internal Revenue Service ended the tax-filing season with 35.3 million unprocessed tax returns, more than four times what it had in 2019, before the pandemic. That's meant delays for taxpayers awaiting refunds. Calls to the agency's phone lines this year were four times what they were last year. Just 9% of those were answered by employees, down from 25% in 2019.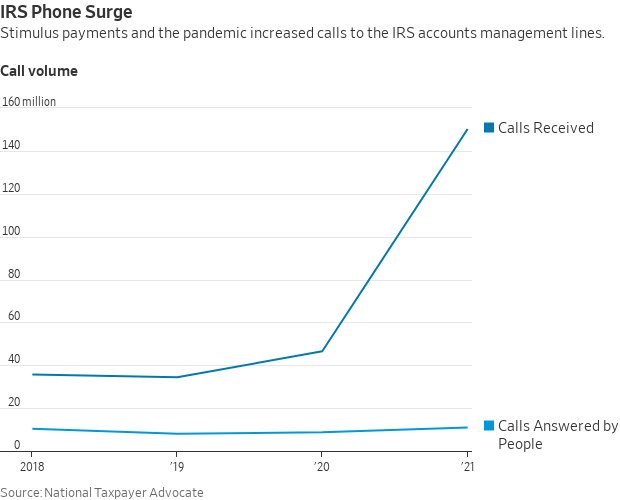 Market perspectives:
     • Outside markets: The U.S. dollar index shifted to trading lower ahead of weekly jobless claims. The yield on the 10-year U.S. Treasury note is firmer, trading just above 1.47%, while there is a mixed tone in global government bond yields. Gold and silver futures are higher, with gold trading around $1,778 per troy ounce and silver around $26.40 per troy ounce.
     • Crude oil futures have moved sharply higher ahead of U.S. trading, with U.S. crude around $75.80 per barrel and Brent around $76.45 per barrel. Crude rose in Asian action, with U.S. crude up 23 cents at $73.70 per barrel while Brent crude was up 19 cents at $74.81 per barrel.

     • USDA again surprises ag industry analysts who missed another one, this time planted acreage estimates which saw corn and soybean increases lower than many expected. Livestock, poultry and dairy producers who did not extend feed coverage on the recent and significant price break for corn and meal are nervous following their feed coverage procrastination. China's recent mega buys of U.S. soybeans recently looks quite astute.
     • Drought's toll on U.S. agriculture points to even-higher food prices. The Wall Street Journal has an infographic article on the topic that is a must read (link).
     • A farmer concern that has surfaced before: rising propane prices, availability. At hubs in Mont Belvieu, Texas, and Conway, Kan., propane futures traded Wednesday at $1.09 and 95 cents a gallon, respectively. Those prices are roughly twice their levels during the past two summers, the Wall Street Journal reports (link). Spot prices have moved in a similar way. Retail prices have also risen, but not as sharply. The Energy Information Administration said U.S. households can expect to spend an average of 14% more on propane this winter than they did during last year's — and significantly more than that if the weather is colder than forecast. Meanwhile, while demand for most fuels declined significantly in 2020, outbound cargoes of propane rose 13% to a record, according to the Energy Information Administration. Members of the Organization of the Petroleum Exporting Countries produced less propane when they dialed down oil production, ceding market share to the U.S. Propane surpassed distillate fuel oils, such as diesel, to become the U.S.'s top petroleum export. Now, supply concerns are rising. On Wednesday, the Energy Information Administration reported that propane stocks were less than analysts had expected. The petroleum supply district that stretches from Ohio to Oklahoma and up to North Dakota is particularly low on propane. That region burns a lot of propane between autumn, when farmers use it to dry crops, and winter, when the fuel is used to heat rural homes.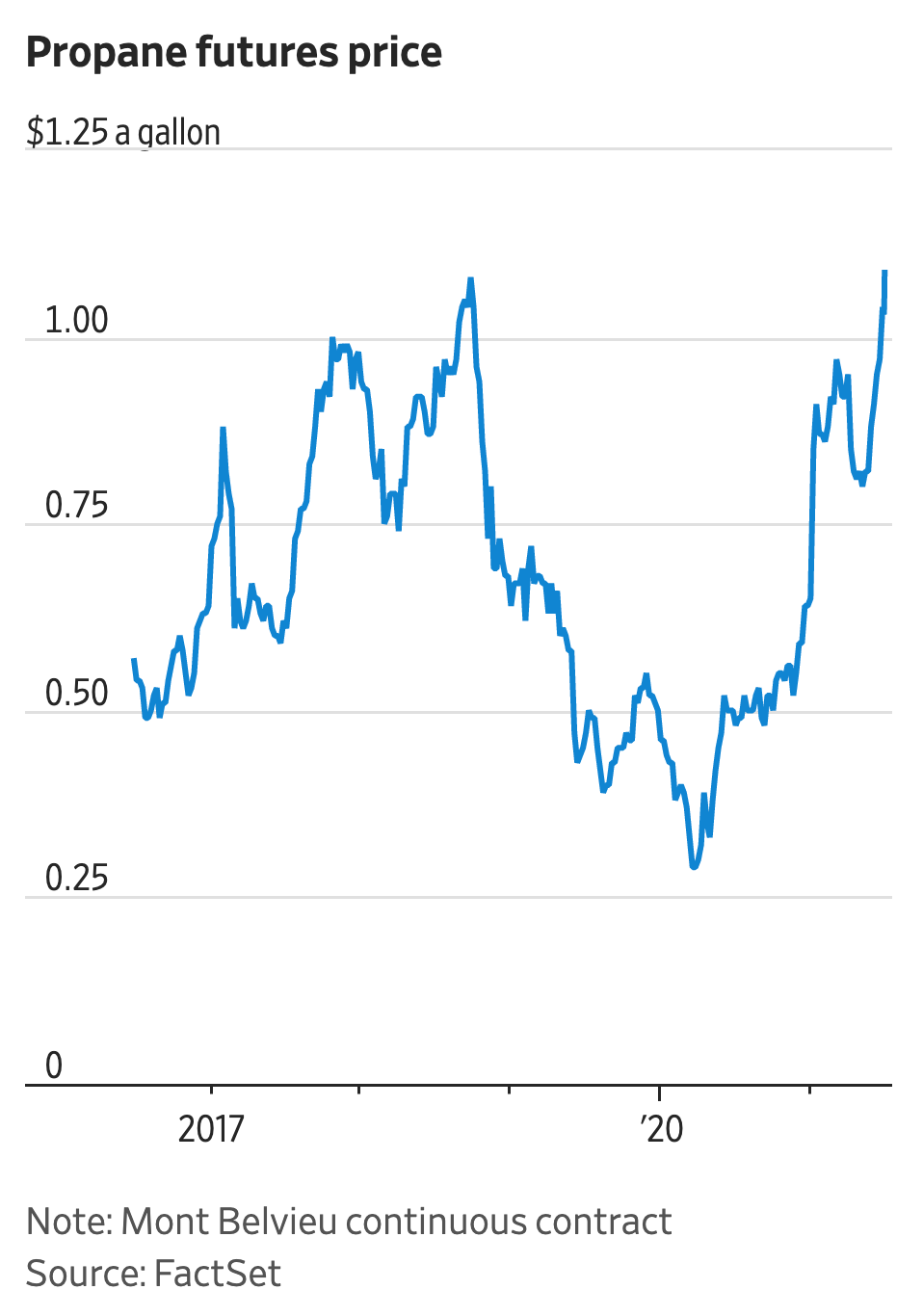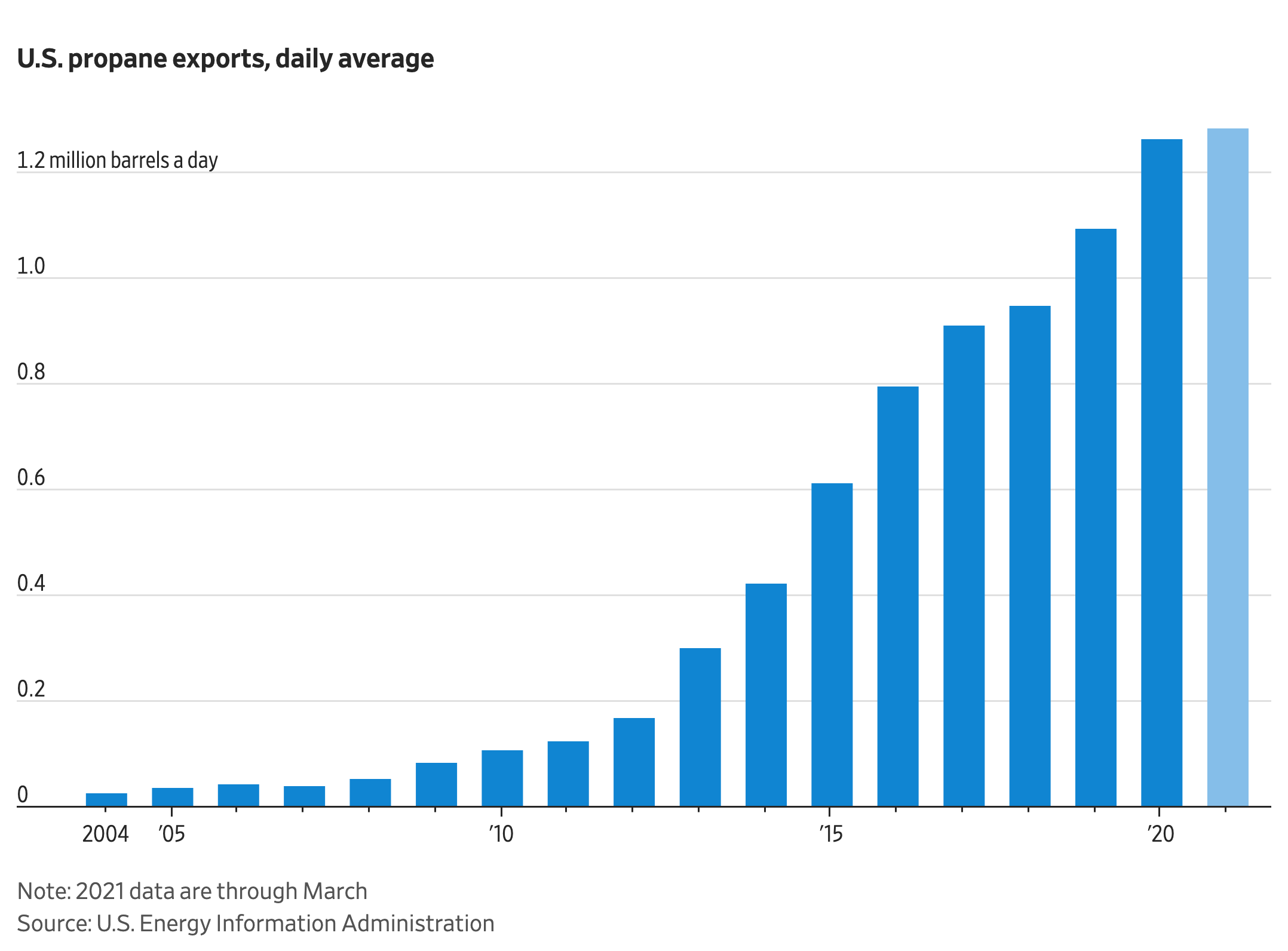 • Shortage of computer chips continues to impact the auto industry. Ford Motor Co. said Wednesday it will close or cut output through much of July at factories in Michigan, Kentucky, Missouri and Illinois. Ford has had to scrap production of more than 350,000 vehicles that it had planned to build this year through May. General Motors has cut production by 250,000 vehicles.
     • Ag demand: Turkey provisionally purchased an estimated 395,000 MT of wheat in an international tender. Tunisia's state grains agency bought around 100,000 MT of soft milling wheat and 100,000 MT of animal feed barley. Bangladesh issued an international tender to buy 50,000 MT of rice to be imported via railway.
     • NWS weather outlook: Excessive heat continues across interior sections of the Northwest and Northern Rockies, extending eastward into the Northern Plains... ...Cold front to bring severe weather, heavy rain, and flooding chances to the Mid-Atlantic today... ...Flash Flooding threat found across portions of Oklahoma and the Texas Panhandle through Friday morning.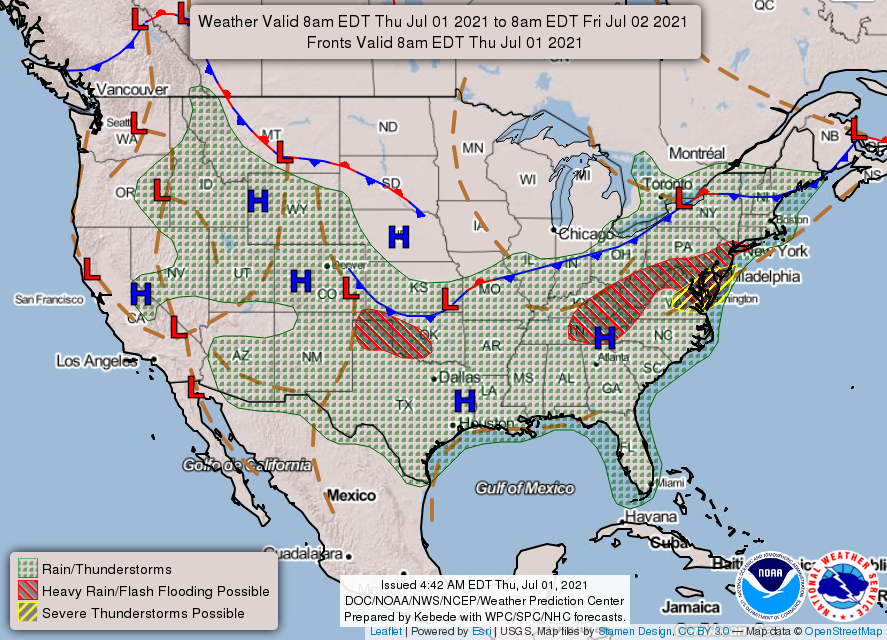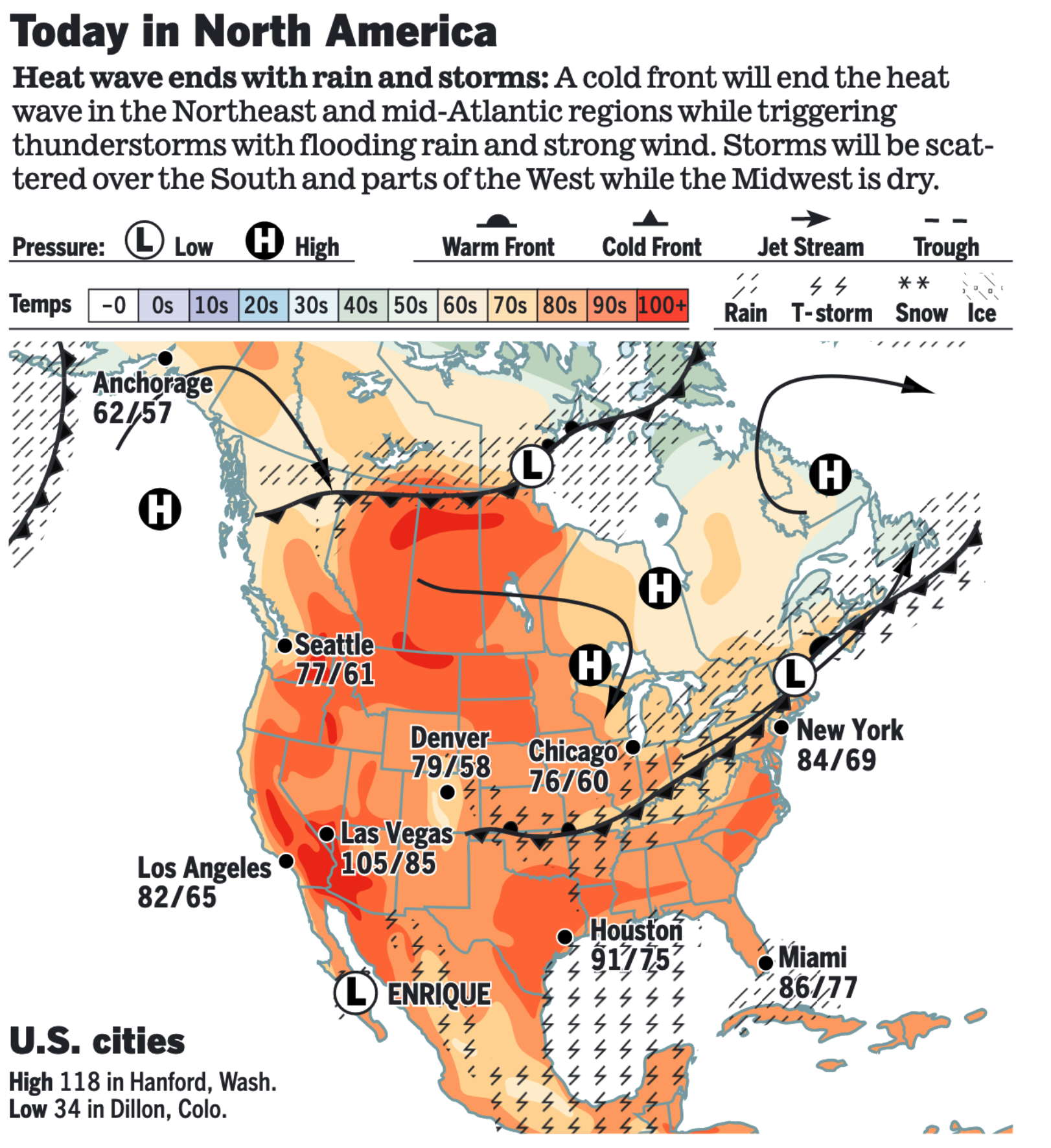 Items in Pro Farmer's First Thing Today include:
     • Corn and beans rallying on bullish acreage data
     • Monthly soy and corn processing reports out today
     • Record-setting grain crop in the works for Ukraine
     • India eases restrictions and tariffs on imports of refined palm oil
     • Smithfield pays $83 million to settle price-fixing claims
     • Smaller corn acres rattle feeder cattle
     • Hog weights continue to slide  
---
CHINA UPDATE
---
— Big soybean sales to China in weekly data. U.S. export sales activity for the week ended June 24 included sizable sales of soybeans to China totaling 1.147 million tonnes for 2021-22. Other activity for China for 2021-22 included 1,000 tonnes of wheat, and 7,700 running bales of Upland Cotton.
     For 2020-21, activity for China included 74,963 tonnes of corn cancelled (outstanding sales now are at 6.066 million tonnes with accumulated exports at 17.266 million tonnes), net sales of 4,000 tonnes of sorghum, 31,153 tonnes of soybeans, and 3,396 running bales of Upland Cotton.
     Net sales for 2020 of 2,058 tonnes of beef and 1,496 tonnes of pork.
— Chinese Communist party turns 100. China celebrated its centenary with a keynote address by President Xi Jinping in Tiananmen Square. Xi gave a nationalistic address in Beijing, warning that any infringements on the country's sovereignty would be met by a "great wall of steel." The estimated 70,000 crowd roared when Xi said China "will not tolerate sanctimonious preaching from those who think they have the right to lecture us." Xi said, "the Chinese people will never allow foreign forces to bully, oppress or enslave us. Whoever nurses delusions of doing that will crack their heads and spill blood on the Great Wall of steel built from the flesh and blood of 1.4 billion Chinese people." The Chinese president added that unification with Taiwan remained "a historic mission and unshakeable commitment of the Chinese Communist party." Today also marked the 24th anniversary of China's resumption of sovereignty over Hong Kong from the U.K.
---
TRADE POLICY
---
— U.S. and Taiwan restarted dormant trade and investment talks and pledged to keep supply chains free from forced labor, a clear dig at China, which has objected to the negotiations. The trade talks, held by videoconference on Wednesday, were the first between the U.S. and Taiwan since 2016. The Office of the U.S. Trade Representative, which led the talks, said the U.S. and Taiwan would create a new labor working group to pursue the issue.
     Taiwanese officials said the discussions were wide-ranging, covering supply chains, intellectual-property protection and financial services, as well as the import and export of vaccines and wild-animal protection.
     U.S. officials said there are "a lot of things we have to do" before such an agreement can be reached.
— TPA expiration arrives. July 1 brings about the expiration of Trade Promotion Authority (TPA) or "fast track." So far, the Biden administration had not submitted legislation to Congress to reauthorize TPA. It was last approved by Congress and signed into law in June 2015 by President Barack Obama. Originally it was only effective until July 1, 2018, but that was extended to July 1, 2021, by President Donald Trump. TPA has been renewed four times —1979, 1988, 2002 and 2015. Only one Free Trade Agreement (FTA) has been approved by Congress without TPA — the U.S./Jordan FTA.
     So far, only USDA Secretary Tom Vilsack has indicated that TPA is needed. U.S. Trade Representative Katherine Tai, when pressed by House Ways and Means Ranking Member Kevin Brady (R-Texas) about whether the administration would be seeking a renewal of TPA, would only say that the administration wants to win bipartisan support for renewal and wants to rethink the objectives of trade agreements before seeking the authority.
---
ENERGY & CLIMATE CHANGE
---
— Where is EPA's RVO announcement for 2021 and 2022? Even traders have given up on speculating (usually errantly) on the timing. EPA still has not sent over its proposed rule to the Office of Management and Budget, usually a requirement but nothing in Washington is usually any longer. In the past, EPA has frequently made RVO announcements just prior to the July 4th holiday. When EPA sends its proposed rule to the OMB, that is when the always chatty and leaking biofuel stakeholders start talking.
— House Democrats urge Biden to make sure climate, environment issues are addressed in any infrastructure package. More than 130 House Democrats have signed a letter (link) to President Joe Biden urging that climate measures like a clean energy standard, major electric vehicle investments and 10-year clean energy tax credits. Those signing the letter cover a spectrum of interests in the Democratic party and include members of the Progressive Caucus and others. However, there are still some on the far left or in environmental groups that maintain the measure needs to include ending fossil fuel subsidies. 
     According to a memo from National Climate Adviser Gina McCarthy and senior adviser Anita Dunn released on Wednesday, President Biden "intends to work with Congress through the budget process" to pass the standard and other measures left out of a bipartisan $1 trillion infrastructure package compromise he struck with a handful of Senate Democrats and Republicans. Link to memo. The memo was first reported by Axios.
— Biden signs CRA resolution reinstating Obama-era methane rule. President Joe Biden signed three Congressional Review Act (CRA) that disapprove final rules put in place by the Trump administration, including rolling the final rule that went into effect in September 2020 that eliminated a 2016 requirement for gas and oil companies to monitor and address methane leaks from wells and compressor stations. That puts the Obama-era methane rule back in place as EPA works on a new reg. The House approved the resolution 229-191 with 12 Republicans joining Democrats in support, while the Senate cleared the measures in April via a vote of 52-42. Under the CRA, lawmakers in a new Congress can file a resolution disapproving an agency rule if they do so within 60 legislative days of the rule taking effect.
---
LIVESTOCK, FOOD & BEVERAGE INDUSTRY
---
— General Mills will raise prices on its grocery products around the world as it faces its highest costs in a decade. It said higher prices for ingredients, packaging, trucking and labor combined will push up its costs about 7% over the next year or so. Other food makers such as Campbell Soup Co. and J.M. Smucker Co. are also charging more. General Mills expects to cut 700-800 jobs in North America and 500-600 outside of North America.
— European Union announced it will aim to phase out caged farming by 2027 to improve the welfare of farmed animals. The new legislation will be proposed by 2023 and the changes would be gradually phased in by 2027. Link for details via the BBC.
---
CORONAVIRUS UPDATE
---
— Summary: Global cases of Covid-19 are at 182,246,769 with 3,948,053 deaths, according to data compiled by the Center for Systems Science and Engineering at Johns Hopkins University. The U.S. case count is at 33,665,034 with 604,714 deaths. The Johns Hopkins University Coronavirus Resource Center said that there have been 326,521,526 doses administered, 154,884,686 have been fully vaccinated, or 47.2% of the U.S. population.
— Hunt for Covid-19's origins has led investigators to Chinese farms that supplied wild animals to the market where many early cases were found. But almost all the animals are gone. Farmers say they killed, sold or released their stock after Chinese officials ordered them early last year to stop their trade. Scientists say that made sense as a precaution to stop the virus from spreading — but animals and workers should have been tested first. If they were, it hasn't been made public. The closures may make it impossible to establish whether the virus, thought to have originated in bats, spread to humans via another species. Link for details via the WSJ.
— EU member states today unveiled a new digital certificate intended to ease travel across borders by providing up to date information on a traveler's Covid-19 testing and vaccination status. Citing a "worrying patchwork of approaches" by EU member nations a group of European airlines and airports have warned of "chaos" at airports due to extra document checks adding to already long pre-boarding times as travel resumes across the continent.
 
---
POLITICS & ELECTIONS
---

— Trump Organization and CFO Allen Weisselberg have been indicted on tax-related charges to be made public today in court. The criminal charges would be the first against former President Donald Trump's company since Manhattan prosecutors began investigating it three years ago. They won't implicate Trump himself, his lawyer said. Weisselberg surrendered to the Manhattan district attorney's office to face charges, officials said.
— Western drought and politics. President Joe Biden on Wednesday announced his plan to address wildfire threats in the West and provide added resources to the Forest Service to manage increasingly dry, hot and long wildfire seasons. The White House announced a plan to increase federal firefighter wages to $15 an hour, add hiring capacity and expand the Forest Service's wildland firefighting workforce. Virtually flying in were the governors of California, Colorado, New Mexico, Oregon, Utah, Nevada and Wyoming. USDA Secretary Tom Vilsack attended. But of note was who was missing or not invite. Idaho Gov. Brad Little and Montana Gov. Greg Gianforte sent a letter to Biden voicing their disappointment to not be included in the group. Arizona's Republican Gov. Doug Ducey was also not invited. "While we are encouraged to learn you will meet with eight western governors to discuss the federal government's response to wildfires, we were disappointed to learn not all Western states who face a harsh wildfire season will be at the table," said the letter (link).
     Meanwhile, the continued record-breaking drought in western states is making it difficult for ranchers to get water for their herds, resulting in tough calls for the operations. Link for details.
— New vote tallies in New York City's Democratic mayoral race showed Brooklyn Borough President Eric Adams' lead narrowing considerably over his nearest rivals, after election officials threw the contest into confusion by posting, and then removing, erroneous vote totals.
— Walker vs. Warnock? Herschel Walker, a Georgia football legend and ally of former President Trump, said he will decide soon whether to run for the Senate against Raphael Warnock, a member of the Senate Agriculture Committee. Link for details.
 
---
CONGRESS  
---

— House set for vote on highway bill. The House will complete consideration of the $715 billion surface transportation and water infrastructure bill today after largely partisan debate over the legislation's policy and proposed amendments yesterday.
— House appropriators clear FY 2022 Ag bill. The House Appropriations Committee on Wednesday approved the fiscal year (FY) 2022 Agriculture appropriations bill. Cleared amendments included limiting poultry line slaughter speeds and forbidding the ownership of farmland by the Chinese government and its subsidiaries.
     China amendment: Rep. Dan Newhouse (R-Wash.) introduced an amendment to make it illegal for the Chinese government and its subsidiaries to own farmland in the U.S. and to make the acres that the Chinese currently own ineligible for farm programs or subsidies. Newhouse told the committee that he and Rep. Grace Meng (D-N.Y.) spoke to clarify his reasons for offering the amendment and her concerns about its wording. He said he is open to modifying the amendment language before final action on the bill. Newhouse and other committee Republicans said the federal government had to take action since just six states limit such foreign purchases. Meng, who is Chinese American, reminded the committee that Congress passed a hate crimes bill in May that she and Sen. Mazie K. Hirono (D-Hawaii) sponsored to address the rise in hate crimes since the start of the Covid-19 pandemic, particularly against Asians and Pacific Islanders.
     Line speeds. The committee adopted by voice vote an amendment by Rep. Barbara Lee (D-Calif.) that would revoke 16 waivers granted during the Covid-19 pandemic to meat and poultry plants to increase line speeds for moving animal carcasses — for poultry, it allowed from 140 birds per minute to 175. (The measure would let plants re-raise their speeds if OSHA certifies that doing so doesn't jeopardize worker safety.)
     Funding details: House appropriators advanced a $26.6 billion fiscal 2022 Agriculture spending, a 12% increase in discretionary funding from the enacted FY 2021 level. The bill would provide a $2.9 billion increase in discretionary funds for USDA, Food and Drug Administration and Commodity Futures Trading Commission.
      The measure provides $5 million for the Food and Drug Administration to create a pilot program in India and China for unannounced inspections of drug manufacturers. Foreign plants are usually given three months prior notice before an inspection. Domestic plants don't get such notices.
 
---
OTHER ITEMS OF NOTE     
---

— Stabenow wants review of Washington Post revelations about Perdue finances. Sen. Debbie Stabenow (D-Mich.) is calling for a government review (link) of former USDA Secretary Sonny Perdue's financial dealings. The Washington Post reported Tuesday (link) that after President Trump nominated Perdue, a former Georgia Republican governor, to be Agriculture secretary, Archer Daniels Midland sold Perdue's company a property for a fraction of its price. Stabenow previously called on the Office of Government Ethics to review the situation and believe that they should expedite their efforts and coordinate with the Department of Justice, the Department of Agriculture, the Inspector General for the Department of Agriculture and other relevant federal agencies "to get to the bottom of this."
---