Legislative Crisis: Dems Link Debt Limit to Funding Bill Amid GOP Senate Hurdle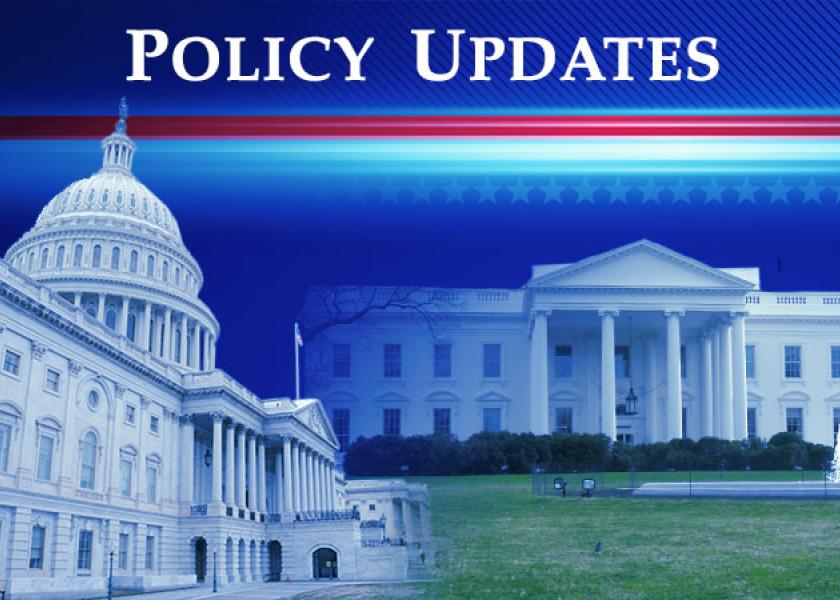 OECD boosts global inflation forecasts | Congestion mounts at Calif. Ports | U.S./U.K. trade
---
In Today's Digital Newspaper
---
Market Focus:
• OECD raises global inflation forecasts for next two years
• Biden, Xi to speak today at U.N. meeting
• U.S. parcel shipping rates going up faster than they have in nearly a decade
• Congestion mounting at California ports 
• Google to buy New York City office building for $2.1 billion •
• Ag demand update
• Grains lower, soybeans trying to rebound
• Crop Progress & Condition Report highlights
• Corn, soybean CCI ratings rise
• Cordonnier warns his U.S. corn and soybean yield forecasts may slide
• Gulf terminals slowly coming back online
• Kazakhstan boosts grain crop forecast, but also trims export outlook
• Cattle hold up well in the fact of economic jitters
• Softer cash hog and pork prices to kick off the week  
Policy Focus:
• House Dems link debt limit suspension to CR
• Budget reconciliation (human infrastructure) updates
• Update on $1 trillion traditional infrastructure measure
• Biden administration raising refugee admissions cap
• Durbin: Dems working on "Plan B, C and D" re: pathway to citizenship
• Still little change in CFAP 2, CFAP 1 data 
Trade Policy:
• USTR Tai tells U.K. counterpart trade deal still under review 
Energy & Climate Change:
• U.N. leader: Glasgow climate summit faces 'high risk of failure'
• ConocoPhillips agrees to buy all of Royal Dutch Shell's assets in Permian Basin
• Additional meetings again added for proposed RFS levels at OMB

Livestock, Food & Beverage Industry Update:
• U.K. reports 'classical' BSE case 

Coronavirus Update:
• U.S. to lift travel restrictions for fully vaccinated foreigners 
Politics & Elections:
• Canada's Trudeau wins another minority in election
• Russia's ruling party wins control of two-thirds of seats in Russian Parliament 
Other Items of Note:
• Biden administration asks Pentagon to send military to southern border
• Iowa grain cooperative hit by cyberattack linked to ransomware group
---
MARKET FOCUS
---
Equities today: Global stock markets were mostly up in overnight trading. The U.S. stock indexes are pointed to solid gains when the New York day session begins. Stocks are recovering after yesterday's steep sell-off after concerns about China's property sector helped fuel a global selloff in stocks and commodities. The boss of China Evergrande Group said he expects the developer to emerge from its "darkest moment." Asian equities finished mostly higher after initial losses linked to concerns about China's Evergrande. The Nikkei ended down 660.34 points, 2.17%, at 29,839.71 after returning from a Monday holiday. The Hang Seng Index rose 122.40 points, 0.51%, at 24,221.54. European equities are seeing solid gains in early trading, recovering from losses incurred Monday. The Stoxx 600 was up more than 1%, with gains of 1.1% to 1.5% in regional markets.
     U.S. equities yesterday: U.S. equities closed lower but lifted off their lows into the close, finishing near their opening decline. The Dow dropped 614.41 points, 1.78%, at 33,970.47. The Nasdaq lost 330.06 points, 2.19%, at 14,713.90. The S&P 500 fell 75.26 points, 1.70%, at 4,357.73. The Dow fell as much as 970 points, before rallying back 370 points. And the S&P finished 4% below its highest level ever.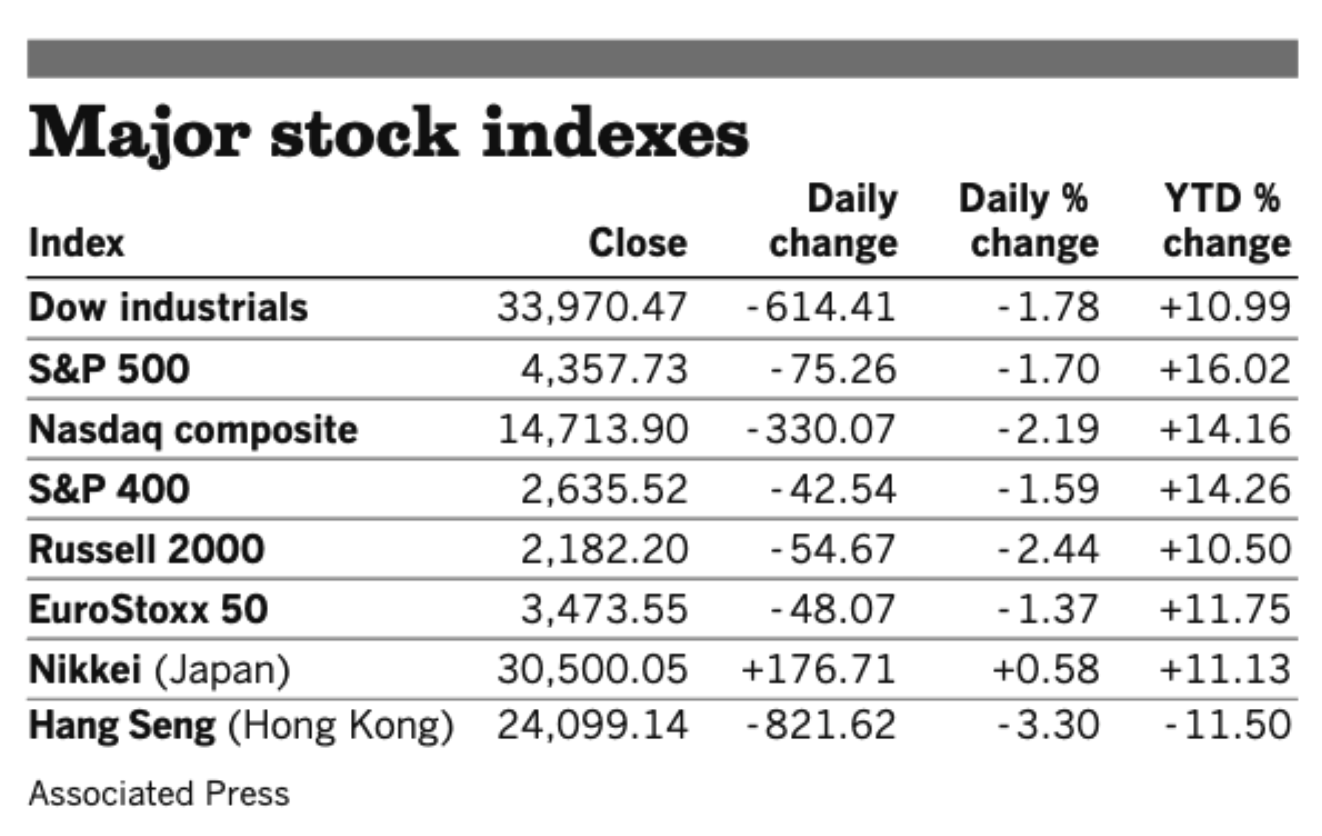 On tap today (see detailed list of events and reports below):
     • FOMC meeting begins today and ends Wednesday. In June, the Federal Reserve's chart of forecasts showed nearly half of officials, seven of 18, predicting some sort of increase next year.
     • U.S. housing starts are forecast to have risen at an annual pace of 1.55 million in August, compared with 1.534 million a month earlier.  The data are due at 8:30 a.m. ET.
     • Current-account deficit: Figures are expected to show the U.S. current-account deficit narrowed to $190.6 billion in the second quarter from $195.74 billion in the first. 8:30 a.m. ET.
     • President Biden will address the United Nations General Assembly, 10 a.m. ET. (China's Xi Jinping will also speak.)
     • Biden will meet with Australian Prime Minister Scott Morrison, noon ET.
     • Biden will meet with U.K. Prime Minister Boris Johnson in the Oval Office, 4:45 p.m. ET.
Inflation will continue to rise over the next two years, according to a revised projection by the OECD, which expects price increases to be significantly higher in 2021 and in 2022 than it had previously forecast for most G20 countries. Laurence Boone, OECD chief economist, said managing inflation would be "a very difficult balancing act" for policymakers. "The speed of the recovery has increased inflationary pressures, quickly pushing up prices to where we expected them to be before the pandemic," said the OECD in its outlook. "Policymakers in advanced economies should monitor these developments without delay."
U.S. parcel shipping rates are going up faster than they have in nearly a decade. FedEx is hiking its prices an average of 5.9% next year across most of its services, the WSJ reports (link), the first time in eight years that the carrier or rival United Parcel Service has strayed from their lock-step annual increases of 4.9%. The hefty increase signals that FedEx has strong confidence that the red-hot demand for package shipping driven by e-commerce will extend into next year, and that the parcel carriers will continue to have leverage on contracts. Online sellers have already had to cope with price increases during the pandemic, including double-digit increases the parcel carriers imposed last year after lockdowns drove big volumes of home deliveries. FedEx and UPS also have added surcharges and other fees for items like large packages throughout the pandemic that have further increased shipping costs.
Google to buy New York City office building for $2.1 billion. Google said it is buying a Manhattan building for $2.1 billion, the most expensive sale of a single U.S. office building since the start of the pandemic.
Market perspectives:
     • Outside markets: The U.S. dollar index is weaker ahead of US trading, with several foreign rival currencies higher versus the greenback. The yield on the 10-year U.S. Treasury note is firmer to trade around 1.33%, with most global government bond yields slightly lower. Gold and silver futures are showing modest increases ahead of U.S. trading, with gold around $1,767 per troy ounce and silver around $22.54 per troy ounce.
     • Crude oil prices have added to earlier gains as U.S. supply issues in the Gulf remain. U.S. crude is trading around $71.30 per barrel with Brent around $74.65 per barrel. Futures moved up in Asian trade, with U.S. crude up 61 cents at $70.90 per barrel and Brent up 57 cents at $74.49 per barrel.
     • Congestion mounting at California ports. Newly arriving vessels are adding to a record-breaking flotilla waiting to unload cargo off the ports of Los Angeles and Long Beach has surpassed 70 vessels in recent days, according to the Marine Exchange of Southern California. Before the pandemic, it was unusual for more than one ship to wait for a berth. The growth of the queue shows that shipping lines and cargo owners are effectively boxed in, with no real alternatives to the inbound supply chains that carry thousands of containers a day through the ports of Los Angeles and Long Beach and into distribution networks deep into the U.S. Container lines have diverted ships to West Coast ports including Seattle and Oakland, only to see backups quickly form at those smaller facilities. Shipping goods to the East Coast takes more time and is more expensive. For carriers and shippers, bottlenecks in landside supply chains suggests there's no place to hide from the congestion. Link for details via the WSJ.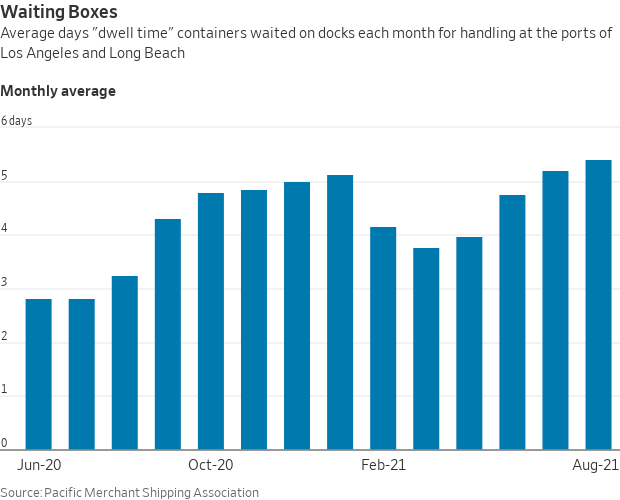 • Ag demand: Japan's ag ministry is seeking a total of 113,067 MT of food-quality wheat from the U.S. and Canada in a regular tender. Turkey provisionally purchased around 260,000 MT of animal feed barley from optional origins in a tender.
     • NWS weather: Slow-moving cold front to bring heavy rains to portions of the Great Lakes, Ohio and Tennessee valleys on Tuesday... ...Additional heavy rains likely from the coastal Carolinas to the southern Appalachians on Tuesday... ...Developing area of low pressure to bring heavy rains and breezy conditions to portions of the Great Lakes and Ohio Valley on Wednesday.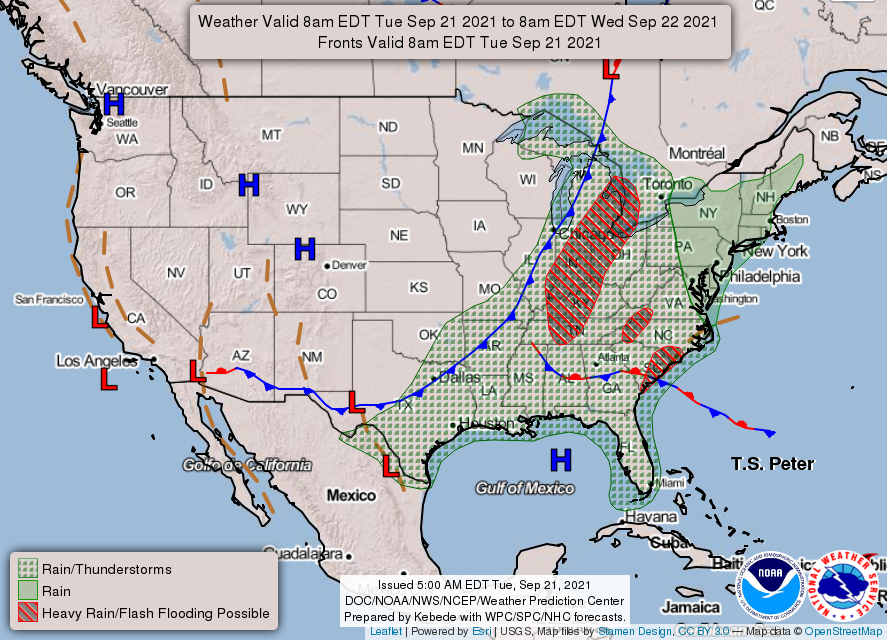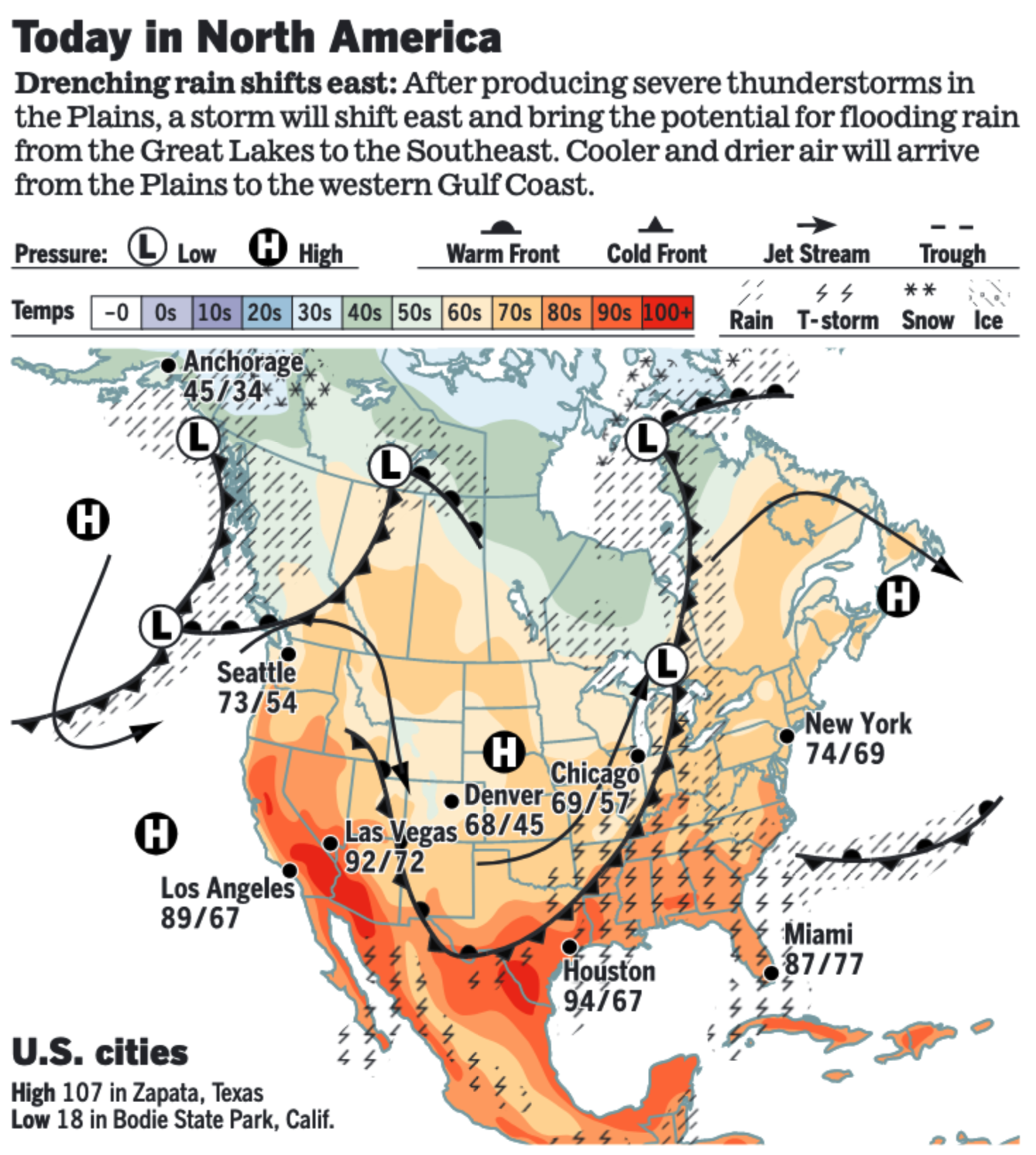 Items in Pro Farmer's First Thing Today include:
     • Grains lower, soybeans trying to rebound
     • Crop Progress & Condition Report highlights
     • Corn, soybean CCI ratings rise
     • Cordonnier warns his U.S. corn and soybean yield forecasts may slide
     • Gulf terminals slowly coming back online
     • Kazakhstan boosts grain crop forecast, but also trims export outlook
     • Cattle hold up well in the fact of economic jitters
     • Softer cash hog and pork prices to kick off the week  
---
POLICY FOCUS
---
— House Dems will combine a short-term government spending bill through Dec. 3 with a suspension of the debt limit, a package to hit the floor this week, Speaker Nancy Pelosi (D-Calif.) announced Monday. In a joint statement with Senate Majority Leader Chuck Schumer (D-N.Y.), Pelosi said they will suspend the debt limit until the end of 2022. From the White House, the president backed the congressional leaders' plan to hold the votes. "This is a bipartisan responsibility, just as it was under my predecessor," Biden said in a tweet. "Blocking it would be inexcusable."
     Despite repeated warnings that GOP senators will not go along with the linkage, Pelosi is daring Senate Minority Leader Mitch McConnell (R-Ky.) to sink the package and risk a government shutdown on Oct. 1. "Senate Republicans would support a clean continuing resolution (CR) that included appropriate disaster relief and targeted Afghan assistance. We will not support legislation that raises the debt limit," McConnell said from the Senate floor. "Since Democrats decided to go it alone, they will not get Senate Republicans' help with raising the debt limit. I've explained this clearly and consistently for over two months," McConnell said.
     Now what? The Treasury Department as if on cue warned that it will soon run out of cash on hand and will have to rely on incoming receipts to pay its obligations, now at $28.4 trillion. That could force the Treasury to delay or miss payments. "Doing so would likely precipitate a historic financial crisis," Treasury Secretary Janet Yellen wrote in the Wall Street Journal. (Wall Street analyst Wrightson ICAP moved its debt ceiling deadline back to Oct. 25-26.)
     Assuming the measure goes down to defeat in the Senate (there are enough votes in the House), Congress will need to pass a "clean" CR some time before October. Democrats could amend their reconciliation instructions to pass a debt limit increase without Republican support, but that appears unlikely, House Budget Chair John Yarmuth (D-Ky.) said yesterday.
     The House CR package is expected to keep most spending at current levels on a stopgap basis through the end of the year and to include supplemental funds for the aftermath of Hurricane Ida and other natural disasters, as well as money to help defray the evacuations from Afghanistan. Sen. John Kennedy (R-La.) told reporters if the CR includes sufficient disaster aid for Louisianans recovering from hurricanes, he'd likely vote in favor of it, despite having misgivings about it being tied to a debt limit suspension. But Kennedy was one of only four Senate Republicans not to sign an August letter promising to oppose any debt limit increase. "I do not think that there will be more than 10 Republican votes to pass the disaster relief," Kennedy said yesterday. He added, "I don't think it'll be more than a couple." Sen. Richard Shelby (R-Ala.), who also didn't sign the pledge, said yesterday he'd likely join his conference in opposing the debt limit increase.
— Budget reconciliation updates:
House Speaker Nancy Pelosi (D-Calif.) held a meeting with committee chairs and leaders in the Capitol Monday night and said decisions need to be made on the "overall direction" of the package — taxes, Medicare, Medicaid and more — in the next 48 hours. Many signal the deadline will not be reached.
In a "Dear Colleague" letter released Monday night, Pelosi insisted that the differences between House and Senate Democrats aren't as wide as many rank-and-file lawmakers believe. But she also warned her progressives to be prepared to be disappointed by the Senate. "Our legislation is being reviewed by the House and Senate Budget Committees for possible Byrd violation challenges in order to narrow our exposure in a Byrd bath,'' Pelosi wrote. "The House and Senate are already in agreement on most of the bills."
Democratic moderates got a concession from Pelosi who promised that the House wouldn't vote on a version of the reconciliation package that's more expensive than its Senate counterpart. "Hopefully, that will be at the $3.5 trillion number. We must be prepared for adjustments according to the Byrd rule and an agreed to number."
— Update on $1 trillion traditional infrastructure measure:
House Democrats won't be able to pass the bipartisan Senate-passe infrastructure bill until reconciliation is done, and that will take weeks if not months. Pelosi's deal with Rep. Josh Gottheimer (D-N.J.) to vote on infrastructure by Sept. 27 is more an Etch-A-Sketch promise.
"It will not pass," Rep. Pramila Jayapal (D-Wash.), chair of the Congressional Progressive Caucus, said Monday. Jayapal also said she was whipping against the infrastructure bill at this point. So, we are excited to vote for the infrastructure bill as soon as the reconciliation bill passes," Jayapal added. "The two have to go together. That was the deal made in the Senate. That was why the progressive senators voted for the infrastructure bill." According Jayapal, more than half of her liberal bloc is willing to vote against the bipartisan bill next Monday if it isn't accompanied by the party-line Democratic spending package — which will almost certainly not be done by then.
As for House Republicans voting for the infrastructure bill, House Minority Leader Kevin McCarthy (R-Calif.) said last night: "Before, there were some that were really looking at it [the bipartisan infrastructure bill.] Then after the Democrat mods collapsed, a lot of them said they weren't going to [vote for it] because it's viewed as one bill now. And so, they don't want to add another [$]5 trillion."
— Biden administration is raising the refugee admissions cap. For the government's budget year beginning Oct. 1, the cap will be 125,000 people, reversing a record-low ceiling of 15,000 set by the Trump administration. Meanwhile, the U.S. began deporting many of the thousands of Haitian migrants who have overwhelmed Del Rio, Texas.
— Durbin: Dems working on "Plan B, C and D" in their bid to include a pathway to citizenship for millions of Dreamers, TPS holders, farm workers and other undocumented immigrants in the $3.5 trillion human infrastructure/reconciliation package they are still putting together. Senate Majority Whip Dick Durbin (D-Ill.), who chairs the Judiciary Committee, said that Democrats will not seek to overturn the ruling by Senate Parliamentarian Elizabeth MacDonough on this issue. MacDonough issued a ruling on Sunday night that said Democrats can't include the immigration provisions in the reconciliation package because it would violate the Byrd Rule, which controls such legislation. Democrats would need 60 votes on the floor to overcome MacDonough's ruling. Asked if there was any chance that Democrats would seek to change Senate rules and overrule MacDonough, as some immigration advocates have urged them to do, Durbin said: "I don't believe that's realistic. The votes needed on the floor are not there. I hope I'm wrong, but I just don't think at this moment that that's a realistic approach." Regarding reforming immigration policy, Durbin said, "I have been at this for 20 years" (he's been in Congress for 38 years). "If I didn't have hope, I wouldn't be here."
— Still little change in CFAP 2, CFAP 1 data. Payouts approved under the Coronavirus Food Assistance Program 1 and 2 (CFAP 1, CFAP 2) were little changed according to data as of Sept. 19. CFAP 1 data shows payments totaling $10.6 billion while those under CFAP 2 were shown at $13.81 billion. USDA has announced that signup for CFAP 2 or modifications to previous applications for CFAP 2 will close Oct. 12.
---
TRADE POLICY
---
— USTR Tai tells U.K. counterpart trade deal still under review. A virtual meeting between U.S. Trade Representative (USTR) Katherine Tai and U.K. Secretary of State for International Trade Anne-Marie Trevelyan saw Tai indicate the review of the U.S./U.K. trade deal was "ongoing" to "evaluate how a potential agreement" could mesh with the Biden administration's agenda.
     The Biden administration has made clear that they are placing a low priority on inking new trade deals as they focus on the U.S. economy.
     Same signals. As has been a usual inclusion in discussions between Tai and various foreign counterparts, a readout of the session indicated Tai and Trevelyan talked about addressing "the shared challenges posed by the market distorting practices of China and other non-market economies."
     Meanwhile, U.K. Prime Minister Boris Johnson said the U.K. still wants to do the trade deal with the U.S. but said they "want a good free trade agreement, a great free trade agreement." He said U.S. negotiators were "pretty ruthless, and I would much rather get a deal that really works for the U.K. than get a quick deal."
---
ENERGY & CLIMATE CHANGE
---
— U.N. leader says the Glasgow climate summit faces a "high risk of failure." Secretary-General António Guterres said world leaders must take stronger measures to stem greenhouse gas emissions as U.N. researchers warn that global economies remain far behind in efforts to combat climate change.
— ConocoPhillips ticked up Monday ahead of the closing bell after the oil-and-gas company said it had agreed to buy all of Royal Dutch Shell's assets in the Permian Basin for about $9.5 billion in cash. It's the latest sign that Shell is accelerating its push toward producing cleaner energy, responding to concerns about climate change from investors and other stakeholders. Proceeds from the sale will be distributed to shareholders and will also help fund the company's "energy transition," Shell said.
— Additional meetings again added for proposed RFS levels at OMB. Changes continue to be made in the schedule for meetings at the Office of Management and Budget (OMB) relative to the proposed Renewable Fuel Standard (RFS) levels from EPA. OMB had removed an Oct. 7 meeting with the Northwest Ohio Building and Constructions Trade Council, but that meeting is now back on the agency's schedule for Sept. 27. Another session on Sept. 28 has been added with the Pennsylvania Chamber of Business and Industry.
---
LIVESTOCK, FOOD & BEVERAGE INDUSTRY
---
— U.K. reports 'classical' BSE case. A single case of "classical" BSE has been confirmed on a farm in Somerset in England, according to the U.K. Animal and Plant Health Agency (APHA). The discovery could set back U.K. efforts to have its BSE status upgraded to the optimum level of "negligible" risk versus its current rating of "controlled" risk. It is not clear if any trade impacts will come from the discovery.
---
CORONAVIRUS UPDATE
---
— Summary: Global cases of Covid-19 are at 229,132,907 with 4,701,332 deaths, according to data compiled by the Center for Systems Science and Engineering at Johns Hopkins University. The U.S. case count is at 42,290,027 with 676,092 deaths. The Johns Hopkins University Coronavirus Resource Center said that there have been 386,237,881 doses administered, 181,728,072 have been fully vaccinated, or 55.4% of the U.S. population.
— U.S. to lift travel restrictions for fully vaccinated foreigners. The Biden administration is targeting early November for foreign travel to resume for the first time in more than a year. "This is a major turning point in the management of the virus and will accelerate the recovery of the millions of travel-related jobs that have been lost due to international travel restrictions," Roger Dow, the head of the U.S. Travel Association, said in a statement.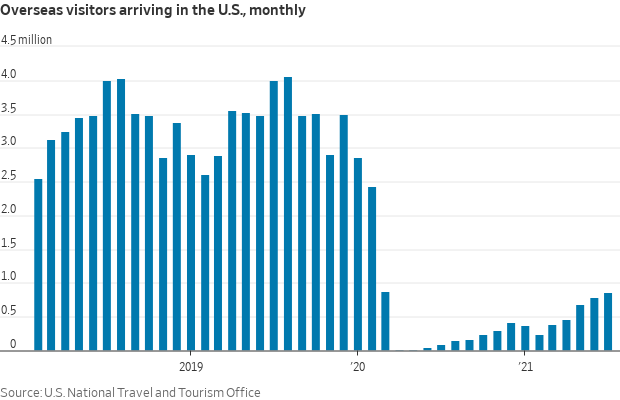 ---
POLITICS & ELECTIONS
---
— Justin Trudeau projected to win re-election as Canadian prime minister. The Liberal leader is forecast to secure a third term but predicted to fall short of majority government. Trudeau's move was intended to capitalize on high approval ratings for his handling of the pandemic, but many voters apparently saw political opportunism instead, according to the New York Times.
— Russia's ruling party won control of two-thirds of the seats in the Russian Parliament, a showing that will allow the government to enact changes to the constitution and bolsters the power of President Vladimir Putin. With 99.7% of ballots counted, the pro-Kremlin United Russia party had won around 50% of votes in the election, according to Russia's electoral commission on Monday. The result also reflected the weakness of the opposition led by jailed Kremlin critic Alexei Navalny, which claimed that the vote was neither free nor fair.
---
OTHER ITEMS OF NOTE     
---
— Biden administration asks Pentagon to send military to southern border, to help regain control after thousands of Haitian migrants swarmed over the Rio Grande into Texas. The admission was the first time Homeland Security Secretary Alejandro Mayorkas has confirmed DHS is seeking the Pentagon's help. It comes amid a crisis in south-central Texas, where at least 15,000 migrants illegally crossed by the Del Rio-Acuna International Bridge late last week. Single adults are likely to be flown to Haiti, but families will be released into the country.
— Iowa grain cooperative hit by cyberattack linked to ransomware group. An Iowa grain co-op said it was hit with a cyberattack that security researchers are linking to newly launched ransomware group BlackMatter, which the researchers said demanded $5.9 million to unlock the organization's data. Fort Dodge, Iowa-based New Cooperative Inc. said Monday that it took its computer networks down after some of its devices and systems recently were hacked. The organization notified law enforcement and is working with data-security experts to investigate what happened, it said. New Cooperative is working to transport grain to livestock and poultry farms that rely on it for feed supplies.
---
EVENTS AND REPORTS
---
Tuesday, September 21
· Blueberries and agricultural fairs. House Agriculture Committee markup of HRes 271, Recognizing the importance of the blueberry industry to the United States and supporting the designation of July 2021 as National Blueberry Month; and HR 2424, the "Agricultural Fairs Rescue Act."
· Carbon border adjustments. Information Technology and Innovation Foundation (virtual discussion on "Carbon Border Adjustment Mechanisms and Climate-Tech Innovation: A Happy Coupling?"
· China issues. Congressional-Executive Commission on China virtual hearing on "China's Environmental Challenges & U.S. Responses."
· Digital trading platforms. Washington Post Live virtual "Path Forward" discussion with SEC Chair Gary Gensler on "the cryptocurrency landscape, the growth in digital trading platforms and his call for more stringent financial disclosures around sustainability."
· U.S. Coast Guard. Coast Guard holds a meeting of the National Navigation Safety Advisory Committee, Sept. 21-22, including matters relating to maritime collisions, rammings, and groundings; Inland Rules of the Road; International Rules of the Road; Navigation regulations and equipment; Routing measures; Marine information; and Aids to navigation systems.
· Spectrum policy. National Telecommunications and Information Administration virtual symposium on national spectrum policy development and the evolution of new techniques and technologies for federal spectrum management, including spectrum sharing.
· U.S. Supreme Court. Georgetown University Law Center virtual media briefing on "Anticipating the Supreme Court's October Term 2021."
· Energy policy. Business Council for Sustainable Energy sponsors virtual 2021 National Clean Energy Week Policy Makers Symposium Sept. 21-23, with keynote remarks from Jigar Shah, director of the Energy Department's Loan Programs Office.
· Security threats. Senate Homeland Security and Governmental Affairs Committee hearing on "Threats to the Homeland: Evaluating the Landscape 20 Years After 9/11."
· Afghanistan. German Marshall Fund of the United States virtual discussion on "Afghanistan's Humanitarian Future: What's Next?"
· Access to personal financial data. House Financial Services Task Force on Financial Technology Subcommittee hearing on "Preserving the Right of Consumers to Access Personal Financial Data."
· Nominations hearing. Senate Energy and Natural Resources Committee hearing on Laura Daniel-Davis to be an assistant Interior secretary for land and minerals management; Camille Touton to be commissioner of reclamation; and Sara Bronin to be chairman of the Advisory Council on Historic Preservation.
· SBA nominee vote. Senate Small Business and Entrepreneurship Committee markup to vote on the nomination of Dilawar Syed to be deputy administrator of the Small Business Administration.
· Treasury, Commerce nominations. Senate Banking, Housing and Urban Affairs Committee hearing on the nominations of Alan Estevez to be Commerce undersecretary for industry and security; Thea Rozman Kendler to be an assistant Commerce secretary; Alexia Marie Gabrielle Latortue to be an assistant Treasury secretary; and Graham S. Steele to be an assistant Treasury secretary.
· Air travel and COVID. Washington Post Live virtual discussion on how American Airlines is keeping its passengers and employees safe, its efforts to address the environmental cost of flying and the future of the travel industry.
· Energy innovation. U.S. Chamber of Commerce virtual discussion on "Leading by Example: Business at the Forefront of Energy Innovation and Sustainability."
· Big data and consumers. Senate Judiciary Competition Policy, Antitrust, and Consumer Rights Subcommittee hearing on "Big Data, Big Questions: Implications for Competition and Consumers."
· Social Security. Senate Finance Social Security, Pensions, and Family Policy Subcommittee hearing on "Policy Options for Improving SSI (Supplemental Security Income)."
· Tourism and trade. Senate Commerce, Science and Transportation Tourism, Trade, and Export Promotion Subcommittee hearing on "Legislative Solutions to Revive Travel and Tourism and Create Jobs."
· Economic reports. Housing Starts | Current Account 
     · Energy report. API weekly U.S. oil inventory report
---