On Key Issues, House Dems Have to Put Up, But They Won't Shut Up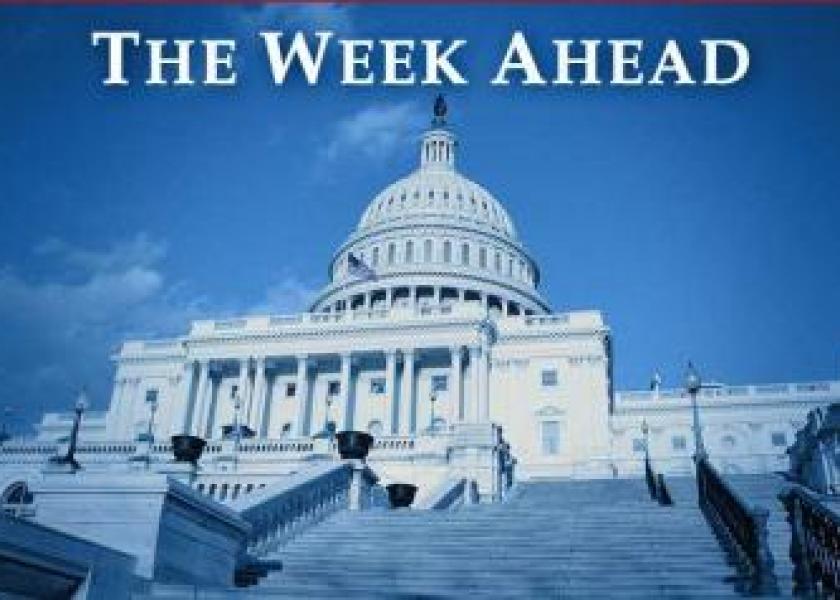 Another RFS rumor | CR | Debt limit | FOMC | Carbon markets | Food summit
---
Washington Focus
---
Both the House and Senate are in session and some key deadlines are near.      The September "work period" runs until the Columbus Day break that begins on Oct. 1, according to the current schedule.
The House is expected to vote on a stopgap spending measure this week that could include the debt ceiling.
     In a letter to lawmakers on Friday, House Majority Leader Steny Hoyer (D-Md.) said the House will vote on the debt limit and on a continuing resolution (CR) to fund the government. He did not say whether the two issues would be joined as one bill.
     Background. The nation's debt level has reached $28.4 trillion. Treasury Secretary Janet Yellen has been warning Congress for months about the consequences of not raising the limit. The U.S. technically reached its limit in August, when a two-year reprieve Congress passed in 2019 expired. The Treasury Department has been moving things around to cover costs since then. It has said it will no longer be able to take such steps at some point in October, creating a deadline for Congress.
     The last time lawmakers voted to raise the debt limit, it was a bipartisan affair. They raised the limit for two years instead of a dollar amount as in many previous votes (it's called a suspension of the debt limit). In the past 50 years, according to the Treasury Department, Congress has acted 78 times to raise the debt limit — 49 times under Republican presidents and 29 times under Democratic presidents.
     Likely Democratic strategy: Republicans oppose a debt limit increase, but they could be lured into approving it if Democrats include emergency funding that will help many states recover from catastrophic summer flooding and hurricane damage as well as the devastation caused by wildfires. The Biden administration has requested $24 billion in emergency aid for those disasters, and he's also seeking an additional $6.4 billion to help Afghan refugees resettle in the United States. House Democrats could pass the measure without GOP support with a simple majority vote, but the Senate filibuster rule means 10 Republicans would have to join all Democrats in the upper chamber to clear the measure for Biden's signature. Senate Minority Leader Mitch McConnell (R-Ky.) warned Senate Republicans would vote in unison against a debt limit increase, even if linked to federal funding and disaster aid. But several GOP lawmakers have signaled they'll consider voting for the debt limit increase if it is tied to disaster aid, but the measure may still fall short of the 10 needed to pass the bill.
     "We have several options for raising the debt ceiling, which is absolutely, absolutely mandatory," Rep. John Yarmuth (D-Ky.), chair of the House Budget Committee, said while appearing on Fox News Sunday. "We've never defaulted on our debt. This is really kind of a ridiculous position to be in; we're the only country in the world that has a debt ceiling that works like this."
Biden administration warns states that federal debt crisis might trigger recession. The Biden administration has issued a warning that the pending federal debt crisis might trigger an economic recession that would affect economic growth and trigger job losses across the United States. "Hitting the debt ceiling could cause a recession. Economic growth would falter, unemployment would rise, and the labor market could lose millions of jobs," the White House said in a letter (PDF Link) to state and local governments that was released Sept. 17.
     Arguing that Congress needs to raise or suspend the U.S. debt ceiling, the administration said the debt crisis may affect the country's recovery after the CCP (Chinese Communist Party) virus pandemic. In July, Congress missed its deadline to suspend or raise the debt limit, prompting several recent warnings from Treasury Secretary Janet Yellen that her agency will exhaust its cash reserves. "The U.S. economy has just begun to recover from the pandemic and a manufactured debt ceiling crisis would threaten the gains we've made and the future recovery," the White House said.
Hoyer reaffirmed the House will vote on the Senate-passed bipartisan infrastructure bill on Sept. 27. In a letter to lawmakers previewing this month's legislative session, Hoyer said the House will vote on the bipartisan infrastructure bill the last week of September "pursuant to the rule passed in August."
     But the Sept. 27 date could change. House Majority Whip Jim Clyburn (D-S.C.) said on CNN's State of the Union that while Democratic leadership's goal is to still hold the Sept. 27 infrastructure vote they promised moderates, "there is always a possibility the vote is going to be delayed."
The more you want to spend, the more some liberal lawmakers want a part of it. Rep. Alma Adams (D-N.C.) has threatened not to back her party's forthcoming $3.5 trillion social spending plan unless the package includes more federal aid for historically Black colleges and universities (HBCUs). Meanwhile, Reps. Cori Bush (D-Mo.) and Alexandria Ocasio-Cortez (D-N.Y.) are calling on party leaders to add unemployment insurance reforms to their forthcoming $3.5 trillion spending plan.
     Clyburn said on Sunday the "real expense" would be if government did not address the issues the package aims to fund. "We cannot continue with this pandemic. We've got to spend the money that is necessary to get beyond it," Clyburn said on CNN's State of the Union. "Our leadership is on this. We are working with everybody in all corners of our party. They're trying to get to a common ground on these issues, and I feel very comfortable that we're gonna get there," Clyburn said. Sen. Joe Manchin (D-W.Va.) has previously said he would support a spending bill with a far lower price tag of $1.5 trillion at most. Progressives, meanwhile, say they will not go lower than $3.5 trillion. "We are going to find common ground. You may want to call it compromise, but that's what I call it — finding common ground," Clyburn said.
A House Agriculture Committee hearing on carbon markets will be held Thursday morning. It will be interesting to see if any witness can define how to measure and price carbon. Recent conferences on the topic have been more boring than watching the Baltimore Orioles.  
Nominations. The Senate Banking Committee will consider several nominations on Tuesday. Graham Steele, a former aide and longtime staffer to current panel chair Sen. Sherrod Brown (D-Ohio), is expected to get a favorable hearing to be an assistant secretary of the Treasury Department, a key financial regulation post.
On Thursday, the United Nations will hold its first-ever Food Systems Summit, focused on how the global food system can achieve sustainable development goals by 2030.
     President Joe Biden plays host to international leaders as the U.N. General Assembly meets in New York.
On Friday, Kansas City Southern hosts a special shareholder meeting to vote on a proposed merger with Canadian Pacific Railway.
On the meeting front, the National Association of State Departments of Agriculture will have a virtual meeting online and in Louisville, Kentucky. Speakers include USDA Secretary Tom Vilsack (Wednesday), EPA Administrator Michael Regan (Monday) and U.S. Trade Representative Katherine Tai (Tuesday).
As for the rumor-happy biofuels industry, some predict an EPA announcement on the Renewable Fuels Program (RFS) could come this week, or no later than Sept. 27. The industry is batting about 1 in 100 in the timing of such rumors.
---
Economic Reports for the Week
---
The week's highlight will be the Federal Reserve monetary policy decision on Wednesday. A no change decision is widely expected with asset purchases maintained at $120 billion per month despite decent activity data and elevated inflation readings that are currently running at double the Fed's 2% target. Instead, most say the Fed is likely to retain a cautious stance with the resurgence of Covid a clear concern while Fed Chair Jerome Powell has made it clear he wants to see more progress on the employment aspect of their mandate. A majority of economists expect the first change in bond purchases to take place in December.
Monday, Sept. 20
National Association of Home Builders releases its Housing Market Index for September. Economists forecast a 73 reading, two points below August's figure, which was the lowest in more than a year.   
Tuesday, Sept. 21
Census Bureau reports on new residential construction for August. Consensus estimate is for a seasonally adjusted annual rate of 1.55 million housing starts, 1% higher than the July level. Housing starts are down from their post–financial crisis peak of 1.725 million, reached in March of this year. 

Q2 Current Account
Wednesday, Sept. 22
MBA Mortgage Applications

FOMC announces its monetary-policy decision. The Federal Reserve is likely to keep the federal-funds rate unchanged at near zero but might signal that it will pare its asset purchases later this year.

National Association of Realtors reports existing-home sales for August. Expectations are for a seasonally adjusted annual rate of 578,000 homes sold, down 3.5% from July's 599,000.

Bank of Japan (BOJ) announces its monetary-policy decision. The BOJ is widely expected to keep its key short-term interest rate unchanged at minus 0.1%, as Tokyo and other regions remain in a state of emergency through the end of September due to the Covid-19 Delta variant.
Thursday, Sept. 23
Jobless Claims

Conference Board releases its Leading Economic Index for August. Economists forecast a 0.5% month-over-month rise, after a 0.9% increase in July. The Conference Board currently projects 6% gross-domestic-product growth for 2021, and 4% for 2022.

Chicago Fed National Activity Index

PMI Composite Flash

KC Mfg Index

Fed Balance Sheet

Money Supply   
Friday, Sept. 24
New Home Sales

Federal Reserve Listens. Fed Chairman Jerome Powell delivers opening remarks at the Federal Reserve Board virtual "Fed Listens" discussion with representatives of organizations that include nonprofits, small businesses, unions, the hospitality and entertainment industries, and the education sector "to share perspectives on the economic recovery from the COVID-19 pandemic." Fed Governors Michelle Bowman and Vice Chair Richard Clarida will moderate a discussion.

Federal Reserve. Cleveland Fed President Loretta Mester to deliver remarks.
---
Key USDA & international Ag & Energy Reports and Events 
---
Friday brings another USDA update on food prices. Like USDA's farm income projections, most expect another rise in food price forecasts.
Monday, Sept. 20
     Ag reports and events:
Export Inspections

Crop Progress

Milk Production

China's third batch of country-wise August trade data, including soy, corn and pork imports

Monthly MARS bulletin on crop conditions in Europe

Malaysia Sept. 1-20 palm oil exports

Holiday: China, Japan, South Korea
Energy reports and events:
China's 3rd batch of August trade data, including crude oil country-by-country details
Tuesday, Sept. 21
     Ag reports and events:
EU weekly grain, oilseed import and export data

Holiday: China, South Korea
     Energy reports and events:
API weekly U.S. oil inventory report
Wednesday, Sept. 22
     Ag reports and events:
Broiler Hatchery

Chickens and Eggs

Cold Storage

Holiday: Hong Kong, South Korea
     Energy reports and events:
EIA weekly U.S. oil inventory report

U.S. weekly ethanol inventories

Genscape weekly crude inventory report for Europe's ARA region
Thursday, Sept. 23
     Ag reports and events:
Weekly Export Sales

Cotton Ginnings

Livestock Slaughter

Globoil India — international vegetable oil conference, day 1

UN Food Systems Summit

Port of Rouen data on French grain exports

Holiday: Japan
     Energy reports and events:
EIA natural gas storage change

Russian weekly refinery outage data from ministry

Insights Global weekly oil product inventories in Europe's ARA region
Friday, Sept. 24
     Ag reports and events:
CFTC Commitments of Traders report

Peanut Prices

Food Price Outlook

Cattle on Feed

Hogs and Pigs

Poultry Slaughter

Turkeys Raised

Globoil India — international vegetable oil conference, day 2; day 3 on Saturday

FranceAgriMer weekly update on crop conditions
     Energy reports and events:
Baker Hughes weekly U.S. oil/gas rig counts
---