IRS Issues Child Tax Credits to Bank Accounts of About 39 Million Households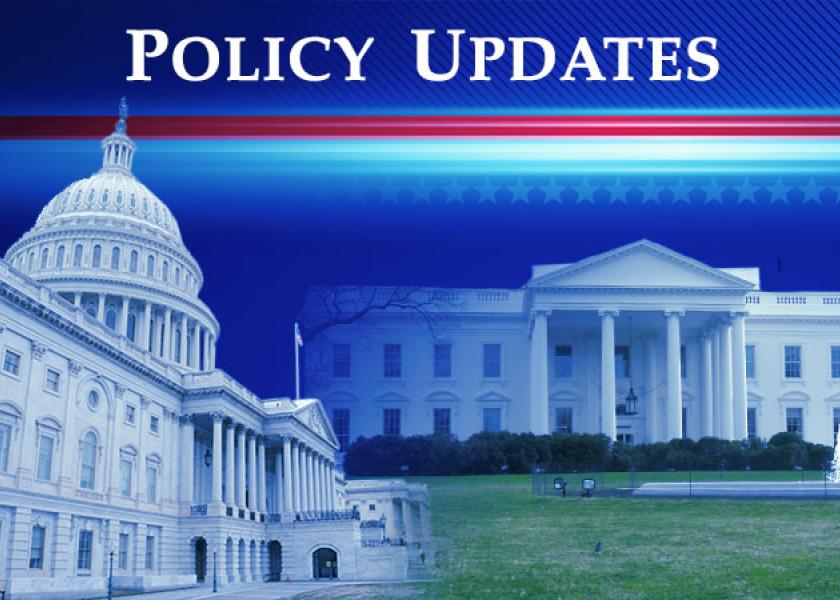 Advice to farmers on carbon credit trading: wait
---
In Today's Digital Newspaper
---
Market Focus:
• IRS issues monthly child tax credits to bank accounts of about 39 million households
• U.S. jobless claims, benefits payments fall to pandemic lows
• Fed Chair Powell continues to say inflation is transitory; private analysts disagree
• U.S. producer price index posted biggest increase in at least a decade in June
• Fed's Beige Book notes inflationary pressures
• OPEC reaches agreement with oil producers to boost global crude supplies
• World's largest contract semiconductor maker: chip shortage to ease
• Average price world-wide to ship 40-foot container overseas: $8,795.77 as of July 8
• Only about 39% of container ships on time arriving at ports in May
• Digital euro
• Ag demand update
• Light profit-taking overnight, but HRS wheat is higher on production concerns
• Another slowdown in crush expected for June  
• Strategie Grains bumps up EU soft wheat and barley crop and export forecasts
• Favorable weather lifts Argentine wheat seedings to a 20-year high
• Low water levels on Argentina's Parana River still causing headaches
• Cash cattle prices pull back
• Cash hog bids still climbing
Policy Focus:
• Biden seeks Democratic support for go-it-alone massive human infrastructure spending
• Justice requires divestiture in merger of ag equipment component makers
China Update:
• Biden summit moves closer as senior U.S. diplomat visits China next week
• China's economy expanded 7.9% in second quarter, slowdown from previous quarter
• Chinese pork production hits seven-year high in Q2
• U.S. Senate passes bill to ban all products from China's Xinjiang
• Subdued export sales activity to China in most recent week with reductions for corn, pork
Energy & Climate Change:
• 25% to 30% of global passenger car sales will be electric by 2030
• Senate Democrats moving to impose tariffs on carbon-intensive imports
• Lawmakers reintroducing bipartisan year-round E15 sale bill
Livestock, Food & Beverage Industry Update:
• Eating is getting costlier for Americans
• Beyond Meat launches sales in JD.com online store in China
Coronavirus Update:
• Drug-overdose deaths in the U.S. rose nearly 30% in 2020
Politics & Elections:
• Texas sues Biden for 'illegal' pause on border wall
Congress:
• House Ag panel advances rural broadband measure
Other Items of Note:
• Bolsonaro's health
 
---
MARKET FOCUS
---
Equities today: Global stock markets were mixed to weaker overnight. The U.S. Dow opened just over 100 points lower. China's Shanghai Composite gained 1% even as Beijing reported slowing economic growth. Late last week, China said it would lower this reserve ratio, effectively freeing up $154 billion for banks to lend. Elsewhere in the region, Japan's Nikkei 225 dropped 1.2%, and Australia's S&P / ASX 200 fell 0.3%.
     U.S. equities yesterday: The Dow closed up 44.44 points, 0.13%, at 34,833.23. The Nasdaq was down 32.70 points, 0.22%, at 14,644.95. The S&P 500 rose 5.09 points, 0.12%, at 4,374.30.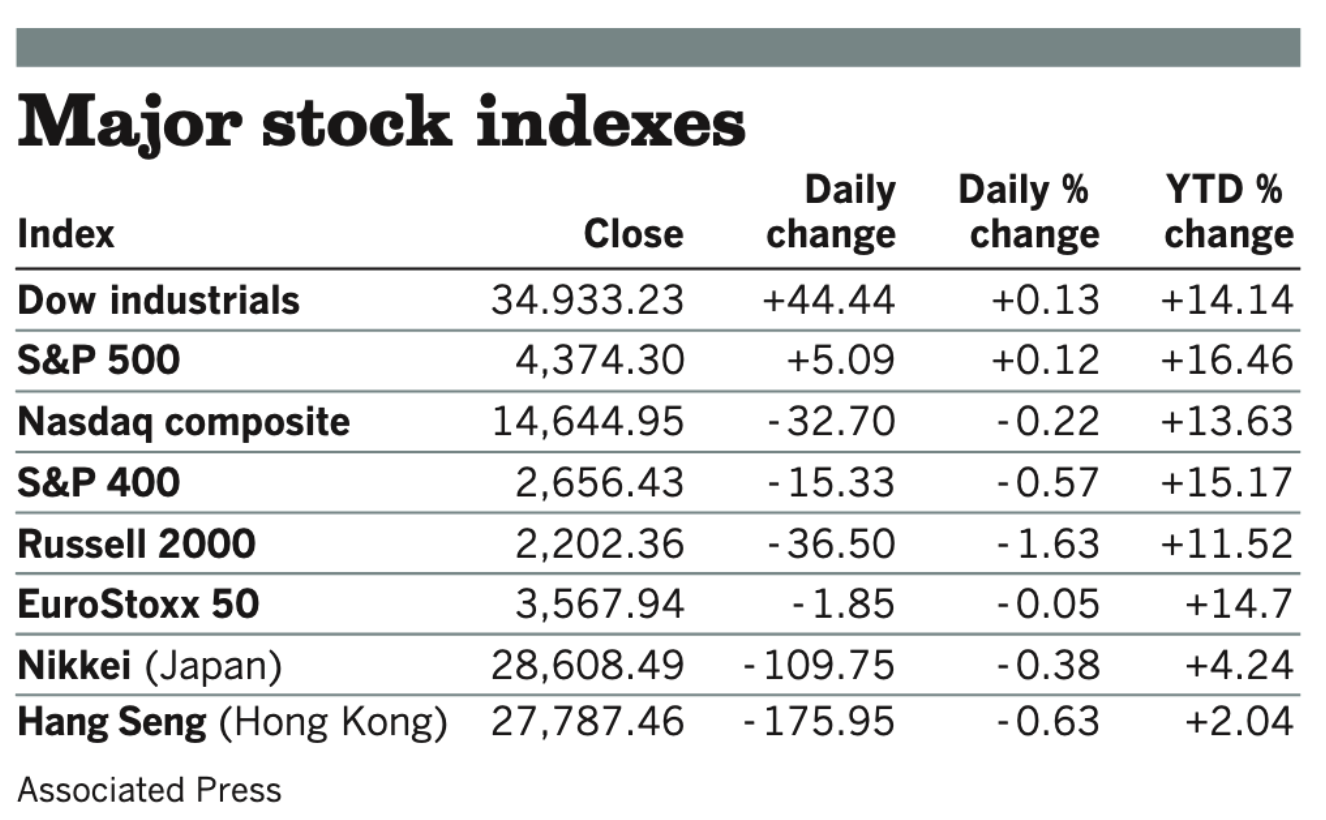 On tap today:
     • U.S. jobless claims are expected to fall to 360,000 in the week ended July 10 from 373,000 a week earlier. Follow our coverage here. (8:30 a.m. ET) Update: Jobless claims declined to 360,000 in the week ended July 10 from a seasonally adjusted 386,000 a week earlier. Last week's applications count marked the lowest level for claims since March 2020, the month the pandemic hit the U.S. economy. The four-week moving average, which can smooth out volatility in the weekly figures, fell to 382,500, also a pandemic low.
     • New York Fed's Empire State manufacturing survey is expected to tick down to 17.3 in July from 17.4 a month earlier. (8:30 a.m. ET)
     • Philadelphia Fed's manufacturing survey is expected to fall to 27 in July from 30.7 a month earlier. (8:30 a.m. ET)
     • U.S. import prices for June are expected to increase 1% from the prior month. (8:30 a.m. ET)
     • USDA Weekly Export Sales report, 8:30 a.m. ET.
     • U.S. industrial production for June is expected to rise 0.6% from the prior month. (9:15 a.m. ET)
     • Federal Reserve Chairman Jerome Powell testifies on monetary policy before the Senate Banking Committee at 9:30 a.m. ET.
     • Chicago Fed President Charles Evans speaks to the Rocky Mountain Economic Summit at 11 a.m. ET.
     • President Biden holds a bilateral meeting with German Chancellor Angela Merkel. They have a joint press conference at 4:15 p.m. ET.
Federal Reserve Chairman Jerome Powell told lawmakers on Wednesday that the central bank wouldn't be in a hurry to start paring monthly asset purchases and that the economy "is still a ways off" from the Fed's goals. He also said the Fed wouldn't hesitate to raise interest rates to keep inflation under control, while repeatedly emphasizing that he still expects price pressures to ease later this year. Inflation "has been higher than we've expected and a little bit more persistent," Powell said in a semiannual report Wednesday to House lawmakers. His appearance came a day after the government reported the fastest monthly rise in consumer prices in 13 years. He is slated to testify before the Senate Banking Committee today.
     Several lawmakers pressed Powell on hearing from constituents that price pressures are clearly impacting them on several fronts. The Fed has also indicated that they are willing to let inflation run above their 2% goal "for some time," a period that lawmakers asked Powell to define. His response: "It depends."
     Powell has insisted the central bank cannot be locked into a set path on monetary policy and must have the flexibility to address situations as they arise. But he also made clear that the Fed is not going to shift policy at this point to respond to the current inflation situation. "You wouldn't react to something that is likely to go away," he said.
     Powell also indicated that the Fed is not ready yet to start tapering its bond purchases that have been taking place at $120 billion per month, indicating that discussion will continue over the next several Fed meetings.
U.S. producer price index posted its biggest increase in at least a decade in June, more evidence of inflation pressures pushing through the economy. The PPI, a measure of the prices businesses receive for their goods and services, rose 7.3% from a year earlier, the largest jump in a data series dating back to November 2010. A longer-lived but narrower index, which measures prices for finished goods and the materials that go into them, has recently reached levels last seen in 2008.
     Around 60% of the higher prices at the wholesale level reflected services. However, wholesale inflation figures when energy, food and services are taken out of the equation came in below expectations on both a monthly and annual basis. Costs for services have increased in recent months as Covid vaccinations have increased and consumers have been going out to eat, travel and book hotels and flights. Wholesale food prices increased 0.8% in June, led by higher costs of beef, pork and chicken. Energy costs also rose as higher prices for natural gas and electricity added to costs for businesses. While higher wholesale prices do not always translate into higher consumer prices, note the Fed's Beige Book indicated that businesses were having more success in passing along those higher costs.
     The Fed, in its latest Beige Book report (link) of business anecdotes from around the country, cited concerns about inflationary pressures lingering for a while. "While some contacts felt that pricing pressures were transitory, the majority expected further increases in input costs and selling prices in the coming months," the report said. (See next item for more details regarding the Beige Book.)
     "Chairman Powell is too optimistic. The underlying message is that inflationary pressures are building and that is not going to go away conveniently after a few months," said Sung Won Sohn, a professor of finance and economics at Loyola Marymount University in Los Angeles.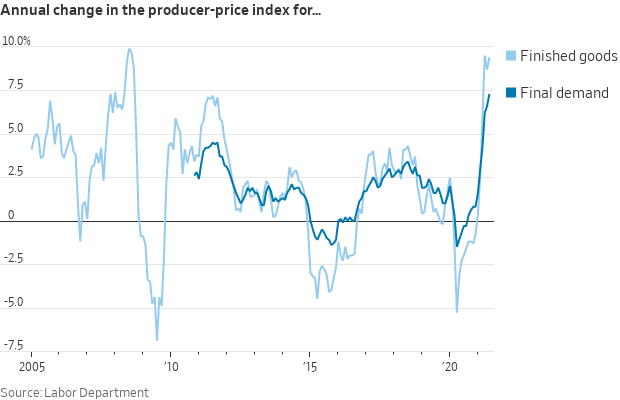 Fed's Beige Book notes inflationary pressures. The Federal Reserve's Beige Book report (link) released Wednesday acknowledged price hikes being seen in the U.S. economy. The recap noted that the "growth in input prices is continuing to outpace that of finished goods and services." Businesses told the Fed, however, they were seeing an "improved ability to raise final selling prices to consumers, especially in the retail, wholesale trade, and manufacturing sectors, and some cited plans to increase selling prices in coming months."
     Still, the report indicated there are mixed views on inflation. "While some contacts felt that pricing pressures were transitory, the majority expected further increases in input costs and selling prices in the coming months," the report said.
     Labor issues were also flagged in the update issued two weeks before the conclusion of the next Federal Open Market Committee (FOMC) meeting. "All Districts noted an increased use of non-wage cash incentives to attract and retain workers," the report said. "Firms in several Districts expected the difficulty finding workers to extend into the early fall."
First monthly payments of the child tax credit will hit bank accounts today — helping some families greatly but bringing the possibility of unexpected tax bills next year. The IRS is sending the first round of payments today (July 15). Additional payments will follow each month through the end of the year. At this point, the payments will not carry over into 2022, although President Biden and many Democrats want to extend them beyond this year.
     Details: For most people, the combined total of the six monthly payments will equal 50% of the child tax credit they're expected to qualify for on their 2021 tax return. They'll claim the other half when they file their 2021 return next year. (The monthly child tax credit payment amounts won't include the $500 credit available for older children, elderly parents, and other dependents.) For 2021 only, the child tax credit is increased from $2,000 for each child age 16 or younger to $3,600 per child for kids who are 5 years old or younger and $3,000 per child for kids 6 to 17 years of age. That translates into a maximum monthly payment of up to $300 for each child under age 6 and up to $250 for each child ages 6 through 17. The overall credit is subject to certain phase-out rules, so families with higher incomes won't receive that much or could be denied the credit altogether.
World's largest contract semiconductor maker said it expects the chip shortage hampering car makers to start easing this quarter. Taiwan Semiconductor Manufacturing (TSMC) said it is on track to produce about 60% more of the microcontrollers used in cars than it did last year. But the broader chip shortage could persist until 2022, it added. Pressed by U.S. and European auto makers to give priority to their orders, TSMC negotiated with other clients to free capacity. Auto-chip revenue was up 12% in the second quarter, though it represented just 4% of overall sales; smartphone-chip revenue, representing 42% of sales, was down 3%.
Market perspectives:
     • Outside markets: The U.S. dollar index was higher ahead of a spate of economic updates, with the euro slightly weaker against the greenback. The yield on the 10-year U.S. Treasury note has moved lower to trade under 1.33%, with a mostly lower yield pattern in global government bond yields. Gold and silver futures are slightly higher ahead of U.S. economic reports, with gold trading around $1,826 per troy ounce and silver around $26.33 per troy ounce.
     • Digital euro. "The Governing Council of the European Central Bank has decided to launch the investigation phase of a digital euro project," the central bank announced in a press release. "Our work aims to ensure that in the digital age citizens and firms continue to have access to the safest form of money, central bank money." The investigation phase will last 24 months and aim to address key issues regarding design and distribution.

     • OPEC members agreed to increase what the UAE can eventually pump, as part of an agreement to boost global oil supplies.
     • Crude oil futures are under pressure ahead of U.S. trading on reports of an agreement between Saudi Arabia and United Arab Emirates (UAE) allowing the UAE to increase its oil output. U.S. crude was trading around $71.90 per barrel and Brent around $73.65 per barrel. Futures were lower in Asian action, with U.S. crude down 73 cents at $72.40 per barrel and Brent down 71 cents at $74.05 per barrel.
     • Average price world-wide to ship a 40-foot container overseas reached $8,795.77 as of July 8, according to Drewry Shipping Consultants, which is up 333% from a year earlier.
     • Only about 39% of container ships around the world were on time arriving at ports in May, according to Sea-Intelligence, down dramatically from historic norms, and the delays extend into domestic distribution channels. Business surveys show a massive slowdown in supplier delivery times in recent months, boosting inventory carrying costs for suppliers while costing buyers lost sales. On the commodity side, USDA says there were shortages of available trucks from 18 of 23 specialty crops markets in the past week. Experts see little chance of relief this year.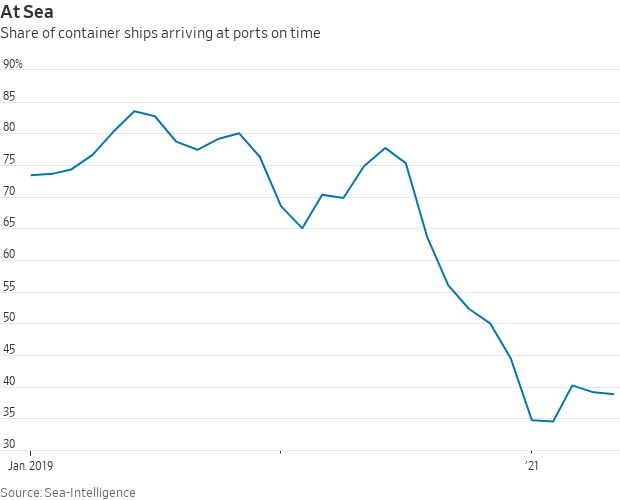 • Ag demand: Japan bought 62,300 MT of food-quality wheat from the U.S. and 56,611 MT of the grain from Canada in a regular tender. Egypt's state grains buyer bought 180,000 MT of wheat from Romania yesterday.
     • NWS weather outlook: Heavy rain and potential flooding for parts of the Central U.S. and the Desert Southwest... ...Heat wave across the western U.S. abates through the end of the week; some additional hot temperatures possible beginning this weekend... ...Severe weather possible across the Upper Mississippi Valley and Upper Midwest. (For N.D. and Minnesota, temps are forecasted to be over 105 for almost a week to 10 days.)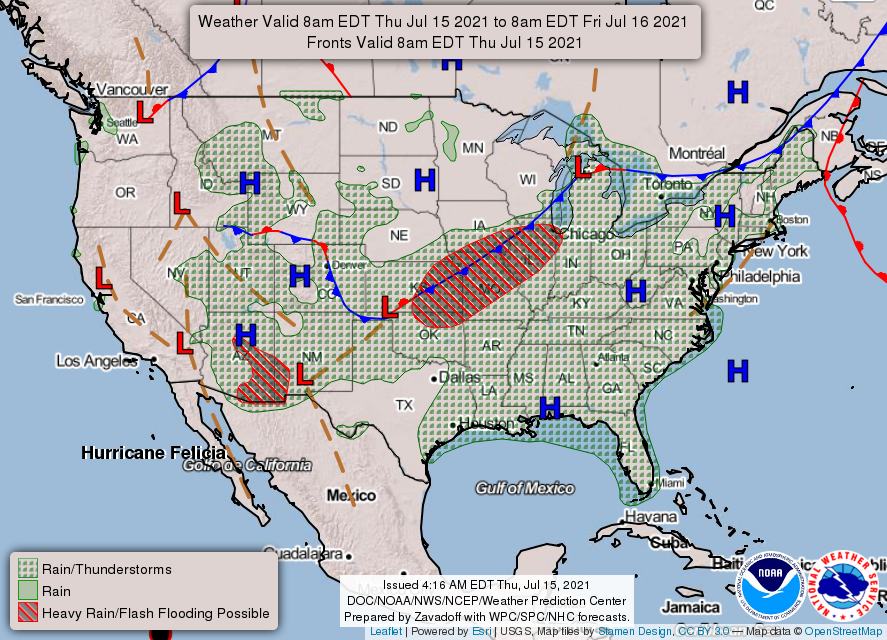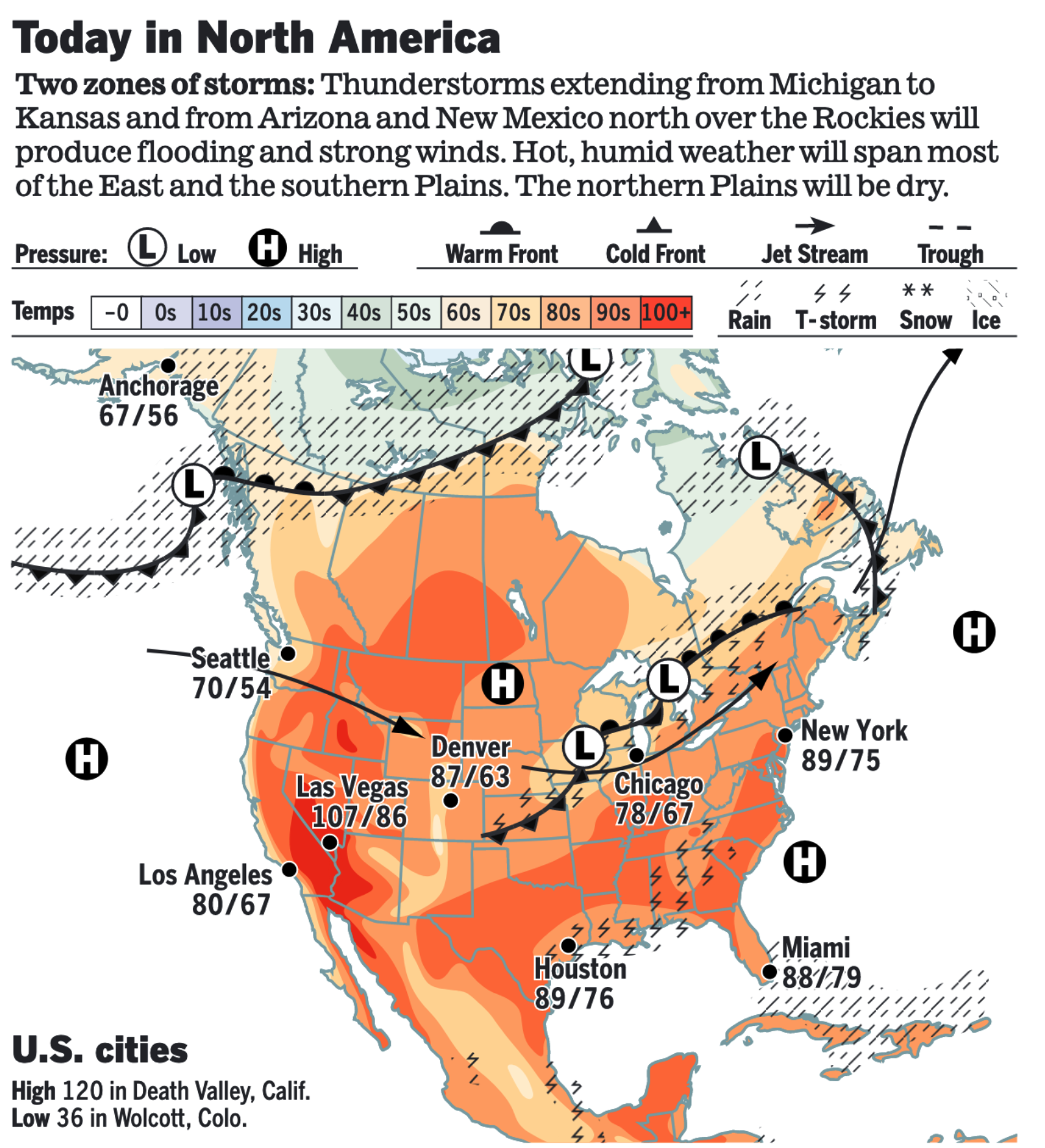 Items in Pro Farmer's First Thing Today include:
     • Light profit-taking overnight, but HRS wheat is higher on production concerns
     • Another slowdown in crush expected for June  
     • Strategie Grains bumps up EU soft wheat and barley crop and export forecasts
     • Favorable weather lifts Argentine wheat seedings to a 20-year high
     • Low water levels on Argentina's Parana River still causing headaches
     • Cash cattle prices pull back
     • Cash hog bids still climbing
---
POLICY FOCUS
---
— Biden tries to garner Democratic support for go-it-alone massive human infrastructure spending. President Joe Biden visited Capitol Hill on Wednesday a day after a group of Democrats said their social program bill, which Democrats plan to enact on a strict party-line vote, would total $3.5 trillion. Added to the approximately $600 billion earmarked for "hard infrastructure" that Biden hopes to enact on a bipartisan basis, the whole package would amount to $4.1 trillion in new spending over a decade. "We're going to get this done," Biden said as he arrived for the Senate Democrats' lunch in the Capitol.
     Several Democrats said they wouldn't commit support until they saw policy details and wanted to ensure that their states' interests are represented. Sen. Christopher S. Murphy (D-Conn.), for instance, wants railways in the Northeast to be fortified. Sen. Joe Manchin (D-W.Va.), a key centrist, sent a warning signal that he doesn't like what he views as a move away from fossil fuels.
     The proposal would include immigration reform, said Sen. Bernie Sanders (I-Vt.), but he declined to provide specifics. He had said he planned to include a pathway to citizenship for certain immigrants.
     To pay for the plan, Democrats would raise taxes on corporations and people making more than $400,000 a year. The Internal Revenue Service would also be tasked with increasing enforcement of tax rules. An expansion of Medicare would be funded by cuts to drug prices, while higher emission standards and carbon tariffs would be used to combat climate change. But the plan also banks on "long-term economic growth" as a pay-for, a reference to dynamic scoring, which could score the bill as less costly due to potential economic growth spurred by its investments.
     Biden predicts successful outcome. Asked whether the Democrats' effort to pass a larger bill without Republican support could jeopardize the bipartisan infrastructure package, Biden, in an Oval Office meeting with governors Wednesday afternoon, expressed confidence. "I think it is the only way to get it done ... with two tracks," he said. Biden acknowledged, however, that there "may be some slight adjustments in the pay-fors," given the lack of consensus even among Senate Democrats about the administration's plan to raise taxes on corporations and the wealthiest 1% of Americans. "There might be some slight changes," he said. "I am not sure what may happen."
— Justice requires divestiture in merger of ag equipment component makers. The Department of Justice (DOJ) said it will require Danfoss A/S and Eaton Corporation Plc to divest assets from the companies' orbital motor and hydraulic steering unit manufacturing businesses before their merger can proceed. Without the divestitures, DOJ said the combination of the two firms would "substantially lessen competition in the design, manufacture, and sale of orbital motors and hydraulic steering units used in agricultural, industrial and construction equipment."
     Danfoss and Eaton are the two largest makers of orbital motors used for mobile off-road equipment like skid steers, harvesting equipment, sprayers and street sweepers.
     Under the terms of the proposed settlement, the parties must divest three Danfoss orbital motor and hydraulic steering unit facilities located in Hopkinsville, Kentucky; Parchim, Germany; and Wroclaw, Poland, and two orbital motor production lines and one hydraulic steering unit production line from Eaton facilities located in Shawnee, Oklahoma, and Eden Prairie, Minnesota, to Interpump Group or an alternate firm approved by the U.S. 
 
---
CHINA UPDATE
---
— Biden summit moves closer as senior U.S. diplomat visits China next week. The State Department No 2 will meet Chinese foreign vice-minister Xie Feng next week, paving the way for top-level encounter, the South China Morning Post reported (link). Deputy Secretary of State Wendy Sherman will meet China's foreign vice-minister Xie Feng in Tianjin, where they will discuss the possibility of a meeting between U.S. Secretary of State Antony Blinken and Chinese foreign minister Wang Yi, a source told the newspaper. Such a meeting is seen as essential to pave the way for further engagement between President Joe Biden and his Chinese counterpart Xi Jinping.
— China's economic rebound slowed in the second quarter but continued to show unusual resilience more than a year after the country largely got control of the coronavirus within its borders. Gross domestic product grew by 7.9% in the second quarter from a year earlier. While that growth rate was far slower than the 18.3% year-over-year GDP jump during the first three months 2021, analysts did not expect China's economy to sustain that pace of growth as the statistical distortions from last year's pandemic crisis faded. Of note, stronger-than-expected readings on factory output, retail sales and fixed-asset investment in June are likely to ease talk that Beijing will intervene more forcefully to keep its growth momentum going in the latter half of the year.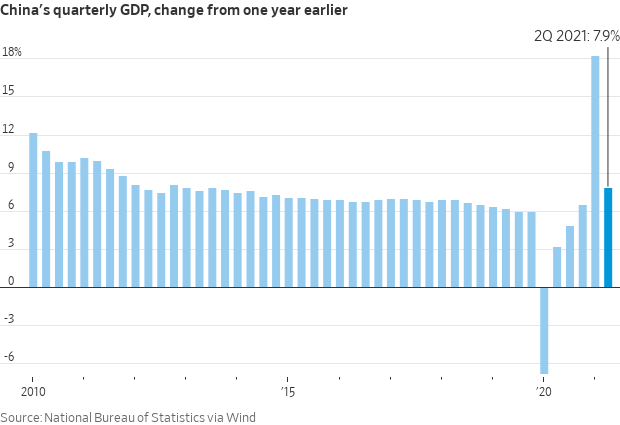 — Chinese pork production hits seven-year high in Q2. During the second quarter of 2021, China's pork production shot to a seven-year high of 13.46 MMT, up 40% from Q2 of 2020 and well above the usual 10 MMT produced for the quarter, according to Reuters analysis of data from China's National Bureau of Statistics. The stats bureau said Chinese pork output surged 35.9% from year-ago in the first half of 2021 to 27.15 MMT. It also reports China slaughtered 337.42 million hogs the first half of 2021, a 34% jump from last year. Normally, the second quarter is a period of low consumption and production, but this year, big producers ramped up production in the wake of African swine fever. Sales data from 16 listed hog producers showed they produced 42.8 million hogs for slaughter in the first half of 2021, more than a 100% surge over the prior year, Boya Consulting said in a report on Wednesday. In addition, some provinces are still dealing with ASF outbreaks, accelerating slaughter for some producers, and encouraging others to raise overly heavy hogs who came to market during the April-June quarter. China's statistics bureau reports China's hog herd stood at 439.11 million head at the end of June, up 29% from year-ago.
— U.S. Senate passes bill to ban all products from China's Xinjiang. The Senate passed legislation to ban the import of products from China's Xinjiang region, the latest effort in Washington to punish Beijing for what U.S. officials say is an ongoing genocide against Uyghurs and other Muslim groups.
— Subdued export sales activity to China in most recent week with reductions for corn, pork. U.S. export sales activity to China for the week ended July 8 was rather quiet, with some net reductions in sales activity reported and no soybean sales activity reported. Activity for 2020-21 included net reductions of 68,383 tonnes of corn, net sales of 400 tonnes of sorghum, and 3,458 running bales of Upland cotton.
     For 2021-22, sales of 8,819 tonnes of wheat and 4,928 running bales of Upland cotton were reported.
     Activity for meat for 2021 delivery included net sales of 1,555 tonnes of beef and net reductions of 1,316 tonnes of pork.
---
ENERGY & CLIMATE CHANGE
---
— Some 25% to 30% of global passenger car sales will be electric by 2030, up from less than 4% in 2020, as governments seek to phase out cars that use internal-combustion engines, said Neil Beveridge, senior energy analyst at Sanford C. Bernstein. "The 2020s will be the golden age of the battery industry in terms of growth," he said. Beveridge said CATL, Tesla's battery supplier, had 30% of the global EV battery market, and more than half of the market in China, giving it significant cost advantages over competitors. In turn, he said that helped make it more profitable than rivals, with a gross profit margin of 28% last year. Gross profit measures revenue minus the costs, such as labor and materials, directly incurred in making those goods.
— Senate Democrats are moving to impose tariffs on carbon-intensive imports to help pay for their tax-and-spending legislation, Bloomberg reports. To address the climate crisis, the plan would impose a clean energy standard, provide tax incentives for clean energy and vehicles, impose a methane fee on oil and gas producers, create a civilian climate corps and impose climate-smart agricultural, wildfire prevention and forestry policies.
     The plan also includes expanding tax credits for renewable energy and electric vehicles and creation of a clean energy standard that could mandate utilities generate carbon-free power. Sen. Jeff Merkley (D-Ore.) said in an interview that "there is a lot of support for this idea" of a border adjustment tax on high-carbon products. The plan dovetails with efforts by other countries — including the European Union — to use trade policy as a tool for curbing greenhouse gas emissions.
     The budget deal also includes a clean-energy standard that could require utilities to generate power from carbon-free sources, the creation of a civilian climate corps, and a clean energy accelerator to fund green-energy projects, according to the summary. "The proposed FY 2022 Budget Resolution meets the president's climate change goals of 80% clean electricity and 50% economy-wide carbon emissions by 2030, while advancing environmental justice and American manufacturing," the summary said.
     Senate Democrats are pushing to impose a methane fee on U.S. oil and gas production as part of their blueprint. The plan includes a placeholder for a methane emission fee proposed by Sens. Sheldon Whitehouse (D-R.I.), Cory Booker (D-N.J.) and Brian Schatz (D-Hawaii). The measure seeks to curb releases of methane from U.S. oil and gas fields by requiring the Treasury Department to assess a fee on emissions of that potent greenhouse gas starting in 2023. Under Whitehouse's bill, the planned fee would have based the price on an estimated social cost of carbon, equaling $1,800 per ton in 2023, with inflationary adjustments.
— Lawmakers reintroduce bipartisan year-round E15 sale bill. Sen. Deb Fischer (R-Neb.) said she is reintroducing a bipartisan bill with Sen. Amy Klobuchar (D-Minn.) that allows year-round sale of E15, a mix of 15% ethanol and 85% gasoline. The bill would also expand the biofuels market, Fischer said. A U.S. court earlier in July reversed a previously held rule allowing year-round sale of E15. The House counterpart of the measure was reintroduced by Reps. Angie Craig (D-Minn.) and Adrian Smith (R-Neb.).
— Another confab on carbon markets and ag yields same conclusion: wait. During an Iowa Farm Bureau virtual event Wednesday, it again was evident that the ag sector should be cautious an patient when it comes to carbon trading/markets. Dr. Joe Outlaw, a respected economist at Texas A&M University, cautioned ag producers to stay on the sidelines and wait for markets to develop before they jump in. "There is absolutely no hurry," he said during the webinar. There are still a lot of technical challenges and questions and the price of carbon is likely to go up in the future, he said. "There's a lot more questions out there than there are answers," Outlaw said. Even that statement could be an understatement when it comes to measuring and pricing carbon. Shelby Myers, an economist at the American Farm Bureau Federation, compared getting into an ecosystem services contract to marriage. "You want to know who you're going to marry before you sign the dotted line."
     "At this time, there's really no way to know if carbon farming would be an effective way to fight climate change, but there is no doubt there are many ways to make changes in land management that would improve soil health and benefit the environment," Outlaw said previously.   
     The event included a roundtable discussion with representatives from companies that are currently offering carbon credit programs, including: Lisa Streck (Bayer), Ben Gordon (Corteva) & Adam Kiel (Soil and Water Outcomes Fund — a subsidiary of the Iowa Soybean Association).
     What about early adopters? Outlaw and other Texas A&M economists work closely with the Ag panels in Congress relative to some legislative initiatives. Outlaw revealed lawmakers and their staffs are beginning to mull ideas for how to potentially compensate early adopters of practices like no-till and cover crops who may not be able to participate in carbon markets, since the credits are usually generated on new or changed practices. Some early ideas focus on using EQIP or CSP.
---
LIVESTOCK, FOOD & BEVERAGE INDUSTRY
---
— Eating is getting costlier for Americans as the food industry faces the steepest inflation in a decade. Big food makers and restaurant chains are raising prices, cutting their own costs and trying other strategies to offset higher expenses. Between shrinking grocery-store packages and fewer restaurant discounts, shoppers are paying more for their meals.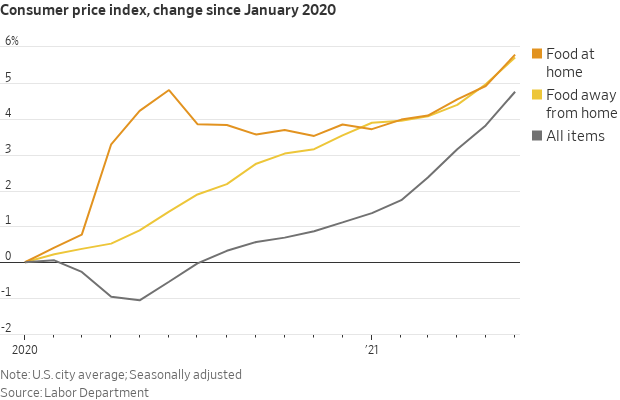 — Beyond Meat launches sales in JD.com online store in China. Beyond Meat said it has started sales of its products via JD.com's platform in China, with the action to help initially expand availability of its products in four major cities in China and eventually some 300 cities across the country. The 18 JD.com cold chain warehouses will provide delivery of Beyond Meat products to consumers within 48 hours of orders being placed, the company said. The expansion is coming at a time when Chinese consumers are still wary of plant-based meat alternatives and have not yet embraced the taste of the products. 
---
CORONAVIRUS UPDATE
---
— Summary: Global cases of Covid-19 are at 188,405,729 with 4,059,189 deaths, according to data compiled by the Center for Systems Science and Engineering at Johns Hopkins University. The U.S. case count is at 33,947,232 with 608,115 deaths. The Johns Hopkins University Coronavirus Resource Center said that there have been 335,487,779 doses administered, 160,126,516 have been fully vaccinated, or 48.8% of the total U.S. population.
— Drug-overdose deaths in the U.S. rose nearly 30% in 2020, according to preliminary federal data. The surge was driven largely by a proliferation of the powerful synthetic opioid fentanyl, which is frequently mixed with other illicit drugs without the user's knowing. The pandemic, with its social isolation, trauma and job losses, amplified the epidemic of overdoses.
 
---
POLITICS & ELECTIONS
---

— Texas sues Biden for 'illegal' pause on border wall. The Biden administration's decision to pause construction on Texas' southern border wall and make good on a 2020 campaign promise violates Congress' power of the purse, the state's general land office said in a complaint filed in federal court. Biden signed a proclamation on Inauguration Day that ordered Homeland Security to halt border wall construction he called "a waste of money," according to the complaint filed in the U.S. District Court for the Southern District of Texas. George P. Bush, the Texas General Land Office's Commissioner, alleges that Biden violated Congress' power to appropriate funds in order to pursue his own policy goals.

 
---
CONGRESS  
---
— House Ag panel advances rural broadband measure. The House Agriculture Committee on Wednesday passed by voice vote a bill (HR 4374), by Committee Chair David Scott (D-Ga.) that would allocate funding to USDA rural broadband programs and offer assistance to municipalities and smaller internet service providers to improve data quality in broadband mapping efforts. The panel adopted a substitute amendment put forth by Scott, adjusting the final price tag of the bill down from $50 billion to $43 billion over eight years. The amendment also gives discretion to the USDA secretary to decide which states and territories receive some of the funds allocated to the Innovative Broadband Advancement Program. Ranking panel member G.T. Thompson (R-Pa.) voiced support for the effort. The bill needs to be advanced by the House Energy and Commerce Committee, which has yet to schedule a markup. Negotiations on the Senate side have not been officially announced.  Link for details.
     Details: The bulk of the money, $36 billion, would go to loans, grants, and loan guarantees for the construction or improvement of internet service in small towns and rural areas with poor or no service. An additional $2.4 billion would pay for pilot projects to test various broadband technologies.
     Funding issues. If the bill becomes law, Congress must hold separate votes to provide funding. Rep. Jim Costa (D-Calif.) asked if broadband improvements could be financed through USDA's Commodity Credit Corporation (CCC), which can spend up to $30 billion on eligible tonics before asking Congress for a replenishment. Costa did not get a direct answer.
 
---
OTHER ITEMS OF NOTE     
---

— Bolsonaro's health. Brazilian President Jair Bolsonaro was admitted to hospital on Wednesday after suffering persistent hiccups for the past 10 days. Bolsonaro's son, Flavio, said his father had undergone a precautionary procedure to remove fluid from his stomach and that emergency surgery may be necessary. Officials at Sao Paulo's military hospital said the president would be under observation for 24-48 hours.
— Tucker Carlson: DHS is secretly using a military air base to move illegal migrants to unknown locations.  During a Fox News segment of Tucker Carlson Tonight, he revealed a leaked email from Air Force Lt. Col. Matthew Burrows to his subordinates at the base given to his show by a whistleblower. "Over the next few days, weeks, or months you may see passenger aircraft on our ramp transporting undocumented non-citizens," the email began. "In coordination with the Department of Homeland Security and the Department of Defense, U.S. Immigration and Customs Enforcement and Del Rio Border Patrol will be using the Laughlin AFB runway to transport undocumented non-citizens via a Boeing 747." "Do not take photographs and refrain from posting anything on social media. If anyone asks you about it, refer them to public affairs," the email concludes.
---