Hurdles Remain for Getting Both Infrastructure Measures Approved by Both Chambers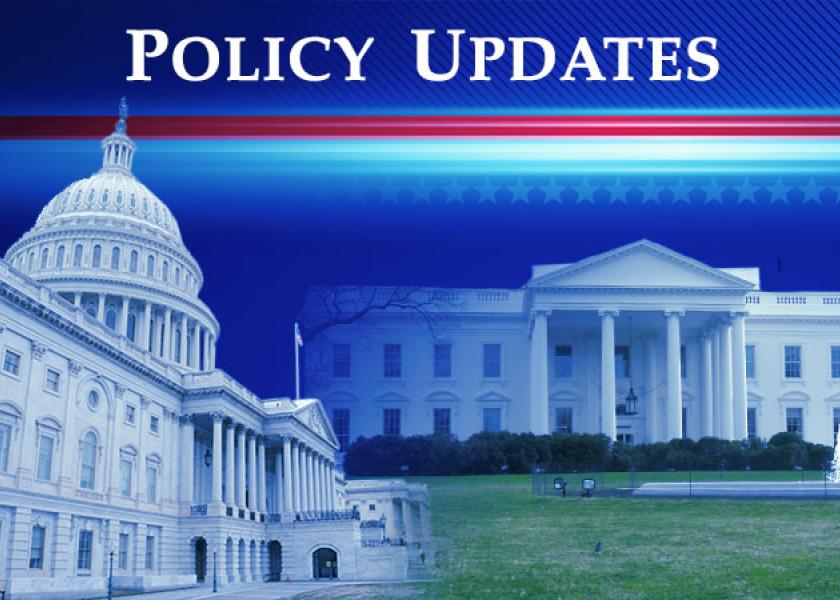 Meat industry hearings: No single answer to pricing issues; questions about expansion of slaughter capacity.
---
In Today's Digital Newspaper
---
Market Focus:
• U.S. GDP grew 6.5% in second quarter, falling short of expectations
• Fed debates when to taper its bond-buying program
• Inflation readings around world sending mixed signals
• Yields on gov't bonds in the U.S. & Europe at record lows when adjusted for inflation"
• Yield on 10-year Treasury inflation-protected security, or TIPS, at minus 1.105%
• Global demand for gold has yet to recover from the pandemic: WGC
• USDA confirms ASF in Dominican Republic
• NPPC: U.S. 'has significantly bolstered biosecurity to protect U.S. swine herd'
• Stricter rules on cryptocurrency investors to collect more taxes
• Ag demand update
• USDA daily export sales: 132,000 MT soybeans to unknown destinations 2021-2022
• Spring wheat leads grain and oilseed futures higher overnight
• Second day of spring wheat tour finds even lower yields
• Bunge CEO optimistic Chinese demand for corn is here to stay
• Another round of damaging frost for Brazil's south/southeast
• Russian weather forecaster cuts grain crop estimate
• USDA confirms ASF in Dominican Republic
• Beef price gains picking up steam
• Limits expand after day of profit-taking
Policy Focus:
• Senate clears procedural hurdle on scale-down physical infrastructure package
• Details in physical infrastructure deal and the pay-fors
• USDA to unveil $67 million to new program for heirs' property owners

Biden Administration Personnel:
• Biden to nominate Jacobs-Young as Agriculture undersecretary
China Update:
• China buys U.S. wheat, new-crop beans, but cancels more corn
• China moved to contain fallout from regulatory assault on tech firms
• Outspoken Chinese agricultural industrialist sentenced to 18 years in prison
• China still working to stabilize hog prices
• U.S. list of facilities eligible to export to China continues to expand 
Energy & Climate Change:
• Gensler: SEC climate risk rules will be proposed by year end
• Pipeline chief blasts Biden's oil policy

Livestock, Food & Beverage Industry Update:
• Highlights of Senate hearing on meat industry
• Highlights of House hearing on meat industry
• California's Prop 12 upheld

Coronavirus Update:
• CDC pushed to release studies backing up decision to reinstate mask recommendations
• Google and Facebook will require all employees at U.S. campuses to be vaccinated
• Biden to require federal employees to get vaccinated or be regularly tested for Covid-19
• Different approach in the U.K.
• Pfizer expects sales for its Covid-19 vaccine this year to reach about $33.5 billion
Other Items of Note:
• Biden releases cybersecurity memo
• Direct forgiveness offered for small PPP loans
• U.S. gov't spent $665 billion on goods and services in fiscal 2020
 
---
MARKET FOCUS
---
Equities today: Global stock markets were mixed but mostly higher overnight. U.S. Dow opened up near 200 points higher after fresh data on economic growth and the labor market provided insight into the state of the recovery. Asian equity markets were higher after a China regulator meeting calmed investor concerns. Hong Kong's Hang Seng rose 841.44 points, 3.30%, at 26,315.32. Japan's Nikkei was up 200.76 points, 0.73%, at 27,782.42. European equity markets were registering gains in early trading. The Stoxx 600 is up 0.5% with regional markets seeing gains of 0.1% to 1.2%.
     U.S. equities yesterday: The Dow ended down 127.59 points, 0.36%, at 34,930.93. The Nasdaq, however, gained 102.01 points, 0.70%, at 14,762.58. The S&P 500 eased 0.58 point, 0.02%, at 4,400.64.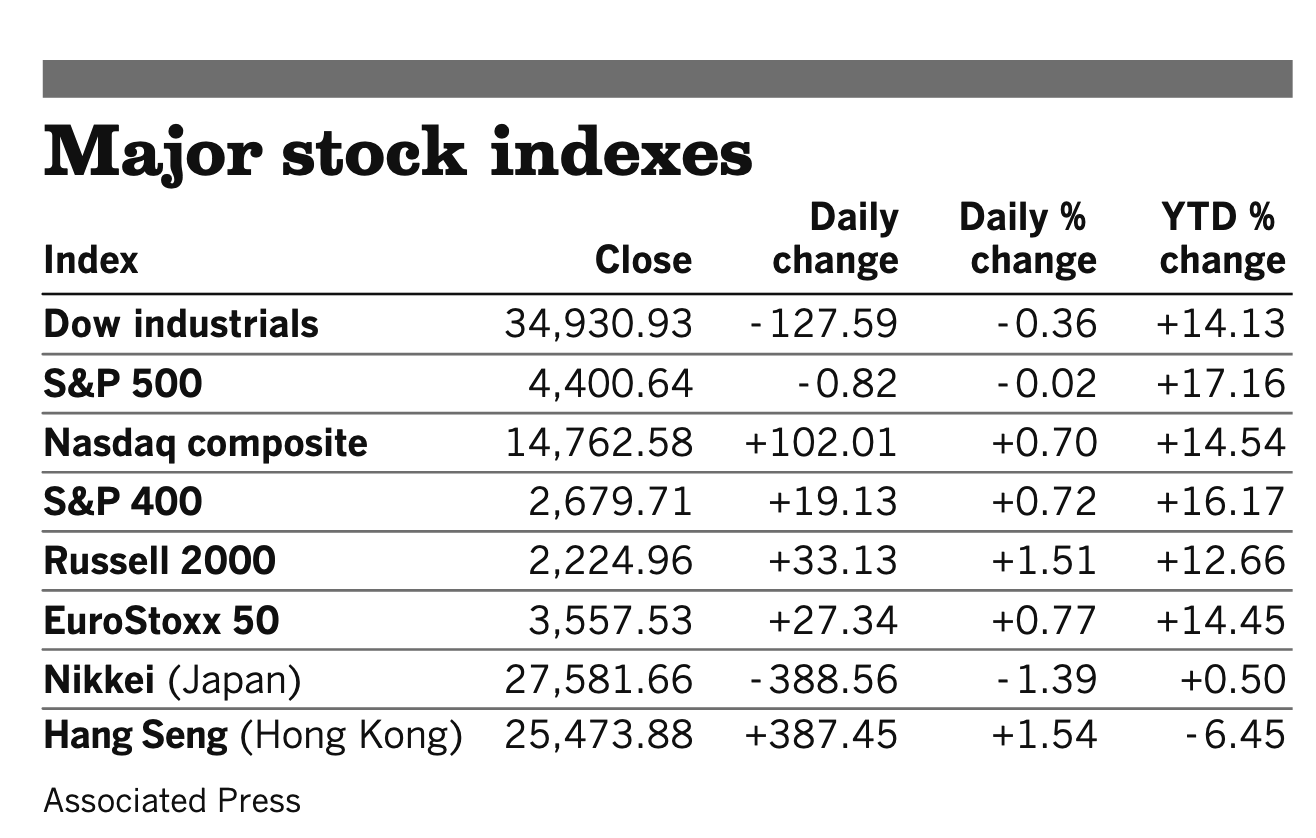 On tap today:
     • European Central Bank releases minutes from its July 7 meeting at 7:30 a.m. ET.
     • U.S. gross domestic product for the second quarter is expected to grow at an 8.4% annual pace. (8:30 a.m. ET) Update: GDP surged 6.5% in the second quarter of the year as business reopenings and gov't aid fueled an ongoing economic recovery from the Covid-19 pandemic, but below expectations. (Q1 was revised down to 6.3% from 6.4%.) Slower growth is expected in coming months, with Delta variant of Covid-19 and materials and labor disruptions clouding economic outlook. However, Fed Chairman Jerome Powell commented that the Fed's expectation is that any subsequent Covid resurgence will not have as big of an impact on the U.S. economy compared with the initial Covid outbreak.
     • U.S. jobless claims are expected to fall to 380,000 in the week ended July 24 from 419,000 a week earlier. (8:30 a.m. ET)
     • USDA Weekly Export Sales report, 8:30 a.m. ET.
     • U.S. pending home sales for June are expected to increase 0.5% from a month earlier. (10 a.m. ET)
Federal Reserve signaled that it could start scaling back the easy-money policies adopted at the start of the pandemic later this year. The Fed cut its benchmark interest rate to near zero in March 2020 and has been purchasing at least $120 billion a month in Treasurys and mortgage bonds to provide extra stimulus to the economy. Officials since the end of last year said those purchases would continue until they see "substantial further progress" toward their goals of low unemployment and stable inflation. At the conclusion of their two-day meeting Wednesday, officials said that "the economy has made progress toward these goals" and that progress would be assessed in coming meetings. That is a signal the Fed could announce plans to start reducing, or tapering, the purchases, later this year.
     Fed Chairman Jerome Powell said at a virtual news conference that the central bank was nowhere near considering plans to raise interest rates.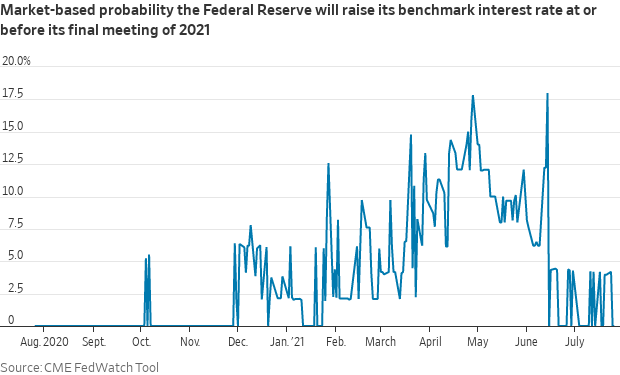 Inflation readings around the world are sending mixed signals. Canada on Wednesday reported its annual inflation rate decelerated in June, following a similar pattern to the eurozone. Australia's rose to an almost 13-year high, like the U.S.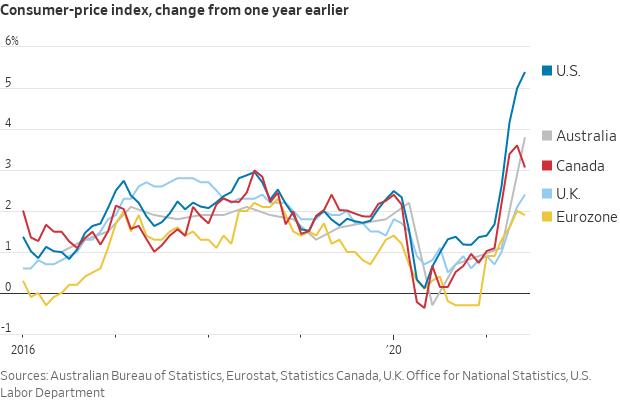 Market perspectives:
     • Outside markets: The U.S. dollar index is weaker as the euro and British pound are firmer ahead of U.S. trading. The yield on the 10-year U.S. Treasury note was higher, trading just above 1.26%. Gold and silver posted strong gains ahead of the U.S. GDP update. Gold was trading above $1,825 per troy ounce and silver above $25.60 per troy ounce.

     • Yields on government bonds in the U.S. and Europe have dropped to record lows when adjusted for inflation, a sign of investors' waning optimism about the global economic recovery.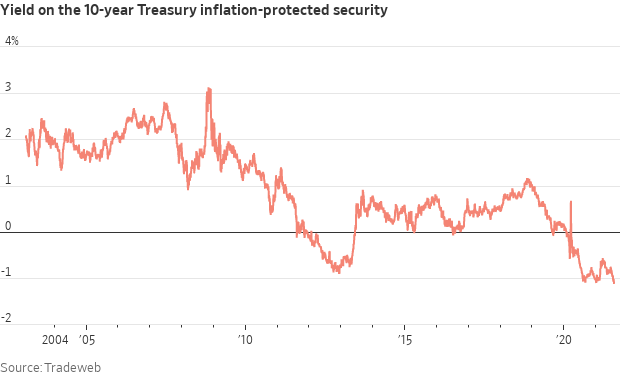 • Yield on the 10-year Treasury inflation-protected security, or TIPS, finished Wednesday's session at minus 1.105%, according to Tradeweb. That is up from Tuesday's close at minus 1.132% — the lowest on record, in data going back to February 2003.
     • World Gold Council (WGC) said global demand for gold has yet to recover from the pandemic. The WGC said gold demand during the first half of 2021 was the lowest since 2008. The April-to-June period saw global gold demand at 955.1 metric tons (MT), a reduction from 960.5 MT over the same period in 2020. The second quarter of 2019 saw demand of 1,132.1 MT. However, central banks bought more gold between April and June 2021 than any quarter for two years. ETFs also added considerable amounts of gold to their stockpiles in the second quarter of this year, said the WGC.
     • Crude oil prices have moved higher from overnight levels, with U.S. crude trading around $72.80 per barrel and Brent around $74.40 per barrel. Futures were up in Asian trading, with U.S. crude rising 31 cents at $72.70 per barrel while Brent was up 33 cents at $74.20 per barrel.
     • USDA confirms ASF in Dominican Republic. USDA's Foreign Animal Disease Diagnostic Laboratory has confirmed African Swine Fever (ASF) in samples from pigs in the Dominican Republic via a cooperative surveillance program, USDA announced Wednesday. According to the Animal and Plant Health Inspection Service (APHIS), pork and pork products are already banned from entering the U.S. due to restrictions linked to classical swine fever, and the Department of Homeland Security's Customs and Border Protection (CBP) is "increasing inspections of flights from the Dominican Republic to ensure travelers do not bring prohibited products" into the U.S. APHIS also said that CBP will also be "ensuring that garbage from these airplanes are properly disposed of to prevent the transmission of ASF." USDA said it has offered additional testing support and will consult with the country on any additional steps of actions to "support response and mitigation measures." USDA has offered similar help to Haiti that shares a border with the Dominican Republic and has a "high risk" for ASF. "The United States has significantly bolstered biosecurity to protect the U.S. swine herd since ASF broke in China nearly three years ago and began spreading to other parts of the world," said Liz Wagstrom, NPPC's chief veterinarian.
     • Ag demand: Jordan made no purchase in its international tender to buy 120,000 MT of animal feed barley.
     • USDA daily export sales: 132,000 metric tons of soybeans for delivery to unknown destinations during the 2021-2022 marketing year.
     • Stricter rules on cryptocurrency investors to collect more taxes to fund a portion of the $550 billion investment into transportation and power systems is part of the Senate's bipartisan infrastructure deal. The provisions would raise an additional $28 billion from cryptocurrency transactions, according to a summary of the plan. The proposal would impose more rules on crypto brokers to report transactions of digital assets, including virtual currencies, to the Internal Revenue Service. It would also require businesses to report crypto transactions of more than $10,000.
     • NWS weather: Widespread severe thunderstorms with winds locally exceeding hurricane force will result in significant severe wind damage overnight along a corridor from northeastern Minnesota across Wisconsin to southwest Lower Michigan. Very hot to excessive heat covers much of the central third of the country and is expected to persist into the weekend over the south-central states.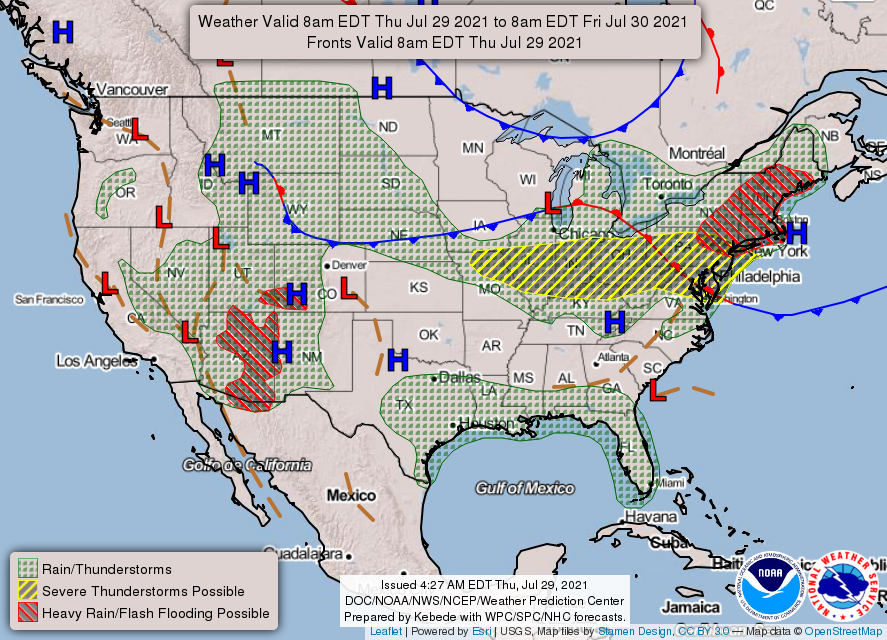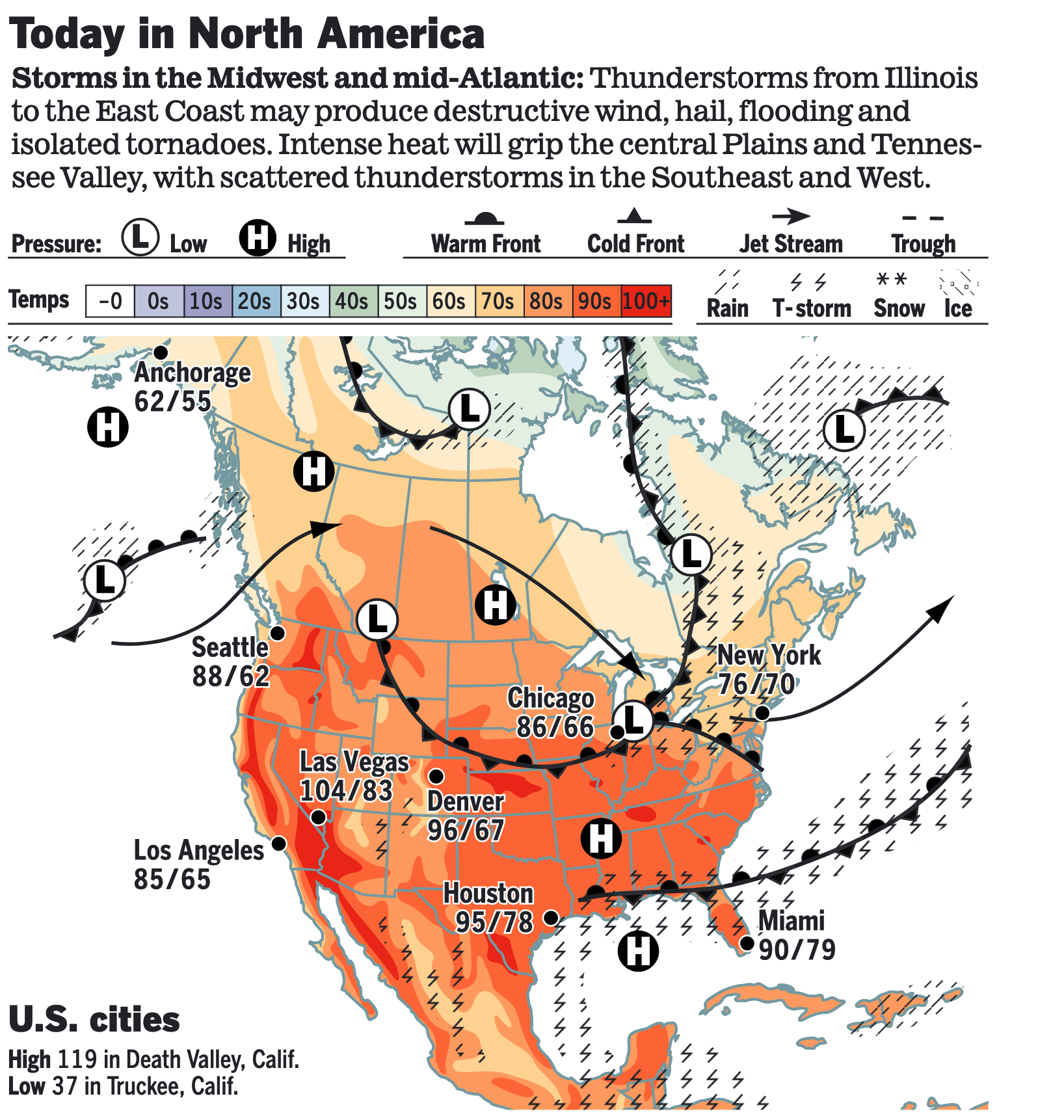 Items in Pro Farmer's First Thing Today include:
   • Spring wheat leads grain and oilseed futures higher overnight
   • Second day of spring wheat tour finds even lower yields
   • Bunge CEO optimistic Chinese demand for corn is here to stay
   • Another round of damaging frost for Brazil's south/southeast
   • Russian weather forecaster cuts grain crop estimate
   • USDA confirms ASF in Dominican Republic
   • Beef price gains picking up steam
   • Limits expand after day of profit-taking
---
POLICY FOCUS
---
— Senate clears procedural hurdle on scale-down physical infrastructure package. The Senate on Wednesday voted 67 to 32 to open formal debate on the bipartisan infrastructure proposal. The procedural motion, which needed 60 votes, had support from 17 Republicans as well as 48 Democrats and the two independents who caucus with them. Sen. Mike Braun (R-Ind.), who opposed the procedural move, said Republicans were told the bill would be 1,000 pages long.
     The resulting bill would provide about $550 billion in new federal money for roads, bridges, rail, transit, water and other physical infrastructure programs. Many of its spending provisions are unchanged from the original framework announced last month. But it pared spending in a few areas, including reducing money for public transit to $39 billion from $49 billion and eliminating a $20 billion "infrastructure bank" meant to catalyze private investment in large projects. The loss of the infrastructure bank cut in half the funding for electric vehicle charging stations that administration officials had said was included in the original agreement, jeopardizing President Biden's promise to create a network of 500,000 charging stations nationwide (but that can be resurrected in a coming go-it-alone Democratic reconciliation measure). Sen. Kevin Cramer (R-N.D.) said about 83% of the bill's formula transportation funding would go to highways and roughly 17% would go to transit.
     The plan includes $110 billion in new funding for roads, bridges and surface transportation projects over the next five years. An additional $73 billion would go to upgrading the power infrastructure, $65 billion to expanding high-speed internet nationwide and $55 billion to expanding access to clean drinking water. The plan also includes $50 billion for what the White House has called resilience and water infrastructure, such as funding to protect against droughts, floods and cybersecurity intrusions. White House officials provided no details. Further spending would go toward making roads safer for pedestrians and cyclists, creating an electric vehicle charging network, modernizing transit and rail systems, and securing infrastructure to counter climate change and cyberattacks. See the next item for more details of the Senate package.
     Pay-fors: Negotiators agreed to repurpose more than $250 billion from previous Covid relief legislation, including $50 billion from expanded unemployment benefits that have been canceled prematurely this summer by two dozen Republican governors. That is more than double the repurposed money in the original deal. The new agreement would save $50 billion by delaying a Medicare rebate rule passed under President Donald Trump and raise nearly $30 billion by applying tax information reporting requirements to cryptocurrency. It also proposes to recoup $50 billion in fraudulently paid unemployment benefits during the pandemic.
     Next steps. The bill, which is not yet completely written, will face further tests in the coming days as it goes through the Senate, and again when it moves to the House where Speaker Nancy Pelosi (D-Calif.) says she will not bring it up until the Senate passes the $3.5 trillion human infrastructure measure (reconciliation). Rep. Pramila Jayapal (D-Wash.), chair of the Congressional Progressive Caucus, said Wednesday that the bipartisan bill would not advance in the House "unless it has a reconciliation package, with our priorities, alongside it."
     As for the traditional infrastructure bill, besides the risk of losing support from Republicans who voted yes on Wednesday, a few Democrats have committed only to starting the process, saying they want to review the whole bill before agreeing to support final passage. Sen. Mark Warner (D-Va.), a lead Democratic negotiator, acknowledged the measure would not get every Democratic vote. Meanwhile, Sen. Kyrsten Sinema (D-Ariz.), a moderate Democrat, told the Arizona Republic (link) she would support starting the process on the bipartisan bill, but still had concerns about the second infrastructure bill Democrats plan to pursue without GOP support, likely forcing other Democrats to scale back that proposal. "My goal remains to pass both the bipartisan infrastructure bill and a budget resolution during this work period," Senate Majority Leader Chuck Schumer (D-N.Y.) said on the Senate floor. "We are going to get the job done and we are on track." Senate Budget Chairman Bernie Sanders (I-Vt.) said he has the votes to pass a broad budget resolution next week. His comments mean all 50 senators who caucus with Democrats are onboard with passing a resolution that could lead to follow-on legislation totaling $3.5 trillion to address priorities such as climate change, the tax code, health care, and immigration.
     Bottom line: Unless there is a last-minute surprise in the official text of the traditional infrastructure measure, the odds are rising for eventual approval. But some House Democrats say they want to put some of their priorities on the first package and that could mean another even more contentious vote ahead in the Senate on any changes. The key unknowns are focused on the coming $3.5 trillion package. The price tag will eventually come down to win over Sen. Sinema and other moderates such as Sen. Joe Manchin (D-W.Va.), but funding initiatives for their states will likely provide enough cover for them to vote for the go-it-alone Democratic measure. There may also be a change in the state and local tax (SALT) deduction permits designed to help those making $400,000 or less annually.
— Details on what is in the physical infrastructure deal and the pay-fors, according to Bloomberg:
Roads, Bridges
The deal calls for spending $110 billion on roads, bridges and other major projects. This includes $40 billion for bridge repairs and replacement, as well as $17.5 billion for major projects. It also would reauthorize the surface transportation program for the next five years.
        Public 

Transit
The plan includes $39 billion to modernize transit and improve accessibility. In addition, the deal would continue existing transit programs for five years as part of the surface transportation reauthorization.
                 Railways 
The deal would allocate $66 billion to Amtrak for maintenance, to upgrade tracks in the Northeast Corridor and bring rail service -- including high-speed rail -- to other areas of the country.
Power Grids
The deal includes $73 billion for power grid upgrades, including building thousands of miles of new transmission lines for renewable energy and research for new technologies like nuclear reactors and carbon capture.
Electric Vehicles
The bill would spend $7.5 billion to build a nationwide network of charging stations for electric vehicles to help accelerate the adoption of non-fossil fuel cars.
Electric Buses
The plan includes $5 billion for new school buses, although the program would allow half of that to go toward buses that run on natural gas or diesel. The plan also includes $2.5 billion for ferries.
Airports, Waterways
The plan would provide $25 billion for airport repairs and efforts to reduce congestion and emissions. That includes encouraging the use of electric and other low-carbon technologies. It would also invest $17 billion in port infrastructure.
Resilience, Climate Change
The deal includes $50 billion to help communities ward off cyber attacks and the effects of climate change. The funds include money to protect against droughts and floods.
Drinking Water
The package spends $55 billion to improve drinking water, including dedicated funding to replace lead pipes and dangerous chemicals.
Broadband Internet
The plan would invest $65 billion in high-speed internet to ensure that every household can access reliable broadband service.
Environmental Spending
The package has $21 billion dedicated for environmental remediation to address past pollution that harms public health.
The plan also includes $1 billion to reconnect communities that have been divided by past infrastructure projects, such as highways splicing through established areas.
Transportation Safety
The plan would spend $11 billion on transportation safety, including programs to reduce crashes and fatalities, especially for cyclists and pedestrians.
Revenue Raisers
Here are some of the major ways that lawmakers have agreed to offset the cost of the spending:
$205 billion from using unspent pandemic relief funds appropriated in earlier legislation;

$56 billion in additional tax revenue from the extra economic growth generated from the infrastructure improvements;

$50 billion from recouping unemployment benefits claimed by fraudsters;

$49 billion for delaying the Medicare rebate rule enacted under former President Donald Trump;

$53 billion from unspent unemployment benefits from states that ended the enhanced payments early;

$28 billion from increasing tax reporting rules for cryptocurrency investors;

$21 billion from fees on government-sponsored enterprise;

$20 billion from spectrum auction sales; and

$13 billion from a Superfund fee on corporations that pollute.

— USDA to unveil $67 million to new program for heirs' property owners. USDA today will announce $67 million in funding for owners of heirs' property, aiming to address a leading cause of land loss among Black and low-income farmers. "The key here is for it to work," Agriculture Secretary Tom Vilsack said in an exclusive interview with FERN's Ag Insider. "When it works, we can go back to Congress to appropriate more money ... it's trying something, learning from it, and perfecting it." The money will be distributed through the agency's new Heirs' Property Relending Program (HPRP) that Congress directed USDA to create in the 2018 farm bill.
     USDA's Farm Service Agency will select community development financial institutions (CDFIs) to distribute the money in the form of loans to heirs' property owners to resolve ownership, title, and succession issues. The agency will require that the selected CDFIs have at least 10 years of experience working with farmers of color and beginning farmers.
 
---
BIDEN ADMINISTRATION PERSONNEL
---
— Biden to nominate Jacobs-Young as Agriculture undersecretary. President Biden on Wednesday announced his intention to nominate Chavonda Jacobs-Young as Agriculture undersecretary for research, education and economics. Jacobs-Young is administrator of the USDA Agricultural Research Service and serves as acting undersecretary for research, education and economics and acting USDA chief scientist. She is the first woman and person of color to lead this division of USDA, which manages an annual budget of $1.82 billion, the White House said.

 
---
CHINA UPDATE
---
— China buys U.S. wheat, new-crop beans, but cancels more corn. U.S. export sales activity for the week ended July 22 included new sales of US.S.wheat and new-crop soybeans to China, but cancellations of old-crop corn purchases. Net reductions of 119,335 tonnes of corn were reported for 2020-21 along with net sales of 68,984 tonnes of sorghum, 24 tonnes of soybeans and net reductions of 883 running bales of Upland cotton.
     For 2021-22, sales of 128,912 tonnes of wheat, 121,000 tonnes of soybeans and 5,547 running bales of cotton were reported.
     Net sales for 2021 of 4,488 tonnes of beef and 807 tonnes of pork were also reported.

— China moved to contain the fallout from a regulatory assault on tech firms that has rattled investors, with a top securities regulator privately telling global financial institutions that Beijing will consider the impact on markets when it introduces new policies. Link to WSJ for details.
— Outspoken Chinese agricultural industrialist sentenced to 18 years in prison. The conviction of Sun Dawu for allegedly causing public disorder and other offenses has highlighted the growing political risks for private businesses in China as leader Xi Jinping focuses on strengthening the Communist Party's control over the economy. Sun, 67 years old, who founded Dawu Agricultural and Animal Husbandry Group, had been feuding with government officials in a land dispute. He had gained prominence as a voice speaking up for farmers and rural businesses. "Is it dangerous when private businesses grow big? Is it not dangerous when state-run enterprises grow big?" he told the court, according to a transcript provided by the defense team.
— China still working to stabilize hog prices. China's cabinet on Wednesday said it would step-up emergency adjustments of its pork reserves and take steps to stabilize hog prices, according to state media reports cited by Reuters. A surge in marketings of heavy hogs late-winter into spring caused Chinese hog and pork prices to tank, raising concerns about producer margins and their ability to remain in business. The country is still working to rebuild its hog herd after African swine fever, with recent reports about a resurgence of the virus again shining the spotlight on the country's hog and pork markets. Recent flooding in key producing areas has added to concerns about producers' ability to stay in business as well as the spread of disease.
— U.S. list of facilities eligible to export to China continues to expand. USDA's Food Safety and Inspection Service (FSIS) has released an updated list of slaughter, processing or cold storage establishments that are eligible to export product to China. Under the Phase 1 agreement with China, FSIS certifies establishments to the General Administration of China Customs (GACC) and those facilities must be listed on the GACC website before slaughtering and processing products for export to China. A notification on the GACC site said that six US facilities were added to the list of those eligible. Information from FSIS indicates that on July 26 and 27, a total of eight facilities were added to the approved list for beef, seven were added for pork, and six were added for poultry. There have been 37 poultry plants added in 2021, bringing the total to 529; 31 have been added in 2021 for pork for a total of 508; and 34 added this year for beef bringing the total to 547.
 
---
ENERGY & CLIMATE CHANGE
---
— Gensler: SEC climate risk rules will be proposed by year end. The Securities and Exchange Commission (SEC) is planning to propose rules by the end of the year that will require corporations to publicly disclose the risks they face from climate change, the agency's chair said. SEC chief Gary Gensler said the upcoming proposal will likely call for businesses to provide "qualitative" and "quantitative" information to investors. That could include particulars about how executives manage climate-related risks.
— Pipeline chief blasts Biden's oil policy. A U.S. clampdown on oil to meet climate-change goals will likely result in higher inflation and benefit crude-producing rivals, according to pipeline giant Enterprise Product Partners. Nations pledging to slash greenhouse-gas emissions through 2050 have largely failed to enact policies designed to curb fossil fuel demand and the U.S. is mostly alone in bearing the costs of curtailing oil-and-gas supplies, Enterprise Co-Chief Executive Officer Randall Fowler said in a conference call yesterday with investors. "We're putting a freeze on permits on federal lands, but we're asking OPEC+ to come in and produce more oil," Fowler said. "It's going to end up with higher crude oil prices, higher motor gasoline prices across the board, which will be inflationary."
 
---
LIVESTOCK, FOOD & BEVERAGE INDUSTRY
---
— Officials from JBS USA and Tyson Foods testified before the Senate Judiciary Committee Wednesday on the beef market.  Shane Miller of Tyson Foods blamed the "law of supply and demand" for the price swings that have been seen. He said there have been "unprecedented market shocks" that have hit the markets the past 18 months.
     But National Farmers Union President Rob Larew, often a critic of the big cattle packers, countered that "market manipulation by multinational meat companies like those represented here today" were to blame. He called on the panel to "push for much more vigorous antitrust enforcement to rein in the unchecked power of the packers, and if need be, bust 'em up."
— House Ag subcommittee told there are no simple solutions to cattle market issues and that subsidizing new beef processing capacity alone will not change cyclical nature of cattle markets, experts said. Addressing issues seen across cattle markets in recent years will require action ranging from diversifying the supply chain to bolstering cybersecurity, but ag economists and analysts told the House Livestock and Foreign Agriculture Subcommittee Wednesday (July 28) that the focus of reform efforts should be multi-pronged and forward-looking.
     Supply chain investments. Cattle market volatility from the 2019 processing plant fire in Holcomb, Kansas, the Covid-19 pandemic and the recent cyberattack on JBS revealed many lessons, but Purdue University ag economics chair Jayson Lusk emphasized that lawmakers should not focus too heavily on the ripple effects from those events. "Make policies for the future," he urged in opening remarks to the panel, noting new government investments in processing capacity to improve prices paid to farmers "may be fixing yesterday's problem," as markets are already adjusting.
     Lack of labor a key concern. Other than the cost of building new processing facilities, barriers like the availability of labor and regulatory burdens are also key, Lusk added. Regarding the impact of labor shortages on processing and how Congress can help improve workforce recruitment and retention efforts, Lusk offered several recommendations. Immigration visa reform that improves the availability of foreign labor is one action along with domestic workforce investments in areas like training, and finally research and investments into technologies like automation to make plants less reliant on labor, he noted.
     Rabo AgriFinance vice president and animal protein analyst Dustin Aherin explained that recent cattle market challenges were exacerbated by longer-term, cyclical market trends in herd size and processing, and warned against too sharp a focus on simply ramping up processing capacity. "A note of caution," he stressed. "There is a point where industry capacity goes too far to withstand cyclical periods of high cattle supplies — drought risks and cyclical fundamentals must be considered." He cautioned that additional capacity "does not solely have to come from new facilities as increased technology implementation will be critical to success" such as the use of automation.
     In terms of USDA's effort to invest $650 million to bolster livestock processing, Aherin said he agreed the funding should be focused on specialization, including through the use of alternative marketing agreements (AMAs). "I think they are the best way to ensure that these new plants can get the specialized type of cattle in a consistent manner, and in order to meet the demands of the brands that they're trying to build," Aherin explained.
     Role for cooperatives. On diversifying supply chains and empowering producers, University of Missouri Associate Professor of Ag and Applied Economics Keri Jacobs told the panel that more producer ownership — such as through cooperatives — can help "bring discipline to markets." Instead of focusing on short-term profitability, she explained, "the cooperative transfers the value from the upstream and downstream markets back to its producer members." Asked by Rep. Cindy Axne (D-Iowa) about how cooperatives might help bolster supply chain resilience, Jacobs pointed to Land O' Lakes as an example of how a producer-owned cooperative can weather disruptions. During the Covid-19 pandemic the cooperative "didn't dump a single gallon of milk," Jacobs noted, but acknowledged their situation is a bit different than the processing dynamics in the beef sector. "But I think, because of the communication and because of the intricate tie between the producers and the processing that could exist, you're going to get more creative solutions" when disruptions do occur.
     Cooperatives do not need to reach the size of the largest packers, but instead find an "efficient scale" that yields adequate margins and profitability. "I encourage Congress to consider the additional policies and actions that can improve the likelihood of adoption and success of producer ownership in beef processing and the successes of livestock producers," Jacobs said. Such policies include new research to identify the minimum efficient scale in processing and the requisite producer commitment to make more producer ownership viable, coupled with subsidies and technical assistance to help new entrants "gain traction."
     "A cooperative model is not a fix to a business model that's not profitable," Jacobs told panel Ranking Member Dusty Johnson (R-S.D.), explaining why additional investments and assistance are likely needed to promote more producer ownership in the processing sector. Aherin added, "there's really a lot that needs to be done on the back end of the plants, as much as with cattle coming in to ensure that any business is going to be successful."
     Cash mandates. Lusk weighed in on the issue of mandating a certain share of cattle be sold on a cash basis as opposed to formula or grid pricing — something currently being pushed by lawmakers including Sen. Chuck Grassley (R-Iowa). "An important distinction needs to be made between price levels and price volatility. And even if all cattle were traded on a negotiated basis, the price level would not necessarily improve," he remarked. Instead, Lusk encouraged a focus on less costly ways to improve price discovery such as improvements to Livestock Mandatory Reporting (LMR). "Even if a mandate were pursued, it might be made more efficient if coupled with a cap-and-trade system where obligations to secure cattle in a cash market might be bought and sold in a secondary offset market — similar to what currently exists for fuel manufacturers mandated to blend biofuels," Lusk remarked.
     On price discovery, Aherin said a cash mandate could inhibit other innovative strategies. "I think we've seen in other species that we don't always have to discover price solely at the livestock level, there are examples, particularly in swine, where they use meat prices, to help determine the price of hogs that are on a formula," he told Rep. Jim Baird (R-Ind.) when asked about pricing a specified level of cattle on the cash market. "So, any mandate that would dictate that we have to price a certain number of cattle off of cattle cash transactions certainly hinders the ability to adapt to maybe some new opportunities to price cattle off of beef itself, sometime down the road," he explained.
     Cyberattacks. University of Minnesota Food Protection and Defense Institute Director Jennifer van de Ligt focused much of her testimony on the issue of cybersecurity. She said cyberattacks are a "growing and evolving" risk in the food and ag sector and noted many systems that manage critical aspects of food production "typically have the lowest level of integrated cybersecurity protections and are often omitted from enterprise cybersecurity plans, protections and training." While rising automation promises to bring greater efficiency to the food supply chain, van de Ligt cautioned, "with increased automation and computational network complexity, cyber risk also increases." To confront the issue, van de Ligt said USDA should "serve as the lead agency in collaboration with FDA, DHS [Department of Homeland Security] and FBI with consultation of food and ag insurance and cybersecurity industry partners" in a joint effort to address food and ag supply chain cybersecurity. Asked by panel Chair Jim Costa (D-Calif.) to weigh in on the state of interagency cooperation on cybersecurity, van de Ligt said there is already some coordination, but inefficiencies in communication remain. "One of the reasons that we recommended that USDA take the lead, particularly with cybersecurity, is because they have more influence across the broader set of agriculture, particularly pre harvest," she added.
     Van de Ligt also told Costa the Food Safety and Modernization Act (FSMA) might provide a legal foundation "that can be leveraged to move cyber defense forward in the food industry under the auspices of how it impacts food safety, and things like traceability." Using FSMA could create a level playing field, van de Ligt said, perhaps through "a requirement that cybersecurity be sent an essential component in [companies'] food safety plans."
     In terms of the recent JBS cyberattack, Lusk said overall impacts were reduced by the fact that plant shutdowns came on a holiday weekend — when many packers process fewer head of cattle to begin with. "It appears that the market impacts of that were fairly short lived," he observed. JBS' ability to restore production quickly thanks to system backups, were another factor, he added.
     Bottom line: The hearing underscored that promoting stability and resilience in cattle markets will require action on multiple fronts, and that focusing too much on expanding processing capacity or price discovery might detract from other areas needing attention. Experts agreed that diversifying the processing sector is an important goal but stressed that finding a balance that preserves efficiency will be essential to seeing results from those efforts endure over the longer-term.
— California's Prop 12 upheld. The U.S. appeals court in San Francisco agreed with a district court's dismissal of a lawsuit by farm groups trying to overturn California's Proposition 12 animal welfare law. Prop 12 bans shipment of pork, veal and eggs produced in other states if the animals are housed in conditions that do not meet California's animal welfare standards.
---
CORONAVIRUS UPDATE
---
— Summary: Global cases of Covid-19 are at 196,008,200 with 4,188,282 deaths, according to data compiled by the Center for Systems Science and Engineering at Johns Hopkins University. The U.S. case count is at 34,672,829 with 611,801 deaths. The Johns Hopkins University Coronavirus Resource Center said that there have been 343,361,524 doses administered, 163,588,042 have been fully vaccinated, or 49.8% of the U.S. population.
— Centers for Disease Control and Prevention (CDC) says it has studies backing up its decision to reinstate mask recommendations for the vaccinated, although it hasn't released the data yet. CDC Director Rochelle Walensky said earlier this week that she has research indicating vaccinated people infected with delta are carrying high viral loads — a new phenomenon, compared with how the original version of the virus behaved.
— Google and Facebook will require all employees at their U.S. campuses to be vaccinated, joining several public and private enterprises taking new precautions as the highly infectious Delta variant of Covid-19 sweeps across the United States. Apple plans to require employees and customers to wear masks in more than half its U.S. retail stores regardless of their vaccination status. Meanwhile, President Biden is expected to announce today that his administration will require federal employees to get vaccinated or be regularly tested for Covid-19.
— A different approach in the U.K. Fully vaccinated people from the U.S. and most of Europe will be allowed to enter England and Scotland without quarantining starting Monday.
— Pfizer expects sales for its Covid-19 vaccine this year to reach about $33.5 billion, up nearly 30% from its forecast three months ago, as the shot plays a growing role in global efforts to curb the spread of the coronavirus. Investors are unsure when the company's Covid-19 boom will end, but its 10% sales growth in the second quarter compared with the year prior in its non-Covid business should ease concerns.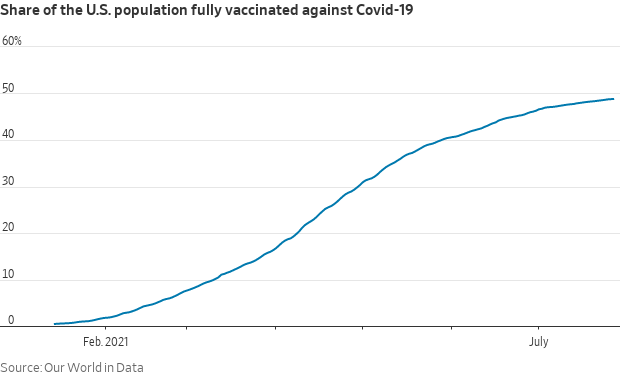 ---
OTHER ITEMS OF NOTE     
---
— Biden releases cybersecurity memo. President Biden released a memo (link) yesterday directing the Departments of Homeland Security and Treasury to create baseline cybersecurity goals for all critical infrastructure sectors. It also establishes an Industrial Control Systems Cybersecurity Initiative, a partnership between the federal government and companies that run industrial control systems. Sen. Sheldon Whitehouse (D-R.I.) called on the administration to promptly work with lawmakers to move a bill aimed at creating breach reporting requirements for certain companies.
— Direct forgiveness offered for small PPP loans. Paycheck Protection Program (PPP) borrowers with loans of $150,000 or less will be able to directly apply to the Small Business Administration for forgiveness, instead of going through their lender. The interim final rule, released by the agency yesterday, allows lenders to opt into the alternative method for processing PPP loans, reducing burdens on lenders to service forgiveness applications.
— U.S. gov't spent $665 billion on goods and services in fiscal 2020. A rule proposed by the Biden administration would require that products obtained under the longstanding "Buy American" program have at least 60% of the value of components made in the U.S., up from 55%. That would increase to 75% by 2029.
---