Hard to Announce Coming Direct Dairy Payment When You Cancel Trip to Dairy State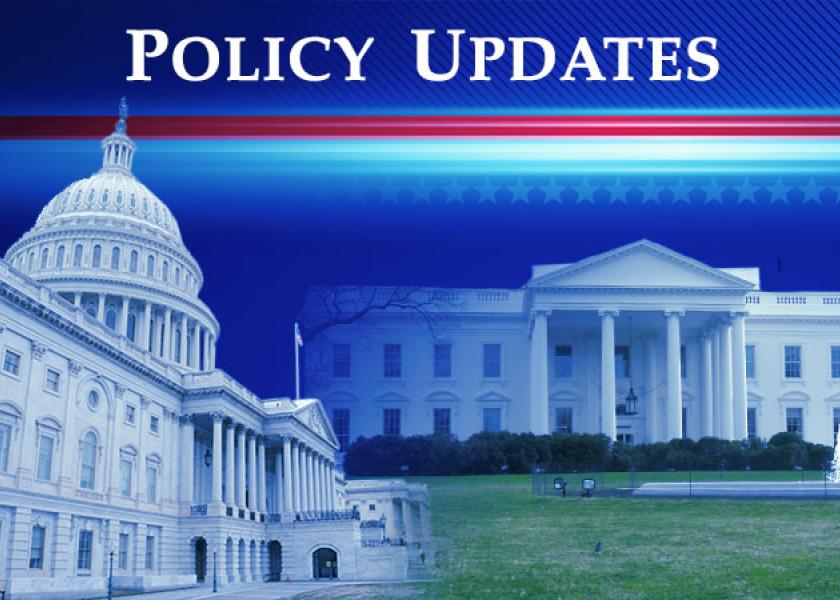 Commodity traders focus on today's Acreage, Grain Stocks reports from USDA
---
In Today's Digital Newspaper
---
Market Focus:
• Home price index rose 14.6% in year that ended in April
• Inflation getting serious… drink prices could be on their way up
• Oil prices are soaring
• Bitcoin enjoyed best three-day stretch in more than four months, prices lower today
• Amtrak opposes CN/KCS voting trust
• Scorching heat raises immediate worries in U.S. of more wildfires
• Ag demand update
• Selling dominates as trade prepares for USDA's reports
• June Acreage Report, Quarterly Grain Stocks out today
• Rains limit frost damage in Brazil's northern Parana
• More than half of Argentina's soybean crop has been sold
• Argentina to offer a one-year dredging contract of the Parana
• Slight cash cattle market gains
• Rebound in lean hog futures continues
Policy Focus:
• Biden strategy flub means Vilsack a no-show in Wisconsin, meaning no dairy aid
• Biden tries to sell two infrastructure bills that haven't been written yet
• Pelosi keeps both measures in tandem
China Update:
• Expansion in China's factory sector slowed in June
• Reuters: ChemChina IPO for Syngenta could reap $10 billion
Trade Policy:
• India cuts crude palm oil import tax for three months
Energy & Climate Change:
• Trio of bipartisan biofuel-related bills coming
• GOP climate change task force
Livestock, Food & Beverage Industry Update:
• USDA sends final rule to OMB on imports of non-cattle livestock relative to BSE
Coronavirus Update:
• Kim Jong Un: North Korea's Covid-19 situation has become grave
Politics & Elections:
• WSJ takes a look at redistricting
• Poll: Erosion in support for Biden since April
• Trump visits the U.S./Mexico border today
Congress:
• House votes to remove statues of Confederate leaders from U.S. Capitol
• House agenda today
Other Items of Note:
• Governor of South Dakota to deploy State National Guard troops to Texas
• Supreme Court supports PennEast Pipeline's seizure of N.J. land
• Rent and evictions moratorium extended one month
• SCOTUS rules on deported noncitizens who re-enter U.S. illegally
 
---
MARKET FOCUS
---
Equities today: Global stock markets were mixed to weaker overnight. The U.S. stock indexes are pointed toward slightly lower openings. With one day left in June, the market is getting ready to close out a strong first half of the year. The S&P 500 is on track for a gain of 14.3%, more than double its average for a full year. The Nasdaq is also headed for its seventh positive month in the last eight, and while the Dow is red for June, it previously notched a four-month winning streak. In Asia, major benchmarks ended on a mixed note. The Shanghai Composite Index advanced 0.5% Wednesday, while Hong Kong's Hang Seng Index slipped 0.6% by the close of trading. The big piece of economic data this week will be Friday's jobs report for June. Economists expect it to show U.S. employers created 675,000 more jobs than they cut, with the unemployment rate falling to 5.7%.
     U.S. equities yesterday: The Dow edged higher by 9.02 points, less than 0.1%, to 34,292.29. The Nasdaq added 27.83 points, 0.2%, to its record high from a day before and finished at 14,528.33. The Standard & Poor's 500 index inched up 1.19 points, less than 0.1%, to 4,291.80 and added to its all-time high set a day earlier.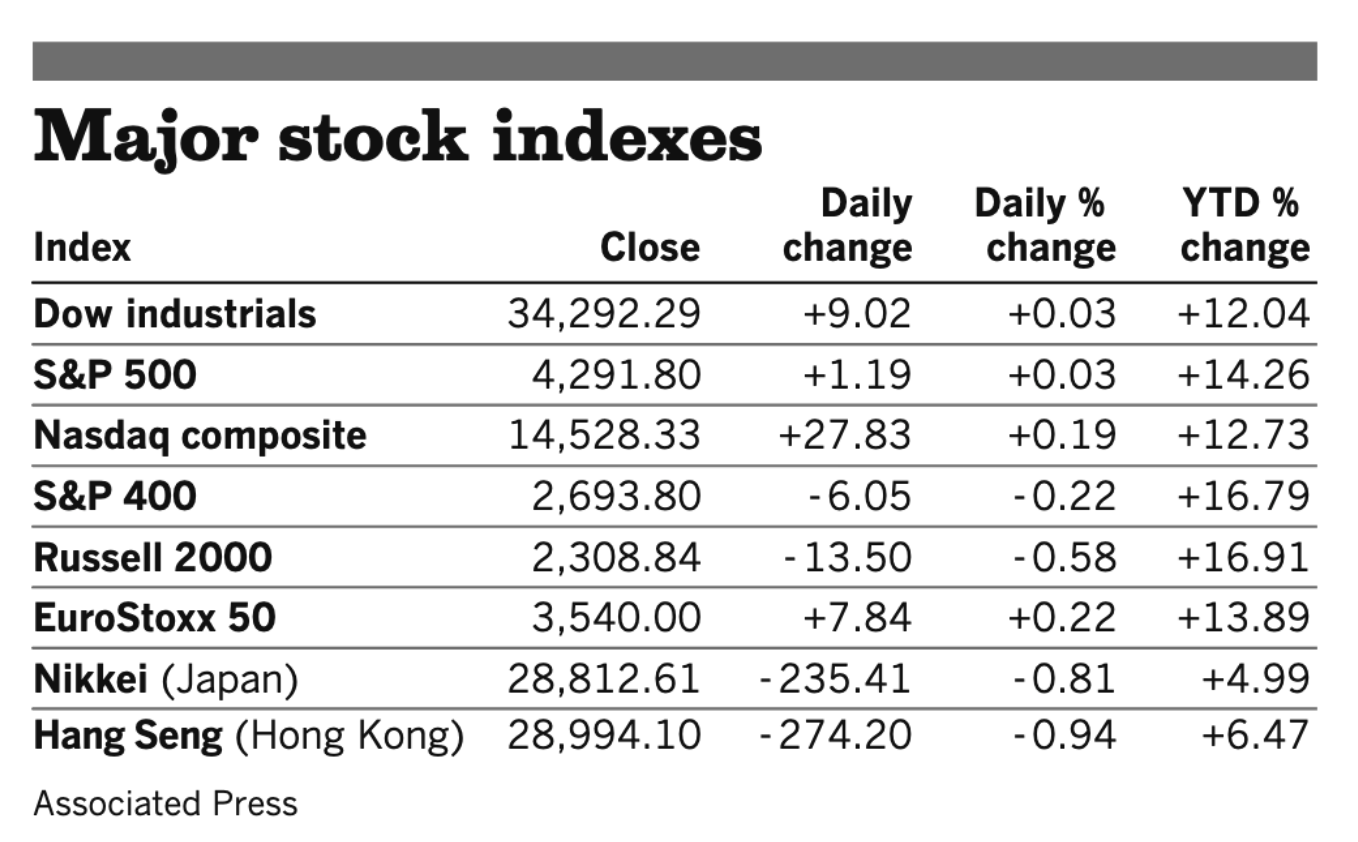 On tap today:
     • ADP National Employment Report for June, due at 8:15 a.m. ET, is expected to show an increase of 550,000 jobs.
     • Institute for Supply Management's Chicago Business Barometer for June, due at 9:45 a.m. ET, is expected to decline from the prior month.
     • Energy Information Administration weekly petroleum status report is due at 10:30 a.m. ET.
     • President Biden and Vice President Kamala Harris deliver remarks and convene cabinet officials.
     • FEMA officials and governors of Western states to discuss drought, the heat and wildfires at 11 a.m. ET.
S&P CoreLogic Case-Shiller National Home Price Index rose 14.6% in year ended in April, up from an 13.3% annual rate the prior month. April marked the highest annual rate of price growth since the index began in 1987. The median existing-home sales price in May rose almost 24% from a year earlier, topping $350,000 for the first time, the National Association of Realtors said earlier this month.
With the cost of making liquor on the rise, drink prices could be on their way up. Now inflation is getting serious… Costs for cardboard packaging, aluminum for beer cans, labels, transportation and energy are all going up, part of a wider burst of inflation hitting many industries. Some vineyards, brewers and distillers say they are absorbing those costs for now, and prices for alcoholic beverages are rising more modestly than other consumer goods. That might not last, the Wall Street Journal reports (link). Meanwhile, top Fed officials are increasingly divided over how to respond to inflation, the New York Times reports (link).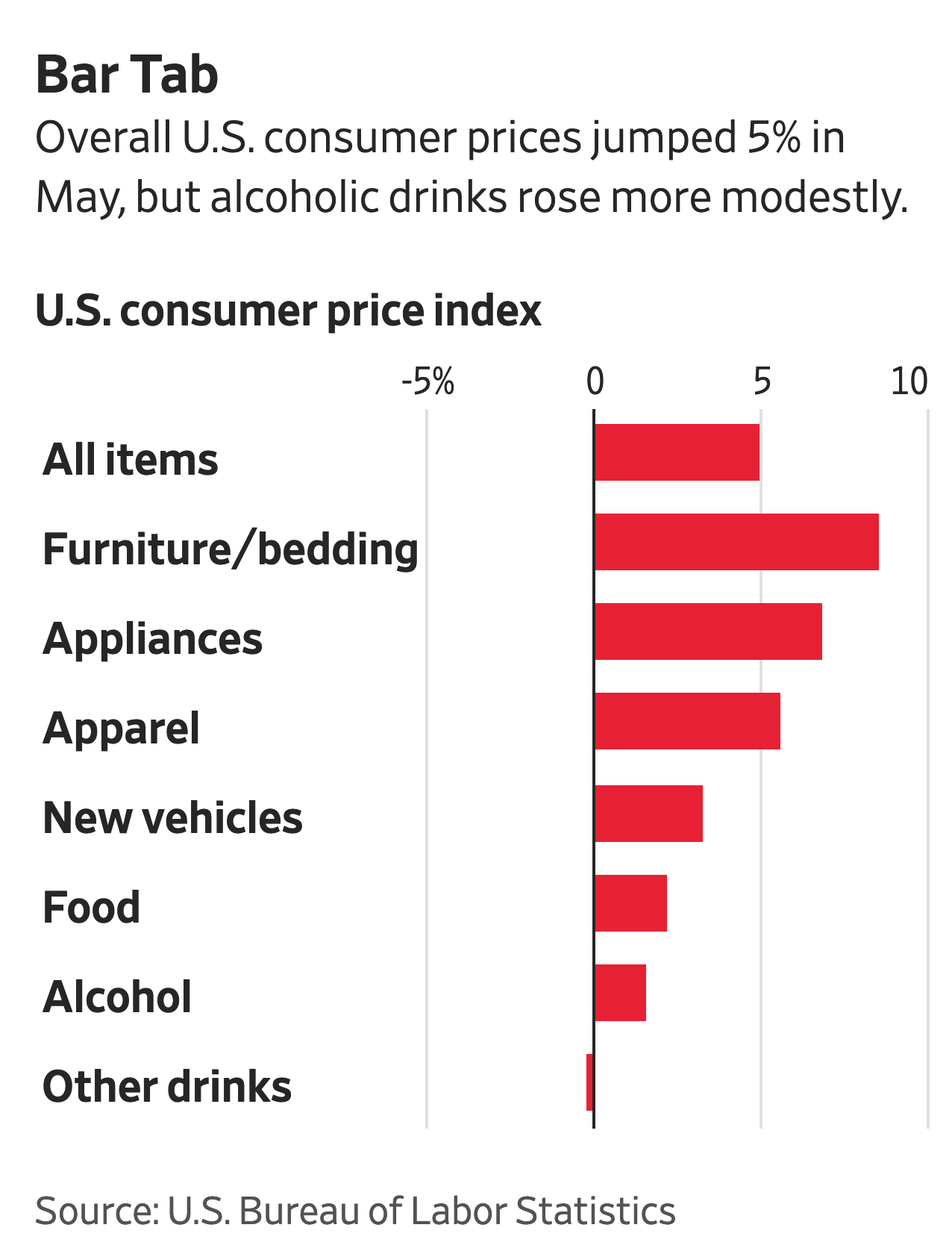 Market perspectives:
     • Outside markets: The U.S. dollar index is a tad higher with the euro slightly weaker against the greenback. The yield on the 10-year US Treasury note has edged down, trading under 1.46% with a general weaker trend in global government bond yields. Gold and silver are mixed ahead of US trading. Gold is weaker, trading around $1,762 per troy ounce while silver is higher, trading around $25.90 per troy ounce.

     • Oil prices are soaring. At about $75 a barrel, Brent crude is up 85% from November, propelled by the global recovery from the pandemic, OPEC+'s keeping a lid on supply and U.S. shale producers' throttling their production in response to pressure from investors to cut spending. The group of oil producers known as OPEC+, which includes Saudi Arabia and Russia, will convene for its monthly meeting tomorrow to discuss production targets.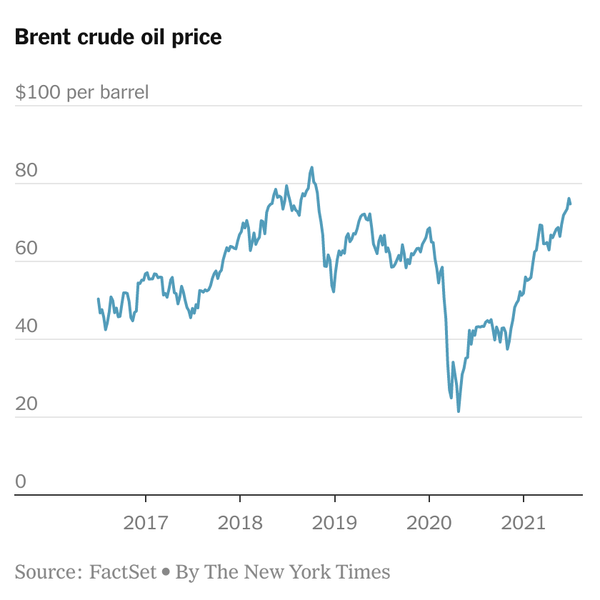 • Crude prices have built on earlier gains in Asian action as traders await U.S. gov't inventory data due later this morning. U.S. crude is trading around $73.75 per barrel while Brent is around $74.95 per barrel. Futures were higher in Asian action, with U.S. crude up 36 cents at $73.35 per barrel while Brent was up 34 cents at $74.62 per barrel.
     • Bitcoin enjoyed its best three-day stretch in more than four months, rising more than 15% over the period to $36,156.30 at 5 p.m. ET on Tuesday. But the volatile crypto was already giving up some of the gains early today, dropping 4%.
     • Amtrak opposes CN/KCS voting trust. Amtrak has asked the Surface Transportation Board (STB) to reject CN's use of a voting trust in its proposed combination with Kansas City Southern (KCS). The passenger railroad's comments were filed June 28, along with those from Canadian Pacific (CP), KCS' rival merger partner. June 28 was the final day of the STB public comment period on the trust. CN and KCS are slated to review the comments and file a reply on July 6. Link to details via Railway Age.
     • Ag demand: Iran's state-owned animal feed importer issued an international tender to buy up to 60,000 MT of corn, 60,000 MT of feed barley and 60,000 MT of soymeal. South Korean flour mills bought around 77,000 MT of milling wheat to be sourced from the U.S. in a tender. Taiwan's MFIG purchasing group bought around 55,000 MT of animal feed corn to be sourced from South Africa; no U.S. offers were reported. Thailand rejected all offers and made no purchase in its tender to buy 197,700 MT of animal feed wheat, citing high prices.
     • Wildfire risks. The scorching heat raises immediate worries in the U.S. of more wildfires this season — to add to the 48 already raging — and an even worse drought, already labelled "exceptional," the highest designation, in much of the western United States. Wary of another devastating wildfire season, President Joe Biden convenes western state governors to discuss preparation and response at the White House today.
     • NWS weather outlook: Dangerous heat continues across interior sections of the Northwest and Northern Rockies, while extending into the Northern High Plains... ...One more day of oppressive heat throughout the Mid-Atlantic and Northeast before a cold front produces rain and severe weather chances by this evening... ...Flash flood threat found between the Ohio Valley and Central Plains today ahead of an advancing cold front, shifting into the Mid-Atlantic and Tennessee Valley by Thursday.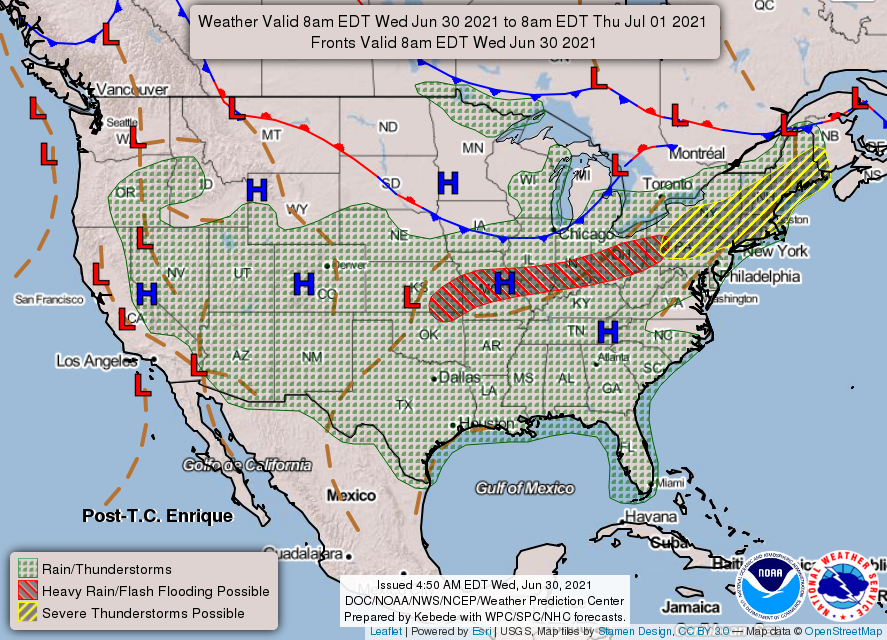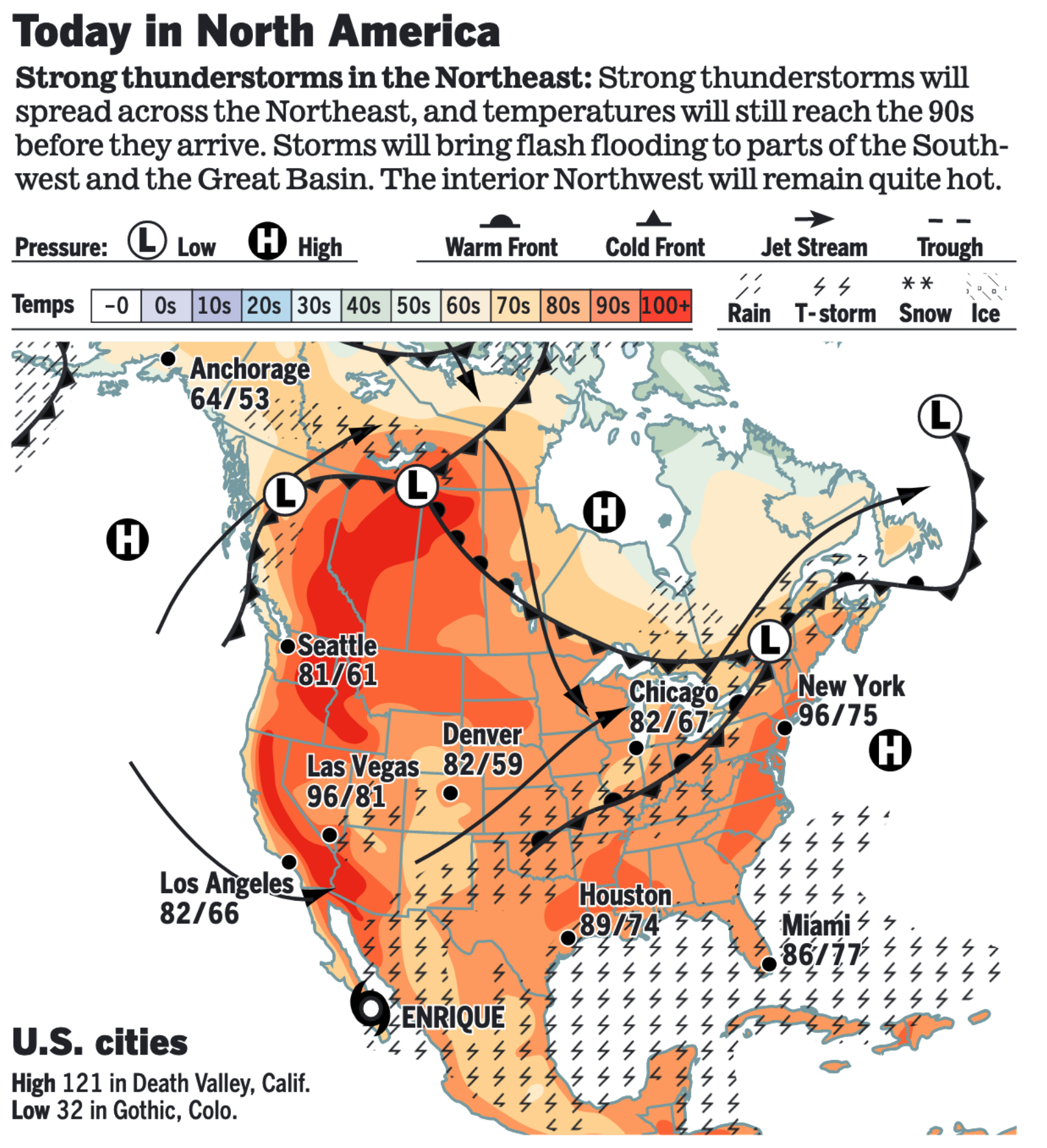 Items in Pro Farmer's First Thing Today include:
     • Selling dominates as trade prepares for USDA's reports
     • June Acreage Report, Quarterly Grain Stocks out today
     • Rains limit frost damage in Brazil's northern Parana
     • More than half of Argentina's soybean crop has been sold
     • Argentina to offer a one-year dredging contract of the Parana
     • Slight cash cattle market gains
     • Rebound in lean hog futures continues
---
POLICY FOCUS
---
— Biden promotes infrastructure deal in Wisconsin; Vilsack canceled his trip to Wisconsin as dairy producers wait for next aid payment. Efforts to bolster odds for an infrastructure approval in Congress made that topic the only major focus when President Joe Biden visited Wisconsin on Tuesday. The effort came after a botched rollout that required days of cleanup.
     Meanwhile, nearly $1 billion in direct payments to dairy awaits final workings as the plan grinds through the regulatory gov't process. Last Tuesday — before Biden and the bipartisan Senate group reached their compromise agreement — the White House had announced the president would travel to southwest Wisconsin with USDA Secretary Tom Vilsack to talk about rural economies. After the deal was announced, the visit was revamped to focus on infrastructure and Vilsack was a no show in the state. That's likely the real reason nothing was announced for dairy producers. Different agenda, different announcement. Biden was scheduled to visit Cates Family Farm in rural Spring Green with Vilsack to discuss issues facing farmers and boosting rural economies as Wisconsin's small family dairy farms face near extinction. The switching of Biden's visit from agriculture to infrastructure was disappointing, said Jim Goodman, with the group National Family Farm Coalition. "I was really glad when I saw that the president was going to be here and talk about agriculture, because I thought maybe we could get a little traction on some legislation we're interested in," Goodman said. "But now, that's not a message he's going to hear from anybody in person… Farmers need a fair price for what they produce. We can't look to the world to soak up all our excess production, and it would have been nice if he could have heard that from someone," he said.  After Biden's speech, Darin Von Ruden, a dairy farmer from Westby and president of the Wisconsin Farmers Union, got a minute to speak with the president. He told him USDA should consider some type of supply management system for the dairy industry so that farmers could cover their production costs and keep milk supplies in balance with the demand. It was something Vilsack could look into, the president responded. Von Ruden also asked Biden to add agriculture to the administration's list of antitrust concerns.
     Biden campaigned in Wisconsin to build public support for the fragile framework of a nearly $1-trillion, five-year bipartisan infrastructure proposal — "a blue-collar blueprint for rebuilding America," he called it. Biden toured a transit facility in La Crosse and promoted the specific components of the deal he agreed to last week with moderate senators from both parties. He framed the proposal as a "generational investment" in improving roads, bridges, rail lines, broadband networks, water infrastructure and mass transit, and underscored the fact that thousands of jobs could be created as a result.
     The president said the proposal would "put Americans to work through a first-ever national effort to install electric-vehicle charging stations."
     Biden reiterated his support for a second bill focused on workers and families, noting that it probably would include an extension of the temporary child tax credit included in the $1.9-trillion coronavirus relief package he signed into law in March. "People will say, 'Well, that's a giveaway, ' " Biden said. Lowering his voice to a whisper, he went on: "Hey, guys, I think it's time to give ordinary people a tax break. The wealthy are doing fine."
     He also continued to argue for a tax increase on corporations and the wealthy to fund additional investments. The five Republicans who reached the compromise on the more traditional infrastructure measure with Democrats flatly rejected that proposal.
     Tandem still in play with House Democrats. In a closed-door meeting with fellow Democrats, House Speaker Nancy Pelosi (D-Calif.) on Tuesday reiterated an earlier pledge that the House would not consider the bipartisan package until the Senate had approved the Democratic bill. Some House far left lawmakers continued to say that they won't vote in favor of any bipartisan bill from the Senate unless the second, larger bill is approved and sent to the House. Their threat holds power given Democrats' narrow majority in the House.
     In the Senate, Joe Manchin (D-W.Va.), one of the moderates who negotiated the bipartisan infrastructure bill, urged Democrats to support both bills, neither of which have been written as yet. "Saying, 'I'm not going to vote for the other one,' because you won't get everything, we've never done legislation that way," Manchin said during an interview on MSNBC. He made clear he's likely to get behind the Democratic bill, though not one as large as the $6-trillion proposal floated earlier this month by Sen. Bernie Sanders (I-Vt.) and backed by the most liberal lawmakers.
---
CHINA UPDATE
---
— Expansion in China's factory sector slowed in June, as export demand weakened while supply bottlenecks held back production, official data showed today. China's official purchasing managers index fell to 50.9 in June from 51.0 in May. A reading above 50.0 suggests growth in the sector. Local Covid outbreaks were tabbed as a factoring in tempering services activity.
 
— Reuters: ChemChina IPO for Syngenta could reap $10 billion. ChemChina is looking to raise $10 billion from a Shanghai IPO for Sygenta Group, Reuters reported, and a secondary listing is also being considered which could involve a listing on exchanges in Zurich, London and New York. The report noted that Hong Kong is also a possibility for the secondary listing, but was not labeled a front-runner. The expectation is Syngenta would be valued around $60 billion including debt, or $50 billion without. ChemChina paid $43 billion for Syngenta in 2017. Around one-third of the proceeds from the listing would be used to repay debt, with remaining amounts to be targeted for research and development and new businesses, the report noted.
---
TRADE POLICY
---
— India cuts crude palm oil import tax for three months. India will trim the base import tax on crude palm oil to 10% from a current 15% for three months, according to a gov't announcement, with the reduction effective from today (June 30) to September 30. With the reduction, Reuters reported that palm oil imports would be subject to taxes totaling 30.25% compared with an overall tax rate of 35.75%. While the effort is aimed at bolstering vegoil supplies for consumers, there were no reductions in the duties on imports of soyoil and sunflower oil.
 
---
ENERGY & CLIMATE CHANGE
---
— Trio of bipartisan biofuel-related bills coming. Biofuel-backing senators will introduce three pieces of legislation aimed at bolstering the sector, including efforts to expand higher biofuel blends, provide tax incentives for flex fuel vehicles and establish a tax credit higher blends of ethanol. Sens. Amy Klobuchar (D-Minn.), Joni Ernst (R-Iowa) and John Thune (R-S.D.) are among the lawmakers behind the efforts.
     The first effort would appropriate $100 million annually in fiscal years (FYs) 2021 through 2030 for efforts to update fueling dispensers and storage tanks for higher biofuel blends, with 75% cost share for new pumps to dispense higher ethanol blends, 50% for higher biodiesel blends, and 40% of the cost to update tanks.
     Another measure would establish a $200-per-vehicle tax credit for flex-fuel vehicles. The low-carbon fuel tax credit would provide 5 cents per gallon for E15 and 10 cents per gallon for blends over 15% ethanol.
     There already has been a push by some lawmakers to include biofuel efforts in any infrastructure package, and it would seem these pieces of legislation are being offered potentially with that goal in mind.
— GOP climate change task force. House Minority Leader Kevin McCarthy (R-Calif.) announced the creation of a climate change task force on Tuesday tasked with devising a policy agenda to address global warming should Republicans capture the House in the 2022 midterm elections.
---
LIVESTOCK, FOOD & BEVERAGE INDUSTRY
---
— USDA sends final rule to OMB on imports of non-cattle livestock relative to BSE. USDA has sent forward a final rule to the Office of Management and Budget (OMB) for review that would revise rules for imports of sheep, goats, and other non-cattle ruminants and their products regarding bovine spongiform encephalopathy (BSE). The rule would remove BSE-related import restrictions on sheep, goats and most of their products and add import restrictions relative to transmissible spongiform encephalopathies (TSEs) for certain wild, zoological or other non-cattle species. The rule would align U.S. import conditions with internationally accepted rules from the World Organization for Animal Health's Terrestrial Animal Health Code. USDA aims to publish the final rule in August.
     By the way, the Dairy Donation Program (DDP) rule is still at OMB and EPA has not yet sent OMB the expected RFS rule governing 2020 and 2021 RVO levels and other info.
---
CORONAVIRUS UPDATE
---
— Summary: Global cases of Covid-19 are at 181,856,808 with 3,939,034 deaths, according to data compiled by the Center for Systems Science and Engineering at Johns Hopkins University. The U.S. case count is at 33,653,105 with 604,476 deaths. The Johns Hopkins University Coronavirus Resource Center said that there have been 325,152,847 doses administered, 154,199,664 have been fully vaccinated, or 47.0% of the total U.S. population.
— North Korean leader Kim Jong Un accused officials of causing a "great crisis" in the country's Covid-19 response that would lead to "grave consequences," North Korean state media reported today, a rare acknowledgement of the pandemic as North Korea officially claims to be free of the virus. State media said that several Workers Party members had been replaced over the unspecified incident, including one of its powerful five-member Politburo standing committee known as the Presidium. The publication of Kim's remarks comes soon after the leader admitted to a "tense" food situation in the country.
 
---
POLITICS & ELECTIONS
---


— Redistricting: Republicans pursuing a House majority have the upper hand in drawing new congressional districts, but some Democratic-trending suburbs make the task tricky. Link to details via the WSJ. The redrawing of the congressional map is expected to be a key factor in whether the GOP can retake the House in 2022, when the changes will take effect.
— President Joe Biden has seen an erosion in support since April, mainly from fellow Democrats, as his administration wrestles with Congress to make good on campaign promises and more Americans worry about an uneven economic recovery, Reuters/Ipsos polling shows (link).
— Former President Donald Trump visits the U.S./Mexico border today as he seeks to reclaim the spotlight, riding a wave of Republican attacks on Biden.

 
---
CONGRESS  
---


— House passed a bill to remove statues of Confederates and other historical figures who advocated for slavery or white supremacy from public display in the U.S. Capitol. The bill next heads to the Senate, where its fate is uncertain.
— House agenda today: The House will vote today on a resolution to establish a select committee to investigate the Jan. 6 riot at the U.S. Capitol, and begin floor debate on Democrats' surface transportation and water infrastructure package. A total of 149 amendments would be made in order to the surface transportation and water measure (HR 3684). Both Democrats and Republicans will propose amendments to the bill on the floor, including ones that address high-speed rail, environmental reviews and even the transportation of horses. Speaker Nancy Pelosi (D-Calif.), Transportation and Infrastructure Chair Peter DeFazio (D-Ore.), and Energy and Commerce Chair Frank Pallone (D-N.J.) will lead a press conference on the infrastructure measure this morning in the Capitol Visitor Center before the House convenes.
     Meanwhile, the FY 2022 ag spending bill markup is today. The House Appropriations Committee will markup the USDA spending plan for fiscal year (FY) 2022, and it is not clear how many changes will be attempted by lawmakers after the measure was cleared easily at the subcommittee level with no changes. Attention remains on funding for climate-related efforts in the legislation.
 
---
OTHER ITEMS OF NOTE     
---
— Governor of South Dakota to deploy State National Guard troops to Texas to assist in securing the U.S./Mexico border from illegal entrants.
— Supreme Court removed a hurdle to the construction of a natural-gas pipeline through Pennsylvania and New Jersey, ruling the pipeline developer could invoke the power of the federal government to take state property needed for the project. The court's 5-4 opinion, by Chief Justice John Roberts, handed a considerable victory to the natural-gas industry by rejecting New Jersey's challenge to the actions of the PennEast Pipeline Co., a joint venture of several energy companies that aims to build a 116-mile interstate pipeline. The Federal Energy Regulatory Commission authorized the project and, under the Natural Gas Act, that approval allowed the company to use federal eminent domain power to take possession of the land, if necessary. New Jersey had objected to PennEast Pipeline's attempt to take dozens of parcels of land in which the state holds a property interest. The ruling may not save PennEast itself, said Christi Tezak, managing director at analysis firm Clearview Energy Partners. It faces further challenges from environmental groups over greenhouse-gas emissions and the pipeline's necessity for consumers.
— Rent and evictions moratorium extended one month. A national moratorium on the eviction of tenants had previously been set to expire today, though a 5-4 decision at the nation's highest court will see the order extended for another month. Chief Justice John Roberts and Justice Brett Kavanaugh joined with the court's three liberal justices to leave the moratorium in place, with Kavanaugh issuing a one-paragraph concurrence detailing his views. "Because the CDC plans to end the moratorium in only a few weeks, on July 31, and because those few weeks will allow for an additional and more orderly distribution of the congressionally appropriated rental assistance funds, I vote at this time to deny the application" that had been filed by real estate firms and trade associations. By the end of March, 6.4 million American households were behind on their rent, according to data from the Department of Housing and Urban Development. On June 7, a Household Pulse Survey from the U.S. Census Bureau also showed that roughly 3.2 million people in the U.S. feared an eviction in the next two months.
— Supreme Court ruled that deported noncitizens who re-enter the U.S. illegally and claim asylum must remain in custody while their cases are processed. "Aliens who re-entered the country illegally after removal have demonstrated a willingness to violate the terms of a removal order," Justice Samuel Alito wrote for the court.
---