Finally, 'Clean' CR is Coming Today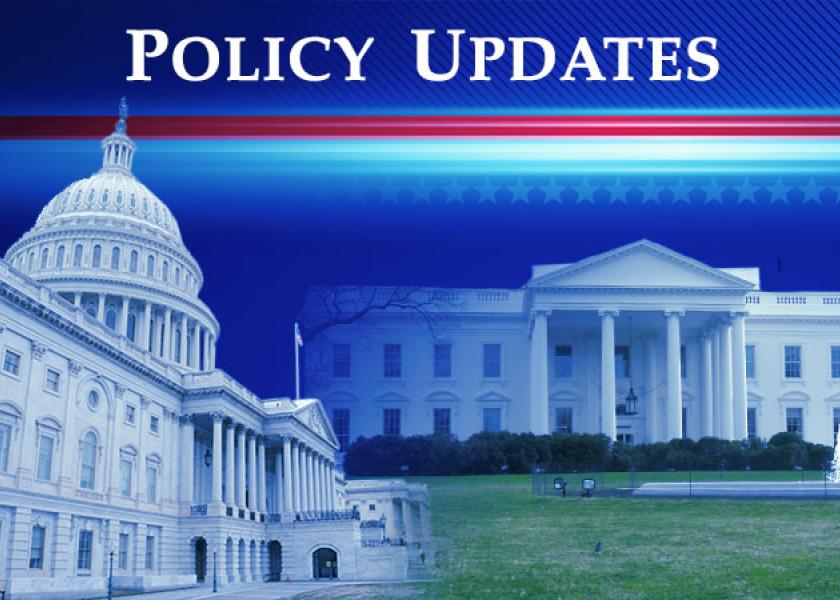 Warren blasts Fed chairman | Debt ceiling timeline | White House talks to OPEC
---
In Today's Digital Newspaper
---
Market Focus:
• Yellen: Debt ceiling could be reached Oct. 18; others say later
• Fed chairman Powell on inflation
• Fed's Powell faces more hostility on the Capitol Hill than normal
• Home-price growth climbed to a new record in July
• Confidence among U.S. consumers fell in September for third consecutive month
• Biggest U.S. companies sitting on record piles of cash
• White House continuing discussions with OPEC on oil prices 
• Transportation industry updates
• Ag demand update
• Grain and soy futures higher, despite dollar strength
• CHS's Myrtle Grove terminal reopens
• ANEC pares its Brazilian soybean and corn export outlooks for September
• Cyclone damages Indian crops
• India launches new rice variety that will slash the crop's water needs
• EU's soft wheat exports well ahead of year-ago
• Argentina lifts cap on beef exports
• Beef market still looking for a low
• Hogs rallying amid lower supply outlook 
Policy Focus:
• Senate preparing 'clean' CR to fund gov't agencies until Dec. 3
• No limit of issues on debt limit suspension
• Updates on BIF and social and climate change infrastructure measures
• Biden cancels trip to Chicago today to deal with intraparty issues 
Afghanistan:
• Top military leaders contradicted Biden at least twice during hearing
• McKenzie: 'War on terror is not over, and the war in Afghanistan is not over'  
China Update:
• Milley: China calls were coordinated with Trump aides
• U.S., China clash at WTO over solar duties 
Trade Policy:
• U.S. exports of goods hit fresh record in August 
Energy & Climate Change:
• Manchin expresses concern on CEPP effort 
Coronavirus Update:
• Vaccine for kids
• United says its Covid vaccine mandate is working 
Politics & Elections:
• Japan vote
• McAuliffe, Youngkin engage in final debate before Virginia election
• Obama presidential library will include a fruit and vegetable garden 
Congress:
• Biden opposes changing filibuster rule to increase debt limit
• Mandatory livestock price reporting
Other Items of Note:
• Britain to ease regs on gene editing in agriculture research
---
MARKET FOCUS
---
Equities today: Global stock markets were mixed in overnight trading, with Asian shares mostly weaker and European shares mostly up. The U.S. Dow opened up around 100 points higher. Asian equities closed mixed after a lower start following the downturn on Wall Street Tuesday. Japan's Nikkei fell 639.67 points, 2.12%, at 29,544.29. Hong Kong's Hang Seng rose 163.11 points, 0.67%, at 24,663.50. European equities are seeing gains in early action after Tuesday losses. The Stoxx 600 is up 0.9% with regional markets up 0.7% to 1.2%. 
     U.S. equities yesterday: Interest rate moves, debt worries roiled stocks. The Dow plunged 569.38 points, 1.63%, at 34,299.99. The Nasdaq dropped 423.29 points, 2.83%, at 14,546.68. The S&P 500 declined 90.48 points, 2.04%, at 4,3522.63.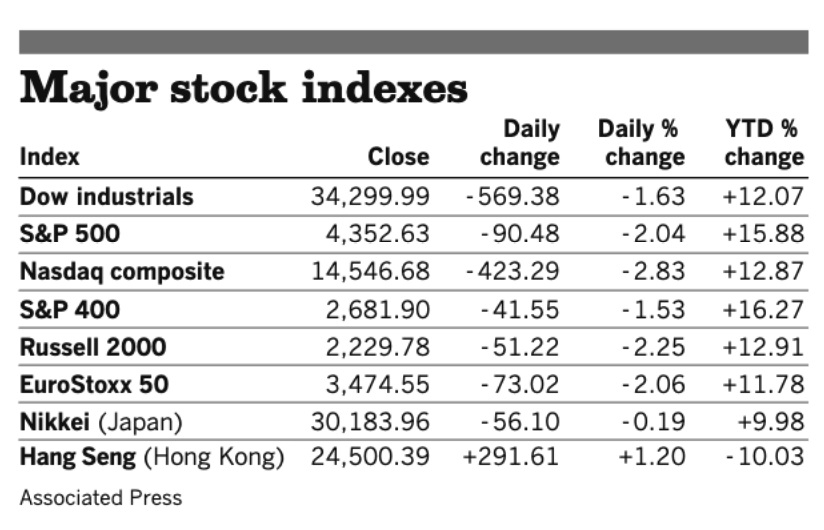 On tap today (see detailed list of events and reports below):
     • U.S. pending-home sales for August are expected to rise 1.2% from the prior month. (10 a.m. ET)
     • Federal Reserve Chairman Jerome Powell and European Central Bank President Christine Lagarde speak at a virtual ECB forum on central banking at 11:45 a.m. ET.
     • Fed speakers: Philadelphia's Patrick Harker on the economic outlook at 9 a.m. ET, San Francisco's Mary Daly at a virtual UCLA Anderson Forecast event at 1 p.m. ET, Atlanta's Raphael Bostic on inclusive payments at 2 p.m. ET, and New York's John Williams moderates a discussion for the Economic Club of New York at 5 p.m. ET.
     • U.S./EU Trade and Technology Council holds its inaugural meeting in Pittsburgh.
     • Japan industrial production for August is expected to decline 0.5% from the prior month. (7:50 p.m. ET)
     • China's official purchasing managers indexes for manufacturing and services are out at 9 p.m. ET.
Yellen: Debt ceiling could be reached Oct. 18. Treasury Secretary Janet Yellen now estimates the date at which the Treasury will exhaust all its extraordinary measures if Congress has not acted to raise or suspend the debt limit, will be Oct. 18, a more accurate forecast than her previous "sometime during the month of October." What happens beyond Oct. 18? As Yellen notes, "at that point, we expect Treasury would be left with very limited resources that would be depleted quickly. It is uncertain whether we could continue to meet all the nation's commitments after that date." Yellen cautions: "The government's daily gross cash flow (excluding financing) over the past year averages nearly $50 billion per day and has exceeded $300 billion. As a result, it is important to remember that estimates regarding how long our remaining extraordinary measures and cash may last can unpredictably shift forward or backward. This uncertainty underscores the critical importance of not waiting to raise or suspend the debt limit. The full faith and credit of the United States should not be put at risk." Yellen implored Congress not to wait until the last minute. "... we know from previous debt limit impasses that waiting until the last minute can cause serious harm to business and consumer confidence, raise borrowing costs for taxpayers, and negatively impact the credit rating of the United States for years to come.  Failure to act promptly could also result in substantial disruptions to financial markets, as heightened uncertainty can exacerbate volatility and erode investor confidence." Link to Yellen debt letter to Congress.
     U.S. faces an estimated $20 billion in Social Security payments on Oct. 20 along with around $6 billion in individual tax refunds, according to forecasts by the Bipartisan Policy Center. It faces another $49 billion in payments through Oct. 29, and then an additional $80 billion in payments on Nov. 1, including $14 billion in interest on the federal debt.
     Yellen said the U.S. economy is in the middle of a "fragile but rapid recovery" from the recession caused by the coronavirus pandemic in March 2020. Yellen said despite a recent slowdown in hiring and consumer spending due to the Delta variant of the coronavirus, she said she still expected the labor market to return to full employment next year.
     Democrats' next step on the debt limit: Pelosi said Tuesday that advancing a stand-alone debt limit bill is among the plans being considered to avoid a debt limit crisis.
     What Senate Minority Leader Mitch McConnell (R-Ky.) told Politico: "It'll all be over pretty soon. I know the country is not going to default. I know they have the votes to do this… I know they don't want to do it… I don't have any doubt that they will take care of this."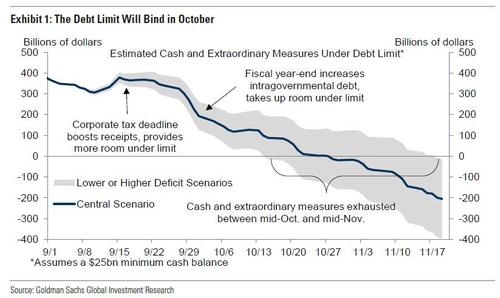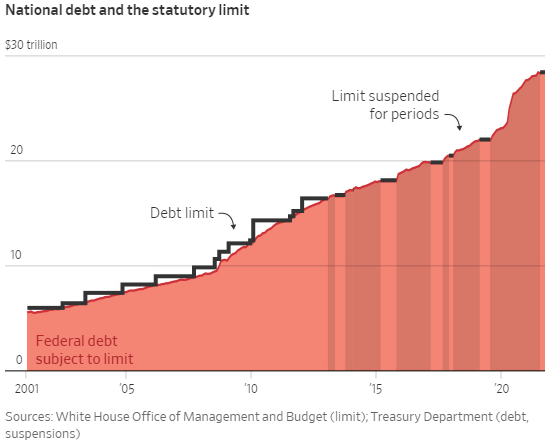 Fed chairman Powell on inflation. When asked if inflation was broader and more structural than earlier in the year, Powell said, "I think it's fair to say that it is." The supply-chain bottlenecks that have been driving prices higher "have not only not gotten better — they've actually gotten worse," he said. Powell pointed to shortages of semiconductor chips that have hampered the production of new cars and a growing backlog of container ships "with anchors down outside of Los Angeles."
Fed's Powell faces more hostility on the Capitol Hill than normal. Fed Chairman Jerome Powell has often garnered support from lawmakers in both parties during his tenure atop the U.S. central bank since 2018, but Tuesday saw the Fed chief subject to criticism on several fronts, and he was labeled a "dangerous man" by Sen. Elizabeth Warren (D-Mass.) when she announced she would oppose Powell being nominated to another term to lead the Fed when his current term as chair expires in February.
     Powell faced pointed questions on diversity at the Fed and on the recent financial market trading situation that has seen two Fed bank presidents — Boston Fed President Eric Rosengren and Dallas Fed President Robert Kaplan — announce their early exits from their roles. Powell committed to addressing trading activities by Fed members and said he would welcome more diversity, including the appointment of an African American woman to be a U.S. central banker.
     But the attack by Warren reverberated through Washington, prompting essentially a "no comment" from the White House on whether Powell would be nominated for another term leading the Fed. "I understand the interest," White House Press Secretary Jen Psaki said. "I don't have anything on personnel announcements to make and nothing further on Senator Warren's comments."
     Powell has worked to build stronger connections on the Hill as he has navigated the role of Fed chair, but progressive lawmakers want the Biden administration to put someone else in charge of leading the Federal Reserve. And the response from Psaki certainly was not seen as an endorsement of Powell at this stage.
Home-price growth climbed to a new record in July as buyers continued to compete fiercely amid a shortage of homes for sale. The S&P CoreLogic Case-Shiller National Home Price Index, which measures average home prices in major metropolitan areas across the nation, rose 19.7% in the year that ended in July, the highest annual rate of price growth since the index began in 1987. But price growth slowed slightly in three of the 20 cities tracked by the index: Detroit, Cleveland and Washington, D.C.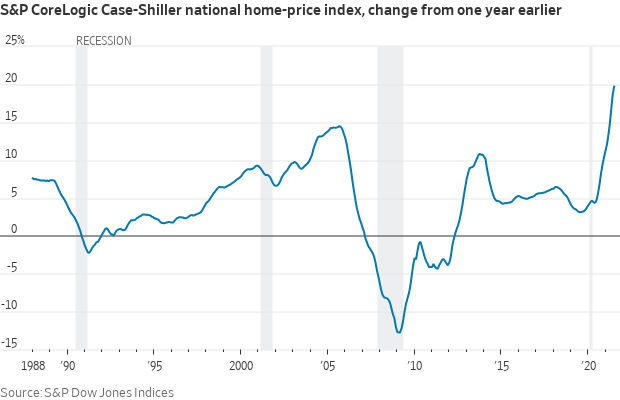 Confidence among U.S. consumers fell in September for the third consecutive month, as the Delta variant of Covid-19 and concerns about inflation weighed on households' moods. The Conference Board's consumer-confidence index fell to 109.3 in September from 115.2 in August. Consumer confidence hints at Americans' willingness to spend on goods and services, the major driver of the U.S. economy.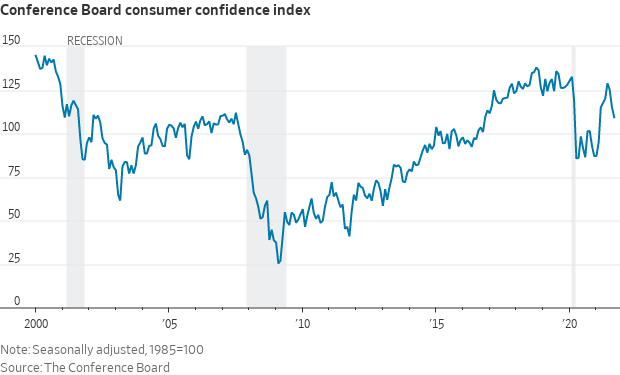 Biggest U.S. companies are sitting on record piles of cash. They are getting paid next to nothing for holding it, and they are running out of ways to spend it. So, they are buying a lot of commercial real estate. Publicly traded U.S. companies own land and buildings valued at $1.64 trillion, according to S&P Global Market Intelligence. That is up 38% from 10 years ago, and the highest for at least the past 10 years.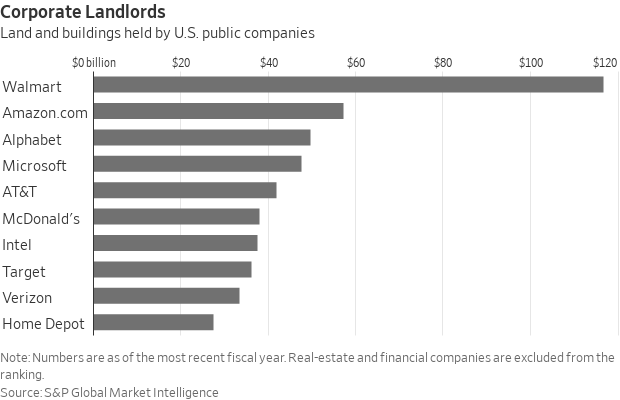 Market perspectives:
     • Outside markets: The U.S. dollar index has moved higher ahead of U.S. trading with the euro, yen and British pound all weaker against the greenback. The yield on the 10-year U.S. Treasury note has eased to trade around 1.51%, with a mostly weaker tone in global government bond yields. Gold and silver futures are mixed, with gold trading higher around $1,743 per troy ounce and silver weaker around $22.29 per troy ounce.

     • Crude oil futures have lifted off their overnight lows but remain in negative territory. U.S. crude is trading around $75 per barrel and Brent around $78 per barrel. Futures were lower in Asian action, with U.S. crude down $1.53 at $74.14 per barrel and Brent down $1.33 at $77.30 per barrel. 
     • White House continuing discussions with OPEC on oil prices. The White House said that they continue to talk with OPEC countries about oil prices and the Biden administration is continuing to monitor oil prices, according to Press Secretary Jen Psaki. The White House is not only engaged with OPEC but is also looking at different means to address oil costs. "We're looking at every means we have to lower gas prices… or address the cost of oil," Psaki said, adding she did not have "anything else to preview for you." Of note, OPEC predicts it will dramatically boost its influence in the global oil market over the next two decades.
     • Transportation nuggets:
     — Freight futures prices for the largest dry-bulk vessels are soaring as spot rates approach $70,000 a day.
     — Union Pacific is limiting how many westbound domestic containers it carries out of congested Midwest terminals.
     — A.P. Moller-Maersk will sell its refrigerated container manufacturing operation to China International Containers for about $1 billion.
     — Sea-Intelligence says container lines' schedule reliability reached a record low of 33.6% in August.
     — Air cargo demand for Asia-Pacific airlines rose 26% in August from a year ago against a 17.8% gain in capacity.
     • Ag trade: Algeria bought between 500,000 MT and 550,000 MT of optional-origin milling wheat in an international tender, with France expected to supply much of the wheat; some Black sea supplies could also be in the mix. Jordan made no purchase in its tender for 120,000 MT of wheat. Pakistan has received offers in its tender to buy 640,000 MT of wheat.
     • NWS weather: Heavy rain and the threat of isolated flash flooding found across parts of the Central Plains, Lower Mississippi Valley, and Texas Gulf Coast today before the bulk of the activity shifts into the Southern Plains on Thursday... ...Well above average temperatures continue across the Midwest as cooler air infiltrates the western half of the country and Northeast.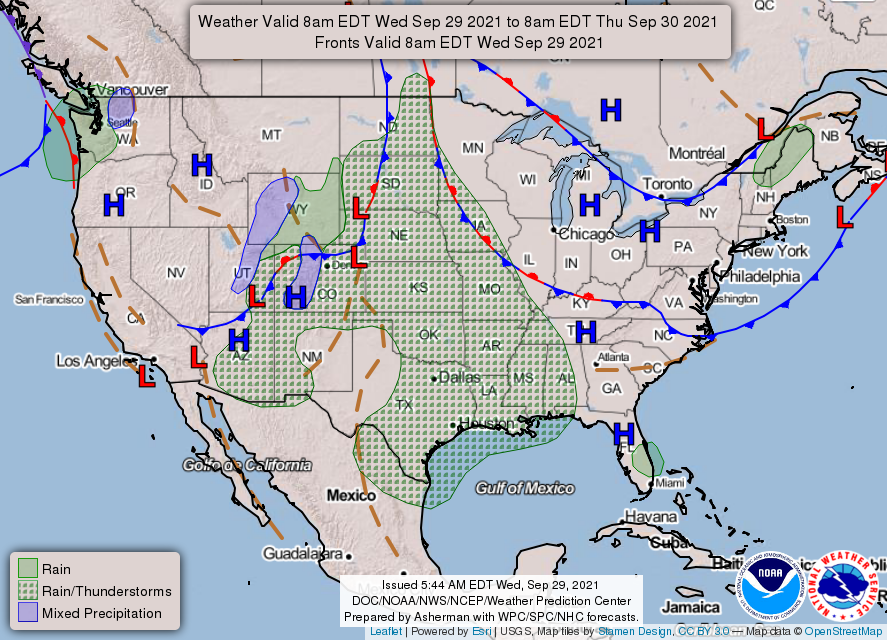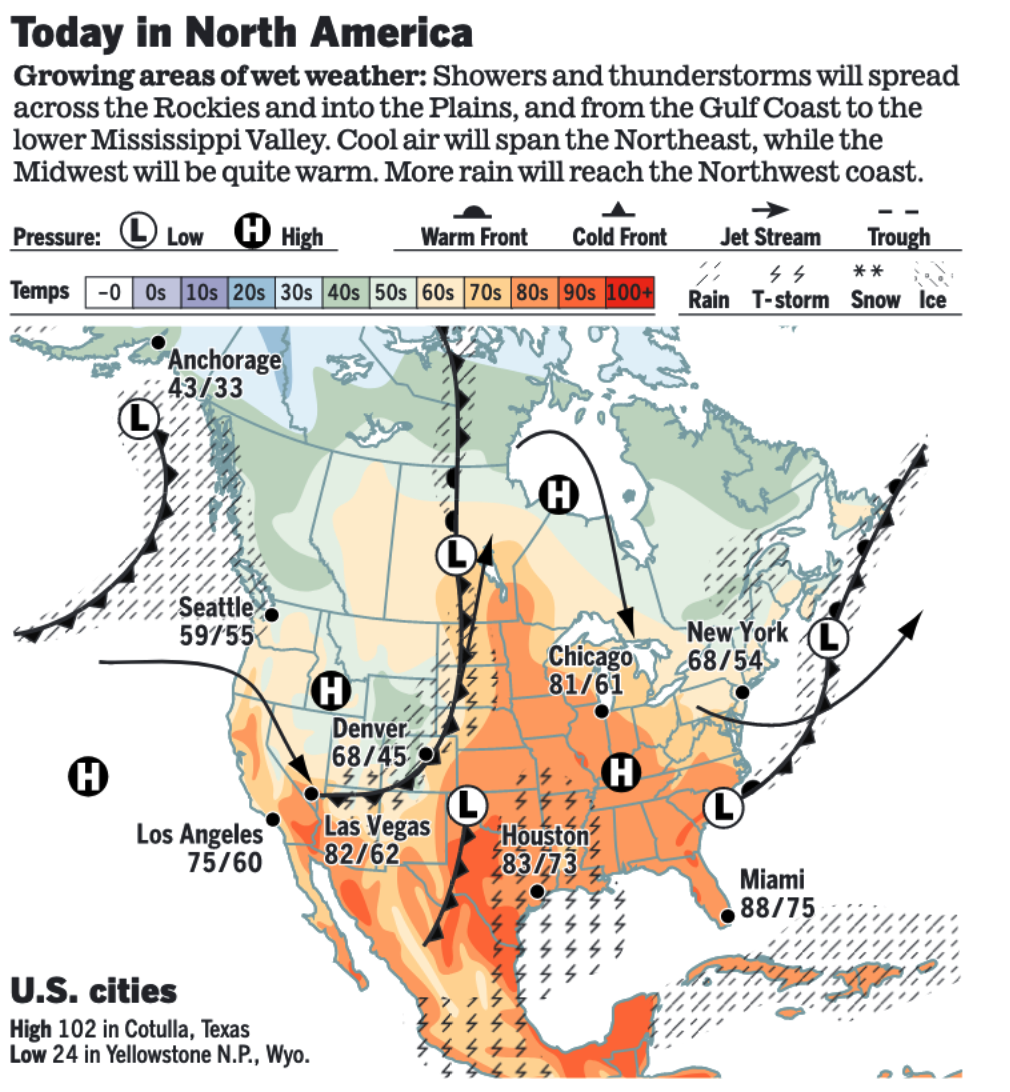 Items in Pro Farmer's First Thing Today include:
     • Grain and soy futures higher, despite dollar strength
     • CHS's Myrtle Grove terminal reopens
     • ANEC pares its Brazilian soybean and corn export outlooks for September
     • Cyclone damages Indian crops
     • India launches new rice variety that will slash the crop's water needs
     • EU's soft wheat exports well ahead of year-ago
     • Argentina lifts cap on beef exports
     • Beef market still looking for a low
     • Hogs rallying amid lower supply outlook
---
POLICY FOCUS
---

— Senate preparing 'clean' stopgap spending measure that will provide funding for gov't agencies until Dec. 3. Funding for the gov't runs out Thursday at midnight ET. There is bipartisan support for the approach. If the Senate clears the measure today, the House could take it up either today or sometime Thursday to avoid a partial gov't shutdown — in the House, there's talk of taking the Senate-passed CR and putting it through their own expedited floor process, under suspension of the rules. Iron Dome funding is NOT part of the measure. The stopgap funding bill still includes $6.3 billion to help relocate Afghan refugees and $28.6 billion to address natural disasters including Hurricane Ida ($10 billion for ag disasters).
— Initial steps to deal with debt ceiling fail, as expected. What's next?
Republicans as expected blocked a Democratic move in the Senate to raise the federal debt limit for the second time in as many days, escalating tensions less than three weeks before the U.S. Treasury potentially runs out of capacity to avert a federal payments default. Senate Majority Leader Chuck Schumer (D-N.Y.) tried and failed Tuesday to get unanimous consent in the Senate for raising the debt ceiling with a simple majority vote. Senate GOP leader Mitch McConnell (R-Ky.) objected, attempting to force Democrats to use a parliamentary procedure to raise the federal debt limit on their own and without any Republican assent to consider the move.
McConnell has called on Democrats to attach a debt limit increase to their massive social welfare spending package, which they plan to pass with 51 votes using a budgetary tactic called reconciliation.

House Majority Leader Steny Hoyer (D-Md.)

said that might be the path Democrats end up using to pass a debt ceiling increase. "Reconciliation is one option, and that's on the table," Hoyer said. "There are other options."

Hoyer: Dems may have to use reconciliation to address the debt ceiling.

"We may have to use reconciliation. I think that would be a sad statement of Republican responsibility," Hoyer said. "Reconciliation is one option and that's on the table." Hoyer said the House "may well send over a clean debt limit extension to the Senate" and Majority Leader Chuck Schumer (D-N.Y.) said he will ask for unanimous consent to advance it with just a simple majority, rather than the typically required 60 votes. But Republicans are vowing to block it, even though they've been asking Democrats to lift the limit alone for weeks. Sen. Ted Cruz (R-Texas) said, "

There is no universe in which I would do that."
House Democrats may also take up a stand-alone bill to increase the debt limit this week, which Hoyer said would serve as "a message bill," because Republicans will block it in the Senate.
Several members of Congress are showing support for one way out of the debt-ceiling: The Treasury Department could mint a $1 trillion coin and buy back bonds from the Federal Reserve, thus reducing the outstanding national debt. Rep. Jerry Nadler (D-N.Y.) brought it up to House Speaker Pelosi Tuesday, the speaker said.
— Update on budget reconciliation package and bipartisan infrastructure (BIF):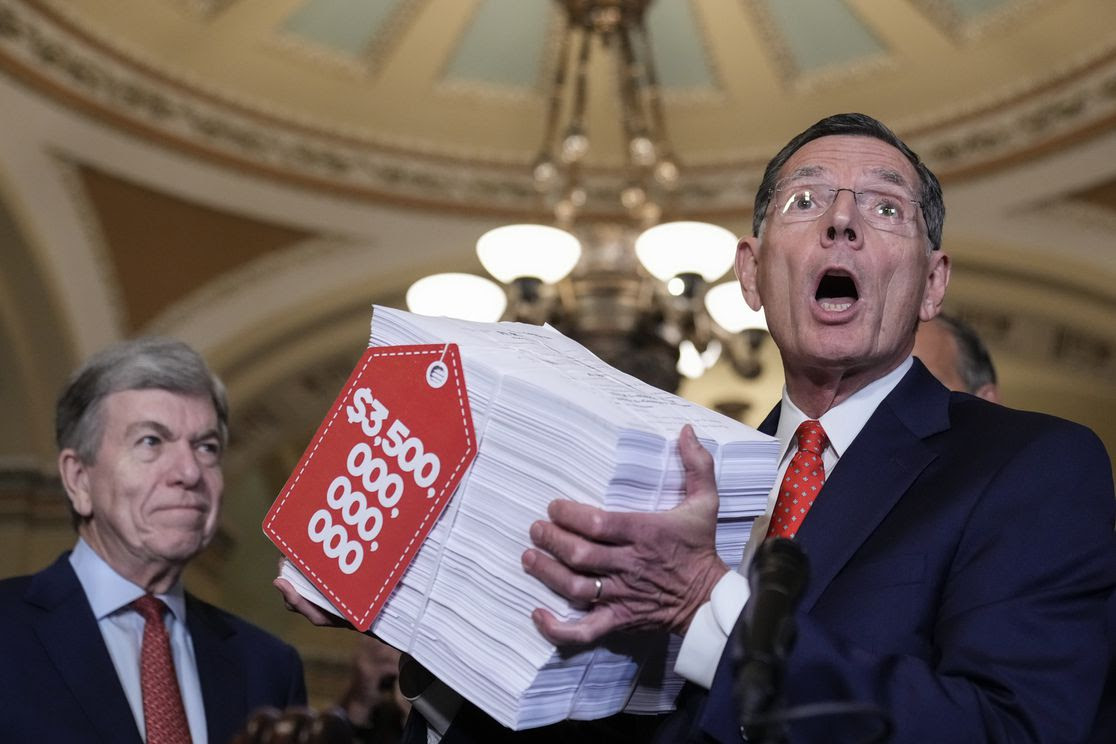 Sen. John Barrasso (R-Wyo.) holds a prop representing Dems' $3.5 trillion budget reconciliation package, as he speaks to reporters after a Senate GOP lunch at the Capitol yesterday. Photo: Drew Angerer/Getty Images
Biden met separately Tuesday with Sens. Joe Manchin (D-W.Va.) and Kyrsten Sinema (D-Ariz.). Both have objected to the size of the plan, among other issues, and their votes are crucial to getting it through the evenly divided Senate in the face of unified Republican opposition. Sinema went to the White House three times, once to meet with President Biden and two times with White House aides.
Biden canceled a trip to Chicago today to continue working with lawmakers on ironing out intraparty differences.
What is needed: a topline funding number for the social and climate change reconciliation measure. Many observers say Sen. Sinema is being the hardest to pin down. Sinema made clear she is not on board with the Democrats' $3.5 trillion package and doesn't even want to engage on specifics until the bipartisan infrastructure package clears the House.
Progressives vow to vote no on traditional Infrastructure (BIF) bill. House progressives are lining up to defy Pelosi and oppose a bipartisan infrastructure bill Thursday, dealing a blow to the $550 billion measure's chances. The bill has already passed the Senate, but House liberals have insisted that Democrats reach agreement and pass a larger tax, social spending and climate change package that encompasses much of their priorities before voting on the Senate measure. "Progressives will vote for both bills, but a majority of our members will only vote for the infrastructure bill after the President's visionary Build Back Better Act passes," Congressional Progressive Caucus Chair Pramila Jayapal (D-Wash.) said in a statement. Meanwhile, Sen. Bernie Sanders (I-Vt.) is urging progressives to defeat the BIF if there isn't clarity about what Manchin and Sinema want to see in the Democrats' social and climate change spending plan.
Bottom line: The only real deadlines for the lingering congressional measures are (1) A continuing resolution (CR) to avoid a partial gov't shutdown Oct. 1, and that goal will likely be met; and (2) suspending the debt limit by Oct. 18, according to Treasury Secretary Janet Yellen, or later according to other assessments. Both the traditional and social/climate change infrastructure measures have no deadlines except self-imposed ones, which have already slipped.
---
AFGHANISTAN
---
— Top military leaders contradicted President Biden at least twice Tuesday during Senate hearings focused on the chaotic withdrawal from Afghanistan:
Pentagon brass reveal Biden ignored troop recommendations on Afghanistan.

President Joe Biden's decision to withdraw all troops from Afghanistan was against the personal judgment of two of his highest-ranking military officials. Both Gen. Mark Milley, chairman of the Joint Chiefs of Staff, and Gen. Frank McKenzie, the head of U.S. Central Command, said on Tuesday during testimony on Capitol Hill that they believed roughly 2,000 troops should have remained in Afghanistan. McKenzie, during testimony in front of the Senate Armed Services Committee, explained that he "recommended that we maintain 2,500 troops in Afghanistan" because he believed that pulling the troops would "inevitably" lead "to the collapse" of the Afghan military and government.

Background. On Aug. 18, three days after the Taliban seized control of Kabul but eight days before 13 U.S. service members were killed by a suicide bomber, ABC's George Stephanopolous asked President Joe Biden about what advice he received on leaving a residual force in Afghanistan. "Your top military advisers warned against withdrawing on this timeline," Stephanopoulos said. "They wanted you to keep about 2,500 troops." Biden replied, "No, they didn't." "So no one told — your military advisers did not tell you, 'No, we should just keep 2,500 troops? It's been a stable situation for the last several years. We can do that. We can continue to do that'?" Stephanopoulos asked. Biden restated his answer, "No. No one said that to me that I can recall."
"The war on terror is not over, and the war in Afghanistan is not over," Central Command head Kenneth McKenzie said.
---
CHINA UPDATE
---
— Milley: China calls were coordinated with Trump aides. Milley also said two calls he made to his Chinese counterparts in the final weeks of the Trump administration were a normal part of his job and were coordinated with the acting defense secretary and other top officials. "I am certain, President Trump did not intend on attacking the Chinese, and it is my directed responsibility to convey presidential orders and intent," Milley said at a hearing, referring to a call he made on Oct. 30. Milley's calls to his Chinese counterpart have been attacked by some Republicans as a fireable offense and possibly treasonous. Democrats have said the calls illustrate the chaos of Trump's final weeks in office. Milley testified that both calls were prompted "by concerning intelligence which caused us to believe the Chinese were worried about an imminent attack by the U.S."
— U.S., China clash at WTO over solar duties. China and the U.S. were at odds Monday at a WTO Dispute Settlement Body (DSB) meeting over the September 2 dispute panel ruling which found the U.S. was justified when it imposed safeguard duties on imports of silicon photovoltaic (solar) cells from China. China filed an appeal of the ruling on September 16, but action on that will remain on hold as the Appellate Body remains shuttered.
     China called the dispute panel ruling "dangerous and erroneous," saying it strays from earlier WTO rulings on safeguard measures, adding that the broader interpretation under the ruling could lead to abuse of the trade remedy, the trade official reported. The U.S. welcomed the ruling but that stated damage to the US domestic solar industry has already taken place. The outcome underscored that current WTO rules, even when they play out as intended, do not effectively curb non-market behavior by China, the U.S. said, namely excessive domestic subsidization. It accused China of trying to subvert the dispute settlement system to curb other members' ability to defend themselves from its non-market policies and welcomed the dispute panel's rejection of all of China's arguments in the matter.
     The U.S. also slammed China's decision to appeal the ruling, while China responded that it only seeks the correct interpretation of current safeguard rules — not to press for new ones.
---
TRADE POLICY
---
— U.S. exports of goods hit a fresh record in August, a sign that recoveries are gaining strength in other parts of the world. Even with a boost in shipments to overseas markets, the merchandise trade deficit widened last month as imports also increased, according to Commerce Department data. Trade volumes for goods have surpassed pre-pandemic levels, attesting to a rapid recovery but also helping explain why supply chains have been stretched.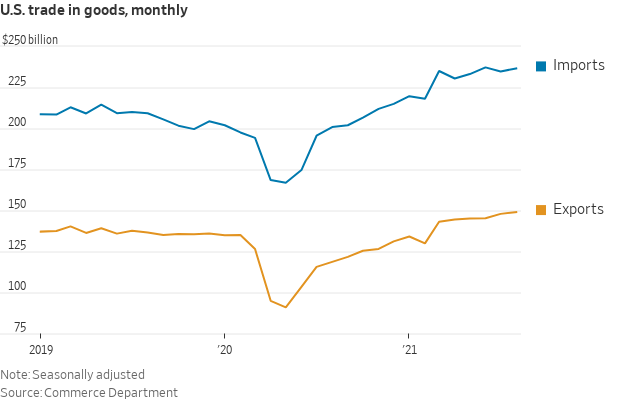 ---
ENERGY & CLIMATE CHANGE
---
— Manchin expresses concern on CEPP effort. Reliability concerns were expressed by Senate Energy and Natural Resources Chairman Joe Manchin (D-W.Va.) Tuesday relative to the Clean Electricity Payment Program (CEPP) that is included in the House budget reconciliation package. In a hearing with members of the Federal Energy Regulatory Commission (FERC), Manchin said his fear was that electric companies would gladly take incentives to boost clean power output to 80% by 2030, but that would result in reliability issues in the electric grid. "If we give them and pay them incentives to basically change their portfolio by 2030, reliability will the loser," Manchin said. "I guarantee that utilities will take every dime you want to give them, but they will not commit and basically be held accountable for liability." He argued that consumers would be the ones paying and "that's my big problem." House Select Committee on the Climate Crisis Chair Kathy Castor (D-Fla.) countered she has not heard major pushback on the action, telling Bloomberg she has "heard a little bit of skepticism, but I haven't heard any line drawing or anything like that."
---
CORONAVIRUS UPDATE
---
— Summary: Global cases of Covid-19 are at 232,861,440 with 4,767,341 deaths, according to data compiled by the Center for Systems Science and Engineering at Johns Hopkins University. The U.S. case count is at 43,230,197 with 693,055 deaths. The Johns Hopkins University Coronavirus Resource Center said that there have been 391,152,574 doses administered, 185,265,810 have been fully vaccinated, or 56.4% of the U.S. population.
— Vaccine for kids. Pfizer announced it has submitted data to the Food and Drug Administration for initial review showing its Covid-19 vaccine is safe and effective in children from 5 to 11 years old. The company expects to formally submit its application for emergency use authorization "in the coming weeks." Pfizer's Covid-19 shot is likely to be authorized for young kids weeks later than anticipated, as late as Thanksgiving, a person familiar with the matter told the Wall Street Journal (link).
— United says its Covid vaccine mandate is working. More than 99% of the airline's U.S.-based employees have met the firm's vaccination requirement or have applied for a religious or medical exemption. In an internal memo, the airline also said that nearly 600 workers who haven't yet complied with the policy could be fired.
---
POLITICS & ELECTIONS
---
— Japan vote: Fumio Kishida, a former foreign minister who supports a strong U.S./Japan alliance, was elected ruling party leader today, assuring him of becoming the nation's next prime minister. 
— McAuliffe, Youngkin engage in final debate before Virginia election. McAuliffe and Youngkin clashed Tuesday evening over vaccinations, tax policy, education and their respective records in the second and final debate in Virginia's closely watched gubernatorial election. The Associated Press says that with five weeks to go until Election Day and with early voting already underway, recent polls suggest a tight race between McAuliffe, who is seeking a second term after his first ended in 2018, and Youngkin, a former business executive and political newcomer.
— Obama presidential library will include a fruit and vegetable garden, inspired by Michelle Obama's White House kitchen garden. It will be located on the roof of the Chicago Public Library building that will house the presidential library.
---
CONGRESS  
---
— Biden opposes changing filibuster rule to increase debt limit. The White House said Tuesday that President Joe Biden opposes changing the filibuster to suspend or raise the debt ceiling. White House Press Secretary Jen Psaki confirmed that Biden's position on reforming the filibuster has not changed as Democrats search for options to deal with the approaching debt ceiling deadline amid persistent opposition from Senate Republicans.
— Mandatory livestock price reporting. Senate Agriculture Committee is slated to vote on Thursday on an extension of the mandatory livestock price reporting law, a tool for transparency in marketing that will expire on Thursday at midnight without congressional action.
---
OTHER ITEMS OF NOTE     
---
— Britain to ease regs on gene editing in agriculture research. British farm and environment minister George Eustice Wednesday said the country would ease regulations on gene editing in agricultural research after a public consultation on the matter. Rules will be aligned mostly with conventional breeding methods on the research and development work on plants, but notification of any research trials will still be required. "It is a tool that could help us in order to tackle some of the biggest challenges that we face — around food security, climate change and biodiversity loss," Eustice said in a statement.
---
EVENTS AND REPORTS
---
Wednesday, Sept. 29

· Federal Reserve. Atlanta Fed President Raphael Bostic to speak.
· Fed's Powell remarks. Federal Reserve Board Chairman Jerome Powell delivers virtual remarks at the European Central Bank Forum on Central Banking.
· Afghanistan. House Armed Services Committee hearing on "Ending the US Military Mission in Afghanistan."
· China and Europe. German Marshall Fund of the United States (GMFUS) holds a virtual discussion on a new report, "Security Implications of Chinese Infrastructure Investment: Mapping the China Playbook in Europe."
· Nord Stream 2. Senate Foreign Relations Committee closed hearing on "Update on Administration Efforts Regarding Energy Security Including Nord Stream 2."
· TSA. House Homeland Security Committee hearing on "20 Years After 9/11: The State of the Transportation Security Administration (TSA)."
· Banking issues. House Financial Services Consumer Protection and Financial Institutions Subcommittee hearing on "The Future of Banking: How Consolidation, Nonbank Competition, and Technology are Reshaping the Banking System."
· Forestry and climate change. House Small Business Committee hearing on "Sustainable Forestry's Role in Climate Solutions."
· Natural disasters. Senate Homeland Security and Governmental Affairs Committee hearing on "Addressing the Threat of Worsening Natural Disasters."
· Wildland fire year. House Agriculture Conservation and Forestry Subcommittee hearing on "The 2021 Wildland Fire Year: Responding to and Mitigating Threats to Communities."
· Consumer privacy. Senate Commerce, Science and Transportation Committee hearing on "Protecting Consumer Privacy."
· Energy and Latin America. S&P Global Platts and Refinitiv virtual discussion on "Energy Transition within Latin American Energy Markets."
· Uyghurs. Atlantic Council virtual discussion on "Europe's Response to the Uyghur Genocide."
· PFAS. Environmental Protection Agency teleconference of the Board of Scientific Counselors (BOSC) Executive Committee to review the draft reports of the Homeland Security and Safe and Sustainable Water Resources subcommittees and discuss Per- and Polyfluoroalkyl Substances (PFAS), Sept. 29-30.
· Biden tax policy. Committee for a Responsible Federal Budget virtual discussion on "Tax Policy in the Build Back Better Act."
· Mexican agriculture. Business Council for International Understanding virtual discussion that is closed to the press with Mexican Agriculture and Rural Development Secretary Victor Manuel Villalobos Arambula.
· EVs. Generation180 virtual discussion on "Electric Vehicles or Public Transit: A False Dichotomy?"
· EPA's Regan. Atlantic virtual 2021 Atlantic Festival "to explore ideas for building a better future - and visions of what America can be," with EPA Administrator Michael Regan.
· Small businesses. Washington Post Live virtual discussion on "The Future of Small Business."
· Sustainability. Washington Post Live virtual discussion on plans for building sustainable infrastructure, including grid security, clean energy, electric vehicles and combating climate change.
·        Economic reports. Pending Home Sales Index
·        Energy reports. EIA Petroleum Status Report | Weekly Ethanol Production
·        USDA reports. NASS: Broiler Hatchery ERS: Fruit and Tree Nuts Outlook  
---