Democratic Leaders All in On Go-It-Alone Reconciliation Measure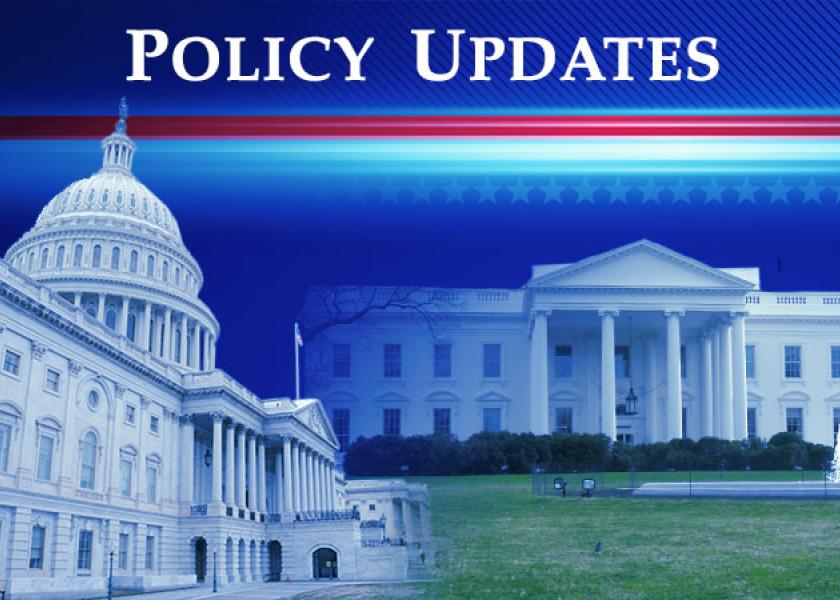 China suspends some fertilizer exports | Another antidumping, CVD investigation on Russian fertilizer
 
---
In Today's Digital Newspaper
---
Market Focus:
• Debt ceiling comes back into force this weekend
• Higher costs ahead cited by Procter & Gamble
• Get those toys for Christmas now because prices are going higher… if you can get them
• Cryptocurrency traders getting around hurdles
• First U.S. rice sale to Iraq in two years 
• Smoke from the fires out West has reached Iowa  
• Ag demand update
• Profit-taking moved in overnight
• Spring wheat tour confirms heavy toll of drought
• Exchange maintains Argentine wheat crop forecast, despite frosts
• French farmers make big strides harvesting wheat
• European Commission raises wheat crop projection
• Russian wheat export tax holds steady
• Steady cash cattle action
• Pork and cash hog prices fall
Policy Focus:
• Biden urges Congress extend moratorium on evictions of tenants tied to pandemic
• Congress will not do much on new farm bill ahead of 2022 elections
• U.S. and allies returning to 'industrial policy'
• Infrastructure plan: what's in and what's out 
China Update:
• China to suspend some fertilizer exports
• China's battery recipe 
Trade Policy:
• Activity on TAA as program reverted to prior rules
• Another antidumping, CVD investigation on Russian fertilizer 
Energy & Climate Change:
• Climate issues, CRP key in USDA nomination hearing for Bonnie
• EPA announcement on vehicle emissions coming soon
• White House, automakers said to plan pledge for 40% of cars to be EVs by 2030
Livestock, Food & Beverage Industry Update:
• Global hunger will surge by about a third this year: USDA
• Koch Foods indicted as part of poultry price-fixing conspiracy
• USDA releases notification to address fairness for poultry, other livestock operations
Coronavirus Update:
• European Union passes U.S. in Covid-19 vaccinations
• Biden urges state and local govts to give $100 to people who get Covid-19 vaccine
• Odds of a third vaccine dose rising
• Israel to offer Covid booster shot to older group
• Japan expands a state of emergency
Politics & Elections:
• MyPillow CEO pulling ads from Fox News after disagreement
• Why Dems' go-it-alone human infrastructure/reconciliation measure is must-pass item
• Cook Political Report under new leadership
Other Items of Note:
• First airlift of Afghan interpreters leaves for U.S.
• Bayer AG sees expenses from lawsuits surging above expectations
• $1 billion price tag but only $50 million available re: Surfside, Fla., condo collapse
• Iran sanctions
• Cotton AWP continues rising
 
---
MARKET FOCUS
---
Equities today: Global stock markets were mostly lower overnight. The U.S. Dow traded 60 to 90 points lower in early trading. Procter & Gamble Co., AbbVie Inc., Exxon Mobil Corp. and VF Corp. are among the companies scheduled to release earnings today. The Commerce Department releases data on June consumer spending and inflation. European markets were lower at midday, Asian markets fell and China's tech selloff resumed, hitting shares of companies including Alibaba, Meituan and Tencent. Big Chinese tech stocks lost hundreds of billions of dollars in combined market value in July, reflecting rising investor concern about how the sector will fare under a barrage of regulatory pressure from Beijing.
     U.S. equities yesterday: The Dow finished up 153.60 points, 0.44%, at 35,084.53. The Nasdaq rose 15.68 points, 0.11%, at 14,778.26. The S&P 500 was up 18.51 points, 0.43%, at 4,419.15.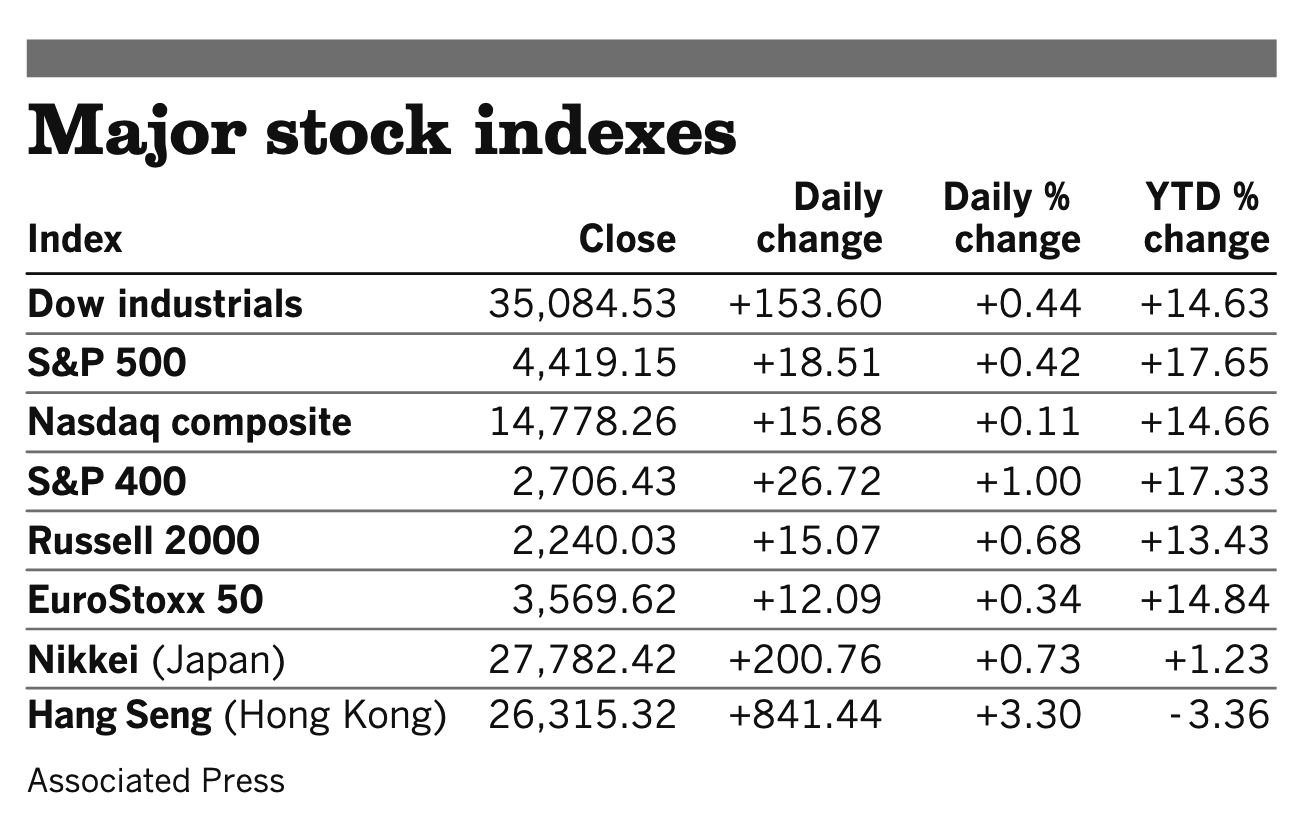 On tap today:
     • U.S. consumer spending for June, due at 8:30 a.m. ET, is expected to increase 0.7% from a month earlier.
     • U.S. personal consumption expenditures price index excluding food and energy for June, due at 8:30 a.m., is expected to rise 0.6% from a month earlier and 3.6% from a year earlier.
     • U.S. employment cost index for the second quarter, due at 8:30 a.m., is expected to rise 0.9% from the prior quarter.
     • Chicago purchasing managers index, due at 9:45 a.m., is expected to fall to 64.1 in July from 66.1 a month earlier.
     • University of Michigan's consumer sentiment index, due at 10 a.m., is expected to hold at 80.8 in July, unchanged from a preliminary reading.
     • CFTC Commitments of Traders report, 3:30 p.m. ET.
     • China's official purchasing managers indexes for manufacturing and services are out at 9 p.m. ET.
     • Federal Reserve: St. Louis's James Bullard speaks to the European Economics and Financial Center at 9 a.m. ET and governor Lael Brainard speaks to the Aspen Economic Strategy Group at 8:30 p.m. ET.
Here we go again: Debt ceiling comes back into force this weekend following a two-year suspension. The deadline will curb the Treasury's capacity to issue new debt unless lawmakers can reach an agreement. GOP leadership contends that Democrats are in a spending free-for-all and will only support raising the debt ceiling if they promise major spending reforms and cutbacks. Initial market impact: The longer the delay in raising the debt ceiling, the more pressure on money market rates, which in turn will put pressure on money market funds. Starting at noon today, the Treasury will use the first of its so-called "extraordinary measures," which will suspend sales of securities that help states and municipalities invest bond proceeds. Others will take months to kick in, and starting in October or November, the Congressional Budget Office predicts the Treasury will run out of cash. Longer term, if Democrats can't get support from ten Republican senators, they may be forced to increase the debt limit via an upcoming budget reconciliation bill (which only needs a simple majority). They could also advance a vote to raise the debt ceiling along straight party lines before the August recess or tie the debt ceiling to a must-pass funding bill at the end of September.
Higher costs ahead cited by another company. Procter & Gamble posted sales gains in almost every business unit in the most recent quarter and predicted slower sales and higher costs for materials and transportation in the year ahead. It said Thursday that CEO David Taylor would step down in November and be replaced by Chief Operating Officer Jon Moeller.
Better get those toys for Christmas now because prices are going higher. U.S. toy companies are racing to import enough inventory for holiday shopping amid supply-chain disruptions. The toys that arrive in time will likely carry higher prices.
Market perspectives:
     • Outside markets: The U.S. dollar index is higher ahead of US economic updates even as most rival currencies are showing slight gains against the greenback. The move is seen as a corrective rebound from solid selling pressure seen this week that drove the index to a four-week low overnight. The yield on the 10-year US Treasury note is lower, trading under 1.25%, tracking a mostly lower trend in global government bond yields. Gold futures are nearly unchanged with silver under pressure in electronic trade. Gold is trading around $1,831 per troy ounce and silver has fallen under $25.60 per troy ounce.

     • Crude oil futures are lower but have trimmed earlier declines ahead of U.S. trading. U.S. crude is trading around $73.40 per barrel and Brent around $74.95 per barrel. Crude prices were lower in Asian action, with U.S. crude down 46 cents at $73.16 per barrel while Brent crude was down 50 cents at $74.60 per barrel.
     • Bitdodge. Americans are circumventing bans intended to stop U.S. customers from accessing overseas cryptocurrency exchanges, new research suggests.

     • Ag demand: Pakistan reportedly purchased around 220,000 MT of wheat in an international tender for up to 500,000 MT of the grain.
     • First U.S. rice sale to Iraq in two years. Iraq purchased 80,000 metric tons from ADM and 40,000 tons from Supreme Rice, according to USA Rice Federation. Potential changes in Iraq's rice tendering system raised concerns that the Memorandum of Understanding (MOU), which had been in place for five years and led to sales of more than 350,000 metric tons ($180 million) of U.S. rice, could be nullified. Last month, Senate Ag Ranking Member John Boozman (R-Ark.) and six other senators from rice producing states wrote to U.S. Ambassador to Iraq Matthew Tueller to urge him to personally intervene on behalf of U.S. rice producers. This led to the signing of a new MOU with Iraq to purchase 200,000 tons of U.S. rice annually. Both of the current sales are pending credit approval. They should arrive at the Umm Qasr port in October and November.
     • Smoke from fires out West has reached Iowa. "Very hazy last night and again today. Air quality warnings for us. You can smell the smoke," says one Iowan.
     • NWS weather: Strong to severe thunderstorms with locally heavy rain across the northern Plains today and then toward the Midwest early on Saturday... ...More monsoonal moisture expected across the interior western U.S. with increasing focus over central Colorado and the northern Great Basin during the weekend... ...Excessive heat/heat advisories continue for the interior Pacific Northwest, central U.S. and Deep South while much cooler air overspreads the Northeast/Great Lakes into the Mid-Atlantic.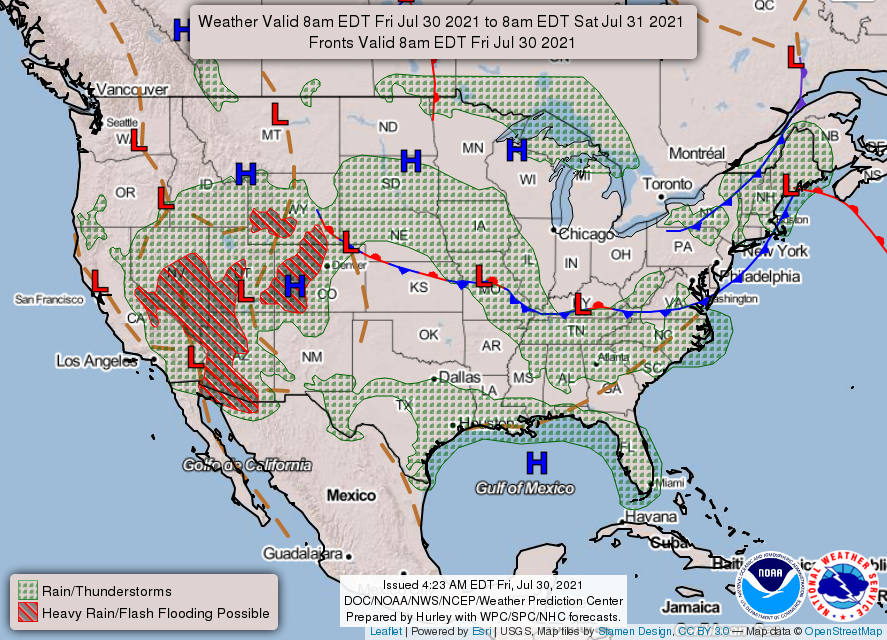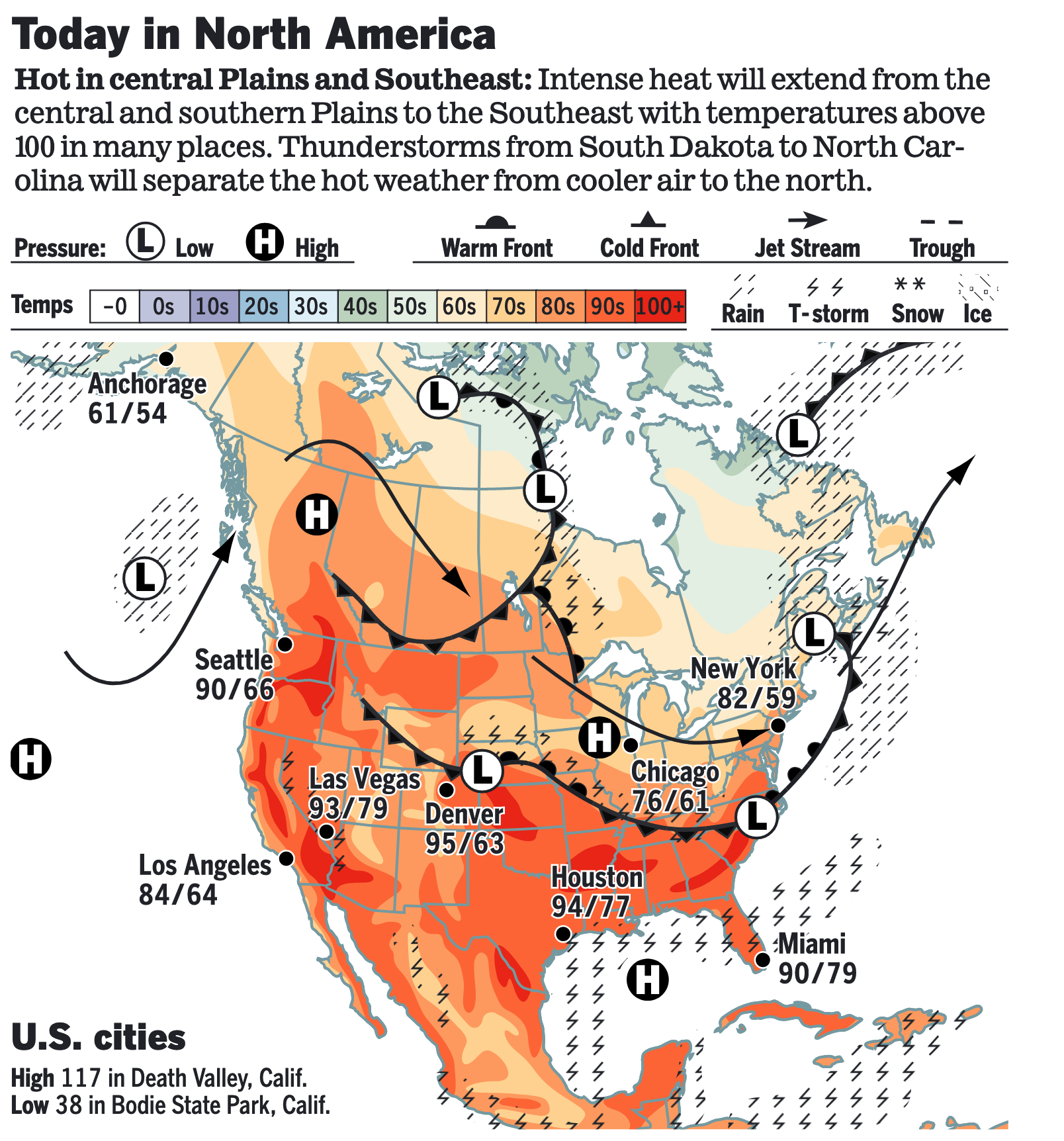 Items in Pro Farmer's First Thing Today include:
     • Profit-taking moved in overnight
     • Spring wheat tour confirms heavy toll of drought
     • Exchange maintains Argentine wheat crop forecast, despite frosts
     • French farmers make big strides harvesting wheat
     • European Commission raises wheat crop projection
     • Russian wheat export tax holds steady
     • Steady cash cattle action
     • Pork and cash hog prices fall
---
POLICY FOCUS
---
— Biden asks Congress to extend a federal moratorium on the evictions of tenants who fell behind on rent in the Covid-19 pandemic. President Biden would have "strongly supported" a move to further extend the Centers for Disease Control and Prevention's moratorium, scheduled to expire on Saturday, but that option is no longer legally viable after a recent Supreme Court ruling.
     It's unlikely Congress will move to extend the moratorium before the weekend after it had previously been extended three times. "There must be a realization that hundreds of thousands of people, including children, could end up homeless if the moratorium is not extended," said House Financial Services Committee Chairman Rep. Maxine Waters (D- Calif.) earlier this week. Of the $47 billion authorized, just $3 billion has been distributed as of the end of June. A recent Census Bureau survey found that about 8.2 million adults were behind on their rent or mortgage as of July 5 and have low confidence they can pay on time next month. ​​Some data suggest that the effects of the moratorium expiring could be muted: The Federal Reserve Bank of Philadelphia finding this spring that more than 80% of tenants in arrears had formal or informal arrangements with their landlords to pay back their missing rent, suggesting at least some landlords may not immediately pursue evictions.
— Think Congress is going to do much about a new farm bill prior to 2022 elections, think again. Although Republicans have a habit of losing elections they should win, the odds favor them taking control of the House after 2022 midterm elections. That is one of the main reasons Republicans will not want to do any major work on writing a new farm bill. There will likely be field hearings, etc., but most of that gives cover to lawmakers and staff who do what they want anyway.
— U.S. and its allies are returning to "industrial policy," the idea that governments should direct resources to industries critical to the national interest rather than leaving things to the market. Chip-manufacturing subsidies are the most prominent of a range of interventions Western governments are rushing out to promote industries they deem strategic, including electric-car batteries and pharmaceuticals. American officials say the U.S. has to embrace government intervention or watch China dominate vital industries. Link to more via the WSJ.
— Infrastructure plan: what's in and what's out. The New York Times has one of their nifty infographics on the topic (link).
---
CHINA UPDATE
---
— China to suspend some fertilizer exports. China's state planner announced today that some of its major fertilizer companies would temporarily suspend exports to ensure adequate domestic supplies. China is the world's top exporter of phosphate. China did not identify which firms would be impacted, but it did say it had summoned fertilizer firms for a discussion warning against hoarding and speculation. Analysts cited by Reuters expect the list to include state-owned firms like Sinofert Holdings Ltd, Sinoagri Group, China National Offshore Oil Corp and China National Coal Group. Chinese fertilizer prices have shot to record highs this year due to strong demand overseas, a drop in production and high energy costs. China has taken many steps in recent months to control the price of raw materials. Some analysts say fertilizer exports will likely fall from September forward once port stocks have cleared.
— Battery recipe: China's CATL, the world's biggest maker of electric-vehicle batteries, said it was looking to make batteries using sodium ions, a technology that could reduce costs and lift performance.
---
TRADE POLICY
---
— Activity on TAA as program reverted to prior rules. July 1 brought the reversion of the Trade Adjustment Assistance (TAA) program to a more-restrictive set of rules for the program. However, petitions for TAA from businesses that were filed prior to July 1 will be processed and covered by the prior version of TAA. As a result, more than 140 applications for TAA were received during the month of June, according to a Federal Register notice (link) from the Department of Labor's Employment and Training Administration. Firms in several sectors filed applications for investigations, including the companies providing financial services, personal protection equipment (PPE), insurance companies, mattress makers, furniture makers, fertilizer companies, at least one refiner, Microsoft, T-Mobile, bakers, and Harley Davidson to name a few. In a separate notice (link) the agency said that 47 applications were given affirmative determinations for TAA, 11 were denied, and five investigations were terminated.
— Another antidumping, CVD investigation on Russian fertilizer. CF Industries has filed a petition relative to urea ammonium nitrate (UAN) imports from Russia and Trinidad and Tobago, and the International Trade Administration (ITA) said that they initiated an antidumping and countervailing duty (CVD) investigations under the petitions July 20. CF Industries said in their petition that imports of UAN from Russia and Trinidad and Tobago are being sold or are likely to be sold in the US at less than fair value and that "such imports are materially injuring and threaten to injure an industry of the United States." A Federal Register notice was filed earlier this month (link). A notification in the Federal Register today (July 30), also said that Russia should be treated as a market economy under the US antidumping duty law. Link. The International Trade Commission (ITC) is to make preliminary determinations in the antidumping and CVD investigations Aug. 16 and if they make an affirmative determination, the investigations will continue. The ITA would issue a preliminary determination Sept. 23 in the CVD investigations and Dec. 7 in the antidumping investigations.
---
ENERGY & CLIMATE CHANGE
---
— Climate issues, CRP key in USDA nomination hearing for Bonnie. Members of the Senate Agriculture Committee focused much of their attention on climate and related farm program issues during the confirmation hearing for Robert Bonnie to be USDA undersecretary for farm production and conservation (Bonnie would oversee the Farm Service Agency, Natural Resources Conservation Service and the Risk Management Agency). Bonnie is currently deputy chief of staff on policy at USDA and is senior climate adviser. "I think there are enormous opportunities to utilize USDA programs to encourage, to finance adoption of climate agricultural practices, to create new markets and new opportunities for producers both in agriculture and forestry. We'll obviously look at ways to do that," Bonnie said. He also has authored a document on climate change and agriculture, including suggesting the formation of a carbon bank at USDA. But he sought to assure lawmakers that actions on climate at USDA will have to have support of farmers. "We have to do things that are going to have agriculture's support," he said. 
     As for using the Commodity Credit Corporation (CCC) to establish a carbon bank at USDA, Bonnie pledged to "put it in front of people, let them look at it, and make sure that what we do is consistent with agriculture's needs." Sen. Roger Marshall (R-Kan.) zeroed in on the CCC aspect, noting that using funds from the CCC are to be aimed at commodities. Marshall said he did not see how carbon would be considered a commodity. "Whatever you do in the CCC has to be about commodity production," he said. "Thinking about how you take advantage of that and create opportunities for producers that may grow those commodities using climate-smart agriculture and forestry is the potential link with the CCC. It's those opportunities and new markets that I think are consistent with the CCC."
     As for crop insurance, Senate Ag Committee Ranking Member John Boozman (R-Ark.) questioned using the program to fight climate change as was suggested in the Climate 21 Project document Bonnie helped write. "It is the most important safety net tool right now for producers. I think we want to continue to expand opportunities for making crop insurance available to more producers and more types of agriculture," Bonnie said.
     CRP question. Sen. Chuck Grassley (R-Iowa) discussed USDA's intentions with the Conservation Reserve Program (CRP). Noting that he is supportive of voluntary conservation programs, Grassley said: "I hope the department remains mindful that many young, beginning farmers struggle to access farmland and often cannot compete with land idling government payment programs [like] CRP. These set aside programs also send market signals to competitors to increase production acreage." Grassley recalled that USDA announced in May a $10 million initiative to quantify the climate benefits of Conservation Reserve Program (CRP) contracts. He asked: "When quantifying the climate benefits of [a] land idling program like CRP, will this initiative consider the carbon emissions that occur as other countries increase production to seize U.S. market share?" Bonnie said that USDA plans to analyze the carbon storage of working lands programs in addition to CRP. He also said it is "vitally important that we get the right lands in the program. We don't want to take highly productive land in the program. We want to target to the most environmentally sensitive [land]," he said, adding that "there should be lot of agreement" on which lands are prioritized for CRP.
— EPA announcement on vehicle emissions poised to come soon. The review by the Office of Management and Budget (OMB) has been completed on the proposed rule from EPA which covers their review of the Trump administration's Safer Affordable Fuel-Efficient (SAFE) vehicles rule for model years 2021-2026. In the unified agenda published earlier this year, EPA said their effort was based on the Jan. 20 White House executive order Protecting Public Health and the Environment and Restoring Science to Tackle the Climate Crisis they would be determining "whether to revise the GHG [greenhouse gas] standards" for certain model years. OMB received the proposed rule June 24 and completed its review July 29. OMB held 20 meetings on the issue, including with several environmental groups, Growth Energy, Tesla, the California Air Resources Board, and the American Petroleum Institute. The full expectation is they will propose making more-stringent GHG standards for light duty vehicles compared with those in the SAFE vehicles rule from the Trump administration.
— White House, automakers said to plan pledge for 40% of cars to be EVs by 2030. The Biden administration and a group of major carmakers plan to voluntarily pledge that at least 40% of all cars and SUVs in the country will be electric by 2030, a share that could potentially be raised to 50% with significant federal investment, according to three people briefed on the plan. The transportation sector is the U.S.' largest contribution to greenhouse gas emissions, at 29%.
— Interior Department said it plans to undertake an environmental review of a proposed wind energy project off the coast of North Carolina, which was submitted by Kitty Hawk Wind LLC and would include up to 69 turbine generators and two transmission cables. If approved, the offshore wind project would be North Carolina's first, though it would make landfall in Virginia Beach, Va., and could potentially provide power to Virginia in the future as well.
---
LIVESTOCK, FOOD & BEVERAGE INDUSTRY
---
— Global hunger will surge by about a third this year, leaving 291 million more people in middle- and low-income countries underfed, USDA said. A separate study said undernutrition among mothers and children in these nations will cost the world $30 billion in productivity losses.
— Koch Foods indicted as part of poultry price-fixing conspiracy. A federal grand jury in Denver indicted Koch Foods, the fifth-largest U.S. poultry processor, for taking part in a nationwide conspiracy to fix prices and rig bids for poultry products, the Justice Department announced on Thursday (link).
— USDA releases notification to address fairness for poultry and other livestock operations are coming in November, USDA says in a semiannual regulatory agenda published in today's Federal Register (link). The Agricultural Marketing Service will propose a rule addressing the use of poultry grower ranking systems "as a method of payment and settlement grouping for poultry growers" who are under contract with live poultry dealers. This is the formal notification of the rule that was previously announced was coming in mid-June (link).
     Greater clarity to "strengthen enforcement of unfair and deceptive practices, undue preferences, and unjust prejudices" under the Packers and Stockyards Act, will also be included. USDA previously said the rule will clarify that parties do not need to demonstrate harm to competition to bring an action" under the Packers and Stockyards Act.
---
CORONAVIRUS UPDATE
---
— Summary: Global cases of Covid-19 are at 196,741,728 with 4,201,788 deaths, according to data compiled by the Center for Systems Science and Engineering at Johns Hopkins University. The US case count is at 34,754,668 with 612,129 deaths. The Johns Hopkins University Coronavirus Resource Center said that there have been 344,071,595 doses administered, 168,868,916 have been fully vaccinated, or 49.9% of the US population.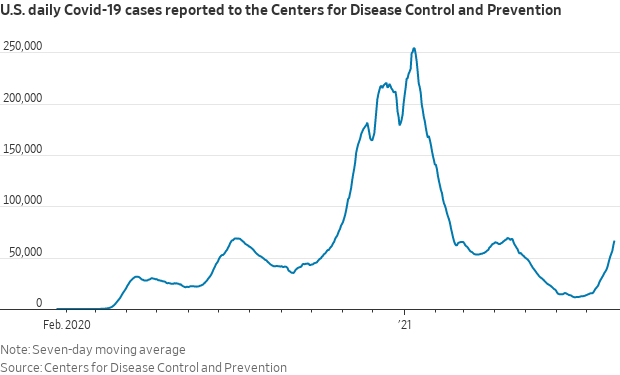 — European Union passed the U.S. in Covid-19 vaccinations, with the continent inoculating people at a sustained pace and America struggling to persuade vaccine holdouts to get a shot to slow the spread of the Delta variant. Link to NYT articles that explains how the EU, after a slow start, overtook the U.S. in vaccinations.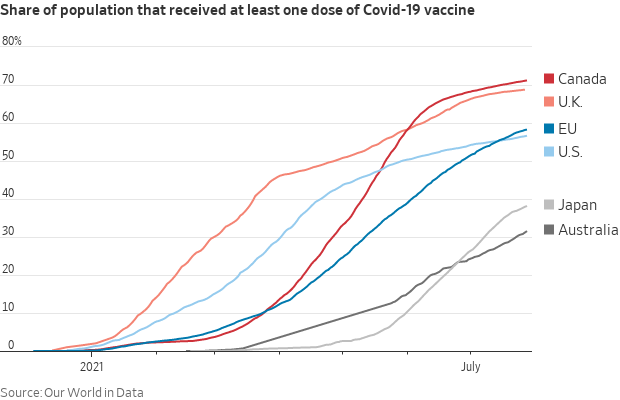 — President Joe Biden called on state and local governments to give $100 to people who choose to get a Covid-19 vaccine, citing research that roughly one-third of unvaccinated individuals would get a shot if offered a cash payment. Biden also announced a mandate for all federal employees to get vaccinated or face weekly testing amid the surge in cases linked to the highly transmissible delta variant of Covid-19.
— Odds of a third vaccine dose rising. Here's why: Efficacy of Pfizer's coronavirus vaccine, pegged at 96%, declines an average of 6% every two months, according to the company, and effectiveness in groups like the elderly and immunocompromised diminishes even more quickly. As a result, the drugmaker is recommending a third dose of its vaccine that can "strongly" boost protection against the Delta variant. Preliminary data (that has yet to be peer-reviewed or published) even suggests that levels of antibodies from a third booster increases antibody levels five to 10 times higher over its two-dose shots.
— Israel to offer Covid booster shot to older group. Israel's prime minister said Thursday that the country would offer a Covid-19 vaccine booster to people over age 60 who have already been inoculated. The announcement by Naftali Bennett makes Israel, which launched one of the world's most successful vaccination drives this year, the first country to offer a third dose of a Western vaccine to its citizens on a wide scale.
— Japan expanded a state of emergency to areas surrounding Tokyo and extended it to the end of August, as a record virus surge unfolds amid the Olympics.

 
---
POLITICS & ELECTIONS
---

— MyPillow CEO Mike Lindell is pulling his ads from Fox News after a disagreement over a proposed commercial linked to his efforts to promote his claims of widespread fraud in the 2020 presidential election. Security and election officials have said there is no proof of widespread election fraud.
 
— Why the Dems' go-it-alone human infrastructure/reconciliation measure is a must-pass item. The human infrastructure bill is the Dems' way of getting everything they want to change the size and scope of gov't in the United States. This will include lots of the Green New Deal language relative to climate change. And the Dems will try to make the case that immigration reform (amnesty for illegals) will be a REVENUE raiser as they will eventually bring tax revenue and thus that should qualify for reconciliation via a coming parliamentarian review. Democrats also know that if there is a path for citizenship to millions of illegals, the odds are high that those people will eventually more than tilt their votes to Democrats in elections.
     One veteran congressional observer says: "Democratic leaders have not yet given up yet on forever cementing their power thru passage of HR 1 and S 1 to federalize elections and redistricting." Meanwhile, at least 41 states have made changes to election laws this year, with Republicans passing more measures than Democrats.
— Cook Political Report under new leadership; Amy Walter to become publisher & editor-in-chief. On Aug. 1, Amy Walter will take the helm as owner, Publisher and Editor-in-Chief. Moving forward, the newsletter will be called The Cook Political Report with Amy Walter and will continue to feature analysis from Walter, David Wasserman (Senior Editor, U.S. House of Representatives), Jessica Taylor (Editor, U.S. Senate & Governors), alongside Cook's popular weekly columns. Charlie Cook will also continue to offer his analysis through longtime partners National Journal and Leading Authorities, with whom he has a 30-year relationship.
      "To serve as the editor and publisher of the Cook Political Report is the honor of a lifetime," said Walter. "For almost 25 years, Charlie Cook has been a mentor, friend and colleague. No one makes politics more approachable or understandable than Charlie. His love for the process and the people is infectious and deeply felt. No one can take his place, and I am excited for the opportunity to build on all that he has created." She adds, "Anyone who has had the privilege to join one of the many media channels dedicated to politics," says Walter, "owes a debt of gratitude to the man who was one of the first to take political analysis to a broad audience."
 
---
OTHER ITEMS OF NOTE     
---

— First airlift of Afghan interpreters leaves for U.S. More than 200 interpreters and their families departed for the U.S., beginning a major effort to evacuate thousands of people who face retribution by the Taliban.
— Bayer AG sees expenses from lawsuits accusing its Roundup weedkiller of causing cancer potentially rising by $4.5 billion — significantly more than it had previously planned for. Link to details via the WSJ. Some call Bayer buying Monsanto as MonSinkHole.
— $1 billion price tag but only $50 million available. Plaintiffs' lawyers seeking payouts for the deaths and destruction caused by a Surfside, Fla., condo collapse say it would take $1 billion to compensate everyone fairly. The pool of money currently available is about $50 million. The shortfall is so significant that the potential settlement might not even be enough to cover some residents for the value of their lost units, said one of the attorneys appointed by the court to lead the litigation.
— Iran sanctions. The U.S. plans a sanctions campaign against Iran's evolving capabilities for precision strikes using drones and guided missiles, considering those capabilities as a more immediate danger to Middle East stability than the country's nuclear-enrichment and ballistic-missile programs.
— Cotton AWP continues rising. The Adjusted World Price (AWP) for cotton rose to 78.47 cents per pound, effective today (July 30), up from 76,58 cents per pound the prior week. This marks the fifth week in a row of increases in the AWP and the eighth consecutive week above 70 cents per pound. Meanwhile, USDA will establish Special Import Quota #15 for 53,310 bales of Upland cotton Aug. 5, applying to cotton purchased no later than Nov. 2 and entered into the U.S. not later than Jan. 31.
 
---