Covid-19 Issues Impacting Equities Again; Bond Yields Falling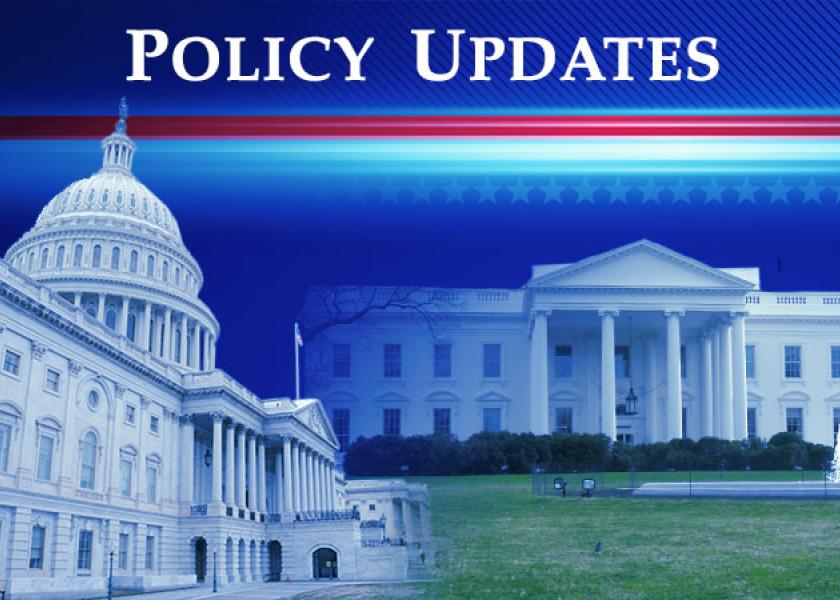 White House starts worrying about surging gas prices as market signals top may be in
---
In Today's Digital Newspaper
---
Market Focus:
• U.S weekly jobless claims unexpectedly rise to 373,000, as job growth slows
• Parsing latest release of FOMC minutes
• How tight is U.S. labor market?
• Yields on U.S. gov't bonds reached fresh multimonth lows on Wednesday
• Americans borrowing again
• Japanese PM Suga likely to unveil another economic stimulus package
• UAE pushing to sell as much crude as possible
• U.S. sees modest oil output increase in 2021
• Surge in gas prices since Biden presidency has White House's attention
• USDA daily export sale: 122,200 MT soybean cake and meal to Mexico, 2021-2022
• Conab's Brazil corn estimate at 93 million tons, down from 98 million last month
• North America recorded its warmest June on record,
• Water levels at the Great Salt Lake could hit a 170-year low
• Ag demand update
• Choppy to higher overnight trade for grains, soy
• More rain for southern, eastern areas of Midwest heading into weekend
• Disruptive strike at Argentina's main port comes to swift end
• Brazil expects strong farm growth over next decade
• Global food prices slide for the first time in a year
• Wildfire disrupting shipping at Canada's largest port
• Steady cash cattle trade begins
• Pork movement slows on higher prices
Policy Focus:
• Biden open to negotiating infrastructure spending package with McConnell
• WSJ: Biden to target railroads and ocean shipping in executive order.
China Update:
• EU/China relations
Trade Policy:
• USTR Tai discussed aligning ethanol policies with Mexico
• Tai raises GMO approvals with Mexican officials
Energy & Climate Change:
• Grist: U.S. is about to go all-in on paying farmers and foresters to trap carbon, but…
• U.S. solar growth to top wind in 2022 for first time
• Long-declining coal sector supplied 23% of U.S. electricity production through mid-June
• North Dakota sues over oil lease sales
Livestock, Food & Beverage Industry Update:
• Global food prices post decline for first time in a year
• Robotic delivery of food
Coronavirus Update:
• Covid-19 deaths worldwide topped 4 million
• Delta variant seen becoming predominant Covid strain in U.S.
• Japan declares a new state of emergency due to Covid-19
Politics & Elections:
• Fences finally coming down at Capitol
• Poll: Majority believes Biden officials, not the president, are secretly running the country. 
• Trump files class action lawsuit against social media companies, CEOs
• Brazil's presidential contest
Other Items of Note:
• Biden to deliver message on cybersecurity to Putin
• USDA announces water grants
• Former House Ag Chairman Peterson writes op-ed
 
---
MARKET FOCUS
---
Equities today: Global stock markets were mostly lower overnight. The U.S. stock indexes are pointed toward solidly lower openings as yields on gov't bonds extended their decline. Featured in the marketplace this week is traders unwinding their "inflation" positions. That means selling commodity markets and buying U.S. Treasuries. Worries resurfaced about the economic comeback from the pandemic. Japan declared a state of emergency in Tokyo for the upcoming Olympics, while the worldwide death toll from Covid-19 topped 4 million late on Wednesday.
     U.S. equities yesterday: The Dow closed up 104.42 points, 0.30%, at 34,681.79. The Nasdaq gained 1.42 points, 0.01%, at 14,665.06. The S&P 500 was up 14.59 points, 0.34%, at 4,358.13. Both the S&P 500 and Nasdaq were able to post new record finishes with Wednesday's action.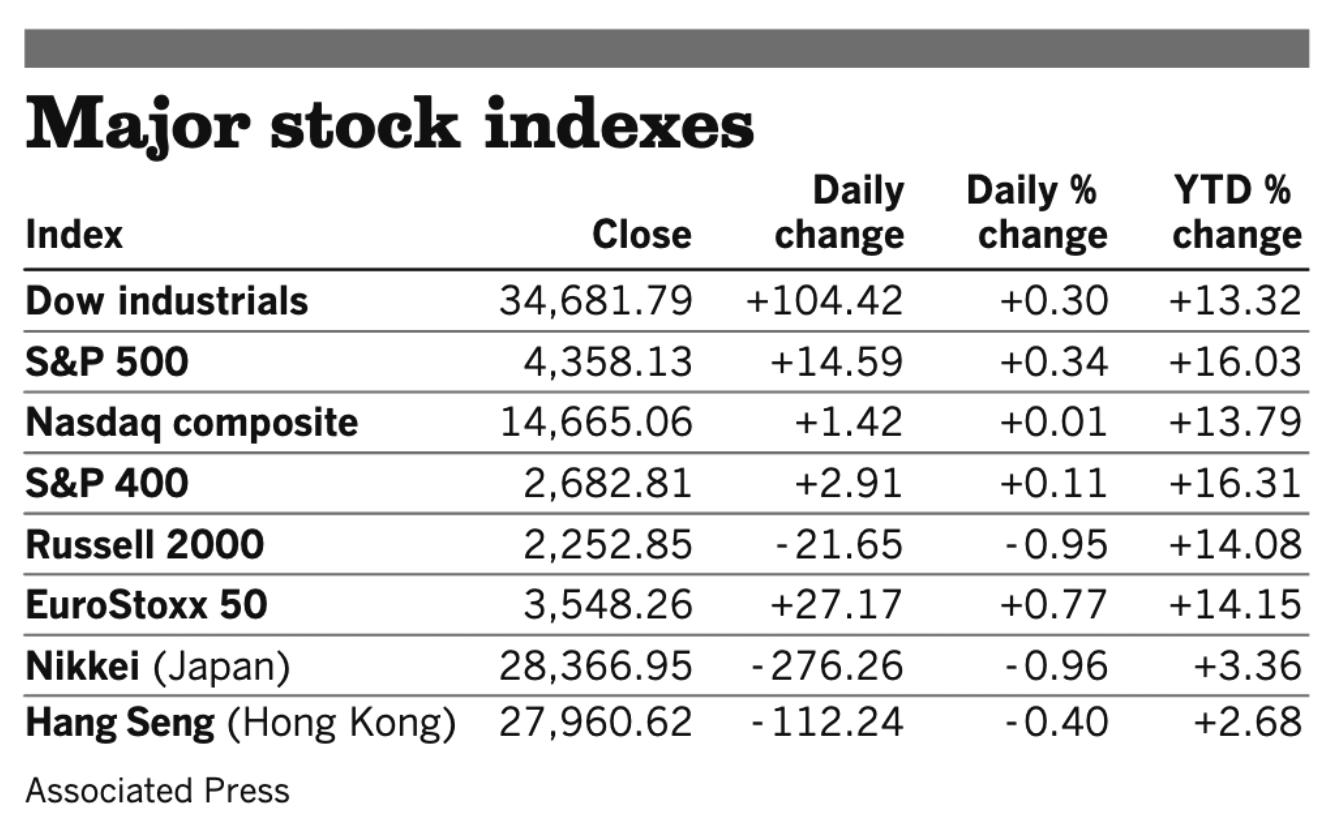 On tap today:
     • European Central Bank announces the outcome of a strategy review at 7 a.m. ET, and releases minutes from its June 9-10 meeting at 7:30 a.m. ET.
     • U.S. jobless claims are expected to fall to 350,000 in the week ended July 3 from 364,000 a week earlier. (8:30 a.m. ET) Update: U.S weekly jobless claims unexpectedly rose to 373,000, as job growth slows. The previous week's figure was revised up to 371,000. The four-week moving average, which smooths out volatility in the weekly figures, was 394,500, the lowest reading since March 2020.
     • Federal Reserve releases its May consumer credit report at 3 p.m. ET.
     • China's producer-price index for June is expected to rise 8.8% from a year earlier, and the consumer-price index is forecast to rise 1.2% from a year earlier. (9:30 p.m. ET)
Minutes of the FOMC's last meeting in June reveal serious concerns about the role inflation could play in the post-pandemic recovery efforts. Officials expressed surprise at the higher-than-anticipated inflation rate of 3.6% in April and projections of 3.4% this quarter, which may prompt interest rate hikes to control rising prices. However, the minutes showed that while officials agreed that economic growth looked strong, they disagreed on whether the risk of overheating was "transitory."
     Federal Reserve officials suggested that they might need to pull back their support for the economy sooner than they had anticipated because of stronger-than-expected growth this year. Fed officials discussing the matter at their June 15-16 policy meeting weren't ready to reduce their $120 billion in monthly purchases of Treasury and mortgage securities, according to the minutes. But an unspecified number thought that time could be approaching.
      Bottom line: The minutes signal officials will ramp up more formal deliberations at their next meeting, July 27-28, over when and how to reduce the bond buying. But Fed officials also insisted there would be plenty of advance notice on when the tapering of the bond purchases would start.
How tight is the U.S. labor market? The openings-to-hires ratio hits a record low amid acute labor shortages. The Labor Department said job openings rose at the end of May by 16,000, pushing the total to a new high of 9.2 million in records dating back to 2000. The number of available jobs nearly matched the 9.3 million Americans who were unemployed but actively seeking work in May, reflecting an unusual tightness in the job market. The number of unemployed workers has typically exceeded available jobs, except for a period from 2018 to early 2020 when the unemployment rate trended near a 50-year low.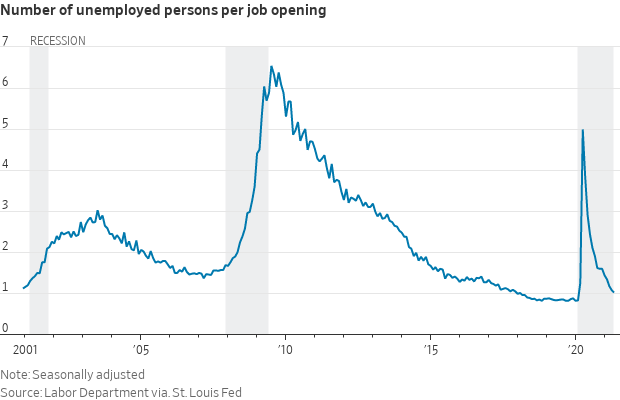 Yields on U.S. gov't bonds reached fresh multimonth lows on Wednesday, reflecting investors' anxiety about the economic outlook and new concerns about the highly contagious Delta variant of Covid-19 (see related item below). Yields have been dragged down in recent months by investors reassessing their more optimistic economic forecasts amid signs that Congress and the Fed might not provide quite as much stimulus as previously anticipated. Bonds extended their decline early today as investors continued to pull back from bets on a spell of high growth and inflation.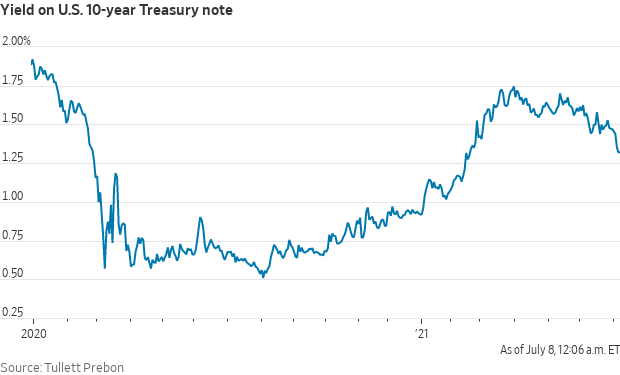 Americans are borrowing again, in some cases at levels not seen in more than a decade, the Wall Street Journal reports (link). Consumer demand for auto loans and leases, general-purpose credit cards and personal loans was up 39% in April compared with the same period last year, according to credit-reporting firm Equifax, and up 11% compared with April 2019. Lenders are meeting the moment. Equifax said lenders extended a record number of auto loans and leases in March, the latest month for which data are available. They also bumped up credit-card originations, issuing more general-purpose credit cards than any other March in records dating back to 2010. The Fed's Consumer Credit report for May arrives today. While consumers have increased their debt levels, that has been centered in areas like car and student loans as the Fed data has signaled consumers reduced their revolving credit amounts nearly every month since the pandemic started.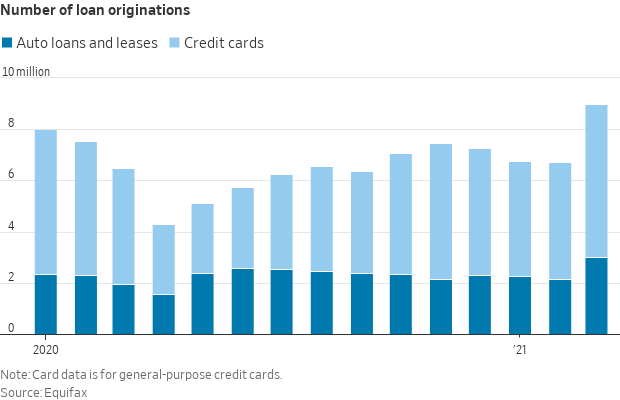 Japanese Prime Minister Yoshihide Suga is likely to unveil another economic stimulus package worth at least $180 billion within the next few months, according to a Bloomberg survey.
Market perspectives:
     • Outside markets: The U.S. dollar index is weaker as the euro is posting gains against the greenback while most other foreign rival currencies are weaker. The yield on the 10-year U.S. Treasury note has fallen below 1.28% with a weaker trend in global gov't bond yields. Gold and silver futures have advanced ahead of U.S. economic updates on jobless claims (see related item above for results), with gold trading above $1,812 per troy ounce and silver above $26.13 per troy ounce.

     • United Arab Emirates (UAE) is pushing to sell as much crude as possible before demand dries up, a strategy that has triggered a rare public feud between it and Saudi Arabia, the Wall Street Journal reports (link). The UAE has been the lone holdout regarding a deal to boost crude output among members of OPEC+, saying it would agree to the plan only if it can boost its own output. While the UAE expects to have buyers for its crude for decades, it wants to sell as much as it can now, when demand and prices are strong. Proceeds will help it wean its economy off oil.
     • Crude oil futures are lower as markets await U.S. inventory data delayed a day by Monday's U.S. holiday. U.S. crude is trading around $71.75 per barrel with Brent around $73.05 per barrel. Futures were lower in Asian trading, with U.S. crude down 17 cents at $72.03 per barrel and Brent down six cents at $73.37 per barrel.
     • U.S. sees modest oil output increase in 2021. The U.S. sees limited domestic oil production growth through next year despite rising oil prices and rebounding demand. Oil explorers will produce 20,000 barrels a day more than previously forecast for this year, at 11.1 million barrels, the Energy Information Administration (EIA) said in a report yesterday. Output next year was raised 60,000 barrels day to 11.9 million, making it the first upward revision since March.
     • Surge in gas prices since Biden presidency has the White House's attention. The White House is working to calm nerves over rising gas prices after a stand-off in OPEC+ negotiations has led to an uncertain oil market. "The president wants Americans to have access to affordable and reliable energy, including at the pump," White House press secretary Jen Psaki said during Tuesday's press briefing. She said the Biden administration is "constantly monitoring gas prices and directly communicating with OPEC parties to get a deal and allow proposed production increases to move forward." Asked whether President Joe Biden would directly intervene in the OPEC talks (as former President Donald Trump often did), Psaki said she is "certainly not predicting that at this moment in time." Republicans are linking gas prices to Biden's energy and climate policies. The White House has repeatedly sought to clarify that gasoline prices are rising as people are vaccinated and begin traveling again, driving up demand. The failure of OPEC to reach an agreement on boosting oil output threatens to drive prices up further. "I think there sometimes is a misunderstanding of what causes gas prices to increase," Psaki said, stressing the administration wants to "convey to the American people that we're working on it and certainly the supply availability of oil has a huge impact." Psaki added that Biden was "vehemently opposed" to any increase in the gas tax or a tax on vehicle miles traveled to pay for the infrastructure bill because "he felt that would fall on the backs of Americans."
     • White House may be getting nervous about oil prices just as futures are signaling a top may be in place. Nymex crude oil futures are lower today and trading around $71.50 a barrel after hitting a six-year high of $76.98 earlier this week. This week's big losses in crude oil have created chart clues that suggest a market top is in place.
     • USDA daily export sale: 122,200 metric tons of soybean cake and meal for delivery to Mexico during the 2021-2022 marketing year.
     • Conab's Brazil corn estimate was 93 million tons, down from 98 million last month.  The Conab corn number compares to private trade estimates of 85 to 87 million tons. Conab left their estimate of Brazil beans at 135.9 million tons. USDA's June Brazil corn forecast was 98.5 million tonnes.
     • Ag demand: Saudi Arabia's main wheat buying agency issued an international tender to buy around 360,000 MT of wheat. Japan purchased 57,630 MT of food-quality wheat from the U.S., as well as 23,370 MT from Canada and 27,175 MT from Australia. South Korea's state-backed Agro-Fisheries & Food Trade Corp. issued an international tender to buy 91,216 MT of rice from China, the U.S. and Vietnam. The Philippines tendered to buy 150,000 MT animal feed wheat and 50,000 MT of milling wheat from optional origins. Jordan's state grain buyer bought around 60,000 MT of animal feed barley to be sourced from optional origins. A group of importers in Thailand are thought to have purchased around 65,000 MT of animal feed wheat in a tender seeking 230,700 MT of the grain.
     • Water levels at the Great Salt Lake could hit a 170-year low amid a drought in the West, threatening wildlife and air quality. Because the lake is shallow — about 35 feet at its deepest point — less water quickly translates to receding shorelines. Most years, the Great Salt Lake gains up to 2 feet from spring runoff. This year, it was just 6 inches.
     • North America recorded its warmest June on record, with average temperatures 2 degrees Fahrenheit higher than the 30-year average, said an EU-supported climate agency. Link to details via the New York Times.
     • NWS weather outlook: Tropical Storm Elsa to produce gusty winds and heavy rain from parts of the Southeast to New England through Friday... ...Significant rainfall and life-threatening flash flooding will continue through Thursday for portions of the middle and lower Texas Coast... ...Dangerous heat continues throughout much of the West, expanding into the Central Plains on Friday.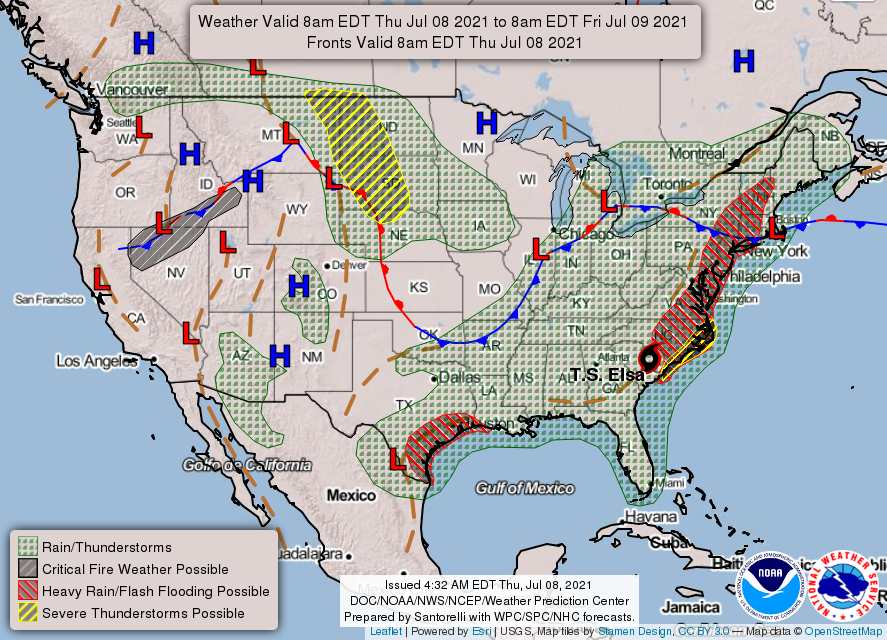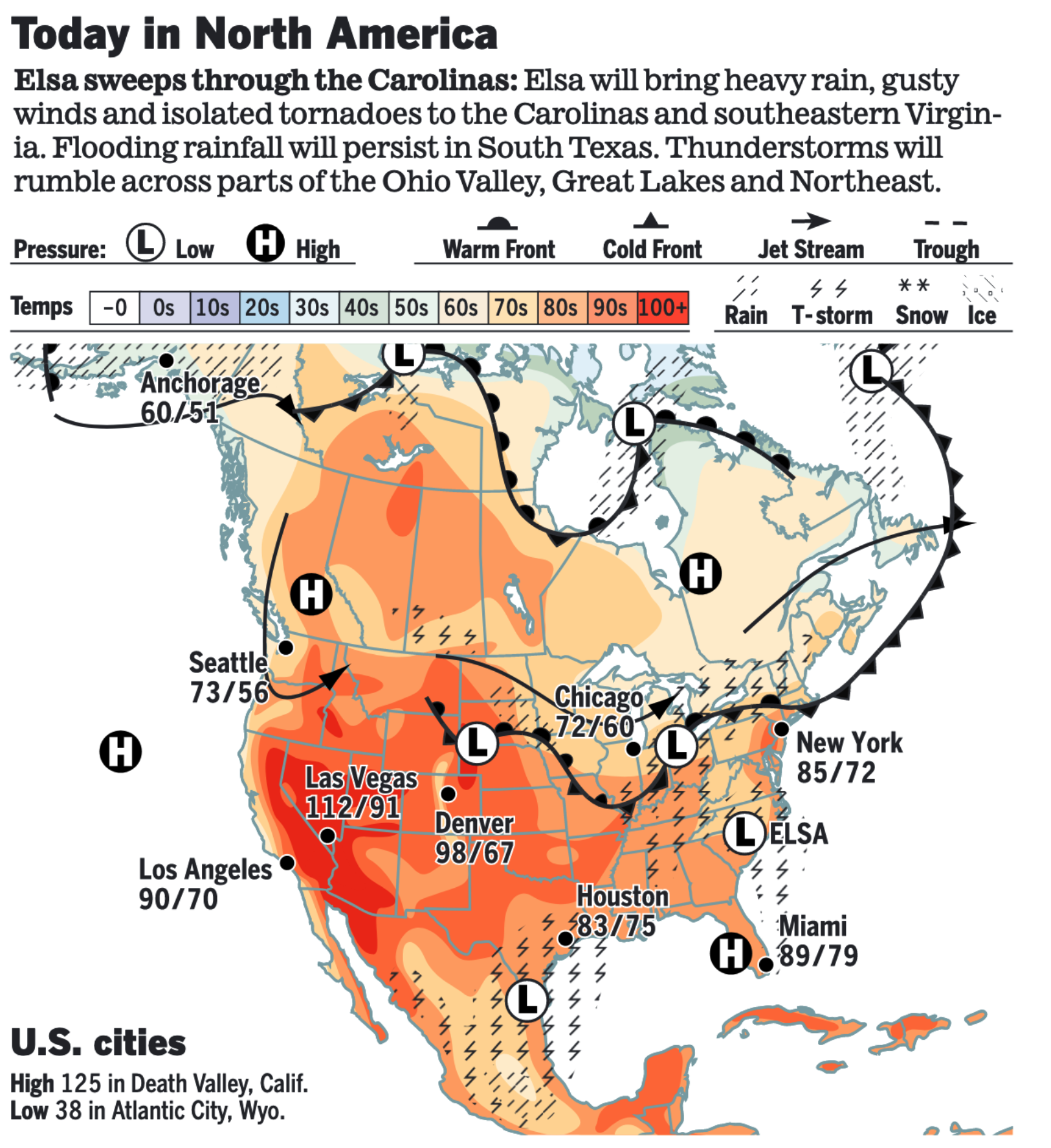 Items in Pro Farmer's First Thing Today include:
     • Choppy to higher overnight trade for grains, soy
     • Disruptive strike at Argentina's main port comes to swift end
     • Brazil expects strong farm growth over next decade
     • Global food prices slide for the first time in a year
     • Wildfire disrupting shipping at Canada's largest port
     • Steady cash cattle trade begins
     • Pork movement slows on higher prices
---
POLICY FOCUS
---
— Biden open to negotiating infrastructure spending package with McConnell.  In an appearance on MSNBC's Morning Joe, White House Press Secretary Jen Psaki was asked about President Biden's communications with Senate Minority Leader Mitch McConnell (R-Ky.) about the bipartisan infrastructure spending package endorsed by the president. Psaki said, "They have known each other for a long time. They disagree on a lot of things. ... I will note...yesterday (Tuesday), Sen. McConnell was in Kentucky out doing an event and basically admitted he didn't support the American Rescue Plan, a plan...that was going to deliver a lot of money and resources to the people of Kentucky. So, this sounds to me a lot like he's going to need to assess...whether he believes we should rebuild roads and railways, and bridges, whether he wants to make sure the people of Kentucky, the people who elected him to represent them, should have access to those resources, should benefit from this bipartisan package the president helped write. The door to the Oval Office is open. ... The president is an optimist. He believes we can get things done. And if Sen. McConnell wants to get work done together, he's open to that."
     Timeline: Two White House officials briefed Hill Democrats on a call yesterday, informing lawmakers that the administration is working alongside the Senate to have the bipartisan infrastructure bill ready for floor consideration as early as the week of July 19. Senate Majority Leader Chuck Schumer (D-N.Y.) wants to move on both the bipartisan plan and the budget resolution during the upcoming July/August Senate session. Reports note the process could begin as early as the week of 7/19, given that committees are still finalizing legislative text for both the budget resolution and the bipartisan bill.
— WSJ: Biden to target railroads and ocean shipping in executive order. As part of a sweeping executive order expected this week, the administration will push regulators to combat what it calls a pattern of consolidation and aggressive pricing that has made it onerously expensive for American companies to transport goods to market, according to the Wall Street Journal (link). The administration says the relatively small number of major players in the ocean shipping trade and in the U.S. freight rail business has enabled companies to charge unreasonable fees. The White House says the dominance of a small number of freight carriers allows operators to extract higher rates and charge fees like those for demurrage, essentially late fees on shipments that aren't picked up from freight terminals on time. The order will ask maritime regulators to crack down on such fees, and to take all other steps to protect American shippers from high fees. The executive order will also encourage the rail regulators to take up a long-standing proposed rule on so-called reciprocal or competitive switching, the practice in which shippers served by a single railroad can request bids from a nearby competing railroad if service is available.
     The executive order will also direct USDA to issue new rules aimed at boosting the farm economy and lifting individual farmers' incomes, and at thwarting what White House press secretary Jen Psaki called "abuses of power by giant agribusiness corporations." The actions would include measures to bar meat raised and slaughtered abroad from bearing "Product of the USA" labels, giving farmers the right to "repair their own equipment how they like," and preventing chicken processors from underpaying their suppliers, Psaki said.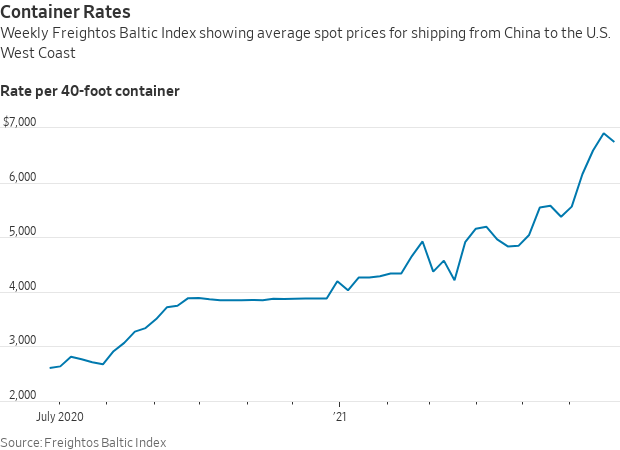 ---
CHINA UPDATE
---
— EU/China relations. EU foreign policy chief Josep Borrell holds virtual talks today with Chinese Foreign Minister Wang Yi, soon after Monday's three-way talks via video conference between Chinese President Xi Jinping, French President Emmanuel Macron, and German Chancellor Angela Merkel. Beijing's readout of the meeting said both European leaders supported a revival of the EU/China investment pact that EU lawmakers refused to ratify after China issued tit-or-tat sanctions against members of the European parliament in response to European sanctions on Chinese officials over the treatment of Uyghurs in Xinjiang.  
---
TRADE POLICY
---
— USTR Tai discussed aligning ethanol policies with Mexico. Discussions between U.S. Trade Representative (USTR) Katherine Tai and top Mexican trade and agricultural officials included biofuels policies between the two countries. In a recap of the session issued by the Office of the U.S. Trade Representative, the officials discussed several ag-trade issues, but "they also discussed the potential mutual benefits of aligning Mexico and the United States' policy on ethanol gasoline blends." There was little detail offered in terms of what specifically "aligning" the two countries' policies would mean. They also discussed implementation of the U.S.-Mexico-Canada Agreement's environment chapter, including concerns related to the conservation and protection of the vaquita, illegal fishing in the Gulf of Mexico, and sea-turtle bycatch. They agreed to work together to fully implement and enforce the USMCA's high-standard environmental commitments. Link for details.
— Tai raises GMO approvals with Mexican officials as uncertainty swirls still around GMO corn import ban. U.S. Trade Representative Katherine Tai met with Mexican Agriculture and Rural Development Secretary Victor Villalobos and Economy Secretary Tatiana Clouthier Wednesday in Mexico City, raising several ag-trade-related issues. Tai "emphasized the importance of Mexico immediately resuming the authorization of biotechnology products," according to a brief readout of the session. However, it is not clear that Tai raised a key issue on GMOs — the proposed ban on imports of GMO corn by the end of 2024. That issue remains clouded in uncertainty. Reuters reports that Villalobos has been pushing for feed corn to be exempted from the ban, a key situation given that Mexico imports around 16 million tonnes of corn from the U.S. to feed its livestock sector. Villalobos has assured USDA Secretary Tom Vilsack that there would be an exemption for U.S. corn used for feed, but the news service reported that his push within the Mexican gov't may be losing traction.
     Mexico responds. Reuters quoted sources saying that Villalobos' deputy at the ag ministry, Victor Suarez, is pushing against the GMO corn imports across the board. An issue that Tai did raise relative to Mexico failing to approve new GMO corn varieties, also threatens to impact U.S. corn exports. Mexico's health regulatory agency, COFEPRIS, has halted new GMO corn variety approvals since 2018. Mexico's farm lobby CNA has said there are at least eight new GMO corn varieties that are still awaiting approval. The report indicated that without those approvals, it could impact US corn shipments to in subsequent years as U.S. farmers plant and harvest new GMO varieties that have not gained Mexican regulatory approval. So far, Mexican President Andres Manuel Lopez Obrador has yet to make a final decision in the situation, with the report noting that the decree he issued was ambiguously worded. Others have pointed to Lopez Obrador's recent comments earlier this month that the country may seek out additional corn imports to keep a lid on prices for corn tortillas. This remains an uncertain issue relative to a key market for U.S. corn that is being watched closely given the significant impact that it could have if the GMO ban is interpreted to cover corn used for feed as opposed to just food use.
---
ENERGY & CLIMATE CHANGE
---
— Grist: The U.S. is about to go all-in on paying farmers and foresters to trap carbon… The problem is, it's unclear if "carbon offsets" even work. Link for details.
— U.S. solar growth to top wind in 2022 for first time. Growth in large-scale U.S. solar capacity is projected to exceed that of wind next year for the first time, according to a report yesterday from the U.S. Energy Information Administration (EIA). Solar's surge comes as the country boosts its dependence on renewable power. The EIA's short-term energy outlook estimates that wind and solar capacity will reach 15% of U.S. generation by 2022 from 11% last year.
— The long-declining coal sector supplied 23% of U.S. electricity production through mid-June this year, up from 17% in the same period of 2020, according to consultants Wood Mackenzie. The impact is reaching shipping operations, with the Association of American Railroads reporting coal transports by rail are up 11.8% so far this year, including a 36% surge in the last week of June. The leading reason for the resurgence — which has pushed coal prices to multiyear highs — is rising power demand as economies reopen rapidly from the pandemic.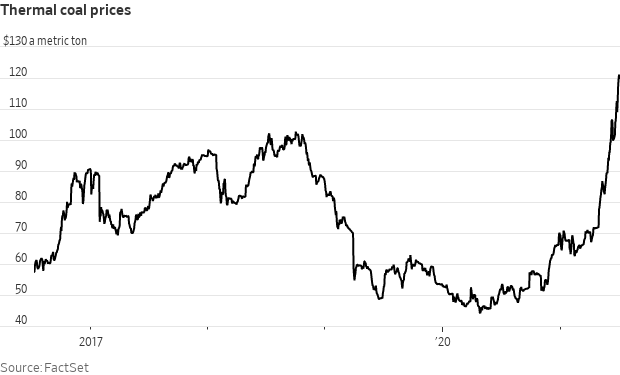 — North Dakota sues over oil lease sales. North Dakota sued the Department of Interior and the Bureau of Land Management yesterday alleging the agencies wrongfully initiated a moratorium on federal oil-and-gas-lease sales, jeopardizing a key component of the state's economy. North Dakota says the Mineral Leasing Act requires lease sales to be held for the states at least quarterly and that the federal agencies "have failed to comply with this mandatory statutory duty and have indicated that they intend to continue to do so for an indefinite period."
---
LIVESTOCK, FOOD & BEVERAGE INDUSTRY
---
— Global food prices post decline for first time in a year. Lower prices for vegoils, cereals and dairy products combined to push food prices down as measured by the Food Price Index (FPI) compiled by the UN Food and Agriculture Organization (FAO). The FPI was at 124.6 points in June, down from 127.8 in May, a figure that was revised upward from the original mark. While marking the first month-to-month decline, food prices remain up 33.9% from year-ago levels as measured by the index. Vegoil prices were own 9.8% in June, driven largely by a fall in palm oil. Cereal prices were also down with the FAO noting that rice prices fell in June to a 15-month low as high freight costs and container shortages were limiting exports. Prices rose 0.9% during June and the meat price index was up 2.1%.

— Robotic delivery of food. Delivering food is expensive and a complex logistical operation. Apps usually earn money by charging restaurants a percentage of the order value and/or by leveling a service fee on consumers. To get around the costs, some companies are turning to technology like delivery robots, just as the pandemic supercharged the automation sector. Recent reports note that Grubhub, which recently merged with Just Eat Takeaway.com, plans to roll out suitcase-size rovers to 250 U.S. colleges this fall. The six-wheeled robots — built by Russian tech company Yandex — have the capacity to carry as much as 44 pounds and have already been tested on the streets of Moscow and Ann Arbor, Michigan. Once an order is placed, the rover picks up and delivers the food to the entered destination, where the customer unlocks its hatch through the Grubhub app. "Robots don't need lunch breaks, there are no high turnover issues, they are easy to manage," said Artem Fokin, head of business development at the Yandex Self-Driving Group. "Customers are also excited to see them. They are a novelty." Earlier this year, DoorDash scooped up robotics startup Chowbotics, whose signature robot called Sally can be used to craft meals ranging from poke bowls to salads.
---
CORONAVIRUS UPDATE
---
— Summary: Covid-19 deaths worldwide topped 4 million this week and the Delta virus is continuing to spread. The marketplace is once again starting to pay more attention to this matter, after a few months of enjoying not having the pandemic near the front burner. Global cases of Covid-19 are at 185,122,577 with deaths topping 4 million, at 4,002,909, according to data compiled by the Center for Systems Science and Engineering at Johns Hopkins University. The U.S. case count is at 33,770,459 with 606,218 deaths. The Johns Hopkins University Coronavirus Resource Center said that there have been 331,651,464 doses administered, 157,908,171 have been fully vaccinated, or 48.1% of the U.S. population.
— Delta variant seen becoming predominant Covid strain in the U.S. The delta variant of the Covid virus is poised to become the predominant Covid strain in the U.S., according to the U.S. Centers for Disease Control and Prevention (CDC). The highly transmissible variant made up 30% of positive samples sequenced in the U.S. over the two-week period ending June 19. The variant is predicted to increase to 52% in the two weeks ending July 3, Jade Fulce, a CDC spokesperson, said. In June, the CDC classified the B.1.617.2 strain, first identified in India, as a variant of concern. The Biden administration announced the deployment of response teams this month to combat delta's spread, and U.S. health officials are pledging to boost testing and provide therapeutics.
— Japan declares a new state of emergency due to Covid-19. The restrictions will continue during the Summer Olympics, making it likely the organizers will drop plans to allow some spectators at the Games. Officials are set to discuss spectator levels later today.
---
POLITICS & ELECTIONS
---
— Fences finally coming down at the Capitol. More than six months after Jan. 6 Capitol clash, the remaining security fencing around the Capitol is set to come down. Per a memo sent to staff and lawmakers yesterday, the removal could begin as early as tomorrow and finish within three days. The memo said the Architect of the Capitol can put the fencing back if they need to, and a similar memo sent to all Senate offices said the Capitol Police will still use bike racks to block off access to parts of the Lower West Terrace and East Front Plaza of the Capitol. However, the Capitol is still closed to visitors.
— Poll: Majority believes Biden officials, not the president, are secretly running the country.  Most people in the U.S. believe that Biden administration officials, and not President Joe Biden, are directing the country's agenda and policy, according to a national poll (link). Some 57% of respondents to a Convention of States Action and Trafalgar Group poll said the president is not fully executing the duties of his office; 36% said they were confident that he was directing all policy and agenda matters. As expected, there was a disparity between political ideologies, as nearly 59% of Democratic voters said they thought Biden was in charge of the administration; 32% said he was not in charge. 84% of Republican voters said they did not believe Biden was fully executing the duties of his office; only 11% of GOP voters believe he is directing all policy and agenda matters. 58% of independent voters said they did not believe Biden was fully executing the duties of his office, while 36% disagreed. Nearly 10% of Democrats and 5% of Republicans and independent voters answered that they were "not sure" if Biden was directing the administration.

— Trump files class action lawsuit against social media companies, CEOs.  Former President Trump, who previously complained about censorship by social media giants, filed class action lawsuits Wednesday against Facebook CEO Mark Zuckerberg, Twitter CEO Jack Dorsey and Google CEO Sundar Pichai. Trump is completely banned from Twitter and is banned from Facebook for another two years." CNBC reported shortly after "the press conference wrapped, Trump's political entities started sending out fundraising messages that touted the lawsuits in their appeals for money."
— Brazil's presidential contest. Brazilian President Jair Bolsonaro gave the clearest indication yet that he would not accept the results of a presidential election, scheduled for October 2022, alleging that the country's electronic vote-counting system was susceptible to fraud. "If this method continues, they're going to have problems," Bolsonaro said in a radio interview. "Because one side, which is our side, may not accept the result." Bolsonaro has trailed his rival, Luiz Inacio Lula da Silva, in opinion polls ever since the former president's corruption convictions were annulled in March.

 
---
OTHER ITEMS OF NOTE     
---

— Biden says he'll deliver message on cybersecurity to Putin.  Asked if he had a message for Russian President Vladimir Putin on cybersecurity after his briefing on the subject Wednesday, President Biden said, "I will deliver it to him." Biden and his administration are considering potential options for a response to new Russian-linked cyberattacks, White House press secretary Jen Psaki told reporters aboard Air Force One Wednesday that while Biden had not decided on a course of action for responding to the ransomware attack on software company Kaseya and other potential attacks last week, there would be more to come. "In terms of operational considerations, obviously it is not in our interest to preview those, or preview our punches as I like to say. The president has a range of options should he determine to take action," Psaki said. Biden and Vice President Kamala Harris conferred with administration officials Wednesday morning to discuss how to curb ransomware attacks before departing for a trip to Illinois to promote his economic agenda. Representatives from the Department of Homeland Security and the intelligence community were also present. Compounding concerns was a new attempted attack, first reported by Bloomberg News on Tuesday afternoon, by Russian government-linked hackers on the Republican National Committee (RNC). The RNC put out a statement Tuesday denying that its data had been stolen, but acknowledging that Synnex, a third-party technology services provider, had been compromised last week.
— USDA announces water grants. USDA is putting $307 million into improving rural drinking water and wastewater infrastructure in 34 states and Puerto Rico, the agency announced yesterday. The money available through the Water and Waste Disposal Loan and Grant Program will go toward removing outdated pipes and service lines, focusing on rural and tribal communities. "The consequences of decades of disinvestment in physical infrastructure have fallen most heavily on communities of color," USDA Secretary Tom Vilsack said.
— Former House Ag Chairman Peterson writes op-ed. He touts agriculture's achievements in conservation and contributions to reductions in greenhouse gases and urges a bipartisan agreement on voluntary, incentives-based initiatives. Link to op-ed.
---