Biden, Republicans Signal a $1 Trillion Infrastructure Measure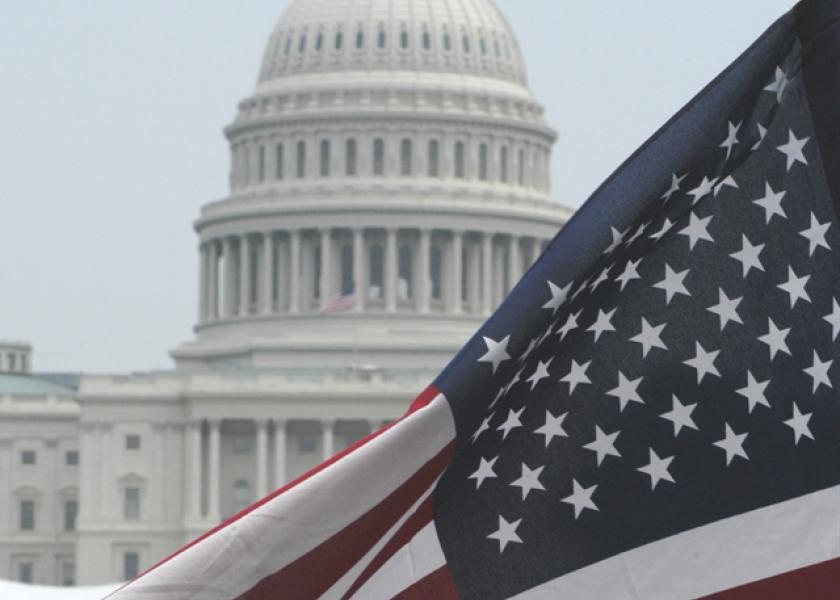 In Today's Digital Newspaper
Market Focus:
• Equities are rising as inflation fears are easing
• Fed officials continue to say recent inflation will be transitory
• China's renminbi currency hits three-year high against U.S. dollar
• Bitcoin again hits selling pressure
• Biden directs $1 billion for weather preparedness
• Ag demand update
• Wheat rebounds overnight, corn down 1 to 3 cents in most contracts
• Cordonnier expects U.S. producers to hike corn acres far more than beans
• Consultant drops forecast for Brazil's corn crop to 95 MMT
• HRW CCI improves, low initial spring wheat CCI rating
• Good early season soil moisture lifting crop forecast for Australia
• Another judge shoots down effort to halt Mexico's bans on GMO corn and glyphosate
• Consultant fears Argentine beef export suspension could last much longer than billed
• Strong beef demand signals continue
• Cash hog bids climbed on Monday
 
Policy Focus:
• Republicans signal new infrastructure offer 'soon'
• CFAP 2 payments continue to edge higher
• Additional payments to swine producers and contract growers remain on hold
China Update:
• China warns metal industry of 'zero tolerance' for speculation as commodity prices soar.
Energy & Climate Change:
• Senate panel sets Wednesday clean energy tax bill markup
• BP and Shell among European oil companies building wind and solar projects
• Enviros: No e-RINs for electricity from wood biomass, gas captured on farms
• Go-slow carbon credit strategy continues

Livestock, Food & Beverage Industry Update:
• Pork producers call on USDA to challenge court decision on line speeds

Coronavirus Update:
• U.S. warns against all travel to Japan ahead of Olympics
• Moderna says its Covid vaccine is 100% effective in teens, plans to seek FDA OK
• Disused Chinese mine touchpoint for escalating calls to seek origin of Covid-19
Politics & Elections:
• Florida will fine social networks that bar political candidates
• Iowa farmers to run as Democrat for Sen. Grassley seat
Congress:
• Drought conditions focus of hearing
• Fed regulation on tap today  
• Sen. Elizabeth Warren proposes tripling the IRS' annual budget
• Toomey expands 'politicized' agenda review at Fed banks

Other Items of Note:
• Airlines begin skirting Belarus after it forced down a plane
• Mexican judge rejects bid to freeze Mexico GMO, glyphosate plans
• EPA top officials intruded on dicamba decision making
 
MARKET FOCUS
Equities today: Global stock markets were mixed but mostly firmer overnight. U.S. stock indexes are pointed toward modestly higher openings. Inflation anxiety has definitely been tempered as several commodity market prices have backed down from their multi-year highs and Federal Reserve officials (see below) continue to temper notions of problematic price inflation and that they are not concerned about the inflation data and that it hasn't changed their plan to be very cautious. In China, the Shanghai Composite Index jumped 2.4%, its biggest one-day move since October, bringing it to its highest closing level in three months. Japan's Nikkei 225 rose 0.7%, while in Hong Kong, the Hang Seng gained 1.7%. European equity markets are mostly higher in early trade activity. The Stoxx 600 was up 0.3% with most regional markets seeing gains of 0.1% to 0.9%. British markets, however, are seeing small losses.
     U.S. equities yesterday: The Dow ended up 186.14 points, 0.54%, at 34,393.98. The Nasdaq moved up 190.18 points, 1.41%, at 13,661.17. The S&P 500 was up 41.19 points, 0.99%, at 4,197.05.
On tap today:
     • S&P/Case-Shiller 20-city home price index for March is expected to increase 12.4% from a year earlier. (9 a.m. ET)
     • Conference Board's consumer confidence index is expected to fall to 118.7 in May from 121.7 a month earlier. (10 a.m. ET)
     • U.S. new-home sales are expected to fall to an annual pace of 959,000 in April from 1.021 million a month earlier. (10 a.m. ET)
     • Richmond Fed's manufacturing survey is expected to rise to 18 in May from 17 a month earlier. (10 a.m. ET)
     • Federal Reserve: Chicago's Charles Evans speaks on the economy and monetary policy at 7:40 a.m. ET, and Vice Chairman Randal Quarles speaks on bank supervision at a Senate Banking Committee hearing at 10 a.m. ET.
Fed officials again play down risk of persistent higher inflation. Federal Reserve officials pushed back against the threat that a spike in price pressures will prove lasting as the U.S. economy reopens. Governor Lael Brainard, Atlanta Fed President Raphael Bostic and St. Louis's James Bullard said they would not be surprised to see bottlenecks and supply shortages push prices up in coming months as the pandemic recedes and pent-up customer demand is unleashed, but much of those price gains should prove temporary.
Fed's Bullard says not time to change monetary policy during pandemic. St. Louis Fed President James Bullard is of the view that the current rise in inflation is not unexpected, and that the recent Consumer Price Index (CPI) update is "just one number. So, we'll see if demand really flows through to a lasting increase in inflation or if this is just temporary." He also was asked about his stance as an inflation hawk and how that squares with the current situation. Bullard acknowledged the inflationary period in the 1970s and 1980s was "very painful" and took a long time to break. "We're just trying to move inflation a little above target and approach our inflation target from the high side instead of from the low side," he noted, pointing to the "modern era" of inflation running below the Fed's target. He also pointed to negative interest rates in Europe and Japan, noting "We'd rather stay out of that game."
     As for tapering the $120-billion-per-month bond purchases, Bullard said he thought there would be a time "when we can talk more about changing the parameters of monetary policy. I don't think we should do it when we're still in the pandemic." He noted that it is the job of financial markets to look ahead and price assets. "But when you're in a crisis, I think you should make sure that you've accepted the crisis aspect before you think about changing policy," Bullard stated. "We're not quite there yet. I think we will get there in the months ahead. And that'll be the time when we can start thinking about altering our asset purchase policy."
     Bullard will be a voting member of the Federal Open Market Committee (FOMC) in 2022 but he at least for now is taking the view that conditions are not yet there for adjusting the Fed's current policy portfolio.
Biden directs $1 billion for weather preparedness. President Biden yesterday announced a doubling of federal spending on preparations for severe weather events, the president's latest move to put climate change at the center of his domestic agenda. The administration will provide $1 billion this year to state, local and tribal governments to prevent damage from floods, hurricanes, wildfires and other natural disasters, the White House said in a statement. Biden is also directing the National Aeronautics and Space Administration to collect more advanced climate data.
     On May 20, NOAA "eleased its 2021 Atlantic hurricane season outlook. Forecasters predict a 60% chance of an above-normal season, a 30% chance of a near-normal season, and a 10% chance of a below-normal season. Additionally, forecasters expect a likely range of 13 to 20 named storms, of which six to 10 could became hurricanes.
Market perspectives:
     • Outside markets: The U.S. dollar index is weaker and hitting a 4.5-month low. The yield on the benchmark 10-year U.S. Treasury note is presently fetching around 1.593%. Gold and silver futures are nearly unchanged, with gold trading around $1,883 per troy ounce and silver around $27.74 per troy ounce.
 
     • China's renminbi currency has hit a three-year high against U.S. dollar on China's strong economic rebound. The renminbi has gained more than 10% over the past year, driven by China's solid economic rebound from the Covid-19 pandemic and foreign capital flows into the country.

     • Crude oil futures have turned lower ahead of U.S. trading after big gains in Monday action. U.S. crude is trading around $64.85 per barrel and Brent around $68.25 per barrel. Futures were slightly higher in Asian action, with U.S. crude up 11 cents at $66.16 per barrel while Brent crude was up 20 cents at $68.57 per barrel.
     • The price of bitcoin on Monday found some footing after a turbulent weekend, rising to almost $37,000 — still a 37% drop from the start of the month. This morning, the price was down about 4.5%, at $36,850. Meanwhile, Elon Musk tweeted that North American Bitcoin miners had committed to publishing data on their current and planned renewable energy usage, helping to alleviate some concerns over Bitcoin's impact on the environment.
     • Ag demand: Egypt bought 240,000 MT of wheat from Romania. Japan is seeking to buy 124,620 MT of food-quality wheat from the U.S. and Canada in a regular tender. Algeria issued an international tender to buy a nominal 50,000 MT of durum wheat.
Items in Pro Farmer's First Thing Today include:
     • Wheat rebounds overnight, corn down 1 to 3 cents in most contracts
     • Cordonnier expects U.S. producers to hike corn acres far more than beans
     • Consultant drops forecast for Brazil's corn crop to 95 MMT
     • HRW CCI improves, low initial spring wheat CCI rating
     • Good early season soil moisture lifting crop forecast for Australia
     • Another judge shoots down effort to halt Mexico's bans on GMO corn and glyphosate
     • Consultant fears Argentine beef export suspension could last much longer than billed
     • Strong beef demand signals continue
     • Cash hog bids climbed on Monday
POLICY FOCUS
— Republicans signal new infrastructure offer "soon". Senate Republicans are planning to make a new overture to Biden on infrastructure spending, and said they'll continue trying this week to strike a bipartisan deal after rejecting the White House's latest counteroffer of $1.7 trillion as too costly. "We're not going to walk away," said Sen. Shelley Moore Capito (R-W.Va.), the lead Republican negotiator. Sen. Roger Wicker (R-Miss.) said that the GOP would be willing to spend $1 trillion over eight years — a figure well above what they said in the past. However, specific details on the last GOP offer have been scarce. Wicker said Republicans are "fleshing out the numbers" and hopes to have "a sensible offer" by the end of the week. Capito said she would be meeting with her colleagues over the next day to determine what the offer would be. Wicker added that President Joe Biden specifically mentioned the $1 trillion figure at a previous meeting. "He said a trillion," Wicker said. "We can get there."
— CFAP 2 payments continue to edge higher. Payments authorized under the Coronavirus Food Assistance Program 2 (CFAP 2) now stand at $13.66 billion as of May 23, up slightly from $13.63 billion the prior week. Acreage-based payments are at $6.26 billion, with livestock at $3.44 billion, sales commodities at $2.68 billion, dairy at $1.22 billion and eggs/broilers at $59.73 million.
     CFAP 1 payments remained at $10.57 billion.
     Additional payments to swine producers and contract growers remain on hold and will likely require modifications to regulations written before President Biden took office as part of an effort to reach a broader set of producers.
 
CHINA UPDATE
— China warns metal industry of 'zero tolerance' for speculation as commodity prices soar. The powerful National Development and Reform Commission (NDRC) has told key players in the metal industry it is cracking down on illegal activity. At a meeting on Sunday, companies were told they must take the lead in maintaining 'orderly prices' for commodities that hit record highs early this month. "Many parties have given feedback that there has been excessive speculation and hype, which has disrupted the normal process of production and sales and contributed to the price spike," the NDRC said in a statement posted to its website on Monday. The commission and four other ministerial departments told the companies at the meeting, including several state-owned firms, they must take the lead in maintaining "orderly prices" for commodities. Domestic prices for iron ore, steel rebar, coal and copper hit record highs early this month, with the producer price index (PPI) — a gauge of factory-gate prices — rising 6.8% from a year earlier in April, the highest reading in three and a half years.
ENERGY & CLIMATE CHANGE
— Senate panel sets Wednesday clean energy tax bill markup. Senate Finance Committee Chairman Ron Wyden (D-Ore.) released the chairman's mark (link) of his Clean Energy for America Act, in advance of Wednesday's markup. The bill would replace existing clean energy tax breaks with a technology-neutral tax incentive. It would also repeal the existing per-manufacturer cap on the plug-in electric vehicle credit and make it refundable for individuals. Commercial operators would have access to a non-refundable credit worth 30% of the purchase of an electric vehicle.
     Biofuels would qualify. The new tax credit would replace current tax incentives for fuels such as biodiesel, advanced biofuels and natural gas. Fuels could qualify for the new credit if their lifecycle emissions are at least 25% below the current U.S. national average. Corn-based ethanol producers also would be able to apply for the credit.
     A huge price tag. The proposed measure would cost more than $200 billion over a decade, a congressional tax panel said Monday. The bill (S 1298) would cost $215.5 billion, according to an analysis by the Joint Committee on Taxation (JCT) that included $24.5 billion in offsets that would come from repealing credits provided exclusively to fossil fuel companies. Link to JCT summary.
     Beyond the three categories of tax credits Wyden proposes — labeled as "clean electricity," "clean transportation" and "energy efficiency" — he also calls for ending at least 17 tax incentives available to oil, coal and gas companies. The provisions his bill would cut, according to the JCT summary, include credit for producing oil and gas from "marginal wells," an exemption from income tax for publicly traded partnerships and what is known as the "enhanced oil recovery" credit.
— Unlikely set of companies looking to cash in on growing business push toward renewable power. European oil majors including BP and Royal Dutch Shell are building wind and solar projects and striking deals to supply electricity to big corporate buyers such as Amazon and Microsoft. The Wall Street Journal reports (link) the moves are treading into the domain of traditional power companies as more businesses look to limit carbon emissions. Oil companies are making a financial play, saying they are securing long-term deals to supply electricity to provide a new source of income as they prepare for a lower-carbon economy. Power supply has historically been a regional business managed by utilities, but corporate procurement in the renewable power market is growing fast. Renewable energy purchasing rose 25% last year, and BloombergNEF estimates the number of new deals increased by 75% in the first four months of this year.
— Environmentalist groups urge EPA not to let electricity from wood biomass, gas captured on farms and landfills qualify for e-RINs under RFS. EPA is being urged not to allow electricity from wood biomass and methane captured from farms and landfills qualify for e-Renewable Identification Numbers (e-RINs) under the Renewable Fuel Standard (RFS), according to a letter (link) sent from several environmental groups to EPA Administrator Michael Regan. The groups label electricity from these "dirty" industries incompatible with the Biden administration's commitment to environmental justice in climate policy. "Impacted frontline communities already bear the disproportionate brunt of harm from the processing and burning of woody biomass, factory farm gas, and landfill gas," the letter said. The groups argue that factory farms and deforestation are not compatible with the current administration's policies, and they contend that methane captured from those agricultural operations is not a renewable source. "Our greatest safeguard against climate change is to incentivize and reward a rapid transition to genuinely clean and renewable sources of energy," said Gayle Goldsmith, Board Chair of the NC Climate Solutions Coalition. "Our nation must halt all subsidies and other financial support for costly and dirty methods of energy production." 
     The White House directed EPA to look into incorporating electricity for EVs obtained through biofuels in RFS credits, Reuters reported last month.
— The go-slow carbon credit strategy continues. The National Academy of Sciences estimates agricultural soils could take in 250 million metric tons (276 million tons) of atmospheric carbon dioxide annually, which would offset 5% of U.S. emissions. Some caution against overselling farmland's potential. Iowa State University ecologist Steven Hall says that at some soil depths, microbes convert carbon absorbed by cover crops into gas that returns to the atmosphere. "It may make sense to pay farmers to do this," he said. "But I would go into it a bit more suspicious that we'll get a maximum performance on all farms." The federal government has spent hundreds of millions of dollars helping farmers make environmentally friendly changes. Since 2005, those actions have produced an eight-fold increase in prevention of greenhouse gas emissions, the Natural Resources Conservation Service (NRCS) says.
     USDA Secretary Tom Vilsack has pledged bigger payments for pulling marginal lands out of crop production to make way for carbon-absorbing grasses, trees and wetlands. He announced $330 million for local climate partnerships and $25 million for testing new ideas. Supporters say unless the actions are mandatory, which farmers oppose, more financial incentives will be needed.
     Pending U.S. Senate and House bills would help farmers get started and provide third-party inspections to verify improvements. The chief Senate sponsor, Agriculture Committee Chairwoman Debbie Stabenow (D-Mich.), said attitudes have changed since she unsuccessfully proposed a similar program in 2009. "Farmers have been hit right in the head with one weather disaster after another. They know the climate is changing," Stabenow said.
     The NRCS and Colorado State University continue refining an online system (link) that calculates carbon stored and greenhouse gases prevented through conservation efforts. It's based on factors such as location, soil types, tillage practices, nutrient applications and crop cultivation.
LIVESTOCK, FOOD & BEVERAGE INDUSTRY
— NPPC: Federal judge ruling on faster line speeds 'disastrous' for small U.S. hog farmers. Left unchallenged, a recent federal district court ruling will result in a 2.5% loss in pork packing plant capacity nationwide, and more than $80 million in reduced income for small U.S. hog farmers, according to an analysis by Dr. Dermot Hayes, an economist with Iowa State University. The National Pork Producers Council (NPPC) is urging USDA to intervene before the ruling takes effect at the end of next month. The ruling, NPPC said, "will dramatically reduce hog farmer market power — particularly smaller producers located near impacted plants — and undermine pork industry competition."
     Background. The federal court's decision struck down a provision of USDA's New Swine Inspection System (NSIS) allowing for faster harvest facility line speeds. NSIS, initiated during the Clinton administration and evaluated at five pilot plants over 20 years, was approved for industry-wide adoption in 2019.  NSIS modernized an inspection system that had remained unchanged for more than 50 years. NPPC said the court's ruling will have the opposite effect sought by those seeking to expand the number of meat packing plant facilities. Lawmakers have recently called for increasing the number of pork processing facilities nationwide by bringing smaller state plants up to federal inspection standards. These facilities represent less than 1% of total harvest capacity.
     "With the stroke of a judge's pen, the lives of many hog farmers will be upended if this misguided ruling takes effect," said NPPC President Jen Sorenson, communications director for Iowa Select Farms in West Des Moines, Iowa. "The lost revenue projected by Dr. Hayes is not theoretical; it is based on breeding decisions made several month ago and pigs already in the production cycle that will go to market in a few months."
    Impacts. According to Dr. Hayes, while the court decision will affect all hog farmers, small hog farmers will disproportionately bear the brunt, especially those near affected processing plants. He explains, "Six pork processing plants are currently operating at higher line speeds allowed under the new USDA inspection system. Five of these plants have been operating at these speeds for more than 20 years under the pilot program introduced during the Clinton administration." Three of the impacted plants are located near top-producing Iowa. He says this will cost producers $83.2 million via lower spot market prices, with small hog farmers likely to bear the brunt of the decision. "Packers will likely use Force Majeure provisions to declare their pricing contracts with hog farmers null and void, forcing these farmers to sell their hogs on the spot market," Hayes says.
     NPPC is urging USDA to appeal the ruling, seek a stay while the appeal is considered and request the agency pursue a new, fast-tracked rulemaking that better reflects the modern processing plant technologies and practices and allows for higher line speeds.
— Vertical farming ventures goes vertical in raising funds. Bowery Farming, a high-tech vertical farming company that grows greens indoors, has raised $300 million in funding at a valuation of $2.3 billion. Irving Fain, Bowery's founder and CEO, began his career in investment banking, directed digital marketing at iHeartMedia and founded CrowdTwist, a brand analytics software company. He started the "smart" farm company, which uses technology to control and monitor growth, in 2014. The company's farms are built near cities and employ workers with no agricultural experience to work tech-enabled greenhouses. "When you look at climate change, population growth, and urbanization, it's clear that our agricultural system needs to change," Fain told the NYT's DealBook. Small-scale vertical farms in urban areas can't feed everyone, but they are "simpler, safer, more reliable and more sustainable," he said.
     It's in the stars. Bowery's latest funding round boasts celebrity investors like the actress Natalie Portman, the chef José Andrés and the singer-songwriter and actor Justin Timberlake. Its greens and herbs are sold in more than 850 stores, and it has recorded sales growth of some 750% since the start of 2020.
CORONAVIRUS UPDATE
— Summary: Global cases of Covid-19 are at 167,345,338 with 3,474,656 deaths, according to data compiled by the Center for Systems Science and Engineering at Johns Hopkins University. The U.S. case count is at 33,144,099 with 590,574 deaths. The Johns Hopkins University Coronavirus Resource Center said that there have been 286,890,900 doses administered, 130,615,797 have been fully vaccinated, or 39.8% of the U.S. population.
— U.S. warns against Japan travel. The U.S. said Americans should avoid traveling to Japan, with the country under a state of emergency over a widening Covid-19 outbreak that has sown doubts about Tokyo's plans to host the Olympics in less than two months. A poll released last week found that 83 percent of those surveyed said they did not want Tokyo to host the Games. The Department of State raised its travel advisory to level four, putting Japan in a category with a broad swath of nations from Latin America to Europe that Americans are urged to avoid.
— Moderna says its Covid vaccine is 100% effective in teens, plans to seek FDA OK in early June. Moderna said today its Covid-19 vaccine was 100% effective in a study of adolescents ages 12 to 17, making it the second shot behind Pfizer's to demonstrate high efficacy in younger age groups. The company said it plans to ask the Food and Drug Administration to expand the emergency use of its Covid-19 vaccine for teens early next month. If approved, it would likely dramatically expand the number of shots available to middle and high school students ahead of next school year. Pfizer and German partner BioNTech were cleared to use their vaccine for 12- to 15-year-olds earlier this month.
— A disused Chinese mine has become a touchpoint for escalating calls to more thoroughly seek the origin of Covid-19. After six miners mysteriously fell ill in 2012, scientists from the Wuhan Institute of Virology took samples from bats in the mine and identified several new coronaviruses. Unanswered questions about the illness, the viruses and the research done with them have led to calls by leading scientists for a deeper investigation into whether the pandemic virus could have been in the institute's labs and escaped. Link to details via the WSJ.
POLITICS & ELECTIONS
— Florida will fine social networks that bar political candidates. The new law is a direct challenge to the suspension of Donald Trump by Facebook and Twitter, and also prevents those platforms from banning some news outlets from posting their content. It's likely to be challenged on constitutional grounds.
— Democratic Iowa farmer running for Chuck Grassley's Senate seat. Dave Muhlbauer, an Iowa farmer and a former county supervisor, on Monday became the first Democrat to announce he is running for Republican Sen. Chuck Grassley's seat. Muhlbauer says onetime rural Democrats "just feel like Democrats are leaving rural areas high and dry." He portrays himself as vested in the future of struggling rural America as a fifth-generation farmer. Grassley, a powerful seven-term senator, is 87 and has said he will announce whether he plans to run again by autumn. At 37, Muhlbauer provides a stark generational contrast.
CONGRESS
— Drought conditions focus of hearing. The House Natural Resources Subcommittee on Water, Oceans, and Wildlife convenes for a hearing on drought conditions in the western U.S.
— Fed regulation on tap today. The Senate Banking, Housing and Urban Affairs Committee today will hear the semiannual testimony of Federal Reserve Vice Chairman Randal Quarles on the Fed's supervision and regulation of the financial system.
— Sen. Elizabeth Warren proposes tripling the IRS' annual budget. The Massachusetts Democrat unveiled legislation to increase the agency's funding to $31.5 billion to support President Biden's plan to help it pursue tax evasion by corporations and the wealthy.
— Toomey expands 'politicized' agenda review at Fed banks. Sen. Patrick Toomey (R-Pa.), the top Republican on the Senate Banking Committee, said he's "expanding his review of the increasing focus on politically-charged issues" such as climate change and racial justice by Federal Reserve district banks. Toomey requested briefings and documents from the Minneapolis, Boston and Atlanta regional banks on their "racial justice" efforts, which he called activism beyond the bounds of the central bank's mission and mandate, according to letters released yesterday. "We look forward to discussing with him how better understanding racial inequality helps the Federal Reserve reach its mandate of maximum employment and ensure economic gains are widely experienced across the population, regardless of race," an Atlanta Fed spokesperson said in a statement.
OTHER ITEMS OF NOTE     
— Airlines begin skirting Belarus after it forced down a plane. Carriers said they would avoid the country's airspace after it compelled a Ryanair flight bound for Lithuania to land in Minsk, the Belarusian capital, to seize a dissident journalist. The detour is likely to be costly for airlines that fly between Europe and Asia. EU leaders agreed to new sanctions against Belarus and to ban its airlines from entering the bloc. Calling the incident "a direct affront to international norms," President Joe Biden welcomed the EU decision. In a statement, he said he's asked advisers "to develop appropriate options to hold accountable those responsible." National Security Adviser Jake Sullivan spoke by phone with exiled Belarusian opposition leader Sviatlana Tsikhanouskaya Monday and French President Emmanuel Macron endorsed a proposal to invite her and other opposition leaders to next month's Group of Seven summit. Russia has backed Belarus' handling of the current situation and Foreign Minister Sergei Lavrov said Minsk's explanation was "reasonable." Belarus was a member of the former Soviet Union, but it's still connected to Russia via linguistic, cultural and trade ties.
— Mexican judge rejects bid to freeze Mexico GMO, glyphosate plans. A request to freeze a government plan to ban imports of GMO corn and glyphosate by 2024 was rejected by Mexican Judge Martin Adolfo Santos Perez, marking the latest of what Mexico's National Council of Science and Technology (CONACYT) said have been 17 legal challenges of the order issued by Mexican President Andrés Manuel López Obrador. The latest action was brought by the National Farm Council (CNA). The group argued that it is concerned "radical and unscientific interpretations" of the planned bans will stoke uncertainty. CONACYT has been directed to come up with an alternative to glyphosate. USDA Secretary Tom Vilsack has said he has continued to discuss the issue with his Mexican counterpart and has indicated that the ban on GMO corn could apply only to corn used for food as opposed to feed, but the issue is not clear at this juncture.
— EPA top officials intruded on dicamba decision making. Three EPA officials altered scientific documents to support their 2018 decision to keep the weedkiller dicamba in use, according to EPA's Office of Inspector General (OIG). The decision to extend registration of the herbicide for two years, was overturned by a federal appeals court because the EPA ignored or underestimated the risks associated with dicamba. EPA scientists told the OIG that senior managers in the Office of Chemical Safety and Pollution Prevention (OCSPP) were more involved in the dicamba review than typical for a pesticide registration decision. "This led to senior-level changes to or omissions from scientific documents, including omissions of some conclusions addressing stakeholder risks," said the OIG. The actions "left the decision legally vulnerable," said the report, pointing to the appellate decision last June. The Trump administration announced a five-year EPA approval of dicamba with additional safeguards a week before the 2020 presidential election. Andrew Wheeler, then EPA administrator, said the agency examined new scientific material and considered comments from stakeholders before issuing the new registration. EPA said it stands by the 2020 decision "made with the input of career scientists and managers" and it was taking steps to assure pesticide decisions are based on science. "The political interference that occurred with the 2018 dicamba decision happened despite the best efforts of EPA's career scientists and managers to recommend a different approach," said a spokesperson. Link to report.