Biden Meets with Sens. Manchin, Sinema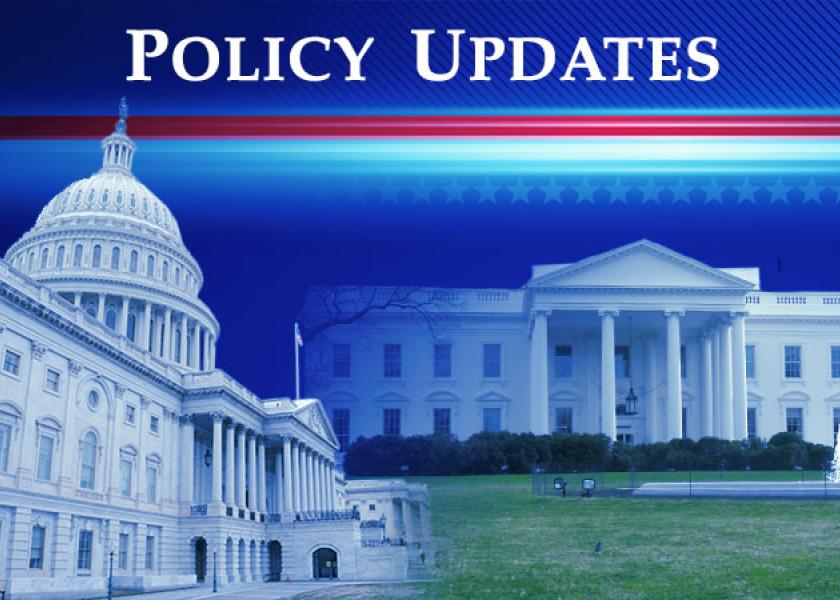 Yellen talks with McConnell re: debt ceiling
---
In Today's Digital Newspaper
---
Market Focus:
• Business Roundtable sounds alarm on debt ceiling; Yellen calls McConnell
• Why is Europe's GDP per person lower than U.S.?
• Covid-19 pandemic has driven a long-lasting surge in transportation costs
• Europe's energy crunch deepens
• One of two Canadian railroads bidding for Kansas City Southern drops out
Policy Focus:
• Reconciliation updates
• Biden met with Sens. Manchin and Sinema
Afghanistan:
• Boris Johnson, British prime minister, reassigned foreign minister 
Biden Administration Personnel:
• Yellen trying to make do during shortage of Senate-confirmed senior lieutenants
China Update:
• Biden announces nuclear defense deal with Australia, largely aimed at China
Energy & Climate Change:
• EPA forwards proposed rule on methane emissions in oil and gas sector to OMB

Livestock, Food & Beverage Industry Update:
• House panel investigating meatpacking plants re: Covid-19
• USDA determines layer flocks depopulated during pandemic do not qualify for PLIP

Coronavirus Update:
• Pfizer and Moderna say Covid-19 vaccine protection wanes over time
• Herd immunity
• Biden discussed vaccine mandates with executives
Politics & Elections:
• Newsom's anti-Trump recall strategy offers Republicans a warning for 2022
• Va. governor debate tonight
• Canada's Conservative Party moves into statistical tie with the Liberals by leaning left  
• Pope Francis comments on calls to deny communion to Biden over abortion
Other Items of Note:
• Biden voices 'great confidence' in Gen. Mark Milley
---
MARKET FOCUS
---
Equities today: Global stock markets were mostly weaker in overnight trading. The U.S. stock indexes are pointed to modestly lower openings. Asian equities finished mostly lower amid disappointing Japanese trade data. The Nikkei fell 188.37 points, 0.62%, at 30,323.34. The Hang Seng Index lost 365.36 points, 1.46%, at 24,667.85. European equities are seeing gains in early action, with the Stoxx 600 up 0.7% and advances of 0.5% to more than 1% in regional markets.
     U.S. equities yesterday: The Dow closed up 236.82 points, 0.68%, at 34,814.39. The Nasdaq gained 123.77 points, 0.82%, at 15,161.53. The S&P 500 rose 37.65 points, 0.85%, at 4,480.70.
On tap today (see detailed list of events and reports below):
     • European Central Bank President Christine Lagarde speaks on the euro and the European economy at 8 a.m. ET.
     • U.S. jobless claims are expected to rise to 320,000 in the week ended Sept. 11 from 310,000 a week earlier. (8:30 a.m. ET)
     • U.S. retail sales for August are expected to fall 0.8% from the prior month. (8:30 a.m. ET)
     • Philadelphia Fed manufacturing survey is expected to fall to 18.7 in September from 19.4 a month earlier. (8:30 a.m. ET)
     • U.S. business inventories for July are expected to rise 0.5% from the prior month. (10 a.m. ET)
     • European Commission Vice President Valdis Dombrovskis speaks in Geneva on EU priorities for the future of the WTO
     • G20 agriculture ministers meeting in Florence, including USDA Sec. Tom Vilsack
Business Roundtable sounds alarm on debt ceiling; Yellen calls McConnell.  Leaders of the country's major companies on Wednesday issued a plea for congressional leaders to come to an agreement quickly to raise the nation's debt limit. "Failure to lift the U.S. federal debt limit to meet U.S. obligations would produce an otherwise avoidable crisis and pose unacceptable risk to the nation's economic growth, job creation and financial markets," Josh Bolten, president and CEO of the Business Roundtable, and Doug McMillon, Walmart's chief executive and the chair of the business lobby, wrote in a letter to Senate Majority Leader Chuck Schumer (D-N.Y.), House Speaker Nancy Pelosi (D-Calif.), Senate Minority Leader Mitch McConnell (R-Ky.) and House Minority Leader Kevin McCarthy (R-Calif.). The looming threat of defaulting on the nation's loans "poses an even higher risk than usual as America continues to confront economic risk from the pandemic," the Business Roundtable said in its letter.
     Meanwhile, Treasury Secretary Janet Yellen called Senate Minority Leader Mitch McConnell (R-Ky.) on Wednesday to discuss the debt-limit situation. Yellen told McConnell that Congress should move as quickly as possible to raise the debt limit. Yellen also warned that brinkmanship on the debt limit wasn't productive as the U.S. economy continues to emerge from the Covid-19 pandemic. McConnell again said Democrats have control of the White House and Congress, so this is a problem for them, not Republicans.
     In a recent letter to congressional leaders, Yelled warned that the Treasury Department will hit the debt limit sometime in October, but noted there remains "considerable uncertainty" when the actual deadline will occur.
     Democratic leaders are currently planning to attach a debt-limit increase to a continuing resolution needed to keep federal agencies open beyond Sept. 30. The House is expected to take up that measure early next week. McConnell and Senate Republicans have said they will block this proposal.
Why is Europe's GDP per person lower than U.S.? Compared with the United States, GDP per person was 14% lower in Germany, 24% lower in France and 26% lower in the United Kingdom. Edward Prescott, a Nobel laureate, in 2003, says Europeans work less than Americans because they face higher taxes to finance a more generous social safety net.
Covid-19 pandemic has driven a long-lasting surge in transportation costs, putting pressure on many businesses already confronting higher wages and raw-material prices, the Wall Street Journal reports (link). Everything from iron ore, steel, parts and finished products has to move as raw materials are processed in global manufacturing. The cost of shipping containers across the ocean is higher, truck drivers are in short supply, and gasoline is more expensive than many expected earlier this year. Spot container shipping rates from Asia to the U.S. West Coast were five times higher last week compared with the same time last year, according to the Freightos Baltic Index. Those rates are more than 14 times higher than during the same time in 2019. Some CEOs are saying they expect elevated freight costs stretching into 2023. "Sometimes the ocean freight now is actually more expensive than the cost of the product," says Jo-Ann Stores Chief Executive Officer Wade Miquelon.
Market perspectives:
     • Outside markets: The U.S. dollar index is higher in ahead of U.S. economic updates, with the euro and British pound both higher against the greenback. The yield on the 10-year U.S. Treasury note is higher, trading around 1.31%, with a firmer tone in global government bond yields. Gold and silver futures are seeing sizable losses ahead of US economic updates, with gold around $1,780 per troy ounce and silver around $23.45 per troy ounce.       

     • Crude oil prices have moved lower ahead of U.S. trading, with U.S. crude under $72.40 per barrel and Brent under $75.30 per barrel. Futures were higher in Asian action, with U.S. crude up 20 cents at $72.81 per barrel and Brent up 21 cents at $75.67 per barrel.
     • Europe's energy crunch deepens. European governments are preparing to intervene to keep homes warm and factories running as winter approaches. The French gov't is planning to spend about 580 million euros to help poor households cope with soaring bills. Power prices have surged to records this month following extended nuclear outages and a period of calm weather that reduced wind generation. In the U.K., winter blackouts are possible after a fire struck a cable shipping electricity from France, that may last until March. And the crunch forced a major fertilizer maker to shut down two U.K. plants in a sign that a record rally in gas and power prices is threatening to slow the region's economic recovery. Meanwhile, Russia said quick approval of Nord Stream 2 would balance gas prices in Europe, increasing concerns Moscow is using supplies as leverage to get pipeline project up and running. Quick approval of the Nord Stream 2 pipeline by Germany would "significantly balance price parameters for natural gas in Europe, including on the spot market," Dmitry Peskov, a spokesman for Russian President Vladimir Putin, said Wednesday. The Financial Times reported the comments are seen as adding credence to charges by Ukraine that Russia is holding back natural gas supplies from Europe. "Gazprom is purposely limiting supply of gas, including through Ukraine," said Yuriy Vitrenko, head of Ukraine state gas company Naftogaz. Gas storage in Europe is below normal seasonal levels, FT said that according to analysts and industry data, "most of the shortfall at Gazprom-controlled storage facilities."
     • One of two Canadian railroads bidding for Kansas City Southern drops out. Canadian Pacific was the winner to acquire Kansas City Southern after a merger agreement with Canadian National was terminated.
     • NWS weather: Tropical Depression Nicholas is forecast to slowly dissipate as a Moderate Risk of excessive rainfall remains in effect over parts of the Central Gulf Coast this morning... ...There is a Slight Risk of excessive rainfall over parts of the central Gulf coast through Saturday morning... ...There is a Slight Risk of severe thunderstorms over parts of the Upper Mississippi Valley and Northern Plains today... ...There is an Elevated Risk of fire weather over parts of the Northern Plains, Rockies and into the Great Basin.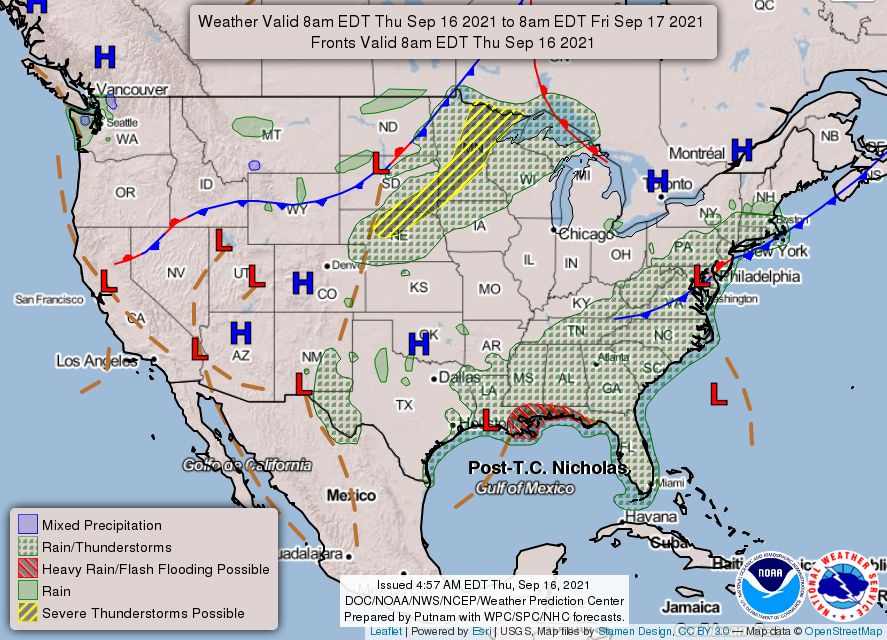 ---
POLICY FOCUS
---
— Reconciliation updates:
Why the $3.5 trillion human infrastructure package could be $5 trillion-plus. Some provisions will arbitrarily lapse before the end of the 10-year budget window to reduce the bill's size, even though lawmakers hope to extend those policies at a later date.
The White House expects the budget bill will "move forward" before Biden heads to Scotland in November for the U.N. climate summit, White House press secretary Jen Psaki said yesterday.
Democrats' push legislation to lower drug prices was defeated in a House committee on Wednesday as three moderate Democrats voted against their party. Reps. Kurt Schrader (D-Ore.), Scott Peters (D-Calif.), and Kathleen Rice (D-N.Y.) voted against the measure to allow the secretary of Health and Human Services to negotiate lower drug prices. Drug pricing is intended to be a way to help pay for the $3.5 trillion package — the Biden administration forecast that its reforms could generate half a trillion dollars in budget savings over a decade. Peters and Schrader both cited concerns about harming drug companies' ability to develop new drugs, citing the industry's record during the Covid-19 crisis. Peters warned that "government-dictated prices" under the bill would cause harm to the "private investment" that backs drug development. Schrader said the bill would mean "killing jobs and innovation that drives cures for these rare diseases." Advocates said the lawmakers were simply bowing to the pharmaceutical industry. Socialist Sen. Bernie Sanders (I-Vt.) said "The pharmaceutical industry has spent more than $4.5 billion on lobbying and campaign contributions over the past 20 years. That's why we pay the highest prices on Earth for prescription drugs. Enough is enough. Democrats must have the courage to defeat their greed," he wrote on Twitter. The measure may still resurface in different forms during later stages of the negotiation. Senate Democrats are crafting their own legislation to lower drug prices for seniors, and multiple rounds of talks with the White House lie ahead. Meanwhile, Stephanie Murphy (-Fla.), a centrist member, was the only House Democrat to vote against advancing the reconciliation package out of the House Ways and Means Committee, saying in a statement that some of the spending and tax provisions in the legislation "give me pause." She added that she could not "vote for the bill at this early stage" as a result
Under the current package, the existing estate tax exemption would be cut from $11.7 million to $5 million while increasing a special-use valuation that could offset the impact of reducing the exemption.
House Ag chairman pleased package protects stepped-up basis. House Agriculture Committee Chairman David Scott (D-Ga.) said, "I have been working tirelessly to ensure that stepped-up basis is protected, and I am very pleased that the package released does not impact the benefit's operation… The preservation of stepped-up basis will allow family farms and ranches to continue from generation to generation while also protecting them from significant tax burdens.
Ways and Means Democrats rejected Republican amendments including one by Rep. Adrian Scott (R-Neb.), to strike all estate and gift tax provisions.

A corporate-tax proposal from House Democrats 

largely keeps existing rules but raises rates on a range of companies

operating in the U.S. and U.S. businesses operating abroad. The corporate tax rate would rise to 26.5% from the current 21% — higher than the 25% favored by some Senate Democrats but below the 28% proposed by President Biden. The plan would raise the U.S. global minimum tax, but by less than Biden proposed. A congressional committee estimated corporate taxes would rise by about $1 trillion over 10 years, an increase of more than 25% in projected corporate-tax revenues. The proposal is not a done deal.

President Biden met with Sens. Joe Manchin (D-W.Va.) and Kyrsten Sinema

(D-Ariz.) who have been critical of the proposal to spend $3.5 trillion over 10 years. Biden sat down with Sinema in the morning before convening with Manchin in the evening. Biden's decision to step in pleased Democrats, some of whom looked for the president to weigh in ahead of key September deadlines.
---
AFGHANISTAN
---
— Boris Johnson, the British prime minister, reassigned the foreign minister, Dominic Raab, after the messy military exit from Afghanistan.
---
BIDEN ADMINISTRATION PERSONNEL
---
— Treasury Secretary Janet Yellen is trying to make do during a shortage of Senate-confirmed senior lieutenants at her department. Only three officials including Yellen have been confirmed by the Senate. Of the 17 key remaining jobs that require confirmation, 10 have nominees stuck in the Democratic-controlled Senate, while the rest have not been named. Link for details via Bloomberg News.
---
CHINA UPDATE
---
— U.S., Britain and Australia counter China in the Pacific. The U.S. and Britain announced they would help Australia deploy nuclear-powered submarines, taking a major step in challenging China's broad territorial claims. If the plan executes, Australia may be conducting routine patrols through areas of the South China Sea that Beijing now claims as its own exclusive zone. Australia has been hesitant to push back directly at core Chinese interests. American officials said Australia had committed never to arm the submarines with nuclear weapons; they would likely carry conventional, submarine-launched cruise missiles. Biden said he has tasked Defense Secretary Lloyd Austin with leading an 18-month consultation process that involves the departments of State and Energy and U.S. counterparts from Australia and Great Britain.
---
ENERGY & CLIMATE CHANGE
---
— EPA forwards proposed rule on methane emissions in oil and gas sector to OMB for review as U.S., EU push Global Methane Pledge. EPA has forwarded to the Office of Management and Budget (OMB) a proposed rule on methane emissions from existing operations in the oil and gas sector. The proposed rule comes from the executive order signed by President Joe Biden Jan. 20 which included instructions to EPA to consider proposing new regs to establish emissions guidelines on methane from existing oil and gas operations, including the exploration and production, transmission, processing, and storage segments. This comes in the wake of reports this week that the Biden administration and the European Union (EU) have reached agreement on a Global Methane Pledge, an effort to reduce human-caused emissions of the greenhouse gas (GHG) by 30% by 2030 compared with 2020 levels. Biden Friday (Sept. 17) is expected to invite 17 major economies to join the effort.
     Reports also indicate that the U.S./EU pledge on methane emissions will not ask people to reduce their consumption of red meat even as the EU's own methane strategy notes that a shift in diets can "contribute significantly" to lowering methane emissions. Instead, the global pledge is expected to focus on shifting animal diets to lower their emissions of methane and technology to lower methane emissions.
---
LIVESTOCK, FOOD & BEVERAGE INDUSTRY
---
— House panel investigating meatpacking plant re: Covid-19. Rep. Jim Clyburn (-S.C.), chairman of the Select Subcommittee on the Coronavirus Crisis, sent letters requesting documents and other information from Cargill and National Beef Packing Co. "We are concerned that the scale of coronavirus infection in American meat processing plants may have been greater than previously believed," Clyburn said in the letters. In February the panel sent similar letters to Tyson Foods, Smithfield, and JBS USA.
— USDA determines layer flocks depopulated during pandemic do not qualify for PLIP. Layer hen flocks that were depopulated during the Covid-19 pandemic due to a lack of an egg market do not qualify for the Pandemic Livestock Indemnity Program (PLIP). In a notice to state and county offices, the Farm Service Agency (FSA) said that questions have arisen on whether layer hens are eligible for PLIP and after conferring with the Office of General Counsel and USDA leadership, the Consolidated Appropriations Act of 2021 authorized PLIP for livestock depopulated due to insufficient processing access due to Covid-19. However, FSA said, "the act does not authorize PLIP because of the lack of market of a byproduct of eligible livestock because of Covid-19."
---
CORONAVIRUS UPDATE
---
— Summary: Global cases of Covid-19 are at 226,441,961 with 4,661,137 deaths, according to data compiled by the Center for Systems Science and Engineering at Johns Hopkins University. The U.S. case count is at 41,536,687 with 666,618 deaths. The Johns Hopkins University Coronavirus Resource Center said that there have been 382,294,795 doses administered, 179,695.287 have been fully vaccinated, or 54.7% of the U.S. population.
— Pfizer: Covid-19 vaccine efficacy weakens over time. Pfizer recently stated that data from Israel and the U.S. suggests that its Covid-19 vaccine efficacy drops over time and claimed that booster doses are effective at dealing with new virus variants. Federal health officials announced two weeks ago a target date of Sept. 20 to try to roll out booster shots for the general public, although a recent study from several top scientists at the World Health Organization (WHO) and Food and Drug Administration (FDA) found that the general population doesn't need a booster dose. "Real-world data from Israel and the United States suggest that rates of breakthrough infections are rising faster in individuals who were vaccinated earlier in the vaccination campaigns compared to those who have been vaccinated more recently," Pfizer stated during its presentation this week, which was posted on the FDA website. And the evidence from the studies indicates that the "observed decrease of vaccine effectiveness against Covid-19 infections is primarily due to waning of vaccine immune responses over time rather than a result of the Delta variant escaping vaccine protection," according to Pfizer. Based on its data, Pfizer claimed that booster doses should be given to all people aged 16 and older six months after they've received their second dose of the mRNA vaccine.
     Meanwhile, an analysis by Moderna found a higher rate of cases in people who got shots early in the study, indicating potentially waning immunity.
— Herd immunity. Scott Gottlieb, a former FDA commissioner and physician who is a member of Pfizer's board, told CNBC in an interview that likely more than 80% of adults have "some form of immunity either from prior infection or from vaccination" against the coronavirus. He predicts Covi-19 will eventually become an endemic virus in the U.S. and other Western nations, meaning persistently present but at a lesser level of emergency.
— President Biden on Wednesday discussed vaccine mandates with executives. The president met with leaders of companies including Walt Disney, Microsoft and Walgreens Boots Alliance to advance his Covid-19 vaccination requirements for employers that cover roughly 100 million workers.
---
POLITICS & ELECTIONS
---
— Newsom's anti-Trump recall strategy offers Republicans a warning for 2022. California Democrats were able to nationalize the vote — thanks to an avalanche of money, party discipline and, above all, an easily demonized opponent. Link for details via the NYT.
— Va. governor debate tonight. Democrat Terry McAuliffe and Republican Glenn Youngkin square off at 7 p.m. ET in their first gubernatorial general election debate. Susan Page of USA Today will moderate the debate, and political analyst Robert Holsworth and Richmond CBS6 news anchor Candace Burns will add to the questioning. C-SPAN is covering the debate live.
— Canada's Conservative Party has moved into a statistical tie with the Liberals by leaning left, with days remaining until snap elections determine the country's leadership.
— Pope comments on calls to deny communion to Biden over abortion. Conservative bishops want to deny communion to politicians, like President Biden, who support abortion rights. "What must the pastor do?" Pope Francis said when a reporter asked him about the subject. "Be a pastor, don't go condemning."
---
OTHER ITEMS OF NOTE     
---
— Biden voiced "great confidence" in Gen. Mark Milley. The chairman of the Joint Chiefs of Staff has faced criticism from some Republicans over reports that he assured his Chinese counterpart that then-President Donald Trump had no intention of attacking China.
---
EVENTS AND REPORTS
---
Thursday, September 16
· U.S./Korea trade. The Brookings Institution virtual discussion on "Assessing the U.S./Republic of Korea (ROK) Partnership in the Global Trade Agenda."
· Climate issues. Final day of the Economist virtual third annual Climate Risk Europe conference with Italian Minister for Ecological Transition Roberto Cingolani delivering closing keynote remarks on "The Road to COP26."
· Confronting China. Woodrow Wilson Center's Asia Program virtual discussion on "Confronting the China Conundrum: Perspectives Beyond the United States."
· China and Europe. German Marshall Fund of the United States virtual discussion on a new report, "Security Implications of Chinese Infrastructure Investment: Mapping the China Playbook in Europe."
· U.S. withdrawal from Afghanistan. Middle East Institute virtual discussion on " the U.S. withdrawal from Afghanistan and the Biden administration's Middle East policy," as part of the Defense Leadership series.
· China state capitalism. Center for Strategic and International Studies virtual discussion on "New Approaches to Understanding Chinese State Capitalism."
· Medicare challenges. American Enterprise Institute for Public Policy Research virtual discussion on "Medicare's Fiscal Challenges: The 2021 Medicare Trustees' Report."
· U.S./Pakistan relations. Henry L. Stimson Center virtual discussion on "U.S./Pakistan Relations after the Taliban Takeover.
· China Covid actions. Hudson Institute virtual discussion on "An Allied Response to Beijing's Covid Obstructionism."
·        Economic reports. Jobless Claims | Philadelphia Fed Business Outlook Survey | Retail Sales | Business Inventories
·        Energy report. EIA Natural Gas Report
·        USDA reports. FAS. Export Sales  ERS: Livestock, Dairy, and Poultry Outlook | Sugar and Sweeteners Outlook  NASS: Hop Stocks    
---