Biden Announcement Today a 'Game Changer' for Electric Vehicles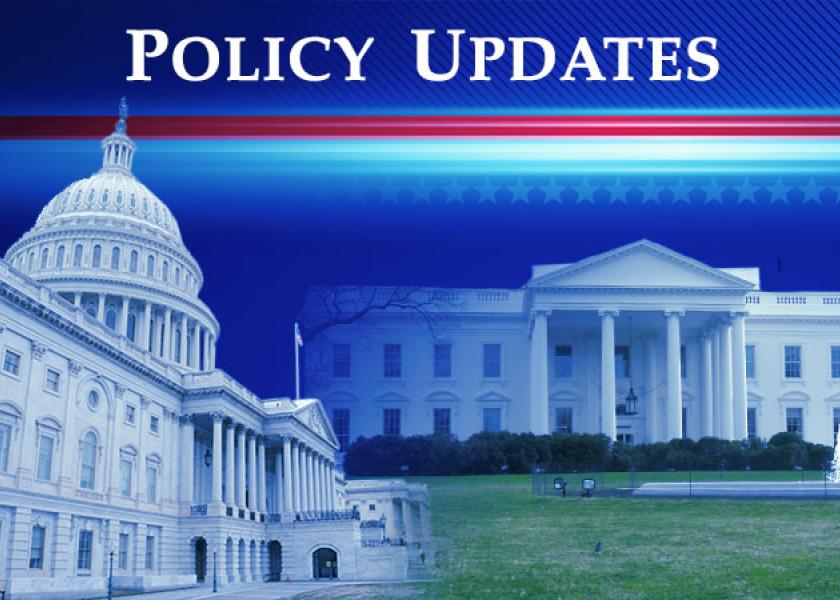 Infrastructure hurdles | U.S. trade deficit surged to record in June as imports shot higher
---
In Today's Digital Newspaper
---
Market Focus:
• U.S. jobless claims fell slightly to 385,000 last week
• U.S. trade deficit surged to record in June as imports shot higher
• ISM's index for supplier deliveries rose, indicating longer waits
• Top Fed official: Higher interest rates could come as soon as early 2023
• Shipping containers latest source of frustration for importers and exporters
• U.S./China container rates hit record
• USDA daily export sales: 300,000 MT soybeans to unknown destinations, 2021-2022
• Ag demand update
• Grains higher, soybeans under pressure
• Boxed beef prices still roaring higher, with movement holding strong
• Pork prices set back
Policy Focus:
• Some GOP senators may vote differently on coming infrastructure measure decision
• CBO has not yet scored $550 billion infrastructure measure
• Former House Ag Chairman Peterson sounds off on permanent disaster funding
Biden Administration Personnel:
• White House sends another USDA nomination to Senate
China Update:
• Biden White House approved its first arms sale to Taiwan
• Logic behind Xi's regulatory crackdown on superstar companies
• More old-crop cancellations for China
• Update on China and Phase 1 agreement
Energy & Climate Change:
• Biden to sign executive order on clean cars and trucks
• Senate Democrats want major polluters to pay for climate change

Livestock, Food & Beverage Industry Update:
• Global food prices fall a second month

Coronavirus Update:
• More than a third of American adults have not gotten vaccinated
• Biden administration weighing plan to require all foreign visitors to be vaccinated  
• China imposes new travel restrictions across the nation
• WHO: Focus on vaccine disparities, not boosters
Politics & Elections:
• Gov. Andrew Cuomo of New York may face criminal charges in four counties
• New federal eviction moratorium faces an immediate legal challenge
• Biden blames GOP governors, possible 2024 rivals for pandemic resurgence
Congress:
• Democratic senators exceed Biden plan to end private-equity tax break
• Senate Appropriations clears USDA-FDA spending plan
Other Items of Note:
• EPA union asks Congress to top Biden budget re: workforce
• Mexico sues U.S. gun makers in a Massachusetts federal court
• Canada's plan to reopen to U.S. tourists next week may be in trouble  
• Canada puts increases on glyphosate residues on
• Iran inaugurates a new president in Tehran today
 
---
MARKET FOCUS
---
Equities today: The Dow opened up around 100 points higher as jobless claims dropped. Asian equities ended mixed with China and Hong Kong markets weaker. The Nikkei gained 144.04 points, 0.52%, at 27,728.12. The Hang Seng Index declined 221.86 points, 0.84%, at 26,204.69. European equities are mixed, with all markets off of their highs struck early in the session. The Stoxx 600 was recently up 0.1% with regional markets seeing gains of 0.2% to losses of 0.4%.
     U.S. equities yesterday: The Dow fell 323.73 points, 0.92%, at 34,792.67. The Nasdaq was up 19.24 points, 0.13%, at 14,780.53. The S&P 500 lost 20.49 points, 0.46%, at 4,402.66.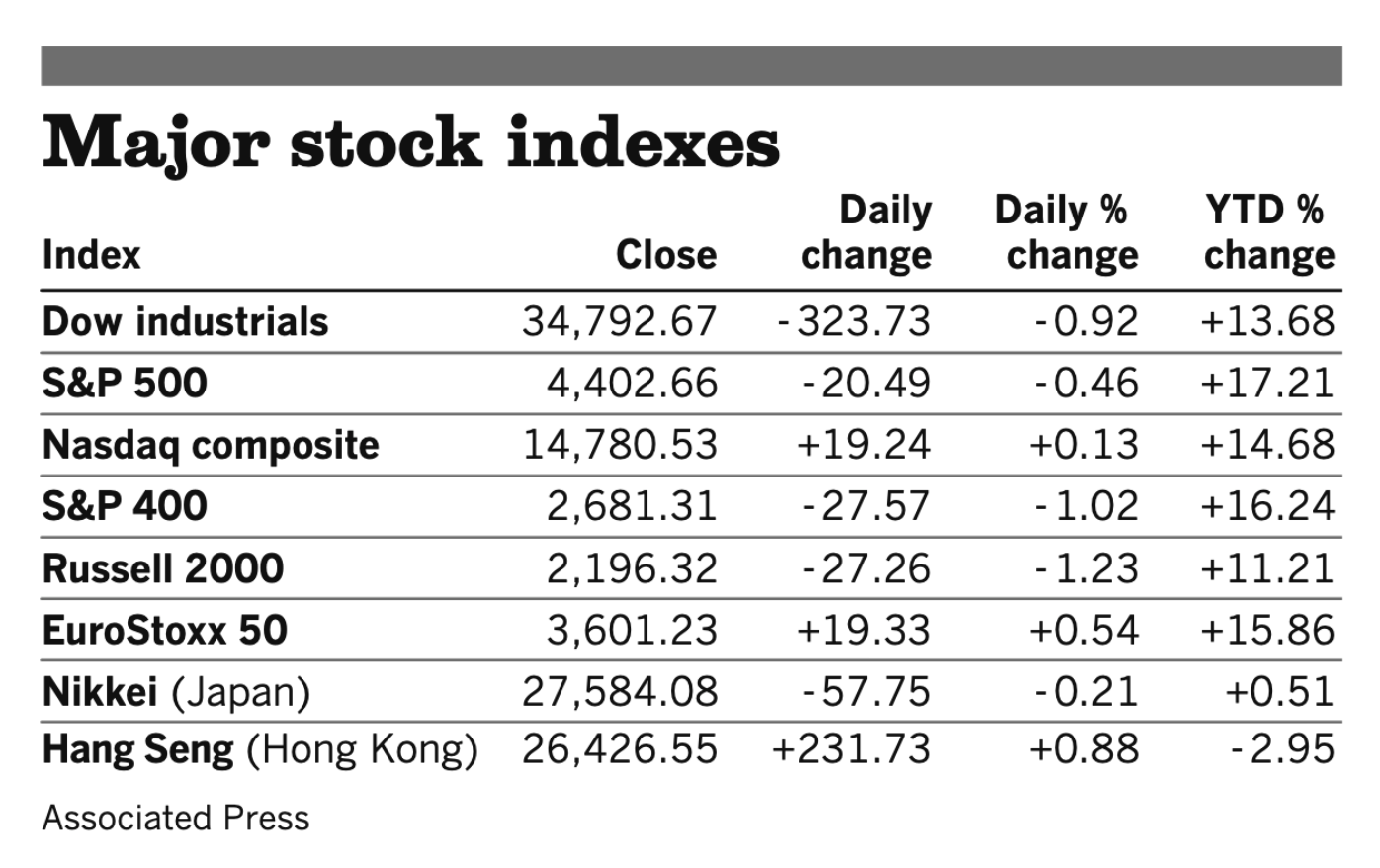 On tap today:
     • Bank of England issues a policy statement and new economic projections at 7 a.m. ET.
     • U.S. jobless claims are expected to fall to 385,000 in the week ended July 31 from 400,000 a week earlier. (8:30 a.m. ET) Update: U.S. jobless claims fell slightly to 385,000 last week, as worker filings for new unemployment benefits settled this summer at a level that is nearly double the pre-pandemic average.
     • U.S. trade deficit is expected to widen to $74.2 billion in June from $71.24 billion a month earlier. (8:30 a.m. ET) Update: U.S. trade deficit surged to record in June as imports shot higher. The U.S. registered a record trade deficit in June of $75.7 billion, more than the expectations for $74 billion in trade red ink and up from $71 billion in May. The 6.7% rise came as imports rose 2.1% at $283.4 billion, reflecting an improving U.S. economy. Oil imports were also up at higher values, helping to build the deficit. The rise in imports easily overshadowed the 0.6% increase in exports to $207.7 billion, still shy of pre-pandemic export marks. This puts the U.S. on track to set a new record deficit in 2021. The increased trade deficit is somewhat of a double-edged sword in that exports still are struggling but it signals that the U.S. economy remains on an upward path given the stronger demand for imported goods, a typical development as the U.S. economy improves.
     • USDA Weekly Export Sales report, 8:30 a.m. ET.
     • Federal Reserve governor Christopher Waller speaks on central bank digital currency at 10 a.m. ET.
     • President Biden will speak on the South Lawn about his administration's efforts on clean cars and trucks, 3 p.m. ET.
ISM's index for supplier deliveries rose, indicating longer waits to receive materials as supply-chain bottlenecks intensify. And prices paid accelerated to the second-highest level on record, underscoring rising cost pressures.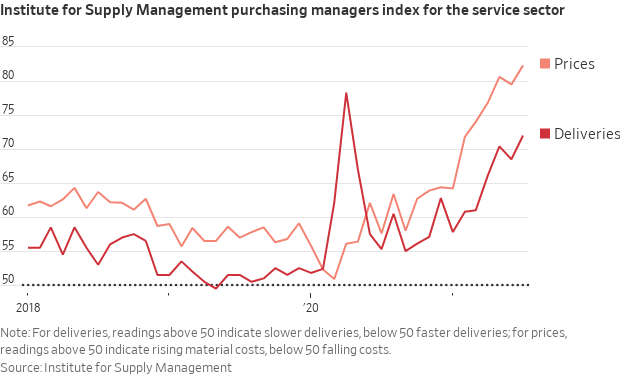 Top Federal Reserve official said higher interest rates could come as soon as early 2023. Fed Vice Chairman Richard Clarida said he expects that, under his current projections for inflation and employment, "commencing policy normalization in 2023 would…be entirely consistent with our new flexible average inflation targeting framework." Clarida's comments are notable because his views are likely shared by several other Fed officials and because of his role in shaping the central bank's current policy guidance.
     Clarida's views also mesh with most Fed officials who signaled in updated forecasts that they expected there would need to be two rate increases by the end of 2023.
     As for the Fed's tapering of their bond purchases currently taking place at $120 billion per month, Clarida would only say, " In coming meetings, the Committee will again assess the economy's progress toward our goals. As we have said, we will provide advance notice before making any changes to our purchases."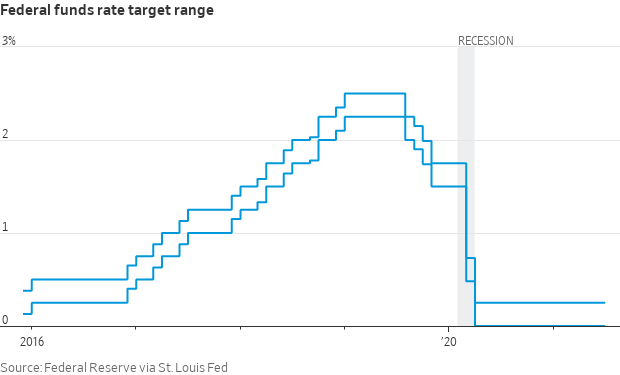 Market perspectives:
     • Outside markets: The U.S. dollar index was weaker ahead of U.S. economic updates, with the euro only slightly higher against the greenback. The yield on the 10-year U.S. Treasury note has eased compared with its Wednesday finish, trading around 1.17%. Gold and silver futures are higher in electronic trade, with gold around $1.817 per troy ounce and silver around $25.55 per troy ounce.

     • Crude oil prices are higher ahead of U.S. trading as buyers have surfaced following three days of losses. US crude is trading around $68.40 per barrel while Brent is around $70.50 per barrel. Crude was higher in Asian action, with U.S. crude up 25 cents at $68.40 per barrel while Brent was up 20 cents at $70.58 per barrel.
     • Shipping containers are turning into the latest source of frustration for importers and exporters coping with world-wide supply-chain disruptions, the Wall Street Journal reports (link). The steel boxes are harder than ever to find as surging demand to restock inventories and a series of shipping disruptions has left many thousands of containers stranded at sea on ships anchored near jammed-up ports. Still more are stacking up at inland freight hubs in the U.S., Europe and Asia as companies struggle to cope with the cargo flows that at times have overwhelmed their operations. The dislocation has contributed to skyrocketing costs and complicated efforts to meet resurgent consumer demand. The shortage comes even though production of containers at Chinese factories is projected to reach a record high this year. U.S. exporters say boxes aren't reaching their operations fast enough, and some now are reporting lost overseas sales.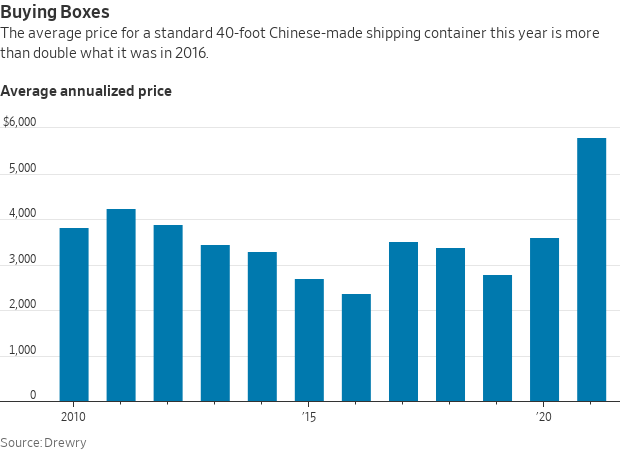 • U.S./China container rates hit record. Container shipping rates from China to the U.S. have risen above $20,000 per 40-foot container, with the China/U.S. east coast route now quoted at $20,804 this week, according to Freightos, a 500% increase from one year ago. July 27, the quote was $11,000, the firm said. To the U.S. west coast, the cost is just under $20,000 while the level for China/Europe shipments is nearly $14,000. A rebound in Covid cases has slowed container turnaround times at major foreign ports to seven or eight days, Ding Li, president of China's port association, told Reuters. Typhoons of the China coast have also contributed to the rise.
     • USDA daily export sales: 300,000 metric tons of soybeans for delivery to unknown destinations during the 2021-2022 marketing year.
     • Ag demand: Jordan's state grain buyer tendered to buy 120,000 MT of milling wheat that can be sourced from optional origins. It also made no purchase in its tender to buy 120,000 MT of animal feed barley after limited participation. A South Korean flour mill tendered to buy 135,100 MT of milling wheat, including 50,000 MT from the U.S., 50,000 MT from Australia and 35,100 MT from Canada. Tunisia's state grains agency issued an international tender to buy 100,000 MT of soft milling wheat and 100,000 MT of animal feed barley from optional origins. Turkey's state grain board confirmed final purchases of 245,000 MT of wheat in an international tender, after making provisional purchases of 395,000 MT Monday. Algeria's state grains agency bought around 300,000 MT of optional origins milling wheat in an international tender, with some traders saying the total was closer to 360,000 MT.
     • NWS weather: Heavy rain and scattered flash flooding possible this morning across southeastern New England, and across parts of northern Florida today... ...Excessive heat across the Desert Southwest; hot and dry conditions with fire weather threat and poor air quality across the interior Northwest.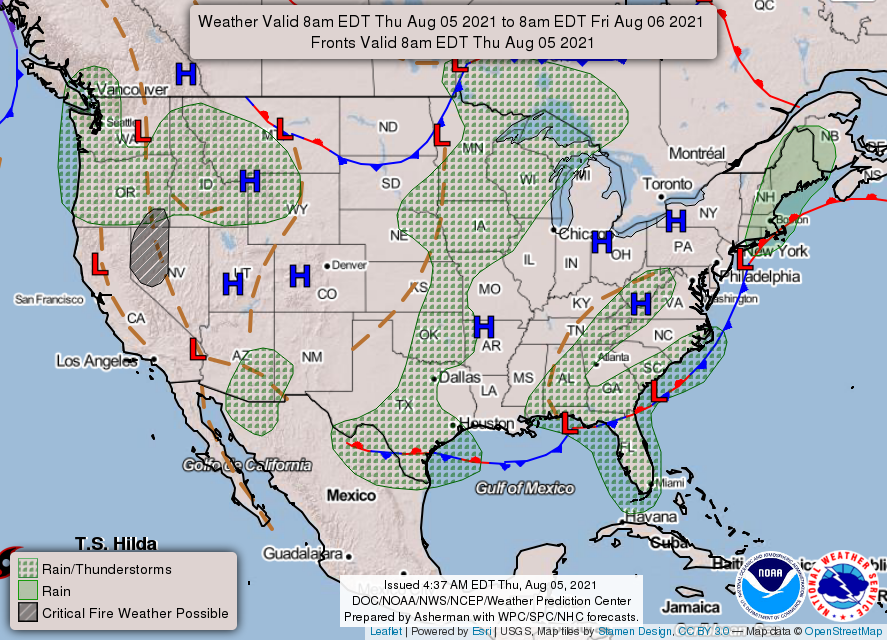 Wx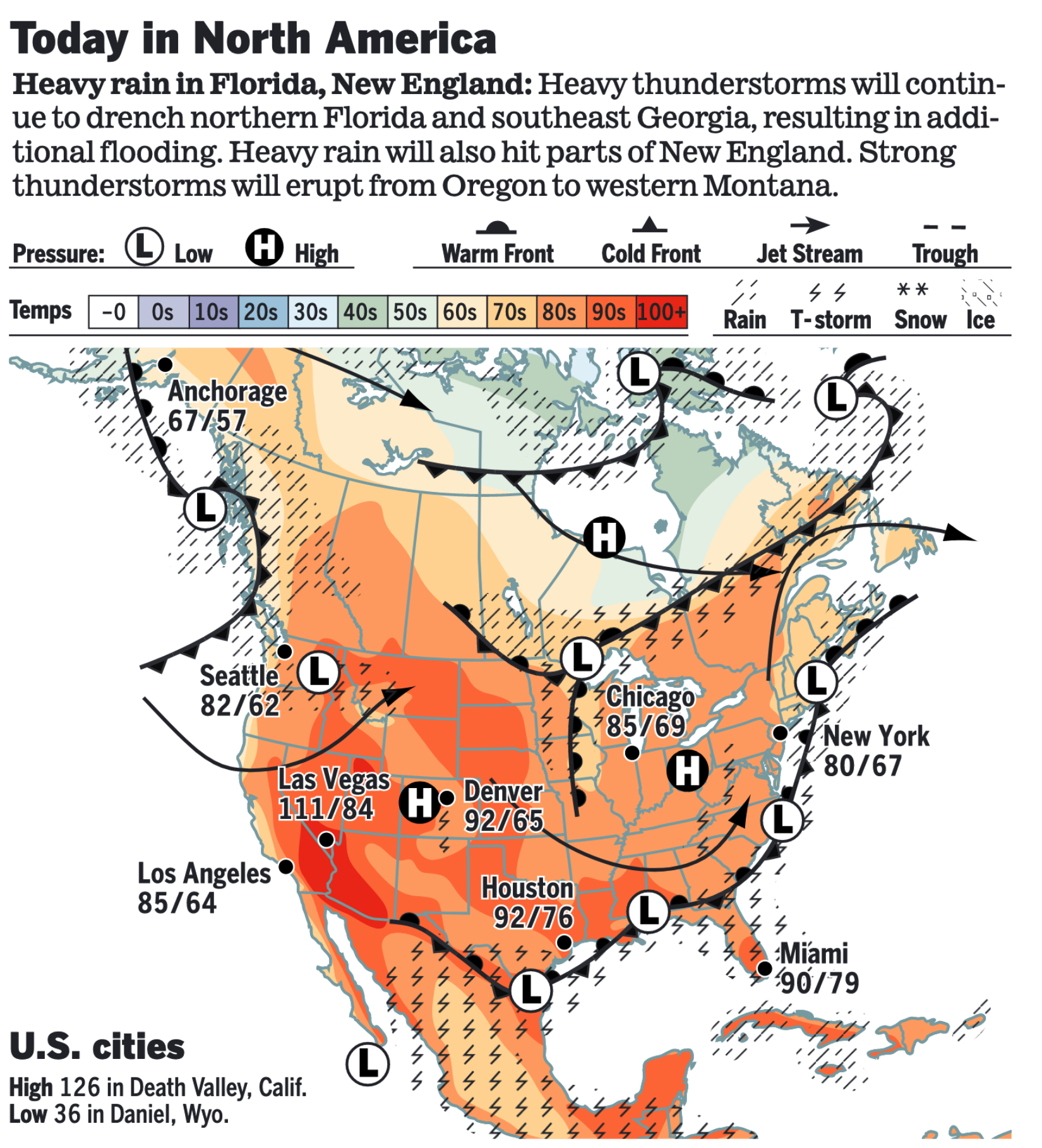 Items in Pro Farmer's First Thing Today include:
• Grains higher, soybeans under pressure
• Boxed beef prices still roaring higher, with movement holding strong
• Pork prices set back
---
POLICY FOCUS
---
— Some GOP senators may vote differently on coming infrastructure measure decision. Mostly moderate Republican senators who signed off on the motion to proceed on the bipartisan physical infrastructure measure may have a hard time keeping their support for the package. Why? House counterparts want their own say on the legislation. For example, House Transportation and Infrastructure Chair Peter DeFazio (D-Ore.) has criticized the Senate package for leaving out provisions from the House-passed surface transportation and water bill that address climate change and fossil fuel pollution. But making those changes could jeopardize Republican support for the final product after a bipartisan group of senators crafted a compromise intended to win at least 60 votes needed to advance the measure in that chamber. The Senate is working to pass that deal ahead of their August recess.
     "Substantial changes of that bill would make it very difficult for it to ultimately become law," Sen. Mitt Romney (R-Utah), one of the negotiators of the package, said in an interview with Bloomberg.
     DeFazio said there will be time to make changes, especially if Speaker Nancy Pelosi (D-Calif.) as promised delays a vote on the infrastructure bill until the Senate has also sent the House the larger budget reconciliation package that would carry an array of domestic programs in areas such as health, labor, and education. "If they send it over here in early August, it will sit. It will sit for a very long time," DeFazio said in the interview cited by Bloomberg.
— Another reason some are pointing to potential centrist Republicans' snafu: CBO has not yet scored the $550 billion infrastructure measure. Most Republican senators have repeatedly said they would not vote for the physical infrastructure measure until two things occurred: text of the package was released, and the Congressional Budget Office (CBO) scored the measure. While the just over 2,700-page text was release, CBO has yet to issue its scoring.  
     A final Senate vote on the roughly $1 trillion infrastructure package ($550 billion in new spending) is expected this weekend or early next week.
— Former House Ag Chairman Peterson sounds off on permanent disaster funding. Former House Ag Chairman Collin Peterson (D-Minn.) noted the potential downside of creating a permanent disaster assistance program for producers. Speaking on a panel at Minnesota's Farmfest Wednesday, Peterson said it's important that the program not undermine crop insurance. "I'm afraid it is going to come back and haunt us," Peterson said, about extending disaster aid programs like WHIP+, saying he is concerned about four years of disaster payments that aren't paid for by farmers.  
     In the next farm bill, Peterson says crop insurance needs to be improved to cover more crops and allow producers to buy the protection they need to get through years such as this one, with drought or other weather events over large portions of the country and flooding in the South. "We're going to have four years of disaster payments; they're not paid for, and the farmer is not actually contributing to it." Peterson says that means the next farm bill will need to cover more crops.
     Peterson says the biggest policy item the ag committees is tackling is establishing a carbon program, which will be very complicated. "We've got to figure out what the hell we're doing," Peterson said, adding more research funding is needed to understand how this improves the climate while also helping producers.
     Meanwhile, Minnesota Governor Tim Walz said he's open to the idea of a special session to provide drought disaster assistance to the state's farmers. In the meantime, he's been pressuring the Biden administration to provide farmers with more flexibility on how they can use land that's been set aside in conservation reserve programs. "Nobody wants to hurt these marginal lands. Nobody wants to hurt wildlife or those that are hatching out, but I think most people know this is a once in and every 50-year drought," Walz told reporters. "And time is of essence." During a teleconference with the president and other governor's last week, Walz talked about the drought conditions gripping the state. "The president seemed genuinely surprised to hear about it because you're not seeing in the other farm states. He's hearing about wildfires and grazing. He said it seems so strange that the land of 10,000 lakes is in severe drought."
---
BIDEN ADMINISTRATION PERSONNEL
---

— White House sends another USDA nomination to Senate. The White House has formally sent the nomination of Chavonda Jacobs-Young to be USDA undersecretary for research, education, and economics. Jacobs-Young is currently in an acting role in the post and is also administrator of the Agricultural Research Service and acting USDA chief scientist. Shen held a White House role in the Obama administration, serving as a senior policy analyst for agriculture. The nomination was first announced by the White House July 28.
 
---
CHINA UPDATE
---
— Biden White House approved its first arms sale to Taiwan, an estimated $750 million deal that would raise U.S./Sino tensions just as the Biden administration seeks to craft a new relationship with China. To de-escalate strains between the two world powers, Singapore Prime Minister Lee Hsien Loong has warned that the Taiwan issue could "quite easily" become dangerous due to a miscalculation.
— Logic behind Xi's regulatory crackdown on superstar companies such as Alibaba Group, Tencent Holdings and Didi Global.  The Wall Street Journal reports (link) that in Xi Jinping's estimation, technology comes in two varieties: nice to have, and need to have. Social media, e-commerce and other consumer internet companies are nice to have. By contrast, Xi thinks the country needs to have state-of-the-art semiconductors, electric-car batteries, commercial aircraft and telecommunications equipment to retain China's manufacturing prowess, avoid deindustrialization and achieve autonomy from foreign suppliers. So even as the Chinese Communist Party unleashes a multifront regulatory assault against consumer internet companies, it continues to shower subsidies, protection and "buy-Chinese" mandates on manufacturers.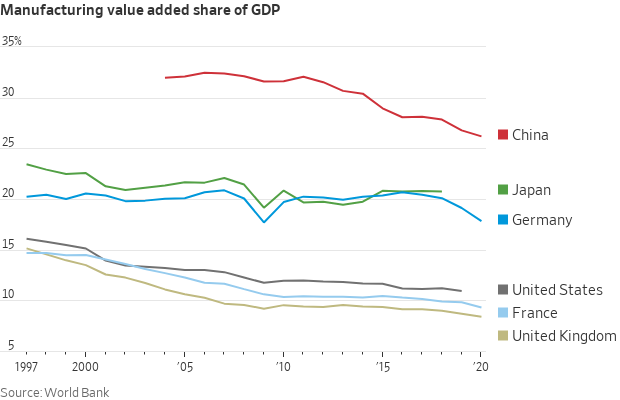 — More old-crop cancellations for China. U.S. export sales activity for the week ended July 29 included additional cancellations by China for corn, soybeans and sorghum, but there were sizable pork sales reported.
     For 2020-21, cancellations of 112,506 tonnes of corn, 1,286 tonnes of sorghum, and net reductions of 41,036 tonnes of soybeans were reported along with net sales of 942 running bales of Upland cotton.
    For 2021/22, no sales activity was reported for wheat but there were sales of 129,000 tonnes of soybeans and 15,783 running bales of Upland cotton.
     For 2021, net sales of 18,331 tonnes of pork and 2,293 tonnes of beef were reported.
— Update on China and the Phase 1 agreement: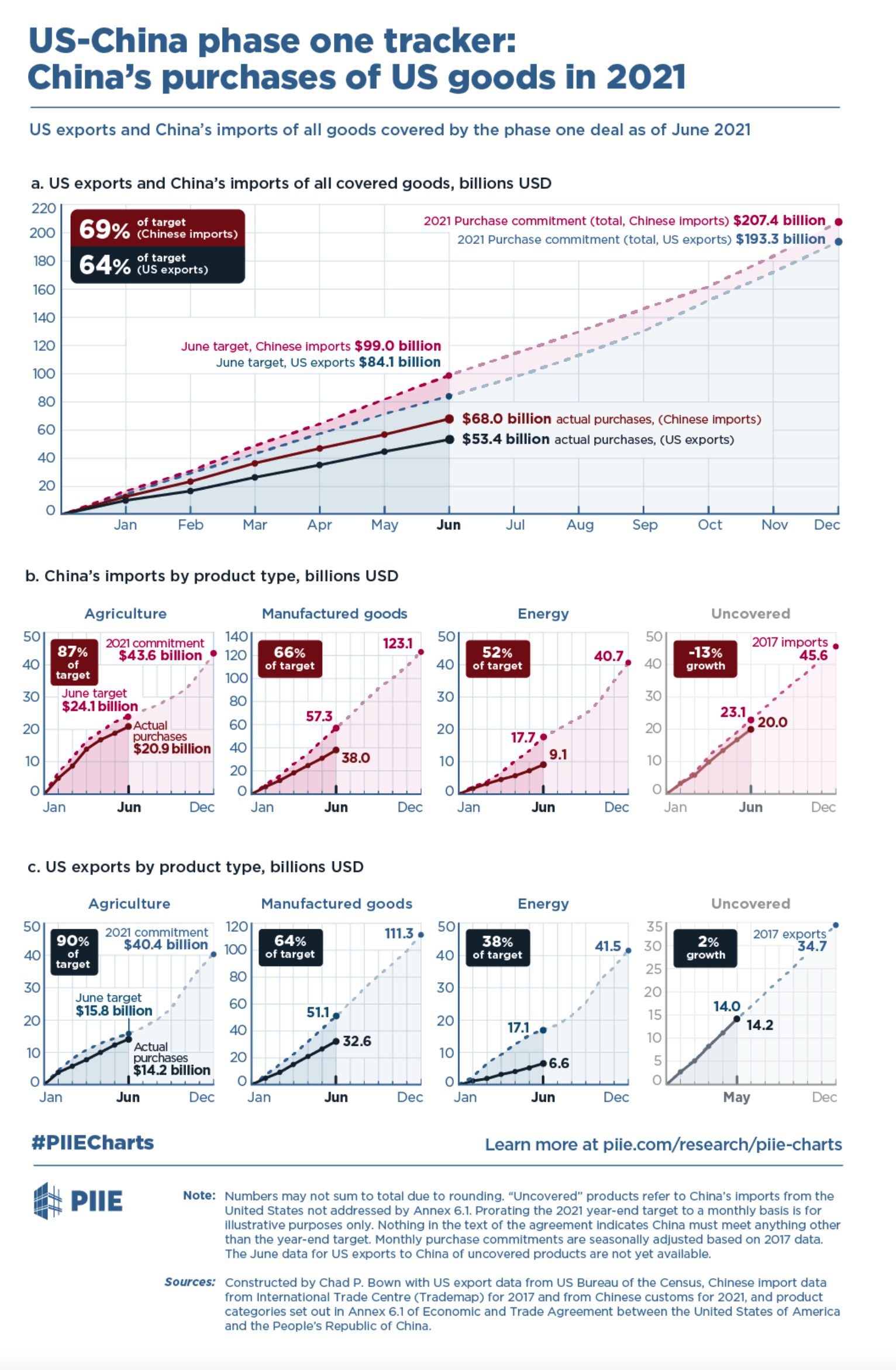 ---
ENERGY & CLIMATE CHANGE
---
— Biden to sign executive order on clean cars and trucks. President Joe Biden today will sign an executive order which sets a goal for 50% of all new vehicles sold in 2030 to be zero-emissions vehicles, including battery electric, plug-in hybrid electric, or fuel cell electric vehicles. EPA and the Department of Transportation (DOT) today will unveil their updated emissions standards for light cars and trucks as the agency has reviewed the Trump-era Safer Affordable Fuel-Efficient (SAFE) Vehicles rule that covered model years 2021-2026. Link to White House fact sheet.
     Timeline. EPA sent their proposed rule on the matter to the Office of Management and Budget June 24 and their review was completed July 29.
     The White House said the new rules from EPA and DOT will save about 200 billion gallons of gasoline and reduce around 2 billion tonnes of carbon pollution, translating into savings for consumers of $900 over the life of a vehicle. The order focuses on the Build Back Better plan from the administration and the bipartisan infrastructure package that the Senate is currently working on.
     Biden will announce the actions today at the White House, being joined by officials from Ford, GM, Stellantis (formerly Fiat Chrysler) and the United Auto Workers. The goals laid out in the order on zero-emissions auto sales are not binding.
     Perspective: Analysts at the brokerage Evercore said the targets could expedite adoption in the U.S. by several years and expected big gains for EV and EV charging companies in the weeks ahead, singling out charging network operator EVgo in particular. There are more catalysts; the $1.2 trillion infrastructure bill contains funding for EV charging points, and the coming budget reconciliation package is expected to include incentives.
— Senate Democrats want major polluters to pay for climate change. Draft legislation aims to raise $500 billion over a decade to pay for damage caused by extreme weather by taxing big oil and gas companies like Chevron and Exxon.
---
LIVESTOCK, FOOD & BEVERAGE INDUSTRY
---
— Global food prices fall a second month. Food commodity prices fell for a second straight month in July as prices for most cereals, vegoils and dairy were lower, according to the UN Food and Agriculture Organization (FAO) Food Price Index (FPI). The index for July declined to 123.0, down 1.2% from June, but still 20% higher than year-ago levels.
     The cereals price index was down 3% on a 6% fall in corn prices along with barley and sorghum.
     However, the agency noted that wheat prices rose 1.8% over the month, hitting the highest level since mid-2014, as dryness concerns emerged for North America.
     Dairy prices declined 2.8% over the month and their vegoil price index was 1.4% lower.
     Comments: This indicates the rise in food prices that the UN index has signaled could well have reached a peak but there are still uncertainties relative to the outlook given production prospects in several areas around the globe where adverse weather has impacted production.
 
---
CORONAVIRUS UPDATE
---

— Summary: Global cases of Cobif-19 topped 200 million, moving to 200,276,447 with 4,257,057 deaths, according to data compiled by the Center for Systems Science and Engineering at Johns Hopkins University. The U.S. case count is at 335,330,902 with 614,785 deaths. The Johns Hopkins University Coronavirus Resource Center said that there have been 348,102,478 doses administered, 165,334,987 have been fully vaccinated, or 50.4% of the U.S. population.
— More than a third of American adults have not gotten vaccinated, according to the latest U.S. data. Firms using a lighter touch risk workplace outbreaks. Those mandating shots risk losing workers in a tight job market.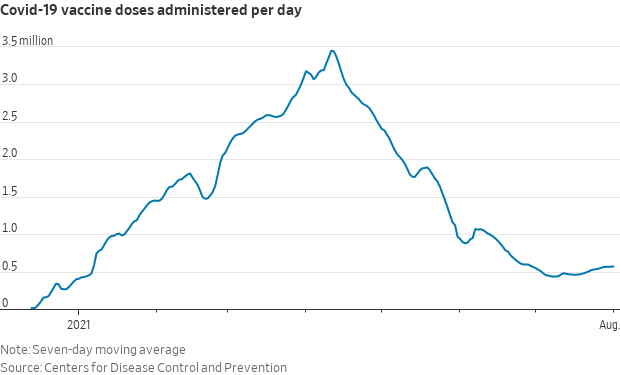 According to Washington Post data (link), only 49.8% of Americans are fully vaccinated.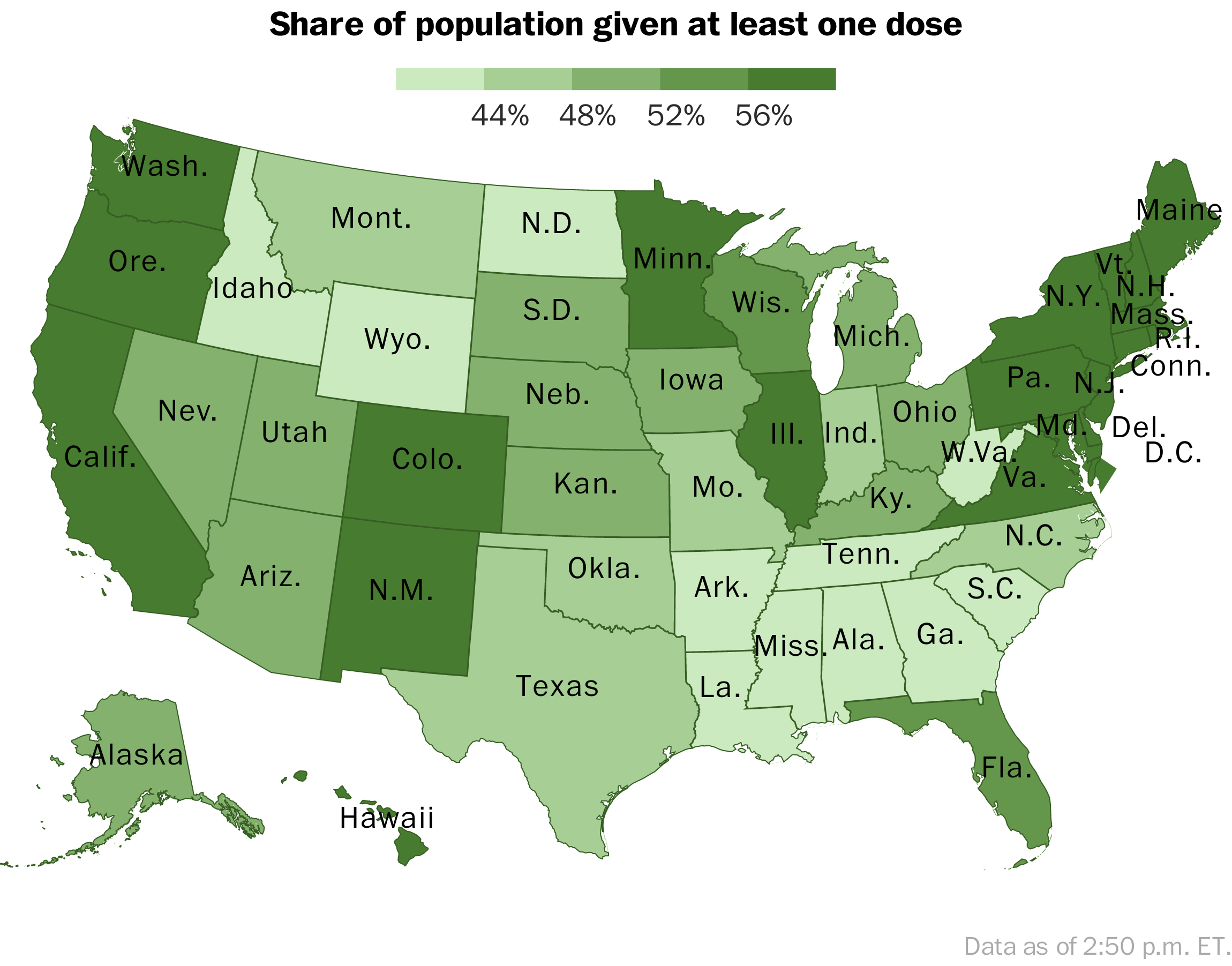 — The Biden administration is weighing a plan to require all foreign visitors to be vaccinated. Meanwhile, China imposed new travel restrictions across the nation as a delta-driven outbreak grew to over 500 cases in 15 provinces.
— WHO: Focus on vaccine disparities, not boosters. The head of the World Health Organization on Wednesday urged mainly well-off, highly vaccinated nations to hold off on offering booster shots until all countries — including predominantly poorer ones now ablaze with the virus — can provide more of their people with initial shots. WHO chief Tedros Adhanom Ghebreyesus, speaking at a briefing by the United Nations health agency, proposed a booster moratorium be observed at least through September, with a goal of making sure all nations first achieve vaccination of at least 10% of their population. "We cannot, and we should not, accept countries that have already used most of the global supply of vaccines using even more of it while the world's most vulnerable people remain unprotected," Tedros said from Geneva.
     Others took issue with the WHO appeal, saying that the goal of easing vast vaccine disparity between rich and poor countries would not necessarily be advanced by more affluent ones abstaining from boosters for vulnerable groups or healthcare workers. "I strongly disagree with the WHO's call to restrict booster shots," Leana Wen of the Milken Institute School of Public Health at George Washington University wrote on Twitter. "Yes, we need to get vaccines to the world (which also includes helping with distribution, not just supply), but there are doses expiring here in the US. Why not allow those immunosuppressed to receive them?"
     Some nations, including Germany, France and Israel, are moving to give booster shots to groups such as the elderly. Countries that have already achieved a measure of vaccine success argue it is beneficial to all for them to strengthen their own immunity while also seeking to aid others.
 
---
POLITICS & ELECTIONS
---

— Gov. Andrew Cuomo of New York may face criminal charges in four counties. Prosecutors announced that they were considering cases in connection to sexual harassment allegations. The CNN news anchor Chris Cuomo, the governor's brother, has come under scrutiny for advising him and avoiding mention of the scandal on air.
— New federal eviction moratorium faces an immediate legal challenge. A group of property managers and real-estate agents lodged objections in a Washington federal court late Wednesday. The same plaintiffs, backed by the National Association of Realtors, challenged the previous moratorium as exceeding the CDC's authority. Rather than file a fresh lawsuit, they submitted an emergency motion in their prior case, asking that a ruling against the last eviction ban be applied to this one.
— Biden blames GOP governors, possible 2024 rivals for pandemic resurgence. The White House is increasingly taking aim at Republican governors who have relaxed Covid-19 restrictions, casting what President Joe Biden once described as a "pandemic of the unvaccinated" as a pandemic of the red states.
 
---
CONGRESS  
---

— Democratic senators exceed Biden plan to end private-equity tax break. Two senior Senate Democrats are proposing to end a prized tax break for the private-equity industry in a new bill that would go further than Biden's plan and potentially raise quadruple the revenue. Senate Finance Committee Chairman Ron Wyden (D-Ore.) and Sheldon Whitehouse (D-R.I.), a member of the panel, are introducing legislation today to repeal the break for carried interest, which allows private equity fund managers to pay lower tax rates on their earnings than they would for regular income. The bill would also prohibit them from deferring tax payments on those earnings, another benefit embedded into the current law.
— Senate Appropriations clear USDA-FDA spending plan. The Senate Appropriations Committee approved three spending packages for Fiscal Year (FY) 2022 Wednesday, including a package to provide $25.9 billion in discretionary funding and $169.9 billion in mandatory funding in Agriculture spending, including $3.4 billion in discretionary spending for FDA. Link to summary of the bill.
     The package includes $7 billion in disaster funds to cover losses in 2020 and 2021, a provision that is not in the House version of the legislation. A stand-alone bill approved by the House Agriculture Committee last week to cover farm and ranch losses in 2020 and 2021 would provide $8.5 billion.
     The USDA-FDA bill calls on the USDA to establish a cattle contract library, so producers could see if they are being treated fairly when selling animals to a packer under prearranged terms. It would also give the USDA more money to enforce fair-play rules in livestock marketing.
     No amendments were approved by the panel except for a manager's amendment. The issue of labeling of genetically engineered salmon was discussed during the session, with Sen. Mike Braun (R-Ind.) indicating he may challenge a provision which would have FDA include the term genetically engineered on labels for any genetically modified animal approved by FDA for human consumption before the agency implements a food disclosure standard for SMO products. The measure would also prevent USDA from closing any Farm Service Agency county offices.
     After the 25-5 vote, Senate Republican Leader Mitch McConnell (R-Ky.) threatened to sidetrack the USDA and other appropriations bills in a budget dispute with Democrats, who control the Senate. McConnell said that absent a "top-line" agreement on spending levels for fiscal 2022, the USDA-FDA bill and two other appropriations bills approved by the Appropriations Committee might be shunted aside. "These bills are not on track to cross the finish line on the [Senate] floor," said the minority leader. McConnell was one of five Republicans to vote against the bill.
     Expectations still are that a continuing budget resolution will be needed to keep the government operating Oct. 1 when FY 2022 begins as the full Senate has not yet acted on their versions of the spending plans. If so, this is when Senate Majority Leader Chuck Schumer (D-N.Y.) could attach language regarding the debt limit to garner some Republican votes on the matter.
 
---
OTHER ITEMS OF NOTE     
---

— EPA union asks Congress to top Biden budget re: workforce. The EPA's biggest union is asking Congress to deliver funding that would boost the agency's workforce by nearly 40%, far outstripping the request in Biden's budget blueprint. The American Federation of Government Employees wants the Environmental Protection Agency to grow to 20,000 staffers, which would be the highest level in the agency's 51-year history. It currently employs some 14,300 workers.
— Mexico sues U.S. gun makers in a Massachusetts federal court. It was said to be the first suit by a national government against American weapons manufacturers on their home turf. The complaint argues that 70% of the guns in Mexico come from across the border, with many ending up in the hands of drug cartels. This led some to wonder if the U.S. could sue Mexico for many of the illicit drugs in the United States.
— Canada's plan to reopen to U.S. tourists next week may be in trouble — the customs and immigration officers' union served notice of a strike that could start Friday.
— Canada puts increases on glyphosate residues on hold. Canadian regulators have paused consideration of proposed increases to maximum residue limits (MRLs) for glyphosate and other chemicals as they review the regulatory framework used by the Pest Management Regulatory Agency (PMRA). "While the current regulations provide robust protection of human health and the environment, some of its provisions now warrant review to ensure the pesticide approval process meets the expectations of Canadians in the areas of transparency and sustainability," Health Canada said Aug. 4. The agency said there would be no efforts to boost MRLs until early 2022 as it considers the situation.
— Iran inaugurates a new president in Tehran today, a critical moment for the Islamic Republic as Ebrahim Raisi, a conservative former judicial chief, takes over from the more moderate Hassan Rouhani for a four-year term. "Raisi's support stems from the system's core constituency, which in every election we have seen is not more than 25% to 30% of the Iranian population at best," Ali Vaez, an Iran expert at the International Crisis Group, told Foreign Policy. "So, the majority of the population is either disillusioned with the system or, at this point, completely alienated, and we have huge parts of the society that almost have nothing to lose."
---