First Thing Today Audio | September 21, 2021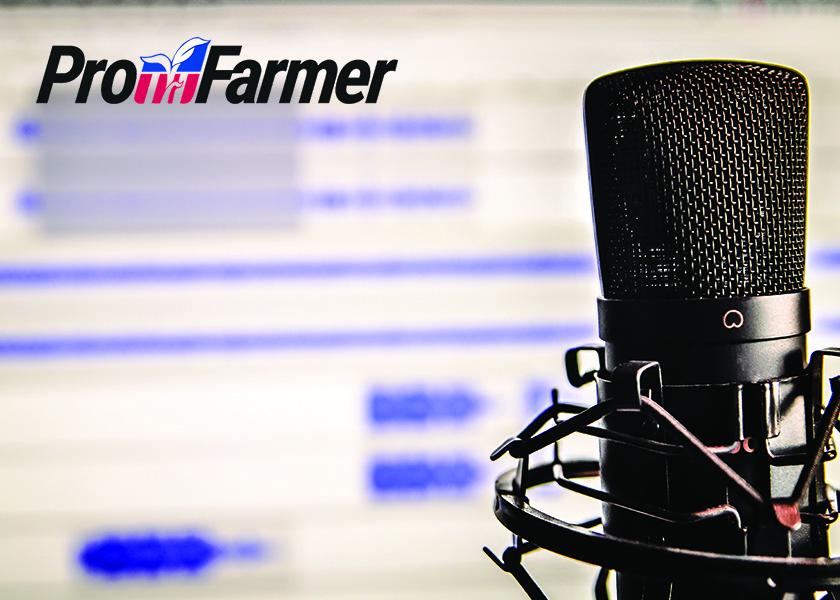 Corn futures faced followthrough pressure overnight with most contracts down 3 to 4 cents but above Monday's lows. Soybean futures have rebounded 1 to 4 cents after an early test of yesterday's lows uncovered support. November beans remain below the 200-day moving average after dropping below that average for the first time in 13 months yesterday. Winter wheat futures are fractionally to 2 cents lower, while spring wheat futures are narrowly mixed. The U.S. dollar index is slightly lower. Crude oil futures are posting modest gains. Many in the marketplace now believe the big Chinese property developer, Evergrande, which is in serious financial trouble, will get a bailout from the Chinese government.
Following are highlights from USDA's crop progress and condition update for the week ended Sept. 19.
Corn: 93% dented, 57% mature, 10% harvested, 59% "good" to "excellent" (G/E)

Soybeans: 58% dropping leaves, 6% harvested, 58% G/E

Cotton: 48% bolls open, 9% harvested, 64% G/E

Winter wheat: 21% planted, 3% emerged
Crop Consultant Dr. Michael Cordonnier continues to estimate the U.S. corn crop will yield an average of 176 bu. per acre and his bias is neutral to slightly lower going forward. On soybeans, he also left his yield estimate at 50.3 bu. per acre, but again, his bias is neutral to slightly lower going forward as he says warm, dry weather in the central and eastern Corn Belt is pushing soybean maturity.
Newly arriving vessels are adding to a record-breaking flotilla waiting to unload cargo off the ports of Los Angeles and Long Beach has surpassed 70 vessels in recent days, according to the Marine Exchange of Southern California. Before the pandemic, it was unusual for more than one ship to wait for a berth.
A revised projection from the Organization for Economic Co-operation and Development (OECD) shows it expects price increases to be significantly higher in 2021 and in 2022 than it had previously forecast for most G20 countries.
House Democrats won't be able to pass the bipartisan Senate-passe infrastructure bill until reconciliation is done, and that will take weeks if not months.
The U.S. will lift travel restrictions for fully vaccinated foreigners. The Biden administration is targeting early November for foreign travel to resume for the first time in more than a year.
Live and especially feeder cattle futures held up well in the face of fears about the Chinese economy, which fueled risk-off trade to start the week. Stock market weakness often pulls down the cattle complex, but live cattle had already fallen rather dramatically since late-August, which may have tempered selling.
Lean hog Futures posted moderate losses Monday with both the product and cash markets sliding. The pork cutout value dropped $2.52 to start the week, with hams dropping $11.47. Movement was also fairly light. Cash hog bids dropped $2.16 to start the week.
---