First Thing Today | Oct. 6, 2021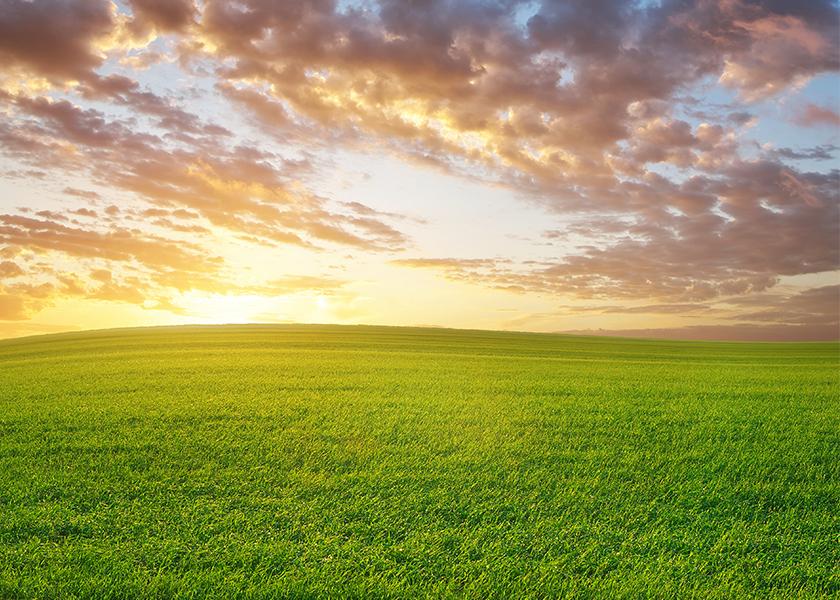 Corrective buying lifts grain and soy futures overnight… Corn futures held within the upper end of Tuesday's trading range overnight and futures are currently 1 to 2 cents higher. Soybean futures saw similar action overnight and futures are currently up 3 cents. Winter wheat futures saw two-sided trade overnight, but most contracts are currently up 2 to 3 cents. Spring wheat has rallied 5 to 7 cents. Crude oil futures hit a new seven-year high overnight, but the market is currently facing light pressure. The U.S. dollar index surged overnight.
Attaché: China to bring in 30 MMT of corn in 2020-21 and 20 MMT in 2021-22… A U.S. ag attaché in China raised its estimate for China's 2020-21 corn imports to 30 MMT, but it expects the country's corn buying to slow by a third to 20 MMT in 2021-22. "As the feed sector sources cheaper feed grain alternatives and growth in feed demand increases at a slower rate, demand for imported corn is expected to moderate," the post explains, adding that current U.S. corn prices could turn China to Ukraine for its 2021-22 needs. The post's forecast for 2021-22 is 6 MMT below USDA's official forecast. Its 2020-21 corn import forecast is 4 MMT higher than USDA's official forecast, and the report notes some in the industry place China's total corn imports as high as 32 MMT. Also of note, the attache expects China to import 8 MMT of wheat in 2021-22, which is 2 MMT lighter than USDA's official forecast. The post doesn't expect wheat imports to top its low tariff rate quota of 9.636 MMT for calendar year 2022 given high global prices and shipping rates.
Ukraine's ag ministry raises wheat export outlook, despite cut to production… Ukraine's ag ministry trimmed its 2021 grain crop forecast by 380,000 MT, dropping its production forecast to 80.25 MMT. The cut was driven by 450,000-MT drop in the ministry's wheat crop outlook that now stands at 31.55 MMT. The ministry maintained its 37.1 MMT corn crop and 9.4 MMT barley crop estimates. Despite the drop in crop size, the ministry raised its grain export forecast by 770,000 MT to 61.45 MMT. Wheat exports are expected to hit 24.51 MMT, up 710,000 MT from the ag ministry's forecast last month.
Surge in Indian wheat exports… Two industry officials cited by Reuters project India's wheat exports could quadruple from year-ago levels to an eight-year high of around 4.2 MMT this year. The country has already shipped 3.07 MMT of the grain in the first eight months of the year, which is a dramatic 887% from last year, with Indian exports of wheat reportedly cheaper than those from Russia or Ukraine. Strong shipments could held draw down the country's record inventories.
Biden: 'Real possibility' Democrats could revise Senate rules to counter filibuster... President Joe Biden said it is a "real possibility" that Senate Democrats could seek to revise the chamber's filibuster rules to overcome a Republican blockade on raising the debt ceiling. When asked about Democrats utilizing the "nuclear option" to prevent Republicans from filibustering to raise the debt limit, Biden said, "Oh, I think that's a real possibility." The focus is now on centrist Senator Joe Manchin (D-W.Va.), who has opposed ending the filibuster "under no circumstances." Manchin told reporters to "forget the filibuster" Monday because there are other ways to lift the debt limit. Sen. Kyrsten Sinema (D-Ariz.) is also against blowing up the filibuster. Biden's comments come as Republicans today plan to block a third attempt to raise the government's borrowing limit. Senate GOP leader Mitch McConnell (R-Ky.) reiterated on Tuesday his belief that Democrats instead should use a process known as reconciliation to address the debt ceiling.
USTR to seek public comments on restart of tariff exemptions for Chinese goods... The Office of the U.S. Trade Representative (USTR) announced it will start accepting public comments Oct. 12 on whether to reinstate product exclusions relative to tariffs imposed on billions of dollars of Chinese goods. It will accept comments through Dec. 1. Under the exclusion process that expired Dec. 31, 2020, March 25 and April 18, 2021, USTR had granted 549 exclusions to the tariffs. USTR said it was "separately" addressing the issue of tariff exemptions linked to Covid-19. As for the China tariffs, USTR said it wants comments on the appropriate length of any reinstated extensions, saying it would evaluate those "on a case-by-case basis," focusing on whether the particular product remains only available from China. USTR said that any tariff exclusions granted would be retroactive to Oct. 12.
PCR sales reportedly soared in Wuhan before first official Covid-19 cases publicized… Spending on tests to detect Covid-19 soared in Wuhan, China, several months before the first official reporting of Covid-19 cases, suggesting the virus was already circulating in communities during the northern summer in 2019 before it was made public by Beijing, according to research by Australian cybersecurity firm Internet 2.0. The firm tracked the sales of polymerase chain reaction (PCR) tests over several years, revealing an almost 50% increase between 2018 to 2019 — the year before the Covid-19 outbreak spread across the world. "These findings challenge existing assumptions around when the pandemic began and support further investigation," according to the report. "We assess with medium confidence the significant increase from 2018 to 2019 in Hubei province (67.4 million yuan of total PCR equipment in 2019) is due to an event like the emergence of Covid-19," it continues. "Finally, we assess with high confidence that the pandemic began much earlier than China informed the WHO about Covid-19."
GDP downgrades... IHS Markit's tracking estimate for U.S. third-quarter gross domestic product fell to 1.5% from 2.2% last week. The Atlanta Fed's GDPNow model is now down to 1.3%. Over the summer, the Wall Street Journal's Economic Forecasting Survey projected a seasonally adjusted annual pace of growth around 7% for the third quarter. A series of setbacks, including the emergence of the Delta variant of Covid-19, tangled supply chains and labor shortages, have conspired to knock down estimates. But while many economists have lowered growth forecasts for the third-quarter, they have raised forecasts for 2022, indicating that some spending and production have been delayed rather than lost.
New Zealand raises benchmark interest rate to cool inflation… The Reserve Bank of New Zealand lifted its benchmark rate to 0.5% from a record-low 0.25% and signaled more increases over the next year, as it seeks to tame inflation stoked by higher oil prices, rising transport costs and supply-chain disruptions. It said the increase would also drive up mortgage rates and so help cool house prices.
Biden confident in Fed Chair Powell amid Warren attacks… Biden yesterday said that he has confidence in Federal Reserve Chair Jerome Powell, hours after Sen. Elizabeth Warren (D-Mass.) assailed the central bank and its leader on the floor of the Senate and in television interviews. Warren said Powell had "failed as a leader" following revelations that top Fed officials have been actively trading securities during the pandemic crisis. The transactions raise "legitimate questions about conflicts of interest and insider trading," the progressive Democrat said. Warren said in an interview with Bloomberg Television that Powell had been lax in his conduct of financial oversight, with stress-tests performed on banks that were "worse" than open-book exams. Biden gave no indication he has made a decision over whether to offer Powell a second term when his current one expires in February.
Chamber urges Congress to avoid antitrust legislation… The U.S. Chamber of Commerce and other trade groups urged Congress to refrain from passing new legislation that would change the government's reviews of mergers and acquisitions. The letter comes as lawmakers and federal agencies that regulate competition— the Justice Department's antitrust division and the Federal Trade Commission— are signaling moves to heighten oversight of deals that Democrats say are driving up market concentration across industries.
Bayer wins first jury verdict regarding cancer allegations… Bayer AG has won its first trial regarding claims its glyphosate-based Roundup weedkiller causes cancer. A California jury found the herbicide was not a substantial cause of a child's rare form of non-Hodgkin's lymphoma. This is Bayer's first win in four cases. Bayer is appealing two of the other three verdicts and hopes one of them will be considered by the U.S. Supreme Court. The company has settled around 96,000 of the 125,000 cases against it.
Some early cash cattle trade at steady prices… Cattle futures enjoyed some modest buying on Tuesday, but the trend of the market remains to the downside. Choice boxed beef values fell another $1.47 yesterday, but Select strengthened for the second day in a row. Movement impressed at 171 loads. So far this week, there has just been some light cash cattle trade in Iowa, Kansas and Nebraska at $122, with some light trade in Texas at $124. Action thus far has been steady with the week prior.
Big intraday price swing for the pork market driven by hams…Packing margins have climbed notably in recent weeks, with HedgersEdge.com estimating them at $66.80 per head as of Tuesday, up $8.60 from the week prior. Nevertheless, this week's kill is running 9,000 head under week-ago and 34,000 head under year-ago. The CME lean hog index is projected to rise another 6 cents to $94.11, which would extend the index's fledgling rebound off the late September lows. Seasonals suggest one more week of strength for index and product market. The pork market was unable to hang onto strong morning gains, with the pork cutout value slumping $4.27 amid a nearly $15 drop in hams. Average hog weights in the Iowa/southern Minnesota market/South Dakota market edged 0.4 lbs. higher the week ended Oct. 2 to 283.9 lbs., up 0.5 lbs. from year-ago.
Overnight demand news… Egypt tendered to buy an unspecified amount of wheat from global suppliers. Pakistan issued an international tender to buy 90,000 MT of wheat. Tunisia tendered to buy 100,000 MT of durum wheat from optional origins. Jordan made no purchase in its tender to buy 120,000 MT of wheat. Japan is seeking 80,000 MT of feed wheat and 100,000 MT of feed barley via a simultaneous buy and sell auction.
Today's reports