First Thing Today | Aug. 23, 2021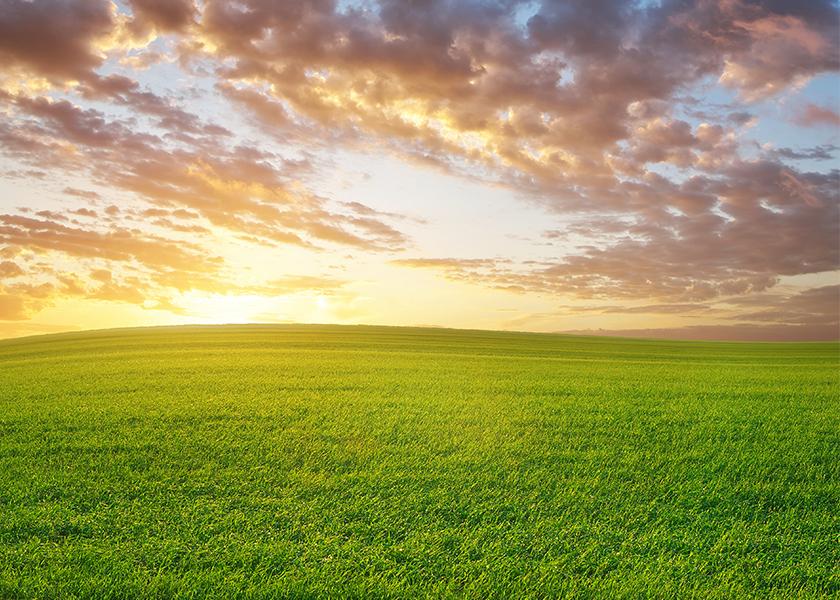 Gains to start the week after pressure Friday… Corn futures are 2 to 3 cents higher as the market has found support at Friday's lows. Soybean futures are 14 to 17 cents higher and within Friday's wide trading range. Winter wheat futures are up 9 to 11 cents, while spring wheat futures are up 5 to 7 cents. Crude oil futures are sharply higher, with an early move to new multi-month lows spurring buying. The U.S. dollar index is slightly lower. On Friday, Pro Farmer estimated the U.S. corn crop at 15.116 billion bu. with an average yield of 177.0 bu. per acre (+/- 1%). We estimated the U.S. soybean crop at 4.436 billion bu. on a national average yield of 51.2 bu. per acre (+/- 2%).
Dry Northern Plains, western Corn Belt welcome rain… Rains fell over the Western Corn Belt and Northern Plains over the weekend, with the driest areas of North Dakota, Minnesota and Iowa recording some of the greatest accumulation. Lighter, spottier rains also fell in the eastern Corn Belt. World Weather Inc. reports that in the Northern Plains and Canadian Prairies, "The moisture brought relief to drought, although much more moisture is needed. There has been and will continue to be a short-term bout of improved late season crop development, especially for corn, soybeans and flax." More rains are likely for the Northern Plains and Great Lakes region this week, with erratic showers likely elsewhere. Net drying Is likely for the central and southern Plains, the southwest Corn Belt and some areas of the Ohio River Valley, World Weather Inc. reports. Meanwhile, Tropical Storm Henri battered the U.S. Northeast on Sunday, but it was not as severe as some expected.
Russian wheat prices still climbing… Russian wheat prices climbed for the sixth week in a row last week, with domestic supply concerns lifting prices. The consultancy IKAR reports Russian wheat with 12.5% protein loaded from Black Sea ports for supply in September climbed $8 from the previous week by week's end to $295 per metric ton free on board. The consultancy SovEcon reported an even stronger $13 rise to $299 per metric ton. It reports barley prices also shot higher.
China announced it will allow imports of barley powder for feed use from Kazakhstan… Beijing has been working to boost imports of many grains, in part to tamp down the price surge in corn. While Chinese corn prices have moved 12% off their record highs, they are still above year-ago levels.
The week ahead… While getting out of Afghanistan is popular, President Joe Biden's handling of the issue is not. It's too soon to say whether the Afghanistan debacle will impact upcoming congressional votes on top issues for the White House and congressional Democrats. The House will return to Washington today. House Speaker Nancy Pelosi (D-Calif.) wants to hold a procedural vote as soon as Monday to move forward with a few Democratic priorities: the $1 trillion bipartisan infrastructure legislation passed by the Senate, the $3.5 trillion Democratic plan to expand the social safety net, and a voting rights bill. She then wants to join the Senate in passing a budget resolution, the first step toward Democrats approving their massive spending plan without a Republican vote. Leadership's goal in combining the three into one rule was to ensure that centrist Democrats wouldn't block that, too. The go-it-alone Democratic spending plan is not expected to get through the Senate for months. The Federal Reserve Bank of Kansas City's annual Economic Policy Symposium, usually held in Jackson Hole, Wyoming kicks off virtually on Friday and runs through next Saturday.
Reports signal EPA sending proposed RFS levels to OMB for review... Reports by Bloomberg and Reuters late Friday indicate that EPA is ready to send forward to the Office of Management and Budget (OMB) for review of their proposed levels under the Renewable Fuel Standard (RFS) for 2021 and 2022. The rule will reportedly arrive "by Monday." Commodity markets were under pressure as both news services reported that it was possible that levels EPA is proposing would be lower for 2021 biofuels than the levels that were finalized for 2020. However, the reports also indicated that some lawmakers were advised the totals could be nearly unchanged. But Reuters later reported that the levels for 2022 would be higher than those for 2021 or 2020. The reports did not offer a breakdown of where the reductions would be. The proposed marks that EPA sends forward to OMB are not the final word.
Biden tries to limit political and real damage of Afghanistan withdrawal… Biden promised to evacuate every American who wants to leave Afghanistan and said he would seek to extract Afghan allies, but he cautioned that the mission is dangerous and didn't rule out losses following days of chaos at Kabul's international airport. In an address to the nation Sunday afternoon, Biden said the U.S. has extended its perimeter around Hamid Karzai International Airport and there were discussions with the Taliban about providing safe access to the airport. Biden would not rule out staying past Aug. 31 to facilitate additional departures. A few Democratic lawmakers have considered calling for the resignation of national security adviser Jake Sullivan, according to the New York Times, hoping it "would help the president 'reset the narrative.' Lawmakers have announced congressional investigations about the administration's handling of the withdrawal. Biden's job approval writing continues to slide.
China likely will look at Afghanistan's rich natural resources, but there are hurdles… China has searched the globe for natural resources, sinking billions into Peruvian oil fields or cobalt mines in the Democratic Republic of Congo. Now it just needs to look next door, Afghanistan. A decade-old U.S. government report estimated a $1 trillion-plus mother lode of valuable metals and stones beneath Afghan soil. China is already wooing the Taliban. However, a Barron's article says it may not be so easy. "China's narrow boundary with Afghanistan abuts the Xinjiang region, where Beijing has been persecuting its Muslim Uighur minority for fear of an ethnic insurgency. Xi Jinping's government will want assurances that the Taliban isn't spreading jihad eastward before investing in their shattered economy," the article notes.
China raises limit to three children per couple… The country hopes this will hold off a demographic crisis that could threaten its hopes of increased prosperity and global influence. The legislature on Friday amended the Population and Family Planning Law as part of a decades-long effort by the ruling Communist Party to dictate the size of families in keeping with political directives. It comes just six years after the last change, the Associated Press reports. Statistics show 12 million babies were born last year, a decline of 18% from 2019's 14.6 million. Chinese older than 60, who number 264 million, accounted for 18.7% of the country's total population in 2020, compared with about 13.3% in 2010. At the same time, the working-age population fell to 63.3% of the total from 70.1% a decade ago. The shift to the two-child rule led to a temporary bump in births, but its effects soon wore off and total births continued to fall because the number of couples deciding to start families continued to flag.
Kaplan spooks markets with comments Covid-19 surge could move up tapering… Dallas Federal Reserve President Robert Kaplan said the surge in coronavirus cases could cause him to adjust his views on taking away the Fed's stimulus punchbowl, a change that lifted investors' risk appetites. Kaplan previously spooked markets when he became the first Fed official to say it should consider tapering sooner than anticipated. Following Kaplan's comments, U.S. Treasuries erased earlier gains, with the 10-year yield ending the week at 1.26%, and the dollar slid from nine-month highs.
Economic impact of the Delta variant... Uncertainty over the lethality and duration of the Delta variant has emerged. Dr. Vince Malanga, president of LaSalle Economics, Inc., says it "will not kill the economic recovery," but it will affect the pace of recovery.  "We were expecting about 7% annualized growth in the current quarter, and we are inclined to reduce this to about 5% annually." The travel and leisure sectors are most vulnerable, Malanga details, as these have been throughout the pandemic. "There are reports of travel cancellations, slowing traffic at resorts and restaurants, and delayed business re-openings. There is as yet no rise in layoffs because of an existing personnel shortage. Nonetheless, consumer sentiment plunged in early August, and one must wonder whether repeated disruptions trigger a more permanent change in behavior."
Chinese pork prices climb from June to July but still well under year-ago levels… The average pork price across 16 provincial-level regions tracked by the country's ag ministry came in at 21.55 yuan ($3.30) per kilogram during July, a 7.7% rise from the month prior. But the index was down 56.3% from July 2020 levels, which was a 2.-point  expansion of the annual gap from June. China is working to stabilize supply and prices in the wake of African swine fever.
Cattle on Feed Report largely in line with expectations… Analysts surveyed by Reuters did a pretty good job anticipating the latest Cattle on Feed Report. All categories came in just below analysts' average trade guess, with the number of cattle on feed on Aug. 1 at 98.1% of year-ago. Today, the market will get an update on the demand side of the equation via USDA's monthly Cold Storage Report. Choice and Select boxed beef values continue to tear higher, with Choice rising $3.43 and Select climbing $2.12 on Friday. But movement did slow to 85 loads. Cash cattle prices climbed to $127 to $129 in the Iowa market on Friday, with Kansas and Texas seeing some light action at $122. Prices have been steady to up a few bucks from the week prior.
Cash hog and pork prices slip… The pork cutout value fell $2.14 on Friday, with bellies dropping nearly $17. Movement was lackluster at 296.96 loads. Cash hog bids also fell a national average of $2.40 to close the week. Cash hog bids ended the week $1.57 lower compared with the week prior. Today, analysts will turn their attention to the monthly Cold Storage Report for July and what it signals about summer grilling demand in the domestic market and the export market.
Weekend demand news… Turkey provisionally bought around 270,000 MT of animal feed barley in a tender for that amount of the grain. Jordan issued a new international tender to buy 120,000 MT of animal feed barley. Pakistan received offers in its tender to buy 400,000 MT of wheat from optional origins. Mauritius issued an international tender to buy 47,000 MT of wheat flour from optional origins.
Today's reports