First Thing Today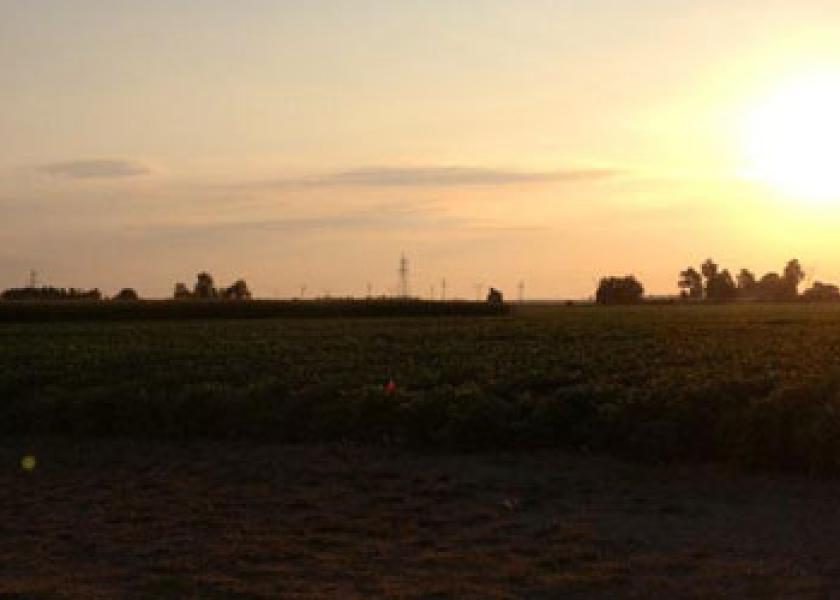 Good morning!
Wheat rebounds overnight… Corn futures are down 1 to 3 cents in most contracts after seeing two-sided action overnight. Old-crop soybeans are up 5 to 8 cents and narrowly mixed in new-crop. Winter wheat futures have rebounded 1 to 2 cents on an unexpected slide in crop condition ratings. Spring wheat futures are up 1 to 5 on a much lower initial spring wheat rating than analysts expected on average. The U.S. dollar index is under pressure, as are crude oil futures.
Cordonnier expects U.S. farmers to hike corn acres far more than beans… Crop Consultant Dr. Michael Cordonnier expects U.S. producers to plant between 93 million and 94 million acres to corn this season. He explains, "Since the survey for the March [Planting Intentions] Report was conducted, there has been more interest in corn than in soybeans due to the price ratio," adding that quick planting progress generally favors more corn. He also expects fewer prevent plant acres this year. Using a 91.5% harvested acreage projection and an average yield of 177.5 bu. per acre translates to a crop estimate ranging from 15.08 billion bu. to 15.26 billion bushels. His yield estimate is 2 bu. under USDA's trendline yield projection based on limited soil moisture in the northwest Corn Belt. Cordonnier expects U.S. farmers to plant between 87 million and 88 million acres to soybeans, 99% of which he projects will be harvested. Matching USDA's trendline yield of 50.8 bu. per acre results in a crop estimate of 4.37 billion bu. to 4.42 billion bushels. He also adds that strong prices could encourage more double-crop bean acres.
Consultant drops forecast for Brazil's corn crop to 95 MMT… Cordonnier lowered his Brazilian corn crop estimate by 2 MMT, dropping his crop estimate to 95 MMT; his bias is neutral to lower going forward. Safrinha corn areas received variable precipitation over the weekend. "The rainfall was beneficial for some of the latest planted corn, but it came too late for much of the safrinha corn that had not received a rain for 40-50-60 days. It will probably be enough to keep the crop from experiencing the 'worst case scenario'" of 85 MMT, Cordonnier says. He maintained his Brazilian soybean crop estimate of 134 MMT, and his bias is neutral to slightly higher going forward. He also stuck with his Argentine soybean crop peg of 45 MMT and his corn crop forecast of 46.5 MMT. His bias is neutral on beans and neutral to slightly higher on corn.
Crop progress & Condition Report highlights… Following are highlights from USDA's crop progress and condition update for the week ending May 23.
Corn: 90% planted, 64% emerged

Soybeans: 75% planted, 41% emerged

Spring wheat: 94% planted, 66% emerged, 45% "good" to "excellent"

Winter wheat: 67% headed, 47% rated G/E

Cotton: 49% planted
HRW CCI improves, low initial spring wheat CCI rating… When USDA's weekly crop condition ratings are plugged into the weighted Pro Farmer Crop Condition Index (0 to 500-point scale, with 500 being perfect), the HRW crop improved 5.2 points to 336.3 points while the SRW crop slipped 1.1 points to 374.1 points. The HRW crop is now 3.4 points above the five-year average for this date and the SRW rating is still 19.5 points above average. The initial spring wheat CCI rating of 332.3 points is 54.3 points below last year's first rating, which came a week later, and 42.3 points below the average for late May.
Good early season soil moisture lifting crop forecast for Australia… Good soil moisture has many analysts calling for a bumper Australian wheat crop this season. Rains leading up to the April/May planting season were widespread, priming soils for a good start. And the country's weather bureau says there are 80% odds of above-average rainfall for New South Wales and South Australia over the next three months. Western Australia, the country's biggest producing state, is expected to receive average rainfall. Production estimates for the country are on the rise, but most still expect the crop to fall well short of last year's bin-busting 34.8 MMT. In March, the Australian Bureau of Agricultural and Resource Economics and Sciences (ABARES) projected this year's crop at 25 MMT. It will update that forecast in June. The country is a major exporter to the Middle East and Asia.
Another judge shoots down effort to halt Mexico's bans on GMO corn and glyphosate… A Mexican federal judge shot down a request by the National Farm Council (CNA) to freeze a plan by the Mexican government to ban genetically modified (GMO) corn and the herbicide glyphosate by 2024, the national science council said today. Last year, President Andres Manuel Lopez Obrador issued the plan via executive order, causing a lot of angst among Mexican farmers and straining trade relations with the United States. We ship Mexico around 16 MMT of yellow corn each year, the vast majority of which is genetically modified. CNA warns moving forward with the bans will hike food prices and compromise farm productivity, making Mexico even more dependent on food imports. Obrador says the bans would boost domestic production of corn and promote more sustainable agriculture. So far, 17 legal challenges have been filed against the bans, according to CONACYT, and just two injunctions against the order have been issued, both of which have since been reversed.
Fed officials again play down risk of persistent higher inflation… Federal Reserve officials pushed back against the threat that a spike in price pressures will prove lasting as the U.S. economy reopens. Governor Lael Brainard, Atlanta Fed President Raphael Bostic and St. Louis's James Bullard said they would not be surprised to see bottlenecks and supply shortages push prices up in coming months as the pandemic recedes and pent-up customer demand is unleashed, but much of those price gains should prove temporary.
Republicans signal new infrastructure offer 'soon'… Senate Republicans are planning to make a new overture to Biden on infrastructure spending, and said they'll continue trying this week to strike a bipartisan deal after rejecting the White House's latest counteroffer of $1.7 trillion as too costly. "We're not going to walk away," said Sen. Shelley Moore Capito (R-W.Va.), the lead Republican negotiator. Senator Roger Wicker (R-Miss.) said that the GOP would be willing to spend $1 trillion over eight years — a figure well above what they said in the past. However, specific details on the last GOP offer have been scarce. Wicker said Republicans are "fleshing out the numbers" and hopes to have "a sensible offer" by the end of the week. Capito said she would be meeting with her colleagues over the next day to determine what the offer would be.
Panel sets Wednesday clean energy tax bill markup... Senate Finance Committee Chairman Ron Wyden (D-Ore.) released the chairman's mark of his Clean Energy for America Act, in advance of Wednesday's markup. The bill would replace existing clean energy tax breaks with a technology-neutral tax incentive. It would also repeal the existing per-manufacturer cap on the plug-in electric vehicle credit and make it refundable for individuals. Commercial operators would have access to a non-refundable credit worth 30% of the purchase of an electric vehicle. The new tax credit would replace current tax incentives for fuels such as biodiesel, advanced biofuels and natural gas. Fuels could qualify for the new credit if their lifecycle emissions are at least 25% below the current U.S. national average. Corn-based ethanol producers also would be able to apply for the credit.
Biden to direct $1 billion for weather preparedness… President Joe Biden yesterday announced a doubling of federal spending on preparations for severe weather events, the president's latest move to put climate change at the center of his domestic agenda. The administration will provide $1 billion this year to state, local and tribal governments to prevent damage from floods, hurricanes, wildfires and other natural disasters, the White House said in a statement. Biden is also directing the National Aeronautics and Space Administration to collect more advanced climate data. On May 20, NOAA said there was a 60% chance of an above-normal hurricane season, a 30% chance of a near-normal season, and a 10% chance of a below-normal season. Additionally, forecasters expect a likely range of 13 to 20 named storms, of which six to 10 could became hurricanes.
ISU economists says line speed court ruling will slash pork processing capacity by 2.5%... At the end of March, a U.S. District Court for Minnesota struck down provisions of USDA's New Swine Inspection System permitting faster line speeds at federally inspected pork processing facilities. Dr. Dermot Hayes, an economist with Iowa State University, says that even with possible mandatory overtime to compensate for lost capacity, the industry will lose 2.5% of overall harvest capacity if the ruling stands. He explains, "Six pork processing plants are currently operating at higher line speeds allowed under the new USDA inspection system. Five of these plants have been operating at these speeds for more than 20 years under the pilot program introduced during the Clinton administration." Three of the impacted plants are located near top-producing Iowa. He says this will cost producers $83.2 million via lower spot market prices, with small hog farmers likely to bear the brunt of the decision. "Packers will likely use Force Majeure provisions to declare their pricing contracts with hog farmers null and void, forcing these farmers to sell their hogs on the spot market," Hayes says. The decision is set to take effect July 1.
Consultant fears Argentine beef export suspension could last much longer than billed… Last week, Argentina announced it would suspend beef exports for at least 30 days to slow domestic food inflation, which is running at approximately 50%. Cordonnier comments, "If history is a lesson, it is doubtful if the beef export suspension will be lifted after 30 days.  The last time such action was taken, it stayed in place in one form or another for years."
Strong beef demand signals continue… Cash cattle traded at an average price of $119.72 last week, basically unchanged from the week prior and a few bucks above June futures. Early expectations are for more of the same this week, but the market has shown little initial interest in aligning the cash market with futures. The market was encouraged by last week's uptick in processing, but several more weeks of strong tallies will likely be needed improve marketing currentness and support higher cash cattle prices. Yesterday's cold storage update from USDA showed 29.4 million-lb. drawdown in frozen beef stocks, which was much more aggressive than the typical 11.4-million-lb. retreat and a positive demand signal. Boxed beef values climbed $1.08 (Select) to $2.66 (Choice) to start the week, but movement was light at 99 loads.
Cash hog bids climbed on Monday… The pork cutout value climbed $1.35 to start the week, which was well off morning trade that shot the pork cutout $7.43 higher. Movement was lackluster at 226.95 loads. But USDA's monthly Cold Storage update for the end of April reflected a lighter build in frozen pork stocks than is typically seen from March. Cash hog bids climbed a national average of $2.51 on Monday.
Overnight demand news… Egypt bought 240,000 MT of wheat from Romania. Japan is seeking to buy 124,620 MT of food-quality wheat from the U.S. and Canada in a regular tender. Algeria issued an international tender to buy a nominal 50,000 MT of durum wheat.
Today's reports