Ahead of the Open | September 7, 2021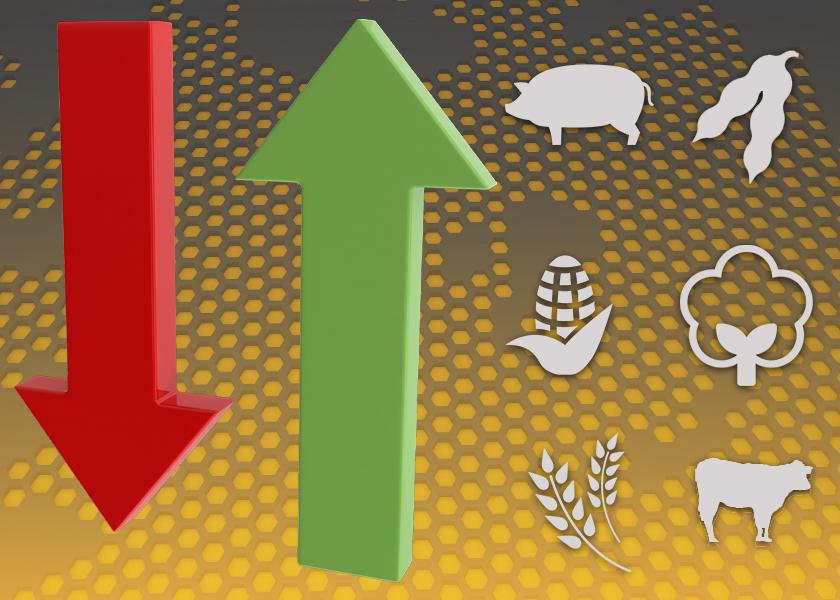 GRAIN CALLS
Corn: Steady to 2 cents lower.
Soybeans: 5 to 9 cents higher.
Wheat: 4 cents lower to 4 cents higher.
GENERAL COMMENTS: Soybean futures were higher in overnight trading following the three-day holiday weekend, while corn was steady to slightly lower and wheat was mixed. Malaysian palm oil futures rose about 1.4%, while Nymex crude oil futures fell about 1.4%. The U.S. dollar index is firmer.
USDA reported a daily sale of 327,300 metric tons (MT) of hard red winter wheat for delivery to Nigeria during the 2021-22 marketing year.
Improved Midwest weather has been beneficial for crops, especially later developing soybeans, crop consultant Michael Cordonnier said in a weekly report, but he opted to keep his corn and soybean yield forecasts unchanged at 175.5 bu. per acre and 50 bu., respectively, ahead of USDA's crop condition updates this afternoon. Cordonnier projects the U.S. corn crop at 14.90 billion bu. and the soybean crop at 4.33 billion bushels. USDA updates its U.S. corn and soybean production estimates on Friday.
China imported nearly 9.5 million metric tons (MMT) of soybeans in August, up 9.5% from July but down 1.1% compared with last year. In the first eight months of this year, China imported 67.1 MMT of soybeans, up 3.6% from the same period last year. Weak crush margins and ample supplies held by crushers are expected to limit Chinese soybean imports the next few months.
Brazil-based AgRural cut its Brazilian corn crop estimate by 300,000 MT to 81.9 MMT as harvest of the drought-impacted safrinha crop nears completion. Also, Cordonnier left his Brazilian corn crop estimate unchanged at 82.0 MMT.
Australia is now expected to produce its second largest wheat crop ever in 2021-22 due to excellent growing conditions in June and July that resulted in average to above-average rainfall in most growing regions, The Australian Bureau of Agricultural and Resource Economics and Sciences (ABARES) raised its Australian wheat crop estimate to 32.6 MMT, up 4.8 MMT from its June forecast.
Brazil's ag ministry confirmed two cases of atypical bovine spongiform encephalopathy (BSE), one in Mato Grosso and the other in Minas Gerais. As a result, the country suspended beef exports. But importers in China, Brazil's top customer, hope the suspension is short-term since the cases were atypical.
China imported 758,000 MT of meat (including offal) in August. That was down 11.2% from July and 8.9% compared with August 2020. In the first eight months of this year, Chinese meat imports totaled nearly 6.7 MMT, up 1.7% versus the same period last year.
CORN: December futures traded inside a tight range overnight after tumbling 5.4% last week. Chart patterns have turned bearish, suggesting prices could challenge key support at the July low of $5.07, or even the psychologically important $5.00 level.
SOYBEANS: November futures rose as high as $13.05 3/4 overnight after dropping 2.4% last week. Chart levels to watch include last week's high at $13.36 1/4 and last week's low at $12.70.
WHEAT: December SRW futures overnight rose as high as $7.33 1/4, the highest price since Aug. 30, after posting a 6-cent loss last week.
LIVESTOCK CALLS
CATTLE: Steady-weaker.
HOGS: Steady-mixed.
CATTLE: Futures will likely face pressure from a slumping wholesale beef market that pressed October live cattle futures down 3.3% last week to the lowest levels since mid-July. Choice cutout values fell $1.50 Friday to $336.42, the lowest in nearly three weeks. Live slaughter-ready steers averaged $125.73 to end the week, nearly matching the average from the week before. Meatpackers slaughtered an estimated 590,000 head of cattle last week, up 1.9 % from the same period a week earlier and 0.3% from the same period a year earlier, USDA reported.
HOGS: Wholesale pork showed some signs of stabilizing from a recent slide late last week but are still under pressure. Pork carcass cutout values fell $1.12 Friday to $108.15, down 7.2% for the week and near a five-month low reached earlier in the week. The latest CME Lean Hog index fell to $101.32, the lowest since April 7 but still above nearby futures. Meatpackers slaughtered an estimated 2.37 million head of hogs last week, up 1.7% from the same period last week and up 0.8% for the comparable period a year ago, USDA reported.