Ahead of the Open | September 21, 2021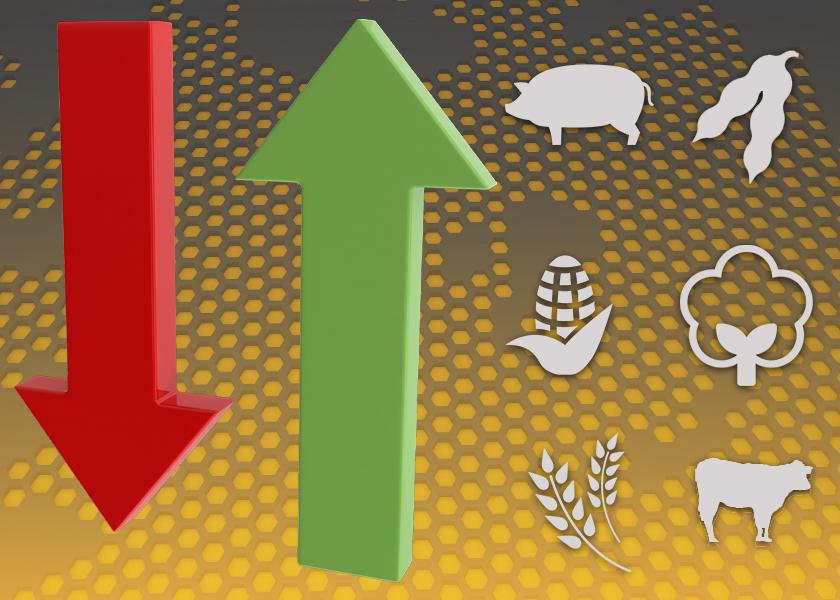 GRAIN CALLS
Corn: 1 to 4 cents lower.
Soybeans: 3 to 5 cents higher.
Wheat: HRW, SRW 1 to 3 cents lower, spring wheat 2 cents lower to 1 cent higher.
GENERAL COMMENTS: Corn futures fell overnight after USDA's weekly crop condition rating unexpectedly rose. Soybean futures fell near a three-month low before rebounding, while wheat futures were mostly lower. Nymex crude oil futures were up about 1% in overnight trading, while the U.S. dollar index eased slightly.
Crop consultant Michael Cordonnier kept his U.S. corn crop yield estimate unchanged at 176 bu. per acre, with a neutral to slightly lower bias. Heat and dryness in the central and eastern Corn Belt accelerated the maturity of both corn and soybeans, "which is not the best way to maximize yields," Cordonnier said in a weekly report. The dry weather "took the 'top end' off the corn yields, and I might trim my U.S. corn yield in the coming weeks," he said.
Cordonnier also left his soybean average yield estimate at 50.3 bu. per acre, with a neutral to slightly lower bias as warm, dry weather in the central and eastern Belt pushes soybean maturity. "There is less time to complete filling the last pods at the top of the plant," he said, adding he may trim his soybean yield estimate slightly.
Grain export terminals at the U.S. Gulf are slowly coming back online. Yesterday, more than 60 bulk vessels were lined up along the lower Mississippi River waiting to dock and load with grain once terminals reopen, according to an industry vessel lineup report and Refinitiv Eikon shipping data. Cargill Inc., Louis Dreyfus Co. and Archer Daniels Midland Co. all reopened some grain export terminals last week, while a Louisiana facility owned by Bunge Ltd. has been "running intermittently."
Kazakhstan raised is grain production forecast 4.6% to 16 million metric tons (MMT), according to senior government officials. The country also reduced its export forecast to a range of 6.0 MMT to 6.5 MMT, compared to a forecast of 6.5 MMT to 7.0 MMT.
Japan's ag ministry is seeking a total of 113,067 MT of food-quality wheat from the U.S. and Canada in a regular tender.
CORN: USDA said 10% of the U.S. corn crop was harvested as of Sept. 19, matching trade expectations. Harvest progress was up from 4% a week ago and above the five-year average of 9%. The crop was rated 59% "good" or "excellent," up from 58% a week ago. USDA's weekly condition ratings are plugged into the weighted Pro Farmer Crop Condition Index (CCI; 0 to 500-point scale, with 500 representing perfect), the corn crop improved 3.4 points to 357.2 points, still 8.5 points below the five-year average.
Chart levels to watch in December futures include last week's high at $5.37 1/2 and $4.97 1/2, a five-month low hit Sept. 10, as well as the 200-day moving average around $5.09.
SOYBEANS: Soybean harvest was 6% completed as of Sept. 19, compared to trade expectations for 5%, USDA reported yesterday. USDA rated 58% of the crop "good" to "excellent," up from 57% a week ago. When USDA's weekly condition ratings are plugged into our weighted CCI, the soybean crop improved 3.4 points to 349.9 points, 8.4 points below the five-year average.
November soybeans fell overnight as low as $12.60 1/4, the lowest intraday price since $12.59 3/4 on June 25. Yesterday, the new-crop contract traded below its 200-day moving average, currently about $12.70, for the first time since August 2020.
WHEAT: USDA said the U.S. winter wheat crop was 21% planted as of Sept. 19, up from 12% the previous week but one percentage point short of trade expectations. Recent weather updates calling for greater rainfall chances in the U.S. Plains may ease concerns that dryness may hamper crop establishment. World Weather Inc. said last night's GFS model projected increased rainfall across much of the HRW region Sept. 28-30. "If the rain were to happen as advertised… it would be beneficial for planting in the region," the forecaster said.
LIVESTOCK CALLS
CATTLE: Steady-firm
HOGS: Steady-mixed
CATTLE: December live cattle rose 55 cents yesterday to $128.075, after falling as low as $126.20 earlier in the day. The relatively strong performance amid broad-based commodity market weakness suggests cattle futures may be establishing a near-term low following a three-week selloff. The wholesale beef market showed potential signs of bottoming, with Choice cutout values rising $1.19 yesterday to $315.66, the first increase in over three weeks. Live steers last week averaged $123.88, down 91 cents from the previous week. Traders expect steady to weaker prices this week, though strong cash opinions won't likely be formed until around midweek.
HOGS: December lean hogs appear to have shifted into a sideways pattern over the past week after falling to a seven-month low of $71.275 on Sept. 16. December contract yesterday fell 82.5 cents to $74.225. Cash market fundamentals remain soft. National direct carcass values fell $2.16 yesterday to $79.32, while the CME lean hog index price today declined another 22 cents to $94.04, the lowest since late March but still over $9.00 above October futures. Pork carcass cutout values fell $2.52 to an average of $102.89, on movement of 293 loads. USDA's quarterly Hogs and Pigs Report Sept. 24 is expected to reflect further shrinkage of the U.S. herd.