Ahead of the Open | September 16, 2021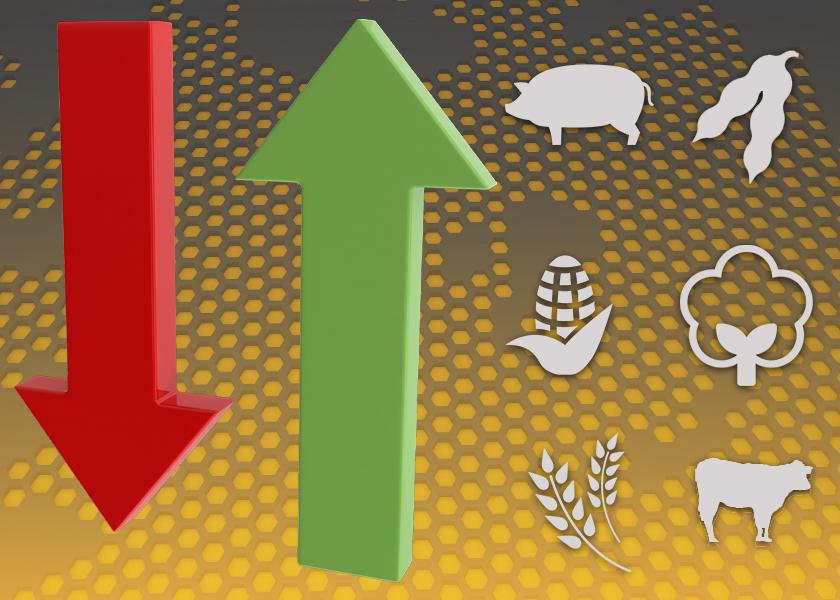 GRAIN CALLS
Corn: Steady to 1 cent lower.
Soybeans: Steady to 3 cents higher.
Wheat: 3 to 6 cents lower.
GENERAL COMMENTS: Corn futures rose to 2 1/2-week highs overnight, but trimmed gains after USDA reported lower-than-expected weekly export sales. Soybean futures rose, while winter wheat futures faded from one-week highs. Malaysian palm oil futures rose over 2%, while Nymex crude oil futures fell slightly but remained near six-week highs. The U.S. dollar index was slightly firmer.
USDA reported soybean sales of 132,000 metric tons (MT) for delivery to China during the 2021-22 marketing year.
Strategie Grains lowered its European Union soft wheat crop estimate for 2021 by 1.8% to 129.1 million metric tons (MMT), which would still be a 10.3-MMT increase from last year's crop. The consultant also cut its EU soft wheat export forecast by 5.2% to 31.0 MMT.
POET, the U.S.'s largest biofuel producer, pledged to reach net-zero carbon emissions at its bioprocessing facilities by 2050. The company also said it would ensure its renewable, plant-based bioethanol reduces greenhouse gas (GHG) emissions by at least 70% compared to gasoline by 2030.
Brazil suspended exports of beef to China on Sept. 4 after confirmation of two atypical cases of bovine spongiform encephalopathy, but meat that was already at Brazilian ports continued to be exported as late as Sept. 9, Reuters reported.
Jordan made no purchase in its international tender to buy 120,000 MT of wheat but issued a new tender to buy 120,000 MT of milling wheat from optional origins. South Korea's largest animal feedmaker, Nonghyup Feed Inc., bought an estimated 201,000 MT of animal feed corn and 65,000 MT of feed wheat in an international tender, with both shipments likely from South America or South Africa. South Korea's Major Feedmill Group bought around 198,000 MT of corn in a private deal.
CORN: Net U.S. corn export sales for the week ended Sept. 9 totaled 246,600 MT, with Mexico the lead buyer at 154,300 MT. Sales fell far short of trade expectations ranging from 500,000 MT to 1 MMT. December corn overnight reached $5.37 1/2, the highest intraday price since $5.45 1/2 on Aug. 31. Chart levels to watch include the 40-day moving averages around $5.43 1/2 and last week's low at $4.97 1/2.
SOYBEANS: Net weekly U.S. soybean sales totaled 1.26 MMT, primarily for China (945,200 MT) and "unknown" destinations (163,000 MT). Expectations ranged from 600,000 MT to 1.4 MMT. November soybeans overnight reached $13.02 3/4, the highest intraday price since $13.05 3/4 on Sept. 7. Chart levels to watch include the 40-day moving average at just under $13.23, as well as last week's low at $12.62 3/4 and the 200-day moving average around $12.66.
WHEAT: Net weekly wheat sales totaled 617,100 MT, a marketing-year high and up 59% from the previous week. Sales were at the high end of trade expectations ranging from 300,000 to 700,000 MT. Overnight, December SRW futures rose to $7.16 3/4, the highest price since Sept. 8, before fading.
LIVESTOCK CALLS
CATTLE: Mixed-weaker
HOGS: Steady-firm
CATTLE: Live cattle futures have bounced back after dropping to three-month lows earlier this week but remain burdened by sliding beef prices. Choice cutout values fell $3.07 yesterday to $319.82, the 13th consecutive daily decline and a five-week low. Weaker beer prices have given packers little reason to raise cash bids. Cash cattle trade picked up yesterday between $123 and $125, consistent with the lower end of last week's action. Net weekly U.S. beef sales totaled 15,300 MT, up 23% from the previous week and up 24% from the prior four-week average.
HOGS: This week's rebound in wholesale pork prices suggests futures may have established a short-term bottom. Pork cutout values rose 50 cents yesterday to $105.70, which followed a gain of more than $4 Tuesday. Movement totaled 402 loads. National direct carcass values averaged $83.50, down 57 cents from yesterday. The latest CME lean hog index fell 63 cents to $96.77, the lowest since $95.97 on March 25. Slaughter so far this week was an estimated 1.433 million head, down 1.4% from the same period a year ago. Net weekly U.S. pork sales totaled 25,300 MT, down 25% from the previous week and down 9% from the prior four-week average.