Ahead of the Open | September 13, 2021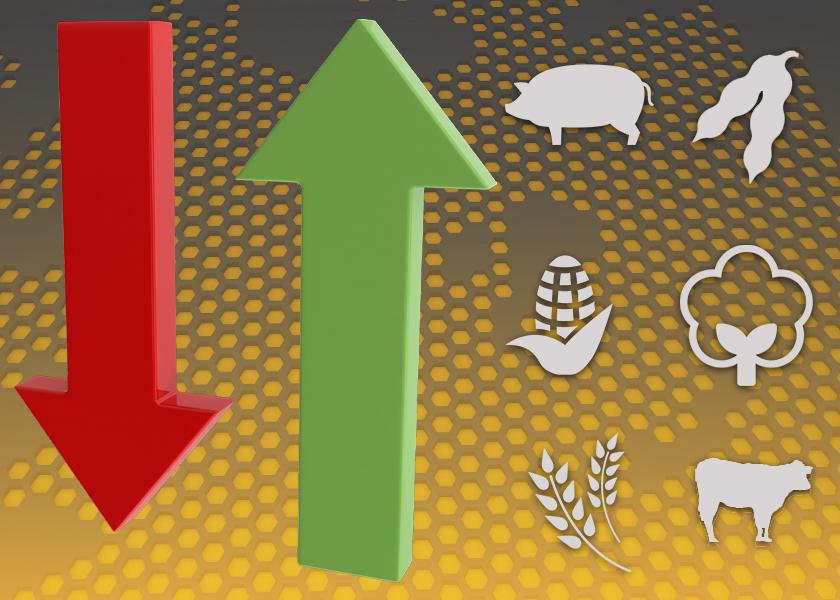 GRAIN CALLS
Corn: Steady to 6 cents lower.
Soybeans: Steady to 6 cents lower.
Wheat: 5 to 11 cents lower.
GENERAL COMMENTS: Corn and soybean futures fell overnight as they were unable to build on last Friday's corrective gains. Wheat futures also fell. Malaysian palm oil futures rose about 1% while Nymex crude oil futures rose over 1%. The U.S. dollar index was slightly firmer.
USDA announced a daily sale of 132,000 metric tons (MT) of soybeans to unknown destinations for the 2021-22 marketing year, which followed similarly-sized sales to China last Thursday and Friday. Since the beginning of August, USDA has reported over 3.8 million MT of U.S. soybean sales to China or "unknown" destinations.
Midwest weather is expected to be mostly favorable this week, though Tropical Storm Nicholas may bring heavy rain to the middle and upper Texas Coast and possibly to areas of the Delta, according to World Weather Inc. The storm is expected to make landfall late tonight or early Tuesday. A mix of precipitation and sunshine is likely in the Midwest and Southeast this week.
Russian wheat prices climbed or the ninth week in a row. The ag consultancy IKAR said Russian wheat with 12.5% protein loading from Black Sea ports for supply in early October was $300 per metric ton, free on board, at last week's close—up 50 cents from the week prior. The ag research consultancy SovEcon estimates prices climbed $2 to $303 per MT by week's end.
India has lowered its base import taxes on palm oil, soyoil and sunflower oil as the world's biggest vegetable oil importer tries to temper near-record price spikes.
China lowered its 2021-22 estimates for consumption of corn used to make animal feed amid low hog prices, the agriculture ministry said Friday. The official figure is closely watched as plunging prices of pigs in China continued to weigh on demand for animal feed and also impacted global trade, Reuters reported. China's 2021-22 feed consumption for corn was seen at 187 MMT, down 3 MMT from previous month's forecast, according to a monthly crop report last Friday.
China's African swine fever (ASF) outbreak sent its consumers on the hunt for alternative sources of protein, and fish has historically been among the cheapest sources. But after a 50% price spike the past year, fish prices now top those for chicken and pork.
Saudi Arabia's state wheat buying agency purchased 382,000 metric tons (MT) of the grain in an international tender; The EU, Black Sea region, North America, South America and Australia submitted offers.
CORN: December corn fell as low as $5.08 1/2 overnight after gaining 7 1/2 cents Friday following USDA's crop report. USDA raised its U.S. crop estimate to 14.996 billion bu., up 246 million bu. from its August forecast and about 54 million bu. above trade expectations. If futures can hold above last week's lows, that may be a signal the market has established a short-term bottom. Large speculators cut their net long positions in corn futures and options for the third week in a row, to the smallest since mid-July, according to CFTC data.
SOYBEANS: November soybeans fell as low as $12.78. 3/4 overnight after dropping 5 1/2 cents last week. While USDA raised its 2021 soybean crop estimate and cut usage forecasts, the 2021-22 production and carry-out forecasts were comparable to pre-report estimates by industry analysts, which triggered a relief rally.
WHEAT: December SRW wheat futures fell as low as $6.80 1/4 overnight after reaching a seven-week low Friday.
LIVESTOCK CALLS
CATTLE: Steady-weak
HOGS: Steady-mixed.
CATTLE: October live cattle futures fell 1.1% last week to $123.425 after matching a two-month low. Futures showed signs of stabilizing late last week but may remain under pressure from an eroding wholesale beef market. Choice cutout values Friday fell $5.36 to an average of $327.22, down 2.7% for the week and the lowest since $324.83 Aug. 13, USDA data showed. Cash trade softened late this week, with live steers in five top feedlot regions averaging $124.73 Friday, down from $125.73 a week earlier. Meatpackers slaughtered an estimated 577,000 head of cattle during a holiday-shortened week, down from 684,000 the previous week. Cattle futures' technical posture turned more bearish last week, though signs the market is oversold may limit downside. Chart levels to watch include $123.025, last week's low and the 200-day moving average around $123.20.
HOGS: October lean hog futures tumbled 8% last week to $82.45, the lowest closing price since mid-April. But seasonal patterns suggest cash hog and wholesale pork values may turn higher this week. The latest CME lean hog index was $97.96, the lowest since March 26 but still over $15 above October futures. Pork carcass cutout values fell $3.60 Friday to $105.10, down 2.8% for the week and the lowest daily average since $103.26 on March 22. Slaughter during the holiday-shortened week was an estimated 2.27 million head, down 5% from 2.39 million the previous week.