Ahead of the Open | October 13, 2021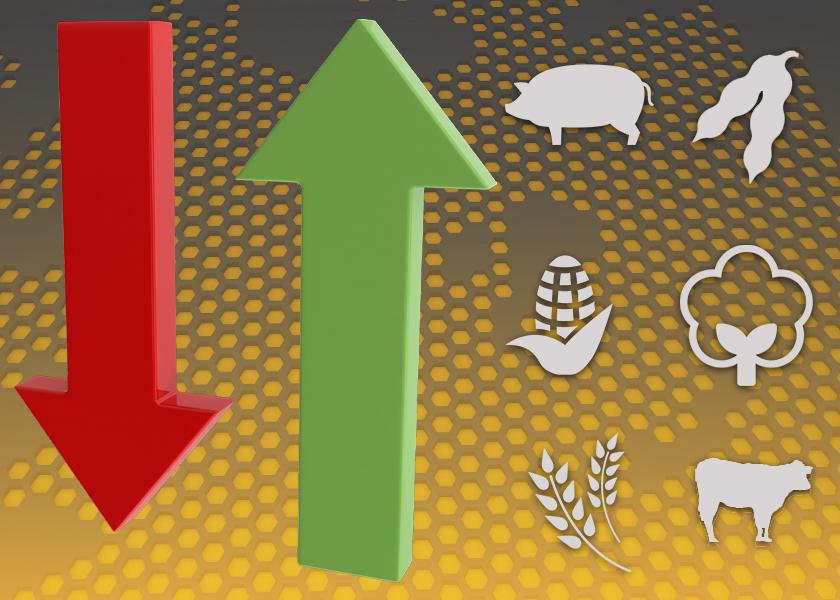 GRAIN CALLS
Corn: 2 to 3 cents lower.
Soybeans: 5 to 6 cents lower.
Wheat: Steady to 6 cents lower.
GENERAL COMMENTS: Soybean futures firmed overnight after sinking to the lowest levels in over six months yesterday following USDA's higher-than-expected production and ending stocks forecasts. Corn and wheat futures were weaker. Malaysian palm oil futures rose over 3.0% to a record high, while Nymex crude oil futures declined. The U.S. dollar index is little changed this morning.
USDA reported daily sales of 161,544 metric tons (MT) of corn for delivery to "unknown destinations," 330,000 MT of soybeans for delivery to China and 198,000 MT of soybeans for delivery to unknown destinations, all for the 2021-22 marketing year.     
China imported 6.88 MMT of soybeans during September, a 30% drop from year-ago and a 28% decline from August, according to customs data. Demand has faded amid a drop in demand from hog producers and weak crush margins.
China imported 694,000 MT of meat in September, a 17% drop from year-ago and an 8% decline from August, according to customs data. That was the lowest import tally since February 2020.
CORN: December futures settled at a three-week low yesterday after USDA's updated crop and yield estimates surpassed trade expectations. Also yesterday, USDA reported 41% of the U.S. corn crop was harvested as of Oct. 10, up from 29% a week earlier and above the average for the previous five years of 31%. December futures overnight fell as low as $5.19, the lowest intraday price since $5.16 on Sept. 22.
SOYBEANS: November soybeans dipped below the $12.00 level after USDA said yesterday it raised its estimate for the U.S. soybean crop to a record 4.448 billion bu., above trade expectations for 4.415 billion bu. and up from 4.374 billion bu. USDA estimated in September. Also yesterday, USDA reported farmers harvested 49% of the soybean crop as of Oct. 10, up from 34% a week earlier and above the five-year average of 40%. November soybeans overnight fell as low as $11.98 1/4, above yesterday's low of $11.94 3/4, before rebounding above unchanged.
WHEAT: Yesterday's USDA Supply and Demand Report underscored tightening domestic and global supplies. USDA cut its projected 2021-22 U.S. ending stocks estimate by 5.7% to 585 million bu., while estimated 2021-22 global ending stocks were cut 2.1% to 277.18 MMT, a five-year low. USDA also reported 60% of the winter wheat crop was planted as of Oct. 10, up from 47% a week earlier and matching the five-year average.
LIVESTOCK CALLS
CATTLE: Steady-weak
HOGS: Steady-weak
CATTLE: The extended slump in wholesale beef prices may keep pressure on live cattle futures, even though cash cattle have firmed slightly over the past week. Choice cutout values fell 27 cents yesterday to an average of $280.85, the lowest daily price since $278.46 on July 30. Cutout values have been in a nearly uninterrupted slide since late August, suggesting weak retail demand as consumers balk at high-price beef. Boxed beef likely must bottom before futures can generate sustained buying. In the cash markets, live slaughter-ready steers last week averaged $122.96, up 40 cents from the previous week and the first weekly increase in six. On cash markets, a few hundred head of sales at $124 were reported in Texas, steady with last week.
Chart levels to watch in December live cattle include the 10-, 20- and 200-day moving averages, all around or slightly above $128.00, and just under yesterday's low at $129.10.
HOGS: Futures may extend yesterday's slide to a two-week low on eroding chart patterns and soft cash market fundamentals, though a longer-term outlook for tighter animal supplies may limit declines. Pork carcass cutout values fell $5.63 to $102.38, the lowest daily price since $101.12 on Sept. 13 and led by a plunge of over $10 in hams. Movement totaled about 434 loads. The CME lean hog index is at $90.94, down 66 cents on the day and the lowest level since mid-March. December lean hogs fell $2.00 yesterday to $78.175, the lowest closing price since $76.80 on Sept. 24. Yesterday's intraday low of $78.05 was slightly above the 200-day moving average around $77.95. December hogs have nearly closed the Sept. 27 gap on the daily chart, the bottom end of which is the Sept. 24 high of $77.20.