Ahead of the Open: Grains, Soybean Start Last Week of May Lower on Improving Weather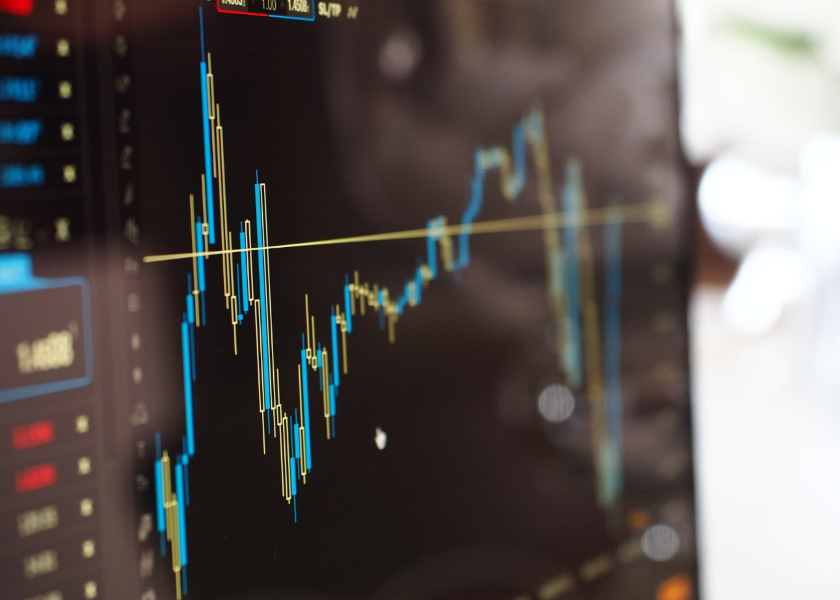 GRAIN CALLS
Corn: Down 10 to 15 cents.
Soybeans: Down 8 to 14 cents.
Wheat:  Down 12 to 16 cents.

GENERAL COMMENTS: Corn, soybeans and wheat are posting double-digit losses this morning as speculative money is leaving the grain markets, extending a month-long exodus amid improving weather and global crop outlooks.  Friday afternoon's CFTC Commitments of Traders report showed the largest weekly collective selling in the grain and soybean complex is a year, with combined net-long positions fell to its lowest points since mid-October. Meanwhile, commercials were net buyers of nearly 47,000 corn contracts, over 24,000 soybean futures and options and 21,000 soymeal contracts. 
Over the weekend it rained over central Brazil, and it rained hard over the Dakotas and parts of the Canadian Prairies, and that put pressure on the markets to start the last trading week of May ahead of the holiday weekend. It is all about the weather. The front-end of the markets may find support from firm cash markets but there is little headline news with a long weekend coming up as the markets will be closed Monday, May 31. The corn market's focus remains on how quickly China will ship old-crop sales on the books. USDA updates weekly export inspections at 10 a.m. CT this morning. The demand for corn to meet to meet those shipments should support firm basis and futures if China doesn't roll some sales to new-crop delivery.  Soybean traders continue to be disappointed Chinese buying of new-crop soybeans has not developed with the Chinese corn purchases.  The charts are down on the beans and oil, and the charts are down and oversold on the meal, corn, and wheat. Right now, the weather is too good to look for a strong short-covering rally. Traders are looking for tonight's weekly USDA Crop Progress Report to show corn planting 90% to 93% finished, up from 80% last week while soybean planting progress advanced to 77% to 80% done, up from 59% on average for the time period.  U.S. spring wheat planting is expected near complete, but spring crop ratings are expected near 50% to 55% rated in the "good" and "excellent" categories, historically low.
Most U.S. crop areas in the Great Plains, Midwest, Delta and southeastern states will get rain at one time or another over the two weeks maintaining a good environment for summer crop development. Temperatures will be cooler biased especially in the northern Plains and upper Midwest. Temperatures will be warmer than usual in the southeastern states this week while rainfall is lacking.
The rainfall brought relief to persistent dry weather in Safrinha crop areas of Brazil. Much of the rain fell too late to seriously improve production, but some of the very latest crop might have benefited, although it was badly impacted by the past few weeks of rain and will still yield poorly. Safrinha crop areas will not be as dry as they have been again through the next couple of weeks, despite drying next week.
China weather will improve in the south and remain good in east-central and many northeastern states. Less rain in Heilongjiang and Jilin might be welcome for a little while. Southeast Asia palm oil production areas are expecting a good mix of weather, as well along with Europe, southern parts of the CIS and India. Some rain will fall in Russia's southern New Lands during the next couple of weeks easing recent dryness, but the relief will come slowly.
Before the reopening this morning, USDA did not announce any new sales to China for a second straight session, after a string of 10 days of new daily sales announcement that included new sales to China nine days and totaling more than 10.6 MMT since May 7. The trade may be disappointed by the lack of new sales.
Seven grains ships stranded at Argentina's export hub of Rosario will be towed free and sent out to sea after they were loaded with more produce than could be carried on the port's increasingly shallow waters, local authorities said on Friday. Rosario traffic has been snarled in the aftermath of a 48-hour strike by tugboat captains and other workers managing the flow of agricultural cargo ships.
Seven ships, six of them large Panamax vessels, loaded with soymeal, corn and other farm products were moored at Rosario during the work stoppage. After the strike they were unable to embark because they had been loaded with more cargo than could be carried on the port's increasingly shallow waters. Paraguay and Brazil have agreed to release water from the Itaipu dam to facilitate barge traffic that had been stalled by the shallowness of the Parana.
Brazil's infrastructure minister has predicted a boom in development highways, railways and airports… "Brazil will become an immense construction site," Infrastructure Minister Tarcísio Gomes de Freitas told the Financial Times. "With the planned concessions, by the end of 2022, $50 billion will have been contracted in investments for the modernization of airports, ports, highways and railways. In other words, the equivalent of more than 30 years of the public budget for infrastructure," he said.  The government's goal is to increase the participation of rail to 35% of the total cargo transported by 2035," Freitas said, pointing to the government's flagship project to build a railway to connect the vast agricultural interior with Amazonian riverine arteries.
China stepped up its fight against soaring commodity prices with a government commission saying there would "zero tolerance" for "excessive speculation" and hoarding which it said contributed to the recent rally. Iron ore futures dropped by the daily limit after the statement was issued and remained close to $182 a ton this morning. The warning comes amid increasing signs that Chinese commodity demand may be peaking as the country's central bank gradually restricts the flow of money to the economy and funding for infrastructure projects slows.
The dollar was pinned near three-month lows against a basket of major currencies on Monday, as bets on a robust global economic recovery continued to support currencies seen as riskier. The greenback, seen as a safe-haven trade, has steadily retreated over the past two months as optimism has built about the economic outlook. Currency analysts were already looking ahead to key U.S. personal consumption and inflation figures due Friday for any warning signs that U.S. inflation could be gathering pace and putting pressure on the Federal Reserve to taper policy. Traders are also watching for progress on a new stimulus package in the United States, after the White House pared down its infrastructure bill to $1.7 trillion on Friday but failed to gain Senate Republican backing. Copper prices rose on Monday as a softer dollar spurred modest purchases, but gains were capped by concerns over price curbs on industrial metals.  China's market regulators warned industrial metal companies to maintain "normal market order" during talks on the significant gains in metals prices this year. China's government also said last week that it would manage "unreasonable" price increases for commodities such as copper, coal, steel and iron ore.     
Three researchers from China's Wuhan Institute of Virology (WIV) sought hospital care in November 2019, a month before China reported the first cases of COVID-19, the Wall Street Journal reported on Sunday, citing a U.S. intelligence report. The newspaper said the previously undisclosed report - which provides fresh details on the number of researchers affected, the timing of their illnesses, and their hospital visits - may add weight to calls for a broader investigation into whether the COVID-19 virus could have escaped from the laboratory. China's foreign ministry spokesman, Zhao Lijian, said on Monday that it was "completely untrue" that three members of staff at WIV had fallen ill. The Journal report came on the eve of a meeting of the World Health Organization's decision-making body, which is expected to discuss the next phase of an investigation into the origins of COVID-19.
CORN:  Corn futures gapped lower overnight amid weakness in Chinese corn futures and beneficial weather. The July and December corn will need to climb back and close above the overnight gaps to keep corn in a base building base amid the huge Chinese new-crop buying the past two weeks. A close above last week's lows at $6.33 in July and $5.20 3/4 would be negative.
SOYBEANS: July and November soybean futures fell to fresh three-week lows overnight. July meal is testing key support at the March lows. July soymeal fell to the lowest in two weeks before paring losses into the break this morning. Malaysian palm oil futures fell for a fourth consecutive session on Monday. Meanwhile, China's most-active soyoil contract fell 1.8%, while its palm oil contract was down 3%.
WHEAT: Wheat futures tumbled to at least five-week lows overnight amid the beneficial rains across North America and carryover selling after last week's Kansas wheat tour showed record yield potential. Meanwhile, Egypt's state grains buyer, the General Authority for Supply Commodities (GASC), set a tender on Saturday to buy an unspecified amount of wheat from global suppliers for shipment Aug. 8-22. GASC cancelled its last wheat tender on April 27 and made no purchase. The lowest bid came from Romania, European traders told Reuters. Results are expected later today.
CATTLE: Steady to firm
HOGS: Mixed to firm
CATTLE:  Choice and select boxed beef values climbed 99 cents and 70 cents, respectively, on Friday, but movement slowed to 67 loads. Last week's kill climbed a welcome 4.5%, with the aggressive product market rally signaling the need for more production. Packers, meanwhile, continue to enjoy historic profit margins near $800, according to HedgersEdge.com's update Friday. The Cattle on Feed Report is unlikely to have any major impact on price action this week, with last year's pandemic disruptions making year-to-year comparisons a challenge. Another update on frozen beef stocks arrives today. On average over the past five years frozen beef stocks have contracted 11.4 million lbs. from the end of March to the end of April.
HOGS: Hogs are likely heading for a seasonal peak this week, but it will require signs of slower domestic and export demand.  The pork cutout value shot another $1.64 higher on Friday, with all cuts except bellies climbing. Movement improved to 335.31 loads. This was the third consecutive day of gains for the product market, with the pork cutout ending the week at $120.86. That helped futures to rally on Friday. National average direct hogs fell $2.99 on Friday. Pork production edged 0.4% lower last week, while slaughter was little changed week-over-week. Today, USDA's monthly Cold Storage Report will provide a read on demand. On average over the past five years, frozen pork stocks have climbed 19.9 million lbs. from March to April.