Ahead of the Open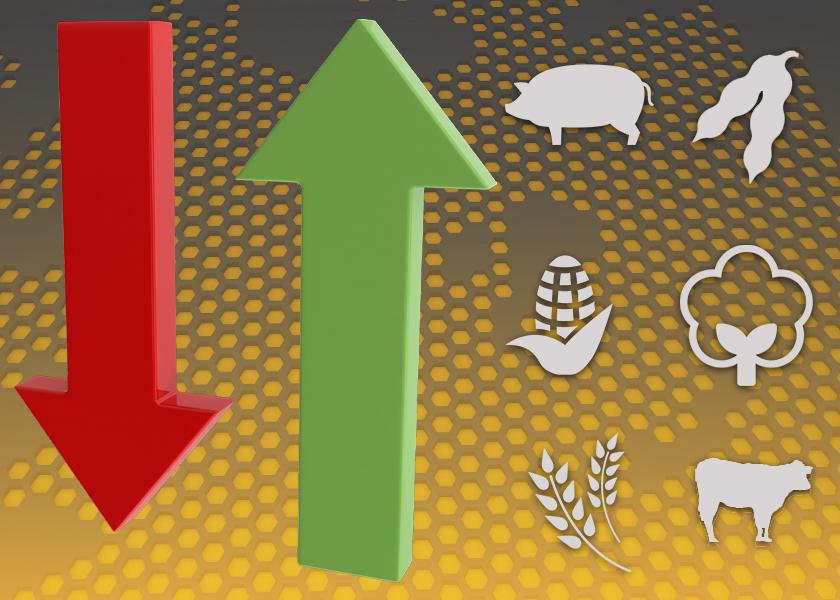 Corn: 1 to 5 cents higher.
Soybeans: 5 to 9 cents higher.
Wheat: Steady to 7 cents lower.
GENERAL COMMENTS:
Corn and soybean futures climbed overnight, while wheat futures were mixed. Extreme heat and dryness in the Midwest remains a concern as the market awaits the USDA's monthly Supply and Demand Report scheduled for 11 a.m. CT.
Another round of "meaningful" rain is likely for the Northern Plains and Canada's eastern Prairies today into early Friday, according to World Weather Inc. The rain is not expected to change the dry trend, as another dry stretch is expected to follow. Net drying is expected to continue in the western Corn Belt, but a shift in the high pressure brings at least the chance of some showers for some parts of the region, according to World Weather. No soaking rains are expected. For Midwest corn and soybean areas, the European forecast model predicts minimal precipitation for the next 10 days, World Weather said, while the U.S. model offers better rain chances.  
In the USDA's Supply and Demand, the government is expected to trim its old-crop corn carryover estimate by 50 million bushels to 1.207 billion bu. and lower its new-crop carryover forecast by 84 million bu. to 1.423 billion bu., according to analysts polled by Reuters.
Old-crop soybeans carryover is expected to be increased slightly to 122 million bu., while new-crop carryover is expected to be raised 6 million bu. to a still-tight 146 million bushels. USDA is expected to peg old-crop wheat carryover is at 869 million bu., down 3 million bu. from its May forecast. New-crop carryover is expected to rise 9 million bu. to 783 million bushels. The market expects another drop in USDA's new-crop cotton ending stocks projection to 2.99 million bales.
Weekly export sales figures released earlier this morning were within expectations for wheat but on the low end of estimates for corn and soybeans.
The Food and Agriculture Organization of the United Nations (FAO) released a new biannual Food Outlook report that shows the world food import bill in 2021 is likely to total $1.72 trillion in 2021, a 12% surge from its previous high of $1.53 trillion in 2020. FAO says, "Global food trade is poised for a resilient year ahead even as international food commodity prices are set to remain high amid supply and demand uncertainties," adding that trade flows continued to reach new highs in the midst of the Covid-19 pandemic.
CORN:
USDA reported corn export sales for the week ended June 3 of 189,600 MT for the 2020-21 marketing year, down 64% from the previous week and down 39% from the prior four-week average. For 2021-22, net sales were 26,400 MT. Traders expected old-crop corn sales between 100,000 MT and 500,000 MT and new-crop sales from 200,000 MT to 600,000 MT. July futures came within 1/4 cent of $7 overnight.
SOYBEANS:
Net soybean export sales of 15,700 MT for 2020-21 were down 12% from the previous week and down 75% from the prior four-week average. For 2021-22, net sales were 105,000 MT. USDA export sales were expected to show total U.S. soybean sales of 100,000 MT to 400,000 MT.
WHEAT:
Net export sales of 325,900 MT for 2021-22 were primarily for South Korea (80,300 MT), the Philippines (60,200 MT, including decreases of 32,900 MT), Honduras (39,500 MT) and Nigeria (37,300 MT).  A total of 837,100 MT in undelivered sales was carried over from the 2020-21 marketing year, which ended May 31. Traders expected export sales of 200,000 MT to 450,000 MT.
Today's USDA crop production report is expected to show U.S. all wheat production in 2021-22 at 1.881 billion bushels, based on the average analyst estimate. Estimated production is up slightly from the USDA's May forecast of 1.872 billion bushels.
CATTLE: Steady-mixed
HOGS: Steady-mixed
Strong beef prices should continue to underpin cattle futures. Choice beef cutout values yesterday rose 4 cents to $338.65 per hundredweight, according to the USDA. Cutout values are down slightly from a 12-month high last week, but still up about 25% for the five-year average for this time of year. Live steers averaged $119.92 per hundredweight yesterday, matching last week's average. USDA reported net weekly beef sales of 16,100 MT reported for 2021, up 28% from the previous week, but down 17% from the prior four-week average. 
HOGS:
Strong cash markets continued to support futures. The CME lean hog index yesterday rose $1.26 to $117.77. The national direct cash carcass price yesterday averaged $115 per hundredweight, up $2.66. On wholesale markets, pork carcass cutout values averaged $134.38, down 56 cents from the previous day but still up from $132.63 at the end of last week. Net weekly pork sales of 19,700 MT reported for 2021 were down 19% from the previous week and 24% from the prior four-week average.