Ahead of the Open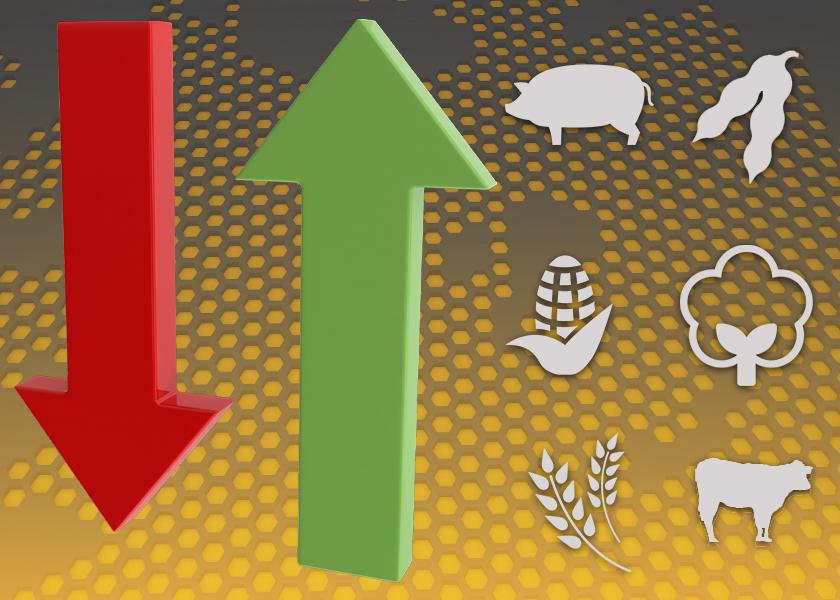 GRAIN CALLS
Corn:  Down 5 to 7 cents.
Soybeans: Down 5 to 8 cents.
Wheat:  Down 3 to 10 cents.
Normal closes for grain and livestock futures on Friday. Grains reopen with the normal overnight session on Monday, May 31. Livestock reopens at 8:30 a.m. CT on Tuesday.

GENERAL COMMENTS:  Grains and soybeans extended Thursday's big rallies overnight before running into some pre-holiday profit taking.  After this week's volatile price swings, few traders or commercials are interested in taking on market risk ahead of the long holiday weekend. The weather clearly leans negative in the near term.   
Rain coverage was strong in the heart of the Midwest the past 24 hours but still on the lighter side in Iowa and nearby areas. Rains are pushing east today, and showers will be more scattered over the next five days, heaviest in the Southern Plains and raising wheat quality concerns. Meanwhile, the 6- to 10-day maps are a little drier today but rains are expected to return after. Temperatures are cold today and into the weekend but are forecast to rise into June.  Frost and freezes in North Dakota and southwestern Manitoba, Canada overnight has likely damaged some crops, but assessing the impact will be slow in coming because of the holiday weekend, according to World Weather. The Northern Plains will need greater rainfall for improvement of subsoil moisture; however, recent rain has been very beneficial and lighter, more erratic showers in the next seven days will benefit fieldwork advancement in the region. The southeastern states will need better rain with the current dry, warm trend in place the next week.
Before the reopening this morning, USDA did not announce any new private exporter sales this morning. That follows yesterday's flash sale announcement of 152,400 MT of new-crop corn for delivery to unknown destinations.  The lack of new daily sales may add to some pressure in corn this morning.
Yesterday, crude oil futures closed at the highest price since October 2018 on the daily continuation chart, extending its second straight monthly gain. Prices are firmer today. U.S. equity futures advanced on Friday as a risk-on mood took hold in global markets, fueled by solid economic data, President Joe Biden's federal spending plans and optimism central banks will maintain stimulus. Treasuries were steady and the dollar strengthened.
China's Hong Kong crackdown is simmering again, with legislature in the city approving a sweeping, Beijing-drafted overhaul of its elections. The changes dramatically curtail the opposition's ability to participate in government and came on the same day that authorities banned a large pro-democracy vigil. It effectively ends China's only experiment with open elections. The developments will be closely watched by the Biden Administration.  Earlier this week U.S. Trade Representative Katherine Tai and China's Vice Premier Liu He had a "candid" first conversation as the two sides try to resolve some of their differences on trade. 
The China Securities Regulatory Commission (CSRC) said is paying more attention to commodity price fluctuations and has been cracking down on irregularities in the futures market amid concerns about higher prices being passed on to consumers. "CSRC will help manage commodity prices in coordination with other government bodies," CSRC spokeswoman Gao Li told a media briefing.
Currency traders have been captivated this week by the relentless rise in China's yuan. A basket measuring the currency's strength against 24 global trading partners' exchange rates hit a five-year high on Thursday. Rising capital inflows and a weaker dollar have helped drive the rally, underpinned by a brightening outlook for the economy. A stronger exchange rate will make imports cheaper for China, cushioning some of the recent strength in commodity prices and helping boost domestic consumption -- a key goal of President Xi Jinping. But it also risks worsening inflation fears in other countries, by making exports more expensive.
CORN:  After July soared limit up and December closed sharply higher, follow-through strength is needed to strengthen the outlook. With the holiday Monday, the key will be next week's price action. But Wednesday's lows are likely important benchmarks in corn. Even daily closes below those prices, posted near psychologically significant barriers at $6.00 in July and just above $5.00 in December, would likely spark heavier selling.  Corn futures on the Dalian Commodity Exchange rose overnight paring this month's losses. Chinese officials continue try to talk down commodity prices including corn. 
SOYBEANS: July soybeans found support at the last daily reaction low, rebounded sharply yesterday. The opened higher last night and retreated from overhead resistance at the 20-day moving average. Still both July and November futures are heading for a higher weekly close at current price levels.  November close last week at $13.50 1/4 and July settled at $15.26 1/4. Those will be key closing pivot prices later today. Russia's government will reduce the country's 30% export duty on soybean exports to 20%, beginning July 1. The new duty that was enacted to help control domestic food price inflation will remain in place until September 2022, according to TASS news agency. Malaysian palm oil futures rose 2.5% overnight, capping a 0.6% weekly gain after tumbling 11.4% a week earlier. China's soyoil futures on the Dalian Commodity Exchange rose 1% and the palm oil futures gained 0.8%. Chinese soybean prices rose Friday but still closed lower this week.
WHEAT: Wheat futures are following the corn market again this morning. Prices did trade higher early last night but failed to make headway above yesterday's highs. The condition of French soft wheat and barley crops improved in the week to May 24, data from farm office FranceAgriMer showed on Friday, in another sign that rainfall this month has alleviated dryness from earlier in spring. An estimated 80% of French soft wheat was in "good" and "excellent" condition, up from 79% the previous week.
CATTLE: Steady to firm
HOGS: Steady to firm
CATTLE: Cattle showed signs of stability yesterday, negating the weak price action on Wednesday.  Feeder cattle dropped sharply, with the renewed corn market rally weighing heavily on the market. Boxed beef prices have marched steadily higher and closed at the highest in almost 12 months, easing concerns a seasonal top is nearing. Yesterday, boxed beef prices climbed a modest 49 cents to 5 cents, and movement was moderately active. There were a few light cash market sales yesterday from $119 to $121.50, in line with more active trade earlier in the week. Packer profit margins remain strong at $828.50 a head, according to HedgersEdge.com.
HOGS: Pork Lean hog futures settled mixed on Thursday, with ongoing strength in the cash and product markets lifting summer contracts. Cash hog bids climbed $2.30 yesterday and the pork cutout value rose $2.39, with 310.52 loads changing hands. Packers profit margins have improved dramatically over the past week, climbing from a negative 80 cents per head May 20 to $19.85 per head on May 27, according to HedgersEdge.com. That has helped lift this week's kill 33,000 head from last week, with an estimated 1.931 million head slaughtered through Thursday as packers plan for the holiday on Monday.  On Thursday, the weekly slaughter report showed an average barrow and gilt carcass weight at 213 lbs., down 1 lb. from the previous week and off 7 lbs. from the January high. This was the first week of 2021 that weights were below a year ago. Pork exports remain strong, with cumulative exports now above last year. However, outstanding sales are off 24% on lower sales to China. Slowing exports to China will add to the available US supply in the last half of 2021. Daily momentum is waning, a possible sign a price peak is near.