First Thing Today: Grain, soy futures pull back from recent gains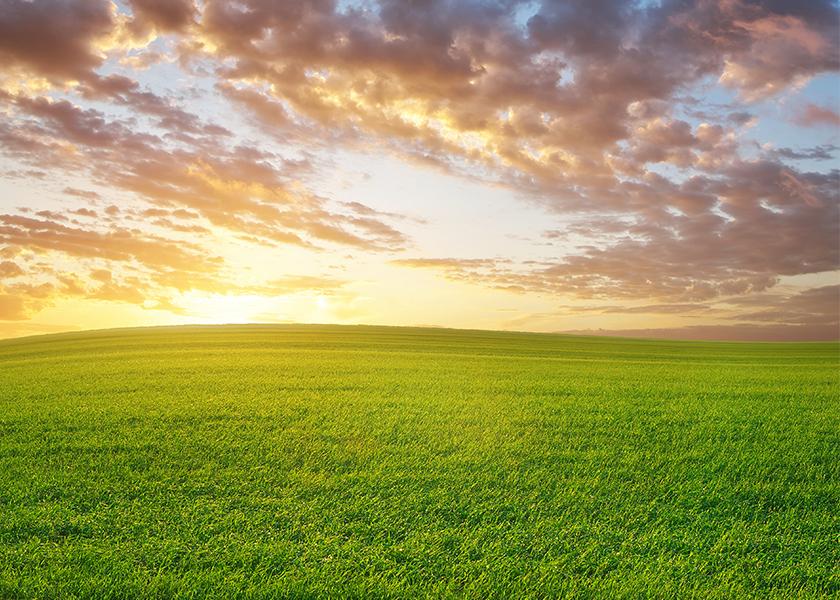 Grain and soy futures pull back overnight... Corn, soybean and wheat futures pulled back from their recent gains overnight, with soybeans leading the decline. As of 6:30 a.m. CT, soybeans are 7 to 8 cents lower, corn is around 2 cents lower, winter wheat futures are 3 to 7 cents lower and spring wheat futures are mostly steady to 2 cents lower. The U.S. dollar index is trading just above unchanged, while front-month crude oil futures are around 65 cents lower after nearly touching $84 earlier overnight.
Mexico will keep importing GMO corn from the United States... Mexico will continue to import U.S. GMO corn, according to Mexican Agriculture Minister Victor Villalobos after meeting Wednesday with USDA Secretary Tom Vilsack in Iowa. "We will continue requiring and demanding yellow corn from the United States," he told reporters, noting the country depends on yellow corn for "agro industries." However, the country will not allow GMO corn to be grown in the country. The import situation had been in flux since a presidential decree that sets the stage for a halt to GMO corn imports that was expected to apply to food uses for the corn. But there has been some confusion as some have suggested the coming ban could apply to feed corn as well. The comments from Vilsack and Villalobos suggest Mexican imports of U.S. corn for feed use will continue. There were no comments from Vilsack or Villalobos at this stage on GMO crop approvals that have also been in flux. That will be the next important issue to be monitored.
Weekly Export Sales Report out this morning… For the week ended Oct. 14, traders expect:
| | | |
| --- | --- | --- |
|   | 2021-22 (in MT) | Last week |
| Corn | 700,000-1,400,000 | 1,039,883 |
| Wheat | 250,000-650,000 | 567,598 |
| Soybeans | 1,500,000-2,500,000 | 1,147,834 |
| Soymeal | 150,000-400,000 | 365,418 |
| Soyoil | 4,000-25,000 | 19,782 |
Strategie Grains raises EU wheat export forecast... Private consulting firm Strategie Grains raised its EU wheat crop forecast by 400,000 MT to 129.5 MMT, which would be up 10.5 MMT (8.8%) from last year. It now expects the EU to export 32 MMT of wheat in 2021-22, up 1 MMT from its prior forecast due mostly to strong shipments from eastern countries in the bloc. Strategie Grains raised its EU corn crop forecast by 2.6 MMT to 67.5 MMT, which would be up 2.9 MMT (4.5%) from last year. As a result of the bigger production, the firm cut its 2021-22 EU corn import forecast by 500,000 MT to 13.9 MMT, which would be down slightly from 2020-21 imports.
Port of LA cargoes processed hit record highs... The Port of Los Angeles processed 903,865 Twenty-Foot Equivalent Units (TEUs) in September, the busiest September ever in the Port's 114-year history. Year to date, overall cargo volume stands at nearly 8.2 million TEUs, an increase of 26% compared to 2020. Gene Seroka, the port's CEO, said: "Despite the global supply chain challenges, the Port of Los Angeles and its partners continue to deliver record amounts of cargo. This is made possible by the extraordinary effort of our longshore workers, truck drivers, terminal operators and so many others on the waterfront and in our region's warehouses. I'm grateful to all of them. Of particular note is the great work by BNSF and Union Pacific, which have reduced the rail backlog in half in the last month and by two-thirds over the last two months."
California issues executive order to ease supply-chain bottleneck... California Governor Gavin Newsom issued an executive order to address the shortage of truck drivers and container storage to try to move critical cargo out of the state's ports and alleviate congestion. The order directs agencies to find state, federal and private land for short-term container storage while identifying freight routes for trucks so officials can temporarily exempt weight limits on the road. It also addresses educational programs and training for port workers and others in the supply chain.
Fed official: Lingering inflation could change interest-rate outlook... Fed governor Randal Quarles warned that extended high inflation through next spring could force the U.S. central bank to consider raising interest rates sooner than anticipated. He still expects higher prices to ease next year as bottlenecks and supply-chain disruptions fade. If the Fed raised rates in response to recent price surges driven by the economic reopening, the central bank could constrict demand at the same moment that supply bottlenecks abate, Quarles said. That could lead to undesirably low levels of inflation and employment. "The flipside of that dilemma… is that 'transitory' doesn't necessarily mean 'short lived,'" Quarles said. The danger for the Fed is that longer-lasting supply-chain bottlenecks risk leading consumers and businesses to expect higher inflation in the future, which could force the Fed to respond by raising rates. He cited a related risk from additional government stimulus by the Biden administration that could put pressure on prices by boosting demand. "We can tolerate, if you will, an extended period of 2.5% inflation…much longer than we could an extended period of 4% inflation," said Quarles. "If we are still seeing 4% inflation…next spring, then I think we might have to reassess the speed with which we would be thinking about raising interest rates."
Where did all the workers go?... One partial answer: They started their own business. Applications for the employer identification numbers that entrepreneurs need to start a business have topped 5 million over the past 12 months, the highest level in records dating back to 2004, according to the Census Bureau. Filings among a subset of business owners who tend to employ other workers, called high-propensity applications, were also the highest on record. "The jump in intent to form new businesses likely reflects a necessity to adapt in response to job losses during the downturn as well as an opportunity to fill new economic needs amid changing consumer preferences, supply chain issues and novel circumstances brought on by the pandemic," the Economic Innovation Group's Daniel Newman wrote in a blog post.
Sinopec signs long-term supply deals for U.S. LNG with Venture Global... China will buy at least 4 MMT per year of liquefied natural gas (LNG) from Venture Global's proposed export project in Plaquemines Parish, Louisiana, under two long-term supply deals signed with Sinopec, according to the Financial Times. The location is expected to come on line in mid-2023. Financial Times also reported Sinopec's trading arm Unipec signed an agreement with Venture Global that will involve shipments of 1 MMT per year from the firm's Calcasieu LNG plant, which is to start initial exports later this year. The deals could mean eventual shipments of 5 MMT of LNG per year to China.
Slow trickle of cash cattle trade... Light, initial cash cattle trade this week has occurred at steady to slightly firmer prices versus week ago. But the trade has been so light it's not considered a good test of the market. With neither side looking likely to budge much ahead of Friday's Cattle on Feed Report, this week's cash trade could get pushed into late Friday.
Hog traders maintain pessimistic attitude... The CME lean hog index is down another 74 cents at $85.89 today. But winter-month hog futures are falling at a faster rate than the cash index. December hogs finished yesterday $9.865 below today's cash index. Part of the building pessimism is falling pork cutout values. The pork cutout has plunged $19.42 since the end of September.
Overnight demand news... Japan purchased 81,318 MT of wheat from its weekly tender, including 28,878 MT of U.S. supplies; the remainder was Canadian origin. Turkey bought 225,000 MT of wheat, with more purchases from the tender for 300,000 MT likely to come. Tunisia tendered to purchase 100,000 MT of soft milling wheat and 100,000 MT of feed barley – both optional origin.
Today's reports