After the Bell | September 3, 2021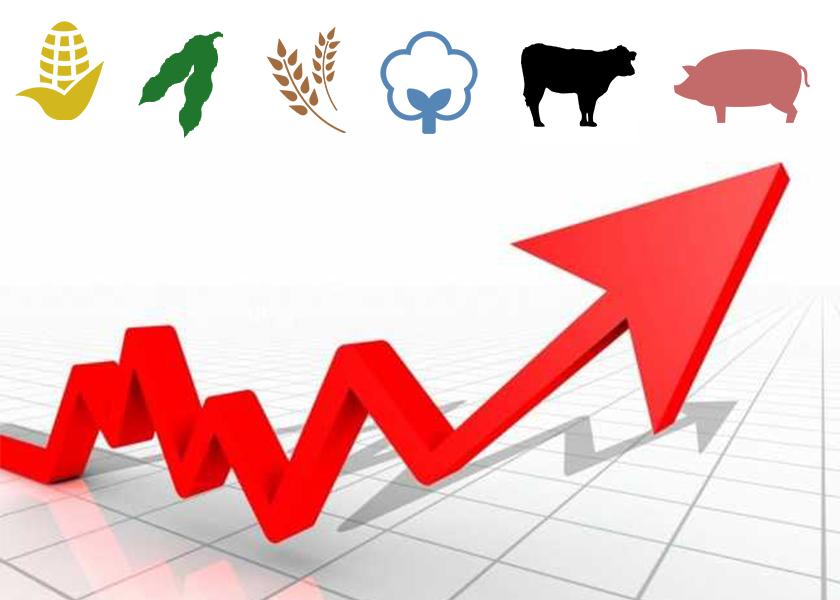 Corn: December corn futures fell 1 1/2 cents to $5.24 a bushel, down 5.4% for the week. Since the spike high of $5.94 1/4 in December futures on Aug. 12, the market has trended solidly lower. Technicals have turned increasingly bearish, suggesting prices next week could challenge key support at the July low of $5.07, or even the psychologically important $5.00 level. Adding to the negative tone, commodity broker StoneX raised its U.S. corn yield projection 0.6 bu. from last month, to 177.5 bu. per acre and increased its U.S. corn production estimate from 14.945 billion bu. to 14.998 billion. USDA's Sept. 10 Crop Production and Supply and Demand reports will be of keen interest, with analysts generally expecting increased U.S. corn production and yield forecasts.
Soybeans: November soybean futures rose 8 3/4 cents to $12.92 a bushel, down 2.4% from last week's close of $13.23 1/4. December soybean meal futures rose $1.00 to $341.00, but still ended down from last week's close, $352.40, and earlier today fell as low as $338.40, a nine-month intraday low. December soybean oil rose 21 points to 59.00 cents, from 60.34 cents at the end of last week. Following the three-day holiday weekend, focus will turn squarely to USDA's Sept. 10 Crop Production and monthly Supply and Demand reports. Analysts generally expect USDA to boost its soybean yield and production forecasts. China purchased more U.S. soybeans this week, and trade will be watching closely to see if that pattern continues into the harvest season and how quickly terminals in the Gulf Coast region reopen.
Wheat: December SRW wheat rose 9 1/4 cents to $7.26 1/4 a bushel, but still fell more than 6 cents on the week. December HRW wheat fell 1 cent to $7.23 and December spring wheat futures fell 5 1/4 cents to $9.12 1/2. Wheat futures trimmed losses ahead of the weekend, as fund selling from earlier in the week dried up. Much of the price action after the holiday weekend will be positioning ahead of USDA's Sept. 10 reports. USDA will update its U.S. wheat production forecasts, but it may wait until the Small Grains Summary at the end of the month to make any notable changes to spring wheat harvested acres. Globally, traders will watch for any additional cuts after USDA slashed projected 2021-22 ending stocks last month. Barring any major surprises, wheat will likely follow the lead of corn and soybeans.
Cotton: Most-active December futures rallied 73 points to 94.02 cents per pound, still down 82 point for the week. Traders will be watching the results of the weekly USDA Crop Progress report Tuesday afternoon for any signs of damage from Hurricane Ida in top growing regions. Anecdotal reports suggest the hurricane did little real damage to cotton in the region. Attention will then shift to USDA's weekly export sales, Crop Production and Supply and Demand reports, all on Sept. 10. Of particular interest will be whether USDA analysts cut their estimate of U.S. cotton plantings, since August data suggested USDA's previous estimate was about 400,000 acres too high. 
Cattle: October live cattle futures fell $1.25 to $124.80, down 3.3% for the week and the lowest closing price since $124.70 on July 20. October feeder cattle futures fell $2.575 Friday to $162.475 and hit a six-week low. The slumping wholesale beef market weighed on cattle futures most of the week. Choice cutout values early today fell another 23 cents to $337.69, the lowest in over two weeks. Cash cattle prices have traded around steady this week, with prices late this week ranging from $123 to $126. Stronger exports may help limit price downside. USDA this week reported U.S. beef net sales of 15,600 MT reported for 2021, up 49 percent from the previous week and up 24 percent from the prior four-week average.
Hogs: October lean hog futures fell 27.5 cents to $89.575 per hundredweight, down 1.3% from $90.725 at the end of last week. December futures fell 22.5 cents to $82.10. Slumping wholesale pork prices pressured futures, but a sharp rebound in cutout values today suggests the market is stabilizing and demand remains firm. Pork carcass cutout values early today surged $6.78 to $116.05, propelled by a jump of over $37 in bellies. Earlier this week, cutout values sank to the lowest levels since late March. The CME Lean Hog index fell sharply this week, with the latest reading down $1.35 to $101.32, the lowest since early April. The index' downturn is one of several indicators of expectations for seasonal weakness linked to expanding hog supplies coming to market in the weeks ahead. Still, the index holds a nearly $12 premium to October futures.