After the Bell | September 2, 2021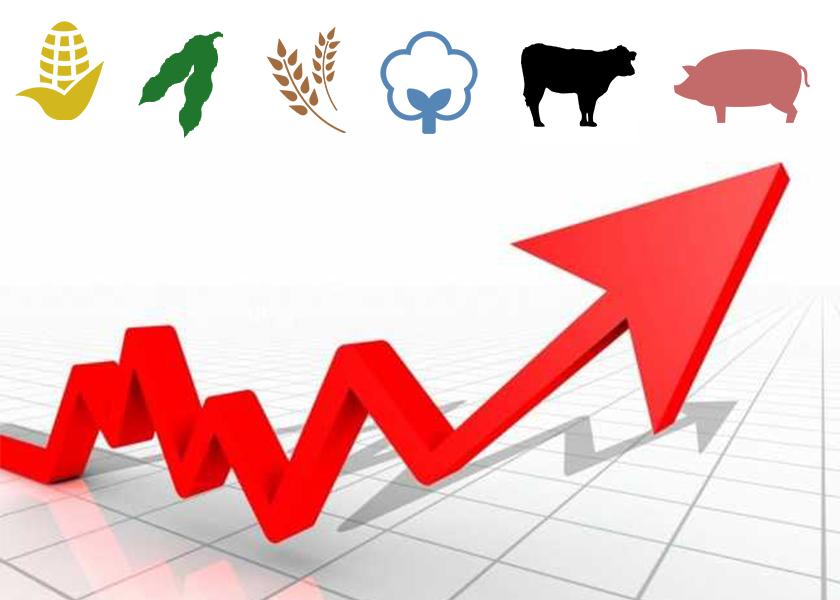 Corn: December corn futures rose 2 3/4 cents to $5.25 1/2 a bushel, after declining overnight to the lowest price since mid-July. The most-active contract is still down from $5.53 3/4 at the end of last week. Futures took initial pressure amid concerns damage from Hurricane Ida could disrupt U.S. Gulf grain exports for weeks. Stronger export news, combined with U.S. dollar weakness, helped corn futures bounce back. USDA's weekly export sales report was within trade expectations for new-crop corn, with net U.S. corn sales of 1.16 million metric tons (MMT) for 2021-22. Top buyers included Mexico (464,500 MT), Colombia (352,000 MT) and Canada (292,600 MT). For 2020-21, USDA reported a larger-than-expected net sales reduction of 300,800 MT.
Soybeans: November soybeans rose 5 1/2 cents to $12.83 1/4 a bushel, up from a nine-week low yesterday. December soybean meal fell $3.50 to $340.00 per ton, a 10-month closing low, while December soyoil gained 85 points to 58.79 cents per pound. Soybean futures bounced back from overnight losses after USDA export figures surpassed expectations. Net weekly U.S. soybean sales for 2021-22 totaled 2.13 MMT, led by China (1.26 MMT) and "unknown destinations" (654,000 MT). Trade expectations ranged from 725,000 MT to 1.4 MMT. USDA also reported a daily soybean sale of 126,000 MT to China for 2021-22. The soybean bulls were also encouraged by the yesterday's USDA U.S. soybean crush report, which showed July crushing of 166.4 million bushels, around 1 million bushels above trade expectations but still down from a record crush of 184.5 million bushels in July 2020.
Wheat: December SRW futures rose 2 3/4 cents to $7.17 a bushel and December HRW futures rose 5 cents to $7.09. December spring wheat rose 3/4 cent to $8.99 1/2. USDA's weekly export sales report was within expectations for wheat. Net weekly U.S. wheat sales for the week ended Aug. 26 totaled 295,300 MT, up "noticeably" from the previous week and up 15% from the four-week average, USDA reported. Expectations ranged from 200,000 to 450,000 MT. Strength in corn and soybean futures helped lift wheat prices. Also, the Food and Agriculture Organization (FAO), part of the United Nations, cut its forecast for global wheat production by 15 MMT to 769.5 MMT.
Cotton: December cotton gained 99 points to 93.29 cents a pound. Export sales and shipments for the week ended Aug. 26 came in at just 105,200 and 168,600 bales, respectively, suggesting cotton prices over 90.00 cents were curbing demand. However, futures strength today implied mills may be short bought on needs. China bought 8,400 bales and took shipment of 33,000 bales on the week. The U.S. dollar index slipped to its lowest level in nearly a month. A pickup in export demand will be needed to push futures to new highs unless mills are severely out of position. Traders are likely to be cautious on tomorrow ahead of the holiday weekend and USDA's September 10 crop report. 
Cattle: October live cattle dropped $1.525 to $126.05 per hundredweight, the contract's lowest settlement since $125.25 on July 21. October feeder cattle fell $3 to $165.05, the lowest close since Aug. 17. Live cattle futures ended at six-week lows as wholesale beef prices extended a recent slide and eroding charts spurred technical selling. Choice cutout values fell 53 cents early today to $337.92, the lowest in over two weeks, while cash trading in top U.S. feedlot areas remains sluggish. Weaker technicals and cash fundamentals overshadowed signs of stronger export demand. Early today, USDA reported net U.S. beef sales of 15,600 metric tons (MT) for the week ending Aug. 26, up 49% from the previous week and up 24% from the prior four-week average.
Hogs: October lean hogs fell 30 cents to $89.85 per hundredweight, down from $90.725 at the end of last week. Lean hog futures saw some mild profit-taking pressure even as cash market fundamentals improved. USDA today reported net U.S. pork sales of 33,500 MT, up 39% from the previous week and up 38% from the prior four-week average. Pork carcass cutout values rose $2.69 to $107.48 at noon today, after falling yesterday to the lowest daily price since late March. Hams were the lead gainers on movement of 144.20 loads. The latest CME Lean Hog index fell 94 cents to $102.67, the lowest since April. The index has dropped around $10 from its August 4 high of $112.48. Meatpackers slaughtered an estimated 1.907 million head of hogs so far this week, up from 1.86 million head over the same period last week and up from 1.9 million for the comparable period a year ago, USDA reported.