After the Bell | October 27, 2021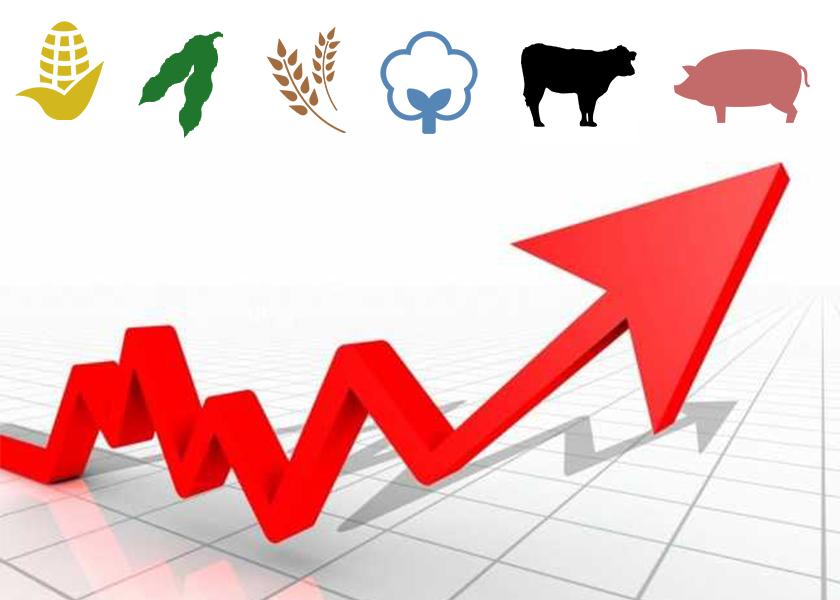 Corn: December corn futures rose 13 3/4 cents to $5.57 1/4, the contract's highest closing price since $5.65 on Aug. 18. Futures extended a two-week rally in part behind fresh readings of strong demand from the ethanol industry. The Energy Department reported U.S. ethanol production for the week ended Oct. 22 at 1.106 million barrels per day, the second-highest weekly average on record, next to 1.108 million bpd in late 2017. Further price support stemmed from forecast for a large low pressure area to strengthen tonight through tomorrow in the central U.S., which may lead to "significant" rainfall over much of the Corn Belt, according to World Weather Inc. Rains will likely slow harvest progress, which has been running ahead of average. Today's sharp gains may also reflect speculation China may be making a large corn purchase. Tomorrow's USDA export sales report is expected to show U.S. corn sales of 800,000 MT to 1.3 MMT for the week ending Oct. 21.
Soybeans: November soybean futures rose 1 1/4 cents to $12.39 1/4, while December soymeal gained $3.60 to $339.20 per ton. December soyoil tumbled 89 points to 61.42 cents per pound. Soybean and soymeal futures followed corn futures higher early today, but slipped later in the day as soyoil slumped. Expectations for stronger exports remained supportive for soybeans, along with the prospect of harvest delays. The recent absence of daily Chinese buying has muted price upside. Tomorrow's USDA export sales report is expected to show soybean sales of 1.25 to 2.0 MMT, compared to 2.878 MMT in last week's report. A sharp drop in crude oil futures and weakness in Malaysian palm oil prices undercut soybean oil.
Wheat: December HRW futures rose 5 1/2 cents to $7.82 3/4, the highest close for a nearby contract since May 2014, when the market peaked at $8.55 1/4. December SRW rose 7 1/2 cents to $7.59 3/4, the highest close since $7.75 Aug. 16. December spring wheat ended unchanged at $10.21 1/2. HRW futures extended a rally to near 7 1/2-year highs and SRW futures reached a two-month high behind concern over U.S. Plains dryness and spillover from sharp gains in the corn market. The bullish backdrop included European wheat futures, which climbed to the highest prices in over 13 years on a shrinking global supply outlook, with dry weather a potential threat to wheat crop in Russia and Ukraine. In the U.S., primary HRW areas "will continue to be in need of greater moisture" through the end of this month, World Weather Inc. said. USDA's next export sales report is expected to show U.S. wheat sales of 200,000 to 550,000 MT. Last week, USDA reported net U.S. sales of 362,400 MT for 2021-22, down 36% from the previous week and down 6% from the average of the previous four weeks.
Cotton: December cotton futures rose 181 points to 110.52 cents and near the session high. Sellers remain hesitant to step into the futures market, especially the December contract, given bullish global supply and demand fundamentals and recent volatility. The U.S. dollar index weakened today, while the S&P 500 and Nasdaq stock indexes reached record highs earlier this week, suggesting U.S. consumer confidence is strengthening as the holidays near and more demand for apparel. Large speculators remain heavily on the long side in cotton futures, while commercials hold big short positions. This scenario may tempt the speculators to establish fresh longs in hopes of forcing commercials to liquidate shorts.
Cattle: December live cattle futures rose 12.5 cents to $131.575, the contract's highest closing price since $132.20 on Sept. 2. November feeder cattle fell $1.30 to $158.475. Live cattle futures ended at an eight-week high on continued firmness in cash markets and carryover technical strength from yesterday's rally. Feedlot operators appear to be gaining ground against the packers, with bids for slaughter-ready steers around $124.00 in the Texas and Oklahoma markets and $126.00 in Nebraska. Late today, USDA reported live steers in five top feedlot areas at an average of $125.09, up from last week's average of $124.39. Wholesale beef prices are also trending higher despite weakness today. Choice cutout values fell $1.13 to $283.63, down from the nearly three-week high reached yesterday. Movement totaled about 162 loads. Feeder cattle took pressure from a rally in corn futures.
Hogs: December lean hog futures fell 60 cents to $71.975 per hundredweight, the lowest closing price since $71.925 on Feb. 19. Hog futures extended a sharp slump as cash fundamentals remained weak. Cash hog prices also continued a seasonal decline, as indicated by the preliminary CME lean hog index at $81.67, down 99 cents from the previous quote and the lowest since late February. Traders expect more weakness, since the December futures settlement was almost $10 under the index with a little over six weeks left until expiration. Pork cutout values fell another 85 cents to $93.47, the lowest since $91.41 on March 3, while carcasses on national direct markets dropped 62 cents to $63.19. Traders seem to doubt the traditional pre-Christmas ham rally will occur, or be limited, this year, despite the significant decline in stocks levels versus the 10-year average. However, if ham values were to sustain a sizeable seasonal advance, that could offer considerable support to hog values.