After the Bell | June 2, 2021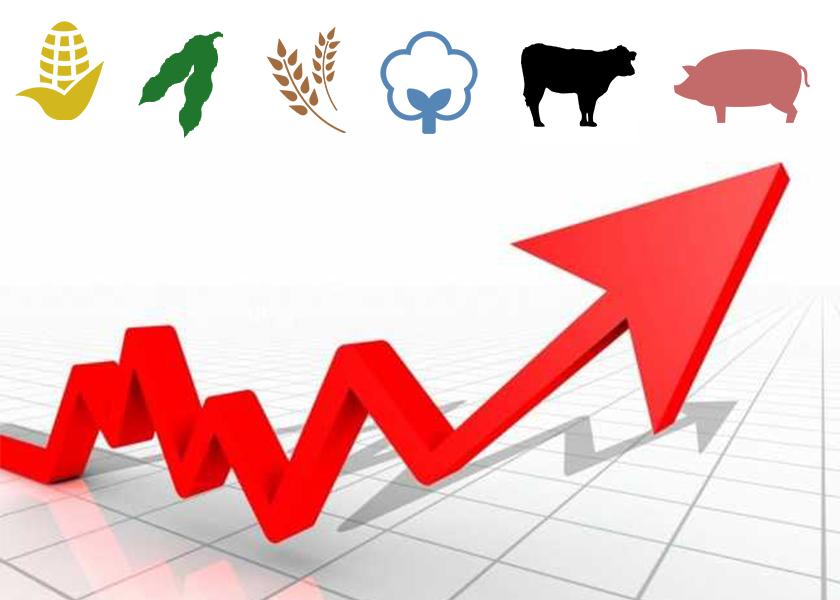 Corn: Corn futures fell, with nearby contracts leading declines. July futures dropped 13 1/4 cents to $6.75 a bushel, while December fell 4 1/4 cents to $5.72 3/4. The corn market was under pressure throughout the session from government crop ratings that showed the crop off to a strong start. The U.S. corn crop was rated 76% "good" or "excellent" as of the beginning of the week, the USDA reported yesterday. That was at the high end of analysts' expectations. The corn crop was 95% planted at the beginning of the week, compared with the five-year average of 87%, the USDA said. Concerns over dry conditions in parts of the Midwest helped boost soybean futures today and should support corn prices as well. Strong export demand and expectations for crop shortfalls in other top producing countries may also underpin corn futures.
Soybeans: July soybeans closed up 14 cents at $15.62 1/2 a bushel today and nearer the session high today. July soybean meal closed down $4.70 at $394.00 today and nearer the session low. July soybean oil futures soared 299 points at 70.38 cents, hitting a new contract high. The soybean bulls continue to recover from last week's sell off that appear to have marked a near-term market bottom. Bean bulls have regained some technical momentum but it's worrisome soybean meal futures continue to under-perform. Weather patterns and extended forecasts continue to support the soybean futures market at mid-week. A strong high-pressure ridge will progress slowly eastward over the next nine days, which will limit rainfall and cause extreme heat with highs ranging from the upper 80s to the upper 90s in much of the Corn Belt. The early weather runs showed a ridge of high pressure strengthens and expands in the central U.S. June 8-15, which led to the decreases of rain in the forecast from June 11-16. 
Wheat: September spring wheat futures rose 12 3/4 cents to $7.88 1/4. September SRW futures fell 6 cents to $6.87 1/2 and September HRW edged 3 3/4 cents lower to $6.33 3/4. Spring wheat continued to move higher on threatening weather across North America.  Concern over this week's hot and dry weather in the northern U.S. Plains and southern Canada's Prairies is the market focus, with only limited rain potential for next week. U.S. spring wheat was rated just 43% "good" and "excellent" (G/E) with 80% of the crop emerged. Improving weather for U.S. hard red winter wheat conditions and harvesting may be a slow process, but traders are more interested in drought across the northern U.S. Plains and southern Canada's Prairies and returning dry, warm weather in Russia's New Lands next week. The U.S. winter wheat crop was rated 48% G/E, up 1% from the prior week and right at the five-year average. Drier weather next week will aid harvesting and reduce quality concerns.
Cotton: July cotton fell 48 points to 83.77 cents and December edged 15 points lower to 84.66. Futures consolidation was seen following strong gains to start the month yesterday. After rising to the highest in more than two weeks the market was due for some profit taking.  Yesterday, USDA issued its holiday-delayed crop progress and condition data. The nation's crop was 64% planted, up 15 points from a week earlier and near the five-year average of 65% done. In fact, most states are pretty much on historical pace. The five-day forecast for Texas indicates the rains will be moving more eastward. The 6- to 10-day forecast shows below-normal temperatures and above-normal rainfall, while the 8-to-14-day outlook indicated below-normal temperatures and normal to above-normal rainfall. The Southeast has improving chances for rain, but still are less than 50%.
Hogs: August lean hogs closed down $0.775 at $116.80 today. Prices closed near mid-range today on a corrective pullback and some profit taking after hitting a contract high on Tuesday. Lean hog futures prices are reaching extremes set in 2014 and now the key will be export demand for U.S. pork. Traders will have to wait until Friday for this week's USDA weekly export sales tallies, due to the Memorial Day holiday on Monday. Hog prices in China continue to fall. Even farms using their own piglets are now losing money. That may trim new Chinese purchases of U.S. pork. The ransomware attack on JBS that interrupted hog processing early this week appears to be past the market now. Cash hog prices today rose a solid $3.21 on a national direct basis. The pork cutout value climbed another $2.67 at noon Wednesday on movement of 221.30 loads.
Cattle: Cattle futures ended higher after a rally that began late-morning extended through midday. August Live cattle rose $2.65 to $119.25 per hundredweight and August feeder cattle rose $3.175 to $152.325 per hundredweight. Futures rebounded from yesterday's declines amid relief that a ransomware attack on JBS, one of the top U.S. beef and pork processors, did not lead to sustained market disruptions. JBS said today it resumed operations at most slaughter plants after the cyberattack forced a temporary shutdown at several. Futures remain supported by ongoing strength in beef prices. Choice boxed beef averaged $339.88 per hundredweight this morning, up $5.32 from yesterday and the highest since a pandemic-driven spike about a year ago.