After the Bell | July 23, 2021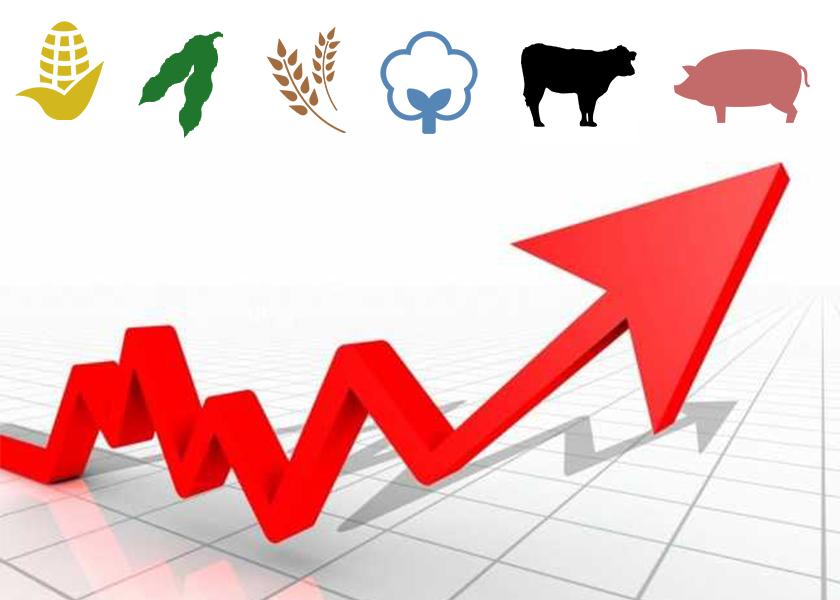 Corn: December corn futures fell 18 1/4 cents to $5.43, down 9 cents for the week. Corn market bulls faded badly to end the trading week, including a technically bearish weekly low close on Friday that suggests there will be some follow-through selling pressure early next week. Weather in the U.S. Midwest will still be on the front burner next week. Crop development "may have started to slow in the driest areas of the northwestern Corn and Soybean Belt. Most other locations still had some soil moisture to support new growth," World Weather said today. Next week's debate will revolve around whether generally good growing conditions for the majority of the Corn Belt will supersede the very dry and hot conditions in the northwest Corn Belt. Monday afternoon's weekly USDA crop progress report will be a highlight of the week.
Soybeans: November futures fell 10 1/2 cents to $13.51 3/4, down 40 cents on the week. Soymeal futures dropped around $10, while soyoil futures rose 66 to 127 points through the December contract. Some forecasts called for heavier rains across much of the Corn Belt late next week into the following week. Whether those rains remain in the outlook will determine price direction next week. Technically, November soybeans remain well within the broad June high and low, so prices can move a lot in either direction without a breakout. Longer-term, weather means more to soybean yield potential once the calendar flips to August. Traders are watching forecasts for an expected ridge to build in the western U.S. late in the first week of August, which may bring cooler temperatures to the Midwest.
Wheat: September SRW wheat futures closed at $6.84 per bushel, down 8 1/4 cents from yesterday and 8 ½ cents below last Friday's close. September HRW futures lost 7 3/4 cents, settling at $6.46, a weekly decline of 5 1/2 cents. September HRS futures settled at $8.83 1/2, down 21 1/2 cents on the day and down 33 3/4 cents for the week. Spring wheat's recent slide strongly suggests the market has priced in the ongoing drought in the Northern U.S. Plains and southern areas of the Canadian Prairies. In the absence of further bad news from the drought, HRS futures seem likely to continue slumping. It also seems likely to be the leader for winter wheat futures. Traders will again focus upon the weekly USDA Crop Progress report released Monday afternoon, as well as the weekly Export Sales report to be published early Thursday morning.
Cotton: December cotton futures closed the day down 20 points at 89.66 cents and for the week lost 27 points. The market rebounded sharply from early-week pressure, as December futures scored a contract high yesterday, but were not able to close above the key 90-cent level. Bulls will have the upper hand early next week, but the market could also see some routine profit-taking pressure. Cotton traders will also be looking to grain markets for some direction. Buyer were encouraged by expectations China will release import quotas, opening the door for potentially more Chinese purchases of U.S. cotton.
Hogs: August lean hogs rose 70 cents to $107.35, the contract's highest closing prince since $111.70 on June 16. October hogs rose 90 cents to $92.625, also a one-month high. Hog futures may extend this week's gains as technical patterns strengthen and as improved demand pushes pork prices higher. Carcass cutout values jumped another $4.72 early today to $127.03, according to USDA's midday report, the highest since June 14. Ham and belly prices led gains. Also, August lean hog futures remain at a discount to the CME lean hog index, which dropped slightly to $112.25 for the two days ended July 21. Tight supplies combined with firmer retail demand may help keep hog futures elevated for much of the next month, with USDA reporting U.S. pork stockpiles at the end of June down 3.9% from a year earlier.
Cattle: August cattle futures rose 70 cents to $121.50 per hundredweight, the highest closing price since July 13. August feeder cattle rose $1.875 to $160.075, the highest closing price since $160.625 on July 6. Whether cattle futures can follow through on gains this week will depend in large part on cash markets. Wholesale beef prices appear to have stabilized after a nearly uninterrupted slump since early June. Choice cutout values rose another 42 cents this morning to $266.56, according to a USDA report, but cutouts are still near 3 1/2-month lows and down 22% from an early-June peak at $340.55. Lower than expected numbers in USDA's latest monthly Cattle on Feed report today may provide fodder for market bulls. USDA estimated 11.29 million head on feed as of July 1, down 1.3% from the same date a year earlier. Cattle placed in feedlots in June totaled 1.67 million head, down 7.1% from the same month in 2020. Placement were expected to have declined closer to 4.1%.