After the Bell | August 30, 2021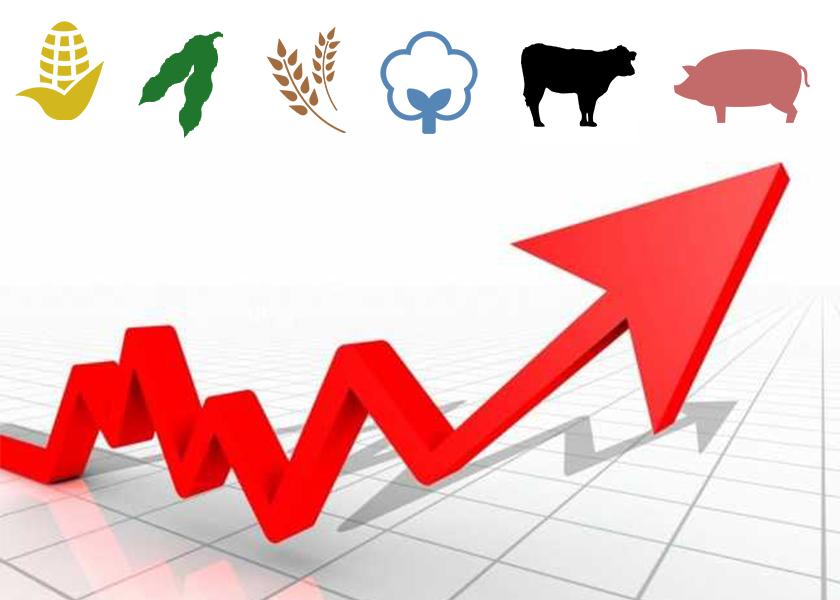 Corn: December futures fell 11 cents to $5.42 3/4 a bushel, erasing gains from an initial climb to the highest levels in over a week amid a broad slide across the grain and oilseed complex. Widespread rains across key growing areas of the Midwest over the weekend helped push futures lower. Also, USDA reported 562,549 metric tons (MT) of corn were inspected for export the week ended Aug. 26, down notably from the previous week and below trade expectations. Corn inspected for export for the marketing year to date totaled 65.8 million MT (MMT), up 57% from the same period a year ago. But that's still short of the pace needed to meet USDA's 2020-21 export forecast of 2.775 billion bushels (70.5 MMT). Late today, USDA reported 60% of U.S. corn in either "good" or "excellent" condition at the start of this week, unchanged from the previous week and meeting expectations. About 59% of the crop was dented, USDA said, 4 percentage points higher than the average at this point the previous five years.
Soybeans: November soybeans fell 20 cents to $13.03 1/4 today, scoring a bearish "outside day" down on the daily bar chart. December soybean meal fell $5.20 to $347.20, hitting a nine-month low. December bean oil closed fell 73 points to 59.61 cents. Hurricane Ida prompted concern over a backlog of U.S. grain shipments out of the Gulf of Mexico, with about 70% of exported U.S. soybeans are shipped out of the Gulf. Favorable late-season growing weather over much of the Corn and Soybean Belt has been a bearish influence. USDA today reported a sale of 256,000 metric tons (MT) of soybeans to China for delivery in the 2021-22 marketing year. So far in August, USDA has reported nearly 3.5 million MT (MMT) of soybean sales to China or "unknown" destinations. USDA today reported 56% of the U.S. soybean crop in good-to-excellent condition at the start of this week, unchanged from the previous week and matching trade expectations. About 93% of the crop was setting pods, 1 percentage point above the five-year average.
Wheat: Wheat futures finished near the lower end of today's range, with losses of mostly 7 to 9 cents in SRW contracts, mostly 10 to 11 cents in HRW contracts and mostly 4 to 8 cents in spring wheat contracts. December SRW fell 9 cents to $7.23 1/2 a bushel. Wheat futures took pressure from spillover from the corn and soybean markets, with additional pressure from lower than expected weekly export inspections. The low-range close sets the market up for followthrough selling. Wheat inspected for export totaled just 11.6 million bu. for the week ended Aug. 26, down from 26.8 million bu. the previous week and below the normal 15 million bu. to 20 million bu. for this time of year. Through nearly the first two months of 2021-22, wheat inspections are running 10.6% behind year-ago. Late today, USDA reported 88% of the U.S. spring wheat crop had been harvested as of yesterday, above the five-year average of 77% for this time of year.
Cotton: Cotton futures finished midrange with losses of 61 points in the December contract, which settled at 94.23 cents a pound. Cotton futures were negatively impacted by pressure on the grain and soy markets today. That caused funds to trim their long positions. As of Aug. 24, managed money accounts were net long 81,935 cotton futures contracts, which was 30% of open interest. While that's a sizable position, funds haven't been active liquidators of longs until their net position reaches around 35% of total open interest. Traders are awaiting damage assessments from Hurricane Ida, though impact on cotton acreage was expected to be limited, as the brunt of the storm's path is expected to miss top U.S. cotton-producing areas. That's unlikely to prompt long liquidation, so we don't anticipate the storm will trigger any major market moves in either direction.  
Cattle: October live cattle fell 80 cents to $128.325 per hundredweight, the lowest closing price since $128.150 on Aug. 19. October feeder cattle rose 52.5 cents to $168.95 today. Cattle futures extended last week's pullback from contract highs amid speculation wholesale beef prices have established a peak and retail demand will fade after the summer grilling season ends. Beef cutout values showed more signs of topping out early today, with choice cuts down $2.63 at $342.71 per hundredweight, USDA reported. Movement also slowed to just 51 loads. Values are down 1.8% from a 15-month high reached a week ago. Select beef also dropped $2.39 to $313.13 per hundredweight. Cash cattle traded at an average price of $125.74 last week, up 27 cents from the week prior.
Hogs: October lean hogs fell 57.5 cents to $90.15 after rising to a three-week high early on. Hog futures losses reflected a corrective pullback after solid gains last week that produced technically bullish weekly high closes. Any further losses in hog futures this week should be limited by generally more friendly cash market fundamentals to start the trading week. Hog carcass cutout values rose $6.98 at noon today, to $122.43, on movement of 143.73 loads, with a surge of nearly $56 in bellies leading price gains. The cutout market's recent improvement is giving the hog market bulls encouragement. However, the national direct cash hog price was down $1.82 today at $93.32. The CME lean hog index for Tuesday is projected down 13 cents at $103.49. USDA estimated today's hog slaughter at 477,000 head, compared to 437,000 last Monday and 475,000 a year ago at this time.