After the Bell | Aug. 18, 2021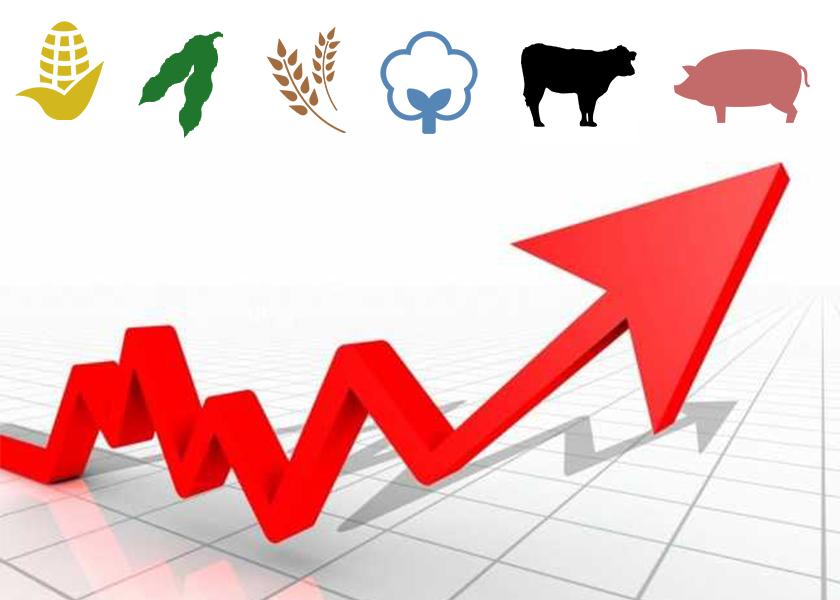 Corn: December corn futures closed the day up 1 1/2 cents at $5.65 on a mild late-session rally. The bulls this week have lost much of last week's gains following a bullish USDA supply and demand report last Thursday. The corn bulls still have the slight overall near-term technical advantage but need to show more power soon to keep it. Pro Farmer Crop Tour scouts were out in the corn and soybean fields of the Corn Belt again today. Tonight, we will release tour results for Illinois and the district results for western Iowa. Thursday morning, traders will also be examining the weekly USDA export sales report, which is expected to show U.S. corn sales of minus 100,000 to sales of up to 200,000 MT in the 2020-21 marketing year, and sales of 300,000 to 930,000 MT in the 2021-22 marketing year.
Soybeans: November soybean futures closed the day down 8 1/4 cents at $13.53 1/4 and nearer the session low. December soybean meal fell $2.60 at $360.30 and December bean oil closed down 64 points at 61.48 cents. Some beneficial rainfall expected in parts of the Corn Belt the next few days, including the drier northern part of the Belt, helped to pressure the soybean futures market today. Also, reports that Brazil's grain export association, ANEC, expects that country to export 6.25 MMT of soybeans in August--nearly 160,000-MT above its forecast last week—added to selling pressure. Bean traders today mostly overlooked another reported private exporter sale of 131,000 MT of soybeans for delivery to China during the 2021/2022 marketing year, said USDA. That continues a long string of daily sales, which have been mostly to China. Apparently, those daily sales have now become "old hat" to soybean traders. The Pro Farmer Crop Tour is also the focus of soybean futures traders. Traders report that so far there have been no big surprises coming from the crop scouts. Thursday morning's USDA weekly export sales report is expected to show U.S. soybeans sales of minus 75,000 MT to sales of up to 200,000 MT in the 2020-21 marketing year and sales of 1 million to 1.8 million MT in the 2021-22 marketing year.
Wheat: December SRW wheat futures closed the day up 2 3/4 cent at $7.51 1/4 per bushel and December HRW wheat finished up 7 1/2 cents at $7.36 3/4. Spring wheat futures settled 3 1/2 cents higher at $9.11. Winter wheat futures today saw a mild corrective rebound after suffering solid losses Tuesday. Rains forecast for the northern U.S. Plains states and Canadian Prairies in the coming days may delay spring wheat harvesting progress and that limited selling interest today. World Weather today reported Western Canada's Prairies could see some patches of frost and a few brief freezes. The cold will remain over the western Prairies into next week with some of the coolness eventually shifting east and south into the northern U.S. Plains and Midwest. No frost is likely outside of Canada but wheat traders will keep a close eye on updated forecasts.  The weekly USDA export sales report is likely to see U.S. wheat sales of 250,000 to 500,000 MT in the 2021-22 marketing year.
Cotton: Cotton futures proved mixed Wednesday, with the lightly traded October contract falling 1.31 cents to 94.39 cents per pound at the close. The deferred contracts edged upward, but most-active December futures ended the day sliding 7 points to 94.83 at the close. There was little news concerning the fiber market, so slipping prices seemingly reflected minimal substantive damage done by Tropical Storm Fred to the Southeastern crop early this week. Late energy-sector losses seemingly played a role in the December contract's setback from early gains. One also wonders if traders are anticipating diminished export results to be published on tomorrow's early-morning USDA Export Sales report. From a technical standpoint, the December contract's weakness appeared to confirm the importance of Tuesday's reversal from fresh highs.
Cattle: Live cattle futures appeared to once again take their lead from soaring beef prices, with the expiring August contract rising $0.724 to $124.025, while most-active October advanced $0.925 to $129.05 Wednesday. Choice beef cutout had surged another $2.24 by midsession, which left it just 31 cents under its June peak. Bulls were probably encouraged by cash news as well, which indicated more active trading at higher levels (with steers averaging $126.87 Monday and Tuesday). Such a large increase in the absence of a significant decline in supplies, as indicated by the Monday-Wednesday slaughter total at 360,000 head (+4.0% from week-ago), implies strong demand is finally forcing packers to pay up for cattle. Still, the October cattle contract has yet to mount a serious challenge of major resistance at the $130 level. Feeder futures actually led fed cattle higher, seemingly reflecting industry hopes for a bullish breakout by the latter market.
Hogs: Nearby October lean hog futures gained $1.20 to $89.10 per hundredweight Wednesday. This again seemed to reflect an effort to reduce the large discounts built into the October and December contracts, since the preliminary quote for Tuesday's CME Lean Hog Index only declined $0.47 to $109.17. The strength exhibited by the cattle and beef markets probably spurred buying as well. Pork cutout posted a strong morning rebound again, surging $3.40 to $119.86 at midsession, which likely encouraged bulls as well. One also has to wonder if a portion of today's hog strength stemmed from a wire service report of an African Swine Fever outbreak at a large commercial operation in Bulgaria; that might foreshadow a European ASF outbreak. As expected, hog supplies are rising seasonally. The Monday-Wednesday kill climbed to 1.427 million head, reflecting a weekly increase of 25,000 (1.8%) and an annual decline of just 16,000 (1.1%) from last year's inflated Covid-driven figure. Weekend kills often tell the tale concerning the supply/demand balance and are expected to easily exceed last week's result.