First Thing Today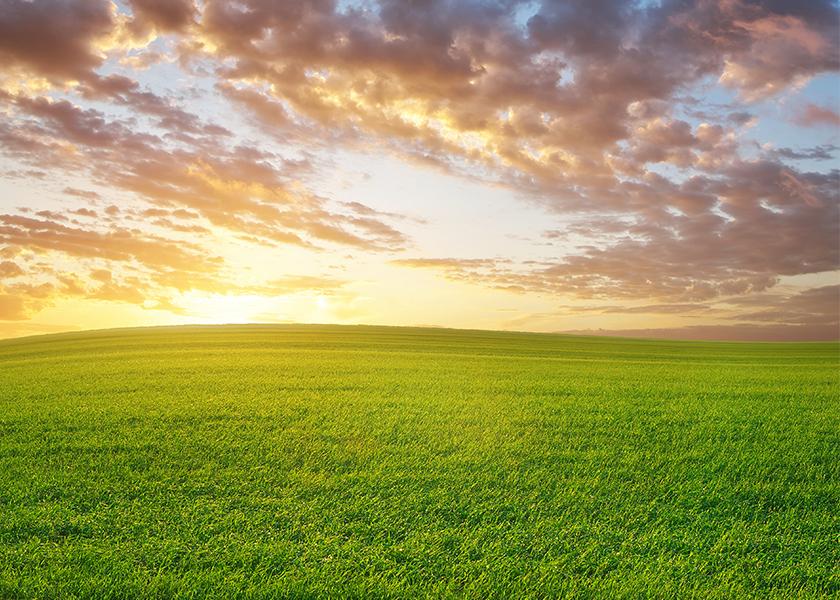 Two-sided action overnight after yesterday's rally… Corn futures are up a penny in the front month and down 2 cents in deferreds after seeing a mix of followthrough buying and profit-taking overnight. Soybeans are up 1 to 2 cents but near session lows. Winter wheat futures are down 1 to 3 cents, with spring wheat futures 3 to 5 cents higher. The U.S. dollar index is posting moderate gains, with crude oil futures also slightly higher.
Markets closed Monday for Memorial Day… Grain and livestock futures will close at their usual times today, but markets and government offices will be closed Monday for Memorial Day. Grains reopen for the overnight session on Monday, May 31. Livestock re-opens at 8:30 a.m. CT on Tuesday.
China's wheat crop could help bridge any corn supply gap until corn harvest begins… Harvest of China's winter wheat crop got underway this month, which along with Chinese changes in recommended feed mixes could cool Chinese buying of corn near-term. That said, China scooped up more than 10 MMT of U.S. corn during a 10-day stretch midmonth, according to USDA's daily reporting system. China National Grain & Oils Information Center (CNGOIC) expects China's wheat crop to hit a record 136.4 MMT in 2021. The official think tank expects China to use 38 MMT of wheat in feed in 2020-21 and 36 MMT of wheat in feed in 2021-22. "Wheat prices are expected to be lower than corn, which gives it obvious advantage to substitute [for corn]," Qi Chiming, an analyst with CNGOIC, told Reuters.
French soft wheat ratings improve… After several weeks of holding ratings steady, the French farm office raised its soft wheat rating a percentage point to 80% good to excellent. Ratings declined during April due to dry, cold weather, but weather this month helped to stabilize crops. France is the EU's largest wheat producer.
Russia to lower duty on soybeans exports… Russia's government will reduce the country's 30% export duty on soybean exports to 20%, beginning July 1. The new duty that was enacted to help control domestic food price inflation will remain in place until September 2022, according to TASS news agency.
MGEX raises margins on hard spring wheat futures… The Minneapolis Grain Exchange announced it will raise maintenance margins on HRS wheat futures from $2,100 per contract to $2,300 per contract for July 2021 and July 2022. The changes take effect at the close of business today.
Cotton AWP eases for a second week. The Adjusted World Price (AWP) for upland cotton declined slightly to 67.77 cents per pound, effective today, down from 67.91 cents per pound and the second weekly decline in a row. Meanwhile, USDA said that Special Import Quota #6 will be established June 3 for the importation of 43,009 bales of upland cotton, applying to supplies purchased not later than Aug. 31 and entered into the U.S. not later than Nov. 29.
As expected, GOP infrastructure counterproposal falls short of congressional Democrats' wish list... At roughly $928 billion, the Republican's latest offer is well short of what the White House has proposed. Only about a quarter of the total price tag appears to represent new spending above existing or expected levels under the "roadmap" put forward by Senator Shelley Moore Capito (W.Va.) and her GOP counterparts. But lawmakers still stressed that their retooled approach "delivers on much" of what Biden had recommended in earlier talks between the two sides. The Republican plan proposes more than $500 billion for roads, $98 billion for public transit, $46 billion for passenger rail and more than $70 billion for water infrastructure. Republicans recommended additional spending for ports, waterways, airports and broadband connectivity, maintaining their belief that any package should hew to what they describe as traditional infrastructure. Republican pay-fors (unspent Covid-19 relief funds) are also not favored by Democrats. President Joe Biden maintains he prefers a bipartisan solution. But Congressional Democrats want to go at it alone.
Costco warns of inflation… Costco Wholesale said demand surged in its latest quarter as the U.S. economy began to rev up, but the club-store chain warned it is facing higher costs for everything from workers to imported cheese. In March, the company estimated inflation was rising in the 1% to 1.5% range, but now it thinks it is up 2.5% to 3.5%, excluding gasoline sales. Economists are forecasting the price index for personal consumption expenditures excluding food and energy, a measure of inflation closely tracked by the Federal Reserve, will increase 0.6% from March to April. That would be the biggest such jump since 2001. The official results come later this morning.
Japanese governor weighs in on U.S. inflation… Bank of Japan Governor Haruhiko Kuroda told Bloomberg News that inflation concerns were most relevant in the U.S. and cited Federal Reserve Chair Jerome Powell's view that price pressures will prove transitory, and stimulus should stay in place for longer. "That policy stance is based on the recognition that it will take time to overcome low inflation once it is entrenched," Kuroda said. "That is the lesson learned from Japan's experience of prolonged deflation."
Another big rush is on at U.S. stores, but now it's the retailers scrambling for goods... Big retail chains say they are struggling to bring in enough products to sell amid surging demand from American consumers. The Wall Street Journal writes the store owners' spending is adding a new twist to the inventory challenges that surfaced last year when shoppers hurried to buy items such as toilet paper and bikes. Now, purchasing teams are dealing with the leanest levels of inventory relative to sales on record along with strains on supply chains from factories to ports to warehouses. They risk potentially losing out on sales as consumers have historic levels of money to spend. Not everyone is anxious to stack shelves higher. Abercrombie & Fitch CEO Fran Horowitz says one lesson of the past year is "you can have a strong, profitable business with less inventory."
White House today will release Biden's first budget proposal... Biden is proposing a $6 trillion budget for fiscal year 2022, which begins Oct. 1, according to reports. The budget will lay out how the president's plans for spending over the next decade on infrastructure and social programs, such as paid family leave and universal preschool, will affect federal debt and deficits. The New York Times reports the budget will likely show a deficit of $1.8 trillion next year, falling to $1.6 trillion by 2031. Debt relative to the size of the economy that rises to its highest level in history, reaching 117% of GDP in 2031. Bottom line: The budget is simply a request to Congress, so Biden must win over moderate Democrats to approve his plans, assuming that all Republicans oppose them. As the saying goes, the coming budget is aspirational and will clearly show the spend-happy ways of the Biden presidency.
China rivalry… The U.S. Senate is moving slowly toward passage of an expansive bill to bolster economic competitiveness and confront China's rise, debating some last amendments before a final vote. The Senate bill is titled the U.S. Innovation and Competition Act of 2021 (USICA). The measure would sink more than $100 billion into U.S. research and development and provide $52 billion to advance domestic semiconductor manufacturing. It also includes a wide range of measures directly targeting China, such as its human rights record, a day after a Beijing-drafted resolution effectively ended open elections in Hong Kong. Senate Majority Leader Chuck Schumer (D-N.Y.) still hopes to pass USICA before senators leave Washington for the holiday weekend. Biden is also ready to sign the bill as the administration wraps up an initial supply-chain review on computer chips, EVs batteries, pharmaceuticals and minerals used in electronics.
Senate ag panel leaders agree: Need for hearing on livestock pricing, supply chain… The key topic at a Thursday hearing for USDA General Counsel-nominee Janie Simms Hipp was concerns meatpackers are using their market heft to drive down prices paid to producers. Several GOP senators led by the panel's ranking member John Boozman (R-Ark.) was joined by Committee Chairman Debbie Stabenow (D-Mich.) in calling for a hearing on the matter to "look for solutions," as Stabenow put it. Sen. Roger Marshall (R-Kan.) told Hipp "my phone is blowing up with this issue." Hipp said her phone is also "blowing up," and she promised to enforce the Packers and Stockyards Act and be in close contact with the Justice Department on antitrust issues. Of note, Hipp said that she needs an economist and a scientist "at my elbow" to inform her about the technical issues in agriculture.
Questions about this year's seasonal pullback for beef… Live cattle futures saw a choppy day of trade Thursday, but the market was able to settle high-range with gains on the day. Feeder cattle dropped sharply, with the renewed corn market rally weighing heavily on the market. Boxed beef prices have marched steadily higher, but a midweek pullback in prices have traders wondering if a seasonal top may be near. But impressive demand could limit any decline. Yesterday, boxed beef prices climbed a modest 49 cents to 5 cents, and movement slowed to 102 loads. There were a few light cash market sales yesterday from $119 to $121.50, in line with more active trade earlier in the week. Packer profit margins remain high at $828.50 a head, according to HedgersEdge.com.
Cash hog and pork prices continue to rise… Lean hog futures settled mixed on Thursday, with ongoing strength in the cash and product markets lifting summer contracts. Cash hog bids climbed $2.30 yesterday and the pork cutout value rose $2.39, with 310.52 loads changing hands. Packers profit margins have improved dramatically over the past week, climbing from a negative 80 cents per head May 20 to $19.85 per head on May 27, according to HedgersEdge.com. That has helped lift this week's kill 33,000 head from last week, with an estimated 1.931 million head slaughtered through Thursday.
Overnight demand news… Indonesia bought 60,000 MT of wheat from the Black Sea region this week. Tunisia canceled a tender to buy around 92,000 MT of optional-origins soft wheat.
Today's reports