Take a Virtual Tour to See What Pro Farmer Crop Tour Scouts Saw in Ohio and South Dakota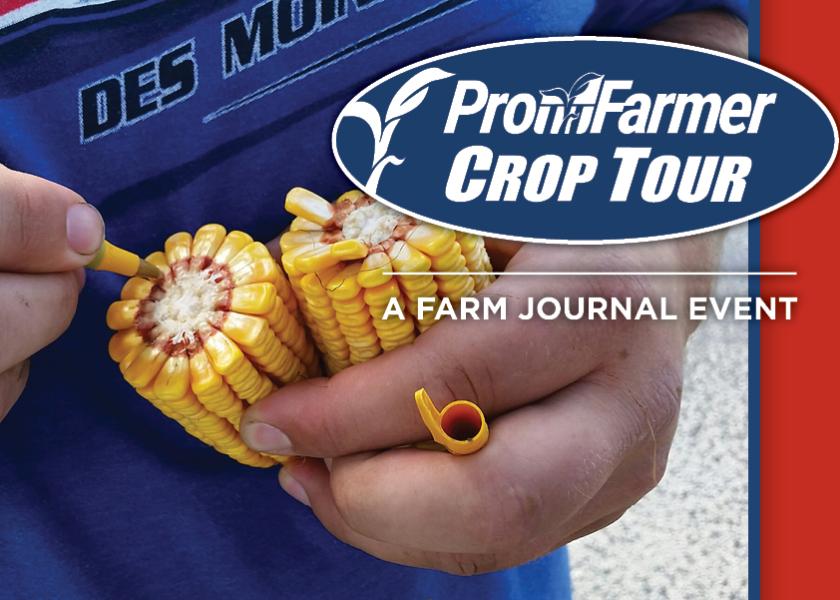 It's the tale of two extremes as day one of Pro Farmer Crop Tour wrapped up. Heading into the tour, USDA painted an optimistic picture for Ohio in last week's report. The August Crop Production report from USDA pegged Ohio's state yield at 193 bu. per acre, which would top the current record in the state by 6 bu. per acre. 
Thru 7 stops in OH crop districts 5, 2 & 1, my route has an average pod count in 3' x 3' square of 923.3. Range of 545 to 1257. It rained overnight and thru much of the morning, so beans have moisture to fill. Some still flowering #pftour21 — Brian Grete (@BGrete) August 16, 2021
Stop 6 in SW Wells County. Average yield 183.46 #pftour21 pic.twitter.com/UFauCvZJHT — Kristi Goedken (@KristiGoedken12) August 16, 2021
I'm on my first @profarmer Crop Tour this week! Started in Ohio and headed to Noblesville, IN. Learning a ton from my teammate @AndyWold01. These ears don't look as glamorous as some others but still estimated 207.5 yield in the field. @HarvestProgram corn pen for scale #PFtour21 https://t.co/NZSInbPXh2 pic.twitter.com/DlMLJkeB1A — Hannah Kerner (@hannah_kerner) August 16, 2021
On #pftour21, through northern Ohio. Corn has ranged from avg. 126.51 to 218.84 Bu/ac. Soybeans - 544.5 to 1257.41 pods in a 3x3. A LOT of rain early on, but some sunshine peeked through before lunch. For @ReutersAg pic.twitter.com/d0hrdI5Q5B — Christopher Walljasper (@cwalljasper) August 16, 2021

But in South Dakota, the outlook is much more grim, with USDA projecting South Dakota's yield to see a dramatic drop from the record yield farmers saw last year. This year, USDA posted a yield of 133 bu. per acre in its August report, down 29 bu. per acre from 2020.
While many routes in South Dakota showed drought stress and a crop hungry for moisture most of the year, a route farther south and east produced yields and pod counts that showed portions of South Dakota may still see a decent crop in 2021, despite weather challenges for other areas of the state.
2nd stop in Turner Co SD. #pftour21 pic.twitter.com/UlY8yiLrvW — minks farms ? (@MinksEric) August 16, 2021
10 #corn stops in southeastern South Dakota.

Average yield: 148.7 bu/acre
2020 average tour yield in this district (district 9): 178.1
3 year ('18-'20) average: 169.5

Grain length and stand disappointed more as we moved south. Got drier too. #pftour21 pic.twitter.com/q8F8m07PgM — Karen Braun (@kannbwx) August 16, 2021
7 stops and done in SD.

Corn yield on our individual route finished 9% above 3 year average for the entire two districts.

Pod counts nearly 50% higher than the 3 year average. #pftour21 — Jarod Creed (@JrodCreed) August 16, 2021
Dry in Turner Co, SD. Big cracks in the dirt. Corn yield check = 144. Just the tip back? #PFtour21 pic.twitter.com/rS0FFOoQpk — Ted Seifried (@TheTedSpread) August 16, 2021
Oofta, Stop 5- Turner Co., starting to drop off here. 102.9 BPA corn yield. Bean pods variable too. Take a look at 18 and 33. #pftour21 pic.twitter.com/GQKiisXdto — Betsy Jibben (@BetsyJibben) August 16, 2021
As the tour entered into Nebraska, scouts saw promising potential for the crop in irrigated fields. In district 2 of Nebraska, which includes Wheeler County, Neb., one scout even see their best yield yet. 
The further south we go in District 2 of NE on #PFtour21 @SDSUExtCrops and I are finding better yields. 249.99 on Irrigated ground in Wheeler County. pic.twitter.com/l0r3Y9MP0n — HogPharm ? ???? (@PigPharm) August 16, 2021
Scouts on the eastern leg of Crop Tour got a taste for Indiana's crops as they left Ohio. While the scouts will finish sampling corn and soybean fields in Indiana on Tuesday, the initial reaction is Indiana could produce a bountiful crop, following Ohio's impressive start.
Stop 6 in SW Wells County. Average yield 183.46 #pftour21 pic.twitter.com/UFauCvZJHT — Kristi Goedken (@KristiGoedken12) August 16, 2021
Walls County Indiana check at 253. Best one yet for today. #PFtour21 pic.twitter.com/Kn0sQWCtEn — Andy Wold (@AndyWold01) August 16, 2021
View Pro Farmer Crop Tour Results Live Each Night
You can follow the Pro Farmer Crop Tour results live each night. Register and attend nightly meetings in person or watch the nightly broadcast live at 7 p.m. Central to receive daily results, scouting observations and historical comparison data from our tour leaders.