Vilsack Signals Big Changes Coming to Meat Processing, Livestock Pricing, Perhaps Seed Sector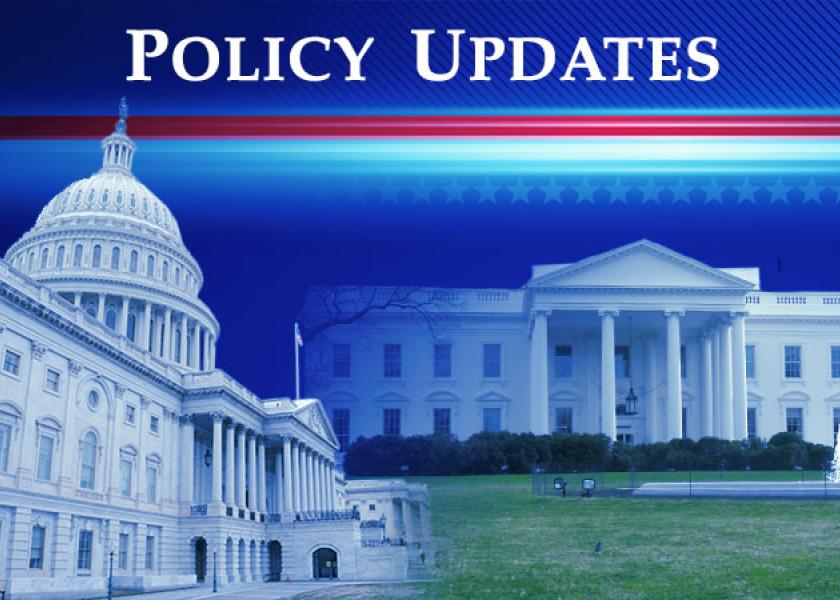 Investors wait for FOMC statement and chairman presser | Biden meets with Putin
---
In Today's Digital Newspaper
---
Market Focus:
• Equity futures flat ahead of FOMC meeting, presser results
• Biden and Putin meet in Switzerland
• Consumer prices in the U.K. rose the highest since July 2019
• One reason for surging home prices: U.S. housing market needs 5.5 million more units
• Copper prices are coming down
• Commodity markets trading from one weather forecast to another
• Weather outlook  
• USDA daily export sale: 153,416 metric tons of corn to unknown destinations 2021-2022
• Ag demand update
• Some buying returns to grain futures
• Poll: Black Sea region expected to export 5% more wheat in 2021-22
• Egypt will reportedly allow wheat sellers to provide their own shipping
• Deal to reopen Argentine beef exports reportedly near
• More higher cash cattle prices as pressure to probe meatpackers grows
• Cash hog bids soar
Policy Focus:
• Democrats to discuss next steps for 'two-track' infrastructure plan
• Highlights of Vilsack appearance before Senate Ag Appropriations Subcommittee
• House, Senate Ag panel GOP note negative impacts of proposed tax policy changes
Biden Administration Personnel:
• Biden releases slate of nominees to serve as U.S. ambassadors
China Update:
• China to release metal reserves in effort to tame commodities
• China's sow herd nears pre-ASF levels  
• China pushes producers to maintain hog production in the face of diving prices
Energy & Climate Change:
• Judge blocks Biden pause on oil leases on public lands
• Bloomberg latest news outlet to signal RFS changes possible

Livestock, Food & Beverage Industry Update:
• Nebraska-based pork processor Wholestone Farms expanding into South Dakota
• North American Meat Institute urges Vilsack to address challenges at ports
Coronavirus Update:
• NIH study suggests coronavirus may have been in U.S. as early as December 2019
Politics & Elections:
• Biden or Harris has not called Texas governor re: border
• VP Harris to host event next week for 24 of female colleagues in U.S. Senate
Congress:
• Senate confirms antitrust expert to FTC
• Juneteenth would be national holiday under Senate-passed bill  
• House Appropriations sets FY 2022 markup schedule

Other Items of Note:
• Rep. Lieu calls on Breyer to leave Supreme Court
 
---
MARKET FOCUS
---
Equities today: U.S. stock indexes are pointed toward narrowly mixed openings. Overnight the MSCI Asia Pacific Index slipped 0.3% while Japan's Topix index closed little changed. In Europe the Stoxx 600 Index was slightly higher with miners and banks among the biggest losers. Traders await the conclusion of the Fed's FOMC meeting this afternoon (see item below for expectations).
     U.S. equities yesterday: The Dow closed down 94.42 points, 0.27%, at 34,299.33. The Nasdaq fell 101.29 points, 0.71%, at 14,072.86. The S&P 500 lost 8.56 points, 0.20%, at 4,246.59.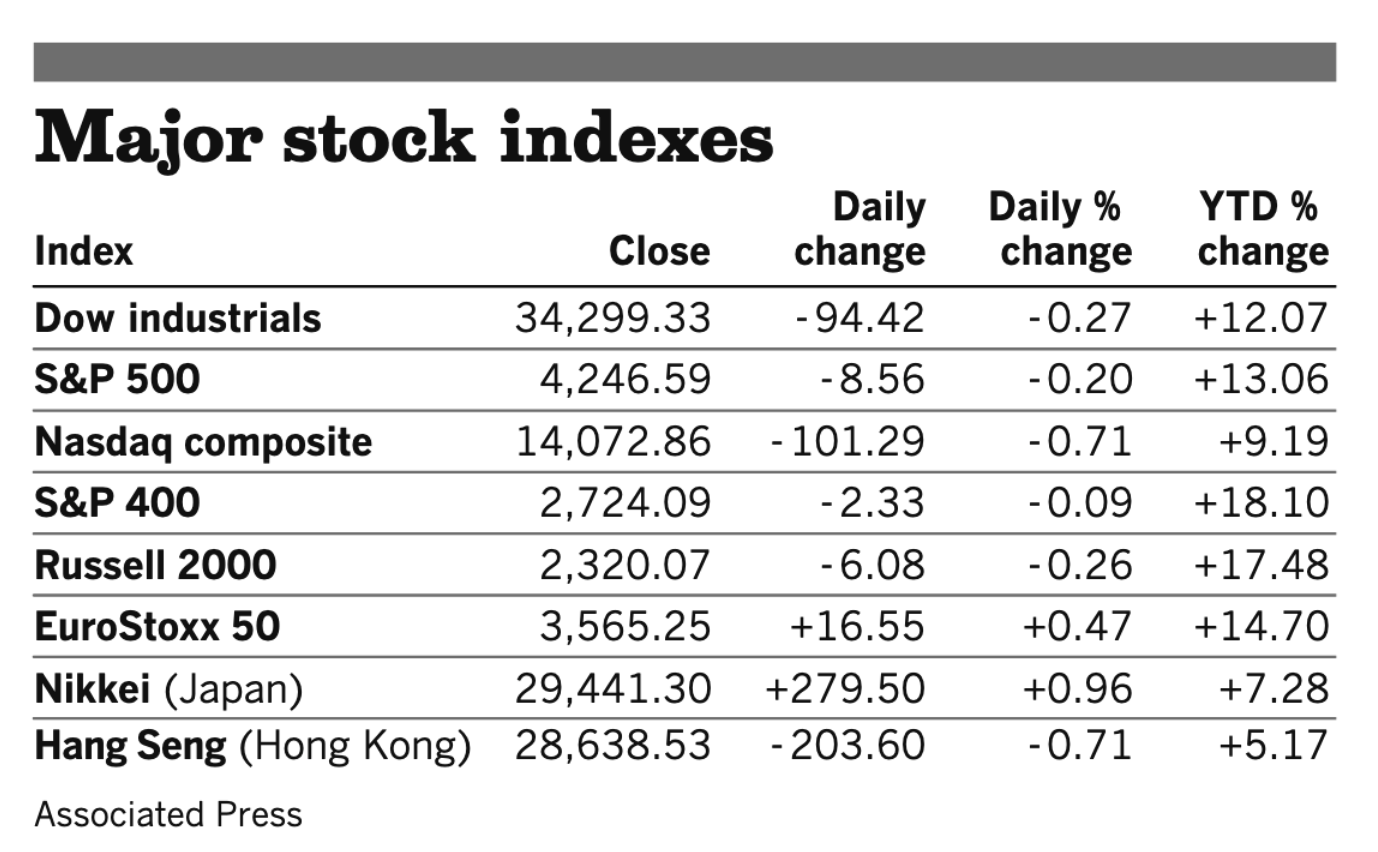 On tap today:
     • U.S. import prices for May are expected to rise 0.7% following a 0.7% rise in April. (8:30 a.m. ET)
     • U.S. May housing starts are expected to rise 3.9% from the prior month, following a 9.5% decline in April. (8:30 a.m. ET)
     • U.S. Treasury Secretary Janet Yellen testifies before the Senate Finance Committee on the Biden administration's FY 2022 budget. (10 a.m. ET)
     • Federal Reserve releases a policy statement and updated economic projections followed by a press conference with Chairman Jerome Powell. (2 p.m. ET)
     • President Joe Biden and Russian leader Vladimir Putin kick off what could be more than four hours of meetings this afternoon in Geneva. Biden said, "It's always better to meet face to face," as he and Putin briefly addressed the media before beginning discussions expected to touch on an array of topics, including nuclear arms, cyberattacks and human rights. The presidents were joined by their chief diplomats, Secretary of State Antony Blinken and Russian Foreign Minister Sergey Lavrov. Biden is the fifth U.S. president to sit across from Putin on the world stage.

Federal Reserve officials will very likely keep interest rates near zero and maintain their monthly purchases of about $120 billion in Treasury and mortgage bonds when they wrap up their two-day meeting today, analysts note. But new forecasts to be released could show that officials anticipate raising rates sooner than they did in March, when most saw the benchmark federal funds rate remaining steady through 2023.
     Inflation is higher than expected just a few months ago while unemployment remains elevated. That makes it more difficult for officials to decide when to raise interest rates or pull back on asset purchases. Until now, central bankers have mostly talked about their employment concerns. Now another focus could be in sight: how to address inflation-related risks.
     Watch the dots. Investors will be focused on the central bank policymakers' summary of economic projections, specifically the dot-plot charts showing expectations on when Fed officials expect interest rates to start rising. More than half of 51 economists surveyed by Bloomberg forecast the median of 18 officials seeing an interest rate hike during 2023, in contrast to the March dot-plot where the median expectation was for a 2024 liftoff. Fed watchers will also be parsing Powell's comments on whether he softens his insistence that inflation is "transitory."
     Bottom line: With the economy rolling along and inflation jumping amid strong demand and supply-chain shortages, policymakers could push up their forecast for an interest rate hike to 2023 from 2024 at the earliest. Fed Chair Jerome Powell may also hint that the Fed will begin tapering its $120 billion a month in Treasury and mortgage bond purchases — which help hold down long-term interest rates — earlier than expected. Looking to avoid the 2013 "taper tantrum," when markets were caught by surprise by the Fed's change in policy, Powell has said the central bank will give advance notice of when it plans to trim its asset purchases. Some 40% of economists in the Bloomberg survey expect the Fed to indicate in late August its intention to start tapering, while some 24% of the economists expect that signal to come in September — with actual reduction of purchases likely to start in early 2023.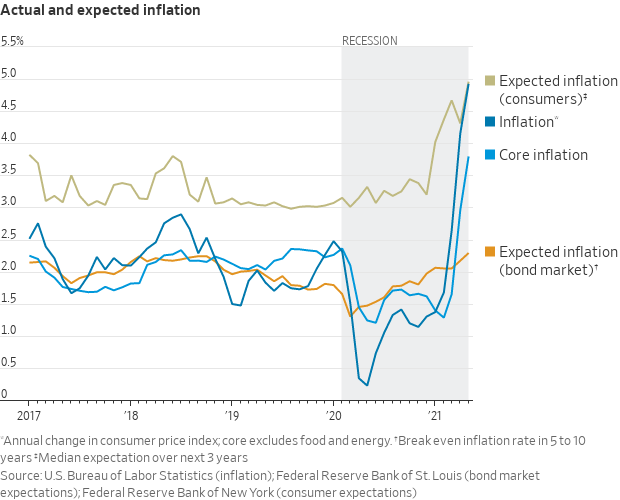 Consumer prices in the U.K. rose 2.1% from a year earlier in May, the highest since July 2019. The faster-than-forecast pace increased speculation about the timing of Bank of England tightening. Following the high U.S. reading last week, there remains speculation on how transitory any inflation event will be. One of the main drivers of the headline number is energy prices.
One reason home prices have surged: The U.S. housing market needs 5.5 million more units, according to a new National Association of Realtors (NAR) report, which is calling for a "once-in-a-generation" policy response. The industry lobbying group said it hopes the report, set to be released today, persuades lawmakers to include housing investments in any infrastructure package. U.S. builders added 1.225 million new housing units, on average, each year from 2001 to 2020, according to the report, which was prepared for NAR by Rosen Consulting Group LLC. That figure is down from an annual average of 1.5 million new units from 1968 to 2000. The 5.5-million-unit deficit includes about two million single-family homes, 1.1 million buildings with two to four units and 2.4 million buildings of at least five units, the report says.
     The report also says that from 2010 to 2020, new-home construction fell 6.8 million units short of what was needed to meet household-formation growth and replace units that were aging or destroyed by natural disasters. Limited supply has been a recent driver of rising housing prices for renters and home buyers, alongside robust demand. The median existing-home price rose 19% from a year earlier to $341,600 in April, a record high, according to NAR.    
Market perspectives:
     • Outside markets: The U.S. dollar index is nearly unchanged as traders eye the Fed meeting conclusion this afternoon; the euro and yen are both slightly weaker against the dollar. The yield on the 10-year US Treasury note has weakened to trade between 1.49% and 1.5% with a mixed tone global government bond yields. Gold and silver futures are slightly higher ahead of US trading, with gold around $1,857 per troy ounce and silver around $27.85 per troy ounce.

     • Crude oil futures have eased from their earlier gains but are still in positive territory ahead of US government inventory data due later this morning. U.S. crude was trading around $72.40 per barrel and Brent around $74.40 per barrel. Futures were higher in Asian trade, building on Tuesday's advances in U.S. trading. U.S. crude was up 62 cents at $72.74 per barrel while brent was up 64 cents at $74.63 per barrel.
     • Copper prices are coming down as traders speculate that China will soon begin releasing some of its commodity stockpiles, notes the Wall Street Journal. Three-month copper forward contracts on the London Metal Exchange dropped 3.8% on Tuesday. Investors betting on a rapid global economic recovery had run up the price. But with many countries still struggling to bring Covid-19 variants under control, traders are starting to back off somewhat.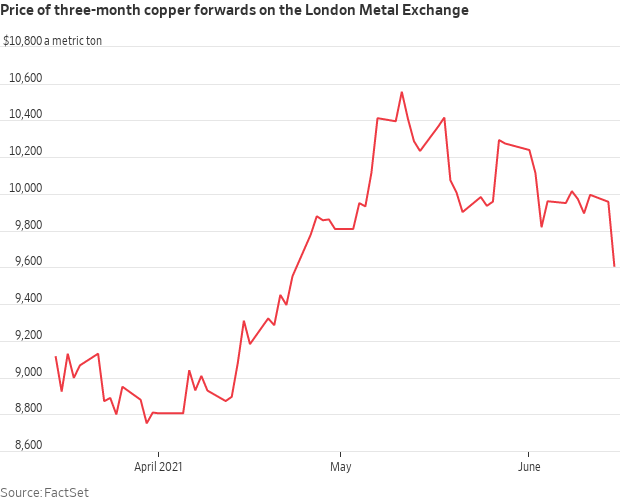 • USDA daily export sale: 153,416 metric tons of corn to unknown destinations 2021-2022 marketing year.
     • Ag demand: Egypt canceled its tender to buy an unspecified amount of wheat in a global tender; Russia had the lowest offer, with Ukrainian, French and Romanian supplies also offered. Jordan's state grains buyer cancelled an international tender to buy 20,000 MT of wheat bran. South Korea's Korea Feed Association bought an estimated 60,000 MT of corn from South America in a private deal. Japan's ag ministry says it received no offers in its simultaneous buy and sell auction where it was seeking 80,000 MT of feed wheat and 100,000 MT of feed barley. Iran's state agency issued an international tender to buy around 60,000 MT of milling wheat.
     • Commodity markets are trading from one weather forecast to another, says commodity analyst and trader Richard Crow. He notes "the American model is the wettest for Iowa, while the European model has much less rain.  The models come every 12 hours.  The Northern states and the southwest have limited moisture and heat for several days. The market focus is on getting rain in Iowa. The American model has a cooler forecast for the Corn Belt going forward."
     • Weather outlook: Dangerous heat to continue across portions of the West and Northern/Central Plains, with record-breaking temperatures and fire danger in some areas... ...Storms could be severe in the Midwest over the next couple of days... ...Scattered thunderstorms are expected across Florida in particular today and Thursday, and tropical rains will approach the central Gulf Coast by Friday.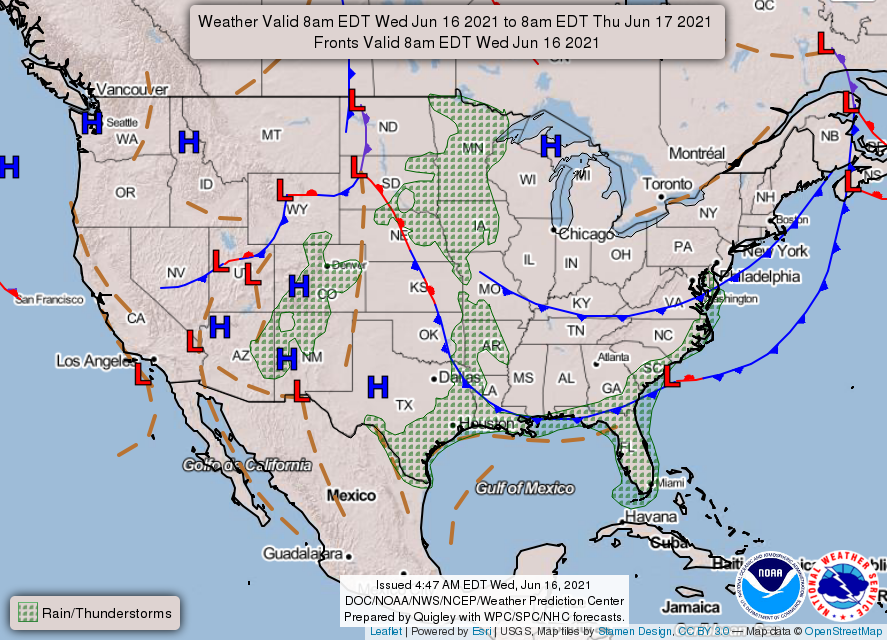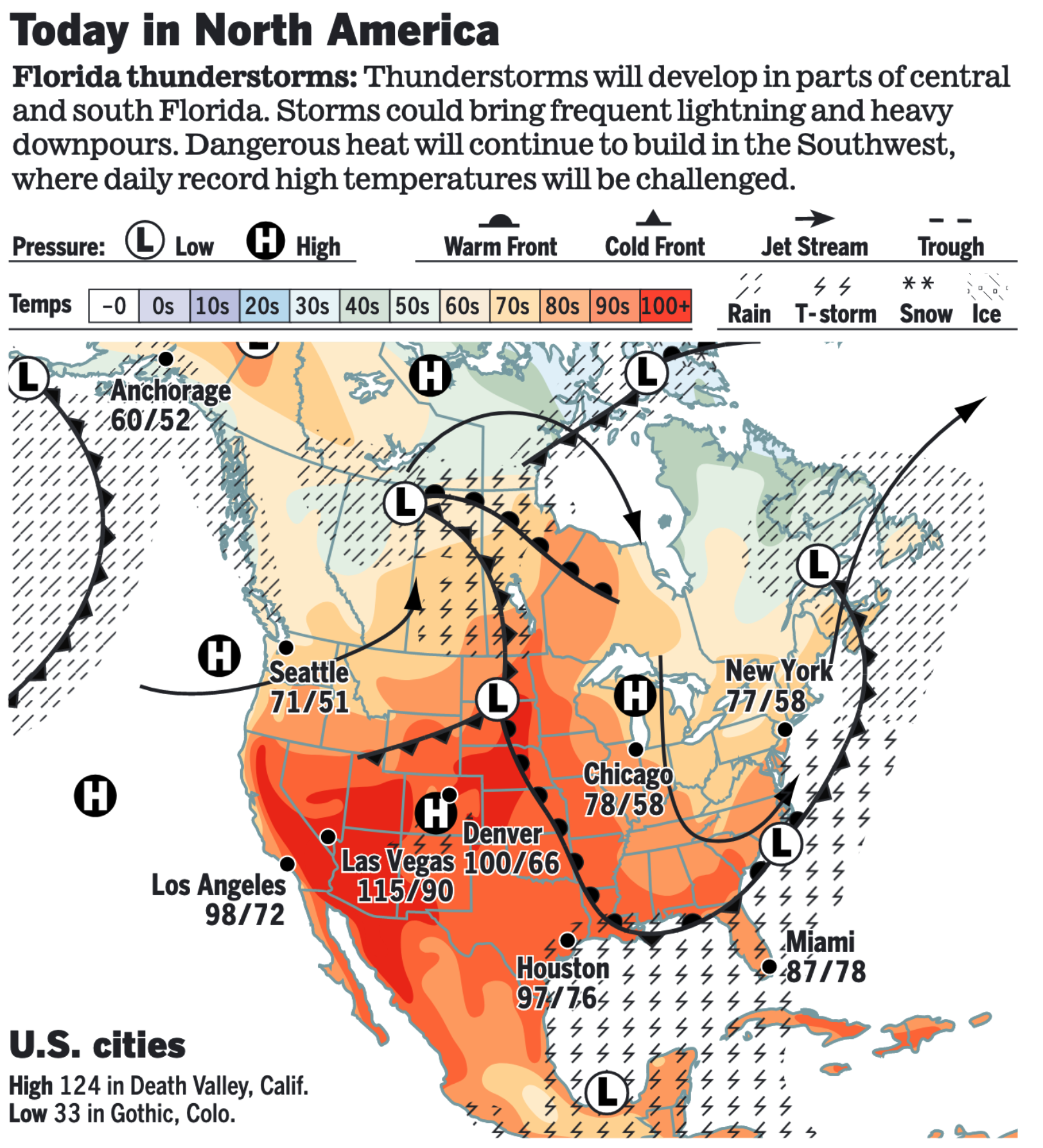 Items in Pro Farmer's First Thing Today include:
     • Some buying returns to grain futures
     • Poll: Black Sea region expected to export 5% more wheat in 2021-22
     • Egypt will reportedly allow wheat sellers to provide their own shipping
     • Deal to reopen Argentine beef exports reportedly near
     • More higher cash cattle prices as pressure to probe meatpackers grows
     • Cash hog bids soar
---
POLICY FOCUS
---

— Democrats to discuss next steps for 'two-track' infrastructure plan. Democrats will meet today to discuss possible next steps for a massive "two-track" infrastructure plan.   Democratic lawmakers said they would negotiate with Republicans on a bill that focuses on traditional transportation. However, if a deal can't be reached, Democrats would fold those programs into a larger climate bill using "budget reconciliation," a strategy that bypasses the filibuster process and allows a simple majority to pass legislation. Senate Majority Leader Chuck Schumer (D-N.Y.) said he would meet today with Democrats on the Senate Budget Committee to map out a resolution spelling out a reconciliation pathway. Schumer plans to instruct the committee to include funding for climate provisions, such as incentives to reduce electricity emissions by 80% by 2030, rebates for "clean" vehicles and agricultural industry incentives, according to a Democratic aide.
     Hurdles continue for bipartisan package. Sen. Bernie Sanders (I-Vt.) says the latest bipartisan plan — which amounts to about $579 billion in new spending for roads and bridges — is a paltry substitute for what the nation needs. Sens. Edward J. Markey (D-Mass.) and Jeff Merkley (D-Ore.) say they will oppose a bipartisan deal unless it comes with a guarantee of a follow-on bill to address the climate crisis.
     Big hurdle also for a Democrats-only measure. If the Democrats go solo on infrastructure, they would need every Democratic vote in the Senate and almost the same in the House.
     Timeline: White House officials told House Democrats on Tuesday that they would give the bipartisan talks an additional week to 10 days to show results, said Rep. John Yarmuth (D-Ky.), chair of the Budget Committee, which would be tasked with starting the process of enacting a Democrats-only bill.
— Highlights of Vilsack appearance before Senate Ag Appropriations Subcommittee:
Livestock industry changes coming. It was clear listening to USDA Secretary Tom Vilsack that big changes are coming to the livestock sector, notably for meat processors and livestock pricing. Vilsack emphasized USDA plans to bolster small-, medium-sized meat and poultry processors and to expand overall processing capacity. He suggested farmers are being unfairly hurt by the patent protection that their suppliers enjoy, implying that was discouraging competition in the seed business. Vilsack thinks input costs are one reason many farmers can't support themselves on farm income, but patent protection was also contributing to the problem.

"We've got to do more for our cattlemen, the concentration in the processing end is too high. We need more pricing transparency, more competition," stressed subcommittee Ranking Member John Hoeven (R-N.D.). Vilsack signaled he agreed with those sentiments and pointed to USDA's plans to revisit rulemaking around the Packers and Stockyards Act (PS&A) as one response the department is taking. "The spring regulatory agenda did indicate our desire to strengthen Packers and Stockyards to begin that process to draw bright lines and clear lines in terms of what is appropriate and what is not," Vilsack pointed out. USDA was looking at offering low-interest loans for new processing facilities, the secretary added.



In terms of price discovery, Vilsack said USDA efforts to bolster meat processing capacity should have positive knock-on effects. "One way of getting price discovery is by having more processing capacity and more processing facilities getting more data and information," he explained. "I think you will see over the course of the summer that we have a pretty unique approach to this that I think will result in significant expansion of processing." One key to those plans, said Vilsack, is leveraging federal, state, and private industry resources in partnership to lay the foundation for a meat processing expansion. 





Sen. John Tester (D-Mont.) said one issue facing livestock markets, like the broader ag sector, is rising consolidation in the industry. Tester asked Vilsack to weigh in on bipartisan legislation he introduced with Sen. Chuck Grassley (R-Iowa), the Meat Packing Special Investigator Act, that would create an "Office of the Special Investigator for Competition Matters" within the USDA's Packers and Stockyards Division, with subpoena power to investigate issues around market competition.





"I think it is a good proposal, I think it is part of what needs to be done," Vilsack responded. "Clearly [regarding the PS&A], the lines need to be very specifically strengthened and drawn so that it's clear what is an undue preference, it's clear what is unfair practices, it's clear what the scope of work ought to be, and it's clear what competition standard we have to reach."





Tester and Sen. Jerry Moran (R-Kan.) asked Vilsack about implementation of provisions providing $60 million in funds to help small- and medium-sized meat facilities meet federal inspection requirements — a prerequisite for interstate sales. Vilsack said the department intends to announce plans to implement the program soon. He said the department would be making announcements about funding for two small programs authorized to help small-scale processors. One would help processors qualify for federal inspection, which would enable them to sell across state lines and into export markets. Another would reduce the overtime fees that small processors must pay for federal inspection services.





Tester and Moran also emphasized the need to allow more state-inspected meat and poultry facilities sell products across state lines — including via USDA's existing Cooperative Interstate Shipment (CIS) program. Vilsack said "the challenge is basically getting them to make sure that they have the equivalency in terms of inspection. And the reason this is important is because we don't want to basically create chaos in the export market." Without such equivalency "we may have difficulty selling our beef and so forth, overseas," he explained.





Meanwhile, Moran asked Vilsack about implementation of other relief provisions to lower federal meat inspector costs for small- and medium-sized meat processors. Vilsack said an announcement should come soon on that front as well, adding that he would like to expand the program further. "Our budget contains another $44 million that would allow that program to be expanded not just for year two, but for maybe up to five years of opportunity for those small and midsize producers," Vilsack remarked.


 
JBS cyberattack. Tester also raised the recent JBS cyberattack that took scores of the company's meat processing facilities offline. "Can you just give us an idea of what you're doing around that with the Department of Justice [DOJ], or [otherwise]?" he asked Vilsack.
"The first order of business, I think, is to make sure that everyone in the food industry and food business understands the steps that they need to take to harden their systems," Vilsack responded. He added that USDA intends to "convene food groups to make sure they understand and appreciate precisely what is required." Regarding DOJ, he said USDA will be "more than happy to cooperate with any legal investigation."
Disaster aid. Vilsack suggested lawmakers take a fresh look at disaster aid programs as climate change impacts have strained resources. More funding is clearly behind that suggestion. Sen. Cindy Hyde-Smith (R-Miss.) asked when producers in her state might receive short-term assistance to help them recover from recent flooding. "Given the resources that we have available, and I would say that there are some programs, frankly, where there is a little bit of money, just a small amount of money left that's unobligated, which I think points out a larger set of issues with reference to our programs to help during the during difficulties," Vilsack said.

Bottom line, said Vilsack, is that multiple disasters in recent years have put strain on resources allocated to USDA disaster programs, an issue he said will almost certainly escalate as the impacts of climate change continue to intensify. "I do think it's a question that this committee needs to ask in a larger context," he remarked. "I think we need to really think about the structure of our programs and the flexibility of our programs to be able to respond."
 
Covid aid. In response to a question from Senate Appropriations Committee Chairman Patrick Leahy (D-Vt.), about the release of Covid aid to farmers, Vilsack noted that USDA announced Tuesday that it will provide aid to biofuels, dairy, poultry, livestock and organic producers and to small, family-owned timber harvesters and haulers. Leahy noted that it was the first time in his memory that he had asked a Cabinet secretary to do something and "gotten the answer it is today."
 
Climate change efforts. Vilsack fielded questions on USDA's climate-smart ag plans. Sen. Martin Heinrich (D-N.M.) asked Vilsack for his thoughts on legislation he introduced in the Senate and that Rep. Chellie Pingree (D-Maine) introduced in the House — the Agricultural Resilience Act — that aims to make the ag sector carbon neutral by 2040. "The bill would expand voluntary USDA conservation programs, bolster some new and existing state soil health programs like the healthy soils program in New Mexico, boost USDA climate research and increase investments in on-farm renewable energy," Heinrich detailed. He asked Vilsack if he agreed such efforts could both booth climate resilience and help achieve the net-zero emissions goal.

Vilsack said he did agree, noting, "That's why we're basically encouraging [the Natural Resources Conservation Service (NRCS)] to focus its existing programs and any increases in those programs on the 45 practices that we know are climate smart, to be able to enhance and encourage [their use]." In terms of individual conservation programs, Vilsack reiterated his view they all "are designed and should be designed to encourage climate-smart agricultural practices and soil health initiatives."

During an exchange with Sen. Mike Braun (R-Ind.), Vilsack emphasized that bolstering ag research funding is another key to realizing USDA's climate vision. "We have got to invest more in our research on agriculture if we're going to be able to adapt and mitigate to a changing climate and to all the issues we've talked about here," he said. "That's why our budget includes additional resources and the President's American Jobs Plan involved additional resources."

Sen. Hoeven, subcommittee ranking member, said he wants to be sure that carbon sequestration programs are "farmer-friendly, and we don't get one size fits all." He noted that corn and soybean farmers may not need to till, but that sugar beet farmers in North Dakota's Red River Valley do need to till and could not sequester carbon in the same way as the corn and soybean farmers. Vilsack said that a carbon market can't be one size fits all, cannot be mandatory and cannot reward latecomers at the expense of early adopters. Vilsack also said that a carbon market needs to be developed with reduced paperwork and a price that makes sense so that farmers benefit.
 
Conservation Reserve Program (CRP). Vilsack is optimistic that USDA can meet goals for increasing the CRP by 4 million acres. Landowners have until July 23 to apply for the CRP general signup, which opened in January. Vilsack hopes payment rate increases will spur interest in the program.
 
FSA, NRCS staffing. Vilsack said it will take some more time before local Farm Service Agency and Natural Resources Conservation Service offices are fully staffed. Lower vaccination rates in rural areas are a factor, he said. Vilsack added that USDA is now surveying its staff about teleworking in the future. Vilsack stressed both agencies were keeping pace with handling program demands despite some local staff continuing to work remotely. He said that 75% of FSA staff were back in agency offices and almost the same percentage of NRCS staff. He said that USDA was working on a return-to-work plan, but field offices were limited in how many people they could bring into their facilities in part because of social distancing requirements involving workers who aren't vaccinated against Covid-19. "There's a lot of work we can and should, and ought to be doing on the ground, and there are no better problem solvers I don't believe in all of government than the good folks that work at NRCS. There just aren't enough of them," Vilsack said.
 
Sen. Jerry Moran (R-Kan.) noted that farmers and grain traders have lost confidence in the production estimates from USDA's National Agricultural Statistics Service (NASS) but that he would "advocate for" a $10 million increase in that agency if Vilsack would promise the problems would be resolved. If it doesn't solve the problem, "then I'm not doing my job," Vilsack said.
 
Rural broadband. Vilsack said that if Congress wants to increase the percentage of Americans with access to high-speed Internet service beyond the current 64%, it will have to put a lot more money into it. At the present rate, Vilsack said, "It will take many, many years" and "you are going to be asking this of me for the next four years, of other people for fill-in-the-blank years." "We, as a country, need to fish or cut bait on this," Vilsack said.
 
Nutrition programs. USDA should have some information available on its re-evaluation of the Thrifty Food Plan that governs nutrition benefits later this summer so that states have information on estimated costs before the fiscal year begins October 1, Vilsack said, adding that the Special Supplemental Nutrition Program for Women, Infants and Children (WIC) needs the requested funding.
— House, Senate Ag panel Republicans lay out negative impacts of proposed tax policy changes. Republican House and Senate Ag Committee leaders Tuesday (June 15) unveiled a study (link) detailing negative impacts that proposed changes to capital gains and estate taxes could have on intergenerational farm transfers, though the report does not consider potential exemptions the Biden administration has insisted would insulate farmers from some of the shifts.
     GOP briefing. House Ag Committee Ranking Member GT Thompson (R-Pa.) and Senate Ag Committee Ranking Member John Boozman (R-Ark.) held a briefing Tuesday morning to discuss the analysis, prepared at their request by the Agricultural and Food Policy Center (AFPC) at Texas A&M University. The report looks at how two pieces of proposed tax policy legislation — elimination of stepped-up basis and lowering exemption levels on estate taxes — might affect family farms that are passed down from one generation to the next. Those are among policies being floated by Democrats as one way to pay for President Joe Biden's proposed multi-trillion-dollar infrastructure and social program packages.
     Stepped-up basis and/or estate tax increases could affect wide swath of U.S. farms. Specifically, economists modeled effects the Sensible Taxation and Equity Promotion (STEP) Act — which would eliminate stepped-up basis for capital gains taxes — and the 99.5% Act — which would lower the estate tax exemption to $1 million per individual — would have on a set of 94 "representative farms" included in a database maintained by AFPC. The policy center simulated how the two bills, either in isolation or together, would affect farms based on asset information furnished in a survey of operators included in the AFPC database. According to the report, under current tax law, an intergenerational transfer of farm assets at death would see just two of 94 (2%) of the representative farms impacted by either estate or capital gains taxes, with an average incurred tax liability of $370,431. Were the STEP Act in place, the same type of transfer would see 92 of 94 (98%) of farms impacted, with average tax liabilities of $726,104. Meanwhile, the 99.5% Act would affect 41 of 94 (44%) of farms, with an average tax liability of $2,166,415.
     If both tax measures were enacted, AFPC's analysis found 92 of 94 (98%) of the representative farms would see higher taxes, with an average liability of $1,431,408. The report notes that while the average liability under the scenario is actually lower than if the 99.5% Act were enacted alone, that is only due to the fact that a larger number of farms would be affected, many of them with modest impacts that pull down the overall average. "Combining the two policies always resulted in an equal or higher tax liability" overall, the report stressed.
     "This is one of the most serious policy analyses we've done, meaning that it impacted almost every farm we have significantly," said AFPC Co-Director and ag economist Joe Outlaw. "That is not to say that's gonna put them out of business, but what I would say is, there isn't the cash on hand in these operations to pay these taxes, so they're going to have to set up a loan and pay them out over time."
     Boozman said the data in the report "speaks for itself" and "should give pause to anyone considering this approach as an option to pay for new additional federal spending. If changes of these magnitude are pursued, as some have discussed, the economic harm it will cause will have a lasting impact on rural America."
     Thompson added that even with proposed carve outs for agriculture, the proposed tax increases will "inevitably" impact farmers and ranchers, calling it "too great a burden to gamble with."
     USDA Secretary Tom Vilsack has stressed that the administration is committed to ensuring exemptions are included along with any tax policy changes that would dramatically limit their effects on family farms. He has pointed to a USDA analysis which found the exemptions would ensure that 98% of family farms would not see higher taxes under the stepped-up basis changes being proposed by the Biden administration. Notably, President Joe Biden's tax proposals would leave the estate tax as is — though some congressional Democrats are still pushing for adjustments.
     Boozman and seven other Senate Ag Republicans recently asked Vilsack to clarify how USDA arrived at its conclusions relative to the stepped-up basis analysis. Asked if he had received a response yet to the query, Boozman said he had not.
     Asked how the administration's promised carve outs might impact the findings relative to AFPC's analysis, Outlaw explained there are not enough details available on how the exemptions would work to model how they would affect the conclusions drawn in the report. Still, he emphasized that the structure of any exemption would be key. "The number one thing I wanted to make sure—that everybody needs to understand—you can be a very large farm, but there's very extended families," Outlaw explained. "It doesn't have to be the son or daughter that come back to the farm, sometimes it's nephews and nieces that come back to the farm and being able to accommodate all those different types of family arrangements through a carve out is going to be very, very difficult."
     Despite the caveats that accompany the analysis — namely that it assumes no ag-specific exemptions — the report is likely to further elevate ag sector concerns about tax policy changes being pushed by the administration and some congressional Democrats. Already, some Democratic lawmakers, including House Ag Committee Chair David Scott (D-Ga.) have made clear they would not be supportive of policies that might impose a higher tax burden on family farms, especially when it comes to passing down assets from one generation to the next.
---
BIDEN ADMINISTRATION PERSONNEL
---
— Biden released a slate of nominees to serve as U.S. ambassadors Tuesday, including for NATO, Israel and Mexico. Some of the selections:
Veteran diplomat and Wall Street executive Thomas Nides as his representative to Israel.

Former Interior Secretary and Colorado Sen. Ken Salazar as ambassador to Mexico.

Julianne Smith, a deputy national security adviser when Biden served as vice president, to be ambassador to NATO.

Cynthia Ann Telles as ambassador to Costa Rica. She is a professor of psychiatry at the UCLA David Geffen School of Medicine.

C.B. "Sully" Sullenberger III, the pilot who safely landed a damaged passenger jet on the Hudson River in 2009, saving all 155 aboard, to serve on the Council of the International Civil Aviation Organization, carrying a rank of ambassador.

The White House said Biden was nominating four career foreign-service officials to serve as ambassadors: Julie Chung to Sri Lanka; Sharon Cromer to Gambia; Troy Fitrell to Guinea; and Marc Ostfield to Paraguay. White House advisers have suggested the president will turn to veteran diplomats to fill many posts around the globe.


 
---
CHINA UPDATE
---
— China to release metal reserves in effort to tame commodities, the Wall Street Journal reports. The state stockpiling body, China's National Food and Strategic Reserves Administration, said today that it plans to release copper, aluminum, zinc and other national reserves in batches in the near future to ensure the supply and price stability of bulk commodities. Speculation that Chinese authorities would make such a move had pushed copper prices to an eight-week low on Tuesday (see related item below), and investors worry Beijing may soon launch a broader push to temper rising prices. The reserves will be released to nonferrous-metal processing and manufacturing companies via a public bidding process, the government agency said. It is the first release of reserves in years, with the announcement causing a drop in metal prices in London and Shanghai, and a selloff in mining shares in Australia.
 
— China's sow herd nears pre-ASF levels. China's pig herd surged 23.5% in May compared with the year prior, according to state media citing the country's ag ministry. The country's sow herd was up 19.3% from year-ago during May and at 98.4% of levels seen at the close of 2017 — before African swine fever (ASF) hit. Xin Guochang, an official with the agricultural ministry's Animal Husbandry and Veterinary Bureau, told local media "We can now say with complete confidence that the original three-year mission for the restoration of pig production has been completed ahead of schedule."
— China pushes producers to maintain hog production in the face of diving prices. The average hog-to-grain ratio dropped below 6:1 in China, falling below the level where most farmers make money, the National Development and Reform Commission (NDRC) reported. It issued a level-3 warning about an excessive drop in live hog prices and urged pig farmers to keep production capacity at a reasonable level. The state economic planning agency said it will closely monitor pig production and market price trends and "carry out reserve adjustments in a timely manner and promote the smooth operation of the live pig market." Live hog prices currently average 14.68 yuan ($2.29) per kilogram, a two-year low and a 60% drop from the start of the year, according to Shanghai JC Intelligence. NDRC says the price drop has stemmed from farmers sending heavy pigs to slaughter, a rise in pork imports and weak seasonal demand. Farmers are unlikely to heed government advice, and a shortage of live hogs is likely the second half of the year, according to Pan Chenjun, senior analyst at Rabobank.
---
ENERGY & CLIMATE CHANGE
---
— Judge blocks Biden pause on oil leases on public lands. The Biden administration's pause on new oil and gas leases on public lands and offshore waters was blocked by a federal judge in Louisiana at the urging of 13 red states. A preliminary injunction blocking Biden's Jan. 27 executive order was issued by U.S. District Judge Terry Doughty in Monroe, who was appointed by former President Donald Trump.
— Bloomberg latest news outlet to signal RFS changes possible. The Biden administration is developing targets for biofuel that are likely to be relatively flat or even lower as it seeks to balance the interests of blue-collar refining workers and advance a clean-energy agenda, Bloomberg reported. The news group said EPA is set to propose renewable fuel requirements within weeks. The volume requirements will dictate how much corn-based ethanol, biodiesel and other renewable fuels oil refiners must blend into their products in 2021 and 2022. The proposal is on track to be issued after the Supreme Court makes what could be a pivotal ruling on the EPA's ability to exempt refineries from the mandates.
     EPA is also moving to abandon a plan for incorporating waived quotas that had been adopted under former President Donald Trump. The move responds to pressure from refining advocates who have warned about mounting costs for the tradeable compliance credits. "EPA is working to get the RFS program back on track, and we continue to engage with all stakeholders in that effort," agency spokesman Nick Conger said.
     EPA monitors refiners' compliance with annual quotas via the system of tradeable credits known as Renewable Identification Numbers, or RINs, that are generated by blending biofuels. Refiners that fall short of biofuel-blending quotas can buy the credits from other refiners and traders.
     Democrats from the president's home state of Delaware, including Governor John Carney and Senators Tom Carper and Chris Coons, have asked the EPA to give refineries more time to satisfy last year's quotas and ensure new 2021 requirements reflect the pandemic-spurred drop in fuel demand. Labor leaders also have also pressed President Joe Biden to set "reasonable" blending quotas and compensate for 2020 targets they say were "well above the amount of biofuels that could possibly be blended into the fuel supply."
     Biofuel advocates are pushing back against quota reductions, with lawmakers from rural, corn- and ethanol-producing states preparing to make direct appeals to EPA Administrator Michael Regan. "I would be completely shocked if the Biden administration actually took action to weaken or undermine the Renewable Fuel Standard," said Geoff Cooper, head of the Renewable Fuels Association. "It would embolden the fossil energy industry and threaten the president's entire clean energy and climate agenda."
     EPA officials also have been asked to consider delaying the deadline for fulfilling 2021 quotas, a move it already took for 2019 and 2020.
     Meanwhile, it is unclear how the EPA will address a lingering 2017 court ruling that found the agency improperly waived 500 million gallons worth of quotas in 2016. Biofuel supporters have pressured the agency to incorporate those requirements, while refining advocates have suggested ways they could be mostly set aside.
     As noted, the Supreme Court is set to rule soon — and as soon as Thursday — on a case that tests the EPA's ability to exempt small refineries from annual blending quotas. The Biden administration already urged the high court to limit those exemptions, and it isn't expected to widely issue waivers even if the Supreme Court disagrees.
---
LIVESTOCK, FOOD & BEVERAGE INDUSTRY
---
— Nebraska-based pork processor Wholestone Farms announced it will be expanding into South Dakota with plans to build a $500 million pork harvest and processing facility.
— North American Meat Institute urges Vilsack to address challenges at ports. With delays and congestion at U.S. ports hurting U.S. agriculture exports, including meat and poultry products, the North American Meat Institute (Meat Institute) on Tuesday urged USDA Secretary Tom Vilsack and Congress to confront the crisis as part of efforts to improve and strengthen the food supply chain. "As part of USDA's focus on ensuring America's food supply chain is resilient, diverse and secure, we urge Secretary Vilsack to help resolve persistent challenges at our ports," said Julie Anna Potts, President and CEO of the Meat Institute. At issue is the continued behavior of ocean carriers to decline to carry U.S. agriculture commodity exports and instead return empty containers to Asian markets to fill them with more lucrative consumer goods to export back to the U.S.
     Excessive fees alleged. Further, the Meat Institute detailed, ocean carriers and marine terminal operators are charging excessive and unreasonable detention and demurrage fees assessed on U.S. importers and exporters for the failure of these importers and exporters to either retrieve a container from a marine terminal or return one within a specified amount of time, even if delays in retrieving or returning containers are beyond the control of the importer or exporter. "Failure to hold these carriers accountable could have long-lasting, detrimental effects for the trade-dependent U.S. meat and poultry industry and agriculture sector which has caused $1.5 billion in lost revenue," said Potts. "If current ocean carrier practices persist, and are not subject to oversight, then the U.S. meat and poultry industry, its workers and the communities it supports will struggle to access these vital markets that have been cultivated over decades."
 
---
CORONAVIRUS UPDATE
---
— Summary: Global cases of Covid-19 are at 176,682,214 with 3,823,787 deaths, according to data compiled by the Center for Systems Science and Engineering at Johns Hopkins University. The U.S. case count is at 33,486,912 with 600,287 deaths. The Johns Hopkins University Coronavirus Resource Center said that there have been 311,886,674 doses administered, 145,768,367 have been fully vaccinated, or 45.2% of the U.S. population.
— NIH study suggests the coronavirus may have been in the U.S. as early as December 2019. The new report, published in the journal Clinical Infectious Diseases, bolsters earlier studies indicating the virus entered the country under the radar and may have been spreading in the first two months of 2020, well in advance of warnings to that effect from the Centers for Disease Control and Prevention. A volunteer in Illinois who gave blood on Jan. 7, 2020 — in a study unrelated to the emergent virus — tested positive for antibodies to SARS-CoV-2, according to the NIH report. It noted that the antibodies typically take 14 days, on average, to develop.
 
---
POLITICS & ELECTIONS
---

— Biden or Harris has not called Texas governor re: border. Texas Gov. Greg Abbott (R), in an interview with the Ruthless podcast, said Vice President Harris has never called him to discuss the border issue. "The president hasn't called. The vice president hasn't called. The only person I've talked to are some folks in the Department of Homeland Security. And that was a long time ago. They have a game of pretend going on. They are pretending that the Texas border does not exist because they're not talking about it either publicly or privately or calling us or anything else like that," Abbott told the conservative show. He also revealed he's taking a gubernatorial race challenge from actor Matthew McConaughey seriously. "I take every campaign opponent very seriously. It could be as easy of an opponent as I had last time, which is Lupe Valdez, or it could be somebody more challenging. But I'll take everybody seriously," he said.
     Harris is meeting today with Texas state legislators who killed a bill that would have set some of the nation's broadest restrictions on voting.

— Cheaper by the two dozen. Vice President Kamala Harris is hosting an event at her Washington D.C. residence next week, and all 24 of her female colleagues in the U.S. Senate are invited.
 
---
CONGRESS  
---
— Senate confirms antitrust expert to FTC. Lina Khan, 32, won a Federal Trade Commission seat on Tuesday, giving the five-member commission a third Democratic vote and the opportunity for a more assertive antitrust enforcement. She was confirmed by a vote of 69 to 28, with three senators absent. "I believe she is focused on addressing one of the most pressing issues of the day: reining in the big social media platforms," Sen. Roger Wicker (R-Miss.), the top-ranking Republican on the Senate Commerce Committee, said last month.
     Khan, a professor at Columbia Law School, first gained prominence by writing a widely read law review article about Amazon while a student at Yale Law School. The article argued that current discussions around antitrust, especially those centered on competition leading to better prices for consumers, are "unequipped to capture the architecture of market power in the modern economy."
     She previously worked as a legal adviser to FTC Commissioner Rohit Chopra. Last year, she served as counsel to a House investigatory panel, conducting a 16-month investigation into large online platforms and recommending action against the companies' anti-competitive behavior. Khan argues that current anti-competition laws are poorly equipped to address e-commerce. This is because the usual framework for evaluating competitive harm is the popular consumer welfare standard, which is often measured based on prices. "Congress created the FTC to safeguard fair competition and protect consumers, workers, and honest businesses from unfair & deceptive practices," Khan said on Twitter after her confirmation. "I look forward to upholding this mission with vigor and serving the American public."
     Outlook: The FTC usually announces rules in partnership with the Department of Justice, but President Biden has yet to nominate anyone to lead the Department of Justice's antitrust division. Analysts note Khan's nomination represents increased interest in antitrust reform on Capitol Hill, where several antitrust bills are moving through the House this summer.
— Juneteenth would be national holiday under Senate-passed bill. June 19 would become a federal holiday marking the emancipation of Black Americans from slavery under a bill the Senate passed by unanimous consent yesterday. Juneteenth is recognized by almost all states and Washington, D.C. as an official state holiday or observance.
— House Appropriations sets FY 2022 markup schedule. The House Appropriations Committee announced they expect to begin markup of the 12 fiscal year (FY) 2022 spending packages June 24 and conclude those July 16. At the subcommittee level, the Agriculture appropriations package is set for markup June 25 with a full committee session set for June 30. Energy and Water Development markup will take place at the subcommittee level July 12 and at the full committee July 16. That schedule also applies to Health and Human Services and Transportation.
---
OTHER ITEMS OF NOTE     
---
— Rep. Lieu calls on Breyer to leave Supreme Court. The threat of Republicans regaining control of the Senate next year has progressive Democrats ramping up calls for Supreme Court Justice Stephen G. Breyer to step down from the bench to ensure that President Biden's replacement could be confirmed while the party remained in control. Rep. Ted Lieu (D-Calif.) on Tuesday joined those calls, saying it would be "best for our country" if the most senior justice appointed by a Democratic president stepped down by next year, before Republicans have a chance to regain the Senate majority and use that power to block a Biden nominee, as they did President Obama's in 2016. "I do believe that he should retire prior to the midterms," Lieu said on CNN. Similar calls have been made by other far-left Democrats, including Reps. Mondaire Jones and Alexandria Ocasio-Cortez, both of New York. Breyer, who at 82 is the oldest justice, was appointed by President Clinton in 1994.
     Earlier this week, Senate Minority Leader Mitch McConnell (R-Ky.) said that if Republicans regain control of the Senate in 2022, it is "highly unlikely" he would allow a vote on a Biden Supreme Court nominee during the last year of Biden's term. "I don't think either party if it controlled [the Senate and is the opposing party] from the president would confirm a Supreme Court nominee in the middle of an election," he said on the Hugh Hewitt radio show. He was noncommittal about a vacancy that occurred in 2023. McConnell refused to hold hearings on Obama's nominee to replace Antonin Scalia after the former justice died in 2016. The seat remained open through the 2016 election and President Trump filled it with Justice Neil M. Gorsuch.
---