U.S. Pork Industry Loses Appeal on Line Speeds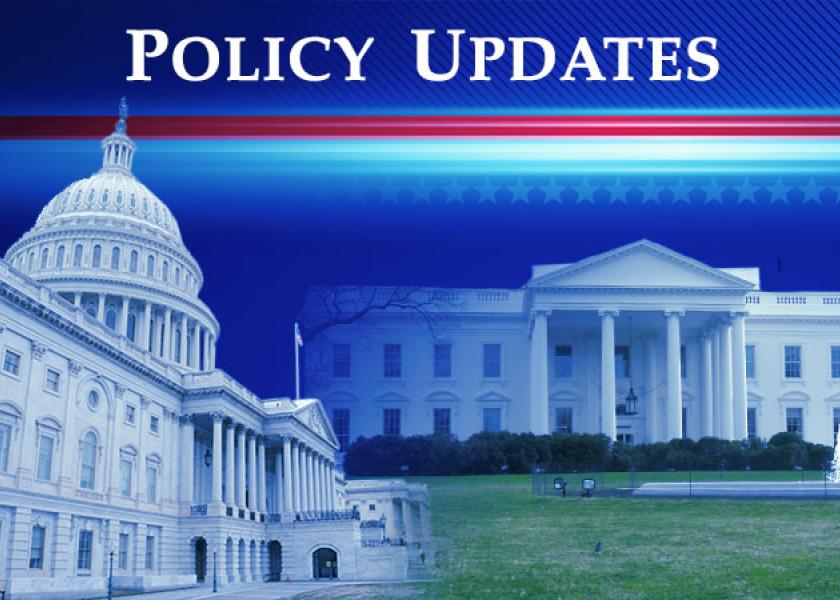 Social Security benefits COLA likely to be largest in decade | Billions paid in child tax credits
---
In Today's Digital Newspaper
---
Market Focus:
• Retail sales more robust than expectations
• USDA daily export sale: 134,000 tons SRW wheat for delivery to China 2021-2022
• Will Powell get a Fed chair extension?
• $10 trillion in spending… half of U.S. annual GDP
• Social Security benefits COLA likely to be largest in decade
• IRS and Treasury sent payments for almost 60 million children on Thursday
• Child care payments of $15 billion (total price $110 billion over two years)
• Yellen: 'Several more months of rapid inflation,' worries about impact on home buyers
• If inflation is on the rise, why are U.S. Treasury yields heading lower?
• Multimillion-dollar ranch for sale in central Kansas
• OPEC: Strong recovery in global oil demand could accelerate pace of inflation
• Powell: Cryptocurrencies "completely failed" to become legitimate payment system
• Germany confirms first cases of African swine fever (ASF) in farm pigs
• Floods devastate Europe, climate change blamed
• Ag demand update
• Grain and soy futures rallying leading up to the weekend
• Brazil's corn contract washouts expected to be the highest since 2016
• Argentina's wheat crop off to an encouraging start
• France's soft wheat crop rating slide after soggy week
• USDA's U.S. and global forecasts have faced increased scrutiny, including from us
• Cotton AWP above 75 cents
• Germany confirms its first cases of African swine fever (ASF) in farm pigs
• Mostly steady cash trade as beef values slide
• Cash hog bids drop
Policy Focus:
• Senate leader schedules vote to proceed on bipartisan infrastructure measure
• Pay-for IRS issue flares up
• Pelosi: House will tweak Senate budget blueprint
• Ocasio-Cortez warns far-left can 'tank' infrastructure bill
Biden Administration Personnel:
• USDA nominee to lead marketing and regulatory programs strikes similar tone 
China Update:
• Tepid demand at latest Chinese auction of imported corn
• China vows to retaliate if U.S. imposes further Hong Kong sanctions
• Xi Jinping raises food security to 'national security' concern
Livestock, Food & Beverage Industry Update:
• Pork industry loses appeal on line speeds
• Amory Investments LLC filed antitrust litigation against host of pork industry giants
• USDA seeks input from public on program to expand meat processing capacity 

Coronavirus Update:
• Los Angeles County will again require the use of masks indoors
• Canada mulls reopening border to U.S. tourists in mid-August
• Biden to give update on lifting ban on travel from Germany and other parts of Europe
• "We just call it the variant" — Ed Bastian, the CEO of Delta Air Lines of Delta variant 
Politics & Elections:
• Companies resume giving to GOP who opposed certifying 2020 presidential election 
Congress:
• Manchin: No filibuster exception for voting rights bill
• House Democrats plan 7-bill spending package
Other Items of Note:
• California lawmakers approve first state-funded guaranteed income plan
• U.S./Cuba policy
• Breyer has not decided on when he intends to retire
• Cotton AWP above 75 cents
• Environmental groups lose bid to immediately toss Trump WOTUS rule 
• Remember the "mystery seeds"?
 
---
MARKET FOCUS
---
Equities today: Global stock markets were flat to narrowly mixed overnight. The U.S.Dow opened up around 100 points higher but then tempered gains as retail sales were more robust than expected. It appears trader and investor enthusiasm may be losing some momentum as the new Covid-19 strain is surging in regions of the world, including the U.S. Just when it appeared the pandemic was being tamped down in much of the world, it is flaring up again (see related item below). Most major benchmarks in Asia ended the week on a downward note. The Shanghai Composite Index declined 0.7% and Japan's Nikkei 225 fell 1%. European equities are mixed to weaker in early action with earnings data in focus. The Stoxx 600 was down 0.2% with regional markets showing slight gains to losses of 0.6%.
     U.S. equities yesterday: The Dow ended up 53.79 points, 0.15%, at 34,987.02. The Nasdaq fell 101.82 points, 0.70%, at 14,543.13 while the S&P 500 was down 14.27 points, 0.33%, at 4,360.03.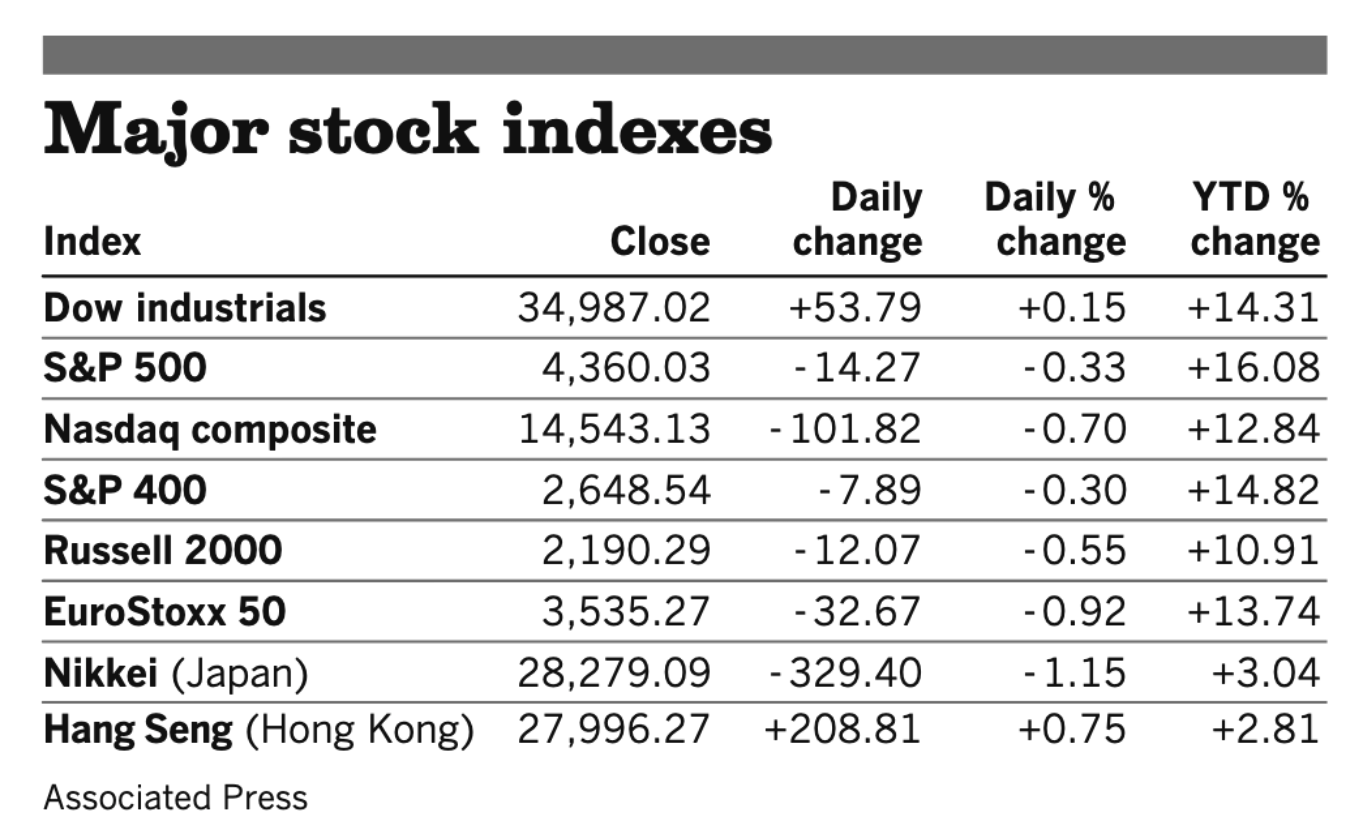 On tap today:
     • U.S. retail sales for June are expected to fall 0.4% from a month earlier. (8:30 a.m. ET) Update: U.S. retail sales rose by 0.6% in June as the economy more broadly reopened and auto dealers navigated supply disruptions.
     • New York Fed President John Williams gives opening remarks at a webinar on culture in a post-pandemic workplace at 9 a.m. ET.
     • U.S. business inventories for May are expected to increase 0.5% from a month earlier. (10 a.m. ET)
     • University of Michigan consumer sentiment index is expected to rise to 86.3 in the opening weeks of July from 85.5 at the end of June. (10 a.m. ET)
     • Baker Hughes rig count is out at 1 p.m. ET.
     • CFTC Commitments of Traders report at 3:30 p.m. ET.
     • President Joe Biden, China's Xi Jinping and other world leaders will meet virtually today as part of an informal APEC meeting focused on ending the Covid-19 pandemic and supporting the global economic recovery.
Will Powell get a Fed chair extension? Treasury Secretary Janet Yellen said the question of whether to nominate Fed Chair Jerome Powell for a second term is a conversation for her and President Joe Biden, declining to give her opinion in a televised interview. Some are signaling that the attacks on Powell by Senators during the Thursday hearing on monetary policy by Sens. Elizabeth Warren (D-Mass.) and Sherrod Brown (D-Ohio) could be a sign his reappointment to lead the Fed could be in jeopardy. However, others believe that it might be unwise for Biden to shift Fed leadership as the U.S. economy is still recovering from the pandemic. A majority of economists polled by Reuters said that Biden should reappoint Powell to another four-year term to lead the Fed. Powell has mostly been in sync with Biden administration economic goals. However, two in the poll of 40 economists said they thought Biden would tap Fed Governor Lael Brainard to lead the U.S. central bank, indicating that would be another move to broaden diversity at top levels of the US government. The message of keeping leadership atop the Fed during the recovery was also a factor when President Barack Obama renominated Ben Bernanke as Fed Chairman in 2010 as the U.S. was emerging from the financial crisis.

Perspective: If you add up Covid packages, infrastructure and now reconciliation…$10 trillion in spending… half of our annual GDP.
Social Security benefits COLA likely to be largest in decade. After several years of tepid cost-of-living increases, seniors are likely to get a significant raise in their Social Security benefits in 2022. The Kiplinger Letter is forecasting that the annual cost-of-living adjustment for Social Security benefits for 2022 will be 6.3%, the biggest jump since 1982, when benefits rose 7.4%. The final adjustment in October could be a little different, as the inflation rate for July through September has yet to be determined.
The IRS and Treasury said it sent payments for almost 60 million children on Thursday, totaling $15 billion (the total price tag for the tax credit is $110 billion over two years.). Almost 9 of 10 payments were sent via direct deposit, the agencies said. Taxpayers who filed an income tax return in either 2019 or 2020 and who claimed an eligible child, or who signed up to get an Economic Impact Payment and claimed an eligible child last year, generally did not need to take any action to receive their payments, Treasury said. About 86% of those receiving the payments this week received them via direct deposit. The average payment received in the U.S. was $423. Only six states (Connecticut, District of Columbia, Massachusetts, New Hampshire, New Jersey, and Rhode Island) saw an average payment of less than $400 while the average payment in Utah was the only state above $500. California ($1.62 billion) and Texas ($1.5 billion were the only two states with payments topping $1 billion.
    Bank of America says the tax credit alone will add over 1% to monthly disposable income, supplementing what some families lost after a number of states cut off topped up unemployment benefits. "[W]e expect consumer demand to continue to outpace supply, at least through the end of the year," thanks in part to the child tax credit, JPMorgan Funds' David Kelly wrote.
     Details: The expansion boosts the credit from $2,000 to $3,600 for each child under 6 or $3,000 for children ages 6 to 17. It also makes the CTC "refundable" — that means people can get it even if they don't owe federal income tax, increasing the number of low-income households that qualify for the payments. But not everyone will qualify for the expanded credit. To get the full enhanced CTC, single taxpayers must earn less than $75,000 and joint filers must earn less than $150,000, with payments reduced by $50 for every $1,000 of income above those limits. The enhanced payments phase out for single taxpayers earning $95,000 and joint filers earning $170,000 — but most households earning above those limits will still qualify for the regular $2,000 per-child CTC. Americans are accustomed to getting tax benefits once a year, when they file their tax returns, and many receive a refund. They still can elect to receive the child credit this way, as an annual lump sum, but Congress and the White House designed it to provide monthly payments. Senior administration officials said this would help families work the credit into their budgets and rely less on predatory lenders. It functions more as a guaranteed family income for children, strengthening the country's social safety net, than as a typical tax credit. Most families will receive half of the credit in monthly installments for the rest of the year and the other half after they file their tax returns that are due April 15. "For the first time in our nation's history, American working families are receiving monthly tax relief payments to help pay for essentials like doctor's visits, school supplies and groceries," Treasury Secretary Janet Yellen said in a statement.
     The IRS has said about 36 million households are in line to receive the payments, which will be sent each month until they end in December, unless extended by Congress, as some Democrats are pushing. Commenting on the new child tax credit, Treasury Secretary Janet Yellen noted that the funds would provide an additional spending boost for the economy. She also called for the monthly installments to be permanent, saying the program is "something that's very important to continue." "It certainly will add to spending, but most importantly, it provides support for families to take care of the needs of children."
     The federal government has set up a website, childtaxcredit.gov, to help people register for the payments even if they don't file taxes. And money can be delivered by check instead of direct deposit.
     Meanwhile, Bloomberg reports (link) that Democratic leaders "want voters in key states to know which party is responsible for the checks Americans with young children. A new digital ad campaign targeted to key Senate and House midterm races touts the expanded monthly tax credit." DNC Chair Jaime Harrison, whose organization is funding the ads along with the DSCC, said in a statement, "We are making sure Americans know this contrast is clear. While Republicans continue to play games and block efforts to improve the lives of working people, Democrats are delivering for you."
Yellen sees 'several more months of rapid inflation,' worries about impact on home buyers. Treasury Secretary Janet Yellen cautioned Thursday that prices could continue to rise for several more months, though she expects the recent startling inflation run to ease over time. In a CNBC interview, the Cabinet official added that she worries about the problems inflation could pose for lower-income families looking to buy homes at a time when real estate values are surging. "We will have several more months of rapid inflation," Yellen told Sarah Eisen during a Closing Bell interview. "So, I'm not saying that this is a one-month phenomenon. But I think over the medium term, we'll see inflation decline back toward normal levels. But, of course, we have to keep a careful eye on it."
     Housing prices in the nation's largest cities climbed nearly 15% in the most recent measurements from S&P CoreLogic Case-Shiller. This has fed concern that inflationary pressures could stall the aggressive U.S. economic recovery, with the housing escalation raising fears of a bubble.
     "I don't think we're seeing the same kinds of danger in this that we saw in the run-up to the financial crisis in 2008," Yellen said. "It's a very different phenomenon. But I do worry about affordability and the pressures that higher housing prices will create for families that are first-time home buyers or have less income."
     On the inflation front, Fed Chairman Jerome Powell on Thursday told a Senate hearing that "This is a shock going through the system associated with reopening of the economy, and it has driven inflation well above 2%. And of course, we're not comfortable with that." The Fed chief alluded to how the pandemic could have long-term effects on the job market, potentially stoking wage growth in some sectors. "This particular inflation is just unique in history," he said Thursday. "We're humble about what we understand… We won't have to wait, you know, a tremendously long time, I don't think, to know whether our basic understanding of this is right." As for the retreat in Treasury yields over the two days of Powell's testimony, Treasury Secretary Janet Yellen said the drop reflects the view that "inflation does remain under control."
     If inflation continues beyond transitory… Modest inflation can be good, many say, but when things grow too fast and exceed a nation's fundamental capacity, the economy can overheat. The sharp rise in costs could result in inefficient allocations as suppliers overproduce and create excess production capacity, while the inflation expectations themselves could lead to relentless price increases. When things slow down, a recession can hit, and central banks may attempt to raise interest rates before then to lower the amount of spending and borrowing in the economy.
     Some ask, if inflation is on the rise, and tapering talk is making headlines, then why are U.S. Treasury yields heading lower? "It's because of all the liquidity in the system," DoubleLine Capital's Jeffrey Gundlach told CNBC. "Banks are so flush with deposits" that it is creating disorder in the broader financial markets. In fact, the New York Fed's overnight reverse repo program has started touching record levels around $1 trillion as excess liquidity overwhelms U.S. money-market funds and a parking space for cash becomes harder to find.
     What about the U.S. dollar? "Ultimately, the size of our deficits — both trade deficit, which has exploded post-pandemic, and the budget deficit, which is, obviously, completely off the charts — suggest that in the intermediate term - I don't really think this year, exactly, but in the intermediate term - the dollar is going to fall pretty substantially," said Gundlach, the so-called bond king. "That's going to be a very important dynamic, because one of the things that has helped the bond market, without any doubt, has been foreign buying, with the interest rate differentials having favored hedged U.S. bond positions for foreign bond investors." But hasn't the dollar gone up over the past month? "It's a question of what your horizon is. In the short term, the dynamics have been and will continue to be in place for the dollar to be marginally or moderately stronger. In the longer term, I think the dollar [is] doomed."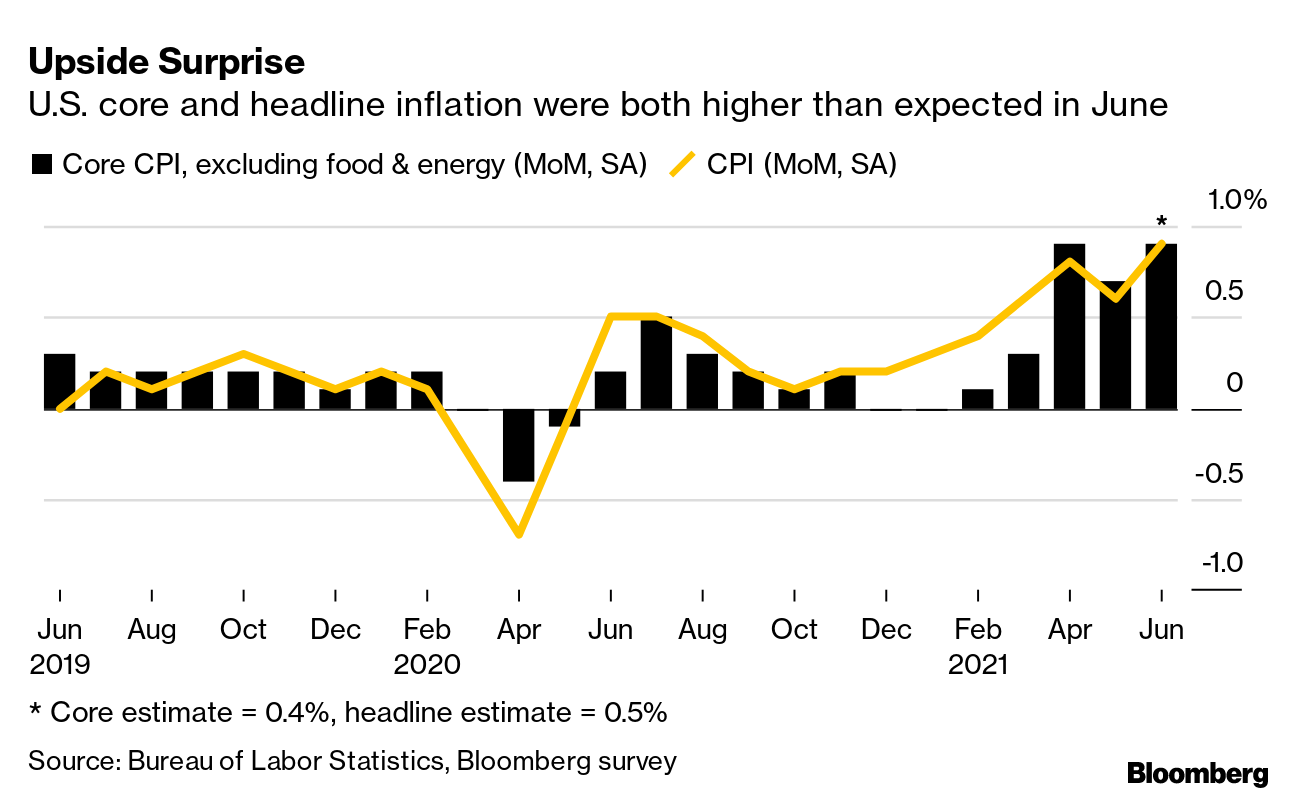 Multimillion-dollar ranch for sale in central Kansas. A prized property just went on the market for $32 million, a 2,200- acre hunting venue is spread across five counties in central Kansas. Link for details via the Dodge City Daily Globe.
Market perspectives:
     • Outside markets: The U.S. dollar index is firmer even as the euro is slightly higher versus the greenback with the British pound weaker. The yield on the 10-year U.S. Treasury note was edging higher, trading above 1.32% while most global government bond yields were weaker. Gold and silver futures were under pressure ahead of Retail Sales figures (see related item above for results), with gold trading under $1,820 per troy ounce and silver under $26.15 per troy ounce.

     • Crude oil futures are posting slight gains ahead of U.S. trading, with U.S. crude trading around $71.75 per barrel and Brent around $73.45 per barrel. Futures were under steady to lower in Asian trading after losses in U.S. action, with U.S. crude down 24 cents at $71.41 per barrel and Brent steady at $73.48 per barrel.
     • OPEC said Thursday that a strong recovery in global oil demand next year could accelerate the pace of inflation and pressure countries with high debt levels.
     • Cryptocurrencies have "completely failed" to become a legitimate payment system, the Fed chair, Jay Powell, said yesterday at a Senate hearing. He added that so-called stablecoins — cryptocurrencies whose value is pegged to the dollar or another asset like gold, with the idea of making them a predictable means of exchange — are dangerously unregulated. Central banks could step in and develop digital versions of their currencies, but Powell is "legitimately undecided" about the benefits of doing so, he told senators. The Fed will put out a report on a digital dollar around September; the European Central Bank began a study of a digital euro this week.
     • Germany has confirmed its first cases of African swine fever (ASF) in farm pigs. The virus was confirmed in pigs on two farms in the eastern state of Brandenburg, which borders Poland. ASF is widespread in Poland. ASF has been present in Germany's wild boar population for over a year, but until now the country had been able to keep the disease out of its farm operations. The disease was found in pigs on one organic farm with 200 animals and on a smallholding with only two pigs, the Brandenburg health ministry said. All of the animals have been slaughtered. Import bans have been in place against German pork since last year, resulting in EU producers like Spain increasing shipments to Asian markets and Germany boosting sales within the EU. Germany's ag minister said German shipments of pork to other countries within the EU will continue thanks to the regionalization concept.
     • USDA daily export sale: 134,000 metric tons of soft red winter wheat for delivery to China during the 2021-2022 marketing year.
     • Ag demand: Taiwan's Flour Millers' Association bought an estimated 500,000 MT of milling wheat to be sourced from the United States.
     • NWS weather outlook: Showers and thunderstorms to produce the threat of flash flooding between the Lower Great Lakes and Southern Plains today before entering the Northeast on Saturday... ...Additional rounds of heavy rain and thunderstorms found throughout the Southwest... ...Excessive heat builds into the Northern Plains and Intermountain West this weekend.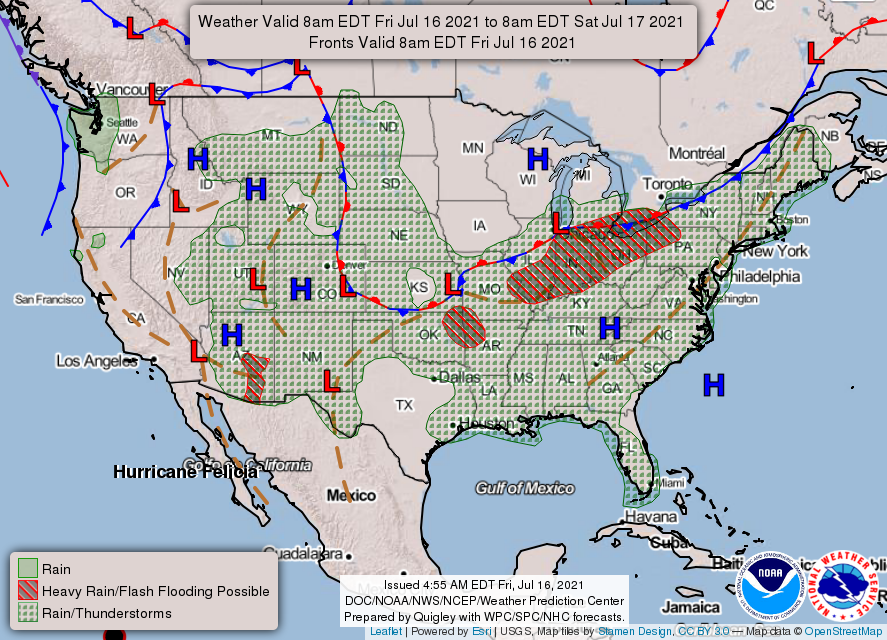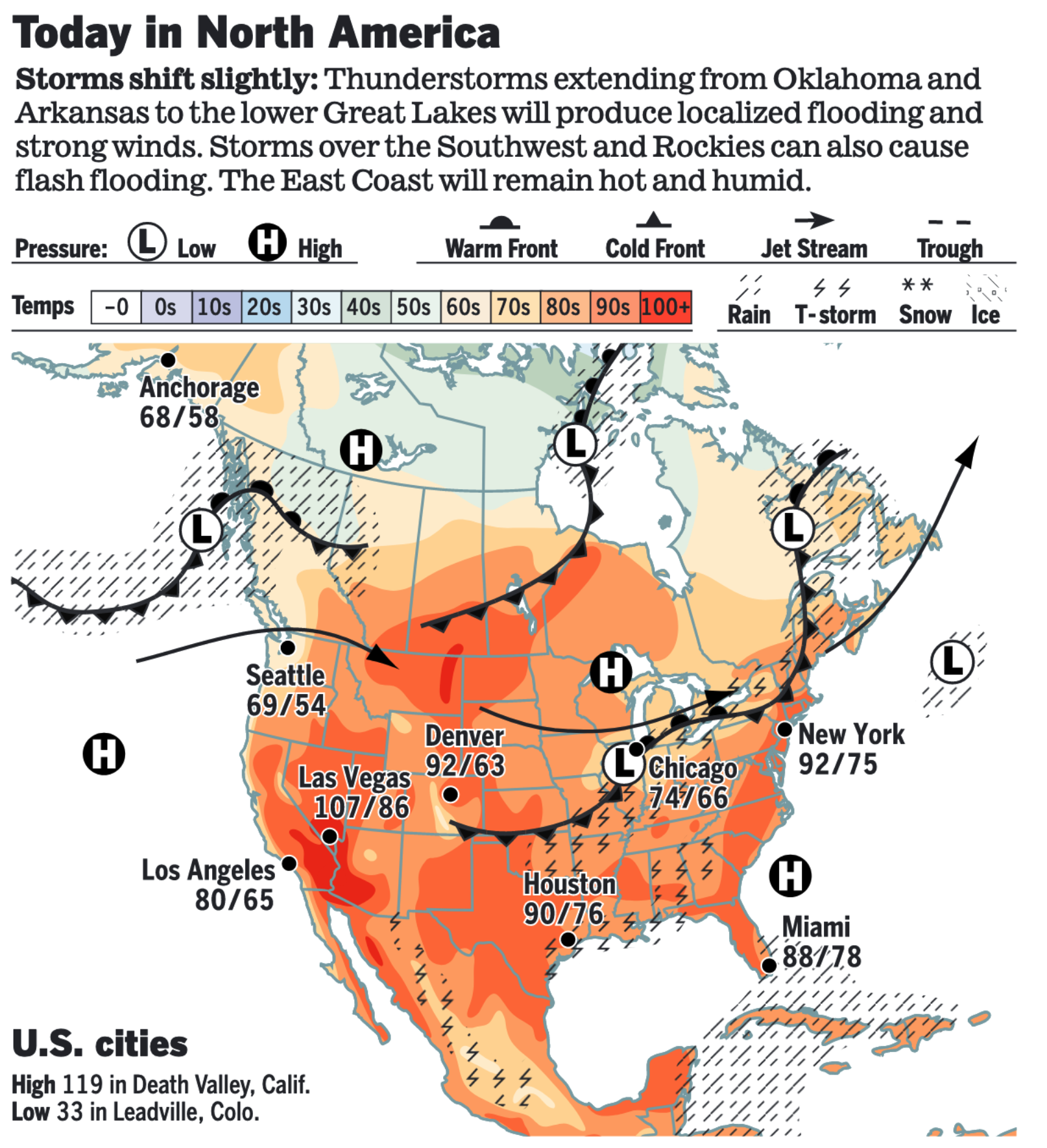 • Floods devastate Europe, and climate change is blamed. More than 100 are dead and hundreds remain unaccounted for after water from storm-swollen rivers rushed through Belgium, Germany and surrounding areas. The flooding, which some lawmakers and activists attributed to climate change, came days after the EU announced its ambitious blueprint for moving its economy away from fossil fuels.
Items in Pro Farmer's First Thing Today include:
     • Grain and soy futures rallying leading up to the weekend
     • Brazil's corn contract washouts expected to be the highest since 2016
     • Argentina's wheat crop off to an encouraging start
     • France's soft wheat crop rating slide after soggy week
     • USDA's U.S. and global forecasts have faced increased scrutiny, including from us
     • Cotton AWP above 75 cents
     • Germany confirms its first cases of African swine fever (ASF) in farm pigs
     • Mostly steady cash trade as beef values slide
     • Cash hog bids drop
 
---
POLICY FOCUS
---
— Senate leader schedules vote to proceed on bipartisan infrastructure measure but pay-for IRS issue flares up. Senate Majority Leader Charles Schumer (D-N.Y.) announced he will schedule a vote on Wednesday to proceed to the legislative vehicle that lawmakers hope to use to pass the bipartisan infrastructure package. But a bipartisan group of Senate negotiators is looking to replace a proposal to provide $40 billion in new funding for the Internal Revenue Service (IRS), which is projected to net $100 billion in new revenues through tougher tax enforcement, because the idea is drawing heat from conservatives. Coming up with another $100 billion in revenue is a task, even for this spend-happy Congress.

     Sen. Mitt Romney (R-Utah) threatened to vote against the motion to proceed to the bipartisan infrastructure bill before its text is finalized. "I think it would be a dereliction of duty to vote for a bill that hasn't been drafted yet," he said. But Romney later said the bipartisan coalition is holding together.
— Pelosi: House will tweak Senate budget blueprint. House Speaker Nancy Pelosi (D-Calif.) said the House will "realign" some of the priorities in the $3.5 trillion Senate Democrat budget blueprint to expand the proposal's social and environmental programs. "Many of the priorities of the House are already in the bill. The question is the top line," she said at an event in Los Angeles, "How we stay under the top line, as we perhaps realign some of those priorities."
— Ocasio-Cortez warns far-left can 'tank' infrastructure bill. Rep. Alexandria Ocasio-Cortez (D-N.Y.) said she and other House progressives (far-left liberals) would "tank" a bipartisan infrastructure bill unless Senate Democrats also pass a sweeping tax and spending measure to carry out priorities on climate change and social programs. "House progressives are standing up," Ocasio-Cortez said yesterday during a virtual town hall event. "We will tank the bipartisan infrastructure bill unless we will also pass the reconciliation bill." Ocasio-Cortez and her allies have the means to carry out that threat. Pelosi can afford to lose no more than four Democratic votes to get the $579 billion infrastructure plan passed in her chamber.
---
BIDEN ADMINISTRATION PERSONNEL
---
— USDA nominee to lead marketing and regulatory programs strikes similar tone as other Biden appointees. Members of the Senate Agriculture Committee were repeatedly assured by Jennifer Moffitt, nominated to be USDA Undersecretary for marketing and regulatory programs, that she would study issues under her purview carefully and seek input from a host of stakeholders in making decisions and that she would taken an "inclusive approach to solving problems." Moffitt has been a walnut farmer in California and served as an undersecretary at the California Department of Food and Agriculture. On the coming regulations ordered by President Joe Biden to update the Packers & Stockyards Act, Moffitt said she would reach out to stakeholders across the food supply chain and "weigh those complexities, and really understand what it means for farmers and ranchers," promising to take "a nuanced approach" to the rulemaking. There were no specifics offered by Moffitt relative to several issues, a situation which can be typical for nominees to various government posts that require Senate confirmation, and it is a pattern seen with many other appointees to such roles across the Biden and prior administrations. 
      Moffitt is expected to be approved by the panel and likely the full Senate to take the role at USDA.
 
---
CHINA UPDATE
---
— Tepid demand at latest Chinese auction of imported corn. China's grains stockpiler Sinograin said it sold 12,441 MT of GMO corn imported from the U.S. at an auction today, representing 7% of the total offer. A separate auction of 23,488 MT of non-GMO corn imported from Ukraine resulted in no sales.
— China vows to retaliate if U.S. imposes further Hong Kong sanctions. The White House issued an advisory warning U.S. business about risks to their operations and activities in Hong Kong as it prepares to sanction Chinese officials. It says businesses face risks associated with electronic surveillance without warrants and the surrender of corporate and customer data to authorities. "Developments over the last year in Hong Kong present clear operational, financial, legal, and reputational risks for multinational firms," the advisory said. The U.S. is also preparing to sanction seven officials from Beijing's liaison office in Hong Kong.
     Chinese foreign ministry spokesman Zhao Lijian said China's determination to resist U.S. interference in Hong Kong's affairs was "unshakeable" and that the U.S. "should abide by international law and the basic norms of international relations. It should stop interfering in Hong Kong and China's domestic affairs. China will impose strong counteractions, depending on the measures of the U.S."
 
— Xi Jinping raises food security to 'national security' concern. The Chinese Communist Party (CCP) leader Xi Jinping recently emphasized the problem of food security, saying that ensuring grain security should be a "national security" concern. On July 9, Xi presided over The 20th Meeting of the Central Comprehensively Deepening Reforms Commission, admitting that it is "more urgent than ever to ensure the independence and control of seeds," "the string of food security should be tightened more than ever before," and even elevating the grain security to "a strategic level of national security." Li Yanming, China issues expert and commentator in America, told The Epoch Times Chinese-language edition that the issue of food security being raised by Xi personally to a strategic level of national security is a testament to the existence of a food problem in China. China relies on imports for food and seed sources," said Li Yanming. Last year, in addition to the CCP virus epidemic, many areas in China suffered floods, including the main food-producing areas in the middle and lower parts of the Yangtze River. "Food imports increased drastically last year," even much more than in previous years he said. "It's estimated that China had a shortage of food last year," said Li Yanming. "But the CCP obviously will not admit that it does not tell the truth, nor will it allow the Chinese media to tell the truth." Link for details.
---
LIVESTOCK, FOOD & BEVERAGE INDUSTRY
---
— Pork industry loses appeal on line speeds. Pork processors were nixed in their bid to stay a lower court's decision that killed part of a USDA rule that let plants operate without line-speed limits. The one-sentence ruling by a federal appeals court came in response to a request by four companies. The U.S. pork industry said it lost 2.5% of its packing capacity overnight when a federal court ruling to slow line speeds at six packing plants took effect June 30. The plants targeted by the ruling operated at faster harvest facility inspection speeds under a pilot program of the New Swine Inspection System (NSIS), dating back to the Clinton administration. Earlier in the year, a federal court in Minnesota vacated a provision of NSIS that enabled pork processors to establish maximum line speeds. In late May, the Food Safety Inspection Service (FSIS) said plants that operate under the NSIS should prepare for a maximum line speed of 1,106 head per hour by the end of June. Pork industry advocates, including the National Pork Producers Council (NPPC), asked USDA to reconsider the ruling as it would impact smaller hog producers. The trade association also wanted a stay while the appeal was considered.
     Meanwhile, Amory Investments LLC filed antitrust litigation against a host of pork industry giants, including companies like Tyson and Smithfield. The suit was filed Tuesday in the Northern District of New York and demands a trial by jury. The complaint alleged that the pork integrator defendants conspired with defendant Agri Stats to "fix, raise, maintain, and stabilize the price of pork." As an information sharing service that provides comprehensive data reports to the defendants, Agri Stats was a valuable part of the operation. The defendants coordinated and limited both output and production to increase U.S. pork prices.
— USDA seeks input from public on program to expand meat processing capacity. USDA today published a notice in the Federal Register (link) seeking public input on a host of issues related to their announcement of deploying $500 million in a combination of grants, loans and technical assistance to expand US meat processing capacity. The agency has set an August 30 deadline for those to provide information on scores of questions posed by USDA on the effort. USDA is seeking input on "how to invest an estimated $500 million of American Rescue Plan funds to improve infrastructure, increase capacity, and hasten diversification across the processing industry."
 
---
CORONAVIRUS UPDATE
---
— Summary: Global cases of Covid-19 are at 188,957,772 with 4,067,488 deaths, according to data compiled by the Center for Systems Science and Engineering at Johns Hopkins University. The U.S. case count is at 33,975,711 with 608,400 deaths. The Johns Hopkins University Coronavirus Resource Center said that there have been 336,054,953 doses administered, 160,408,538 have been fully vaccinated, or 48.9% of the U.S. population.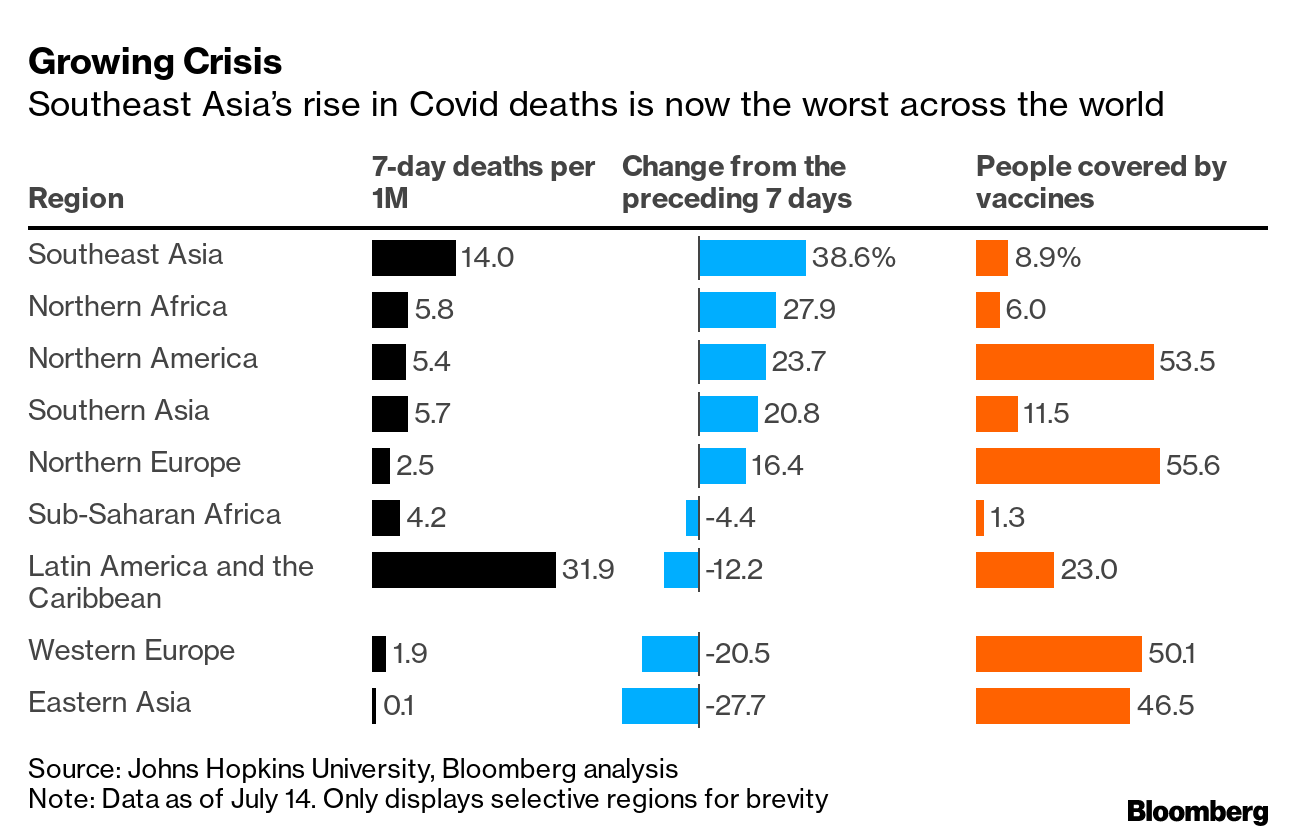 — Los Angeles County will again require the use of masks indoors. The new restrictions follow what officials called alarming growth in Covid-19 cases and hospitalizations in recent weeks, as residents of the nation's most populous county cast off their masks in coffee shops and movie theaters and life returned to something resembling a pre-pandemic normal.
— Canada mulls reopening border to U.S. tourists in mid-August. The lifting of restrictions would be conditional on Canada continuing a robust pace of Covid-19 vaccinations, according to Prime Minister Justin Trudeau.
     Meanwhile, President Biden said he expected to give an update on whether his administration would lift a ban on travel from Germany and other parts of Europe in the coming days.
— "We just call it the variant." — Ed Bastian, the CEO of Delta Air Lines, on how the airline refers to the form of the coronavirus known as the Delta variant.
---
POLITICS & ELECTIONS
---

— Companies resume giving to Republicans who opposed certifying the 2020 presidential election. American Airlines gave $2,500 to one such lawmaker in June, months after halting all corporate PAC donations in the wake of the Jan. 6 riots. Other companies that have restarted donations to election objectors, according to filings released this week, include Aflac, Cigna and UPS.
 
---
CONGRESS  
---

— Manchin: No filibuster exception for voting rights bill. Sen. Joe Manchin (D-W.Va.) said he wouldn't carve out an exemption to the chamber's filibuster rule for voting rights legislation, effectively dashing any chances that Democrats could maneuver around GOP opposition to overhauling the nation's elections laws. Manchin made the remarks after a meeting with a group of Texas House Democrats who left the state to stall a vote on GOP voting restrictions.
— House Democrats plan 7-bill spending package. House Democrats aim to pass a seven-bill appropriations package the last week of July, focusing on some of the most popular bills for Democrats and leaving the fate of defense spending unclear. House members will vote the week of July 26 on a package that includes the Agriculture-FDA, Energy and Water, Financial Services, Interior-Environment, Labor-HHS-Education, Military Construction-VA , and Transportation-HUD spending bills, House Majority Leader Steny Hoyer (D-Md.) told lawmakers in a "dear colleague" letter. Other appropriations bills may also get votes that week, Hoyer said. But there's no specific plan for the Commerce-Justice-Science, Defense, Homeland Security, Legislative Branch, and State and Foreign Operations bills.
 
---
OTHER ITEMS OF NOTE     
---

— California lawmakers approve first state-funded guaranteed income plan. California lawmakers approved a state-funded guaranteed income plan, the first in the U.S., committing $35 million for monthly cash payments to qualifying pregnant people and young adults who recently left foster care, with no restrictions on how they spend it. The plan, contained in a bill related to the state budget, now goes to Democratic Gov. Gavin Newsom's desk.
— U.S./Cuba policy. U.S. President Joe Biden said he would not allow U.S.-based Cubans to send remittances home as part of White House plans to assist the Cuban people following Sunday's protests. Biden said he was prepared to give Covid-19 vaccines to the island, but only under the condition that an international organization administered them. During a speech on Wednesday, Cuban President Miguel Díaz-Canel again lambasted the "cruel" and "genocidal" U.S. blockade of Cuba while promising a "critical analysis" of the problems facing the country. Since the weekend protests, Cuba has lifted restrictions on the amount of food and medicine travelers are allowed bring into the country, fulfilling one of the demands of the protesters.
— Breyer says he has not decided on when he intends to retire. CNN reports (link) on its website that in a new interview, Supreme Court Justice Stephen Breyer indicated that he "has not decided when he will retire and is especially gratified with his new role as the senior liberal on the bench. When asked directly... whether he had decided when to step down, Breyer said simply, 'No.'" CNN adds that amid chatter over his possible retirement, Breyer, a 27-year veteran of the high court, said Wednesday that two factors will be overriding in his decision. "Primarily, of course, health,'"said Breyer, who will turn 83 in August. "Second, the court." According to CNN, "Some liberals were urging Breyer to announce a departure as the justices released their final opinions the first week in July. But Breyer has shown no desire to leave the bench at this point."
     McConnell weighs in. The Washington Post (link) says, "Adding to the pressure facing Breyer, Senate Minority Leader Mitch McConnell (R-Ky.) has said it is unlikely that a Republican-controlled Senate would take up a Biden nominee in the next presidential election year and that it might not even consider one nominated in 2023. Even so, Breyer has indicated he is not ready to leave, and he reportedly hired a full set of law clerks for the court's next term that begins in October."
— Cotton AWP above 75 cents. The Adjusted World Price for cotton rose to 75.96 cents per pound, effective today (July 16), the first time above 75 cents since the week of Feb. 26 and the highest mark since it was at 79.67 the week of Aug. 10, 2018. The AWP stayed atop 70 cents for 29 straight weeks in 2018 and it has now been above that mark six straight weeks. Meanwhile, USDA announced that Special Import Quota #13 will be established July 22 for 53,310 bales of Upland Cotton, applying to supplies purchased not later than Oct. 19 and entered into the U.S. not later than Jan. 17.
— Environmental groups lose bid to immediately toss Trump administration WOTUS rule. A federal judge in South Carolina agreed to remand the Trump administration's Navigable Waters Protection Rule back to EPA but denied a bid to revert to prior rules under the Clean Water Act. Environmentalists, led by the Southern Environmental Law Center, had wanted the rule removed immediately. The Biden administration has said it will draw up a new regulation, pledging that the Trump rule would not be the outcome, but that it would not seek to reimpose the Obama-era Waters of the US (WOTUS) rule. A federal judge in Massachusetts has yet to rule on a similar request from Conservation Law Foundation, Natural Resources Defense Council and others.
— Remember the "mystery seeds"? The most likely explanation for the "mystery seeds from China" furor of 2020 is that after they were ordered by the recipients, they were delayed so long in shipment that the purchasers forgot about them. Link for details.
---