U.S. Inflation Rose 5.4% in June, Highest Annual Rate Since 2008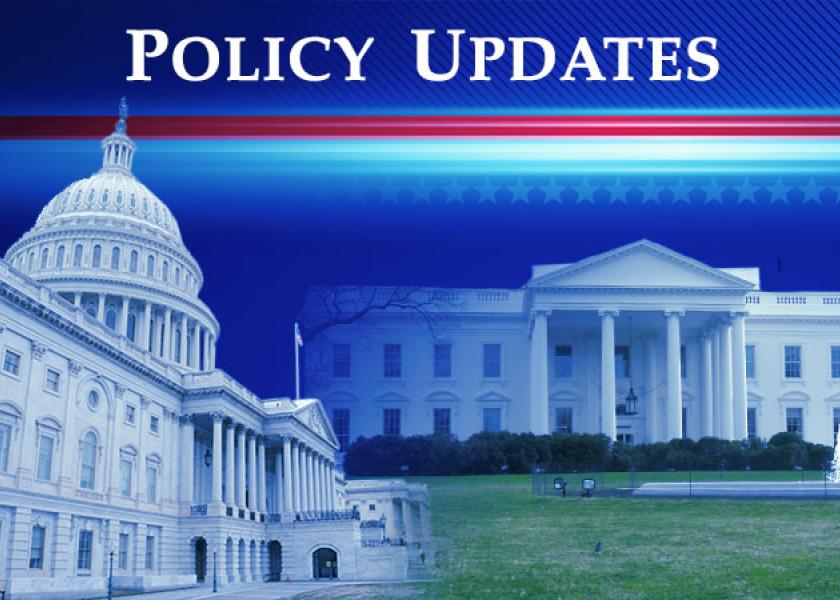 Analysts don't know how to size up HRS wheat crop | Brazil corn crop lowered again
---
In Today's Digital Newspaper
---
Market Focus:
• June consumer prices rose sharply as economy rebounded; highest rate since 2008
• Americans increasingly worry about inflation
• U.S.' biggest banks reporting windfall profits
• Survey: 47% of small business owners raised average selling prices in June
• WSJ survey: Higher forecasts for U.S. gross domestic product growth
• St. Louis Fed's Bullard: Time for tapering bond buys has arrived
• Japan's central-gov't debt about to surpass quadrillion yen, or nearly $10 trillion
• Avg. gas price hits $3.15 a gallon amid oil price surge
• IEA: Oil markets to remain volatile until clarity on OPEC+ production policy
• Scramble for natural gas creating pockets of scarcity
• Dart board would have been better than private analysts' estimate of HRS crop
• What is size of Brazil's corn crop? Lower than USDA says it is…
• Drought in Brazil not just impacting corn crop, as coffee prices are soaring
• Lumber futures prices on Monday fell back to levels last seen in January this year
• Ag demand update
• Profit-taking moved in overnight
• Spring wheat CCI rating plunges again
• Cordonnier sticks with U.S. yield projections
• French farm office expects higher wheat stocks, exports on production rebound
• August live cattle futures maintain discount to cash market
• Cash hog bids dive to start the week
Policy Focus:
• Transportation spending bill has a spending offset issue
• Biden met with Sanders for consensus on reconciliation measure
• Biggest unknown: reconciliation price tag
• CFAP 2 payouts little changed
Biden Administration Personnel:
• Schumer filed cloture on Nellie Liang to be an undersecretary of Treasury Dept.
• Senate Finance Committee to vote on several nominations
China Update:
• China's imports and exports posted stronger-than-expected growth in June
• Chinese purchases of soybeans, corn and wheat all up from year-ago halfway thru 2021
• China's cumulative meat imports running ahead of last year's strong showing
• China reportedly easing regs on small hog producers
• Yellen wants to revive U.S./EU ties while facing down China, Russia 
Trade Policy:
• USTR Tai, U.K. Trade Secretary Truss to meet
• U.S., Mexico agree on labor dispute resolution
Energy & Climate Change:
• New EU regs will make electric cars more profitable to sell than gas-powered vehicles

Livestock, Food & Beverage Industry Update:
• World hunger on the rise
• Many U.S. industries hit hardest are offering perks to lure back workers

Coronavirus Update:
• WHO slams third vaccine booster
Politics & Elections:
• Democrats go back to fund the police message
• State House Democrats fled Texas to deny GOP-controlled state legislature a quorum
• J.D. Vance mocks Harris for condescending to rural voters
Congress:
• House Ag panel chair proposes $50 billion for broadband
• Booker to re-introduce Farm Systems Reform Act

Other Items of Note:
• Study shows coastal flooding to rise in 2030s from a moon 'wobble'
• WHO panel recommends global standards re: gene-editing technologies
 
---
MARKET FOCUS
---
Equities today: Global stock markets were mostly higher overnight. The U.S. stock indexes are pointed toward lower openings. JPMorgan's second-quarter profit more than doubled from a year earlier to $11.95 billion, when the bank was stockpiling funds to prepare for a recession. Goldman Sachs reported second-quarter earnings that blew past Wall Street expectations, propelled by strong performance in investment banking amid a robust IPO market. In Asia, indexes rose. In Japan, the Nikkei 225 added 0.5% while in Hong Kong the Hang Seng Index rose 1.6%. In mainland China, the Shanghai Composite Index rose 0.5%. In Hong Kong, Tencent jumped 3.9% after Chinese regulators approved its $2 billion takeover of search-engine affiliate Sogou, just days after blocking another Tencent-backed deal.
     U.S. equities yesterday: U.S. stock indices notched fresh records to open the week, with the Dow just missing a close above 35,000 points. The Dow gained 126.02 points, 0.36%, at 34,996.18. the Nasdaq rose 31.32 points, 0.21%, at 14,733.24. The S&P 500 gained 15.08 points, 0.35%, at 4,384.63. In the S&P 500's case, it was the 39th record close this year, beating the Dow's 27 records and the Nasdaq's 24. The broad index is ahead of the others in terms of gains this year too, with a nearly 17% rise.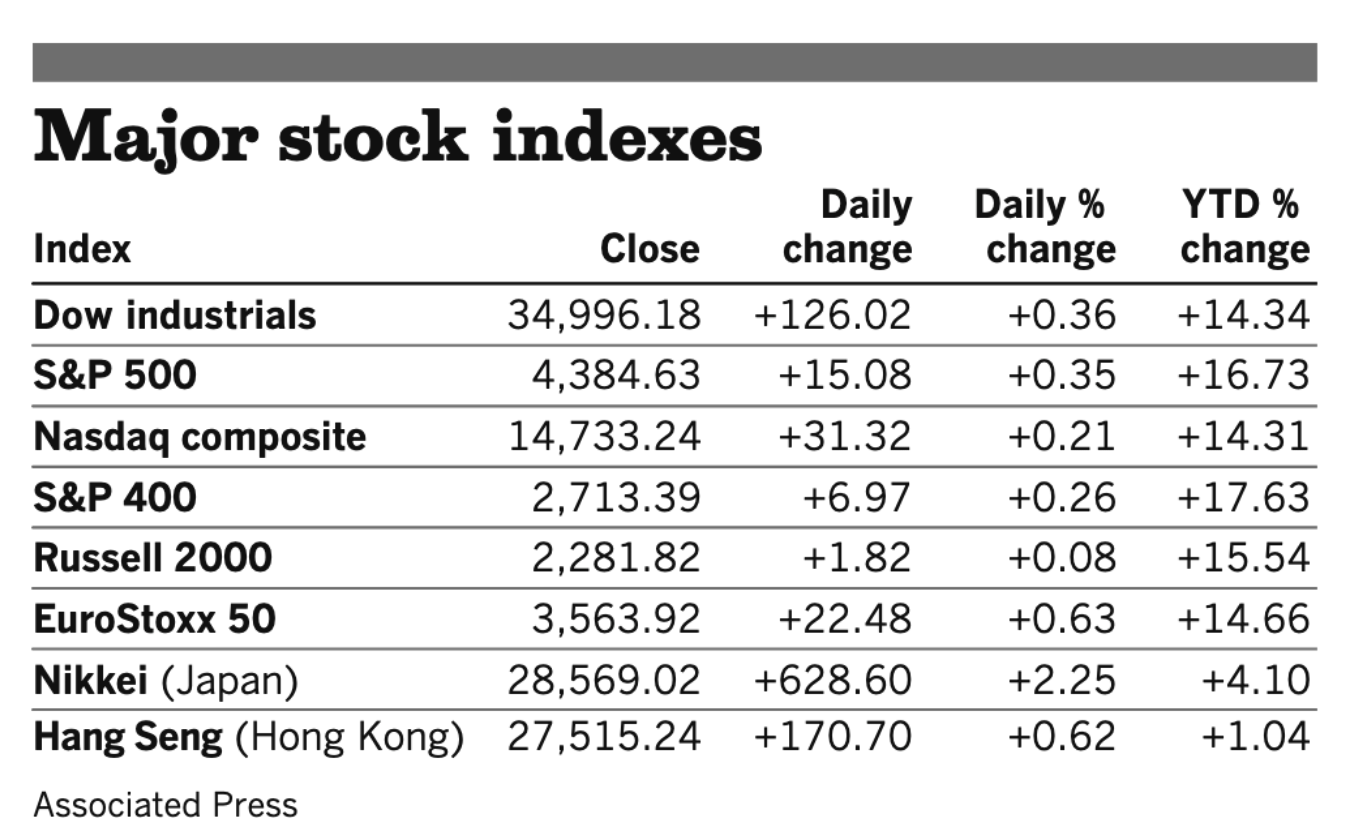 On tap today:
     • U.S. consumer price index for June, due at 8:30 a.m. ET, is expected to increase 0.5% from a month earlier and 5% from one year earlier. Excluding food and energy, the CPI is forecast to rise 0.5% and 4%. Update: U.S. consumer prices rose 5.4% in June from a year ago, keeping inflation at the highest annual rate in 13 years as the economic recovery gained steam. The higher-than-expected reading will rekindle debates about whether inflation is temporary as the Federal Reserve maintains. Meanwhile, consumer expectations for inflation over the coming year reached their highest level ever, according to a survey released Monday by the Federal Reserve Bank of New York — see below for details.
     • U.S. federal budget figures for June are out at 2 p.m.
     • Federal Reserve Bank of Atlanta's Raphael Bostic, Minneapolis's Neel Kashkari and Boston's Eric Rosengren speak at a virtual event on racism and the economy, starting at noon.
Survey of small-business owners showed that 47% raised average selling prices in June, the highest reading since January 1981. "The incidence of price hikes on Main Street is clearly on the rise as owners pass on rising labor and operating costs to their customers," said National Federation of Independent Business (NFIB) Chief Economist Bill Dunkelberg. The June Small Business Optimism Index rose to 102.5 after dipping to 99.2 in May, according to the NFIB, with the rise coming despite business owners expressing concern about labor shortages and inflation. ""Owners are also having a hard time keeping their inventory stocks up with strong sales and supply chain problems," Dunkelberg noted. A net 28% of businesses planned to create new jobs in the next three months, up one percentage point from May and a record-high level. But the quality of labor was rated as the "single most important problem," NFIB said, with 26% putting it among 10 issues affecting their business. A record 44% of respondents said they planned to increase prices in the next three months.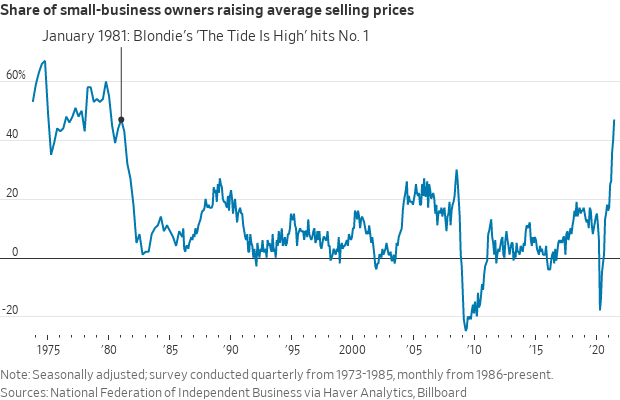 Americans increasingly worry about inflation. A New York Fed survey (link) released yesterday found consumers expecting the fastest price rises in years. The Fed's Consumer Expectations study, which samples a rotating panel of 1,300 households, showed that Americans in June predicted a median 12-month inflation rate of 4.8 percent, up 0.8 percentage points since May, as costs soared on everything from big-ticket items to groceries. It's the highest inflation expectation reported since the NY branch of the central bank kicked off the series seven years ago. The government is expected to report today that consumer prices rose again last month, after jumping 5% in May.
Economists surveyed this month by the Wall Street Journal raised their forecasts for U.S. gross domestic product growth, with respondents on average now expecting GDP to advance at a 9.1% annual pace in the second quarter and 6.9% for the full year (measured from the fourth quarter of 2020 to the fourth quarter of 2021). That would be the fastest year of growth since 1983. There are also signs that components of the U.S. economy have peaked. Inflation is expected to ease off historic highs. GDP is expected to grow at a solid but slower pace. Monthly job gains are forecast to average about 484,000 a month over the next year, historically strong but a step back from average gains over the past three months. "Passing peak rates of growth is natural as the economy settles into the more moderate phase of expansion," economists from Morgan Stanley said last week in a note to clients. "There is nothing more sinister going on here. Second half growth will still be quite elevated, for both GDP and inflation."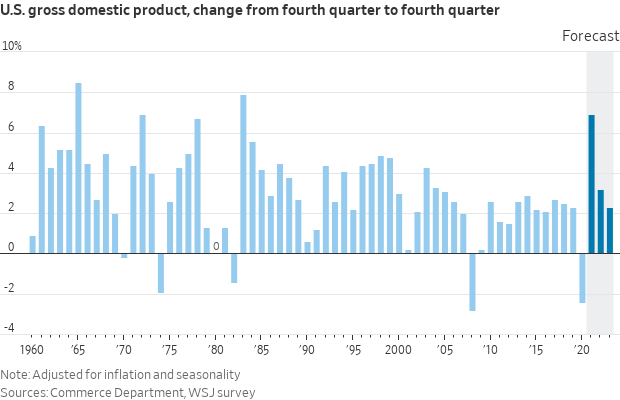 St. Louis Fed's Bullard: Time for tapering bond buys has arrived. The U.S. economy is now in a "very good" position for the Fed to start tapering its bond purchases that have been taking place at $120 billion per month, St. Louis Fed President James Bullard told the Wall Street Journal. "With the economy growing at 7% and the pandemic coming under better and better control, I think the time is right to pull back emergency measures," Bullard said, adding the reduction in Treasury and mortgage bond purchases could start once the Federal Open Market Committee (FOMC) was ready. He also labeled the recent decline in bond yields as a "bullish" development, noting that was another factor for him to be "comfortable with the idea that the economy will continue to grow very robustly through the second half of this year, and go through the first half of 2022, and all of 2022." However, while Bullard said he did not think the housing market was in a bubble, the Fed's purchases of mortgage-backed securities could be "feeding into an incipient housing bubble." Bullard is a voter in 2022 and his remarks make clear he is among the Fed officials referenced in the latest FOMC meeting minutes as thinking the conditions for tapering the bond buys was going to be met sooner than expected. Attention will be on this issue when Fed Chairman Jerome Powell delivers two days of testimony this week on monetary policy on Wednesday and Thursday.
Japan's central-government debt is about to surpass a quadrillion yen, or nearly $10 trillion. Even with total public debt of over 250% of gross domestic product, Tokyo spends no more on interest each year than it did in the mid-1980s, when public debt was around two-thirds of GDP.
Market perspectives:
     • Outside markets: The U.S. dollar index is firmer with most foreign rival currencies weaker against the greenback ahead of U.S. economic updates. The yield on the 10-year U.S. Treasury note has moved lower, trading around 1.35%, with a weaker trend in global government bond yields. Gold and silver futures are narrowly mixed ahead of US economic data, with gold slightly higher around $1,809 per troy ounce while silver is weaker, trading under $26.20 per troy ounce.
     • Crude oil futures were trading in positive territory ahead of U.S. trading, with U.S. crude trading around $74.40 per barrel and Brent around $75.55 per barrel. Futures rose in Asian action, with U.S. crude up 13 cent at $74.23 per barrel and Brent up 10 cents at $75.26 per barrel.
     • Average gas price hits $3.15 a gallon amid oil price surge. Americans are paying an average of $3.15 per gallon for gas — the most in seven years — as the economy reopens and people hit the road in droves. At $3.147 a gallon, the average national price of regular unleaded gasoline is now nearly $1 higher than where it was this time last year, according to data from the American Automobile Association.
     • "Oil markets are likely to remain volatile until there is clarity on OPEC+ production policy. And volatility does not help ensure orderly and secure energy transitions - nor is it in the interest of either producers or consumers," the IEA wrote in its latest monthly report. "While prices at these levels could increase the pace of electrification of the transport sector and help accelerate energy transitions, they could also put a drag on the economic recovery, particularly in emerging and developing countries."
     • Scramble for natural gas is creating pockets of scarcity in the global market, especially in Europe, boosting prices for the fuel and for the electricity generated by burning it. Rampant demand in China, a drought in Brazil and searing heat in Canada and the Pacific Northwest have also lifted gas demand.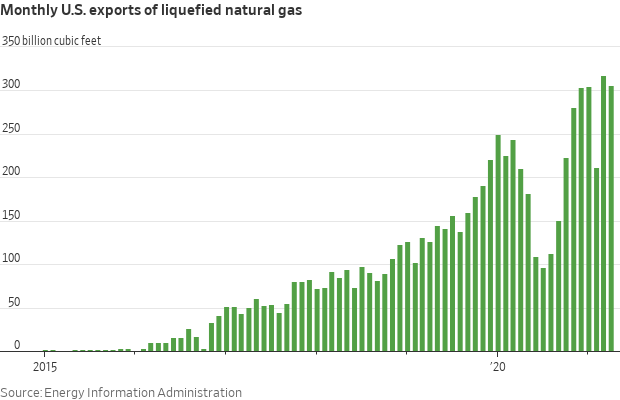 • USDA's first survey-base estimate of the U.S. HRS spring wheat crop showed private industry analysts badly missing the crop downturn, even though weekly Crop Progress reports showed ratings akin to the 1988 HRS crop disaster.
     • What is size of the Brazil corn crop? USDA again lowered its crop estimate, this time to 92 million tons, but independent people in Brazil have reduced the harvest to 83 million tons. Analysts says to watch Brazil corn basis and whether it increases in the Nov-forward positions. 
     • Ag demand: Turkey's state grain board TMO started buying wheat in an international tender for up to 395,000 MT of wheat. So far, it has bought around 100,000 MT of the grain. Yesterday, TMO provisionally purchased around 440,000 MT of animal feed barley in a tender.
     • Drought in Brazil is not just impacting its corn crop, as coffee prices are soaring with continue hefty demand. Prices for arabica coffee beans — the main variety produced in Brazil — hit their highest level since 2016 last month. London-traded robusta — a stronger-tasting variety favored in instant coffee — has risen over 30% in the past three months, to a two-year high. That comes as global coffee consumption is expected to exceed production this year for the first time since 2017, with consumer markets now adjusting following the pandemic-driven upheaval that upended traditional buying patterns. Other producing countries are reporting better harvests but their exporters are coping with logistics problems, including protests blocking ports in Colombia and a shortage of shipping containers and skyrocketing freight costs in Vietnam, the Wall Street Journal reports (link).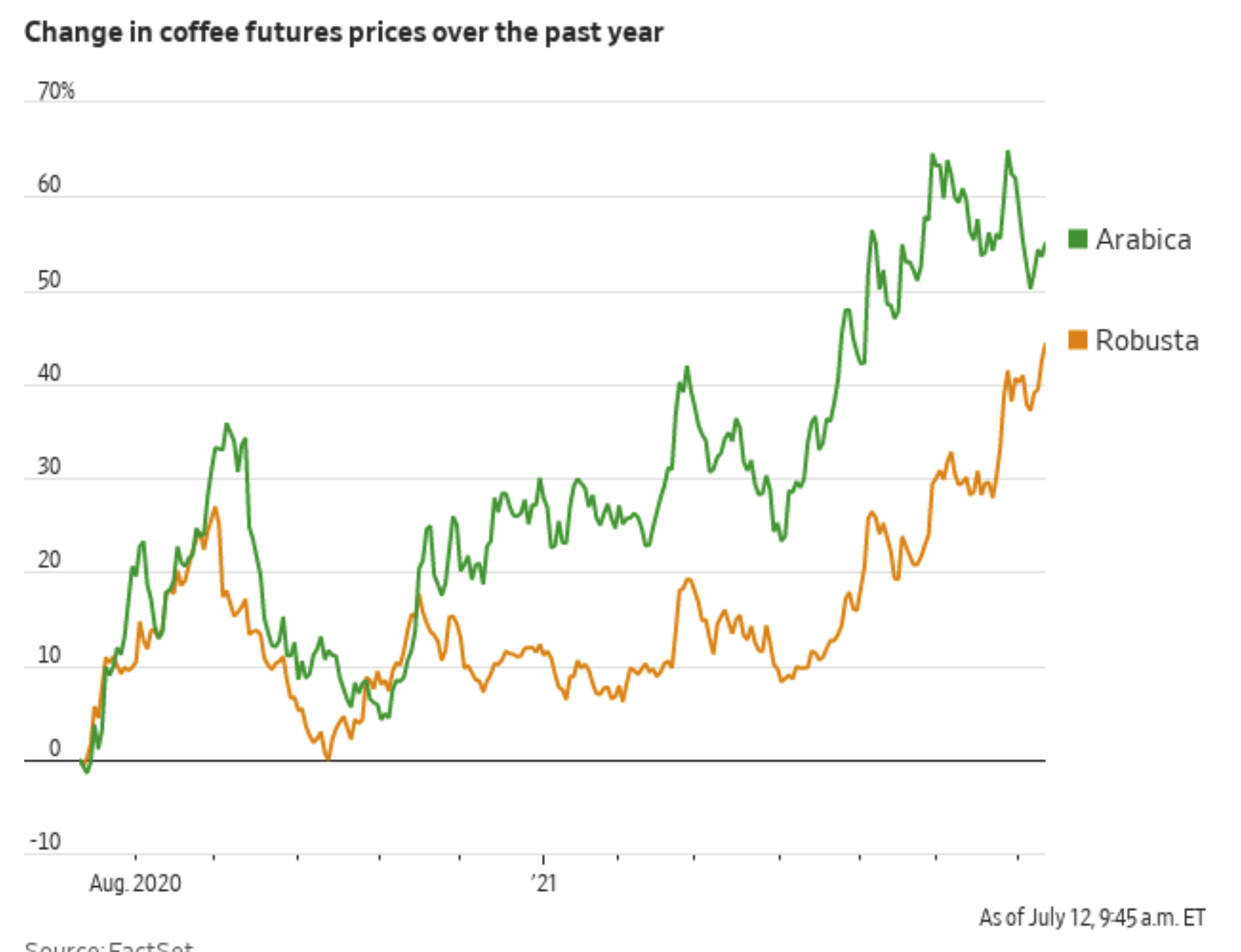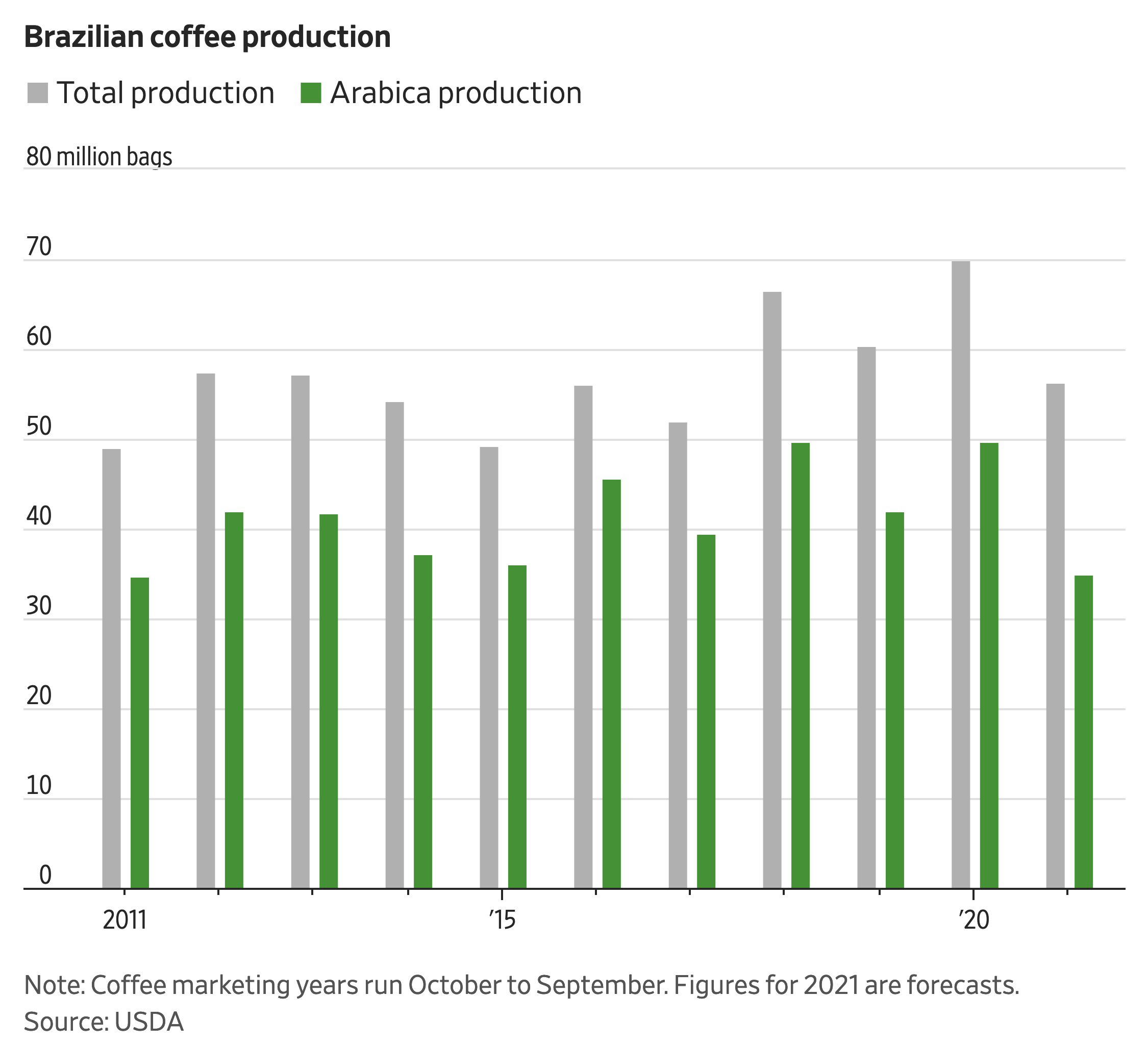 • Lumber futures prices on Monday fell back to levels last seen in January of this year. Prices at Monday's close are now down 0.6% for the year as demand eases and supply expands in response to earlier gains. At one point, lumber futures were trading as high as $1,733.50 per thousand board feet, more than quadruple the level of a year earlier. "We could be in for a few more weeks of declines. Mill production has ramped up as the labor related issues from Covid dissipate," said Dustin Jalbert, senior economist at Fastmarkets RISI. "There's a lot of inventory buildup at the mills that has to clear." Wood has even turned lower as wildfires rage and railcars are gridlocked in British Columbia, a major producing region. Scott Reaves of Domain Timber Advisors forecasts prices could stay above $500 per 1,000 board feet for the next 5-8 years due to robust homebuilding across the U.S.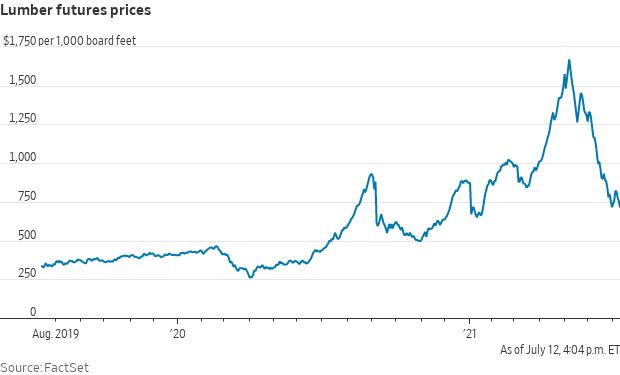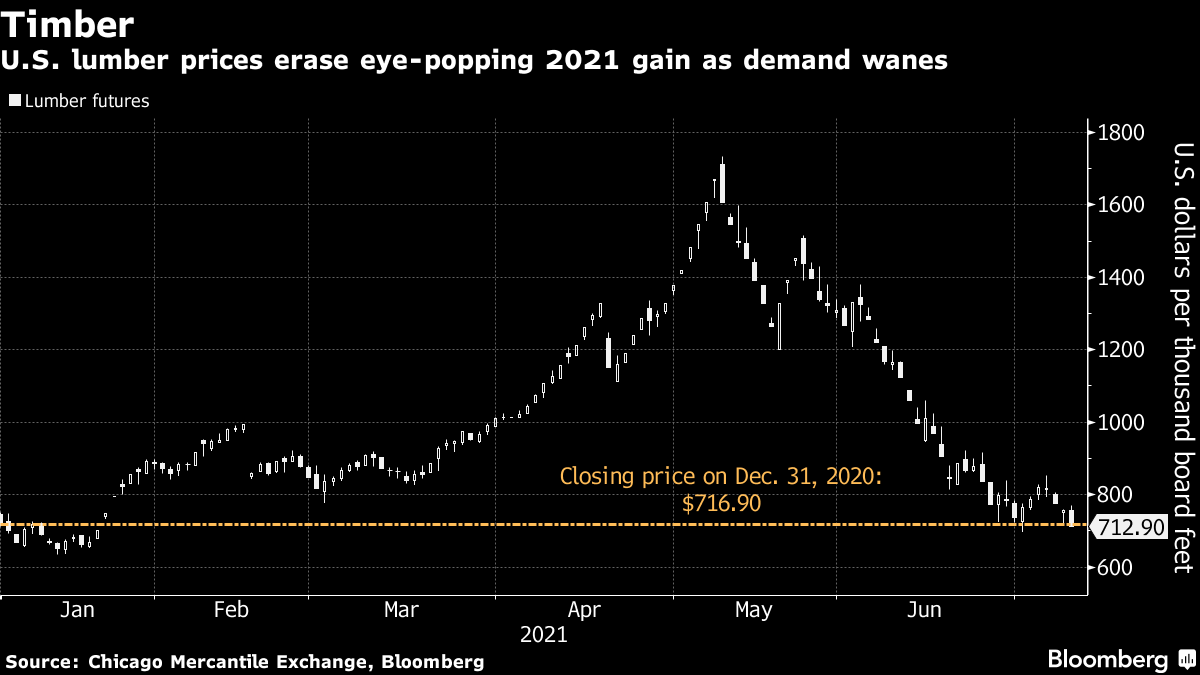 • NWS weather outlook: Heavy rain and potential flooding for parts of the Eastern U.S. and the Desert Southwest... ...Heat wave continues for much of the western U.S. through mid week.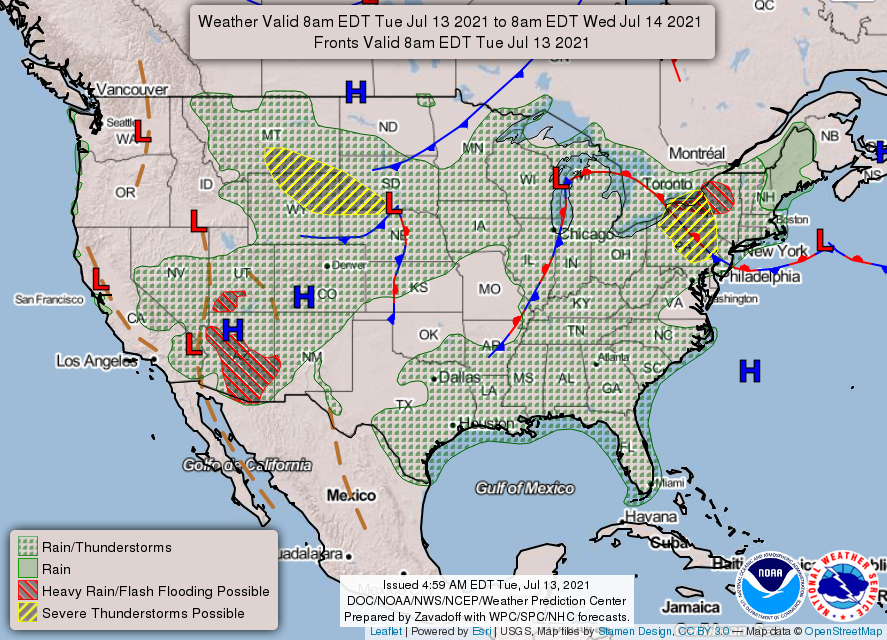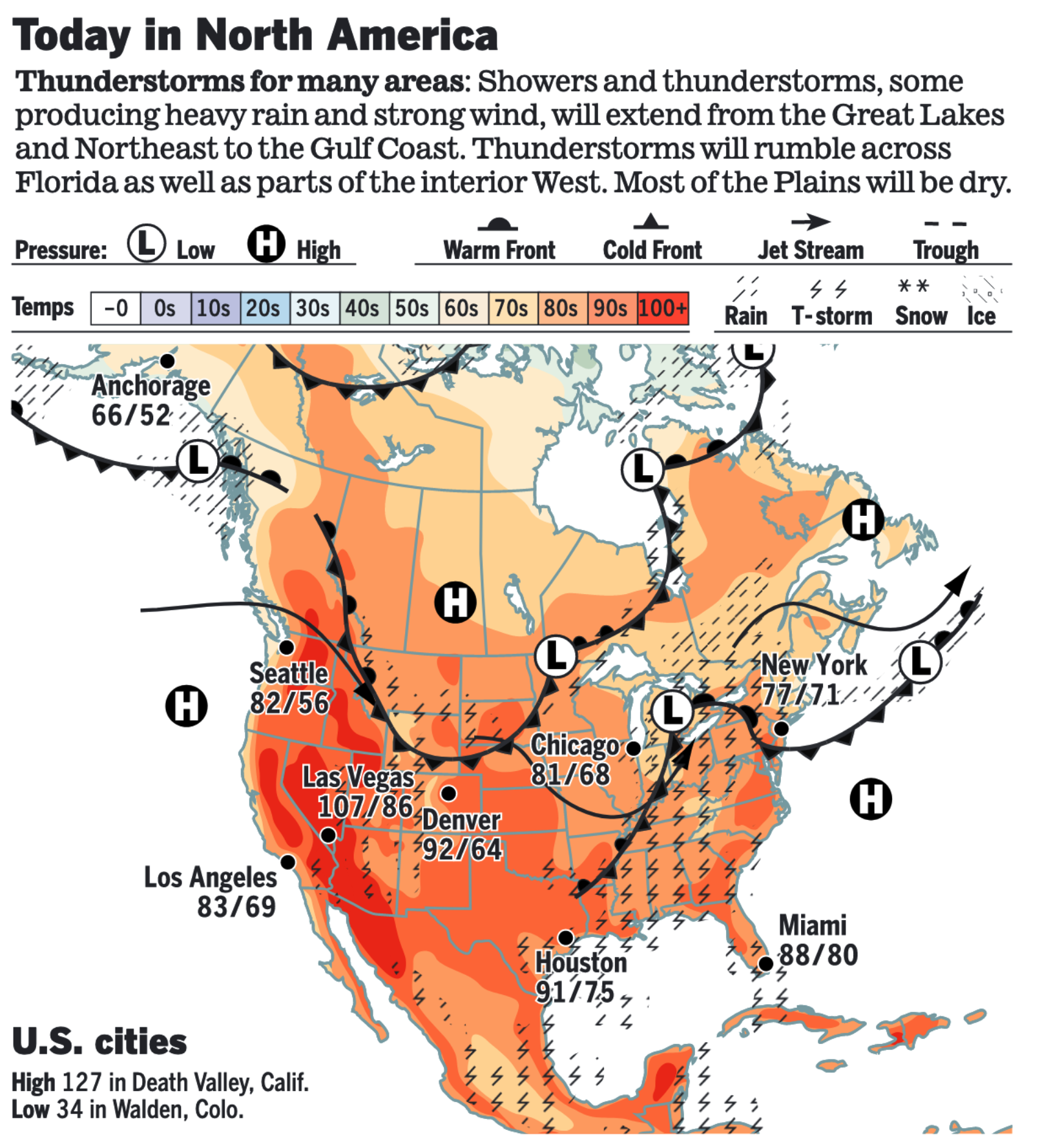 Items in Pro Farmer's First Thing Today include:
     • Profit-taking moved in overnight
     • Spring wheat CCI rating plunges again
     • Cordonnier sticks with U.S. yield projections
     • French farm office expects higher wheat stocks, exports on production rebound
     • August live cattle futures maintain discount to cash market
     • Cash hog bids dive to start the week
---
POLICY FOCUS
---
— Transportation spending bill has a spending offset issue. Senators are working on finishing a $579 billion infrastructure bill and plan to meet today to discuss changes. Sen. Rob Portman (R-Ohio) said the deal needs more work, with the Congressional Budget Office (CBO) not on board with plans to pay for it. One issue: the CBO isn't projecting as much revenue from stepped-up IRS enforcement as the senators had estimated. "There are member-level decisions that need to be made," Portman said. "We still have a ways to go," adding that it would be difficult to finish the bill text this week.
— President Joe Biden met with Senate Budget Committee Chairman Bernie Sanders (I-Vt.) yesterday as Democratic lawmakers sought consensus on legislation designed to carry most of the president's $4 trillion longer-term economic agenda. Sanders said negotiations had progressed over the July 4 congressional recess but there wasn't yet a deal. Senate Democrats remain divided on the size and scope of the fast-track budget reconciliation bill intended to include social spending and tax increases. Sen. Chris Van Hollen (D-Md.), a Budget Committee member, said there is a "decent chance" a lawmaker group that met last night will be able to finalize a deal tonight. He said that everything remained on the table. Democrats said they are trying to come to a deal by Thursday to bring the budget up for potential Senate floor votes next week.
     Biggest unknown is what the eventual price tag will be for the reconciliation measure (now also called the antipoverty bill). The White House dodged a question Monday on the size of a human infrastructure proposal that Democrats are aiming to pass through the budget reconciliation process, allowing them to sidestep a GOP filibuster. "I will say that, as it relates to the budget reconciliation process, that of course is for members of the Senate to work through what they can all collectively support together to get enough votes," White House press secretary Jen Psaki said during Monday's press briefing in response to a reporter's question on whether the administration had decided on a dollar amount for the bill. Psaki said President Biden will advocate for certain provisions to be included in the eventual legislation but did not specify a preferred price tag.
— CFAP 2 payouts little changed. Payments approved under the Coronavirus Food Assistance Program 2 (CFAP 2) effort were little changed as of July 11, standing at $13.75 billion. Acreage-based payments total $6.278 billion, with $3.45 billion for livestock, $2.74 billion for sales commodities, $1.22 billion for dairy and $63.8 million for eggs/broilers.
     Similarly, CFAP 1 payouts were at $10.59 billion, nearly steady with the prior week.
 
---
BIDEN ADMINISTRATION PERSONNEL
---
— Senate Majority Leader Chuck Schumer (D-N.Y.) yesterday filed cloture on Nellie Liang to be an undersecretary of the Treasury Department. If confirmed, Liang would become Treasury Secretary Janet Yellen's senior adviser and policymaker, focusing on financial markets, banking, financial regulation, and the national debt.
 
— Senate Finance Committee is scheduled to vote on several nominations: Sarah Bianchi to be deputy U.S. trade representative for Asia, Africa, investment, services, textiles, and industrial competitiveness; Jayme Ray White to be a deputy U.S. trade representative for the Western Hemisphere, Europe, the Middle East, labor, and environment; and Melanie Anne Egorin to be an assistant secretary for the Health and Human Services Department.
 
---
CHINA UPDATE
---
— China's imports and exports posted stronger-than-expected growth in June as global demand for Chinese goods remained solid and sporadic Covid-19 outbreaks in the country's biggest export hub didn't hit outbound shipments as much as expected.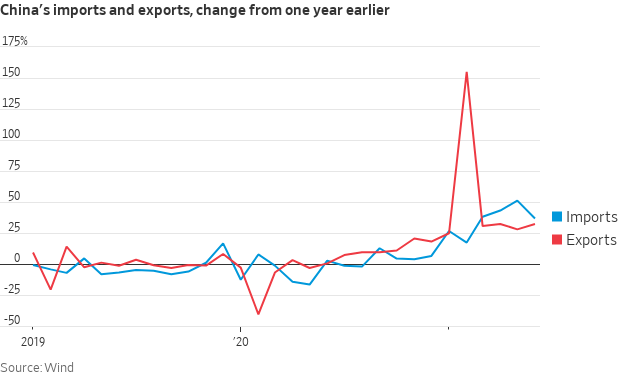 — Chinese purchases of soybeans, corn and wheat all up from year-ago halfway through 2021. China imported 10.72 MMT of soybeans during June, a 1.55 MMT (11.6%) jump from May and just 3.9% under last year's record 11.16 MMT, according to Chinese customs data. This June's imports also marked the third highest monthly tally on record. For the first half of 2021, China has imported 48.96 MMT of the oilseed, up 8.7% from last year at this point. China's efforts to rebuild its hog herd have fueled strong demand for soymeal, with crushers also thought to be upping purchases due to concerns about supply shortages down the road. China also imported 15.3 MMT of corn the first half of 2021, a 318.5% surge from year-ago. Its wheat imports through June of 5.37 MMT are also up a sharp 60.1% from last year at this point.
— China's cumulative meat imports running ahead of last year's strong showing. China imported 743,000 MT of meat in June, a 17% retreat from year-ago levels, Chinese customs data showed. That was also a 5.8% retreat from shipments of 789,000 MT in May. Weak domestic pork prices slowed China's demand for imports. For the first half of 2021, China has imported 5.08 MMT of meat, topping last year's 4.75 MMT at this point by 6.9%.
— China reportedly easing regs on small hog producers. Chinese hog producers with less than 5,000 pigs will not have to get environmental clearance from the government before breeding hogs, with the country's Agriculture Ministry issuing a notice that the "environmental impact registration form shall be filed online, without requiring environmental impact assessment approval." The effort is seen reducing regulatory requirements for small producers as the country tries to rebuild its hog herd after African Swine Fever (ASF) had severe negative impacts.
— Yellen wants to revive U.S./EU ties while facing down China, Russia. Bloomberg reports (link): "Treasury Secretary Janet Yellen made a new push in Brussels to repair U.S. ties with the European Union, urging members of the bloc to help confront China and Russia. In her first visit as Treasury chief to the European capital, Yellen hearkened back to the partnership and 'rules-based international order' constructed after World War II -- before calling out three countries she said imperiled that order."
 
---
TRADE POLICY
---

— USTR Tai, U.K. Trade Secretary Truss to meet. U.S. Trade Representative Katherine Tai is scheduled to meet today in Washington with U.K. Trade Secretary Liz Truss, with the discussions likely to focus on forced labor issues, combatting subsidies and dumping of products. The issue of a U.S./U.K. trade deal also figures high on the list of issues and expectations that Truss will be seeking to get the U.S. back to the negotiating table. Tai has previously indicated the Office of the U.S. Trade Representative (USTR) is reviewing the status of the trade negotiations that were launched under the Trump administration.
     Truss is currently on a week-long trip to the U.S. where her meetings so far have included USDA Deputy Secretary Jewell Bronaugh where she pressed for the U.S. to lift their ban on imports of U.K. lamb. The U.S. previously lifted its ban on imports of U.K. beef after the BSE-related halt was in place for more than 20 years. Truss has been chronicling her trip on social media so any postings from the session with Tai could be of note. USTR is likely to issue a brief readout of the confab which may not shed much light on the substance of the discussions as prior recaps have focused mostly on topics discussed and have mentioned little on outcomes or results.
— U.S., Mexico agree on labor dispute resolution. One of the actions that emerged from sessions last week between the U.S., Mexico and Canada after marking the one-year anniversary of the U.S.-Mexico-Canada Agreement (USMCA) was that the U.S. and Mexico agreed to allow a vote by workers at a GM plant in Mexico on forming a union. The complaint was brought under new provisions in the USMCA. There was no resolution to other labor-related issues yet and key agriculture trade matters were also left unresolved between the US and Canada over dairy and the U.S. and Mexico over GMO crops and glyphosate.
---
ENERGY & CLIMATE CHANGE
---
— New EU regulations will make electric cars more profitable to sell than gasoline-powered vehicles, a top Volkswagen executive said. EU emissions rules due to come into force as soon as 2025 are likely to make gas cars less profitable than electric models, marking a landmark moment for the auto industry, according to one of Volkswagen's most senior executives. VW, the world's second-largest automaker, has set out plans to invest €35 billion ($41.4 billion) in electric vehicles as governments try to accelerate the transition to less polluting cars. Thomas Ulbrich, head of development at the VW brand, said new engine standards, called Euro 7, would pose a "tremendous challenge" for petrol-based vehicles because they would need more expensive technology to ensure they are compliant. "If you now ask when is the point for [profits] becoming equal to an internal combustion engine, you know that with Euro 7 there are tremendous challenges for the internal combustion engine world," Ulbrich told the Financial Times.
---
LIVESTOCK, FOOD & BEVERAGE INDUSTRY
---
— World hunger on the rise. After five years of relatively stable numbers, world hunger shot up last year amid the coronavirus pandemic, according to a new United Nations report (link). The number of people facing hunger rose by 118 million to around 768 million in 2020 — 10% of the world's population. Nearly one in three people worldwide didn't have access to adequate food last year — 320 million people more than in 2019. Unless the world takes "bold action," the UN's goal of zero hunger by 2030 will be a pipe dream, according to the U.N. agencies responsible for the report. "Our worst fears are coming true," said World Food Program chief economist Arif Husain. "Reversing such high levels of chronic hunger will take years if not decades."
— Many U.S. industries that have been hit the hardest are offering perks to lure back workers. But scores of Americans who lost their jobs have yet to even begin looking around, or take offers, with job openings remaining at a record high of 9.2 million in May. McDonald's franchises, which own 95% of the chain's 13,450 U.S. restaurants, are adding emergency childcare and other benefits like wages increases, paid time off and tuition costs to draw enough staff. Chipotle (announced last month it would boost starting pay to an average of $15 an hour, while Shake Shack raised hourly wages at more than half of their U.S. restaurants this year. Papa John's and P.F. Chang's have also boosted incentives. In a sign of the times, workers this weekend at a Burger King in Lincoln, Nebraska, put a message on the outdoor letter board that read, "WE ALL QUIT — SORRY FOR THE INCONVENIENCE."
 
---
CORONAVIRUS UPDATE
---

— Summary: Global cases of Covid-19 are at 187,285,202 with 4,039,889 deaths, according to data compiled by the Center for Systems Science and Engineering at Johns Hopkins University. The U.S. case count is at 3,888,739 with 607,400 deaths. The Johns Hopkins University Coronavirus Resource Center said that there have been 334,600,770 doses administered, 159,499,224 have been fully vaccinated, or 48.6% of the U.S. population.
— WHO slams third vaccine booster. World Health Organization (WHO) chief Tedros Adhanom Ghebreyesus singled out vaccine makers Pfizer and Moderna for criticism on Monday as the two companies push for a third vaccine shot to further boost immunity levels against the virus. Offering a reminder that current two-dose vaccine regimens offer long-term immunity, Tedros said that the "priority now must be to vaccinate those who have received no doses and protection." Mike Ryan, the head of the WHO's emergencies program, asked: "What part of 'This is a global crisis' are we not getting? We will look back in anger and we will look back in shame if we don't now move to use the increasing [vaccine] production capacity that is coming on line … to protect the most vulnerable, protect the frontline health workers around the world," Ryan added.
     After meeting with Pfizer executives yesterday, U.S. officials said they needed more time and data to determine whether third shots of vaccines would be necessary.
 
---
POLITICS & ELECTIONS
---

— Democrats go back to fund the police message. President Biden on Monday used a meeting with mayors and law enforcement leaders to urge local officials to use federal money from the coronavirus relief package and do more to combat a nationwide surge in violent crimes. The president also said more needed to be done to curb gun trafficking and that more funds needed to be injected into community policing programs. The New York Times casts the  meeting as "part of an increasingly urgent effort by the White House to demonstrate that the president is aggressively confronting gun violence as homicides rise in cities across the country and Republicans accuse his administration of being soft on crime." However, the NYT adds Biden "risks alienating liberals in Congress and voters who are pushing for criminal justice reform after police killings of Black people last year."
— Dozens of state House Democrats fled Texas on Monday to deny the Republican-controlled state legislature the quorum needed to pass voting legislation. The legislators will have to remain out of the state for weeks to successfully run out the clock on the 30-day special session. The Texas House requires at least two-thirds of its 150 members to be present to conduct official business.
— J.D. Vance mocks Harris for condescending to rural voters. Vice President Kamala Harris suggested rural voters would be treated unfairly by new GOP voting laws because they would be required to submit ballots with a copy of their ID, and they don't have access to copying machines. Hillbilly Elegy author and Ohio senate candidate J.D. Vance had some fun with it. He appeared on Fox News: "We have all kinds of crazy things in small towns in the state of Ohio and across the country. We've got electricity, we've got running water, we even have soap. And it's amazing that the vice president of the United States thinks that people can't make photocopies in rural communities. Kamala Harris, like a lot of folks who come from our elite class, they have this stereotype of small-town America that it's all backwards."
 
---
CONGRESS  
---


— House Ag panel chair proposes $50 billion for broadband. The U.S. gov't would spend $50 billion to assure broadband access throughout rural America under a bill (HR 4374) sponsored by House Agriculture chairman David Scott (D-Ga.), that is seven times the amount proposed by Republicans on the panel. Scott scheduled a committee vote on his bill for Wednesday. "This bill will direct $50 billion toward critically needed infrastructure for rural broadband and also includes resources to ensure that this funding is used in a timely manner and accessible to rural communities with limited resources," said Scott on Monday.
— Booker to re-introduce Farm Systems Reform Act today. Sen. Cory Booker's (D-N.J.) bill would impose a moratorium on concentrated animal feeding operations, place limitations on "Made in the USA" labeling and add amendments to the Packers and Stockyards Act. Rep. Ro Khanna (D-Calif.) will introduce the House companion today as well. Many of the bill's provisions are included in Friday's executive order from President Biden and USDA announcements. Booker's goal is to ensure they are codified into law and not just via an executive order which can be altered by a new administration.
 
---
OTHER ITEMS OF NOTE     
---

— Study shows coastal flooding to rise in 2030s from a moon 'wobble.' High-tide floods are expected to increase in the 2030s as an alignment of rising sea levels with a lunar cycle with cause coastal cities in the U.S. to see a decade of dramatic increases in these floods that are also referred to as sunny day floods or nuisance floods. High tides will exceed known flooding thresholds around the country more often, according to the research from NASA, and will "sometimes occur in clusters lasting a month or longer, depending on the positions of the Moon, Earth, and the Sun," members of the NASA Sea Level Change Science Team from the University of Hawaii said. The situation arising from when the Moon and Earth line up in specific ways with each other and the Sun results in a gravitational pull "and the ocean's corresponding response may leave city dwellers coping with floods every day or two," the researchers said. The report authors indicated the situation will potentially be made worse by climate change. "The main reason is a regular wobble in the Moon's orbit that takes 18.6 years to complete," NASA said in recapping the study. "There's nothing new or dangerous about the wobble; it was first reported in 1728. What's new is how one of the wobble's effects on the Moon's gravitational pull — the main cause of Earth's tides — will combine with rising sea levels resulting from the planet's warming."
— World Health Organization panel recommended global standards to prevent potentially dangerous uses of gene-editing technologies. The reports come more than two years after a Chinese researcher triggered international outrage when he revealed that he had produced gene-edited babies.
---