U.S. Added 850,000 Jobs in June; Unemployment Rate Ticks Higher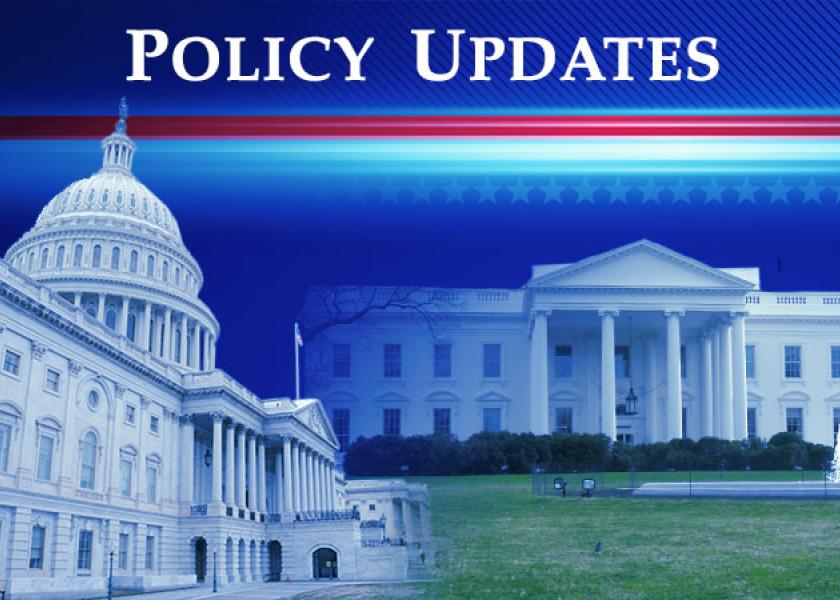 Vilsack on trade policy: Avoid over-reliance on China; no deal with EU soon
 
---
In Today's Digital Newspaper
---
Market Focus:
• Normal hours today, markets closed Monday
• U.S. economy added 850,000 jobs in June as labor market showed renewed strength
• Employment number good for demand
• Unemployment rate rose to 5.9% from 5.8%
• Labor market remains more than seven million jobs short of pre-pandemic level
• Oil prices top $75 a barrel before holiday travel weekend
• Americans face higher gas prices heading into July 4th
• CBO lifts forecasts for U.S. economic growth, inflation & budget deficits this year.
• U.S. wins international backing for global minimum tax, but hurdles ahead
• Fed officials see time approaching to pare bond-buying
• IMF: Fed likely needs to raise rates as soon as late 2022
• Next WASDE will show higher 2021-22 corn carryover, despite lower 2021-21 stocks
• Brazil's corn crop is being revised lower with the freeze of this week
• Indonesia enjoyed highest palm oil output in seven months in June
• First hurricane of the season, Elsa, could hit Florida
• North Dakota drought brings visit by federal agriculture officials
• Ag demand update
• Grain and soy futures rising ahead of long holiday weekend
• Minor dip in Russian grain export tax
• French wheat crop ratings hold steady
• Beef prices still falling
• Rising July hog futures and falling cash prices narrow contract's discount to cash
Policy Focus:
• Another federal judge puts hold on USDA debt forgiveness
• Clear signal for antitrust action ahead
• DMC payment triggered for May
• Pelosi continues to link infrastructure and reconciliation measures
Biden Administration Personnel:
• Lawmakers urge Biden to nominate chief agricultural negotiator
China Update:
• China sold just over 28,000 MT of imported corn at auction today
• Attaché expects Chinese imports of corn to slow notably in 2021-22
Trade Policy:
• USTR Tai to visit Mexico next week
• Vilsack on trade policy: Avoid over-reliance on China; no deal with EU soon
Energy & Climate Change:
• GOP Senators raise concerns over asset managers and climate policy
• House appropriators send $43.4 billion Interior-EPA spending bill to House floor
Livestock, Food & Beverage Industry Update:
• ASF exercise in Iowa… NOT a real case
• USDA to review 'Product of USA' label following FTC vote
• FDA eyes July 2022 for guidance on labeling plant-based dairy alternative products  
• Meat demand waning globally due to a surge higher for prices
Coronavirus Update:
• Johnson & Johnson: Single-dose vaccine can neutralize Delta variant of virus
Politics & Elections:
• Pelosi names GOP Cheney to select committee investigating Jan. 6 attack on Capitol
• Pew report: Trump rural vote rose in 2020
• Newsom recall: California voters will hold Sept. 14 vote
• Who are the highest-paid people in President Biden's White House?
Congress:
• House approves $715 billion transportation and water infrastructure package
Other Items of Note:
• Justices uphold Arizona election rules
• High court lets charities keep donors secret
• Justice Department halts federal executions
• Cotton AWP climbs above 74 cents
• NGFA publishes new firefighting manual for grain facilities
 
---
MARKET FOCUS
---

Most markets observe normal trading hours, to be closed Monday. Most financial and commodity markets will observe normal trading hours today, though the Securities Industry and Financial Markets Association has recommended an early close for bond markets. Markets and U.S. gov't offices will be closed Monday in observance of Independence Day. Policy Updates will not publish Monday unless there is a major news development.
Equities today: Global stock markets were mixed overnight. The Dow rose in early trading following the Jobs report. Asian stocks had a weaker session, dragged down by China after its leader, Xi Jinping, gave a very hawkish speech Thursday in conjunction with the 100th birthday of the Communist party. The Nikkei was up 76.24 points, 0.27%, at 28,783.28. The Hang Seng index tumbled 517.53 points, 1.80%, at 28,310.42. European equities are off to a mostly higher start in early action with an eye on the US jobs market update. The Stoxx 600 was up 0.4% with gains of 0.1% to 0.4% in most markets.
     U.S. equities yesterday: The Dow rose 131.02 points, 0.38%, at 34,633.53. The Nasdaq gained 18.42 points, 0.13%, at 14,522.38. The S&P 500 moved up 22.44 points, 0.52%, at 4,319.94 for its sixth straight record close.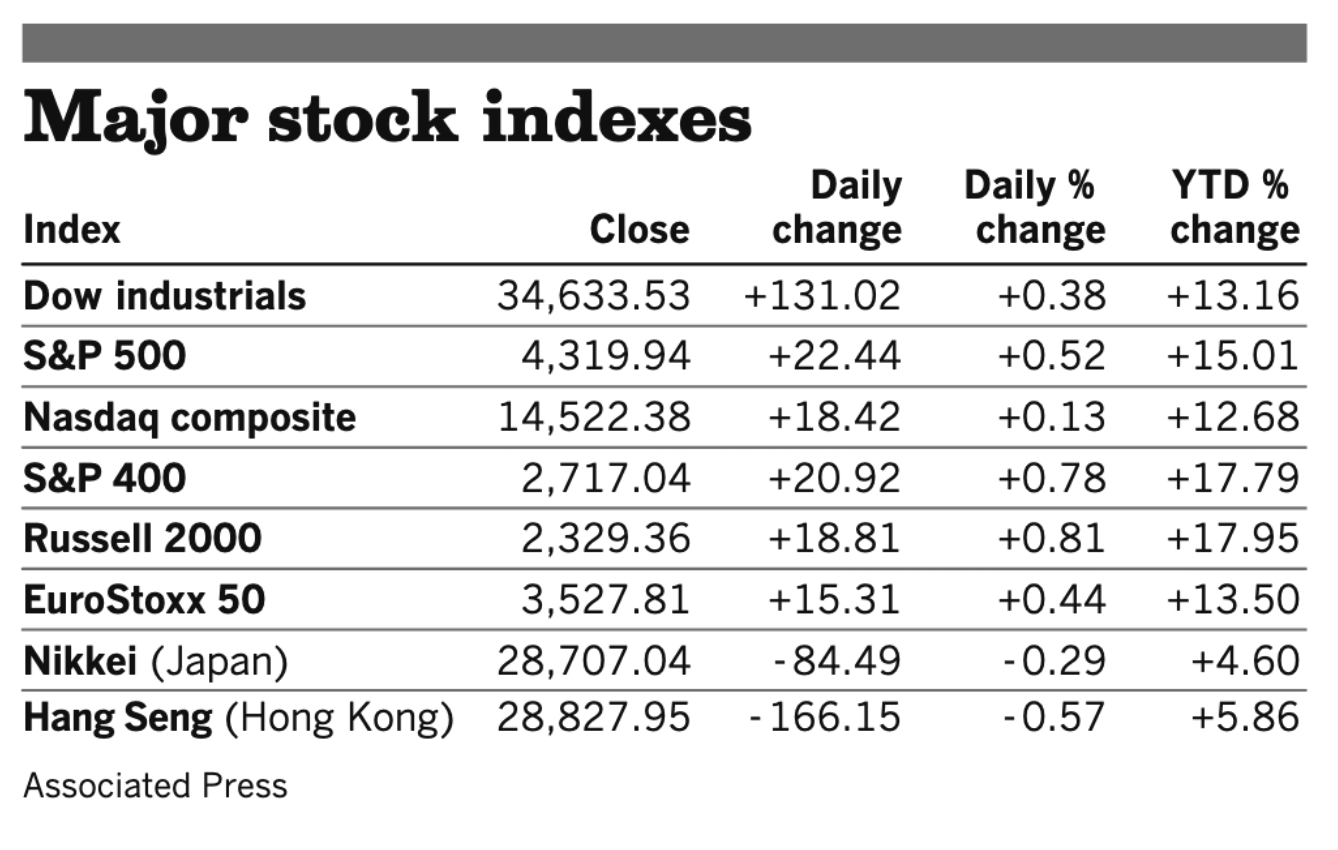 On tap today:
     • U.S. payrolls grew by 559,000 in May and the unemployment rate fell to 5.8%. Economists expect employers added 706,000 jobs in June, dropping the unemployment rate to 5.6%. (8:30 a.m. ET) For actual results, see item below.  Key numbers: Non-farm payrolls came in at 850,000, well above economists' expectations, surpassing the 583,000 gain posted in May and an unexpectedly weak 278,000 new hires in April. Despite the large monthly increase, the unemployment rate ticked up to 5.9% from 5.8% the month prior.
     • U.S. trade deficit narrowed to $68.9 billion in April, but economists expect it to widen to $71.4 billion in May. (8:30 a.m. ET)
     • CFTC Commitments of Traders report, 3:30 p.m. ET.
U.S. nonfarm payrolls rose 850,000 in June while unemployment rose to 5.9%. Nonfarm payrolls increased by 850,000 in June, just above expectations, while the unemployment rate ticked up to 5.9%, counter to expectations it would decline.
     Another big gain in leisure and hospitality employment helped build job gains, with the sector reporting 343,000 new hires as "pandemic-related restrictions continued to ease in some parts of the country." More than half of the gains were in food service and drinking places. Some 155,000 jobs were added in local government education, with professional and business services adding 72,000. Mining jobs rose 10,000 in June, but remain 110,000 below a peak in January 2019.
     Despite the job gains, there are still nearly seven million Americans unemployed compared with pre-pandemic levels.
     The labor force participation rate was at 61.6%, remaining in a relatively narrow range of 61.4% to 61.7% since June 2020. The Labor Department also reported 14.4% of workers said they were telecommuting, down from 16.6% in May.
     Average hourly earnings rose 10 cents at $30.40, up more than $1 from June 2020 when it was $29.35.
     Revisions were made to both May and April data, with April now at 269,000 jobs added (278,000 prior) and May is now at 583,000 (559,000 prior) for a net increase of 15,000. The data indicate that the US economy continues to recover and that reopening efforts are adding to economic momentum. But the jobs growth is still slower than expected, with some continuing to note the expanded unemployment benefits that will expire in September in some states as a factor even as at least 25 states have ended those extra payouts. The data also should not alter the Fed monetary policy position, but the wage increase of 3.5% compared with year ago indicates that inflationary pressures are being seen.
     U.S. stock index futures sdvanced following the jobs update, having been nearly unchanged before the data and are now up by around 0.25%.
     A temporary $300-a-week federal unemployment benefit, on top of regular state jobless aid, may be enabling some people to be more selective in looking for and taking jobs. Roughly half the states plan to stop paying the supplement by the end of July in what proponents say is an effort to nudge more of the unemployed to seek jobs.
     The Federal Reserve is monitoring wage growth, the jobless rate and other data as the central bank tries to determine when and how quickly to pull back its efforts to stimulate the economy. Today's report could influence how quickly it moves. The strong jobs report helped to bolster the case made by a cohort of U.S. central bankers that the Federal Reserve should begin to consider withdrawing its monetary policy support as it closes in on "substantial further progress" towards averaging 2 per cent inflation and achieving full employment.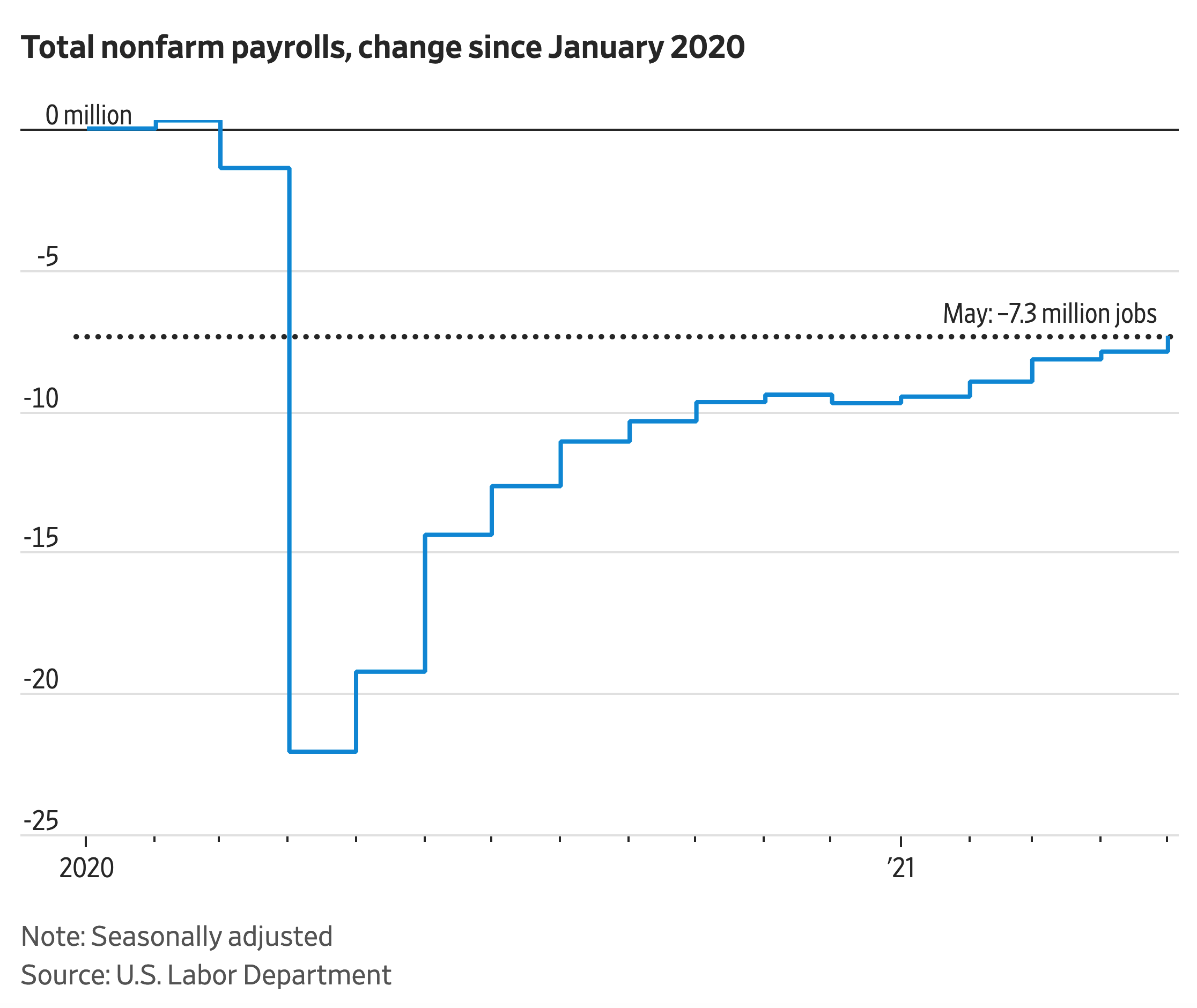 U.S. wins international backing for global minimum tax. The U.S. has won international backing for a global minimum rate of tax as part of a wider overhaul of the rules for taxing international companies. The plan, pushed by U.S. Treasury Secretary Janet Yellen, is intended to keep multinationals from moving their headquarters to low-tax countries, reducing opportunities for tax avoidance. Officials from 130 countries that met virtually agreed Thursday to the broad outlines of what would be the most sweeping change in international taxation in a century. Among them were all of the Group of 20 major economies, including China and India, which previously had reservations about the proposed overhaul. Those governments now will seek to pass laws ensuring that companies headquartered in their countries pay a minimum tax rate of at least 15% in each of the nations in which they operate, reducing opportunities for tax avoidance. However, three European Union nations resisted the plan, which could prevent the bloc from signing an agreement. Ireland, which has a corporate tax rate of 12.5%, said it's "not in a position" to join the consensus on a global minimum rate of at least 15%.
     House Ways and Means ranking member Kevin Brady (R-Texas) blasted the agreement as "a dangerous economic surrender that sends U.S. jobs overseas, undermines our economy, and strips away our U.S. tax base." Any final agreement also "must result in immediate repeal of all existing digital taxes and prevent any new digital taxes by the EU or others," Brady added.
     Not so fast for the United States. The new tax approach could also run into opposition in the U.S., where Yellen needs to sell the deal to Congress. The changes could require the U.S. Senate to alter existing tax treaties, which would take a two-thirds vote and at least some GOP support. Republicans have already expressed opposition to any rise in taxes, while some lawmakers have condemned the idea of ceding taxing authority to other governments. Business groups have additionally complained that higher taxes could threaten the economic recovery as American companies navigate their way out of the coronavirus pandemic.
     Countries shouldn't expect a major windfall. The deal could lead to a $150 billion increase in the global tax take starting in 2023, the OECD said in a statement. It did not mention that roughly 60% of those new funds will likely be recouped by G7 nations. Developing countries are still pushing for a higher minimum.
CBO sees a near-record $3 trillion budget deficit. The U.S. will see a $3 trillion budget deficit this year, close to the 2020 record, while the economy will expand notably more than previously forecast, the Congressional Budget Office (CBO) said as it incorporated the impact of Biden's Covid-19 relief. The deficit is seen narrowing to $1.15 trillion in 2022, the nonpartisan arm of the legislature said in a 10-year economic and budget projections report. The federal debt will grow to 103% of the economy at the end of 2021 before dipping slightly between 2023 and 2025, CBO said. The forecasts don't include the potential economic effects from proposed legislation, such as the bipartisan infrastructure plan and a Biden administration proposal to spend another $1.8 trillion on early childhood education, community college and other programs.
     The agency estimated real gross domestic product growth of 7.4% in the fourth quarter of 2021 compared with a year earlier, up from the 3.7% projected in February, when the CBO last issued updated projections on the federal budget and U.S. economy. The U.S. economy is expected to grow by 6.7% this fiscal year, the fastest annual rate since 1984.
     CBO sees inflation accelerating by 2.8% in the fourth quarter from the previous year, before slowing to 2% in 2022, as measured by the personal-consumption expenditures price index. In February, before the enactment of the stimulus bill, the agency saw inflation accelerating by 1.7% this year.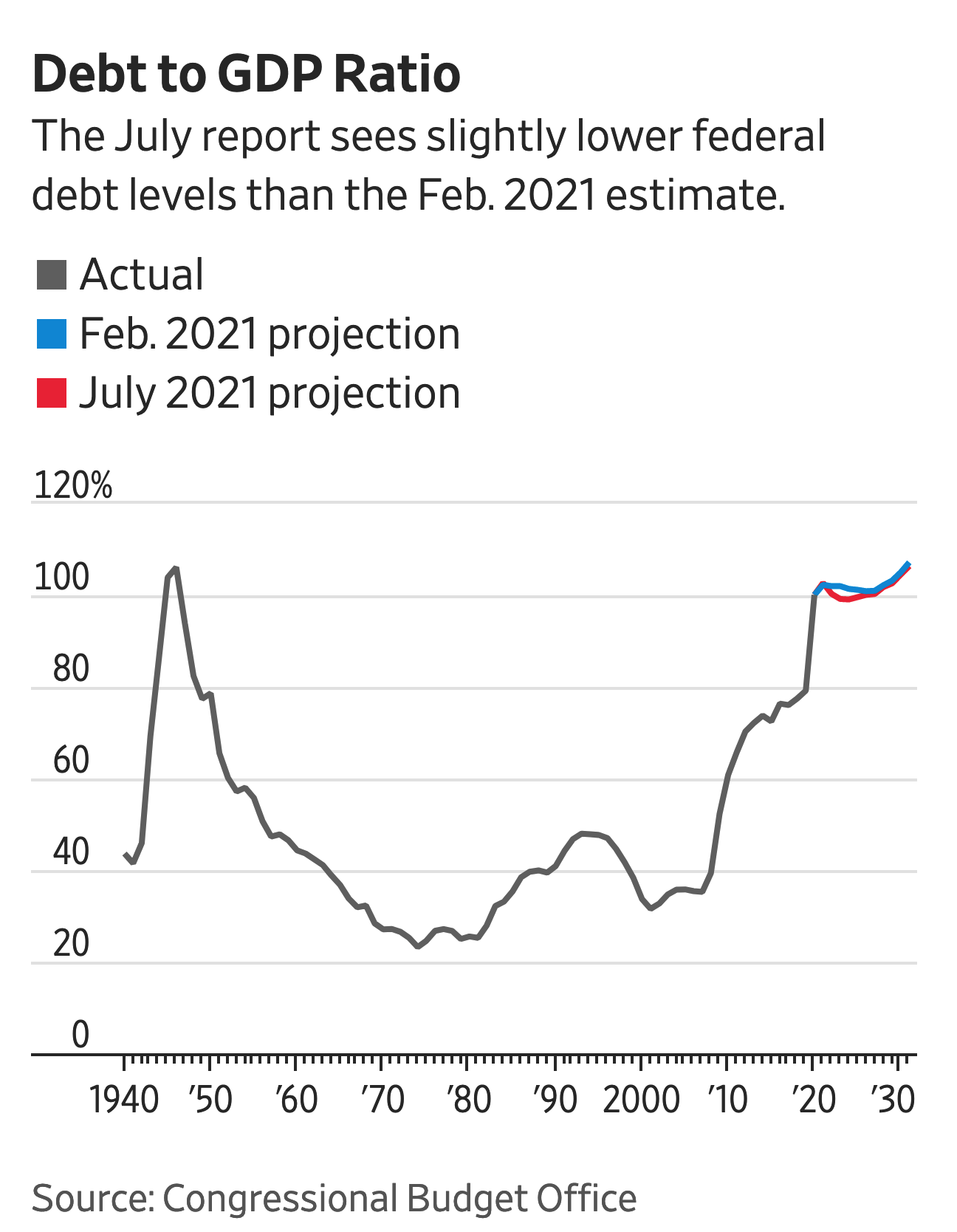 Fed officials see time approaching to pare bond-buying. Federal Reserve Bank of Philadelphia President Patrick Harker said Thursday he thought it would be appropriate for the central bank to begin tapering its asset purchases this year. The Fed has been buying $120 billion a month in bonds to help the economy weather the pandemic. As the economy has begun to pick up, officials have said they will begin discussing the process for slowing those purchases. Harker's comments come after Dallas Fed President Robert Kaplan said he wanted to see tapering begin "sooner rather than later."
IMF: Fed likely needs to raise rates as soon as late 2022. The Federal Reserve probably will need to begin raising interest rates in late 2022 or early 2023 as increased government spending keeps inflation above its long-run average target, according to the International Monetary Fund (IMF). The U.S. central bank likely will begin to scale back asset purchases in the first half of 2022, staff from the Washington-based fund said in a statement yesterday following the conclusion of so-called article IV consultations, the IMF's assessment of countries' economic and financial developments following meetings with lawmakers and public officials.
Market perspectives:
     • Outside markets: The U.S. dollar index was nearly unchanged ahead of the key Employment report (see related item above for results). The yield on the 10-year U.S. Treasury note was weaker ahead of US market action, trading around 1.44%. Gold and silver futures were posting solid advances ahead of the jobs update, with gold trading around $1,788 per troy ounce and silver around $26.30 per troy ounce.

     • Crude oil futures in New York climbed above $75 per barrel, trading around the highest since 2018, after the United Arab Emirates (UAE) blocked an OPEC+ deal. The standoff could lead oil-producing countries to refrain from increasing output at all while others predicted a phased increase. UAE argued that the baseline for its own cuts needed to be adjusted, effectively boosting the country's production quota amid heavy investments in oil capacity. The standoff could mean that OPEC+ won't raise production at all, though ministers are aiming to resume their meeting this afternoon. Without a deal, the alliance would fall back on existing terms that call for production to remain unchanged until April 2022. Late last year, Abu Dhabi debated leaving OPEC+ as it pressed to raise production, though a deal ultimately came to fruition.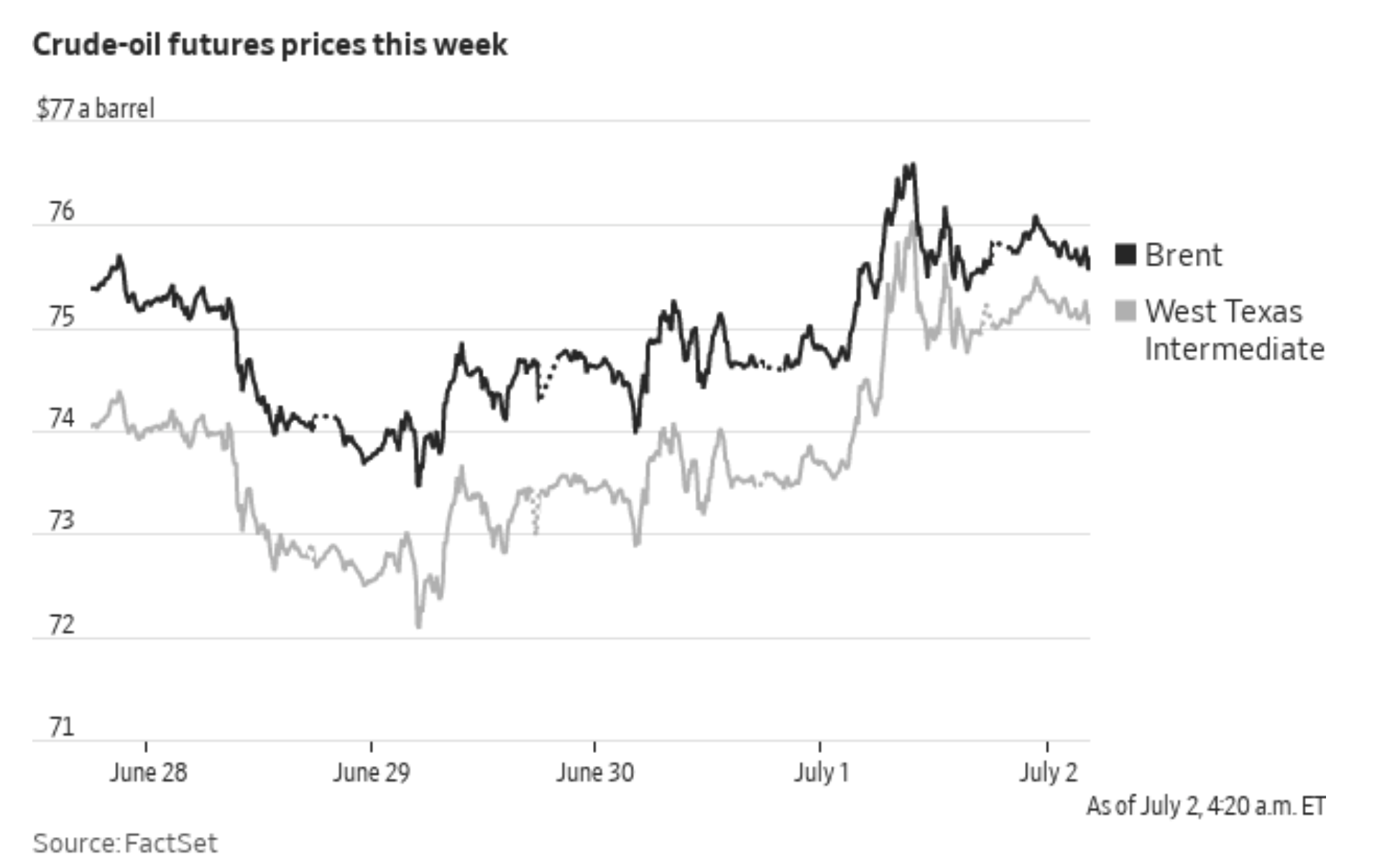 Meanwhile, rising gas prices and shortages due to high demand will make it the most expensive time to fill up the tank since 2014. Oil prices topped the $75 per barrel mark for the first time in seven years as drivers are paying a national average of over $3 per gallon. Adding to the cost is the increase is demand as AAA says more than 47.4 million Americans will hit the highway this holiday weekend compared to 34.2 million last year during the height of the pandemic.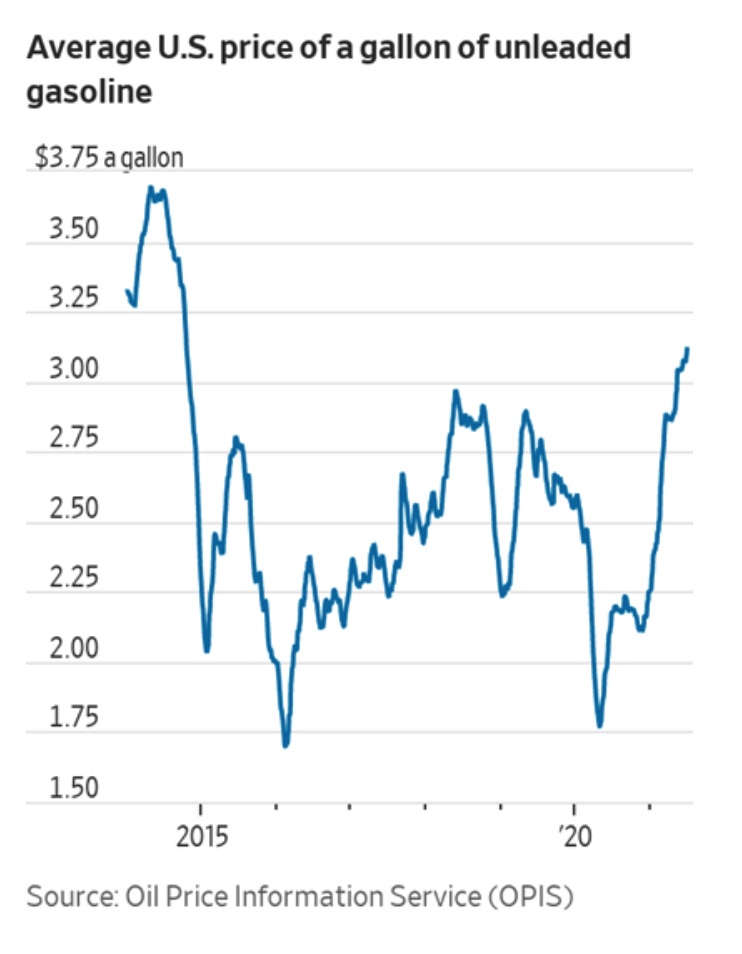 • Crude oil prices have moved lower ahead of the U.S. trading start, with U.S. crude trading around $74.85 per barrel and Brent around $75.45 per barrel. Futures were firmer in Asian action, with U.S. crude up nine cents at $75.32 per barrel while Brent crude was up six cents at $75.90 per barrel.
     • Ag demand: Turkey provisionally purchased an estimated 395,000 MT of wheat in an international tender. Tunisia's state grains agency bought around 100,000 MT of soft milling wheat and 100,000 MT of animal feed barley. Bangladesh issued an international tender to buy 50,000 MT of rice to be imported via railway.
     • For those getting "too bullish" corn, consider this: When USDA releases its next WASDE report on July 12, the easiest prediction is that it will boost 2021-22 corn carryover by 100 million to 125 million bushels. The 1-million-acre boost in estimated harvested acres translates into another 180 mil. bushels of production, assuming no change in USDA's corn yield forecast. Most assume a slight boost in corn usage. Bulls counter corn supplies will still be "tight." A corn analyst adds this: "Old-crop corn stocks will be tightened as USDA's ethanol use is too low, resulting in a lower carryin." June 1 stocks indicate USDA will tighten old-crop ending stocks in the July 12 Supply & Demand Report.
     • Brazil's corn crop is being revised lower with the freeze of this week.  Private trade is projecting an 85-to-90-million-ton crop.
     • Palm reading: Indonesia, supplier of more than half the planet's palm oil, enjoyed the highest output in seven months in June and is on course to deliver record production this year, helping to ease a global crunch in edible oils.
     • First hurricane of the season, Elsa, could hit Florida. Tropical Storm Elsa could become the first hurricane of the 2021 Atlantic season as it heads toward the Caribbean, with Florida in its projected path. A westward-moving Tropical Storm Elsa is likely to strengthen into the first hurricane of the 2021 Atlantic season and is expected to unleash heavy rain and strong winds in the Caribbean starting today, Accuweather.com said. South Florida could potentially be in the storm's path, according to the National Hurricane Center. Though it is too soon to determine what, if any, impacts could occur in Florida next week, officials encouraged residents to monitor the storm and make preparations.
 
     • NWS weather outlook: Excessive heat continues across interior sections of the Northwest, the Northern Rockies, and the Northern High Plains... ...Locally heavy rainfall likely along a cold front from the Eastern U.S. to the Deep South and back into the Southern Plains... ...Monsoonal moisture will bring wet weather and daily storm chances to the Southwest into the weekend.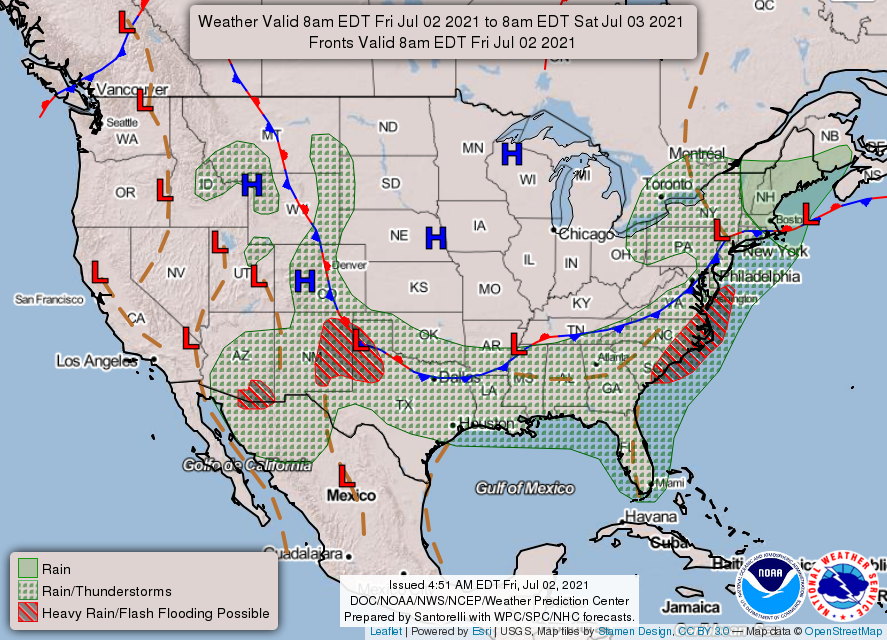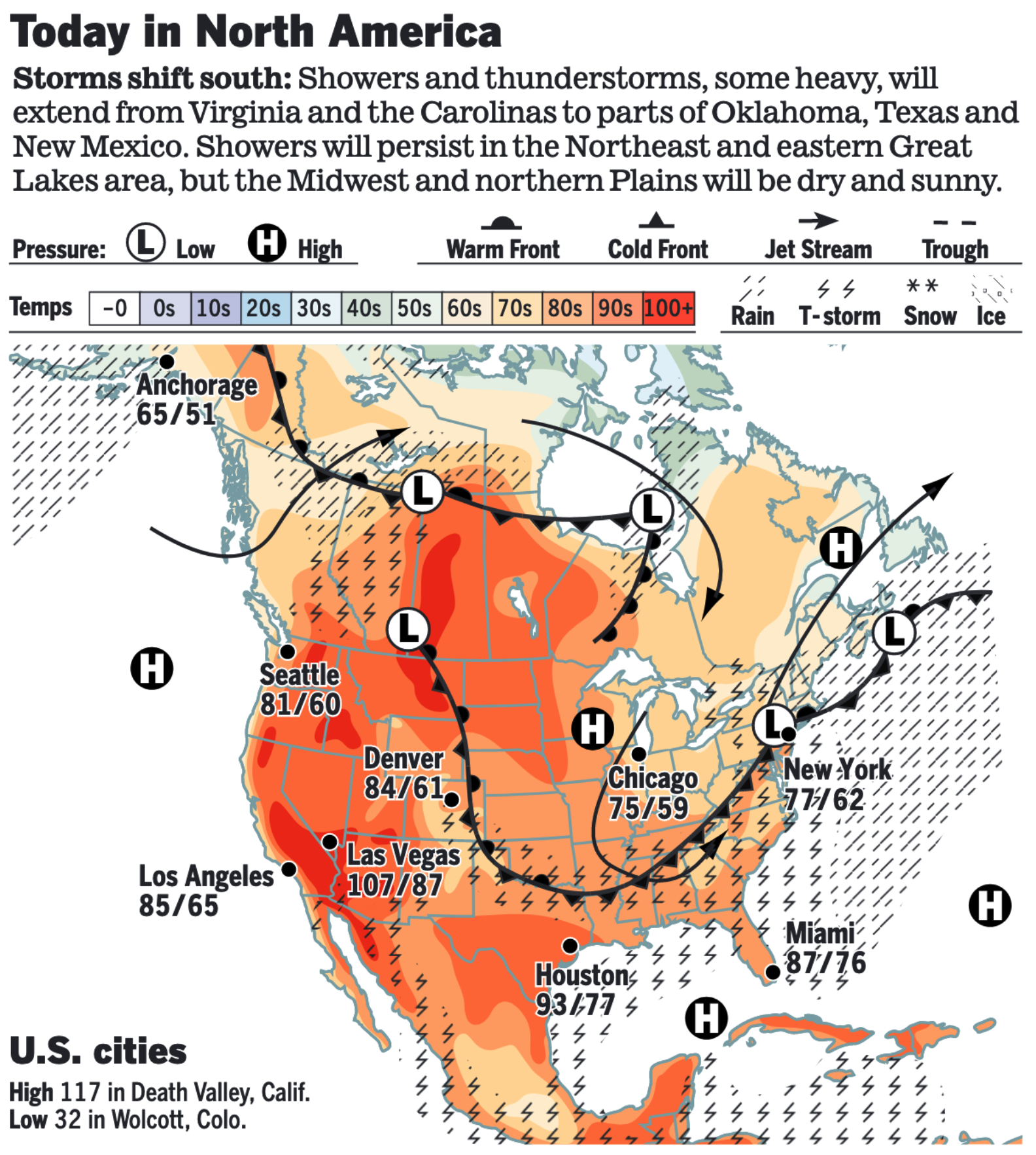 • North Dakota drought brings visit by federal agriculture officials. Sen. John Hoeven (R-N.D.) earlier this week hosted federal officials from USDA at several meetings in the states to assess drought conditions and gather input from agriculture producers. Hoeven said there were three years of his 10 years as North Dakota governor that the state faced drought. "I think this drought's every bit as bad or worse than any one of them so what we're trying to do is get some assistance and get it as soon as possible," he said. Hoeven is a ranking member of the Senate Agriculture Appropriations Committee and a senior member of the Senate Agriculture Committee.
        Hoeven outlined efforts to secure additional disaster assistance, including urging USDA Secretary Tom Vilsack to allow emergency haying and grazing of Conservation Reserve Program acres in North Dakota before Aug. 1. CRP acres in 50 North Dakota counties are currently eligible to be grazed at limited capacity but they are not eligible to be hayed. Other efforts include pressing RMA to work with approved insurance providers to ensure quick and fair crop adjustments and payments. The latest U.S. Drought Monitor map, issued Thursday, July 1, shows most of North Dakota in severe or extreme drought.
        Some suggestions at the meetings included simplify CRP contracts; use a combination of programs to help cover the remaining 40% cost with Livestock Forage Program; and RMA sending guidance to adjusters and crop insurers to make it as simple as possible to get crops adjusted.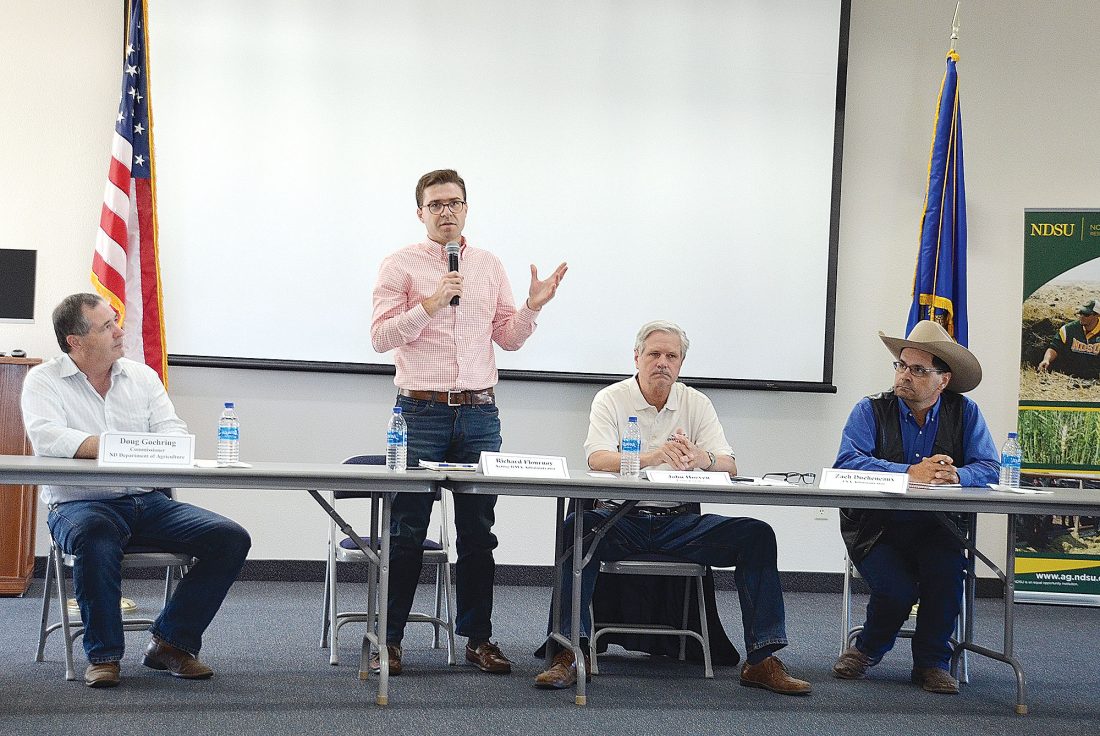 Eloise Ogden/MDN Richard Flournoy, acting administrator of Risk Management Agency, speaks during a drought meeting for farmers and ranchers held by Sen. John Hoeven (R-N.D.) at the North Central Research Extension Center, south of Minot, Wednesday. At left is Doug Goehring, North Dakota Department of Agriculture commissioner. At right is Hoeven and Zach Ducheneaux, Farm Service Agency administrator. Hoeven invited Flournoy and Ducheneaux, both based in Washington, D.C., to North Dakota so the agency leaders get first-hand knowledge of the drought situation in the state from farmers and ranchers and to help inform agriculture producers of resources available. Meetings were also held this week in Mandan, Carrington and Argusville.
Items in Pro Farmer's First Thing Today include:
     • Grain and soy futures rising ahead of long holiday weekend
     • Minor dip in Russian grain export tax
     • French wheat crop ratings hold steady
     • Beef prices still falling
     • Rising July hog futures and falling cash prices narrow contract's discount to cash
 
---
POLICY FOCUS
---
— Another federal judge puts hold on USDA debt forgiveness for selected socially disadvantaged farmers. Another preliminary injunction has been issued on USDA's debt forgiveness effort for selected socially disadvantaged farmers, with the U.S. District Court for the Northern District of Texas also granting a motion for class certification in the matter. Judge Reed O'Connor rejected the government's arguments in the case and issued the second preliminary injunction on the matter with a judge in Wisconsin expected to issue a decision yet this month on a case filed there.
     The Texas judge ruled that USDA has failed to provide evidence of how socially disadvantaged farmers have been discriminated against. In a frequently asked question section, the Farm Service Agency said the payments are for "decades of well-documented discrimination against socially disadvantaged farmers and ranchers by USDA."
     USDA has acknowledged the court action in Florida on the debt relief effort but has continued efforts to get ready to make the payments. "Borrowers should continue to submit paperwork (signed offer letters) and USDA will continue to accept these letters and process them," the agency noted. "USDA will be prepared to provide the debt relief authorized by Congress at the earliest opportunity, depending on the ongoing litigation." But USDA said the payment timeline would be updated once they have "received updates regarding this litigation." USDA's initial expectation was that when a signed offer letter was received by the agency, it would take three weeks to pay off a loan and issue a payment to a borrower. The Farm Service Agency (FSA) has also issued guidance to state and county offices for the debt forgiveness effort relative to Farm Storage Facility Loans (FSFLs) but said that guidelines for action relative to the Farm Loan Program (FLP) would be provided later.
— Clear signal for antitrust action ahead. The Federal Trade Commission voted to broaden its discretion to challenge what it finds to be unfair methods of competition, potentially allowing more antitrust cases against big technology companies. The commission also approved a streamlined rule-making process that could enable it to more easily oversee data-privacy violations. The U.S. ag sector is expected to get increased focus relative to the meat processing and seed sectors.
— DMC payment triggered for May. Eligible producers enrolled in the Dairy Margin Coverage (DMC) program will receive a payment for May, depending on the margin trigger they have selected. For May, the difference national all milk price and the national feed cost was $6.89 per hundredweight (cwt.), triggering payments for those under Tier 1 that have coverage levels of $7, $7.50, $8, $8.50, $9 and $9.50, and those with Tier 2 margin coverage levels of $7, $7.50 and $8. The payments range from $0.11 for those with $7 coverage levels, up to $1.11 with those having $8 coverage and $2.61 for those with a $9.50 coverage level.
— Pelosi continues to link infrastructure and reconciliation measures. House Speaker Nancy Pelosi (D-Calif.) reiterated that she would not bring a bipartisan infrastructure bill to the House floor until the Senate has passed the reconciliation bill. The infrastructure proposal is "something that we would take up once we see what the budget parameters are of the budget bill the Senate will pass," she said. Other updates on this issue include:
Discord among Democrats. Democratic lawmakers have not yet agreed on what should make the cut for a reconciliation bill that will largely be a "human" infrastructure measure needed to pass without GOP support. Democrats can lose no more than four Democratic votes in the House and none in the Senate on legislation opposed by all Republicans.
In tandem. Liberal Democrats will not support the infrastructure proposal unless it moves through Congress in tandem with a separate package of childcare, education, housing and climate provisions, among others, that they plan to pass through a process tied to the budget known as reconciliation. That would enable Democrats to pass legislation through the evenly divided Senate with just a simple majority, rather than the 60 votes most bills need.
Biofuels push. Rep. Cindy Axne (D-Iowa) has said she would find it hard to vote for a package without funding for biofuels, a category that includes ethanol, and that she is hounding Pelosi to include it. "I will follow her around and make sure that hopefully this gets in there," she said.
Timeline: First step toward passing a bill through reconciliation is adopting a budget resolution, which sets the overall spending level for the legislation and sets parameters whose details will be fleshed out by committees. Lawmakers are aiming to craft and pass that resolution in the coming weeks before moving on to hashing out the overall package in September.
 
---
BIDEN ADMINISTRATION PERSONNEL
---
— Lawmakers urge Biden to nominate chief agricultural negotiator. A bipartisan group of House members led by Reps. Jimmy Panetta (D-Calif.) and Jodey Arrington (R-Texas) this week urged President Biden to nominate a chief agricultural negotiator at the Office of the United States Trade Representative (USTR).
 
---
CHINA UPDATE
---
— China sold just over 28,000 MT of imported corn at its auction today. China's state grains stockpiler Sinograin sold 28,298 MT of the 155,516 MT of imported corn from the U.S. and Ukraine it put up for auction. That represented just 18.2% of the total. Previous auctions resulted in stronger demand. The country is working to cool commodity price inflation.
— Attaché expects Chinese imports of corn to slow notably in 2021-22. A USDA attaché in Beijing expects China to import 28 MMT of corn in 2020-21, which is 2 MMT higher than USDA's official estimate. The post cites strong import demand fueled by high prices and restocking efforts. But looking ahead to 2021-22, the attaché forecasts China will import just 20 MMT of corn, which is 6 MMT under USDA's official forecast. The post expects demand to soften "as corn imported during the current marketing year enters commercial channels, stock building moderates, and the expansion of domestic corn area results in greater production." The attaché also comments that corn's previous price advantage has narrowed as global grain prices and shipping costs have climbed. While acknowledging China expects live hog inventory to reach 2017 levels (pre-African swine fever) this month, the post comments that overall pork production will likely remain below pre-ASF levels, noting renewed ASF outbreaks in late 2020 and early 2021.
---
TRADE POLICY
---
— USTR Tai to visit Mexico next week. President Joe Biden's top trade negotiator plans to travel to Mexico City next week for meetings with her counterparts from Mexico and Canada as the governments seek to build on their free-trade agreement (USMCA) that took effect a year ago. Katherine Tai is due to head to the Mexican capital for meetings with Mexican Economy Minister Tatiana Clouthier and Canadian Trade Minister Mary Ng.
— Vilsack on trade policy: Avoid over-reliance on China; no deal with EU soon. USDA Secretary Tom Vilsack said the U.S. should diversify its sales to a broader range of markets. "We need to be less reliant on one or two countries and more reliant on a number of countries," he said during the Forbes Future of Food Summit online. "I think there's an over-reliance on China right now. That's a big market, a big opportunity for us," said Vilsack on Wednesday. "Obviously, we're much better off without a trade war than we were with a trade war with China in terms of agriculture. But that's a complicated relationship, and anything can disrupt it at any point in time. Which is why I think it is going to be important, at the appropriate time, for the administration to take a look at where there are new partnerships, new arrangements, new connections."
     As for trade expansion, Vilsack mentioned deepening the U.S. presence in Southeast Asia, especially in Africa and maximizing opportunities in Central and South America. In Asia, the U.S. might explore membership in the successor to the Trans-Pacific Partnership trade agreement (CPTPP), said Vilsack. "Can we get back into that? What would we have to give and what could we get? Those are things that have to be determined."
     Vilsack said a new trade agreement with Europe is unlikely until the EU shows a willingness to negotiate on the "politically sensitive and difficult issues that they have on agriculture. He cited geographical indications, GE crops, and the use of growth stimulants in livestock.
 
---
ENERGY & CLIMATE CHANGE
---
— GOP Senators raise concerns over asset managers and climate policy. Sens. Pat Toomey (R-Pa.) and Ron Johnson (R-Wis.) are raising concerns that major asset managers BlackRock and State Street Global Advisors, which manage federal employees' retirement investments, are prioritizing issues such as climate change over fiduciary responsibility. The senators pointed to recent comments from the CEOs of BlackRock and State Street that they would focus on climate change risks and the transition to a low-carbon economy, as well as diversity issues, as part of their proxy voting agendas. "Specifically, recent statements by the CEOs of BlackRock and State Street Global Advisors (SSGA) indicate they are using their control of proxy votes for federal employees' Thrift Savings Plan investments to pressure other companies to adhere to their own environmental and social policy views," the senators wrote in a letter (link) to David Jones, acting chairman of the Federal Retirement Thrift Investment Board. The senators are asking Jones for a briefing on the issue, including what oversight the Board has of proxy voting use by the plan's investment managers, by July 26.
— House appropriators sent a $43.4 billion Interior-EPA spending bill to the House floor. Democrats voted down Republican amendments that would have blocked implementation of Biden's "30 by 30" conservation effort and prohibited the government from issuing methane emission permits for livestock producers.
---
LIVESTOCK, FOOD & BEVERAGE INDUSTRY
---
— ASF exercise. Iowa's Department of Agriculture held a daylong exercise on Wednesday to test its response plan in case of an outbreak of African swine fever (ASF) at a livestock show. Perhaps this is where an errant rumor on Thursday came about that an ASF incident was found in the United States.
— USDA to review 'Product of USA' label following FTC vote. USDA Secretary Tom Vilsack announced that USDA will review the "Product of the USA" label for meat managed by the Food Safety and Inspection Service (FSIS) after the Federal Trade Commission (FTC) voted to strengthen its enforcement of products labeled Made in the USA. Both the National Cattlemen's Beef Association and the U.S. Cattlemen's Association, who have had opposing views on labeling, praised the decision to review the label.
     Background. Under current "Product of the USA" rules, beef that comes from many countries, but particularly from Canada and Mexico, is considered a product of the United States if it has been processed within the country. The U.S. Cattlemen's Association and some other farm groups favor a strict country-of-origin rule for meat labeling, but when Congress put that into effect, a World Trade Organization panel said it resulted in discrimination against Mexican and Canadian cattle and Congress repealed the law. NCBA opposed the strict country-of-origin labeling rule.
     The FTC voted along party lines to approve a rule tightening who can claim that goods are "Made in USA," Reuters reported.
     The rule will take effect in 30 days after publication in the Federal Register.
     Key to any outcome on this front will be how Canada in particular views any revamped labeling effort as they continue to hold the ability to retaliate against the U.S. should a mandatory country of origin labeling (MCOOL) program be put back in place for pork and beef.
— FDA eyes July 2022 for guidance on labeling plant-based dairy alternative products. The Food and Drug Administration (FDA) said it plans on releasing guidance on the issue of labeling plant-based dairy alternatives by July 2022, an action that will no doubt be a matter of contention for both dairy and plant-based food interests.
     The dairy industry has opposed allowing plant-based dairy alternatives to use terms like "milk," "yogurt," or "cheese" on their labels and has called on FDA to enforce standards of identity for milk which states that the term "milk" should only apply to a beverage derived from cows.
     Background: FDA in 2018 issued a request for information to determine whether consumers are confused by plant-based products that are labeled as "milk." The National Milk Producers Federation petitioned FDA to make a distinction between dairy and plant-based products, but the plant-based food industry has fought the proposal.
     It is not clear where FDA will land on the issue, but the timeline released by the agency indicates a timeline for addressing the matter.
— Meat demand is waning globally due to a surge higher for prices. In the U.S., retail ground-beef prices have surged about 6% since before the pandemic. In May, fresh meat retail sales were down more than 12% compared with a year ago, according to NielsenIQ data.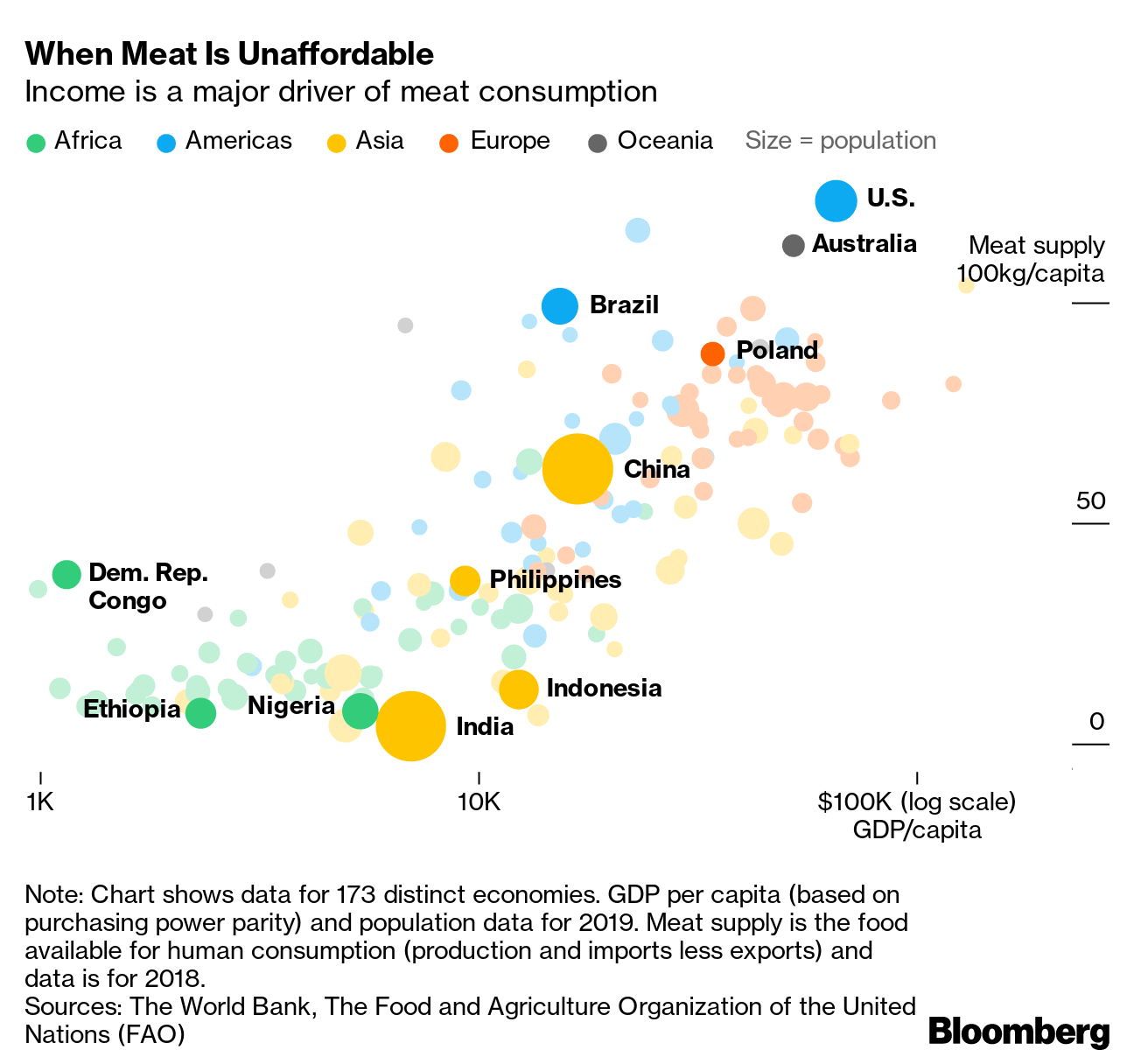 ---
CORONAVIRUS UPDATE
---
— Summary: Global cases of Covid-19 are at 182,684,395 with 3,956,729 deaths, according to data compiled by the Center for Systems Science and Engineering at Johns Hopkins University. The U.S. case count is at 33,679,489 with 605,019 deaths. The Johns Hopkins University Coronavirus Resource Center said that there have been 328,152,304 doses administered, 33,048,199 have been fully vaccinated, or 49.4% of the total U.S. population.
— Johnson & Johnson said its single-dose vaccine can neutralize the Delta variant of the virus, boosting hopes that the highly transmissible mutation won't derail the economic reopening. The variant is expected to become the dominant strain in the United States. Earlier this week, Moderna said its vaccine produced antibodies against the strain.
 
POLITICS & ELECTIONS

— Pelosi taps GOP Cheney to serve on Jan. 6 select committee, drawing ire of McCarthy. Rep. Liz Cheney (R-Wyo.) accepted a spot on a new select committee to investigate the day's attack from Speaker Nancy Pelosi (D-Calif.), upsetting GOP members. House Minority Leader Kevin McCarthy (R-Calif.) reportedly threatened on Wednesday to yank committee assignments from colleagues if they accepted a position on the investigatory panel Pelosi backs. But McCarthy's reported threat lasted a day. He backtracked on Thursday, telling reporters that while he does not plan to remove Cheney from the House Armed Services Committee, her lone assignment, he remained baffled by her decision. Cheney, who backed the formation of the panel, was recently dumped by GOP leadership over her criticisms of former President Trump. She voted to impeach him over his actions connected to the Jan. 6 attack.
— Pew report: Trump rural vote rose in 2020. We now have a report that confirms what Farm Journal's pre-presidential-election polls indicated — former President Donald Trump's rural vote rose from 59% in 2016 to 65% in 2020. However, the increase was more than offset by a suburban shift away from Trump, including among white men, the Pew Research Center said in its report (link). The percentage of white rural voters who supported Trump rose from 62% in 2016 to 71% in 2020.
— Newsom recall: California voters will determine on Sept. 14 whether Democratic Gov. Gavin Newsom should be removed and, if so, who should replace him. The declaration brings to a head a yearlong signature-gathering effort by Newsom's critics to try to oust him from office.
— Who are the highest-paid people in President Biden's White House? We now know thanks release of an annual report with staffers' salaries, which max out at $180,000. Twenty-two White House employees make the maximum yearly salary. That list includes White House press secretary Jen Psaki, chief of staff Ron Klain and Neera Tanden, who is now senior adviser to the president after her nomination for Office of Management and Budget director was withdrawn.

 
---
CONGRESS  
---

— House approves $715 billion transportation and water infrastructure package. The House voted 221-201 to pass a $715 billion transportation and water infrastructure measure that Democrats plan to use to negotiate a larger deal with the Senate and the Biden administration. The measure passed mostly along party lines (only two Republicans voted for it) and centered on mitigating climate change by reducing fossil fuels and directing more people to mass transit, electric cars, and other modes of transportation. GOP lawmakers took issue with the bill's lack of changes to permitting processes and its climate-change measures, which they said were overreaching. They also criticized Democrats for not raising revenue to cover the cost of the bill.
     Details: The bill dedicates $343 billion to upgrading the nation's crumbling roads and bridges, it provides $109 billion for transit, and $95 billion to passenger and freight rail. The measure would spend nearly $170 billion on water infrastructure projects.
     The measure includes new policy directives aimed at reducing fossil fuel use. One provision would require municipalities to first repair existing roads and bridges that need work before dedicating funding to building new ones. It also provides $4 billion for electric vehicle charging infrastructure.
     The bill sets surface transportation spending levels for the next five years after a current authorization expires on Sept. 30.
     In the Senate, lawmakers unanimously advanced a $304 billion bill in the Senate Environment and Public Works committee focused on transportation programs, one of several infrastructure reauthorization bills the chamber is working on. Senate negotiators have said they have used that $304 billion bill as part of their assumptions in crafting the $1 trillion bipartisan infrastructure proposal.

 
---
OTHER ITEMS OF NOTE     
---

— Supreme Court backs Arizona voting restrictions. The Supreme Court's conservative majority limited the reach of the Voting Rights Act on Thursday and ruled that states may enforce election rules even if they have a more discriminatory effect on Black, Latino or Native American voters. In a 6-3 decision, the justices upheld two Arizona rules that were sponsored by Republicans and opposed by Democrats. One calls for throwing out legal ballots that were cast in the wrong precinct. Arizona discards a higher percentage of ballots than any other state because of its shifting precinct boundaries. The justices also upheld a second law that makes it a crime for anyone other than family members or postal workers to deliver a mail ballot, a rule that has a significant effect on tribal reservations. The justices divided along partisan lines. The six Republican appointees voted to uphold Arizona's Republican-backed rules, while the three Democratic appointees agreed with Democrats who sued to challenge the voting restrictions.
— High court lets charities keep donors secret. The Supreme Court on Thursday extended new privacy rights to conservative charities that raise money in California, ruling they may not be required to reveal their big donors to the state attorney general. The justices by a 6-3 vote ruled the forced disclosures violated the freedom of association protected by the 1st Amendment. This is particularly so, the court said, because conservative groups and their donors fear they will be the target of harassment by left-leaning opponents. Chief Justice John G. Roberts Jr. said "compelled disclosures" were suspect under the 1st Amendment. Also, he said, California had not shown it needed the information to investigate fraud.
— Justice Department halts federal executions. Attorney General Merrick Garland placed a moratorium on capital punishment while the department reviews its policies on the death penalty, citing concerns about its application, its impact on Black people and minorities and a "troubling number of exonerations."
— Cotton AWP climbs above 74 cents. The Adjusted World Price (AWP) for Upland cotton rose to 74.70 cents per pound, effective today (July 2), a rise from 73.40 cents per pound the prior week. This marks the highest AWP since it was 75.76 cents per pound the week of Feb. 26.  Meanwhile, USDA said that Special Import Quota #11 will be established July 8 for the import of 48,008 bales of Upland cotton, applying to supplies purchased not later than Oct. 5 and entered into the U.S. not later than Jan. 3, 2022.
— NGFA publishes new firefighting manual for grain facilities. NGFA announced on June 29 the publication of a new guide (link… it's free for NGFA members) for operators of grain handling facilities and firefighters to develop grain handling facility firefighting procedures.
---