Major U.S. Equities Sell Off on Rising China Concerns, Economic Anxieties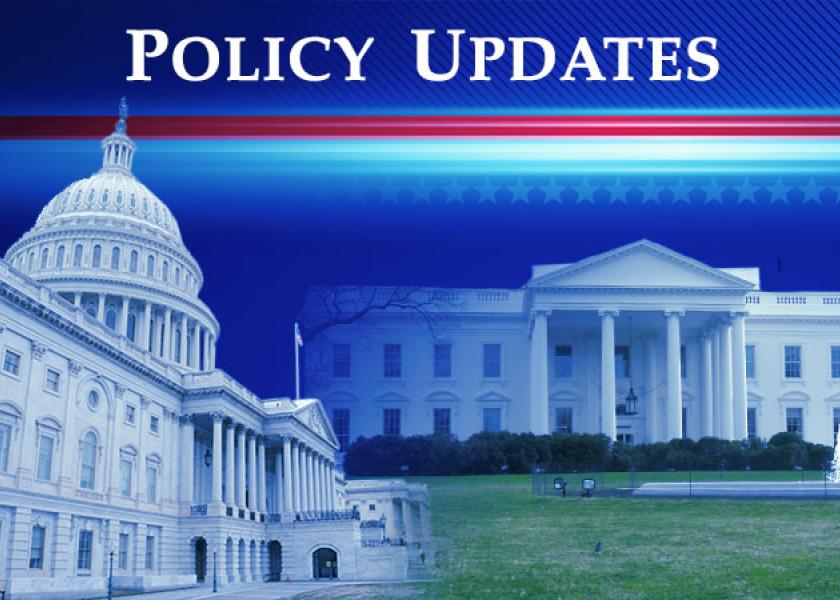 Senate parliamentarian nixes Dems' immigration proposal | CR | Debt limit | Recon delay
---
In Today's Digital Newspaper
---
Market Focus:
• Natural-gas prices are soaring
• Record energy prices ahead?
• Equity traders eye possibility of China property company Evergrande collapsing
• Federal meets Tuesday and Wednesday to discuss monetary policy
• U.S. seafood companies facing unusual supply chain challenge
• U.S. preparing sanctions targeting crypto ransomware payments
• At least 38,000 customers still without power outside New Orleans
• Ag demand update
• Outside markets dragging grains down
• China's soybean imports
• Trade data confirms voracious Chinese appetite for grains
• Russian wheat export prices climb for 10th consecutive week
• Boxed beef values extend their retreat to three weeks
• Pork cutout value turned back down Friday
Policy Focus:
• Partisan fight over raising govts' borrowing limit in full view this week
• Senate parliamentarian nixes Democrats' immigration proposal 
Afghanistan:
• U.S. military said it mistakenly killed 10 Afghan civilians, including seven children
• Afghanistan's economic meltdown
• Women workers in Afghanistan told to stay home  
China Update:
• China's wheat imports reach highest level in more than two decades
• China's soybean imports
• Trade data confirms voracious Chinese appetite for grains
• Evergrande shares plunged further as China property crisis grows 
Energy & Climate Change:
• OMB adjusts RFS meeting schedules
• EPA OIG to audit EPA RIN market 
Coronavirus Update:
• FDA advisory panel recommends booster shots for those 65 and over
• Pfizer: Covid-19 vaccine works in kids ages 5 to 11, will seek authorization
• Covid-19 origins may never be known: Gottlieb
• Moderna's Covid-19 vaccine most effective of the three shots 
Politics & Elections:
• Only 45% of Texans approve of Abbott as governor; Beto to run for governor?
• Canada votes  
• Russian election 
Congress:
• House Rules Committee to consider short-term funding bill
• House Budget Committee will not mark up Dems' reconciliation package this week 

Other Items of Note:
• France recalls its ambassadors to U.S. and Australia
• BLM headquarters coming back to Washington
---
MARKET FOCUS
---
Equities today: Global stock markets were sharply down in overnight trading. The U.S. stock indexes are also pointed to heavy losses and four-week lows when the New York day session begins. The possibility of China property company Evergrande collapsing and overall worries about China's crackdown on indebted firms is taking its toll on Hong Kong shares (see related item under China section). The Hang Seng Index (HSI) is down more than 3% with China and Japan closed for a holiday. The benchmark index hit an 11-month low earlier, with the index tracking construction and property off more than 6%. A collapse of Evergrande would have a domino effect on other China and Hong Kong property developers and a systemic effect on the rest of the economy, according to Jenny Zeng, co-head of Asia fixed income at AllianceBernstein. Asian equities were mixed as Hong Kong stocks were under pressure from the Evergrande situation. The Nikkei ended up 176,71 points, 0.58%, at 30,500. The Hang Seng Index dropped 821.62 points, 3.30%, at 24,099.14. European equities are showing sharp losses, with the Stoxx 600 down 2.1% in early action with losses from 1.6% to 2.6% in regional markets.
     U.S. equities Friday: The Dow closed down 166.44 points, 0.48%, at 34,584.88. The Nasdaq fell 137.96 points, 0.91%, at 15,043.97. The S&P 500 was down 40.76 points, 0.91%, at 4,432.99.
     For the week, the S&P 500 slipped 0.6%, the Nasdaq Composite closed down 0.5% and the Dow fell just 0.1%. The weekly drop in the Dow was the third in the row, which has not happened since September of 2020. The week saw this $45.3 billion in capital outflows from money market funds, the largest outflow of the year, as cash poured into equities this past week, according to Refinitiv Lipper.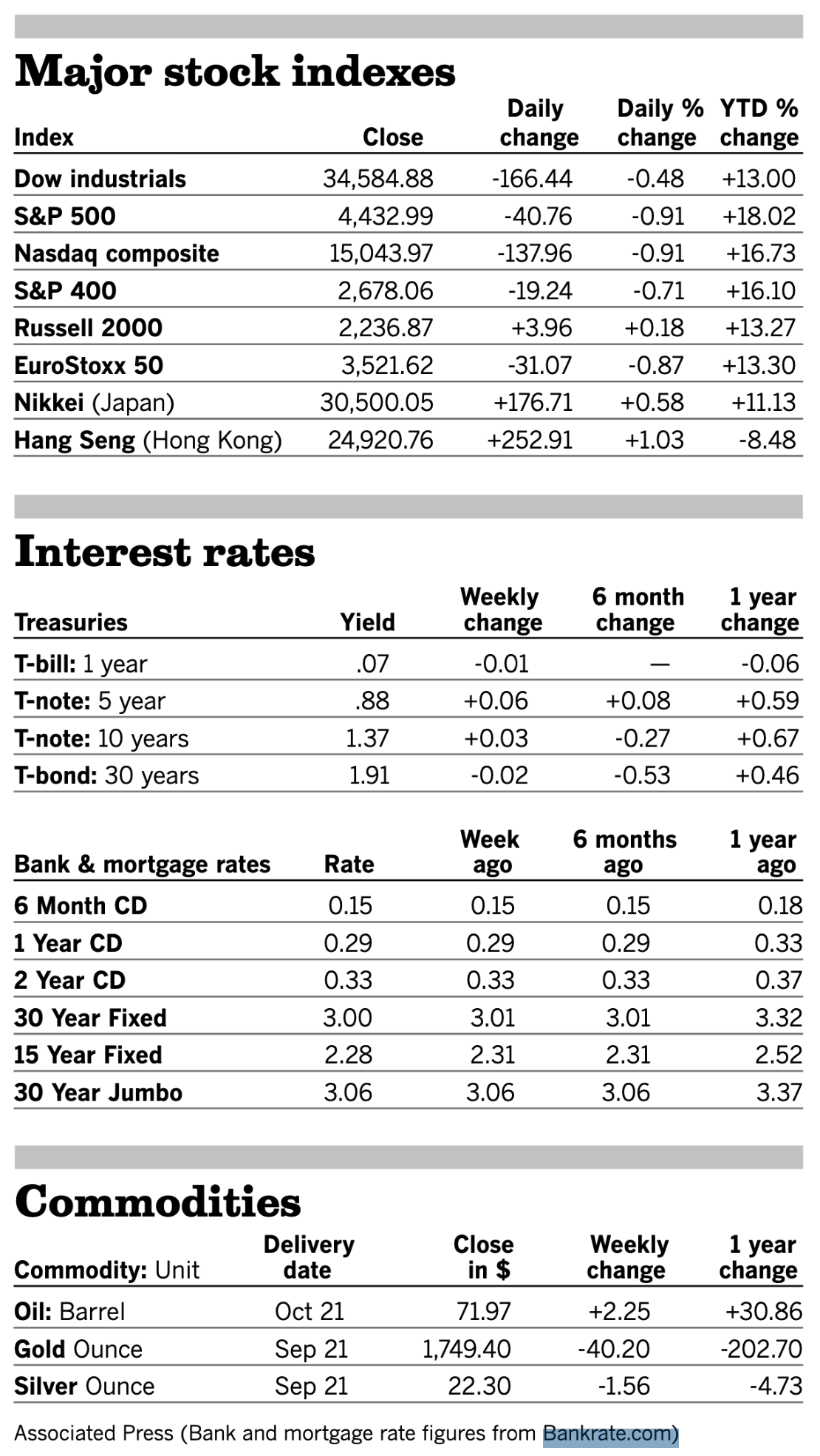 On tap today (see detailed list of events and reports below):
     • National Association of Home Builders housing market index is expected to hold at 75, unchanged from the prior month. (10 a.m. ET)
Federal Reserve meets on Tuesday and Wednesday this week to discuss monetary policy. Economists surveyed by Bloomberg expect the Fed to make a formal announcement on reducing its purchases of Treasurys and mortgage-backed securities at the end of the November meeting. Two-thirds of the 52 economists surveyed expect a November announcement, with more than half expecting the Fed to start the taper in December. The Fed is currently purchasing $80B of Treasurys and $40B of MBS per month. At least five of the 12 Fed district bank presidents expect tapering to start this year, in comments they've publicly made starting in late August. Earlier this month, Atlanta Fed President Raphael Bostic said he expects the Fed to reduce its pace of asset purchases this year, but not this month.
U.S. seafood companies are facing an unusual supply chain challenge. A crackdown on shipping practices aimed at skirting U.S. transportation law has left millions of pounds of frozen fish stranded in cold storage at a Canadian port, the Wall Street Journal reports (link), while seafood processors on the American side of the border scramble for supplies to keep plants running and fill orders. The conflict is over the maritime Jones Act, which requires that domestic U.S. cargo be transported on U.S.-built and flagged vessels. Alaskan suppliers have been transloading shipments for the lower 48 states to sidestep the requirement, in part by rolling the fish on a 100-foot railroad. The impasse is focusing attention on the century-old Jones Act, but the practical impact now is that buyers are looking for alternatives while suppliers consider shipping tons of whitefish on long, likely more expensive North American rail routes.
Market perspectives:
     • Outside markets: The US dollar index is higher ahead of U.S. trading, with the greenback weaker against most major foreign currencies. Buyers have been seen in U.S. Treasury markets, pressing the 10-year note yield to trade under 1.32%. Gold is higher while silver is weaker ahead of U.S. trading. Gold is trading around $1,755 per troy ounce and silver around $22.26 per troy ounce.

     • Crude oil futures have come under significant pressure ahead of U.S. trading, with U.S. crude around $70.20 per barrel and Brent around $73.75 per barrel. Futures were lower in Asian action, with U.S. crude down 66 cents at $71.31 per barrel while Brent was down 61 cents at $74.73 per barrel.
     • U.S. is preparing sanctions targeting crypto ransomware payments. Without specifying the targets of sanctions, the Treasury Department said it would impose them as soon as this week, with the goal of disrupting digital finance infrastructure that facilitates ransomware cyberattacks. This comes on the heels of high-profile attacks traced to criminal groups believed to reside in Russia. Crypto currencies are getting smacked today, amid the risk aversion and on speculation major countries like the U.S. and China will move to more tightly regulate them.
     • Record energy prices ahead? Natural-gas, coal and electricity prices are all running abnormally high, far too early. Benchmark U.S. natural-gas prices edged above $5 per million British thermal units this month, near their highest since 2014, but much lower compared with levels in Europe and Asia. Coal exports are running high too. The U.S. exported 52.5% more coal in the second quarter than it did a year earlier, according to S&P Global Market Intelligence. China has been importing a lot more coal from the U.S. after banning the commodity's import from Australia over a diplomatic spat.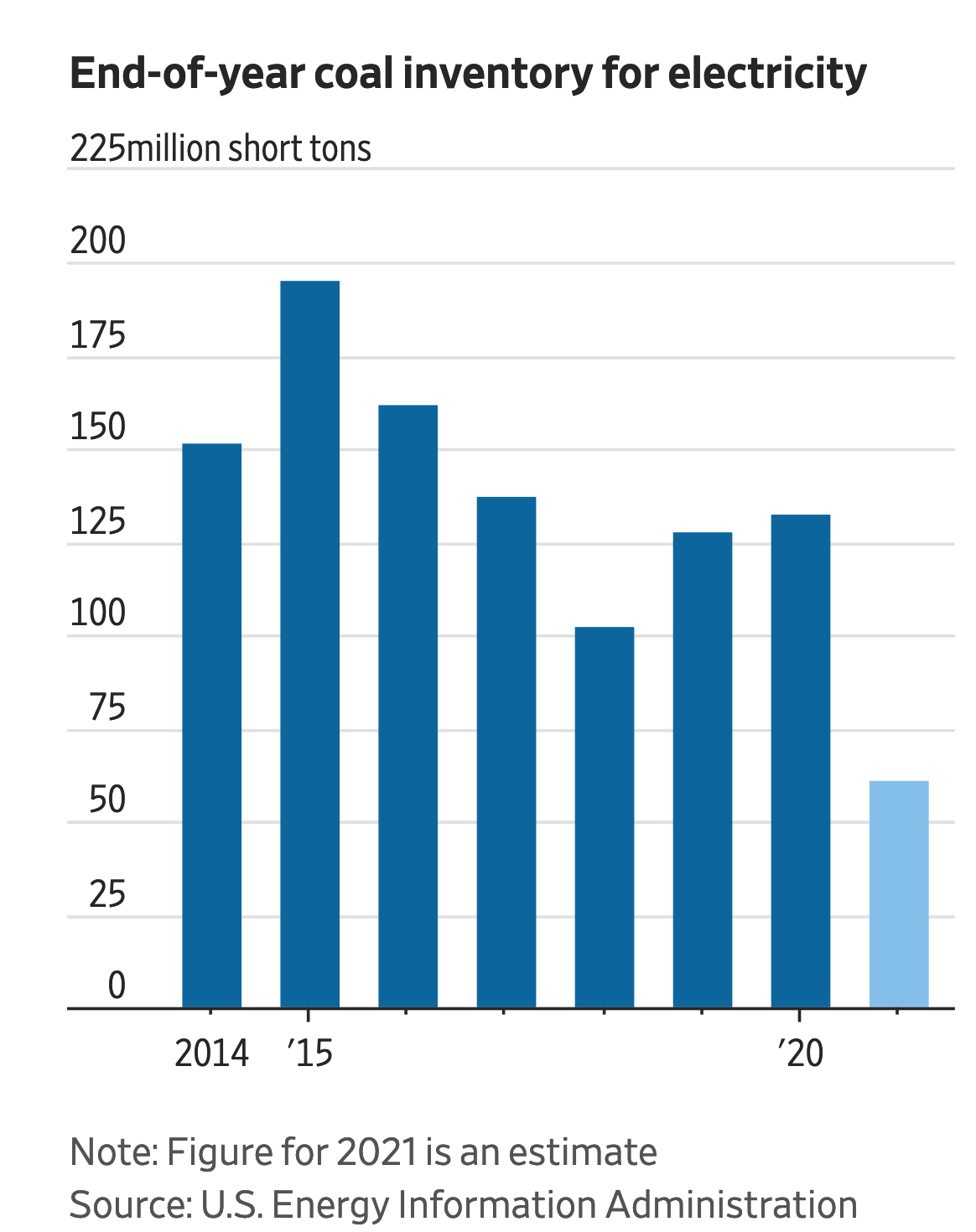 • Three weeks after Hurricane Ida blasted through Louisiana, at least 38,000 customers are still without power outside New Orleans. The state's grid failed because it wasn't built to withstand major storms, experts said.
     • Natural-gas prices have surged, prompting worries about winter shortages and forecasts for the most expensive fuel since frackers flooded the market more than a decade ago, the Wall Street Journal reports (link). U.S. natural-gas futures ended Friday at $5.105 per million British thermal units. They were about half that six months ago and have leapt 17% this month. (Futures in the U.S. have doubled in six months and increased by a sixth in the last month.) It is supposed to be offseason for demand, and prices haven't climbed so high since blizzards froze the Northeast in early 2014. Analysts say that it might not have to get that cold this winter for prices to reach heights unknown during the shale era, which transformed the U.S. from a gas importer to supplier to the world. A substantial and sustained increase in price would be felt from households to heavy industry. U.S. natural gas stockpiles are estimated to be down 16.5% from less a year ago, adding to concerns over a potential squeeze on supplies this winter. European natural gas stores are also short, and fertilizer producer CF Industries said last week it was halting production at a U.K. plant because of high natural gas prices. "The time to replenish stocks for the winter is rapidly running out," said RBN Energy analyst Lindsay Schneider, on natural gas stockpiles.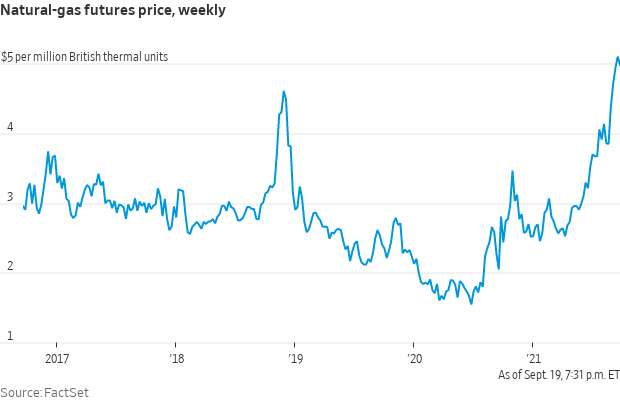 • Ag demand: Pakistan tendered to buy 500,000 MT of wheat.
     • CFTC Commitments of Traders report (Source: Barron's):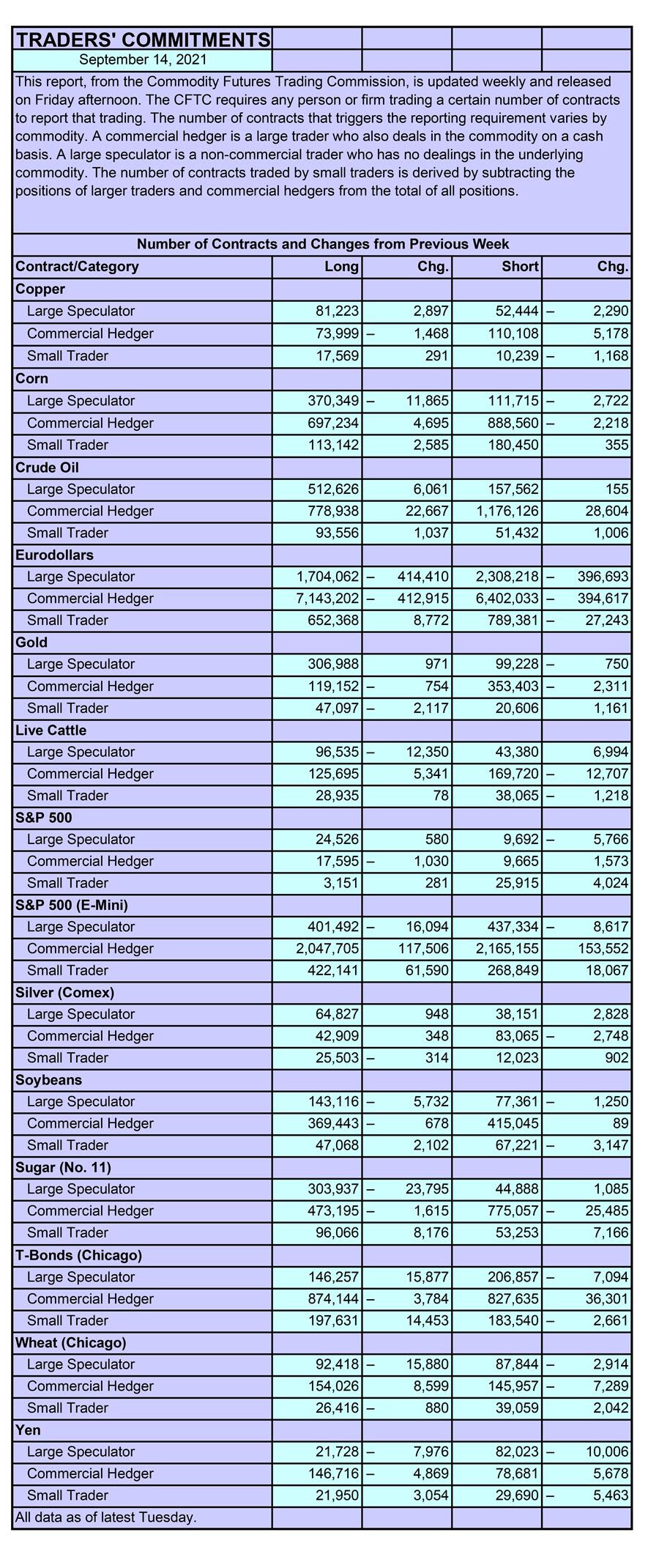 • NWS weather: Strong to locally severe thunderstorms are possible from the upper Mississippi Valley and Great Lakes to the Ozarks on Monday... ...Elevated to critical fire weather conditions expected to continue across portions of Northern California through Monday into Tuesday... ...Heavy rainfall and localized flash flooding possible across portions of the Tennessee Valley, southern Appalachians, and the Southeast Monday and Tuesday.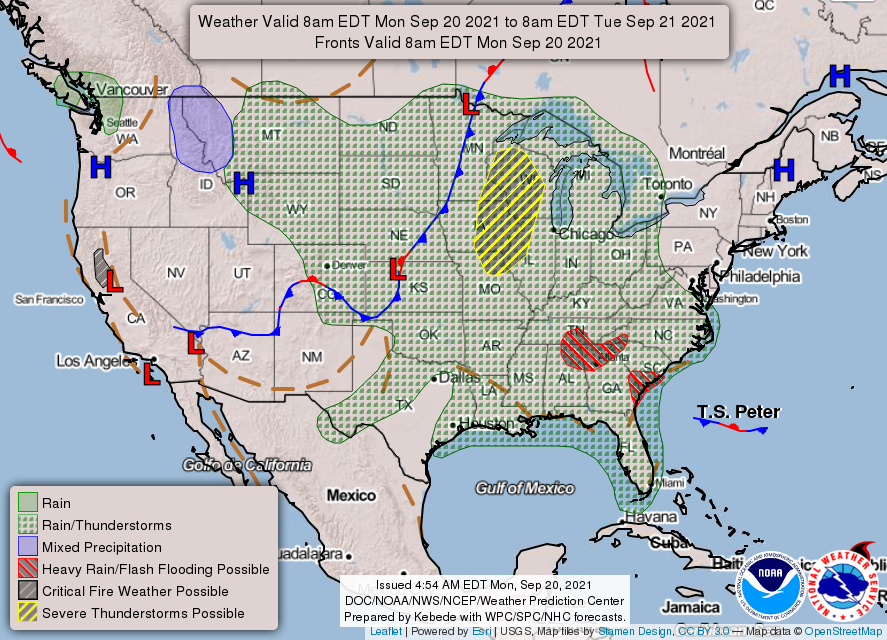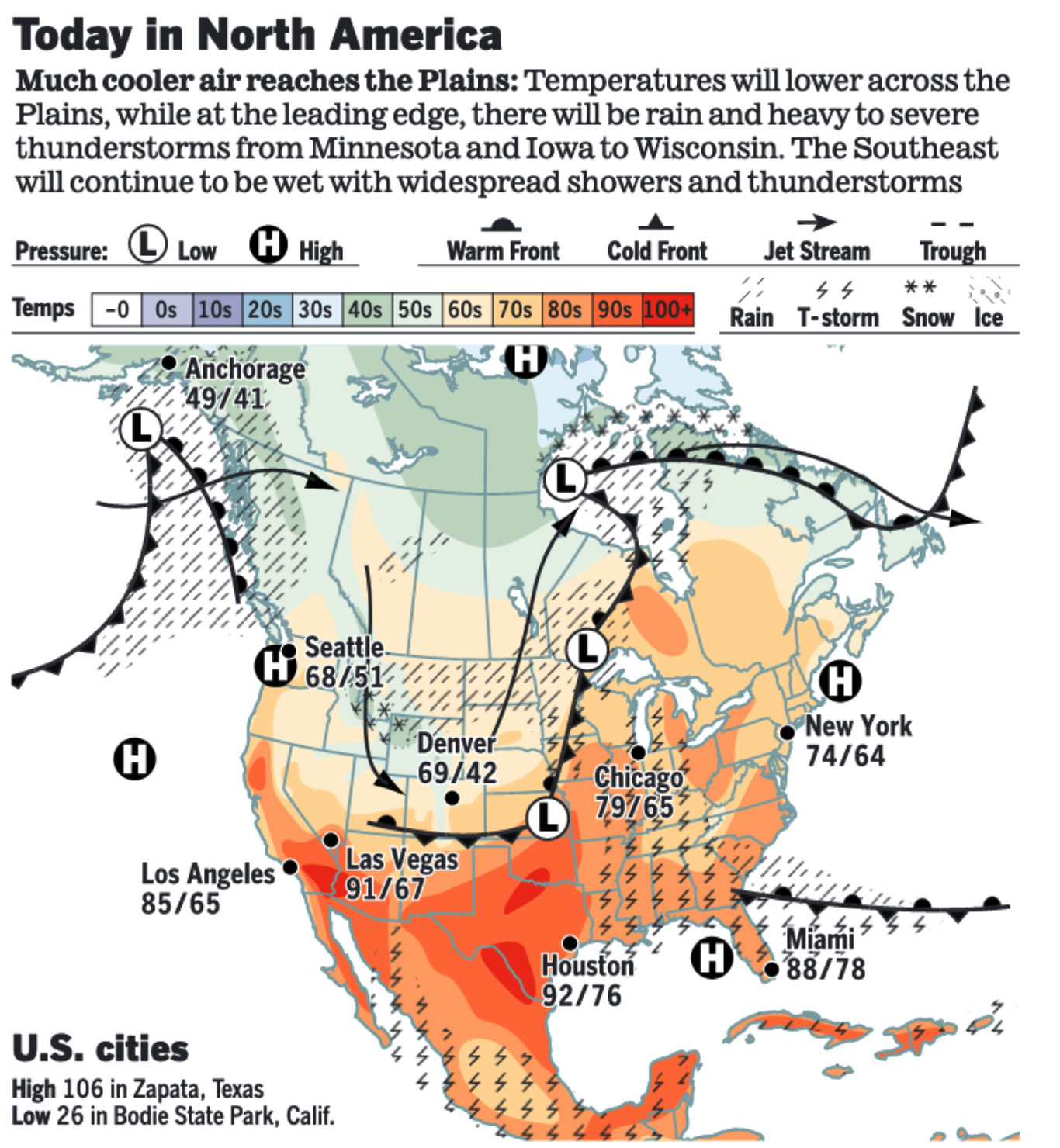 Items in Pro Farmer's First Thing Today include:
     • Outside markets dragging grains down
     • China's soybean imports
     • Trade data confirms voracious Chinese appetite for grains
     • Russian wheat export prices climb for 10th consecutive week
     • Boxed beef values extend their retreat to three weeks
     • Pork cutout value turned back down Friday
---
POLICY FOCUS
---
— Partisan fight over raising the government's borrowing limit is in full view this week, with Democrats moving ahead with a vote in the face of GOP opposition, raising doubts about whether Congress will act before the federal government runs out of cash. The standoff has moved Wall Street analysts and business leaders to issue warnings about a rising risk of a technical default, in which the government might be unable to make all of its regular payments in full and on time. The threat of such a default could derail markets and hit U.S. economic growth. We have more on this topic in The Week Ahead (link).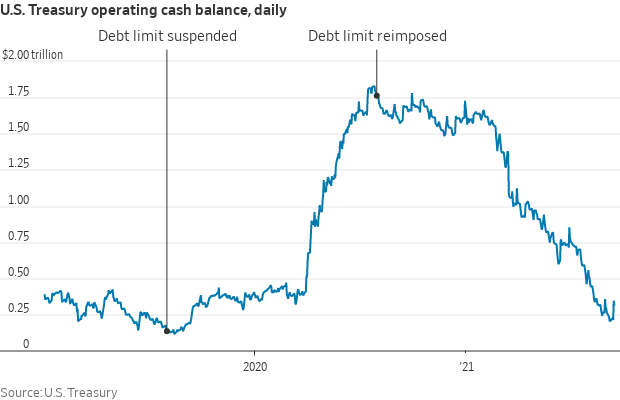 — Senate parliamentarian nixes Democrats' immigration proposal as part of reconciliation. A key Senate advisor on Sunday said existing rules will not allow Democrats to include in their social safety net bill a pathway to citizenship for up to 8 million immigrants. Democrats are next expected to pitch a backup plan that would provide a similar pathway to citizenship but would probably not cover as many people.
     The Senate parliamentarian, Elizabeth MacDonough, advised Senate aides that the proposed pathway to citizenship would not comply. She said the proposed pathway to citizenship is a policy change with implications that far exceed what can be done through this legislative process, which is supposed to deal with issues directly related to the budget and is not supposed to include major policy changes. "Changing the law to clear the way to [lawful permanent resident] status is tremendous and enduring policy change that dwarfs its budgetary impact," she wrote. The parliamentarian also warned that by allowing Democrats to extend citizenship with 50 votes, it could later be revoked by the same threshold. "That would be a stunning development but a logical outgrowth of permitting this proposed change in reconciliation and is further evidence that the policy changes of this proposal far outweigh the budgetary impact scored to it and it is not appropriate for inclusion in reconciliation," she wrote.
     Democrats are expected to go to MacDonough with a second proposal that would change existing law to make more people eligible for a green card. The policy relies on the existing registry, an obscure part of immigration law that allows certain people who have been present in the United States since Jan. 1, 1972, to apply for a green card even if they are in the country unlawfully. "We are deeply disappointed in this decision, but the fight to provide lawful status for immigrants in budget reconciliation continues," Senate Majority Leader Chuck Schumer (D-N.Y.) said Sunday night, committing to going back to MacDonough with alternatives that have already been prepared.
     Republicans hailed the ruling as the correct reading of Senate rules and precedents. "Senate rules never contemplated a majority circumventing the filibuster by pretending that sweeping and transformational new policies were mere budgetary changes," Senate Minority Leader Mitch McConnell (R-Ky.) said.  Sen. Lindsey Graham (R-S.C.), ranking Republican on the Budget Committee, asserted "The Parliamentarian's guidance reinforces long held traditions of the Senate that major policy changes should be done collaboratively and not through the reconciliation process. This decision reinforces the fact that the Senate is truly different than the House."
---
AFGHANISTAN
---
— U.S. military said it mistakenly killed 10 Afghan civilians, including seven children. The Pentagon previously said an Aug. 29 drone strike in Kabul last month was justified and that Islamic militants had been stopped. On Friday, officials said an analysis had concluded the airstrike failed to hit its target: a car thought to be carrying explosives for an attack planned at the city's airport. Republican critics argued that the deaths are a symptom of President Biden's turbulent withdrawal of troops from the country, which led to the rapid fall of the Afghan government and the swift rise of the Taliban.
— Afghanistan's economic meltdown has left ordinary citizens scrambling to survive. Observers note the most pressing challenge right now is a severe economic crisis that threatens to unspool whatever gains remain of 20 years of U.S.-funded nation-building. How to deal with this crisis poses a pressing dilemma for the international community. Refusing to release Afghan assets and withholding direct aid could push millions into acute poverty, potentially triggering an exodus of refugees to Europe. Allowing some of these funds to flow to Afghanistan, while relieving the economic pain of ordinary Afghans, could end up bolstering the Taliban regime, many of whose leaders remain under international sanctions because of their alleged connections to terrorism.
— Women workers in Afghanistan were told to stay home. Female government workers in Kabul shouldn't work unless no men are available to do their jobs, the city's new Taliban mayor said.
---
CHINA UPDATE
---
— China's wheat imports reach highest level in more than two decades. China is the world's largest consumer of wheat, accounting for 19% of global wheat consumption in marketing year 2020-21 (July–June), more than four times the U.S. share. China also became a leading importer during 2020-21, with purchases estimated at 10.6 million metric tons, China's highest import total since the 1990s. USDA forecasts China's 2021-22 imports at 10 million metric tons. Before the 2010-11 marketing year, China's wheat imports typically totaled 1 million metric tons or less. More recently, wheat imports totaled 3 to 5 million metric tons most years between marketing years 2011-12 to 2019-20. The surge in imports in 2020-21 can be attributed to China's strong demand for wheat use in animal feed, replenishment of the Chinese Government reserves with high-quality wheat, and efforts to meet import commitments in the U.S./China Phase 1 trade agreement. According to China's customs data, the U.S. supplied 3 million metric tons of 2020-21 wheat imports — approximately a 28%  share.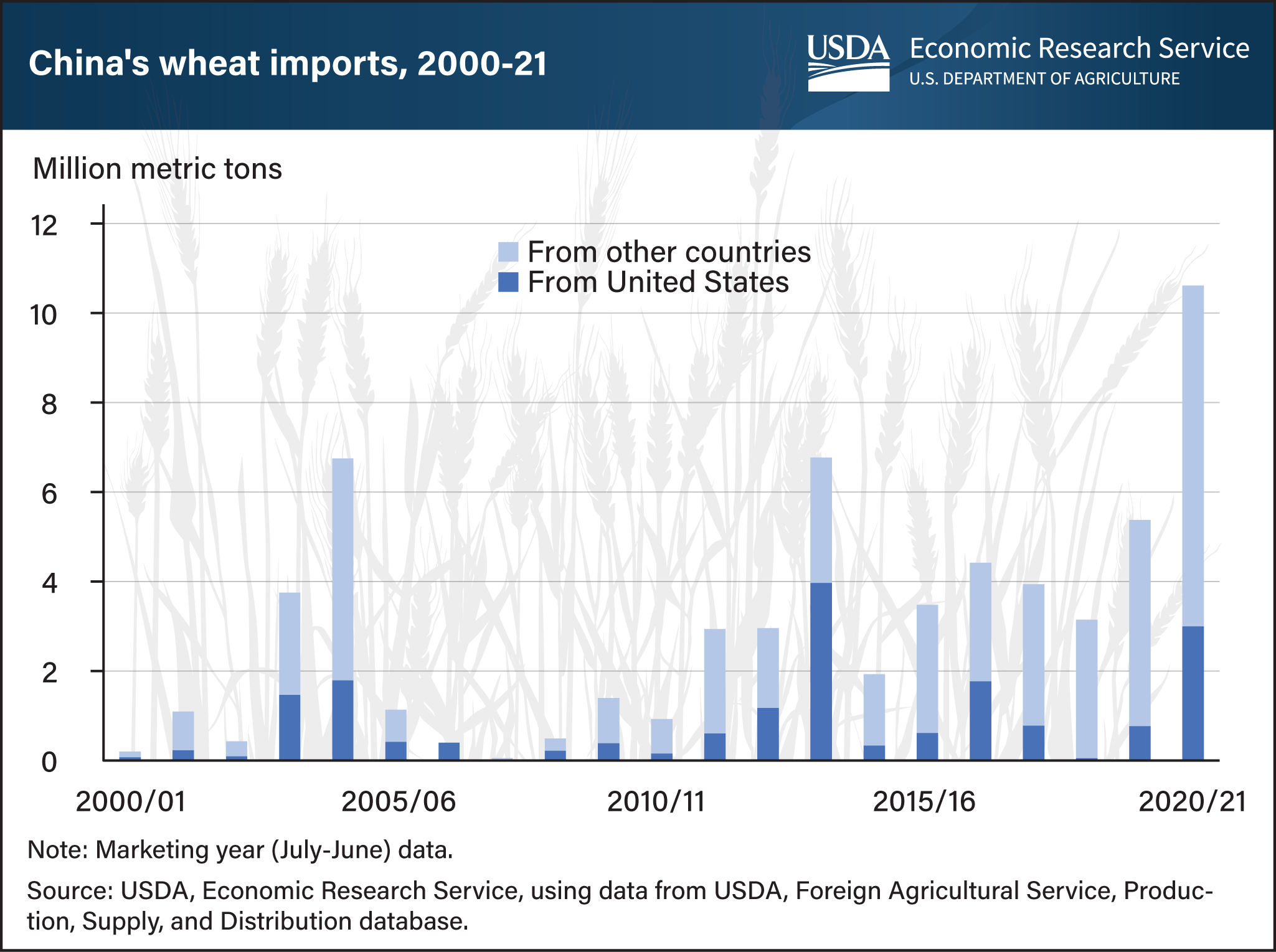 — China's soybean imports. China imported 9.04 MMT of soybeans from Brazil in August, an 890,000 MT (10.9%) jump from year-ago levels. On the other hand, the U.S. exported just 17,575 MT of the oilseed to China last month, a dramatic drop from shipments of 166,370 MT in August 2020. Brazil's soybean crop was planted late this season, and U.S. ports are still recovering after Hurricane Ida. The event's impact on trade should be more apparent in the September trade update. China's overall soybean imports of 9.49 MMT were marginally under year-ago levels.
— Trade data confirms voracious Chinese appetite for grains. Trade data released by China's customs office shows the country imported 3.23 MMT of corn during August, a 221% surge from year-ago levels. That pushed China's overall corn imports to 21.40 MMT for 2021, a 284% jump from last year at this time. The story is similar for other feed grains.  The country's wheat imports in August were up slightly from year-ago at 710,00 MT, but its year-to-date (YTD) imports of 6.96 MMT are up 40% from year-ago. Its barley imports totaled 690,000 MT in August, up 55% from August 2020, pushing China's YTD purchases of barley to 7.11 MMT, up 115% from last year. Beijing imported 810,000 MT of sorghum last month, a 27% gain from year-ago, with shipments now at 6.71 MMT for the first eight months of the year, up 129% from year-ago. The trade data also showed China's pork imports slowed 20.6% from year-ago levels to 280,000 MT in August, but the YTD tally of 2.93 MMT is still 1.0% ahead of year-ago.
— China Evergrande's looming collapse is an example of China's overheated housing market. The company turned billions of dollars in borrowed money into the dream of homeownership for millions of Chinese citizens. But years of aggressive borrowing have collided with Beijing's crackdown on debt, leaving the giant developer on the brink of collapse. Evergrande's problems — and their ripple effects on the economy and social stability — are the biggest test of Beijing's campaign to end debt-fueled speculation and stop home prices from surging while the government tries to lower inequality and keep housing affordable for the masses, the Wall Street Journal reports (link).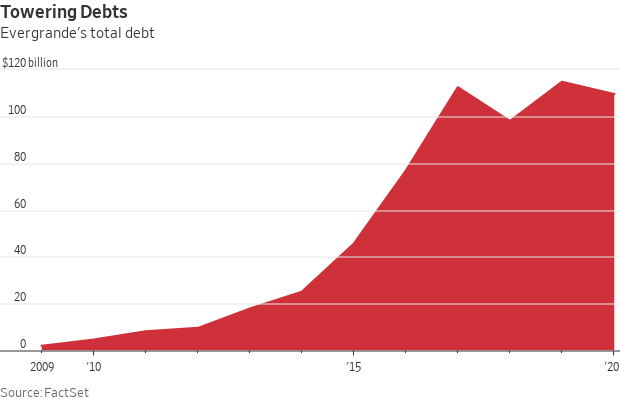 Evergrande had $89 billion in outstanding debt at the end of June, about 42% of which comes due in less than a year, according to its most recent financial results. Evergrande's total debt burden is the biggest for any publicly traded real-estate management or development company in the world, data from S&P Global Market Intelligence shows.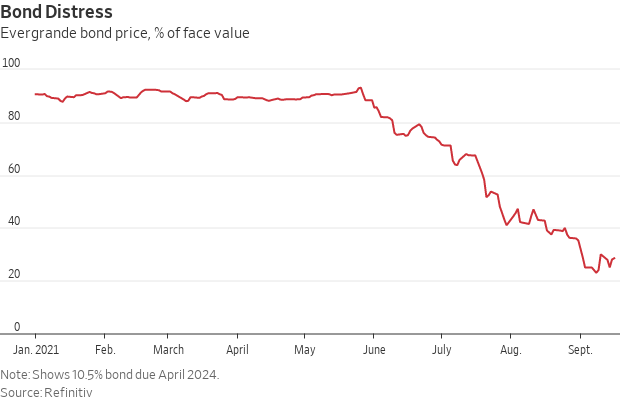 ---
ENERGY & CLIMATE CHANGE
---
— OMB adjusts RFS meeting schedules. The Office of Management and Budget (OMB) last week added a meeting for Oct. 4 with a state building trades group on the Renewable Fuel Standard (RFS) proposed levels sent forward from EPA. However, that meeting has now been removed from the schedule. The final session currently on tap regarding the proposed RFS levels is one with Citgo Petroleum set for Thursday, Sept. 23. That could add credence to Washington speculation that the proposed levels from EPA under the RFS could be released by Sept. 27. That would still mark a rather quick turnaround since EPA's plan was sent to OMB for review Aug. 26. This is why some others are guessing an announcement during the week of Sept. 27. As noted previously, the industry's track record for guessing RFS announcements is about the chance of getting a hit against Max Scherzer, if that.
— EPA OIG to audit EPA RIN market. The EPA Office of the Inspector General (OIG) said Friday (Sept. 17) it will be conducting an audit on EPA's oversight of the market for Renewable Identification Numbers (RINs) under the Renewable Fuel Standard (RFS). The EPA OIG said their objective is to determine if EPA's "Moderated Transaction System and Quality Assurance Program include controls to identify and reduce the generation and trading of invalid RINs that are used to demonstrate compliance with renewable fuel standards as overseen by the EPA's Office of Transportation and Air Quality." OIG said its goal was "identifying and correcting procedural or automated systems problems that increase fraud risks and reduce the positive environmental impacts of the Renewable Fuel Standards program." OIG said it would be looking for information on the following from EPA offices, including:
Laws, regulations, policies, and guidance applicable to the Moderated Transaction System and Quality Assurance Program.

Access to the EPA's Moderated Transaction System to pull RIN data.

Access to demonstrate and test the Moderated Transaction System's automated controls; and

Access to Quality Assurance Program records.
---
CORONAVIRUS UPDATE
---
— Summary: Global cases of Covid-19 are at 228,595,281 with 4,693,036 deaths, according to data compiled by the Center for Systems Science and Engineering at Johns Hopkins University. The U.S. case count is at 42,088,404 with 673,768 deaths. The Johns Hopkins University Coronavirus Resource Center said that there have been 385,586,012 doses administered, 181,382,976 have been fully vaccinated, or 55.3% of the U.S. population.
— FDA vaccine advisers vote to recommend Covid-19 boosters in people 65 and older and those at high risk. The group of 20 scientific advisers recommended against approving extra doses for people ages 16 and older in the U.S. but might consider a narrower recommendation. The Biden administration had hoped to offer widespread boosters as early as next week, as experts continue to weigh data on waning immunity. "It's unclear that everyone needs to be boosted, other than a subset of the population that clearly would be at high risk for serious disease," said Dr. Michael Kurilla, a committee member and official at the National Institutes of Health.
— Pfizer says Covid-19 vaccine works in kids ages 5 to 11, will seek authorization. Pfizer said today its Covid-19 vaccine works for children ages 5 to 11 and that it will seek U.S. authorization for this age group soon — a key step toward beginning vaccinations for youngsters.
— Covid-19 origins may never be known: Gottlieb. "Either we find the intermediate host —the animal that spread Covid — or there's a whistleblower inside China. Or someone close to this, who knows that this came out of a lab, comes forward, defects, goes overseas, or we intercept some communication that we shouldn't have had access to. Absent something like that, we're not going to be able to answer this question," former Food and Drug Administration (FDA) commissioner Scott Gottlieb said while appearing on CBS's Face the Nation.
— Research published by the CDC showed that Moderna's Covid-19 vaccine was the most effective of the three shots approved in the U.S. at preventing hospitalization.
---
POLITICS & ELECTIONS
---
— Only 45% of Texans approve of Abbott as governor. A recent survey tracking Texas residents' opinion of GOP Gov. Greg Abbott's performance does not look favorable for the governor. Roughly 54% of residents believe the state is going down the wrong path, with 44% saying it is headed in a good direction, according to the survey by the Dallas Morning News and the University of Texas at Tyler. The same survey found that only 45% of Texans approve of Abbott's performance as governor. Meanwhile, Axios reported over the weekend that Former Democratic Rep. Beto O'Rourke is preparing to run for governor of Texas in 2022, with an announcement expected later this year.
— Canada votes. Prime minister Justin Trudeau called the snap poll to shore up his support, but many Canadians are still wondering why the election had to happen now. The vote is set for today. Although Trudeau was once polling ahead of his main opponent, Erin O'Toole, who heads the Conservative party, the challenger has essentially closed the gap, largely by turning the election into a referendum about the incumbent's performance. Covid-19 measures, healthcare worker shortages, and the high cost of living have led the public conversation. Unlike the Liberals, O'Toole's party doesn't believe in vaccination mandates for federal workers and passengers traveling domestically on planes and trains.
— Russian election: Russia's ruling party appeared on course to maintain its majority in parliament, preliminary results showed, an outcome that would cement President Vladimir Putin's control over the country's main levers of power.
---
CONGRESS  
---
— At noon ET today, the House Rules Committee will meet to consider a short-term funding bill that keeps federal agencies open until Dec. 3. This gives congressional leaders and the White House another two months to come to a deal on FY 2022 funding.
— House Budget Committee will not mark up the Democrats' reconciliation package this week. This means that the $3.5 trillion reconciliation package won't be ready for the House floor by next week.
---
OTHER ITEMS OF NOTE     
---
— France recalls ambassadors as subs row deepens. France on Friday recalled its ambassadors to the U.S. and Australia after President Joe Biden and Australian Prime Minister Scott Morrison announced a joint submarine deal that French leaders said was tantamount to a stab in the back. Foreign Minister Jean-Yves Le Drian said he was directed by President Emmanuel Macron to recall the ambassadors — a move that is typically reserved only for extreme cases and usually against adversaries — in protest of the deal. Le Drian and others have argued that neither the U.S. nor Australia consulted with France beforehand. "At the request of the President of the Republic, I have decided to immediately recall our two ambassadors to the United States and Australia to Paris for consultations," Le Drian said. "This exceptional decision is justified by the exceptional gravity of the announcements made on 15 September by Australia and the United States."
— BLM headquarters coming back to Washington. The headquarters of the Bureau of Land Management (BLM) will return to Washington, reversing a move by the Trump administration which took the headquarters to Grand Junction, Colorado. In announcing the move, Interior Secretary Deb Haaland said the Colorado office will "expand as the bureau's western headquarters" and there will be a leadership center there. "There's no doubt that the BLM should have a leadership presence in Washington, D.C. — like all the other land management agencies — to ensure that it has access to the policy-, budget-, and decision-making levers to best carry out its mission," Haaland said. "In addition, the BLM's robust presence in Colorado and across the West will continue to grow." This could also spur some questions as to whether another government agency relocated away from Washington, DC, will return — USDA's Economic Research Service which was moved to Kansas City.
---
EVENTS AND REPORTS
---
Monday, September 20
· Biological security threats. House Foreign Affairs Asia, the Pacific, Central Asia and Nonproliferation Subcommittee briefing on "Biological Security Threats."
· Codex meeting preparations. U.S. Codex Office teleconference to provide information and receive public comments on agenda items and draft US positions to be discussed at the 27th Session of the Codex Committee on Fats and Oils (CCFO) of the Codex Alimentarius Commission, which will convene virtually Oct. 18-26.
· UN General Assembly. The 76th Session of the United Nations General Assembly High Level Week, Sept. 20-23, with Secretary of State Antony Blinken participating.
· Transatlantic relations. Johns Hopkins University Paul H Nitze School of Advanced International Studies virtual discussion on "Transatlantic Relations under Biden: Opportunities and Challenges."
· U.S. Middle East policy. Middle East Forum virtual discussion on "the differences in Middle East policy between the Trump and Biden administrations."
· Equitable growth. Washington Center for Equitable Growth virtual forum on "Equitable Growth 2021: Evidence for a Stronger Economic Future," with keynote remarks from Labor Secretary Marty Walsh.
· Climate technologies. Business Council for Sustainable Energy virtual discussion on "Check. We Have the Technologies and Tools. It is Time to Raise Climate Ambition."
· Economic report.  Housing Market Index   
· USDA reports. AMS. Export Inspections NASS: Milk Production | Crop Progress
---