Infrastructure package back on track after Biden walk back, but...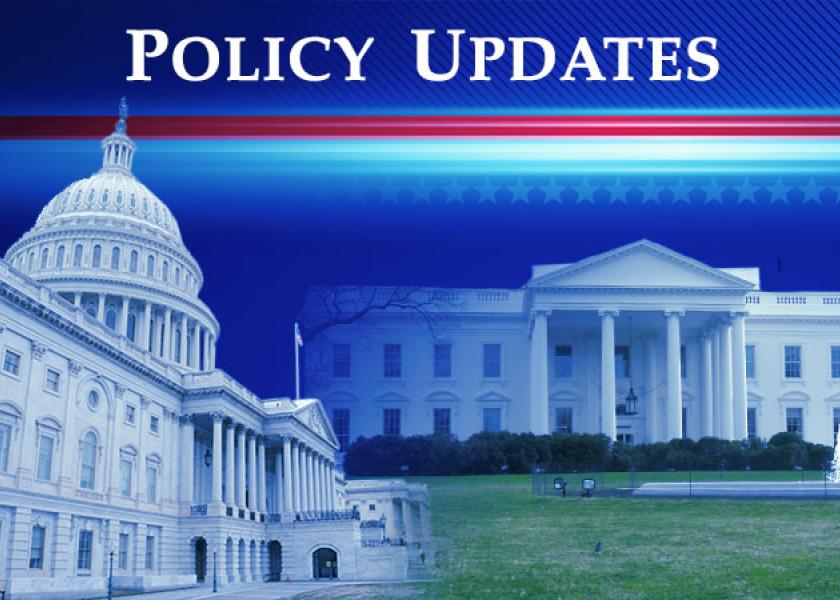 EPA still not expected to grant many RFS waivers despite court ruling

 
---
In Today's Digital Newspaper
---
Market Focus:
• Equities on hold pending Friday's Jobs report
• Russian President Vladimir Putin and Chinese President Xi Jinping meet virtually
• Federal Reserve officials debating scaling back mortgage-bond purchases
• Some smaller contractors missing out on housing boom
• Debt limit can wait until September: House Budget chairman
• WSJ: Unemployment rolls are shrinking faster in states cutting aid
• NYT: Where jobless benefits were cut, jobs are still hard to fill
• Businesses clearly spending again
• 20 most expensive U.S. cities, and their international rankings
• Lingering impacts from February's freeze in Texas that caused mass blackouts in
• Bitcoin rallies
• Many commodities from copper to lumber to corn & soybeans have dropped
• Record-shattering heat forecast across the Northwest
• Ag demand update
• Grains and oilseeds rebound to start the week
• Wet weekend for the Midwest
• Tight Argentine soymeal scenario going forward
• Rise in rapeseed production likely for the EU
• Cattle on Feed should have limited price impact
• Lean hog futures remain oversold
Policy Focus:
• Infrastructure package back on track after Biden walk back
• Biden will travel to Wisconsin on Tuesday, with USDA Sec. Vilsack
China Update:
• China working to control rising urea prices
• Reports China still struggling with ASF variants  
• China plans to stockpile local pork
Trade Policy:
• U.S., Taiwan to resume formal trade and investment discussions
Energy & Climate Change:
• Republicans note concerns with WOTUS redo
• Oil refiners win easier biofuel waivers, but Biden EPA not likely to grant many
• European Commission discussing zero-emissions target for cars sold beyond 2035
Livestock, Food & Beverage Industry Update:
• Supreme Court to decide whether it will rule on legality of California's Proposition 12
Coronavirus Update:
• Review into origins of Covid-19 virus may not produce a definitive explanation
Politics & Elections:
• U.S. Justice Department sues Georgia over state's voting law
Other Items of Note:
• U.S. carries out airstrikes in Iraq and Syria
• Panama Canal to unveil a $2 billion infrastructure plan
 
---
MARKET FOCUS
---
Equities today: Global equities were mixed as traders kept an eye on the reflation trade and the impact of highly contagious Covid strains. U.S. futures signal little change. In Asia, the MSCI Asia Pacific Index was little changed, while Japan's Topix index closed 0.2% higher. In Europe, the Stoxx 600 Index slipped 0.3%. Trading is likely to remain muted until Friday morning's U.S. employment situation report from the Labor Department. The report, expected to show the economy adding 683,000 jobs in June, is the next piece of data that could shed light on wage inflation and the worker shortage as pandemic-era unemployment benefits taper off in some states. Trading volumes could also be lower in the coming sessions, with many traders taking an early vacation ahead of the July 4 holiday weekend.
     U.S. equities Friday: The Dow rose 237.02 points, 0.69%, at 24,433.84. The Nasdaq lost 9.32 points, 0.06%, at 14,360.39. The S&P 500 added 14.23 points, 0.33%, at 4,280.70.
     For the week, the Dow gained 1,143.76 points, or 3.4%, its best week since March, while the S&P 500 index gained 2.7%, and the Nasdaq Composite gained 2.4%. The Dow might have had the better week, but the S&P 500 closed at a record high, and the Nasdaq, just shy of one.
     The New York Stock Exchange on Friday had its largest trading volume in more than three months, as more than 7.6 billion shares changed hands.
On tap today:
     • Texas Manufacturing Outlook Survey for June is due at 10:30 a.m. ET.
     • Federal Reserve Bank of Philadelphia President Patrick Harker speaks at a virtual fireside chat. (11 a.m. ET) Regional Federal Reserve presidents John Williams and Tom Barkin are due to speak, as is the Fed's Vice Chair for Supervision Randal Quarles.
     • USDA Grain Export Inspections, 11:00 a.m. ET.
     • USDA Crop Progress report, 4:00 p.m. ET.
     • President Biden will welcome Israeli President Reuven Rivlin to the White House, 4:00 p.m. ET.
     • Russian President Vladimir Putin and Chinese President Xi Jinping meet virtually to commemorate the 20th anniversary of the Sino-Russian Treaty of Friendship.
Debt limit can wait until September: Yarmuth. Lawmakers are operating under the assumption they don't need to raise or suspend the debt limit before the August recess, said House Budget Chair John Yarmuth (D-Ky.). Treasury officials should be able to extend the July 31 expiration long enough for lawmakers to wait until at least September, he said. That conflicts with Treasury Secretary Janet Yellen's warning that the effective deadline — after officials delay payments to buy more time — could fall during the August recess. Yellen walked that back shortly after, Yarmuth said. "Apparently she has since said that her remarks were mischaracterized," said Yarmuth.
Federal Reserve officials are debating scaling back mortgage-bond purchases at a faster clip. Soaring home prices are leading some officials to call for the central bank to stop buying mortgage bonds sooner than Treasury bonds.
     Meanwhile, some smaller contractors are missing out on the housing boom because they can't find subcontractors such as electricians or plumbers. Instead, more building jobs are going to bigger firms with more employees that can get the jobs completed soone
Unemployment rolls are shrinking faster in states cutting aid. The number of unemployment-benefit recipients is falling at a faster rate in Missouri and 21 other states canceling enhanced and extended payments this month. Link for more via WSJ. However, a New York Times article (link) has the opposite view. The article is titled, "Where Jobless Benefits Were Cut, Jobs Are Still Hard to Fill."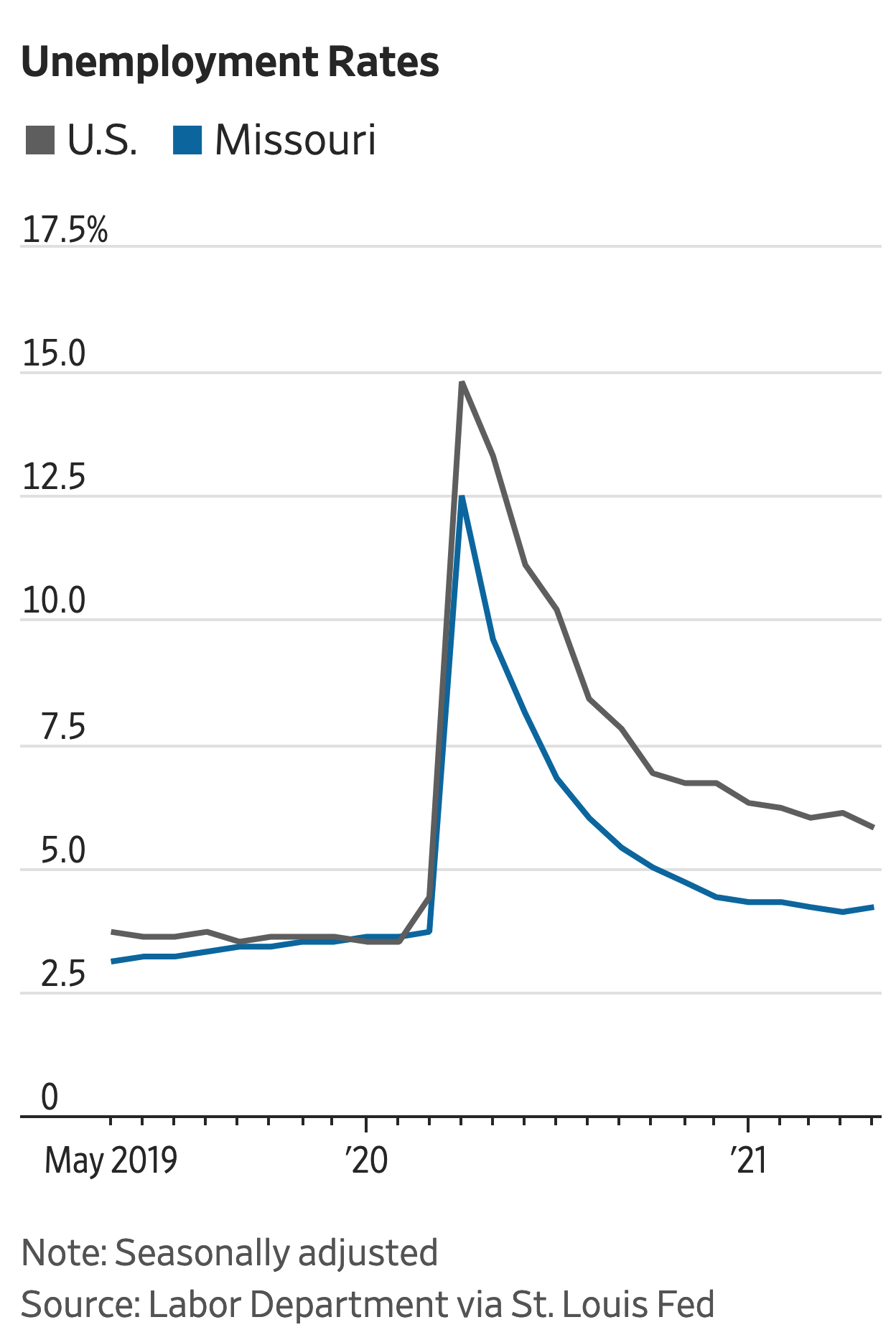 Businesses are clearly spending again, boosting orders for equipment, computers and software as prepare for coming demand. Business investment has increased by double digits in the last three quarters as firms become more confident about the future. So far, consumer spending has powered the recovery. But robust business investment is a sign the recovery could be lasting, analysts note. It could also raise worker productivity in the long run.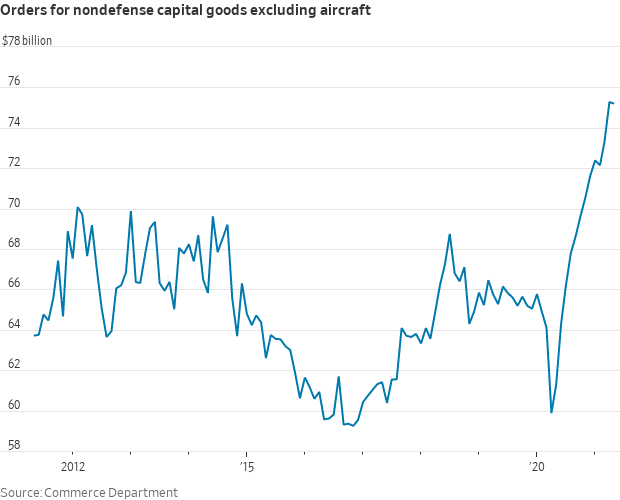 Here are the 20 most expensive U.S. cities, and their international rankings, according to Mercer's survey (link). Mercer's survey includes 209 cities worldwide. It measured the comparative cost of more than 200 items, including housing, transportation and food. The data helps employers determine compensation packages and can also play a role in recruiting talent and influence decision on expanding or transforming a company's geographic footprint, the international consulting firm said.
    New York (14)
    Los Angeles (20)
    San Francisco (25)
    Honolulu (43)
    Chicago (45)
    Miami (48)
    Boston (50)
    Washington, D.C.(51)
    White Plains (65)
    Seattle (67)
    Dallas (69)
    Atlanta (72)
    Morristown (75)
    Houston (75)
    Minneapolis (86)
    Detroit (101)
    St. Louis (103)
    Portland (106)
    Pittsburgh (110)
    Cleveland (112)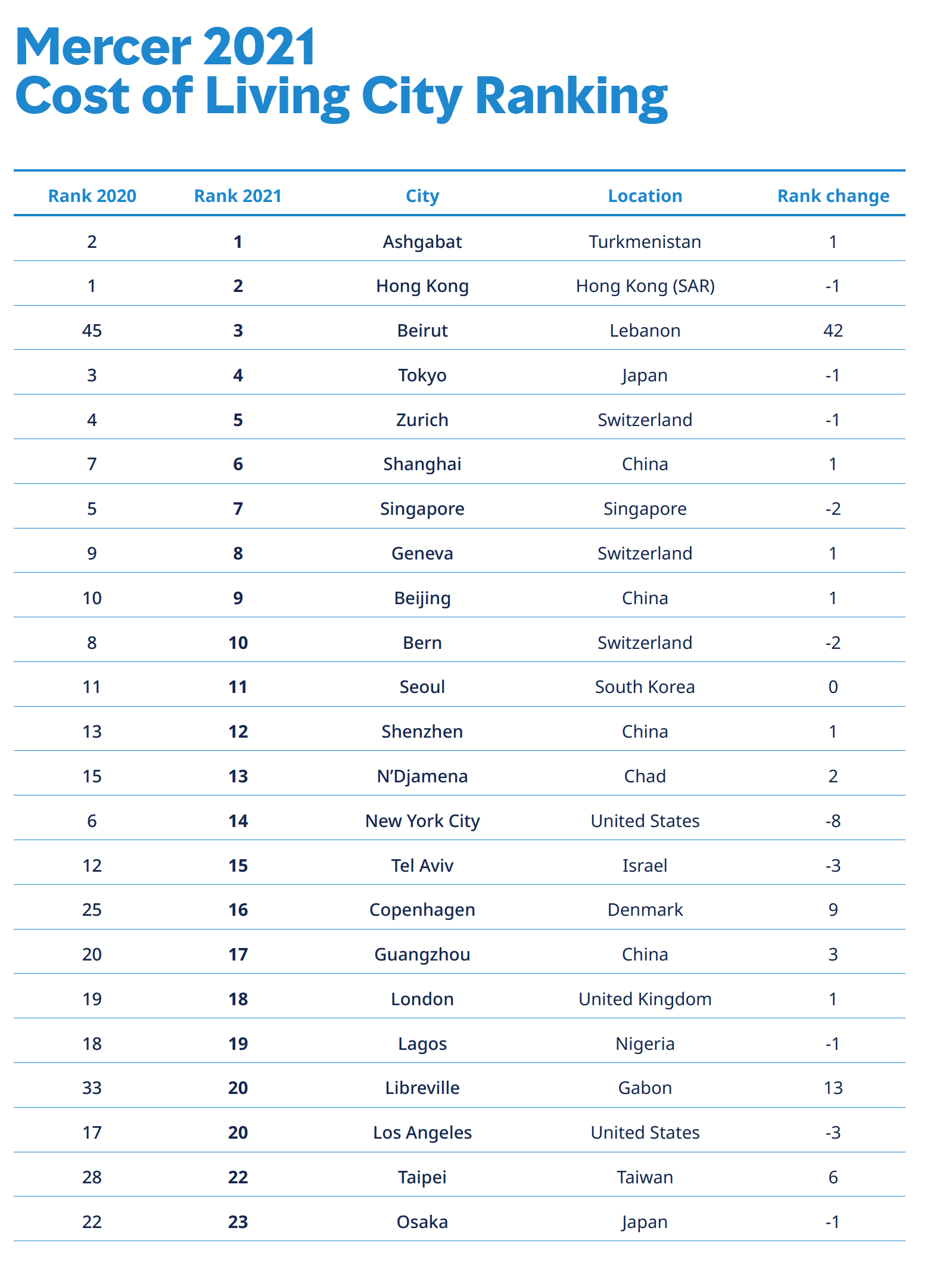 Market perspectives:
     • Outside markets: The U.S. dollar index is stronger with only the euro down versus the US currency. The yield on the 10-year U.S. Treasury note has eased to trade around 1.51%, with a mixed tone in global government bond yields. Gold and silver futures are under light pressure ahead of the U.S. market open. Gold is trading around $1,775 per troy ounce and silver around $26.05 per troy ounce.

     • Crude oil futures are slightly weaker ahead of U.S. trading, with U.S. crude trading around $74 per barrel and Brent around $75.15 per barrel. Crude prices were nearly unchanged in Asian action, with U.S. crude down two cents at $74.01 per barrel while Brent was down seven cents at $75.30 per barrel. Energy traders are awaiting Thursday's OPEC meeting.
     • February's freeze that caused mass blackouts in Texas also caused natural-gas prices to surge in states from Minnesota to Kansas. Now lawmakers and regulators in those states are calling for investigations into market manipulation and exploring regulator changes. Some states are stepping in to help their residents pay massive natural-gas bills racked up during February's freeze.
     • Bitcoin gained today, trading 6.6% higher at $34,780 as of 5:10 a.m. Eastern Time. Binance Coin is up 5% in the past 24 hours, according to pricing from CoinGecko. In other crypto news, Mexican billionaire Ricardo Salinas Pliego endorsed the use of Bitcoin and said his bank is on the way to accepting it. Meanwhile, Britain banned cryptocurrency exchange Binance from operating in the U.K. without 'written consent'. But Mexico's third-richest man Ricardo Salinas Pliego says his bank is working to accept bitcoin. Finally, Elon Musk and Jack Dorsey agreed to discuss Bitcoin with each other at a cryptocurrency event on July 21. The gathering, called The B Word, offers a "live experience and a library of content to the investor community, enabling a more informed discussion about the role Bitcoin can serve for institutions across the globe." Dorsey has also said it will "help protect and spread what makes #bitcoin open development so perfect."
     • Many commodities from copper to lumber to corn & soybeans have dropped from their peak pandemic prices, but investors remain bullish on many raw materials.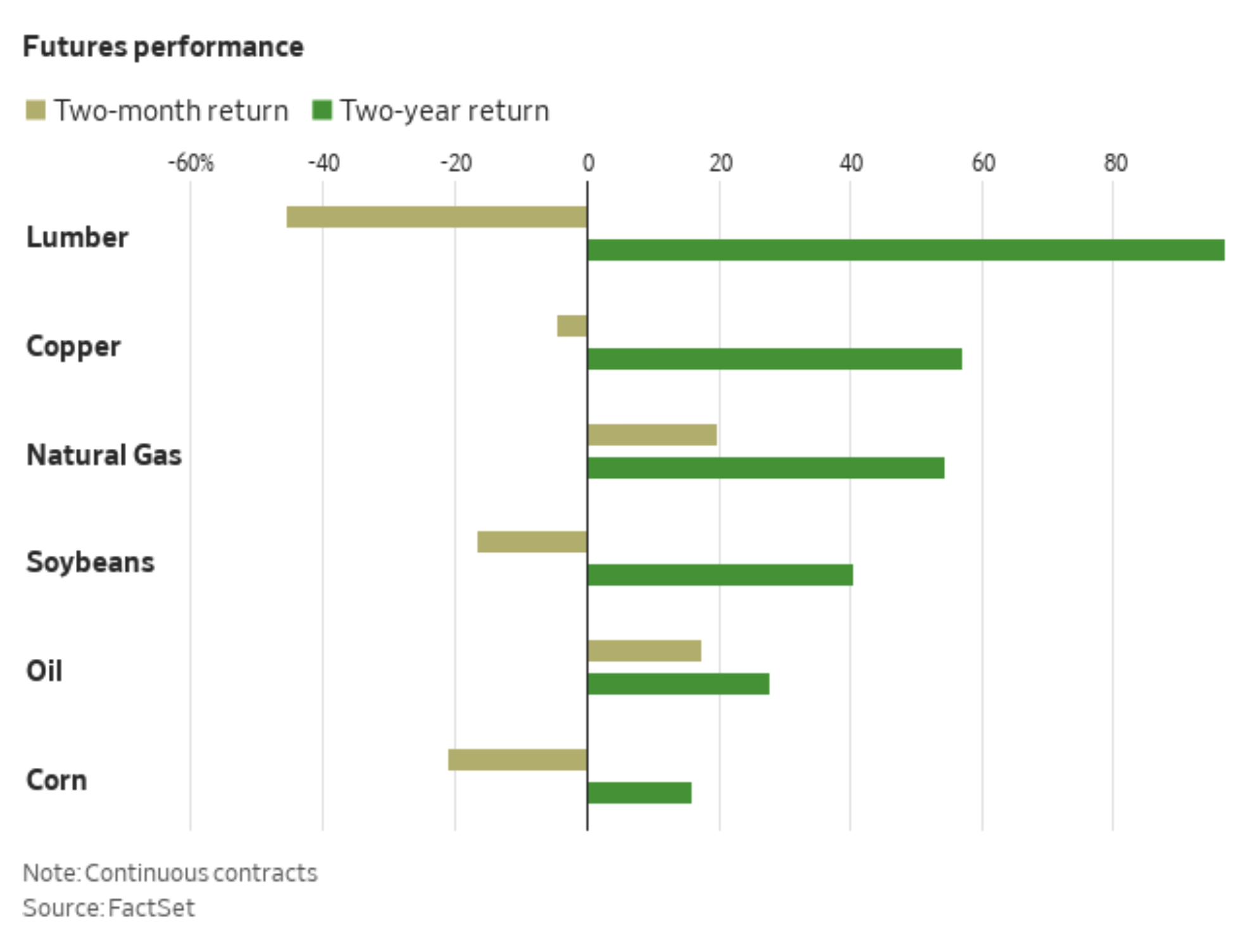 • CFTC Commitments of Traders report focus (Source: Barron's)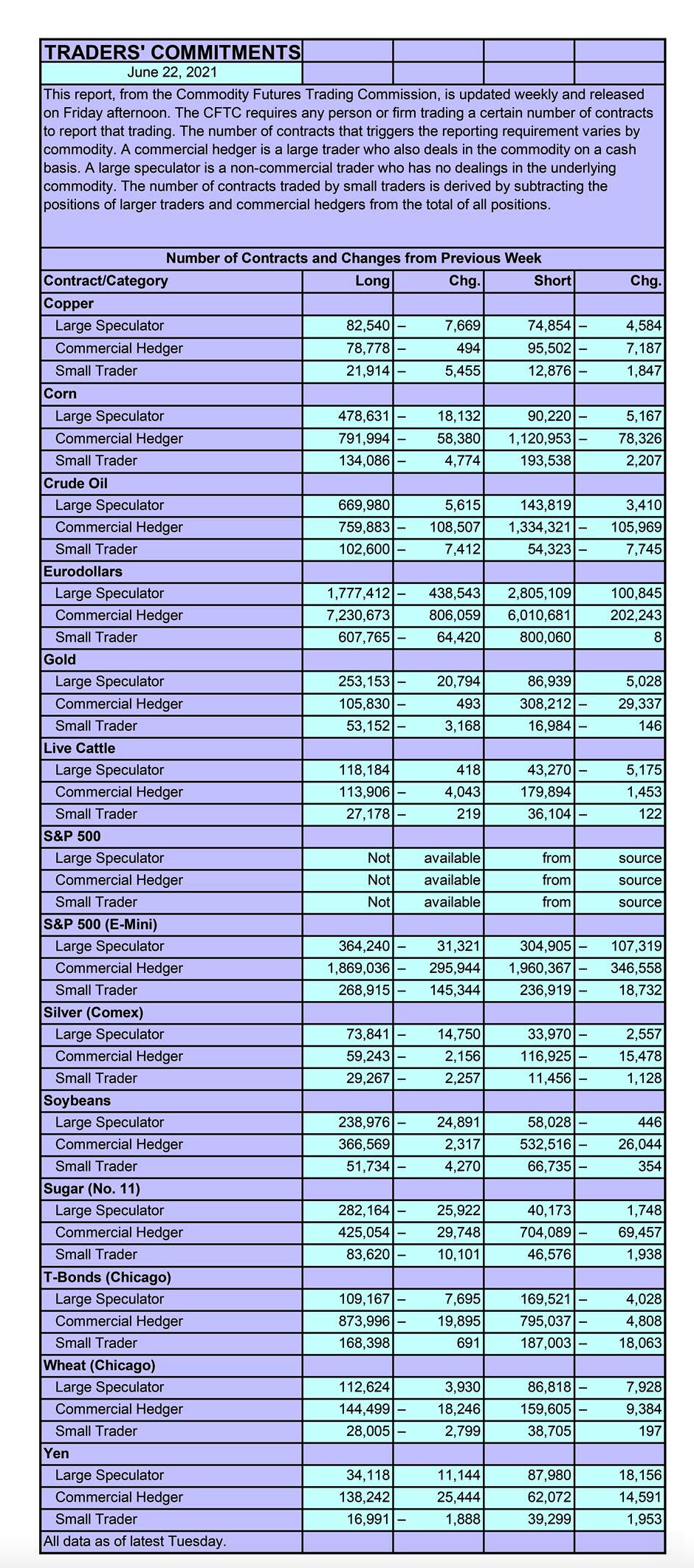 • NWS weather outlook: Record-shattering heat forecast across the Northwest with cooler temperatures finally entering areas west of the Cascades by Tuesday... ...Additional rounds of heavy rain and flash flooding likely over the Southern High Plains today... ...Flash flooding threat continues from the Midwest to the Southern Plains through Tuesday, including parts of southwest Louisiana and the Upper Texas Coast... ...Above average temperatures and oppressive heat found across the Northeast early this week, while well below average temperatures continue across much of the Southern Rockies/Plains.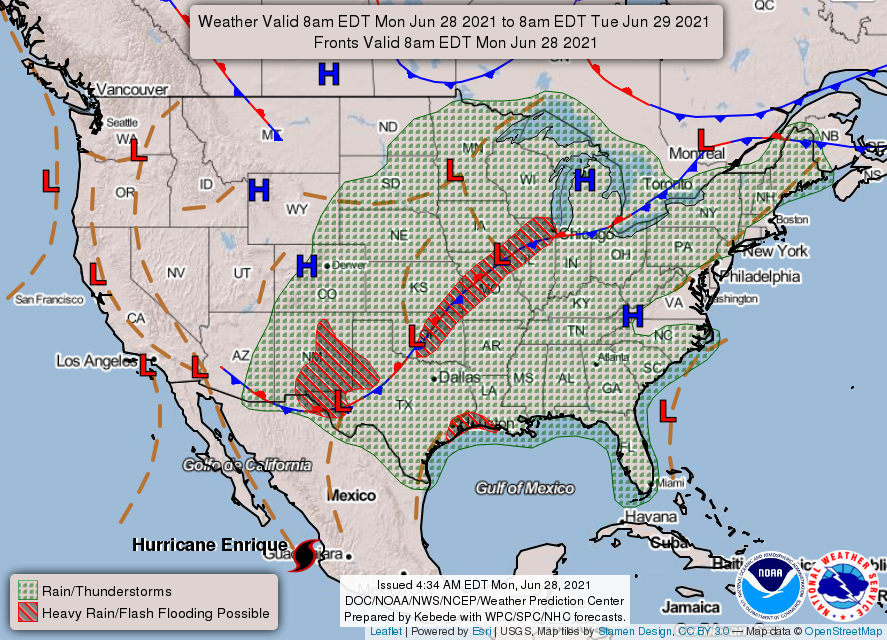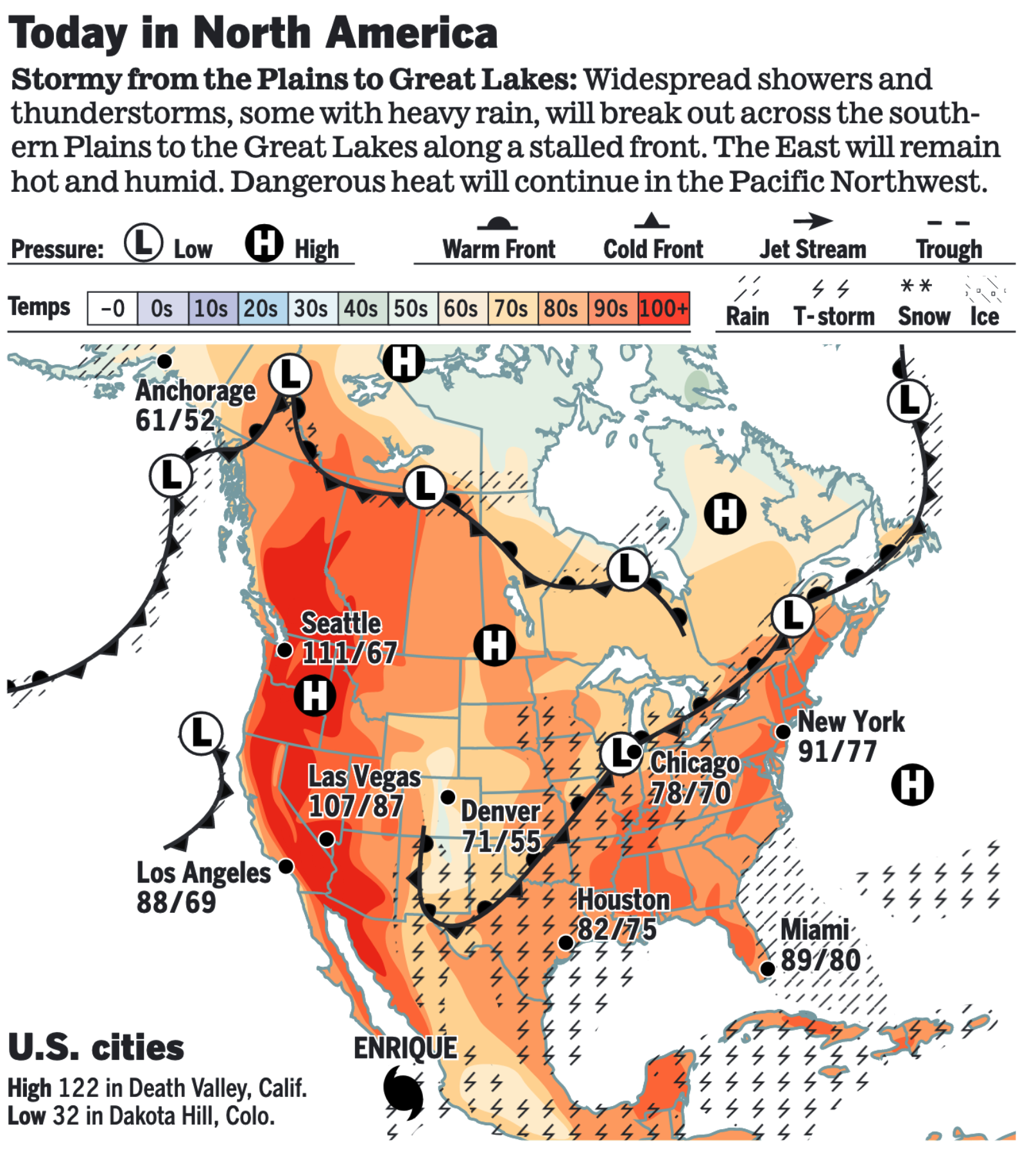 • Ag demand: Egypt's state grain buyer tendered to buy an unspecified amount of wheat from global suppliers. Jordan's state grains buyer issued a new international tender to buy 120,000 MT of animal feed barley; it made no purchase in a previous barley tender last week. The Taiwan Flour Millers' Association bought an estimated 55,000 MT of milling wheat from the United States.
Items in Pro Farmer's First Thing Today include:
     • Grains and oilseeds rebound to start the week
     • Wet weekend for the Midwest
     • Tight Argentine soymeal scenario going forward
     • Rise in rapeseed production likely for the EU
     • Cattle on Feed should have limited price impact
     • Lean hog futures remain oversold
---
POLICY FOCUS
---
— Infrastructure package back on track after Biden walk back. Republican senators said President Joe Biden's assurance that he isn't linking a bipartisan infrastructure plan to a larger tax and spending bill will allow negotiations to move ahead (link for details.) Sen. Rob Portman (R-Ohio), a lead infrastructure negotiator for Republicans, said he "was very glad to see the president clarify" remarks he made Friday, which Republicans took as a threat to veto the infrastructure bill by connecting it with the bigger legislation that the GOP opposes. "It was a surprise, to say the least, that those two got linked," Portman said on ABC's "This Week" yesterday. "And I'm glad they've now been de-linked and it's very clear that we can go forward with a bipartisan bill that's broadly popular, not just among members of Congress, but the American people."
     Does this sound familiar? Cedric Richmond, a former Louisiana congressman who serves as a top aide to Biden, said on Fox News Sunday that the president was "making sure that we're talking about the issue and not the process. The issue is we have to invest in our country with crumbling bridges and roads, and we're going to deal with it." This was the same approach former President Barack Obama took when the Democratic-controlled House and Senate passed ObamaCare (Affordable Care Act).
     The infrastructure bottom line will likely be determined by House Speaker Nancy Pelosi (D-Calif.), who may not even bring infrastructure up if she is not guaranteed the second big spending (investment) measure will pass. Pelosi said she wouldn't bring up the bipartisan infrastructure bill unless the antipoverty package had passed the Senate. And centrist Democrats, especially in the Senate, will decide the fate of the "second bill."
     Meanwhile, Sen. Jerry Moran (R-Kan.), an initial backer of the bipartisan bill, has already indicated that he wants a commitment from Sens. Joe Manchin (D-W.Va.) and Kyrsten Sinema (D-Ariz.) not to support the reconciliation bill. On Sunday Manchin laid down his first marker on what he would accept in terms of the size of the reconciliation bill. "I'm willing to meet everybody halfway," he said on ABC's This Week. "If Republicans don't want to make adjustments to a tax code which I think is weighted and unfair, then I'm willing to go reconciliation. That's how you're able to do it. But if they think in reconciliation I'm going to throw caution to the wind and go to $5 trillion or $6 trillion when we can only afford $1 trillion or $1.5 trillion or maybe $2 trillion and what we can pay for, then I can't be there." (Seasoned observers will look closely at what "goodies" the White House and Democratic congressional leaders will offer Manchin and Sinema to get their reconciliation votes.)
     And what about super-spending socialist Bernie Sanders (I-Vt.)? Sanders tweeted, "Let me be clear: There will not be a bipartisan infrastructure deal without a reconciliation bill that substantially improves the lives of working families and combats the existential threat of climate change. No reconciliation bill, no deal. We need transformative change NOW."
     Bottom line: It's always easier in Congress to stop something than to get something. That means Manchin and Sinema have the upper hand.
— President Biden will travel to Wisconsin on Tuesday to make a speech on the economic benefits of the infrastructure proposal. The goal is to build public support not only for the deal but for the social-spending and tax increases Democrats hope to include in the second piece of legislation, which would include elements of his American Families Plan.
     USDA Secretary Tom Vilsack is joining the president, which signals something likely on ag aid, most likely dairy aid, will be announced. As previously reported, USDA has been working on an idea that payments should be targeted to producers who were impacted by lower Class I prices and the record high price of cheese stimulated by massive government purchase via President Trump's food box program. Vilsack commented on this topic recently when he said, "We are creating a program to help reduce the differential that occurred between Class I and Class III milk pricing because of the disproportionate number of purchases of cheese during the Food Box effort. That distorted the market, and it caused a lot of harm to smaller producers. We're putting resources in to reimburse those producers for some of the loss they incurred." Although the likely aid changed several times last week, it ranges from $750 million to $1 billion.
 
---
CHINA UPDATE
---
— China now working to control rising urea prices. China's state planner today said it would launch an investigation into the urea market following a surge in price for the fertilizer. This is the latest in a long string of Chinese efforts to cool prices for major raw materials. The National Development and Reform Commission (NDRC) said it will "strengthen market supervision and resolutely crack down on hoarding, price hikes and fabricating and disseminating information on price increases" to stabilize both fertilizer prices and those for other ag materials. Urea prices have climbed to record highs amid a drop in production, high energy costs and strong demand for the fertilizer in China and overseas. 
 
— Reports China still struggling with ASF variants. A June 21 article from Caixin reports new, difficult to detect variants of African swine fever (ASF) are still circulating in China, leading to more mass infections on farms and resulting in stopped-up control measures. The variants are characterized by mild symptoms in the early stages but have a longer incubation period, making the virus more difficult to detect before it spreads across farms. There is still no vaccine for the virus.
— China plans to stockpile local pork. China's NDRC announced today that central and local governments will start buying pork for state reserves to support prices. Producer liquidation of herds due to continued ASF outbreaks this winter weighed on prices and the resulting price drop also fueled panic selling. Plus, feed costs have soared. The situation has sparked talk smaller producers will stop farming, which could lead to shortages down the road. But the shift away from backyard farming and to massive hog factories is part of China's long-term plan. China's last pork reserve purchases occurred in March 2019. "Since the frozen pork inventory is probably already high due to strong imports in the previous months, I don't think they'll buy too much," said Pan Chenjun, senior analyst at Rabobank. She adds that storage space is limited.
---
TRADE POLICY
---
— U.S., Taiwan to resume formal trade and investment discussions. U.S. and Taiwanese officials today will resume discussions on improving trade and investment ties between the two countries via a Trade and Investment Framework Agreement (TIFA), according to a statement released by the American Institute in Taiwan. Taiwan's Office of Trade Negotiations and the Office of the U.S. Trade Representative will be the primary participants.
---
ENERGY & CLIMATE CHANGE
---
— Republicans note concerns with WOTUS redo. House Republicans sent a letter (link) to EPA Administrator Michael Regan and acting Assistant Secretary of the Army for Civil Works Jaime Pinkham outlining concerns with the administration's intention to undo the Trump administration's Navigable Waters Protection Rule. The EPA on June 9 said it and the U.S. Army Corps of Engineers plan to launch rulemakings to restore the pre-2015 definition of the waters of the United States, or WOTUS, under the Clean Water Act. "We are concerned that the approach the Agencies intend to take in re-vising this important regulation will regress from the clarity provided by the Navigable Waters Protection Rule and will reimpose a vastly overbroad interpretation of federal jurisdiction over waters around the Nation," the lawmakers wrote.
— Oil refiners win easier biofuel waivers, but Biden EPA not likely to grant many. The EPA has wide latitude to exempt refineries from federal mandates that they mix renewable fuels into gasoline and diesel, the U.S. Supreme Court ruled Friday, a victory for oil companies seeking a break from the requirements. In a 6-3 decision, the justices rejected arguments that the EPA's exemption power is limited to only a handful of refineries that have received uninterrupted annual waivers from the Renewable Fuel Standard. Writing for the majority, Justice Neil Gorsuch said that nothing in the Renewable Fuel Standard law itself "commands a continuity requirement." However, sources signal this does nothing to change the likelihood that Biden's EPA will not grant many waivers, with some thinking EPA will revert back to the less than 10 per year as was the case until 2016.
— European Commission is discussing a zero-emissions target for cars sold beyond 2035, according to a new report from Politico. "That would not only mean the end of the internal combustion engine, but also the end of plug-in hybrids," explained Hildegard Müller, head of Germany's VDA car lobby. It would also force the EV revolution upon European automakers, though some are already planning moves of their own.
     Germany's Volkswagen announced it will stop selling combustion engine cars in Europe by 2035 and aims for the region's electric cars to account for 70% of total sales by 2030. Ceasing sales of ICE vehicles in the United States and China will occur "somewhat later," according to VW board member Klaus Zellmer, and by 2050 — at the latest — the entire fleet should be carbon neutral. "South America and Africa will take a good deal longer due to the fact that the political and infrastructure framework conditions are still missing."
     Ford has already said it will only sell EVs in Europe by 2030, Volvo is retiring the ICE (Internal Combustion Engine) automobile and hybrids by the same year and Honda announced plans to phase out gas-powered cars by 2040.
     The U.K. plans to end the sale of ICE vehicles by 2030 and plug-in hybrids by 2035, France has set a 2040 phase-out date, while Norway is the most ambitious nation with a 2025 deadline. In the U.S., California has banned the sale of gas-powered vehicles by 2035 and a dozen other states are looking at similar legislation.
---
LIVESTOCK, FOOD & BEVERAGE INDUSTRY
---
— Supreme Court could today announce whether it will rule on the legality of California's Proposition 12, which requires meat sold in California to be produced according to the state's animal housing standards. U.S. hog producers say those standards have already led to more pig deaths and less pigs per litter. The North American Meat Institute (NAMI) asked SCOTUS to review a 9th Circuit ruling that upheld a lower court's denial of NAMI's request for an injunction.
---
CORONAVIRUS UPDATE
---
— Summary: Global cases of Covid-19 are at 181,155,202 with 3,924,360 deaths, according to data compiled by the Center for Systems Science and Engineering at Johns Hopkins University. The US case count is at 33,625,039 with 603,967 deaths. The Johns Hopkins University Coronavirus Resource Center said that there have been 323,327,328 doses administered, 153,028,665 have been fully vaccinated, or 46.6% of the total US population.
— Review into the origins of the Covid-19 virus may not produce a definitive explanation, Biden administration officials said. Spy agencies conducting the review have yet to find conclusive evidence that would settle the debate over whether the virus came from human contact with an infected animal or was leaked from a Chinese government virology lab. President Biden is due to receive an update in mid-July. Even partial progress might narrow differences among scientists, politicians and intelligence experts and turn up clues for further investigation.
 
---
POLITICS & ELECTIONS
---


— U.S. Justice Department sues Georgia over state's voting law. The U.S. Justice Department said legislation adopted with "a racially motivated purpose" has "no place in democracy." The lawsuit comes after Senate Bill 202, also known as The Election Integrity Act, was signed into law this March by Georgia GOP Gov. Brian Kemp. The bill was meant to launch sweeping election reform, but it was also met with swift opposition including objections from major Georgia companies including Delta. "The right of all eligible citizens to vote is the central pillar of our democracy, the right from which all other rights ultimately flow," U.S. Attorney General Merrick Garland said in a statement. "This lawsuit is the first step of many we are taking to ensure that all eligible voters can cast a vote; that all lawful votes are counted; and that every voter has access to accurate information."
     Kemp's office responded, saying the government's lawsuit "is born out of the lies and misinformation the Biden administration has pushed against Georgia's Election Integrity Act from the start." Kemp took issue with Biden, former Georgia gubernatorial candidate Stacey Abrams and "their allies" who "tried to force an unconstitutional elections power grab through Congress — and failed… Now, they are weaponizing the U.S. Department of Justice to carry out their far-left agenda that undermines election integrity and empowers federal government overreach in our democracy," Kemp said in the statement.

 
---
OTHER ITEMS OF NOTE     
---
— U.S. carries out airstrikes in Iraq and Syria. The U.S. carried out three airstrikes early Monday morning in Iraq and Syria against weapons storage facilities used by Iranian-backed militias that in recent weeks have conducted armed drone strikes against locations where the American military is, the Pentagon said on Sunday. Pentagon spokesperson John Kirby said the facilities struck were used by Iranian-backed militias, including Kata'ib Hezbollah and Kata'ib Sayyid al-Shuhada, to carry out drone strikes against places where Americans were located." It's the second time the U.S. has conducted airstrikes in Syria since U.S. President Joe Biden took office.
— Panama Canal authorities, facing diminishing levels of rainwater, plan to unveil a $2 billion plan to build infrastructure to manage and preserve freshwater reserves.
---