Flareups at Senate Hearing on Ag Worker/Immigration Bill Shows No Consensus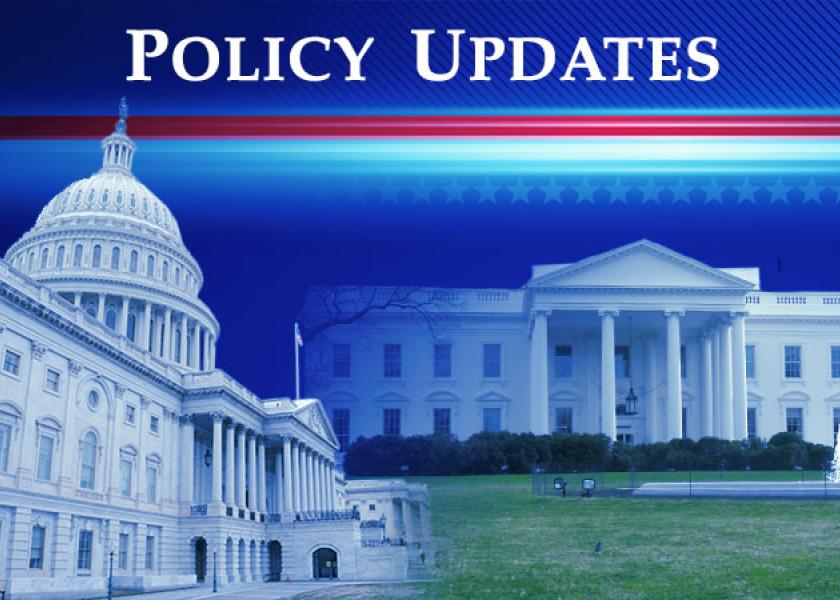 Senate GOP votes are in place next week to clear traditional infrastructure bill
---
In Today's Digital Newspaper
---
Market Focus:
• Equities lower on jobless claims update
• Debt ceiling showdown
• Fed ramps up debate over timing and pace of tapering
• Dollar closing in on highest levels for year vs other major currencies
• Musk on bitcoin: 'I might pump, but I don't dump'
• CSX: Railway company profit more than doubled in second quarter
• Ag demand update
• Profit-taking overnight
• Industry still trying to get a handle on Canada's wheat, canola crops
• Four major Ukrainian Black Sea ports restrict grain loading operations on wx issues
• Flooding in central China
• Indian boy dies due to bird flu
• Softer cash cattle trade picks up
• Export sales and cold storage data a focus for hog trade
Policy Focus:
• Republicans as expected blocked Schumer timeline on infrastructure
• Enough GOP support next week to clear traditional infrastructure package
• Biden administration to provide $300 million to coal-dependent communities
• FTC adopts policy statement to take on 'right to repair'
• Senate Judiciary examines ag worker/immigration; Vilsack challenged by Republicans
Biden Administration Personnel:
• Biden nominates Comcast attorney as U.S. ambassador to Canada
• USDA announces more personnel
China Update:
• Sales of U.S. wheat to China, but cancellations on sales of corn, soybeans and sorghum
• Floods in China's Zhengzhou; assessments being made on ag production impact  
• Sherman to China
Energy & Climate Change:
• Form Energy has built inexpensive battery that can discharge power for days
• Farm-state lawmakers aim to add year-round sales of E15 ethanol to infrastructure measure
• White House climate envoy Kerry joins G20 environment ministers in Naples, Italy

Livestock, Food & Beverage Industry Update:
• Stuffed pizza and jail

Coronavirus Update:
• Biden predicts vaccines will get final approval this fall  
• China rejects WHO inquiry
• Sen. Hoeven blasts Biden decision to extend Canadian border restriction
• Governments monitoring U.K. as it lifts almost all Covid-era restrictions
Politics & Elections:
• McCarthy may boycott panel over Pelosi vetoes
• Biden opposes doing away with filibuster in its entirety
Congress:
• House approves legislation regulating 'forever chemicals'
• House to consider Ag appropriations bill next week
• Senate Finance hearing on USMCA set for July 27
• House Ag subcommittee to hold hearing July 28 on beef supply chain

Other Items of Note:
• PG&E plans to bury 10,000 miles of power lines  
• Biden will meet at White House with Ukrainian president on Aug. 30
• Grassley tweets on Dole's 98th birthday
• Senior Tokyo Olympics official fired the day before the opening ceremony
 
---
MARKET FOCUS
---
Equities today: Equities opened relatively flat to slightly lower following the jobless claims. Equity funds posted a collective net inflow of $18.7 billion in the week ended July 14, compared with $5.6 billion for bond funds, according to EPFR. Asian markets finished higher as economic optimism overshadowed Covid concerns. Hong Kong's Hang Seng rose 499.26 points, 1.83%, at 27,723.84. China's Shanghai Composite was up 12.07 points, 0.34%, at 3,574.73. Japanese markets were closed for a holiday. European equities are higher in early trading. The Stoxx 600 is up 0.8% with most regional markets seeing gains of 0.1% to 1.2%.
     U.S. equities yesterday: The Dow gained 286.01 points, 0.83%, at 34,798.00. The Nasdaq was up 133.08 points, 0.92%, at 14,631.95. The S&P 500 was up 35.63 points, 0.82%, at 4,358.69.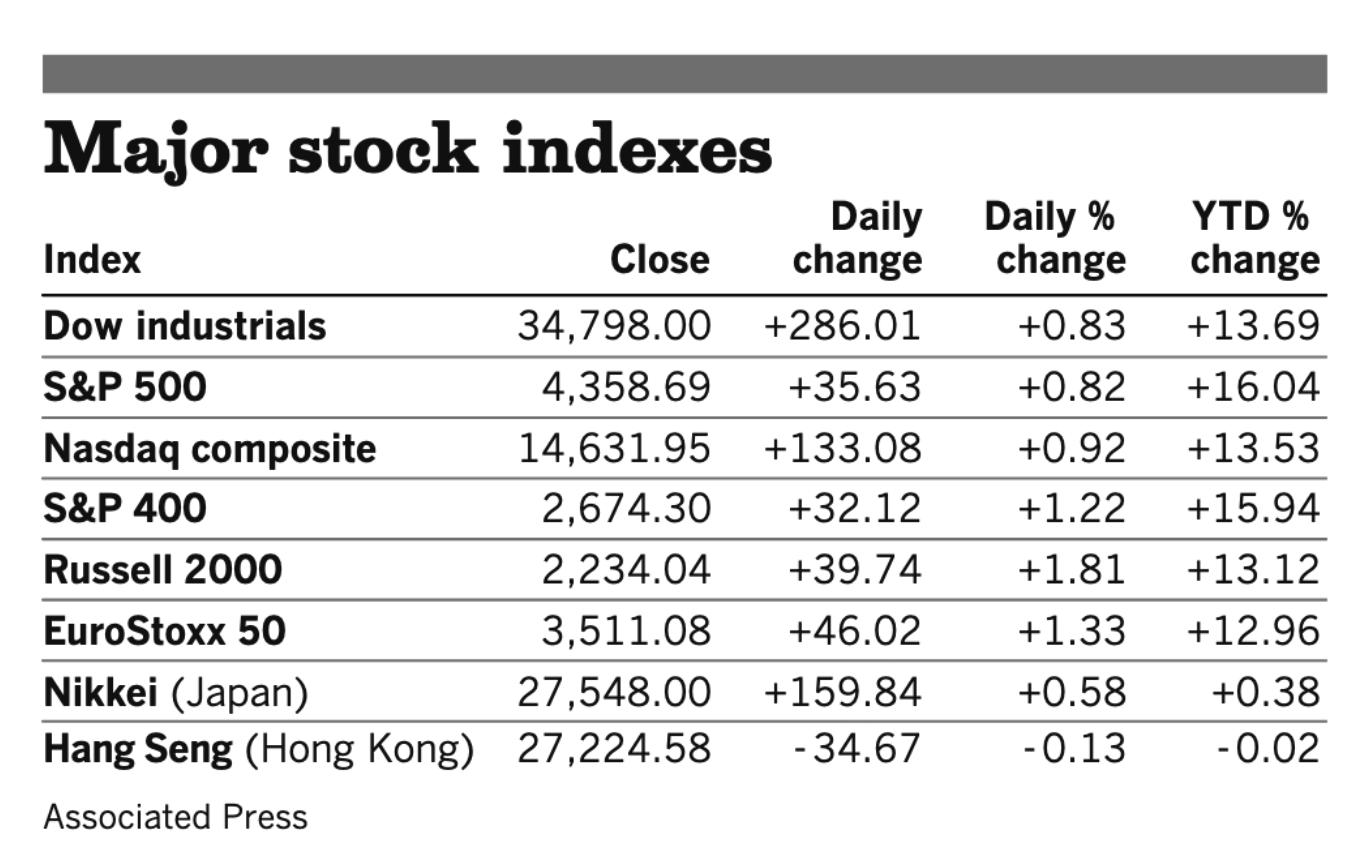 The yield on the benchmark 10-year Treasury note ticked up to 1.290% from 1.279% on Wednesday, marking a third consecutive day of gains. On Monday, it plunged to the lowest level since February as haven assets rallied.
On tap today:
     • European Central Bank releases a policy statement at 7:45 a.m. ET and ECB President Christine Lagarde holds a press conference at 8:30 a.m. ET.
     • U.S. jobless claims are expected to fall to 350,000 in the week ended July 17 from 360,000 a week earlier. 8:30 a.m. ET) Update: Jobless claims rose to 419,000 last week, returning to a level last recorded in early June, and more than the upwardly revised 368,000 from the previous period, the Labor Department reported. The news sent stock market futures off their highs for the morning, with Wall Street pointing to a flat open. The total was the highest weekly count since May 15.
     • USDA Weekly Export Sales report, 8:30 a.m. ET.
     • U.S. existing-home sales are expected to rise to an annual pace of 5.93 million in June from 5.80 million a month earlier. (10 a.m. ET)
     • Conference Board's leading economic index for June is expected to rise 0.8% from a month earlier. (10 a.m. ET)
     • Kansas City Fed's manufacturing survey is expected to fall to 25 in July from 27 a month earlier. (11 a.m. ET)
Debt ceiling showdown. Sen. Mitch McConnell (R-Ky.) said it's unlikely that Republican lawmakers would vote to increase the U.S. debt limit, citing Democrats' spending plans. Democrats criticized his threat as endangering America's fiscal health, with the government expected to run out of cash by November.
Fed ramps up its debate over the timing and pace of tapering. Officials will discuss when and how fast to reduce their $120 billion in monthly bond purchases at their meeting next week, amid a stronger U.S. economic recovery than they anticipated six months ago. Link to more via WSJ item.
Market perspectives:
     • Outside markets: The US dollar index is firmer as the euro and yen are both weaker against the greenback. The yield on the 10-year U.S. Treasury note has eased to trade around 1.28% with a mixed tone in global government bond yields. Gold and silver futures are under pressure ahead of US economic updates. Gold was trading under $1,7895 per troy ounce and silver under $25.10 per troy ounce.

     • Dollar closing in on its highest levels for the year against other major currencies, propelled by investors' worries about global growth rather than cheer over U.S. prospects.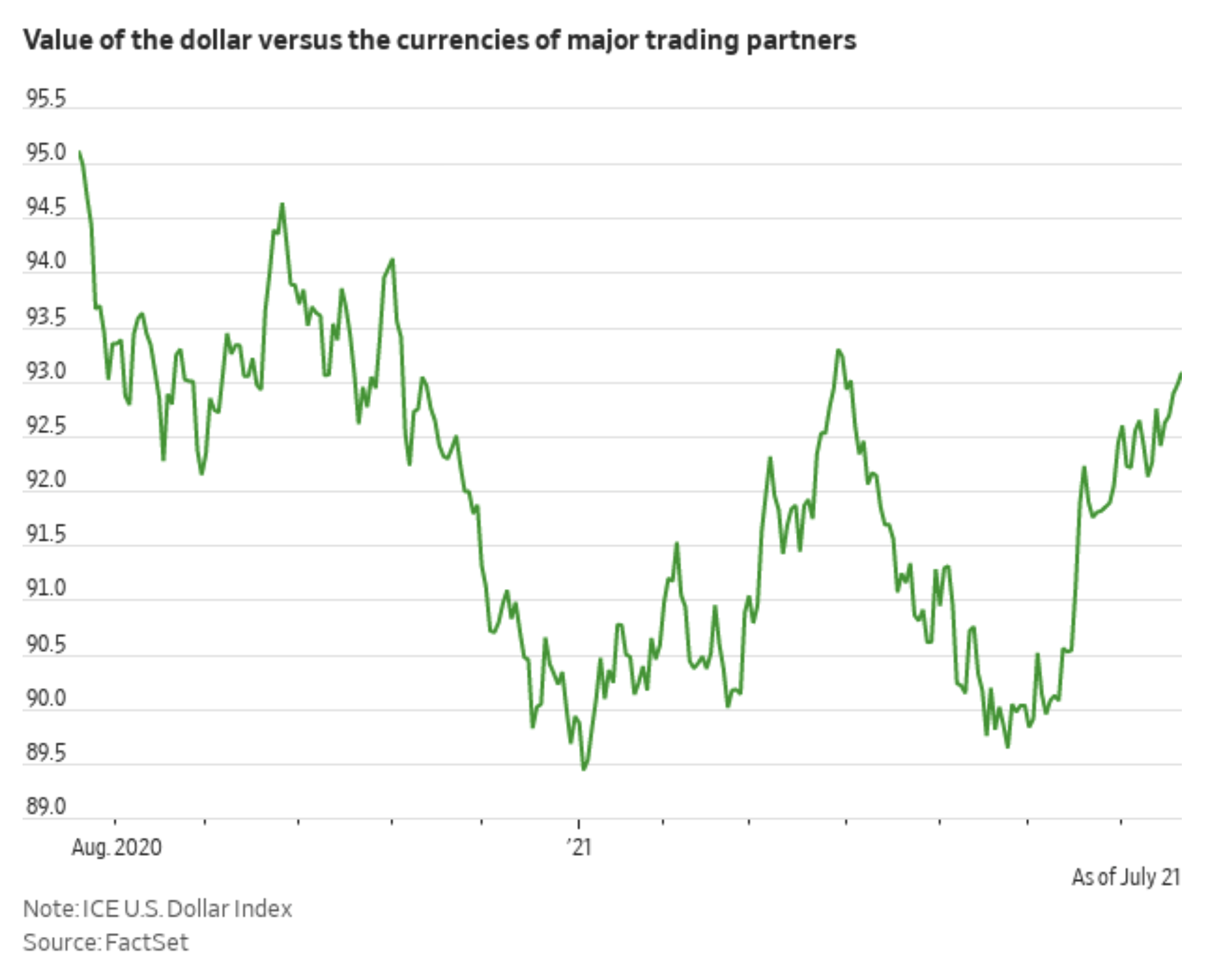 • Crude oil is higher in action ahead of the U.S. market day, with U.S. crude trading around $70.75 per barrel while Brent crude is trading around $72.75 per barrel. Futures were lower in Asian trading after big gains Wednesday in U.S. action. Overnight U.S. crude was down 31 cents at $69.99 per barrel while Brent was down 35 cents at $71.88 per barrel.
     • Elon Musk: "I might pump, but I don't dump," he declared, while wearing a shirt about Bitcoin being the evolution of money. "I think about money as an information system, and there's an opportunity for something better than ACH and credit card networks." He further noted that he's an owner of Bitcoin through not just Tesla, but through SpaceX, and he personally owns Bitcoin, Ether and Dogecoin (Tesla bought $1.5 billion worth of Bitcoin this year). Once Musk is convinced more than 50% of Bitcoin mining was based on renewables, Tesla will again accept the crypto for purchases.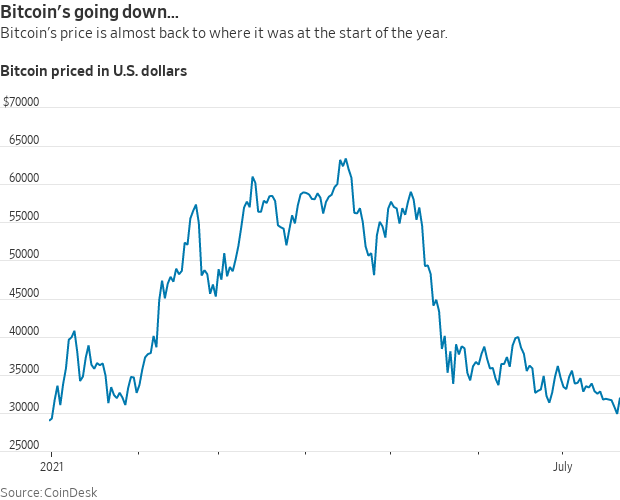 • Jack Dorsey: "Bitcoin reminds me of the early Internet. If the internet gets a chance to be a native currency, it's Bitcoin because of its resilience, and community driving it." He also has high hopes for the currency. "We have all these monopolies off balance and the individual doesn't have power and the amount of cost and distraction that comes from our monetary system today is real and it takes away attention from the bigger problems. My hope is that it creates world peace or helps create world peace."
     • Ag demand: South Korea bought around 4,000 MT of GMO-free soybeans in an international tender to around 7,600 MT of the oilseed.
     • CSX: The railway company said profit more than doubled in the second quarter as revenue rose by a third and total expenses fell.
     • NWS weather: Monsoon intensity and the threat of flash flooding to ramp up across the Southwest... ...Midsummer heat persists across the Northern/Central Plains and spreads into the Midwest, with the threat of severe thunderstorms on Friday... ...Elevated to critical fire weather concerns remain throughout the Northern Rockies and Great Basin.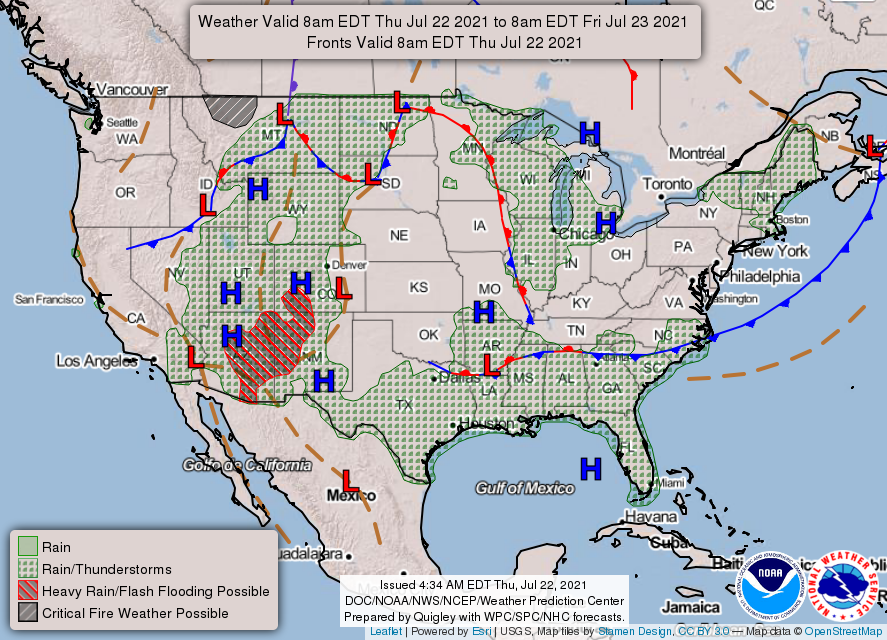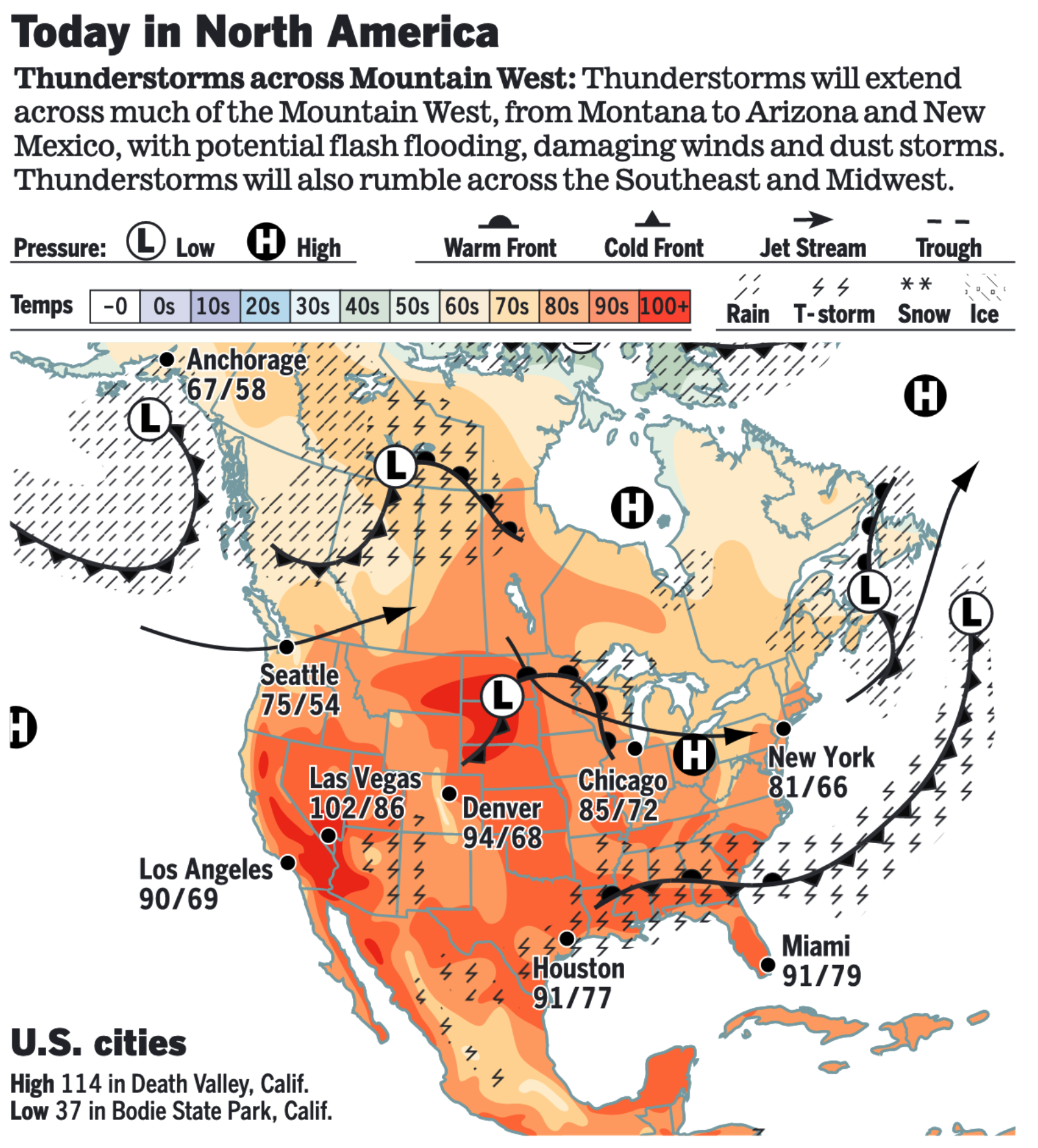 Items in Pro Farmer's First Thing Today include:
     • Profit-taking overnight
     • Industry still trying to get a handle on Canada's wheat, canola crops
     • Four major Ukrainian Black Sea ports restrict grain loading operations on wx issues
     • Flooding in central China
     • Indian boy dies due to bird flu
     • Softer cash cattle trade picks up
     • Export sales and cold storage data a focus for hog trade
---
POLICY FOCUS
---
— Republicans as expected blocked Schumer timeline on infrastructure due to no text and incomplete accord on pay-fors. Senate Republicans blocked Democrats' attempt to start formal debate on a bipartisan infrastructure plan Wednesday, arguing that Democrats are rushing the procedural vote before the final bill has been written. The Senate voted 49 to 51, failing to reach the 60 votes needed to proceed. The move could be only a delay for President Biden's infrastructure plan, as at least 11 Republicans said they would support the vote if it came up again Monday, when an agreement on the final details of the bill is expected. Talks are expected to continue.
     Wednesday's vote fell along party lines, though Majority Leader Chuck Schumer (D-N.Y. joined Republicans in voting against moving forward due to Senate rules that make it easier for him to call up a repeat vote after voting no.
     Democrats are trying to enact the plan in two parts. The bipartisan plan, which amounts to $579 billion in new spending and nearly $1.2 trillion overall, would invest in the so-called hard infrastructure projects. They then hope to approve about $3.5 trillion for the rest of Biden's plan under a procedure that doesn't allow for a GOP filibuster.
— Biden administration to provide $300 million to coal-dependent communities. The Biden administration will send $300 million in funds to coal-dependent communities utilizing funds from two different areas. The Commerce Department will administer the funds through its Economic Development Administration (EDA) from the Covid aid package approved in March and other funds.
     There will be $200 million that will come via grants through the Commerce Economic Adjustment Assistance Challenge aimed at investments in coal communities in areas such as broadband, apprenticeship programs and revolving loan funds.
     Another $100 million would fund a Build Back Better Regional Challenge where areas of the country hit by the downturn in coal use could get grants for regional development to set up new industries, train workers or finance other efforts.
     Comments: The aid announcement was in part targeted at trying to convince Sen. Joe Manchin (D-W.Va.)  to vote in favor of the go-it-alone reconciliation package that Democrats want to use for the $3.5-trillion social infrastructure package that needs all 50 Democratic votes in the Senate.
— FTC adopts policy statement to take on 'right to repair'. The Federal Trade Commission (FTC) today (July 22) approved a policy statement which focuses on "right to repair," an action in part focused on the U.S. agricultural industry.
     The FTC approved a policy statement on the issue on a unanimous vote. "Restricting consumers and businesses from choosing how they repair products can substantially increase the total cost of repairs, generate harmful electronic waste, and unnecessarily increase wait times for repairs," FTC said. "In contrast, providing more choice in repairs can lead to lower costs, reduce e-waste by extending the useful lifespan of products, enable more timely repairs, and provide economic opportunities for entrepreneurs and local businesses."
     Background. The FTC effort dates to 2019 when the agency held a workshop in July of 2019 entitled, "Nixing the Fix: A Workshop on Repair Restrictions." Even the title suggested the agency was looking to wade into the issue. The 2019 workshop spawned a report (link) the FTC adopted 4-0 on May 6 called "Nixing the Fix." That report indicated there was "scant evidence to support manufacturers' justifications for repair restrictions." The report issued made clear the FTC was about to delve into the issue and most likely it would not be favorable for those who backed keeping consumers or small repair shops from fixing products.
     FTC Chair Lina Khan said, "These types of restrictions can significantly raise costs for consumers, stifle innovation, close off business opportunity for independent repair shops, create unnecessary electronic waste, delay timely repairs, and undermine resiliency," Kahn stated. "The FTC has a range of tools it can use to root out unlawful repair restrictions, and today's policy statement would commit us to move forward on this issue with new vigor."
     FTC Commissioner Rohit Chopra noted the situation has gone beyond just competition issues. "While we typically view improper repair restrictions through its effects on fair competition, consumers, and small businesses, the Right to Repair movement also showed us how these problems can be matters of life and death," he observed.
     Chopra also spoke to the issue as it relates to agriculture. "Farmers relying on tractors and other equipment have been blocked from an open repair market, which can lead to spoiled crops and missing out on critical income," he stated.
     What the FTC will do:
FTC said it will "prioritize" investigations into these "unlawful repair restrictions."

They want the public to "submit complaints and provide other information to aid in greater enforcement of the Magnuson-Moss Warranty Act." Current law does not provide for civil penalties, but the FTC will consider filing suit on the issues. Plus, they will look at rulemaking.

They will also "scrutinize repair restrictions for violations of antitrust laws."

The FTC specified they will look at the issue relative to antitrust laws. "Certain repair restrictions may constitute tying arrangements or monopolistic practices—such as refusals to deal, exclusive dealing, or exclusionary design—that violate the Sherman Act."

They will also look at whether repair restrictions run afoul of the Federal Trade Commission Act.

Plus, they will work throughout their agency to find expertise to "combat unlawful repair restrictions," and will "closely coordinate with state law enforcement and policymakers to ensure compliance and to update existing law and regulation to advance the goal of open repair markets."
     Comments: Key will be how quickly the actions unfold and how quickly the public weighs in with complaints about the issue and no doubt equipment manufacturers like Deere that have argued in favor of their ability to keep others from repairing certain systems on their equipment and will be on guard for coming actions from the FTC. This has potential to change the landscape in agriculture and other areas relative to equipment fixes. It appears Deere and Company also was reading the signals from the FTC. The company issued a statement July 9, the day the White House executive order was issued, stating they supported the rights of their customers to "safely repair their equipment." Link to the release. On July 14, Deere announced they would be offering customers their JDLink connectivity service at no additional charge for both agricultural and industrial equipment customers. That service provides customers with a "single level of service that includes machine and agronomic data sharing" and more. And customers will be able to add machines in the future at no cost.
— Senate Judiciary examines ag worker/immigration; Vilsack challenged by Republicans. The Senate Judiciary Committee held a hearing on a contentious issue Wednesday — addressing immigration issues as it relates to the U.S. agricultural worker situation.
     Its focus was the Farm Workforce Modernization Act (FWMA) which is aimed at addressing worker shortages in the agricultural industry that typically are met by the use of H-2A visas. The FWMA would provide five-year visas to undocumented farm workers who meet specific eligibility criteria and provides a pathway to permanent legal status. It would also reform the H-2A visa program to allow dairies and livestock producers to use the program.
     USDA Secretary Tom Vilsack testified, urging lawmakers to support the FWMA, describing it as a "very delicate compromise." It passed the House 274-174 with some Republican support. Republicans on the Judiciary panel raised issues with the legislation, contending it provided "amnesty" to workers.
     But Sen. Chuck Grassley (R-Iowa) likened it to a 1986 immigration reform effort that included an amnesty provision, noting that under that law many agricultural workers that obtained legal status ended up leaving the sector, eventually forcing employers to bring in more illegal immigrants. "The cycle simply began once again," he noted.
     Vilsack asked Sen. John Kennedy (R-La.)  how he could describe the legalization process as amnesty "when the bill provides for the payment of a fine of $1,000, I don't quite understand why we're talking about amnesty?" Kennedy's response: "Because it is amnesty, and I think most Americans see it as amnesty, and I see it as amnesty."
     Sen. Lindsey Graham (R-S.C.) said extending citizenship to even one worker under the farmworker bill would result in "a run on the border." Vilsack disagreed, saying the bill's requirements to qualify for citizenship apply to farmworkers who have already been in the country for a "long time." The bill provides a path to a green card for workers with 10 years of agricultural work, so long they complete four more years of such work. Graham called the idea of passing the farmworker legislation "ass-backwards," stressing the situation at the border needs to be addressed first. "If you don't secure the border first, you're going to incentivize" illegal entry, said Graham. When Vilsack disagreed, Graham responded, in incredulous tones, "You don't believe so?"
     Vilsack said people are flocking to this country from central America because of poor economic conditions in their home countries, including food shortages. "We have to take a look at how to create better opportunities south of our border," he said. "The key is helping them build their own economy."
     Sen. Ted Cruz (R-Texas) said the influx of immigrants at the border is not a function of changed economic conditions over the past year but of the Biden administration's decisions to stop building the border wall; reinstating the practice of not detaining immigrants until their immigration hearings; and abandoning the "remain in Mexico" policy where the U.S. government would return asylum seekers to Mexico to await court dates. "Mr. Secretary, if we were having a hearing on the optimum fertilizer for growing corn, I think you might be a very good witness," Cruz said. "And with all due respect your answers on immigration were fertilizer."
     National Pork Producers Council President Jen Sorenson told lawmakers hog producers and meatpacking plants are short on labor by about 25% to 30% and said the visa cap needed to be lifted. "If the labor shortage is not addressed, it could lead to farms and packing plants shutting down, causing serious financial harm to the communities in which they operate," said Sorenson. The answer, she said, is "opening the H-2A visa program to year-round labor without a cap."
     The American Farm Bureau Federation opposes the FWMA in part because they say it would make it easier for employees to sue producers. Farm Bureau President Zippy Duvall sent a letter to the committee saying, "Congress must recognize the dangers of incomplete, shortsighted agricultural labor reform initiatives" and urging broad-based reform of the H-2A program."
     Senate Judiciary chairman Dick Durbin (D-Ill.) said GOP objections meant that Congress could not act on any element of immigration reform unless it settled all immigration disputes. "I am loath to accept that premise," he said. Piecemeal and comprehensive immigration bills, including a 2019 version of HR 1603, have foundered repeatedly in recent years.
     Sen. John Cornyn (R-Texas) said the farm labor bill was "not ripe for legislative action" and needed more work.
     Comments: The hearing showed there is no major bipartisan consensus on this topic. Some are suggesting Democrats could use the reconciliation process to address immigration, eyeing ways to potentially create pathways to citizenship for certain categories of undocumented immigrants. But that will hinge on whether or not the Senate parliamentarian allows such provisions to be included. "It's clear" that Republicans don't want to act on farm labor reform, said Sen. Alex Padilla (D-Calif.). "They are quick to raise pretexts that we can't do anything."
---
BIDEN ADMINISTRATION PERSONNEL
---
— Biden nominates Comcast attorney as U.S. ambassador to Canada. The Biden administration picked David Cohen, a senior executive at Comcast and longtime Democratic donor, as the U.S. ambassador to Canada. Cohen worked at Comcast for nearly two decades, wearing several hats at the company.
— USDA announces more personnel. Six months into the Biden presidency, USDA announced the hiring of more staff to key posts in the areas of communications, rural development and trade — including an administrator for the Foreign Agricultural Service (FAS).
Daniel Whitley will serve in the top FAS post, after most recently serving as acting administrator at the agency. Before that role, Whitley was an associate administrator charged with leading the agency's trade policy and market analysis teams. His service at FAS dates back 20 years in several other roles including deputy administrator of the Office of Global Analysis and the director of the Office of Civil Rights. Before his time at FAS, Whitley worked at USDA's Economic Research Service (ERS) on market access issues in the World Trade Organization (WTO). He holds bachelor's and master's degrees in agricultural economics.
Basil Gooden was named director of state operations for Rural Development. He most recently served as a visiting scholar in the Sustainable Food Access Core of the Institute for Inclusion, Inquiry and Innovation (iCubed) at Virginia Commonwealth University's (VCU). Gooden also served as Virginia's Secretary of Agriculture and Forestry from 2016-2018 and previously held roles as the chief deputy director of the Virginia Department of Housing and Community Development, as an extension specialist in community vitality at Virginia Tech, and as a county committee advisor for the Buckingham/Cumberland County, Virginia Farm Service Agency (FSA) office.
In communications, USDA announced the hiring of Michael Amato as communications director in the Office of Communications. Prior to his selection, Amato founded the Amato Advisors consultancy, providing strategic, political, public affairs and crisis communications to a range of diverse clients, the department said. He was also a deputy lead on the General Government Appointments Team for the Biden-Harris transition and served as director of communications in the Office of Personnel Management (OPM) during the Obama administration. Before serving in the Obama administration, Amato was a staffer and communications director for the Democratic minority on the House Armed Services Committee, communications director for Rep. Adam Smith (D-Wash.), and assistant press secretary for former Philadelphia Mayor John Street (D). Amato is a graduate of Temple University.
Joining Amato at the Office of Communications is Marissa Perry, who will work as a speechwriter. Perry previously served as press secretary and later communications director for Montana Gov. Steve Bullock (D). She also served in communications roles on Bullock's re-election campaign, in the Montana legislature and in the Montana Governor's Office of Community Service. Perry is a graduate of the University of Montana.
---
CHINA UPDATE
---
— Sales of U.S. wheat to China, but cancellations on sales of corn, soybeans and sorghum. Export Sales activity in the week ended July 15 included more activity for China, but some of the activity included cancellations of prior sales. Net sales of 135,250 tonnes of wheat were reported for 2021-22 and 6,000 tonnes of soybeans were reported, along with sales of 13,162 running bales of Upland cotton for 2020-21 and 13,860 running bales for 2021-22. But there were cancellations of 159,971 tonnes of corn, 53,218 tonnes of sorghum and 578 tonnes of soybeans for 2020/21.
     Net sales of beef for 2021 of 4,099 tonnes were reported along with net reductions of 110 tonnes of pork.

— Floods in China's Zhengzhou have killed dozens, assessments being made on ag production impact. Record rainfall in the central region of the country has killed at least 33 people, turned city streets into rivers and forced authorities to relocate hundreds of thousands. Henan province, of which Zhengzhou is the capital, has been rocked by heavy rains since the weekend. The province, largely dependent on agriculture and industry, is home to more than 99 million people and is one of China's poorest. Media reports have shown inundated neighborhoods, stranded residents and flooded subways with commuters standing in water up to chest-deep. Local meteorologists have estimated that a year's worth of rain was dumped on the city in just three days, with 18 inches coming down in one 24-hour period. China typically experiences summer flooding. Last year, flooding across central and southern China triggered the worst flooding seen in decades and caused tens of billions of dollars worth of damage.
 
— Sherman to China. U.S. Deputy Secretary of State Wendy Sherman is set to visit China next week, the highest-level visit by a U.S. official since climate envoy John Kerry's trip to Shanghai in April. As part of her visit, Sherman is expected to meet with Chinese Foreign Minister Wang Yi in the coastal city of Tianjin. The visit has already been bogged down by questions of protocol, with Sherman reportedly canceling her travel plans after being offered to meet with Vice Foreign Minister Xie Feng and not Wang. The Chinese Ministry of Foreign Affairs has said Sherman will "meet" Wang and will "hold talks" with Xie.
---
ENERGY & CLIMATE CHANGE
---
— Form Energy says it has built an inexpensive battery that can discharge power for days using one of Earth's most abundant elements: iron. The batteries are far too heavy for electric cars, but the four-year-old startup says they will be able to solve a major renewable-energy challenge by cheaply storing large amounts of electricity to power the grid when the sun isn't shining, and wind isn't blowing.
— Farm-state lawmakers introduce bill to permit year-round sales of E15 ethanol, with focus on inserting language in reconciliation measure. Sens. Deb Fischer (R-Neb.) and Amy Klobuchar (D-Minn.) recently reintroduced the Consumer and Fuel Retailer Choice Act, a bill that would extend the Reid vapor pressure (RVP) volatility waiver to ethanol blends above 10%. It would allow retailers across the country to sell E15 and other higher ethanol blends year-round. This comes after a D.C. Circuit court struck down the Trump administration's waiver permitting year-round sales of such fuels.
     Comments: An attempt will be made to insert the bill's language into an infrastructure measure; it's unlikely to clear on its own.
— White House climate envoy John Kerry joins G20 environment ministers today in Naples, Italy, to discuss commitments to combat climate change as recent extreme flooding in China, India, Germany, and Belgium underlines the need for action. Today's meeting will be followed by a joint summit of both environment and energy ministers on Friday as the world's major economies attempt to plot a transition to clean energy before global temperature tipping points are reached. A recent report found that G20 members have spent more than $3.3 trillion subsidizing fossil fuels since the 2015 Paris Agreement, contradicting their broad commitments to tackle climate change; 60% of those subsidies went to fossil fuel companies, while the remainder paid for cheaper consumer energy prices.
     Speaking to a London audience on Tuesday, John Kerry described a world stuck in a "mutual suicide pact," saying cooperation — even between adversaries — was the only way out. Even so, Kerry criticized Beijing's plan to reach peak emissions by 2030, saying that it would force the rest of the world to reach net-zero emissions "by 2040 or even 2035," far ahead of the current target of 2050.
---
LIVESTOCK, FOOD & BEVERAGE INDUSTRY
---
— Stuffed pizza and jail. Two Swedish prison inmates attempted to carry out a dramatic escape on Wednesday but had to settle for pizza (and a potentially longer sentence) instead. The two prisoners took two prison guards hostage at a high-security prison in Hallby, west of Stockholm, before making two demands: a helicopter to enable their escape, and 20 pizzas (with kebab toppings) for their fellow inmates. The two guards were released unharmed shortly after the pizzas were delivered, but the helicopter never materialized. The two prisoners, already in a maximum-security jail, are likely to be charged with kidnapping.
 
---
CORONAVIRUS UPDATE
---
— Summary: Global cases of Covid-19 are at 192,059,616 with 4,128,076 deaths, according to data compiled by the Center for Systems Science and Engineering at Johns Hopkins University. The U.S. case count is at 34,229,805 with 609,870 deaths. The Johns Hopkins University Coronavirus Resource Center said that there have been 339,102,867 doses administered, 161,895,045 have been fully vaccinated, or 49.3% of the total U.S. population.
— President Biden predicts vaccines will get final approval this fall. At a town hall in Ohio, Biden said the FDA would probably provide official signoff on Covid inoculations — all are currently authorized on an emergency basis — and ease the concerns of some vaccination holdouts.
— China rejects WHO inquiry. A senior Chinese health official has rebuffed a World Health Organization (WHO) plan for a second phase of its study into the origins of Covid-19. Citing the plan's focus on assessing whether the virus may have emerged from a laboratory in Wuhan, Zeng Yixin, the vice minister of the Chinese National Health Commission, said it was "impossible for us to accept such an origin-tracing plan," adding it lacked common sense. Zeng said China has "always supported scientific virus tracing" but was "opposed to politicizing the tracing work."
— Sen. Hoeven blasts Biden decision to extend Canadian border restriction. President Biden extended the restriction on Canadian entry into the U.S. for nonessential travel until Aug. 21, even though Canada will admit U.S. visitors who can prove they are vaccinated against Covid-19 as of August 9. Business travel including farm and agricultural travel between the two countries is permitted.
     "The Biden administration is refusing to take the steps needed to ensure our southern border is secure, while at the same time maintaining travel restrictions on our northern border, despite Canada's increasing vaccination rates," said Senate Agriculture Appropriations Subcommittee ranking member John Hoeven (R-N.D.). "This approach is not making our country safer and serves to undermine our economic recovery from Covid-19. We should instead safely re-open the U.S./Canada border as soon as possible, which would benefit both nations, alleviate supply chain disruptions and help small businesses in border communities in North Dakota and Canada. That's why I continue to make this case to the administration, including in a recent hearing with Secretary of State [Antony] Blinken."
— Governments are watching closely as the U.K. lifts almost all Covid-era restrictions, a contrast with the tightening of some public-health measures accompanying vaccination campaigns in places including Europe, parts of the U.S. and Israel. The U.K. experiment should give a strong signal of whether Covid-19 can be relegated to the status of a manageable, seasonal menace.
---
POLITICS & ELECTIONS
---

— McCarthy may boycott panel over Pelosi vetoes. House Speaker Nancy Pelosi (D-Calif.) on Wednesday rejected two Republicans picked by GOP leadership to serve on the House committee investigating the Jan. 6 attack on the Capitol. House Minority Leader Kevin McCarthy (R-Calif.) said in response that none of his choices would participate in the inquiry unless Pelosi reversed her decision. The speaker has final say on committee assignments, but normally defers to the minority leader's choices to represent the other party. Pelosi said in a statement that remarks by Reps. Jim Banks (R-Ind.) and Jim Jordan (R-Ohio) raised concerns about their fitness for the panel, and that she rejected them out of "respect for the integrity of the investigation, with an insistence on the truth," and with concern about their past statements and actions.
— President Biden opposes doing away with filibuster in its entirety. During his town hall on Wednesday, President Biden said he supports bringing back the "talking filibuster" but remains opposed to doing away with the Senate rule entirely, warning that doing so would "throw the entire Congress into chaos.'" Biden said, "I've been saying for a long, long time, the abuse of the filibuster is pretty overwhelming," adding, "I would go back to that, where you have to maintain the floor. You have to stand there and talk and hold the floor." Biden rejected the idea that overturning or changing the filibuster was the only way he would pass his agenda through a divided Congress. He said, "I'm trying to bring the country together. And I don't want the debate to only be about whether or not we have a filibuster, or exception to the filibuster, or going back to the way the filibuster had to be used before."
     Meanwhile, over 30 former chiefs of staff to Democratic senators have written an open letter calling for 'repeal or reform'" of the Senate filibuster which they say no longer serves its original purpose." While the 31 signers of the letter, who worked for more than 25 current and former Democratic lawmakers, conceded that they and their former bosses had embraced the filibuster in the past, they argued that the maneuver is now being abused "as a blunt-force instrument to stall most legislation." Link for details.

 
---
CONGRESS  
---
— House approves legislation regulating 'forever chemicals.' The House on Wednesday approved a bill setting deadlines for the Environmental Protection Agency to implement drinking water regulations for so-called forever chemicals. Perfluoroalkyl and polyfluoroalkyl substances, commonly called PFAS, are widely used, man-made compounds that are found in manufacturing and consumer products like Scotchguard, flame-resistant materials, nonstick cooking surfaces and firefighting foam used on military bases since the 1940s. They have been found in water wells and thousands of water sources across the country. The bill approved Wednesday 241 to 182 orders the EPA to designate two PFAS compounds as hazardous air and water pollutants and set drinking water regulations for their use within two years of the bill becoming law. For years the agency has only established a non-enforceable health advisory level on the compounds in drinking water. It also gives the EPA four years to set regulations for the discharge of the chemicals in industrial runoff and wastewater, and five years to set standards for the use of the thousands of other PFAS compounds. The bill requires cleanup of PFAS-contaminated sites and reimburses local water agencies for efforts to reduce the amount of PFAS in drinking water.
— House to consider Ag appropriations bill next week. The House will take up the fiscal year 2022 Agriculture appropriations bill next week, House Appropriations Committee Chairwoman Rosa DeLauro (D-Conn.) announced. The Ag bill will be considered in a package of seven measures.
— Senate Finance hearing on USMCA set for July 27. Senate Finance Committee Chair Ron Wyden (D-Ore.) announced a hearing on Tuesday, July 27, to review the implementation of the United States-Mexico-Canada Agreement (USMCA).
— House Ag subcommittee to hold hearing July 28 on beef supply chain. The House Agriculture Committee Subcommittee on Subcommittee on Livestock and Foreign Agriculture will hold a hearing next Wednesday, July 28, on the "State of the Beef Supply Chain: Shocks, Recovery, and Rebuilding."
 
---
OTHER ITEMS OF NOTE     
---
— PG&E plans to bury 10,000 miles of power lines — at an estimated cost of up to $20 billion — to reduce wildfire risk in Northern California. It told regulators this week that one of its power lines may have been involved igniting the Dixie Fire, which has grown to cover more than 85,000 acres northeast of Paradise — a town destroyed in 2018 by a fire sparked by a PG&E transmission line. That wildfire, the deadliest in state history, killed 84 people. The California utility said it would put 1,000 miles a year underground — up from 70 miles planned this year. Nearly 80 large blazes are burning in the West, as heat and drought complicate firefighting efforts. Smoke from fires affected air quality as far away as the East Coast.
— President Biden will meet at the White House with Ukrainian President Volodymyr Zelensky on Aug. 30, amid tensions between the countries over a Russian gas pipeline.
— Grassley tweet on Dole:  "Happy birthday to Sen Bob Dole on his 98th bday An outstanding leader of the US senate & a war hero Proud to hv him as a friend & former colleague Have a gr8 day"
— Senior Tokyo Olympics official fired the day before the opening ceremony. Kentaro Kobayashi was dismissed after a comedy skit he performed in the 1990s about the Holocaust circulated on social media. He is the third senior member of the Olympics creative team to leave amid controversy.
---